Are you one of those people who see the world in black and white? That's not a bad thing, especially when it comes to interior design. A monochromatic interior is far from boring as white is placed next to black to bring the space to life. There are tons of ways to use the black and white color palette in the living room to create an interesting interior.
A black and white living room can be as dynamic as you want it to be, but you can also add other colors for drama. Get creative by taking a look at our best Black and white living room ideas with pictures right here.
Examples of black and white living rooms
Add some yellow for color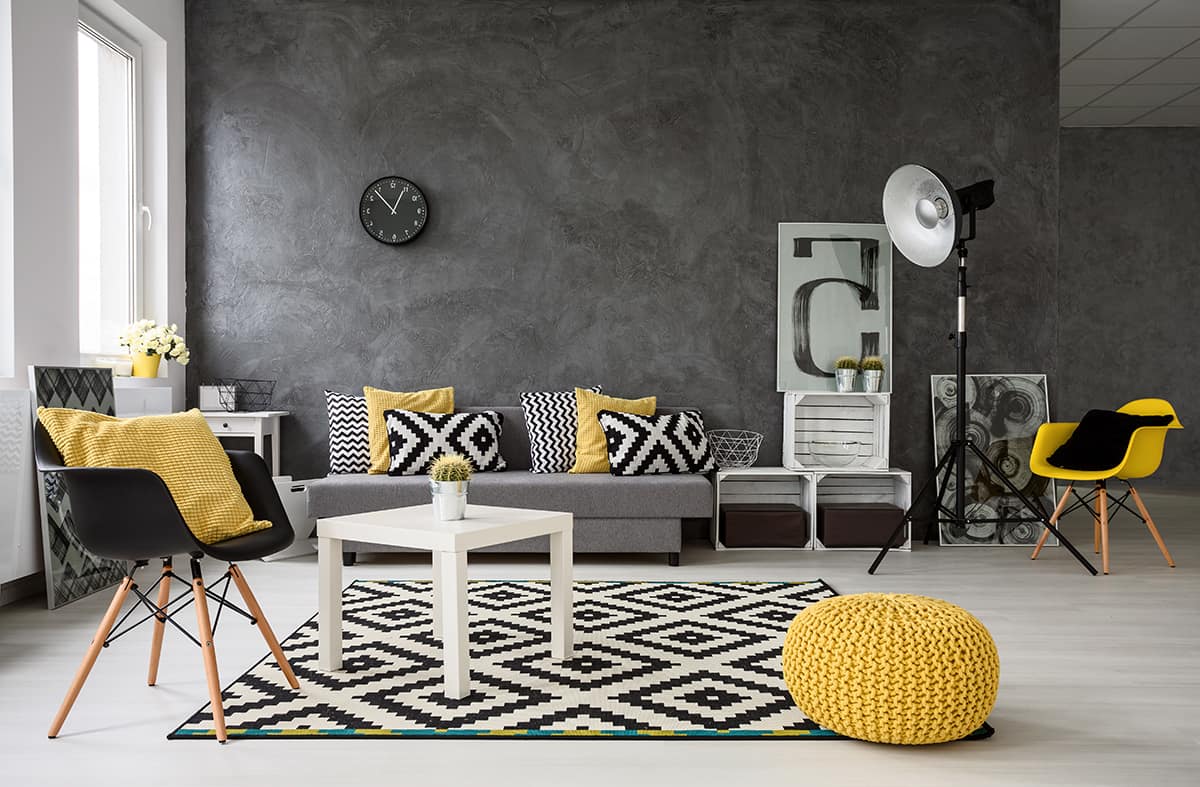 Yellow is not a common interior color for black and white rooms, but surprisingly goes very well with neutral color schemes. Because black and white are extremely versatile, they can be combined with virtually any bold color. Mix them with a bright shade of yellow in any formal or informal setting. The bold yellow doesn't take away the elegance of black and white, and if anything, it helps to bring out their dynamic tone.
Here the spacious living room offers beautiful yellow accessories as part of its black and white decor. The whole look comes together nicely in an inviting way.
Include a lot of foliage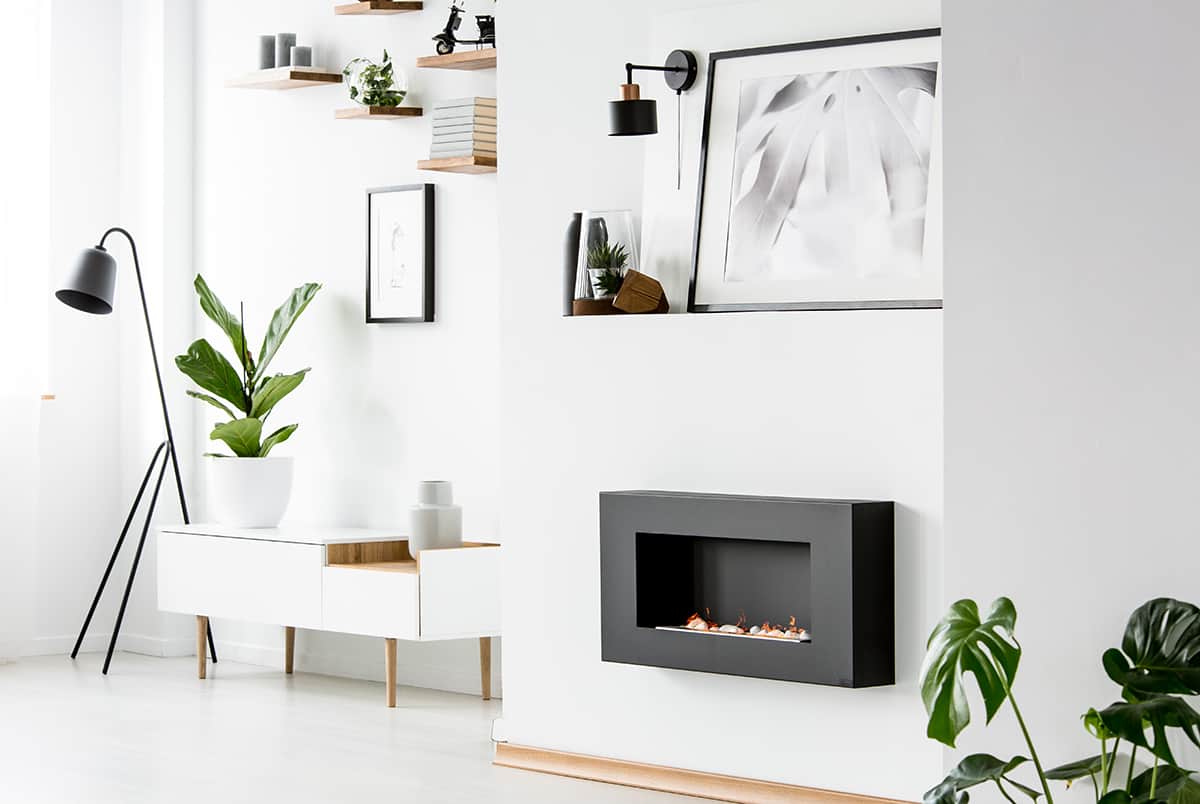 In a small black and white living room, indoor plants can transform the space into a trendy and fresh space. Lots of exotic leaves throughout the room add more color to the neutral color palette. With minimal decoration, a shelf with succulents and some large green plants will suffice as natural elements.
Geometric black and white patterns for visual interest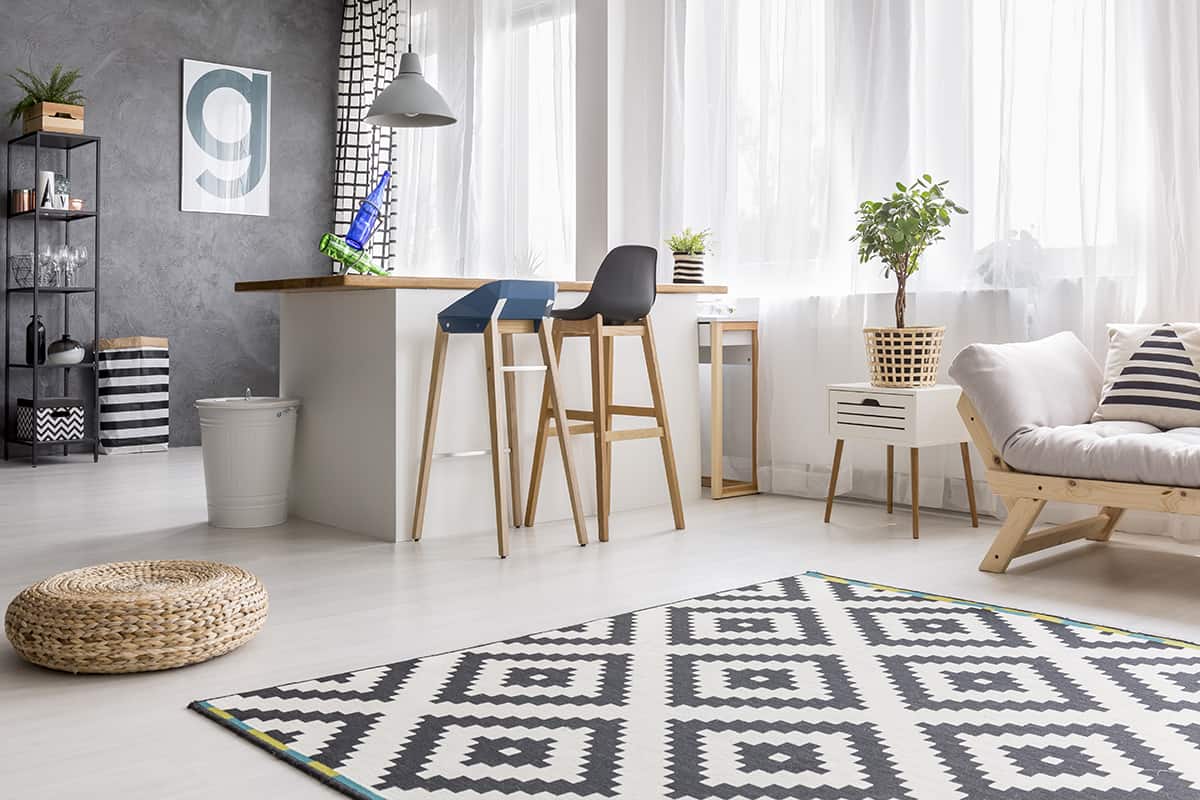 Geometric patterns for the window coverings, floors and accessories add visual interest to a black and white living room – as long as the patterns are in black and white. This subtopic is an upgrade of the neutral interior so that you can let your creativity run wild by choosing different geometric elements like pillows, rugs, curtains or even modern wallpaper. This concept gives a new look to a black and white living room, as this example proves.
Make black the dominant color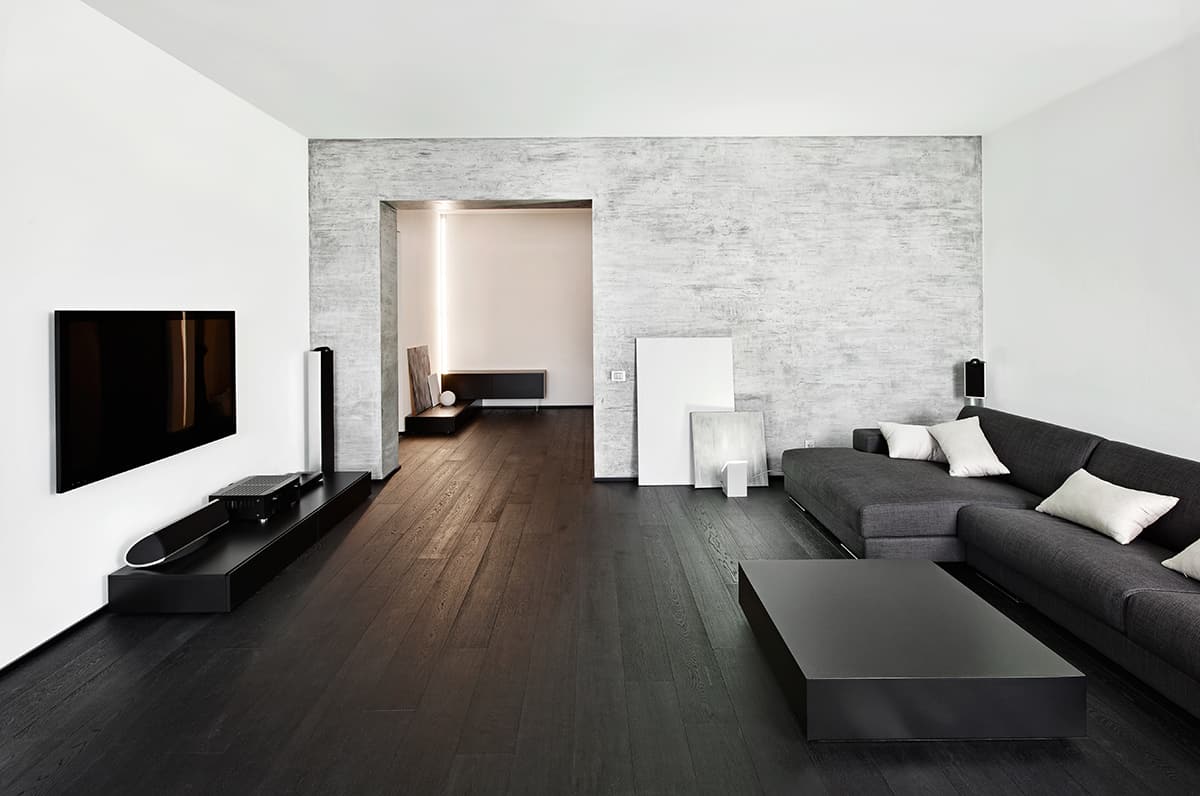 If you want to make your living room even more elegant, try adding a deep shade of black to dominate the space. This can be achieved by furnishing the room with black furniture and black flooring.
As with this modern living room example, white is the only color for the walls while black dominates the room. This living room feels cozy yet dramatic as a unique design. You will soon want to entertain your guests and show off your chic black interior!
Add gold for a touch of luxury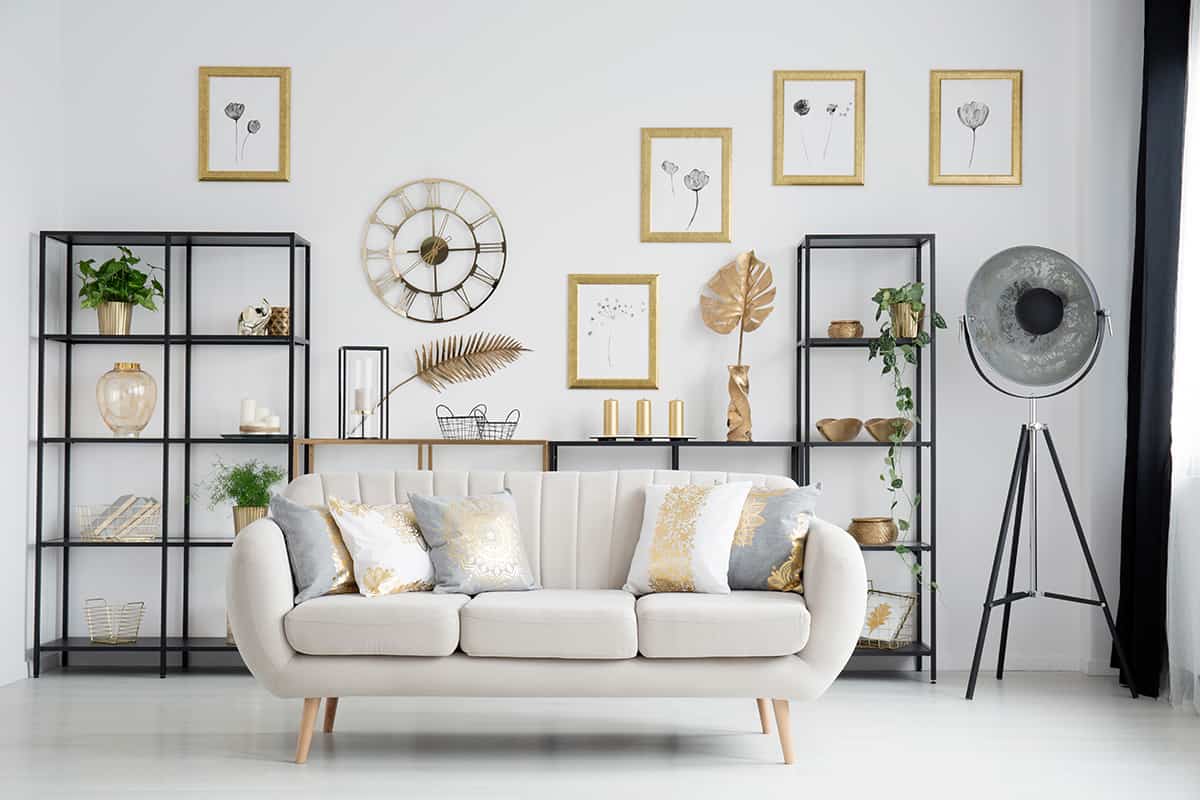 Gold is a shiny, glamorous metal that goes with any color palette. In a black and white living room, golden accessories or decorations can highlight the beauty of the neutral interior and make your living room classy yet casual.
Whether you add gold textiles, wall art, or lighting, it is without a doubt a warm and luxurious color that can transform a neutral interior into a relaxing atmosphere.
A red couch makes the room pop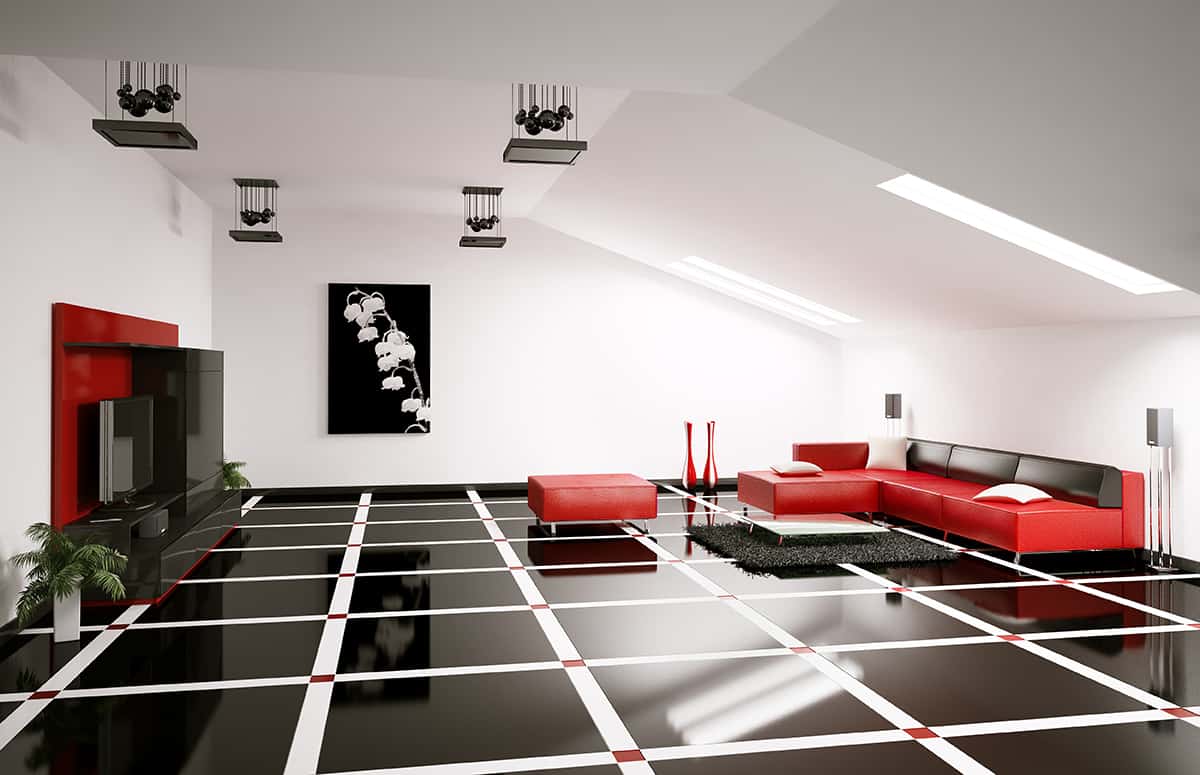 In addition to gold, red is another luxurious color that goes well in a black and white living room. In an open space, a red sofa or couch can really shine among black and white decor. The neutral tone in combination with a strong shade of red keeps the focus on the sofa and lets black and white shine in the background.
In this light and airy retro living room, the refined black flooring and hanging lamps emphasize the beauty of the red sofa. The room is more black than white, but we can't help but fix our gaze on the bold red sofa. You can achieve the same look by adding a red couch in your black and white living room to pop the neutral interior with color.
Opt for a completely black piece of furniture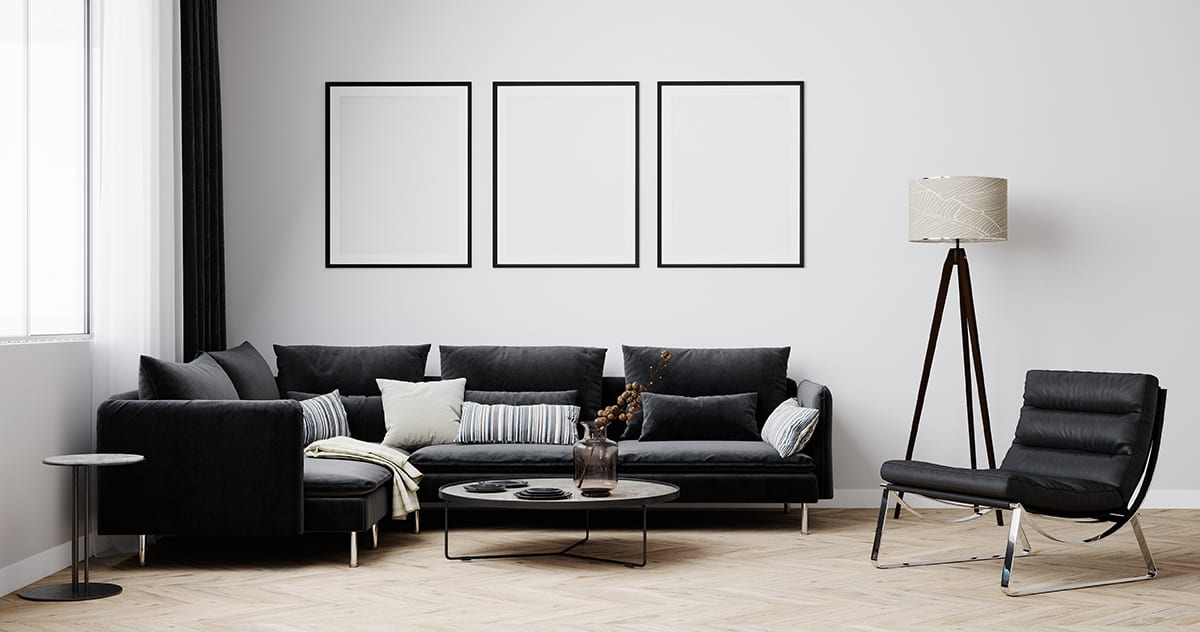 Before that, we suggested that you go for a dominant black living room that has only white on the walls. But how about taking that idea a step further and adding all-black furniture and window coverings with white floors and walls? You might think your living room looks dark and dingy with all black furniture, but as you can see in this example, the black and white living room looks anything but boring or claustrophobic.
Not only does this living room feel light and airy, but the black furniture goes perfectly with the rest of the room.
Accentuate with gray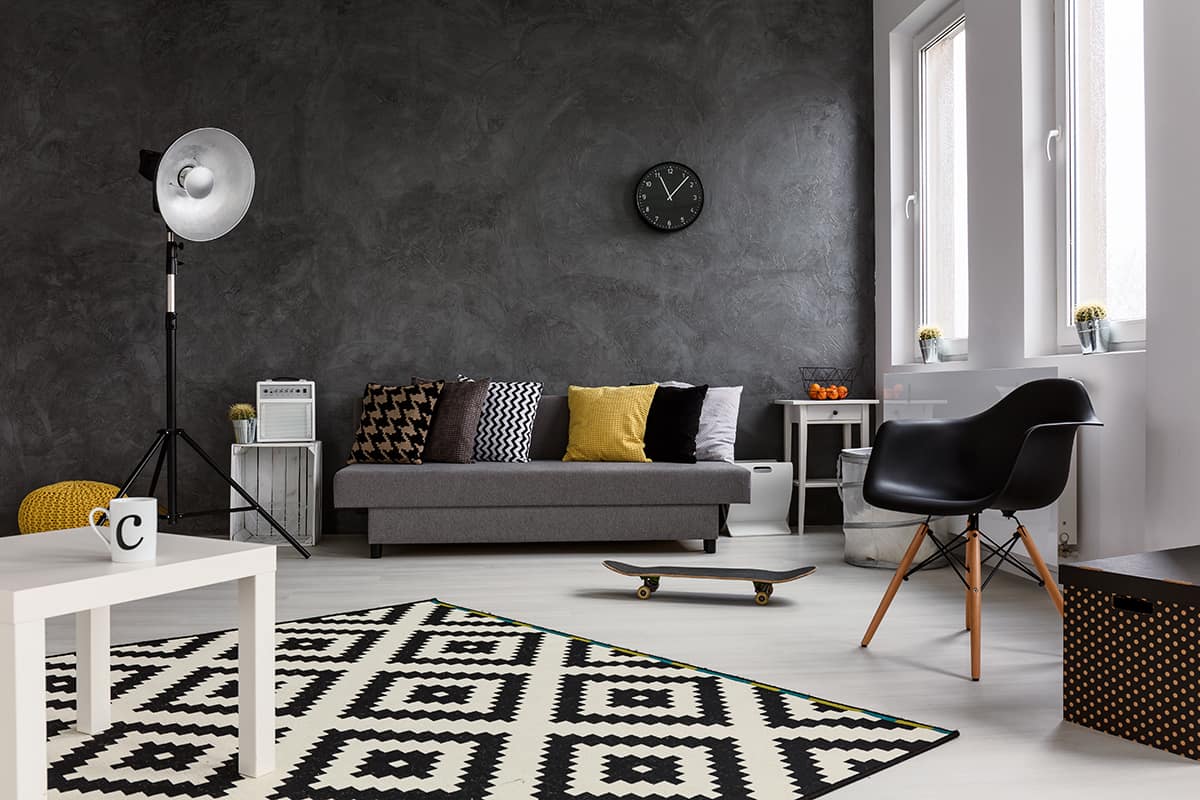 Gray is an intermediate between white and black that is often seen in black and white living rooms. Dark gray walls or a gray couch with colorful throw pillows complement the black and white interior. This is an easy trend to follow to add a comfortable feel to your neutral living room while keeping the theme (black and white) intact.
Since dark grays are more like black, it makes sense to use these color combinations to create a more dramatic interior. However, you can always opt for a lighter shade of gray if your living room is on the small side.
Keep it modern and minimal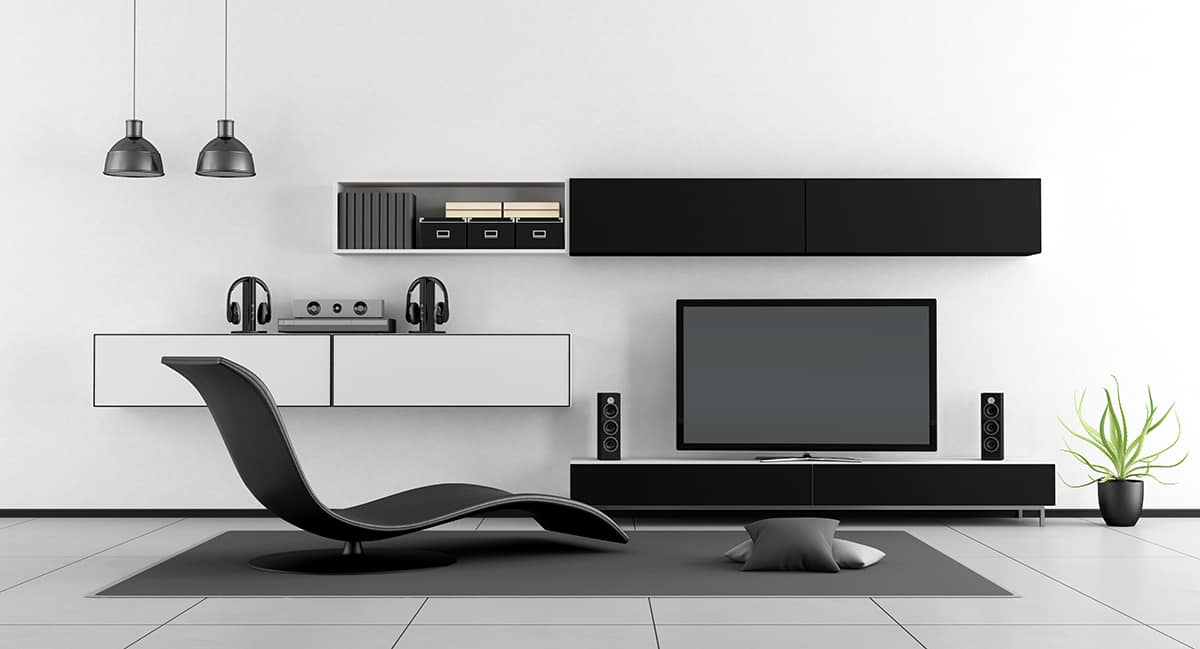 Most black and white living rooms look more Scandinavian, which stands for minimalism. In a modern interior, you can create clean and sleek lines by making sure the black and white space is kept minimally furnished. The black and white color palette is indeed perfect for this furnishing style as the two colors make the space more urban.
By carefully arranging the furniture in the room, you can transform your living space into an elegant and minimalist area. Just because your furniture is limited in a Scandinavian space doesn't mean you can't create chic living space.
Use black and white decor in a boho design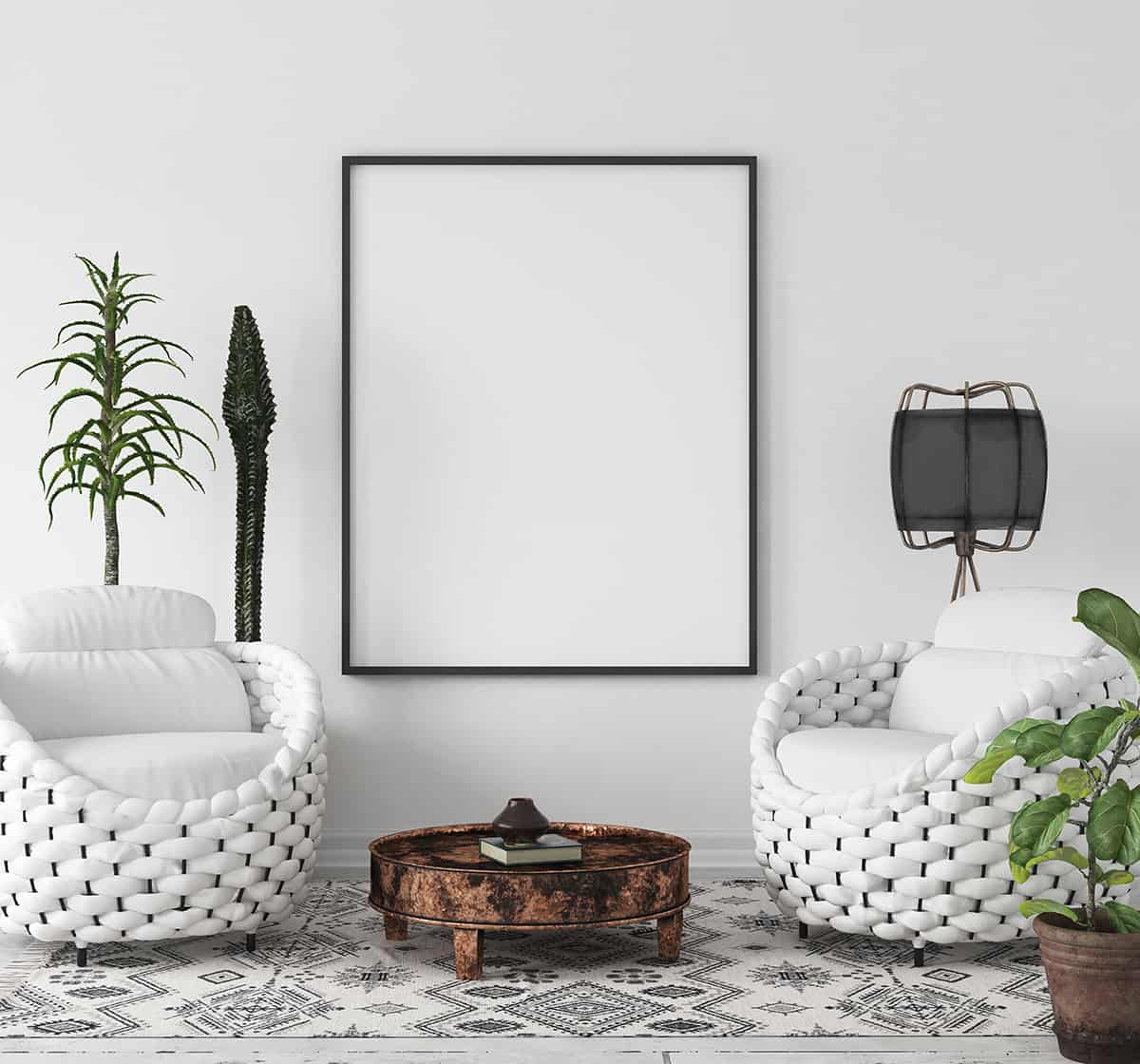 The bohemian style of furnishing is ideal for the free-spirited homeowner who wants to unleash their unique personality in their black and white living room. To successfully carry out this style, use wicker furniture with patterned flooring and house plants. You can also hang macrame wall decor for an eclectic touch.
This theme is for everyone who wants to give their living space a personal touch with unique furniture. But you don't have to go all out shopping for hard-to-find boho-inspired accessories. Just check out this great example of a bohemian style interior to get a better idea.
Set the tone with a black and white patterned rug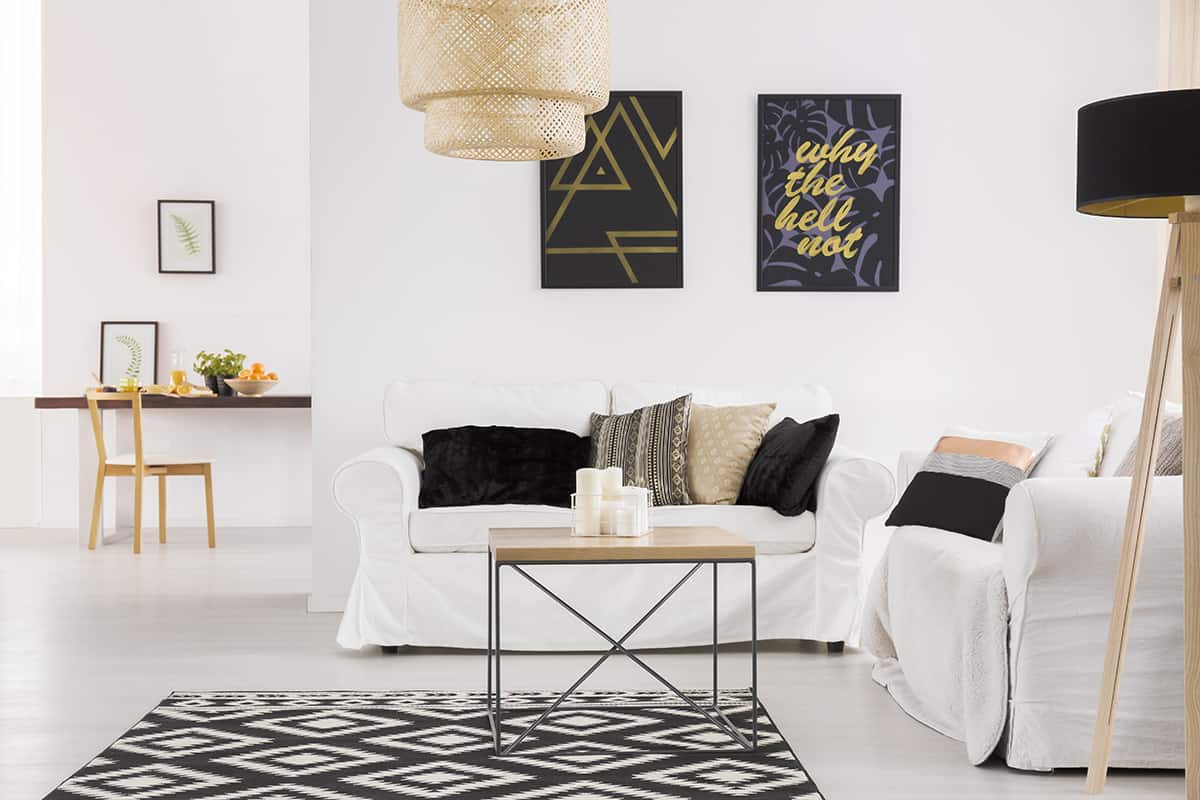 Every black and white living room needs a statement rug to complete the look. A patterned black and white rug goes well between these two neutral colors. This way you keep the monochrome design in your entire living room and transform the ambience. From simple patterns to complex prints, the black and white rug you choose is sure to give your space a coherent look and make your space extra warm and inviting.
See how well the black and white colors harmonize here with the geometrically patterned carpet as the focal point of the room.
Why are black and white living rooms so stylish?
Black and white living rooms are an elegant furnishing choice for those who love a classic style without wanting to commit to bold colors. This strong neutral color palette makes a solid backdrop for any decor or furniture style. When you bring these two colors together with added layers and textures, you'll really appreciate how coherent they are in a formal living room.
A black and white living room doesn't have to be loud and dramatic. For example, you can add more white than black to tone it down. To keep your living space tidy and airy, paint the walls white and add light window treatments to brighten up your black and white living room. By using other colors and more white than black, you prevent your room from feeling dark or heavy.
The reason black and white living rooms are so chic and stylish is because of the striking harmony between these two colors. A sufficient amount of black with a lot of white creates a timeless and modern ambience in every furnishing style. As you can see from our excellent examples above, it's easy to create a black and white living room without spending too much on decorating.