Thanksgiving is approaching, and the race to prepare your house for the much anticipated Thanksgiving dinner has probably already begun. The focus is on the Thanksgiving decorations that you will be using this year.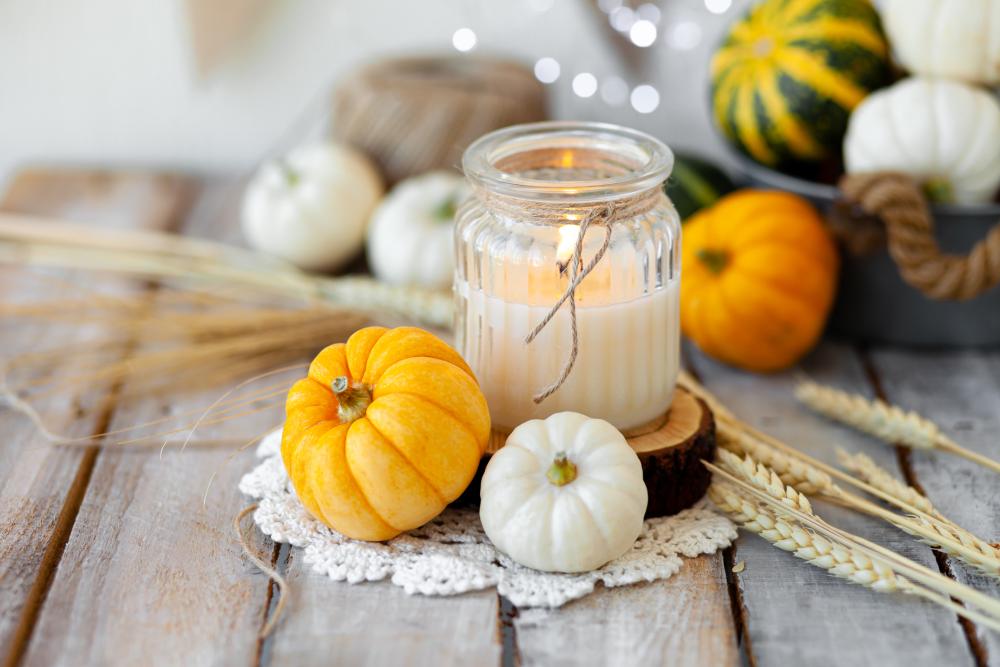 Sure enough, there are many things you need to do to properly prepare for Thanksgiving , we've decided to help you in any way we can. That's why today we've put together a handy list of DIY Thanksgiving decorations that will transform your home from drab to fabulous in no time! So, if you're looking for some quick DIY decorations to spice up your Thanksgiving decked house, check out these amazing DIY pieces below. We can guarantee this will be an article you will love to read! All you need is a few sheets of paper, some creativity, and other equally important items. You can get everything on this list at your local hardware store for less than $ 10.
These are the hottest thanksgiving decorations
Thanksgiving is a 400 year old holiday, so it is natural that certain decorations, traditions, and dishes have remained more or less unchanged over time, however that doesn't mean that fads don't affect what's trending and what's not. However, after extensive research on multiple social media platforms, we have compiled a list of 15 Thanksgiving decorations that appear to be the most popular. They were chosen not only for their popularity, but also for their ease of making with everyday materials, since this is a DIY list after all.
1. Thanksgiving Decorations – DIY Sunflower Wall Art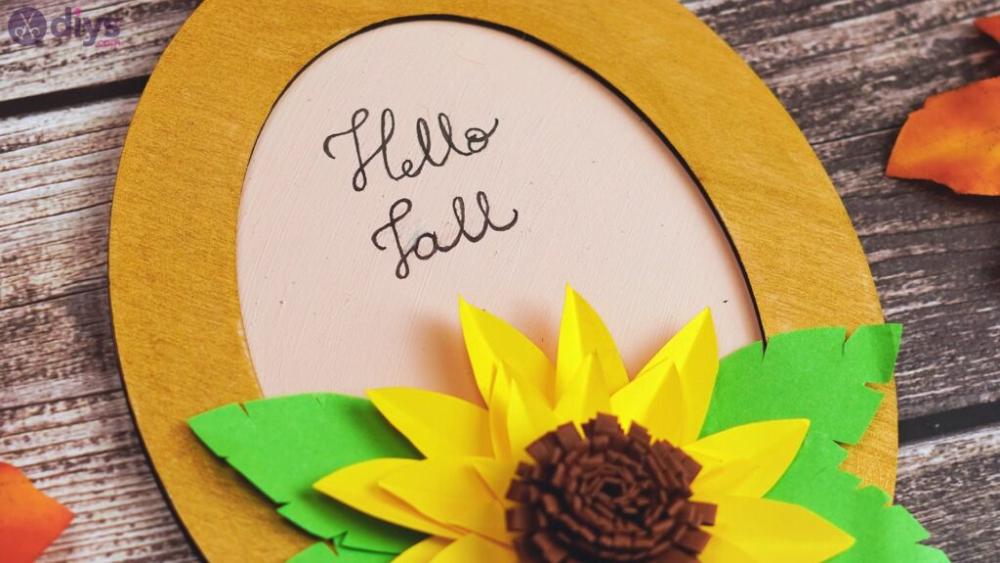 When it comes to decorating your home for Thanksgiving, there are two options: Hang up Thanksgiving decorations designed specifically for this special holiday or use decorations that show the beauty of autumn as a whole. Well, if you're into the latter, we recommend checking out this amazing DIY sunflower wall art as it has everything from the floral themes to the color palette that fall is all for. For this decoration you will need an oval wooden picture frame, some colored paper (fall colors are best), some acrylic paint (metallic and beige), a bit of lace tape, a pencil, a brush, a pair of scissors, a glue gun with lots of glue and a thin line marker.
While this creation may look a little complicated, it is actually very easy to make. Start by painting the wooden frame with metallic varnish and letting it dry well. Then cover the back of the picture frame with glue and attach a lace tape over it to hide the hole in the center and give it a nice touch. In the next step, cut out several autumnal motifs from your colored paper, e.g. B. Flowers and leaves, then paste them into the glue in your wooden frame like you do with photos. We recommend using different shapes and sizes to get an interesting effect and maybe even googling some flowers so you can get a better idea of ​​what they look like in more detail. Finally, use a thin line marker to draw small lines around your picture for extra dimensionality, and there you have it, a beautiful decorative piece that will fit perfectly into any autumn home!
2. Leaf garland Thanksgiving decorations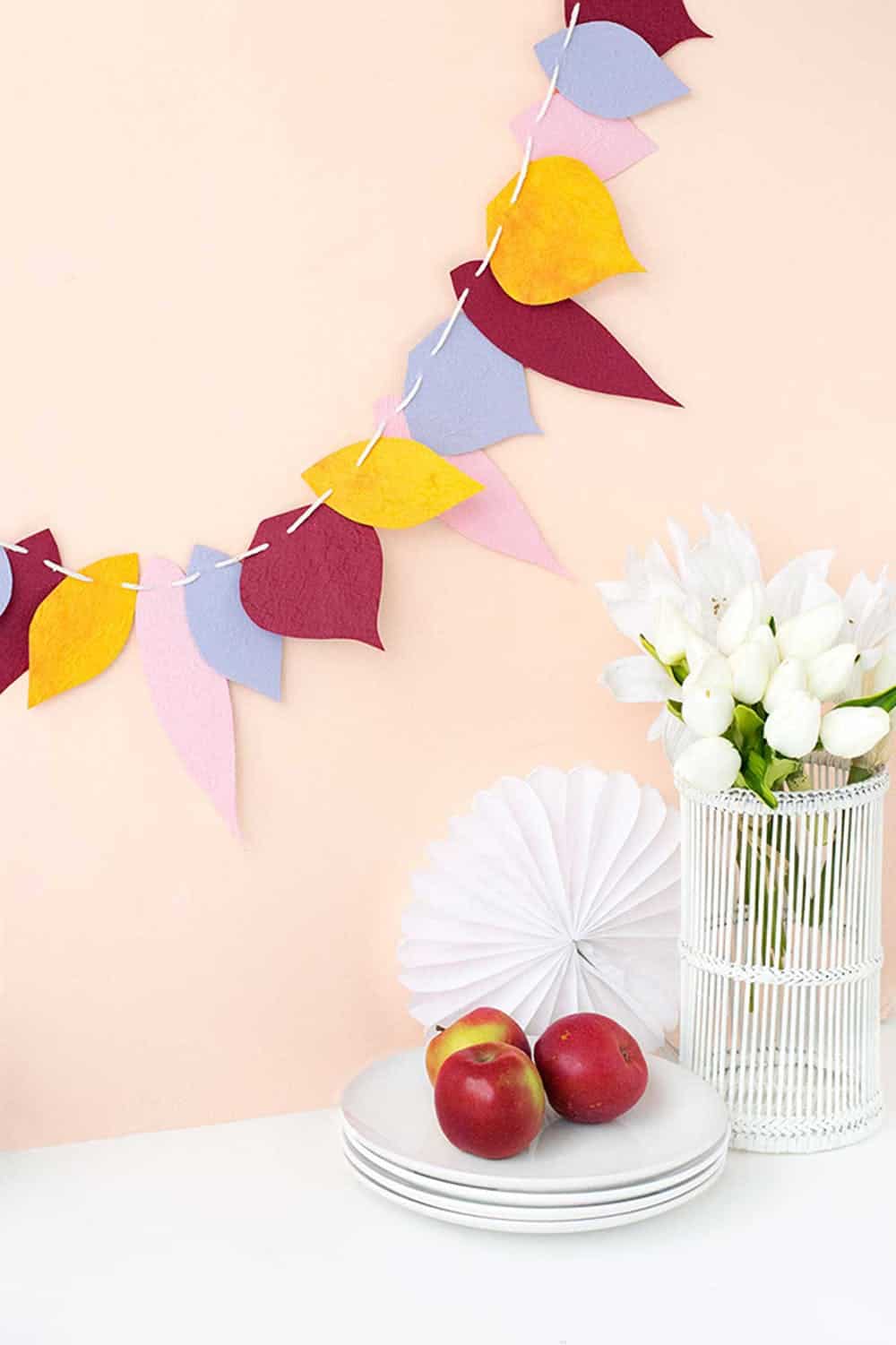 Make + Tell starts with a fun leaf garland. Easy to make and versatile to decorate. Give the house a colorful, family-friendly style this fall.DIY Thanksgiving Decorations – Thankful Garland
Here's another garland that you can spice up and use to bring some joy around the house. Use it to light a few festivities on the mantelpiece or behind the bar cart in the dining room.
4. Faux Pumpkin Pie – Thanksgiving Decoration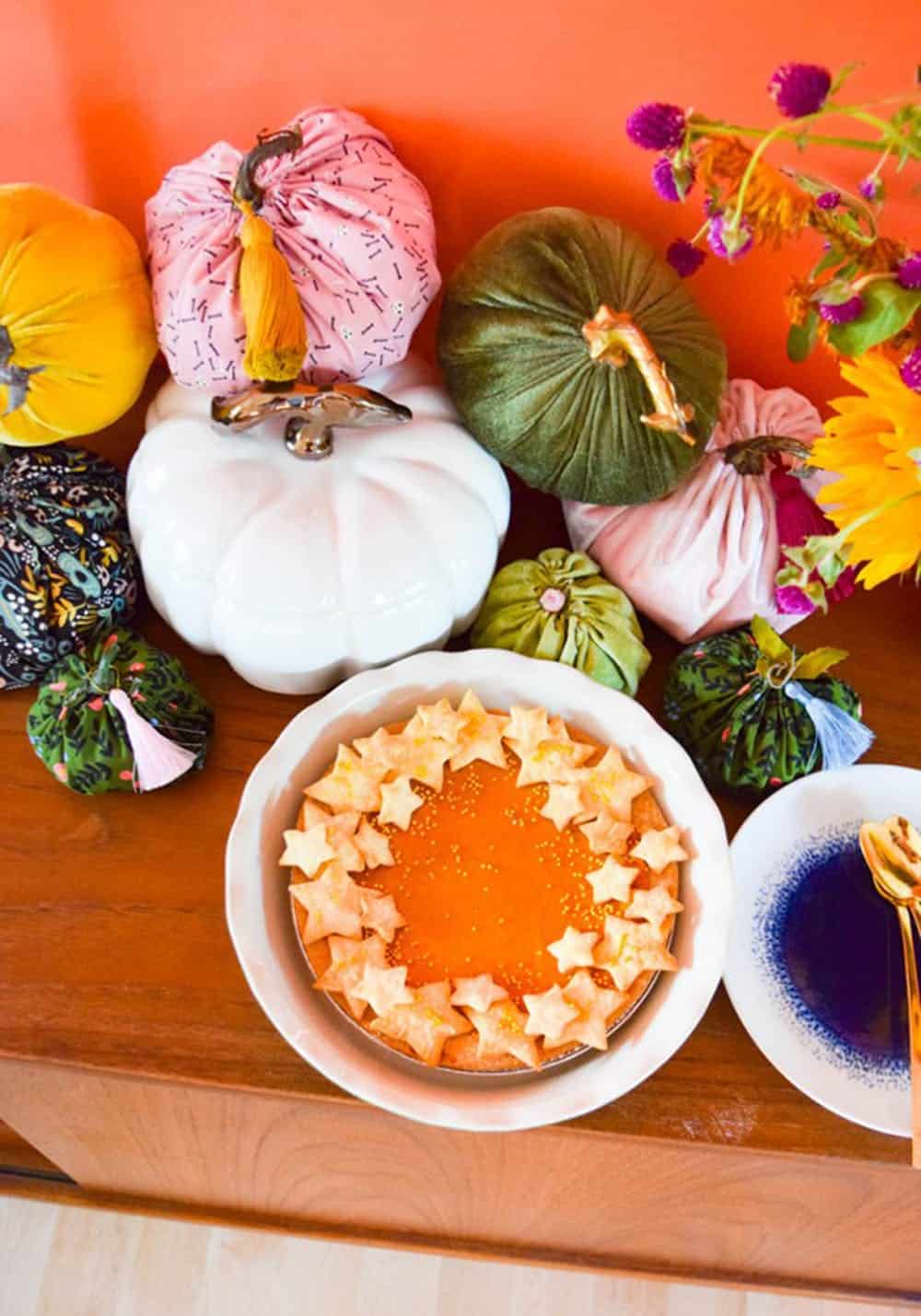 PMQ for two shows you how to make an artificial pumpkin pie that will delight different corners of the house. We would be happy to see this when greeting your guests in the foyer or at the buffet in the dining room.
5. Feather Bouquets – Thanksgiving Decoration Idea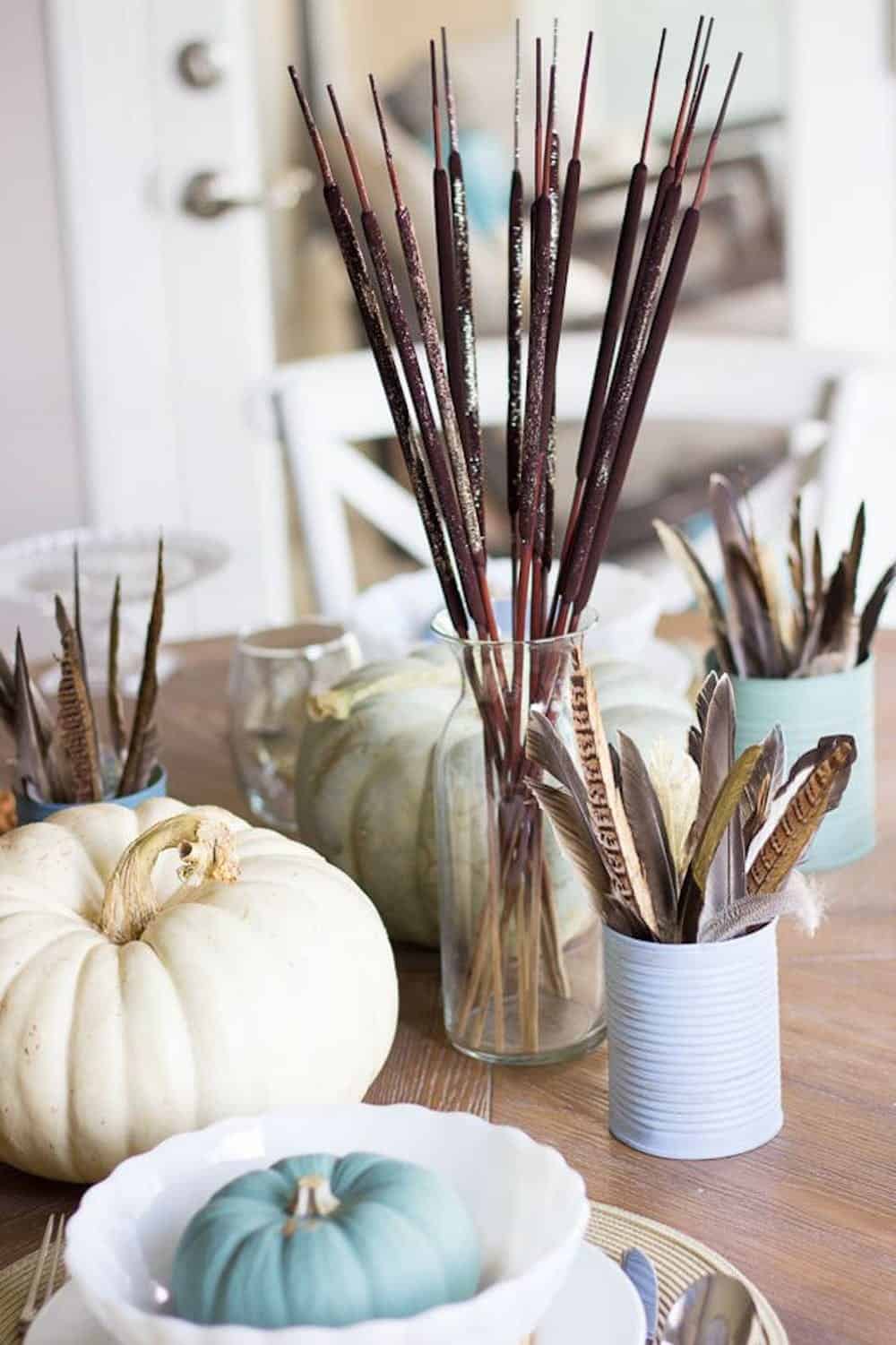 Design Improvised has created some feather bouquets that we love too. Who would have thought that – but they fit perfectly into the mix of the season and also ensure a certain uniqueness. You can even dip some in metallic paint for that extra pop.
6. Pie Topper – DIY Thanksgiving Decoration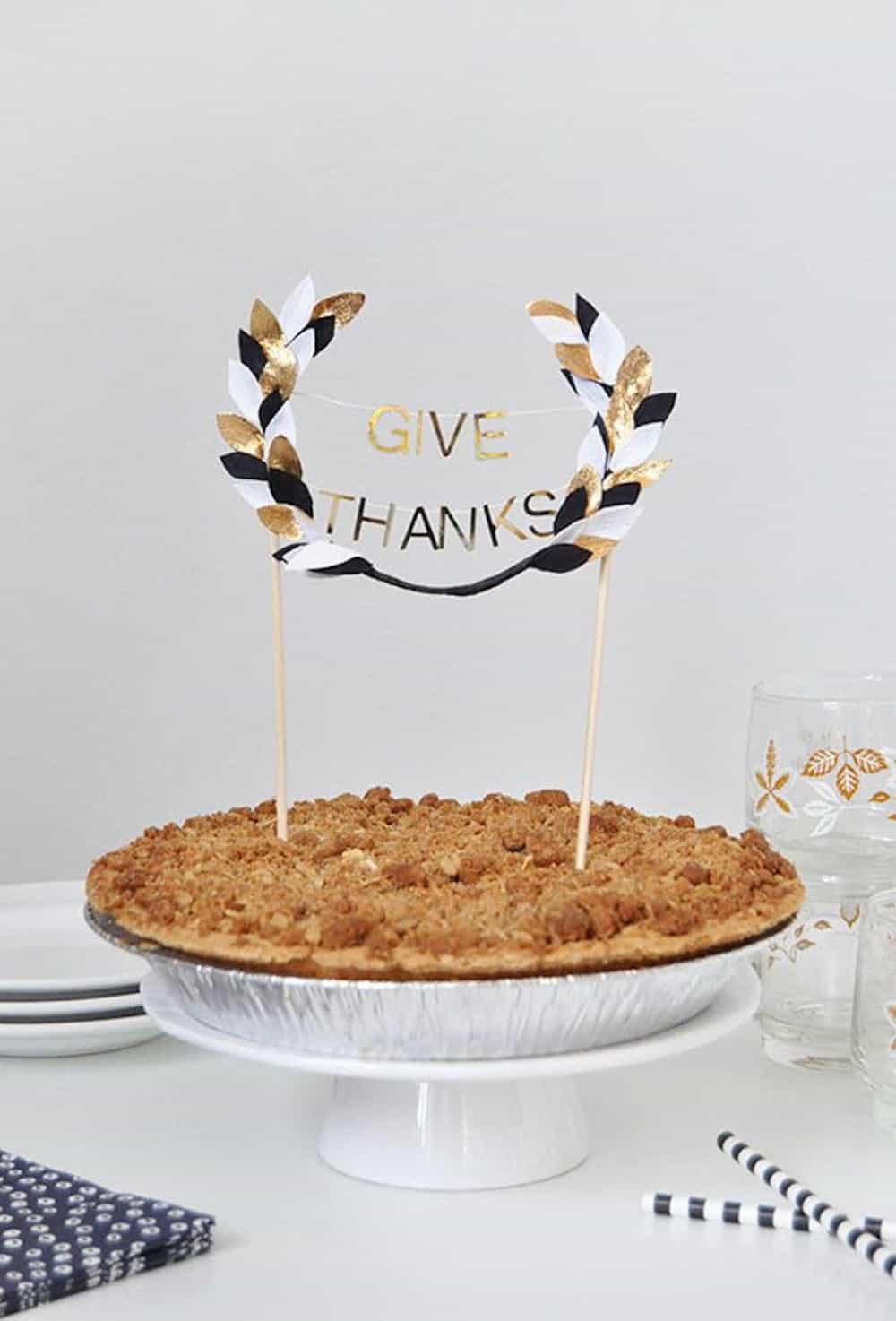 With Julep you can even learn how to add a bit of jazz to pies this year. We love this chic take on what is usually more traditional for Christmas decorations. Do the same for the cakes and desserts!
7. Leaf Chandelier – Thanksgiving Home Decor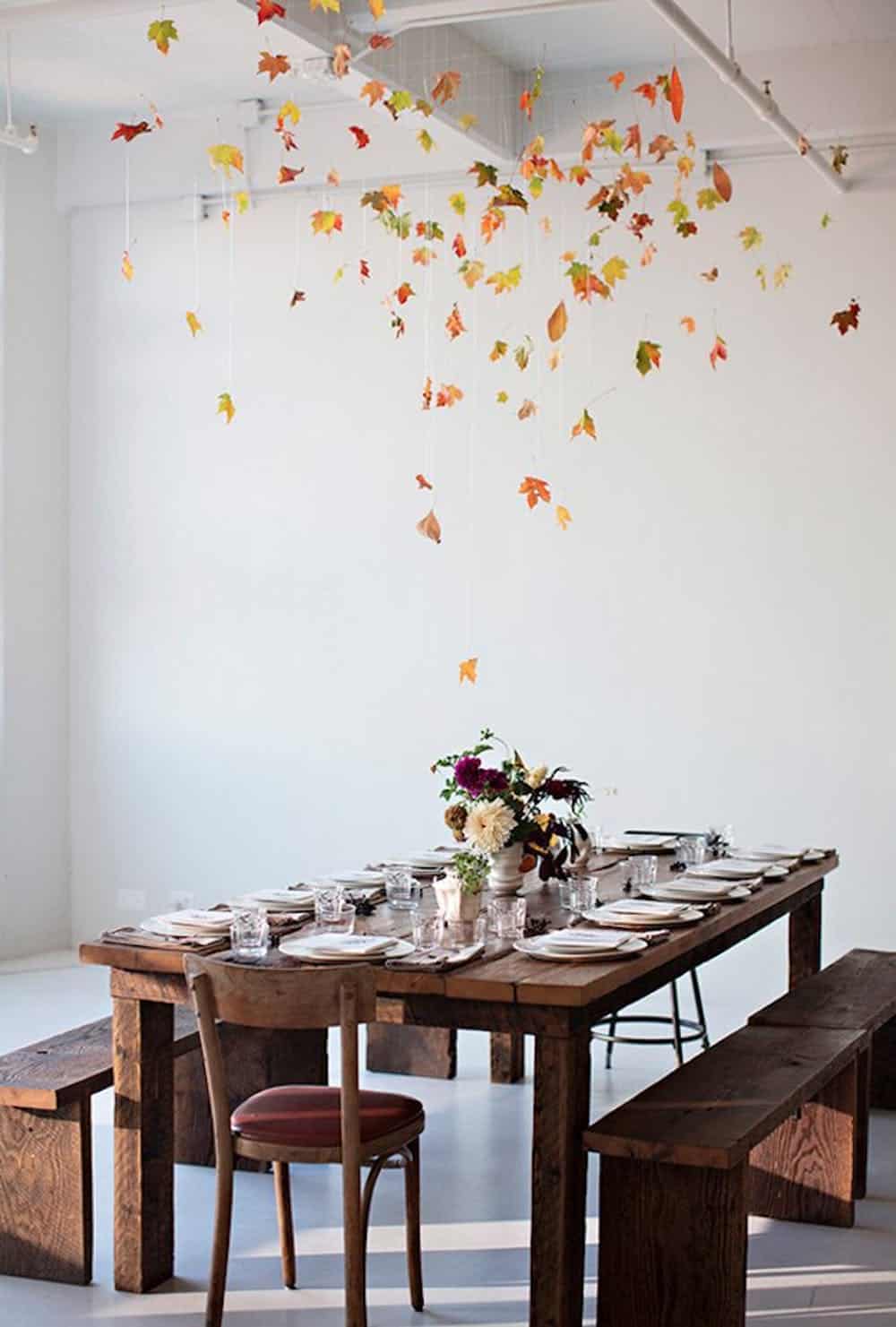 What if you added some decor to the ceiling this year – above the dining table? You're really going to take the style top down. Get the details at The Style Files .
8. Felt Leaf Wreath – DIY Thanksgiving Decorations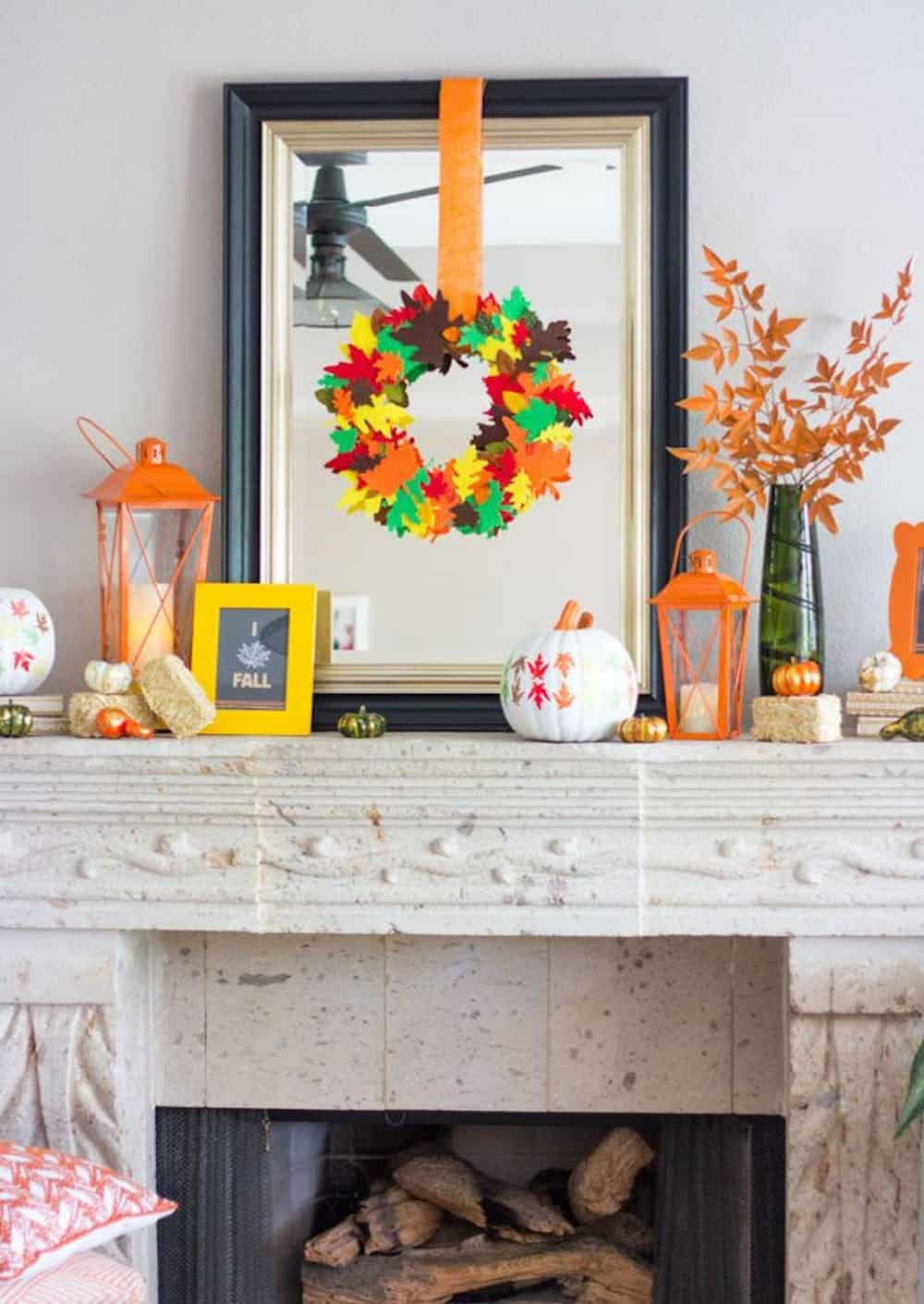 Design Improvised made this felt leaf wreath and gave us the details to make some for ourselves as well. The color is a nice hit for the season and the kids can help with the creation too. We love it when the DIYs can be inclusive for the little ones!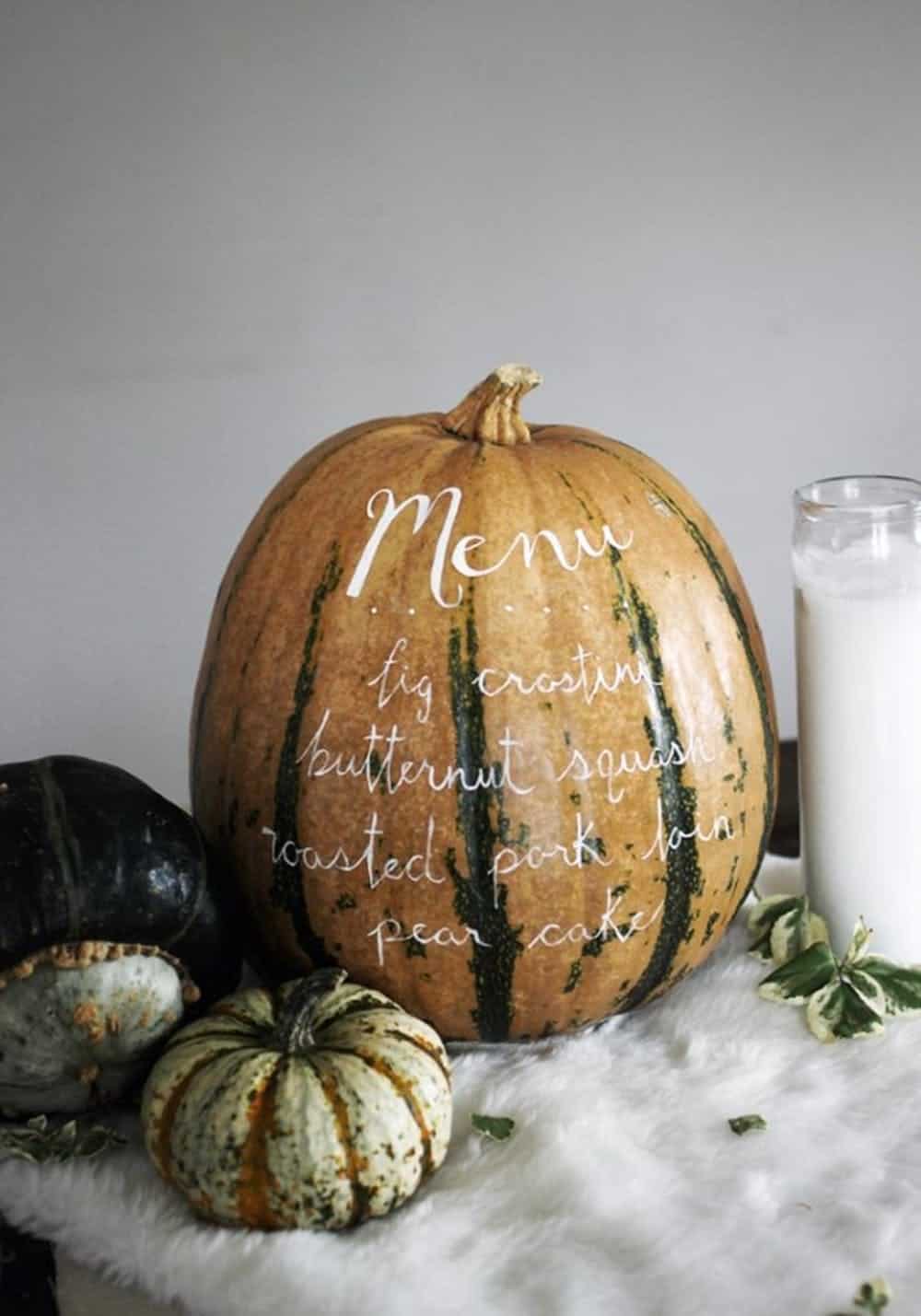 So you can carve your pumpkins differently this year. Instead, just make a few sketches. We found this innovative idea at The Merrythought .
10. Painted Acorn Garland – Thanksgiving Decoration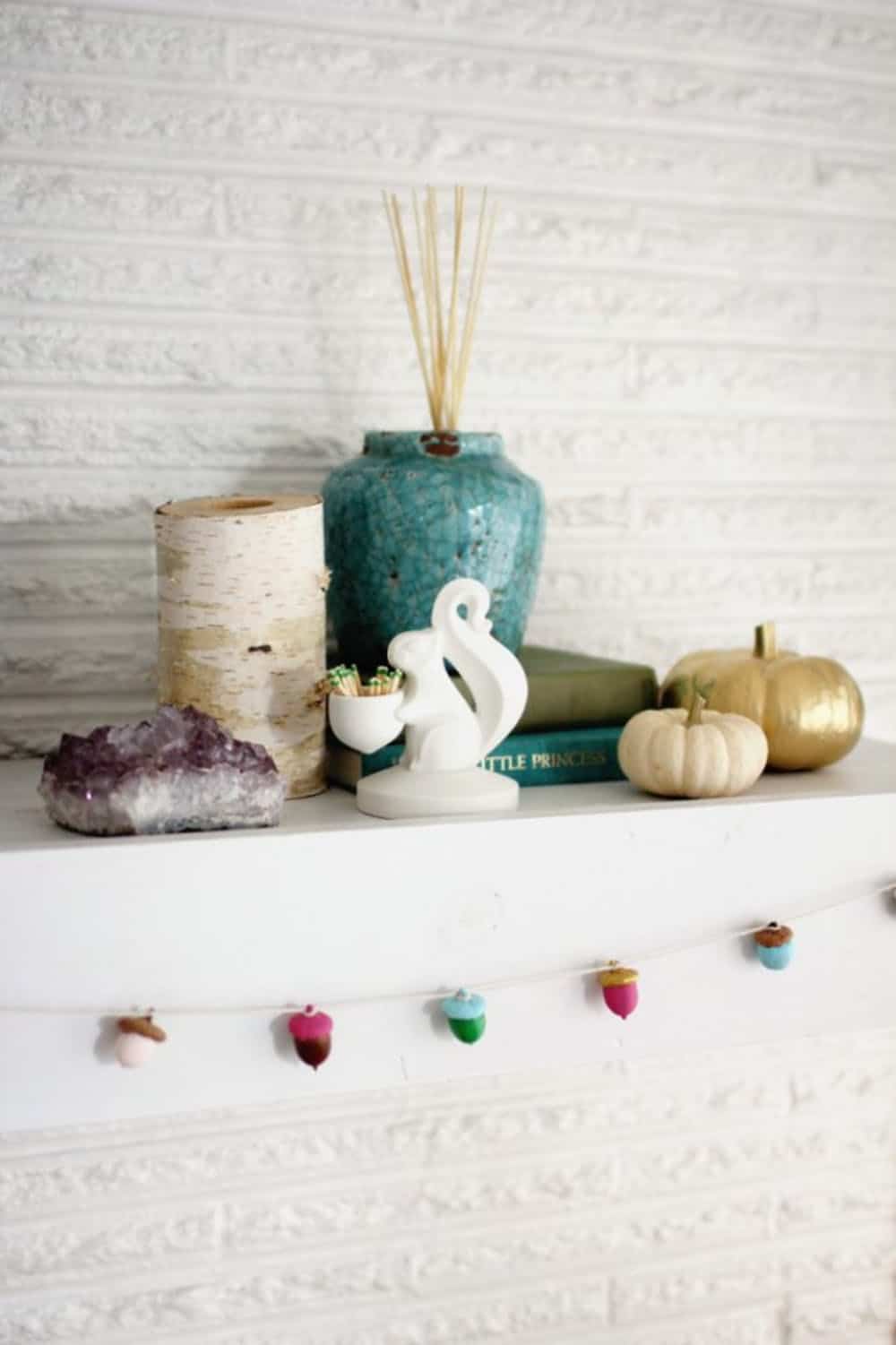 We have quite a few types of garlands that can be made this holiday season. You can find out what this delicate piece of acorn looks like at At Home in Love . And grab the colors too, you'll want to add some color.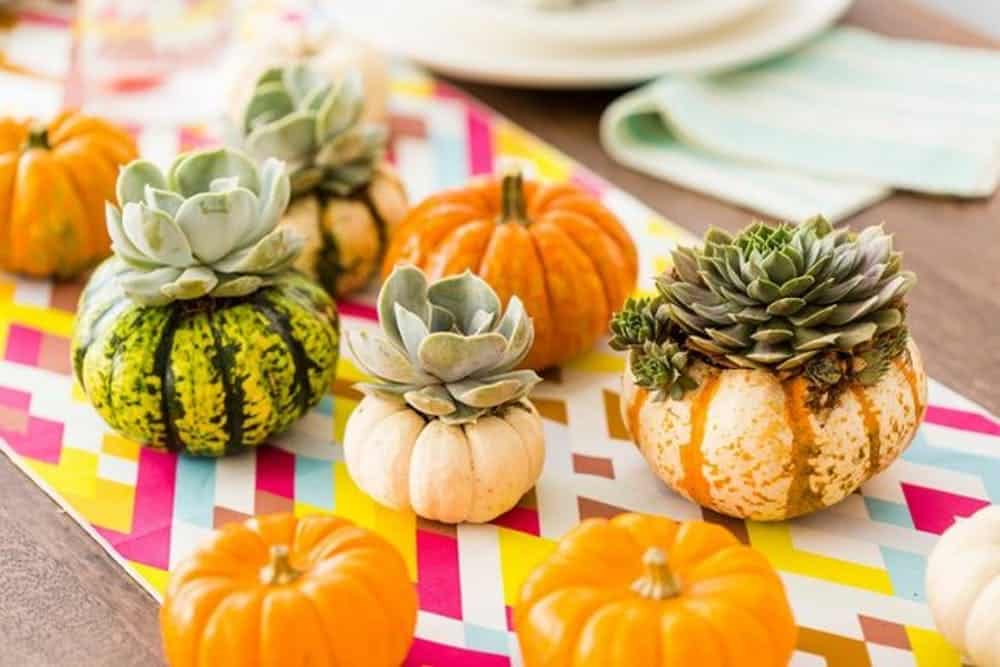 We love these mini pumpkin vases from Brit + Co . Stick in a few buds or succulents, whatever your heart desires. Use this idea to add color and festivity to your table landscape.
12. Grateful Banner – Thanksgiving Wall Decor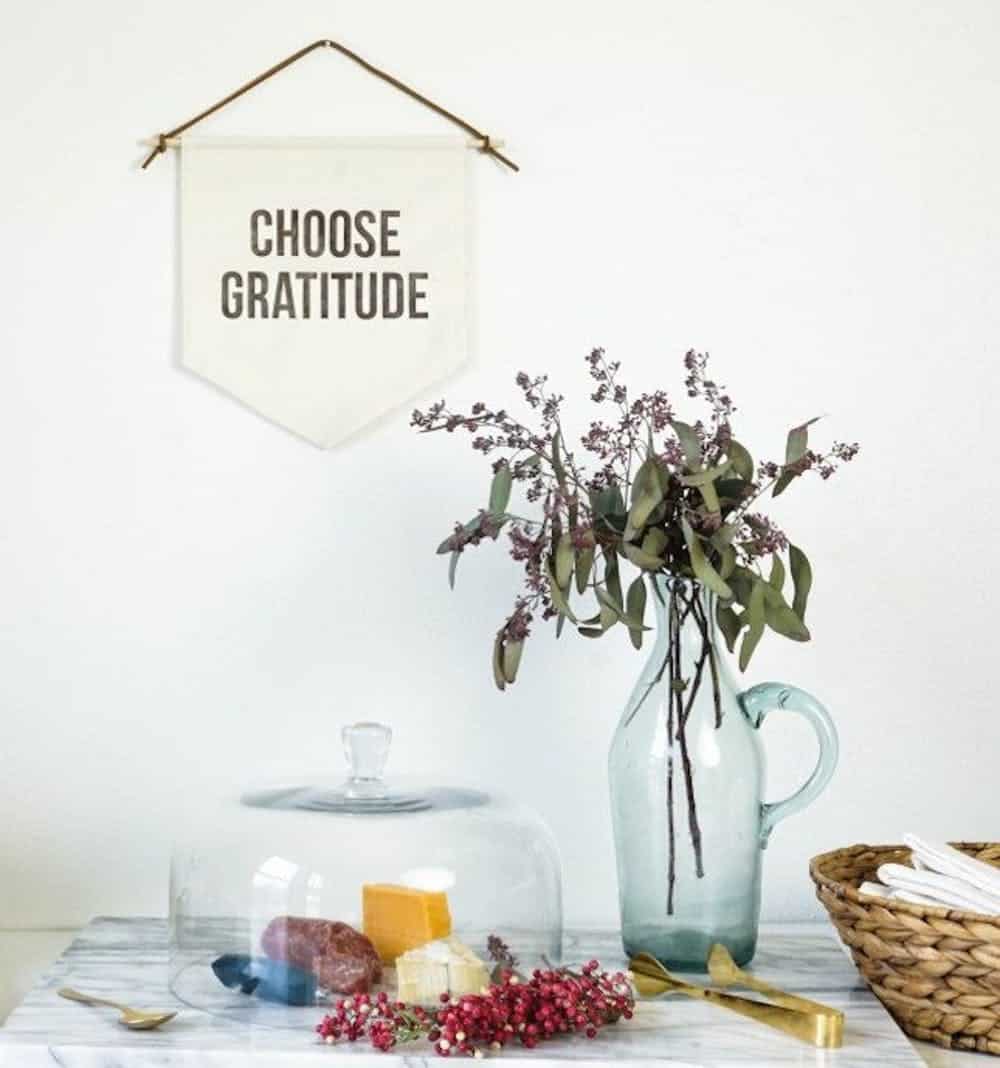 Francois et Moi created a banner that is perfect for Thanksgiving.Chic and modern, take the plunge and make yourself one by the weekend!
13. Tassel Garland – Thanksgiving Home Decor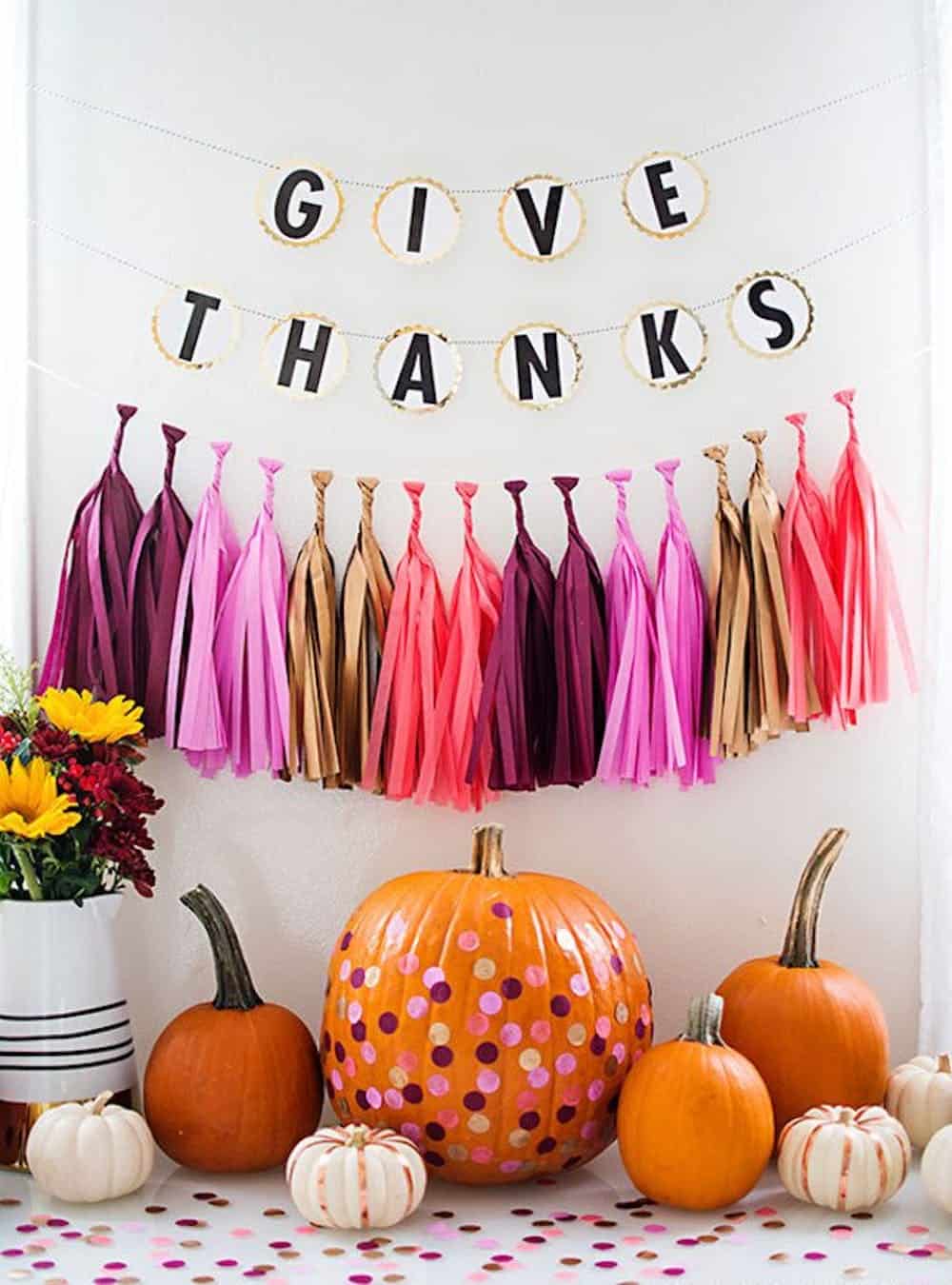 Homey Oh My created a garland that made us swoon too. It really feels like a celebration.
14. Word Balloon Backdrop – Thanksgiving Home Decor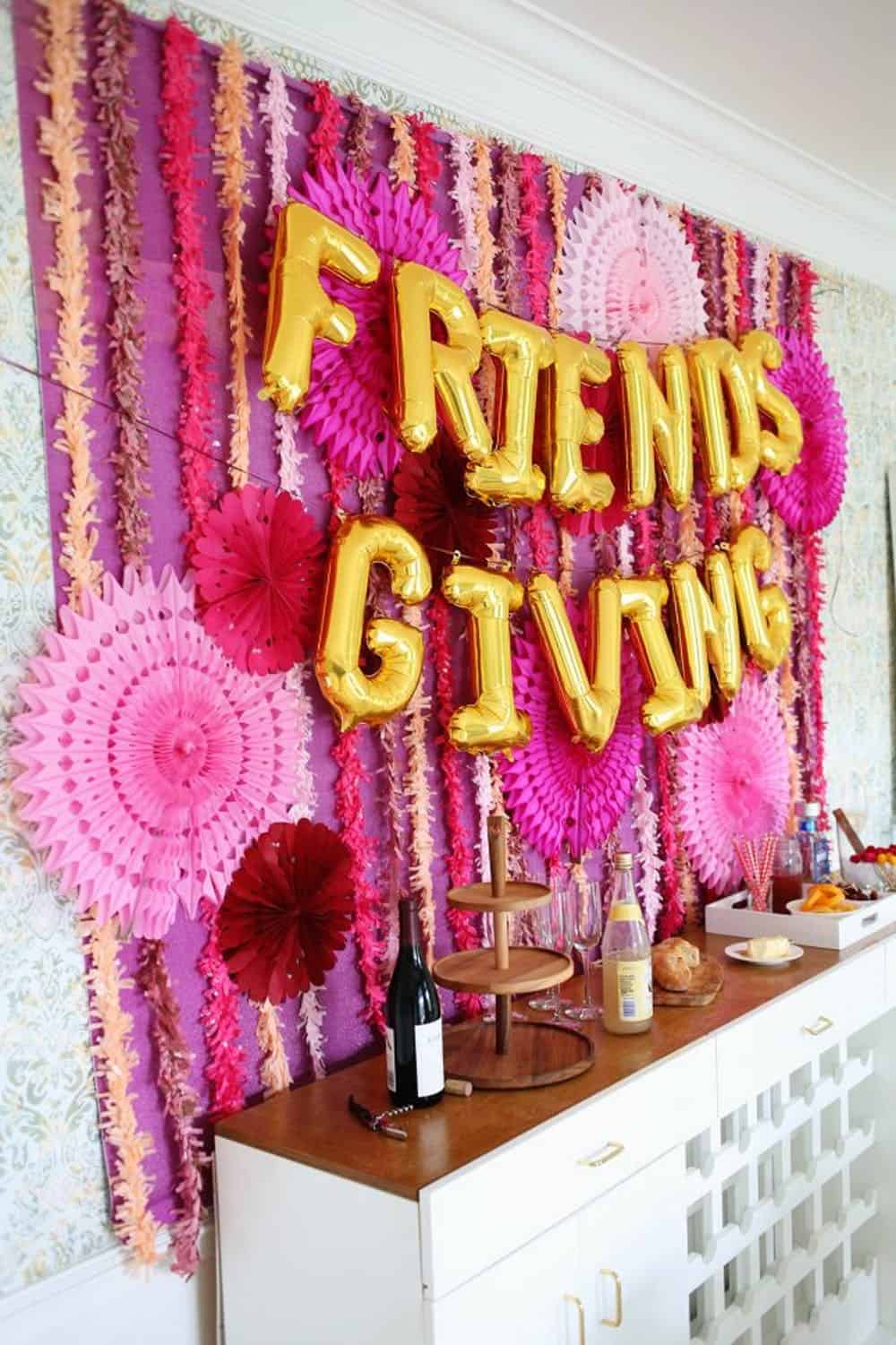 Balloons are great for other celebrations, so why not celebrate Thanksgiving with some too? We love this setting from A Beautiful Mess . And there are so many different expressions to use: thankful, welcome, have a turkey, and more!
15. Pinecone Wreath – Thanksgiving Decoration Idea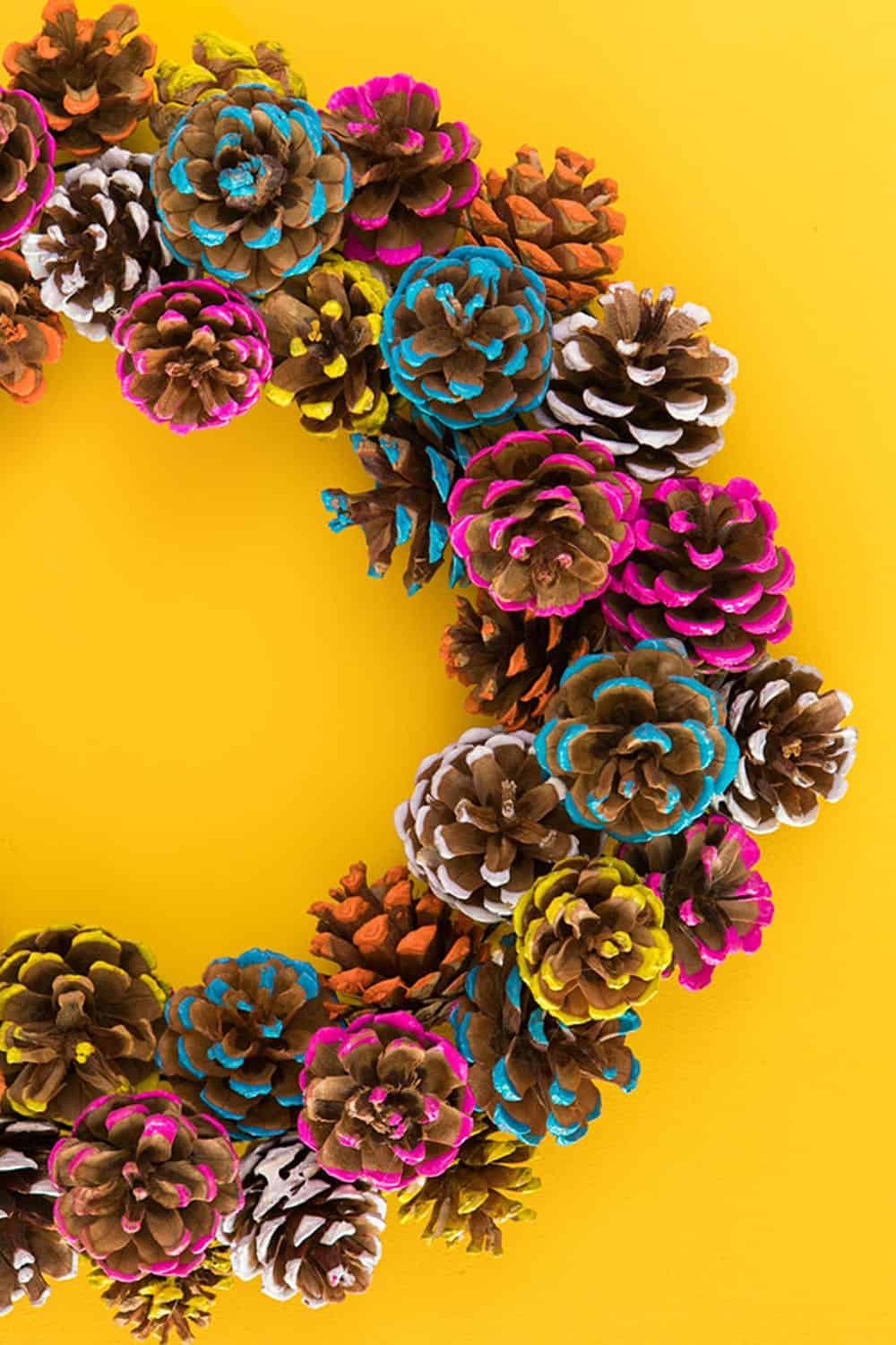 WhimZeeCal gives us our last DIY of the pile. Create a pinecone wreath that has been dipped in some color! Greet your guests with fall inspiration and different shades of fun ..