Are you looking for the best DIY pinecone ornaments that you can make yourself? Pine cones are attractive and easy to find forest debris. With them and just a few other craft items, you can put together some pretty seasonal decorations. Most artisans agree that foraging for food is half the fun when it comes to working with natural materials. Have your family with you as you dig for these free and readily available natural supplies in your back yard, local park, or on a nearby hiking trail.
19 adorable DIY pinecone ornaments for the holidays
Be on the lookout for evergreen trees the next time you go out. Most do-it-yourselfers prefer ripe pine cones as these tend to be brown and woody. Keep in mind, however, that these abundant plant materials come in all shapes and sizes. Some come with unpleasant surprises like insects, mold, and sap. However, that shouldn't stop you from turning it into impressive winter and Christmas decorations. It's easy to clean and preserve pine cones! If all else fails, you should be able to find some at your local art supply store. Pine cones appeal to the senses. They add a rustic charm to every household in every season of the year. Of course, winter has to be our favorite season to show off these woody, conical tree fruits. They can be used untreated, bleached and painted. They can even be spiced up with some essential oil or added to a homemade potpourri for a much appreciated indoor ambience during the coldest winter months. Are you looking for unique pine cone ornament ideas? We've gathered the best DIY pinecone ornaments for the coming winter holidays. These great ideas are inexpensive, simple, and adorable. Look at her!
1. Perfectly Rustic Pine Cone Frame Ornaments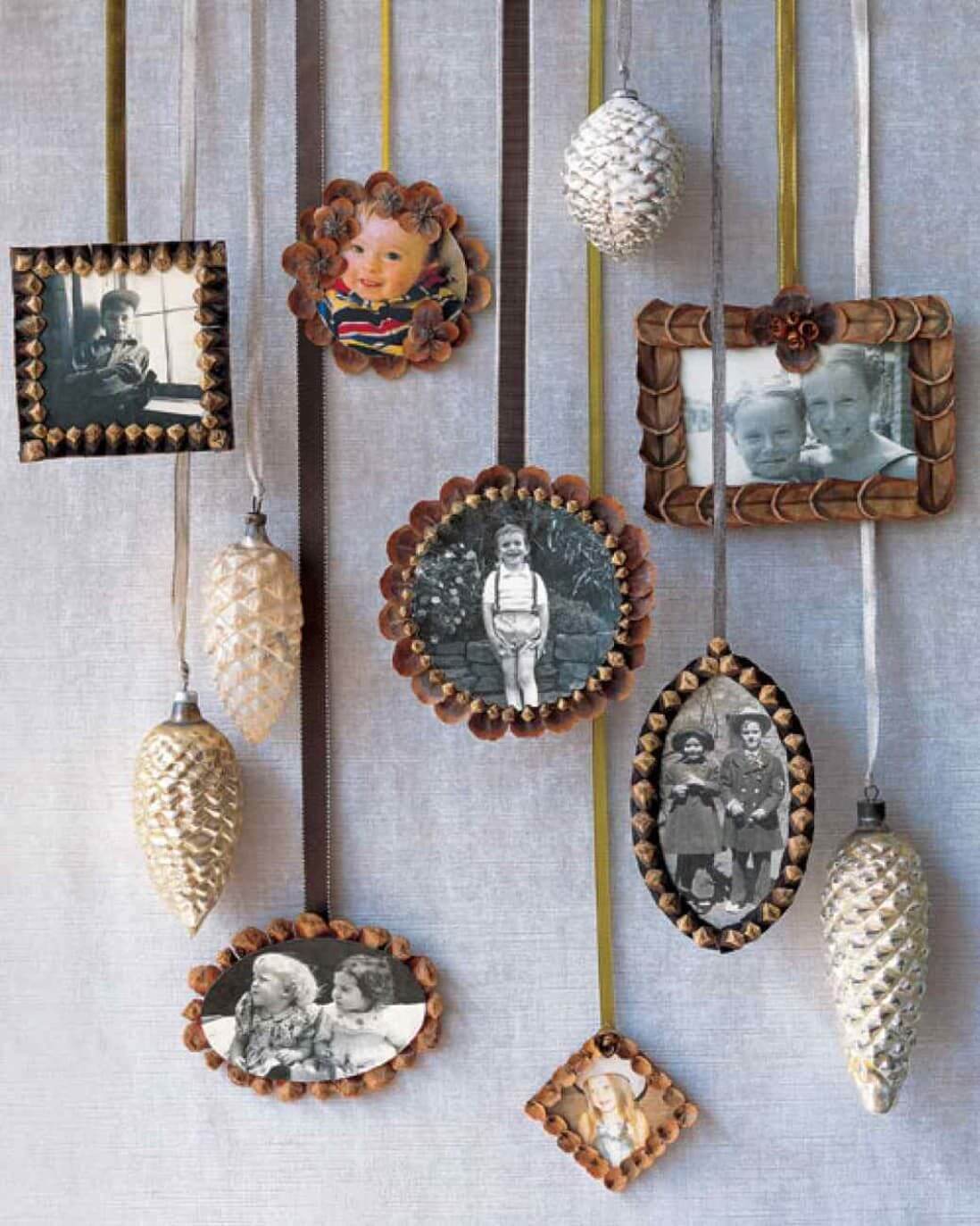 Brighten up your Christmas tree or table with some of these adorable and easy-to-make pinecone frames. The pine cone scale borders give the ornaments a rustic texture and an earthy scent. Add a ribbon on the back and you can hang your frame anywhere. Use colored ribbons of various lengths to create a stunning family tree or memorial plaque. Take some risks when choosing your frame shapes. Combine squares, rectangles, circles and diamonds into an incredibly versatile display. These are the perfect pine cone crafts for Christmas and beyond. You might even consider using them as party favors. Since pine cones are readily available in most areas, these frames are inexpensive alternatives to other bespoke, personalized Christmas decorations.
2. Charming pine cone snow globe for your tree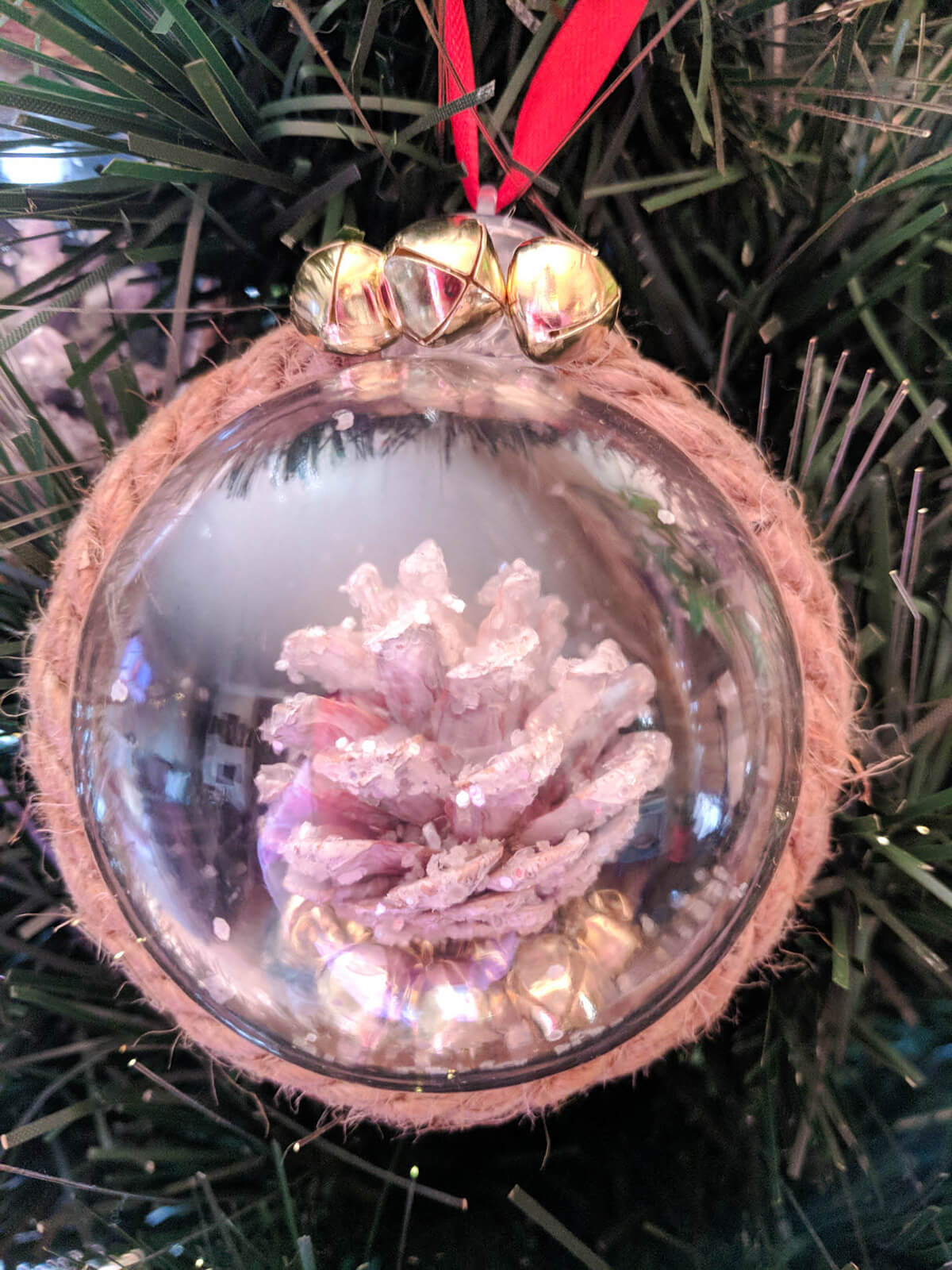 There are many ways to embellish a transparent Christmas tree ball. Still, pine cones are one of the most fail-safe, cost-effective center piece options on the market. A gentle pollination of "snow" and "ice" comes in the form of white paint and Epsom salts (yes, the same type you use in baths). These simple materials let this collected plant material shine next to Christmas lights and tinsel. The hemp cord and golden bells give this homemade ornament a vintage flair. Of course, no ball is complete without a red ribbon to hang it up. Make one or do hundreds. These iridescent capsules are perfect for giving away!
3. Country Home Snow-Covered Pine Cone Ornaments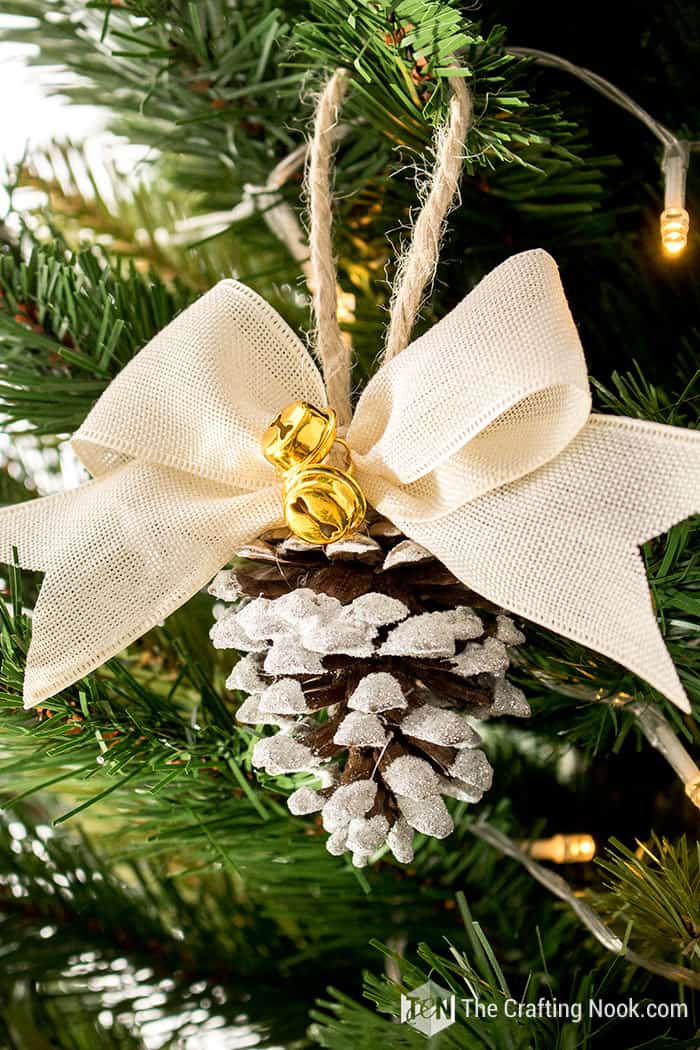 Add some winter charm to your tree with these easy-to-recreate snow-covered pinecone ornaments. Some carefully applied white paint and Epsom salt give these pine cones their frost-kissed surface. Jute twine, ivory colored linen bows and jingle bells are enough to underline this great idea.Or use them as a gift topper. Your stylish friends will be reluctant if you are unexpectedly ahead of them with your newly discovered Christmas decorating ideas. You'll keep staring at your suddenly boutique-worthy Christmas tree.
4. Affordable Frost Tipped Pine Cone Ornaments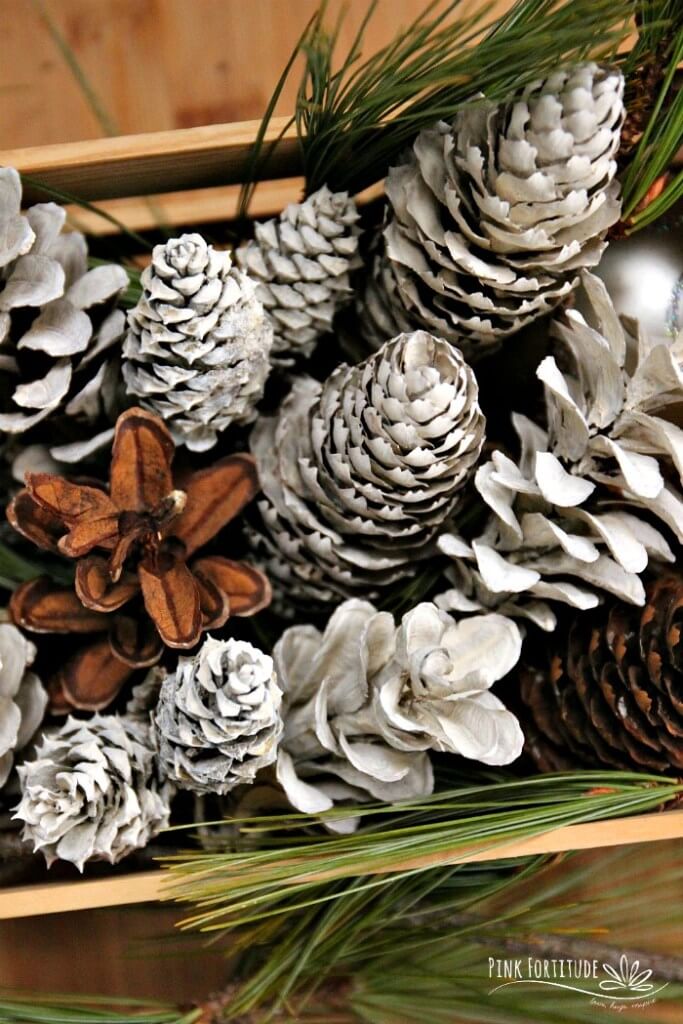 Create artificially bleached pine cones without the use of harmful chemicals. This simple craft uses white board paint in place of the caustic and bad-smelling chemical alternative: bleach. Combine your whitewashed cones with untreated brown cones and green pine needles to add texture to creating table arrangements and other seasonal decorations.This easy craft is one of the best DIY pine cone ornaments for any last minute home improvement. Just give yourself enough time for the paint to dry!
5. White-Crested Pinecone and Cranberry Christmas Tree Balls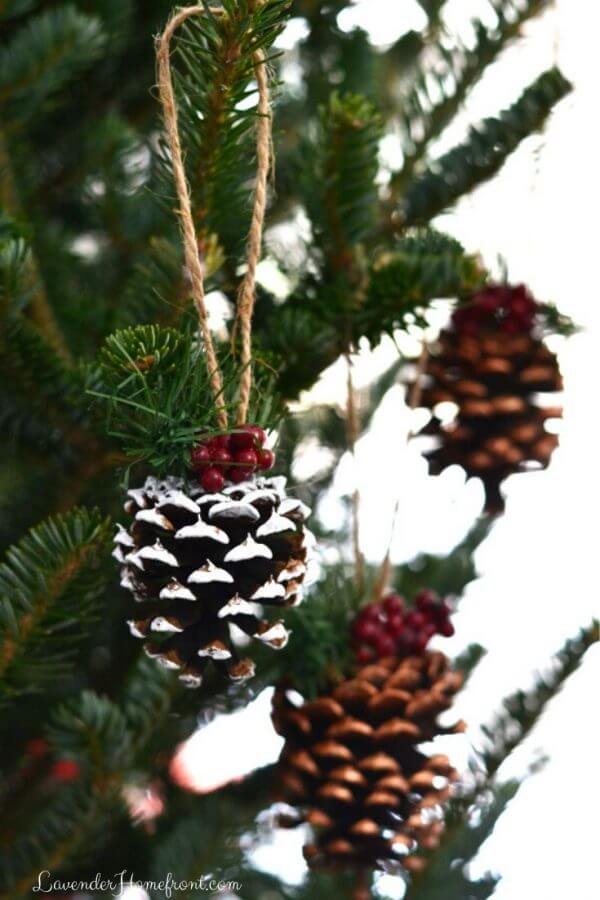 These squat little cones look great with jute twine hangers, fake berry clusters, and a splash of the Snow Queen. You will need some white craft paint to add a wintery finish to these simple, lined ornaments. Dress up every other cone with some copper paint to add more contrast to your arrangements. Hang them up individually or string them together to form a rustic pine cone garland. You will be shocked to see how easy it is to turn an ordinary home into a picture-perfect setting for a rural Christmas party.
6. Fragrant Pinecone and Twine Swag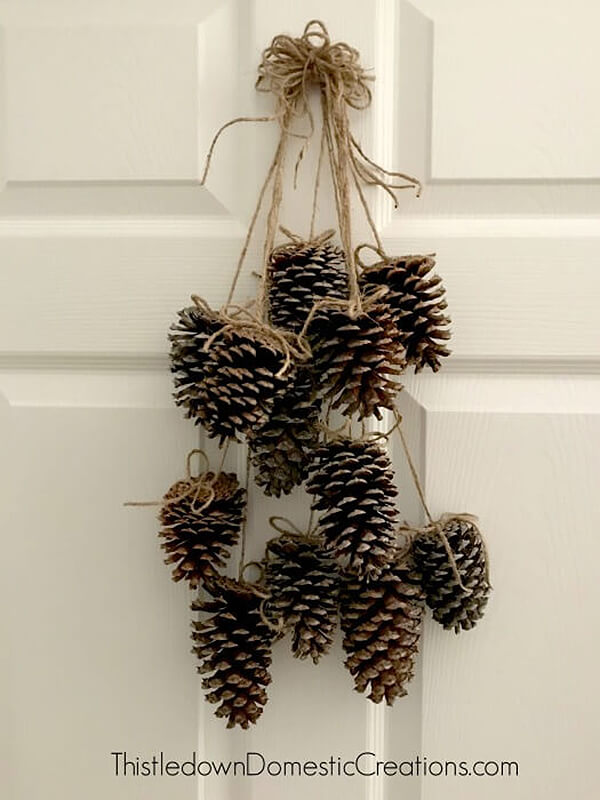 Do you want to put together the easiest, most rewarding door swag of your life? Glue jute threads (hemp is a good alternative) onto the base of about a dozen carefully curated pine cones. Gather the strings and tie them in a loose loop. Make sure to cut the jute in different lengths, as the pine cones should hang at different heights. Voila! You have an aromatic and charming door fitting that immediately gives you an appeal this Christmas season. This craft is also biodegradable. However, if you can keep the decor out of the reach of pets and other curious creatures, it should be easy to reuse year after year. Natural elements like pine cones and twine give your home an earthy, relaxed feel for Christmas. Let the neighbors cover the inflatable lawn decorations and plastic candy canes.
7. Cool Frosted Nickel Pinecone Decorations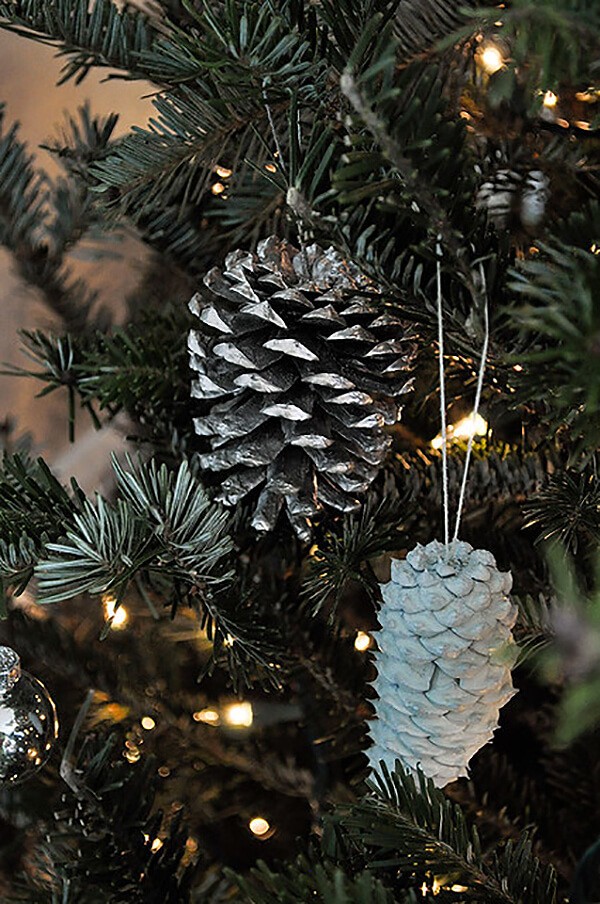 This year we will be trading all of our tinsel for silver-plated pine cones. It's amazing to see what you can do with some lining and some spray paint. While we love the icy shimmer of frosted nickel paint, we can safely say that shimmery gold or copper sprays would look just as good. Combine two metallic colors to create a dazzling Christmas tree theme in silver and gold. While these ultra-hip pine cone ornaments look beautiful on Christmas trees, there's nothing stopping you from adding them to your garlands and table arrangements. Did we mention they look spectacular when paired with soft white Christmas lights?
8. Simple DIY Painted Pine Cone Ornaments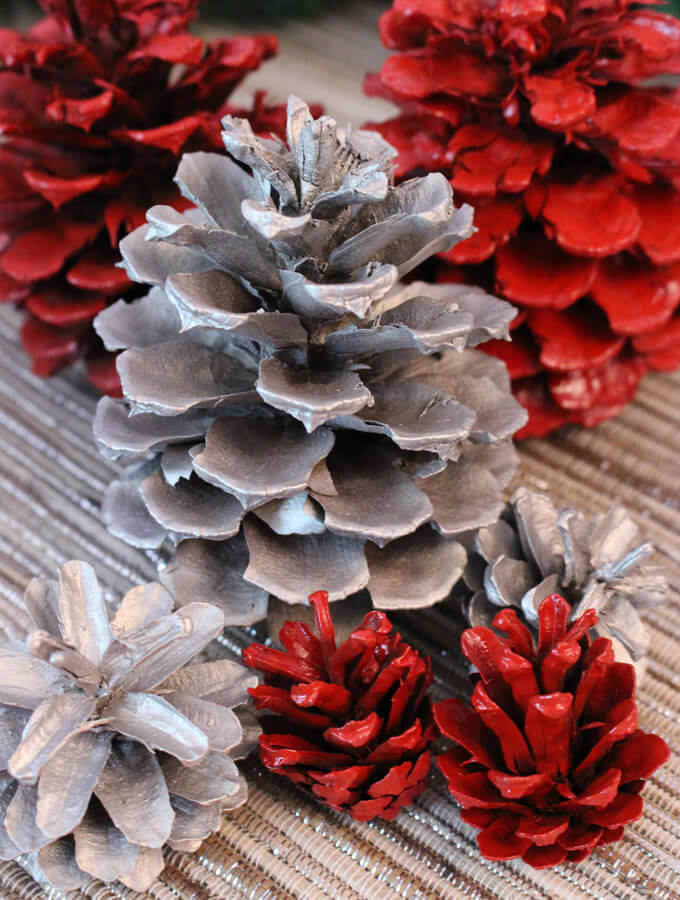 Painted pine cones are inexpensive and easy to assemble. No colors are taboo. With that in mind, we tend to resort to traditional seasonal color schemes like red, white, green, silver, and gold. We strongly recommend hanging your pine cones on string while the paint hardens. This method prevents the colors from clumping together between the scales. A single color coat must still show something of the natural texture of the pine cones.Check them out for bugs, dirt, and sap before getting started on this charming vacation boat. These are some of the best DIY pinecone ornaments for kids. Bonus tip: add cotton balls, Epsom salts, or glitter to the ends of your pinecone scales to give them a more wintry look.
9. Santa Claus Pine Cone Ornaments for Kids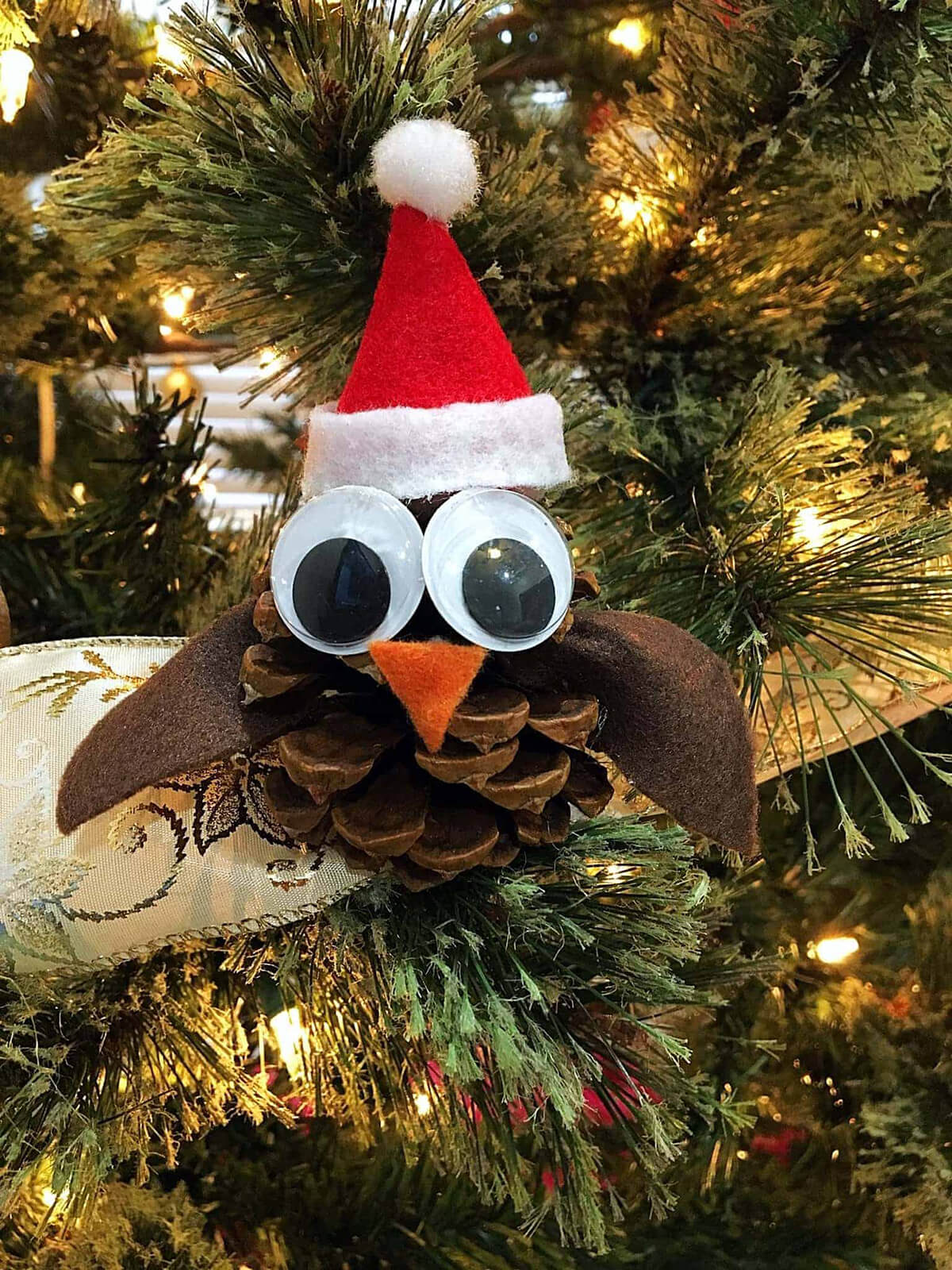 This next craft is easy enough for the whole family. Use felt, pompoms, and googly eyes to turn these ordinary pine cones into adorable forest animals. You can't go wrong if your Christmas decor includes miniature Santa hats. Mix and match felt colors to give each of your little wood elves a unique disposition. Fill cotton balls under the scales to give your new feathered friends a wintry flair. These ornaments make adorable gifts. You can also turn your feed into hedgehogs, porcupines, and turkeys. Add a little wire or a wooden clothespin to the bottom of your forest animals before clipping them to the branches of your Christmas tree.
10. Anything that's glitter and gold pine cones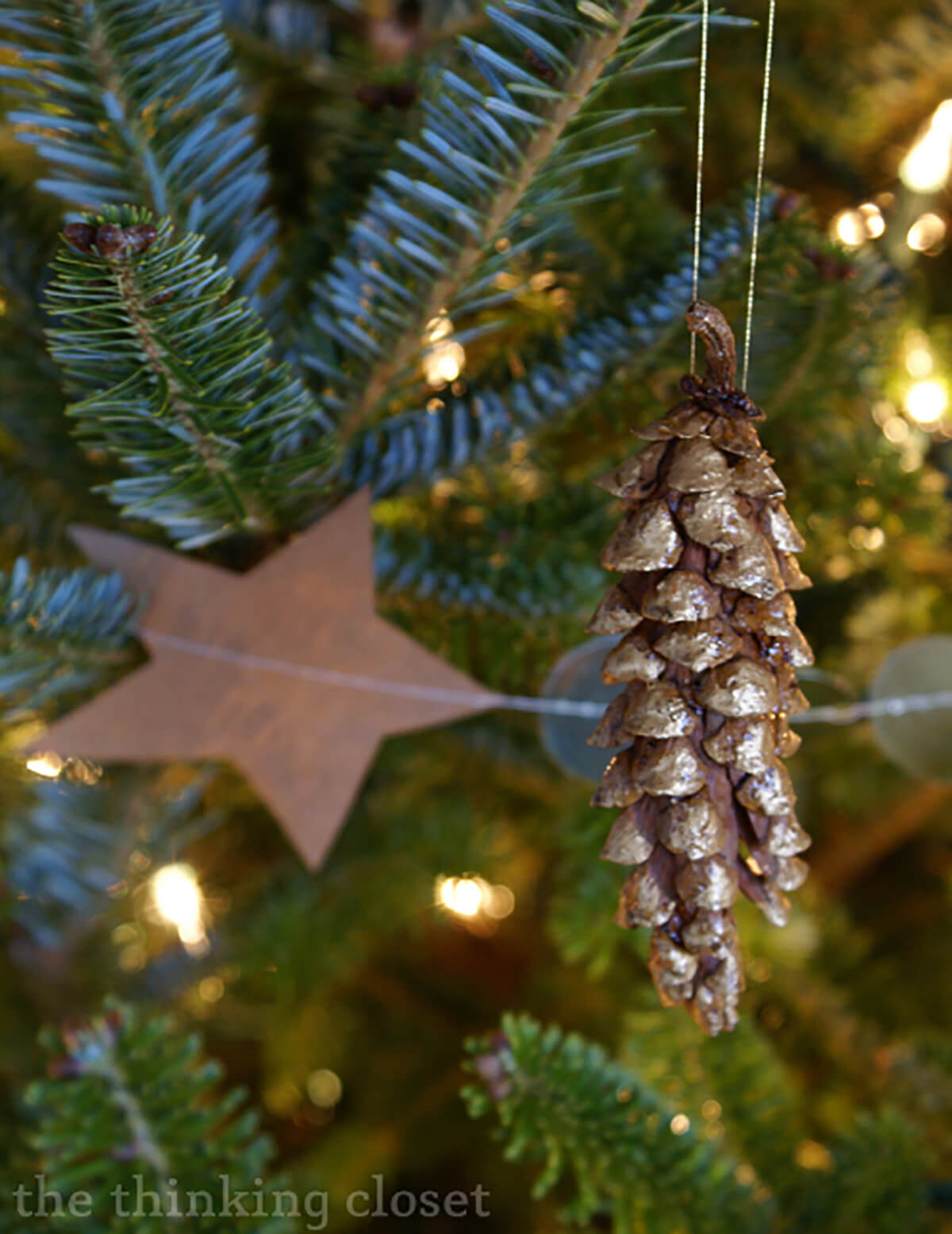 Add a little pizzazz to your Christmas tree this season with these gold pine cone ornaments. Try to let a little of the natural brown color of each pine cone shine through. You don't want to eradicate the rich browns of these naturally woody goods. You can also glue your pine cones on wooden skewers or toothpicks. The skewers make it easier for you to insert your ornaments in table arrangements, wreaths and other seasonal displays. Drape your tree in dozens of gold pine cones, brown paper stars, and warm yellow lights for a cute, homemade finish. You will have a hard time finding a store-bought ornament with so much rustic charm!
11. Cool Painted Ombre Pine Cones for the Tree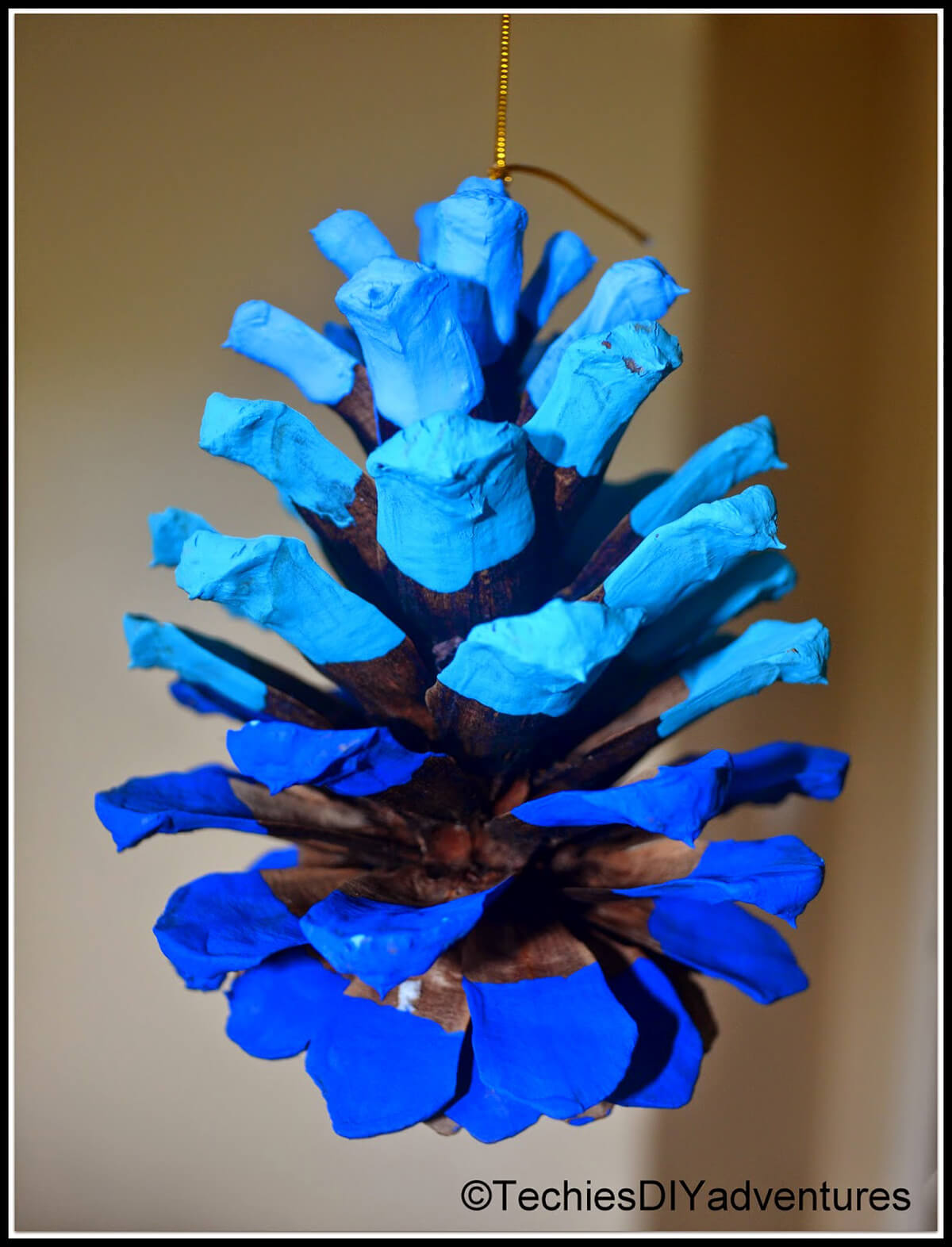 Dress up these handcrafted pine cones with ombre colors. Start with a base color and gradually add white paint for a nice layered look. Right now we're obsessed with this cool blue composition. Hang your painted creations on your tree, toss them in a bowl, or hang them on a wreath. You can't go wrong when it comes to this simple painted pinecone craft. It just goes to show that not all pine cone ornaments are rustic.
12. DIY rustic pine cone kiss ball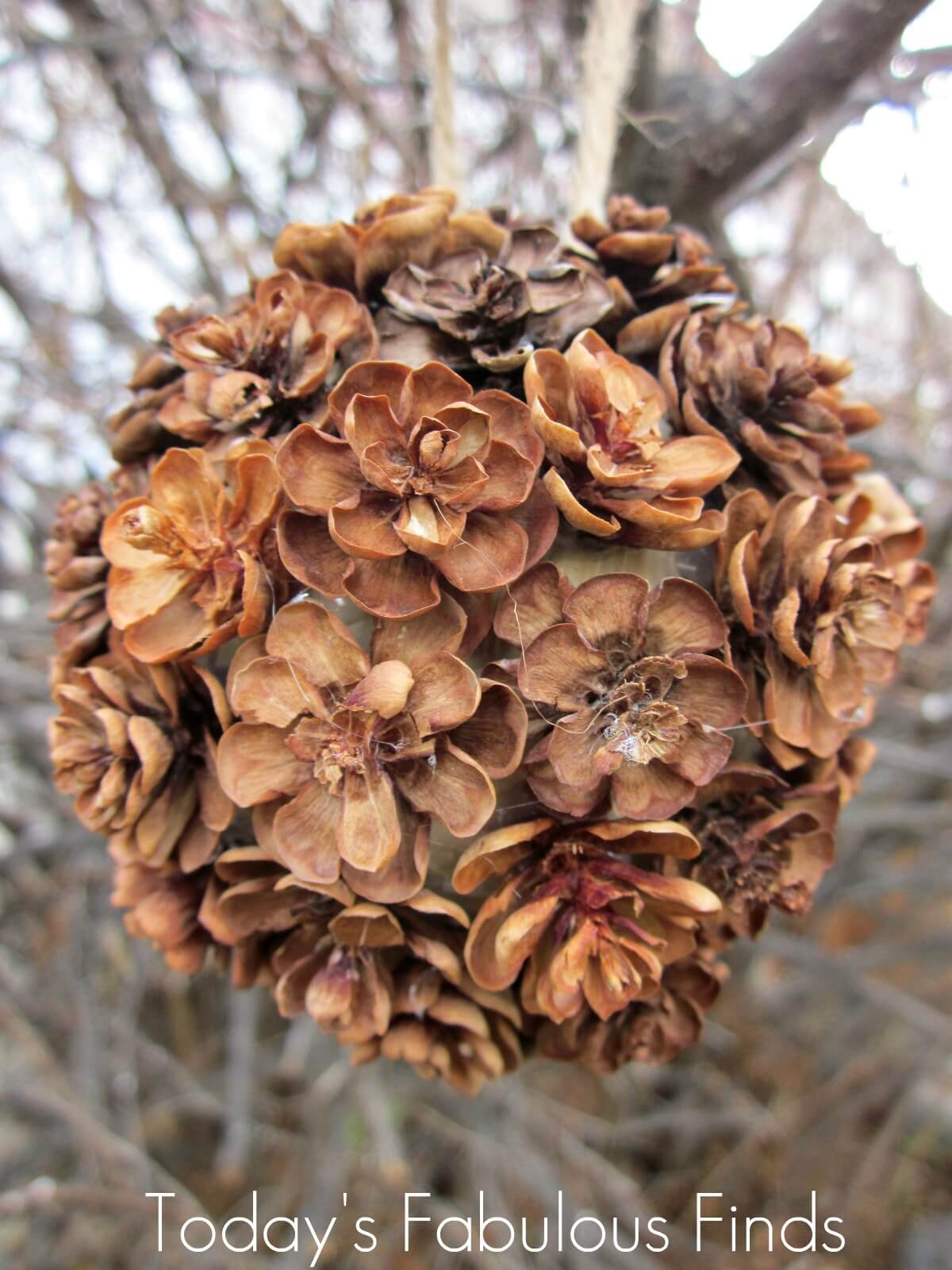 Your guests will long for the chance to stand under this charming pine cone kiss ball. Collected cones are carefully decapitated before their bases are glued into a large foam ball. Attach a small piece of fishing line or hemp line and hang the heirloom decoration on a busy door. The woody ball is easier to preserve than the mistletoe! In addition, the earthy brown tones and the rich textures of the pine cone scales will amaze your guests. It's one of those old school conversation pieces that can transform a vacation setting. Just be ready for all those unexpected cheek kisses that are sure to follow you!
13. Classic pine cone ornaments with red ribbons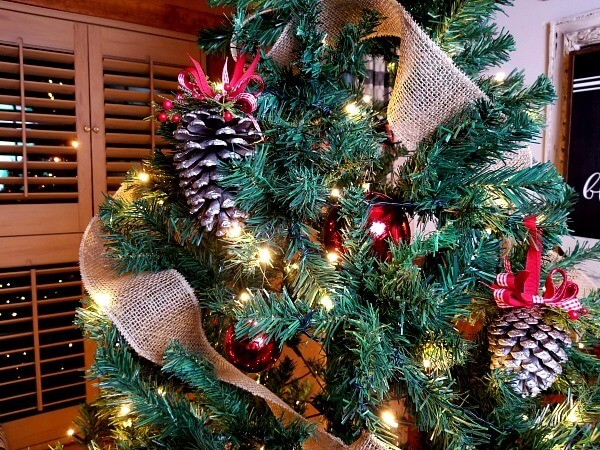 When in doubt, always opt for traditional Christmas decorations. These simple, festive ornaments combined feed and simple embellishments. Grab a red and gold ribbon, fake berries, and a hot glue gun from your local craft store. Consider spraying the cones with some gold paint before you finish tightening them. These metallic scales shimmer brilliantly in the warm light of your Christmas lights. Meanwhile, the decadent, brown pinecone bases are sure to pair well with red, tan, and ivory-colored embellishments.
14.Unique pine cone angel ornaments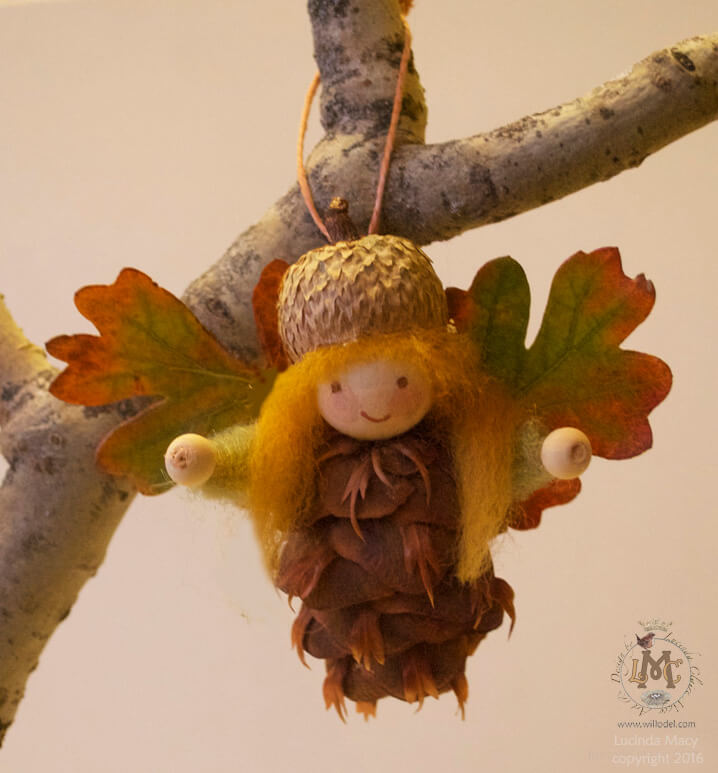 Conjure up your own forest fairies with some collected material, a few wooden beads and some hot glue. This angel-like tree ornament has a pine cone as a body, an acorn cap as a hat and leaves as a wing. Adorable, isn't it? Use a fine marker to draw on a kind face. Q-Tips are the perfect applicators for rosy cheeks. Colored felt wool, on the other hand, makes for perfect fairy wigs! You can easily play around with your arrangements to make sure that each of your ornaments has its own personality. This craft is a fun activity for the whole family! These fairies don't have to retreat just because the weather is getting warmer. Just put them in your backyard messhouses when the holidays are over.
15. Perfect pine cone gnomes with wooden noses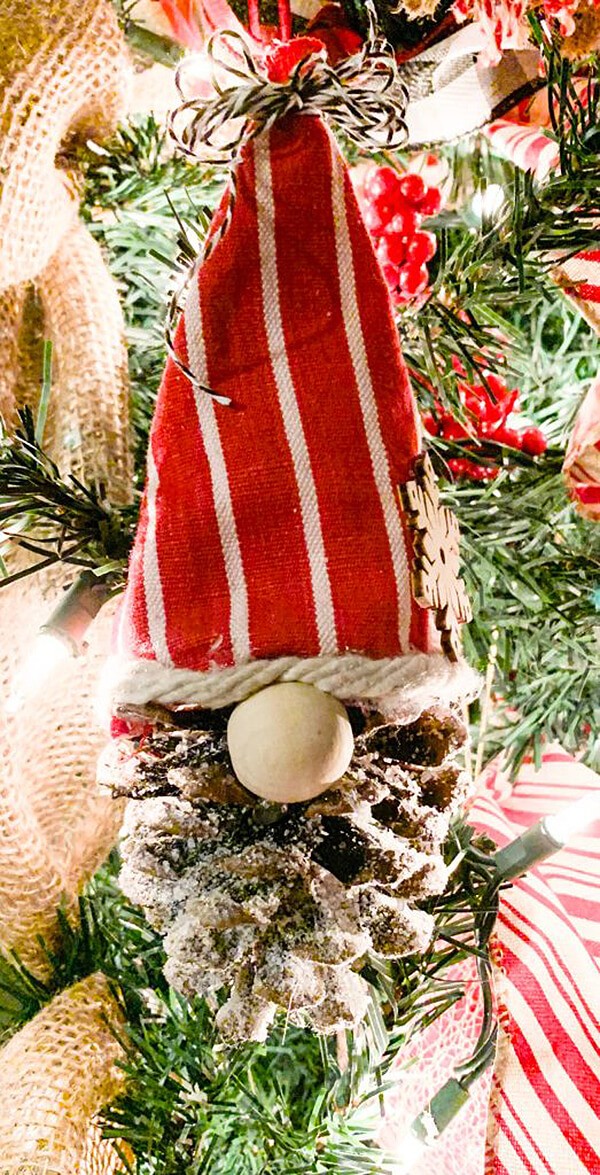 Turn these annoying pine cones in the backyard into adorable winter gnomes. Tap the floors in glue and Epsom salts to give them a salty, ice-encrusted beard. Wooden beads make excellent gnome noses. Recycled fabric, colored thread and thick thread combine to create adorable gnome hats. As if by Christmas magic, these magical creatures come to life! Mix and match materials to make sure each gnome has a new look. When it comes to elf hats, slackness is essential!
16. Perfect Pine Cone Snowflake Ornaments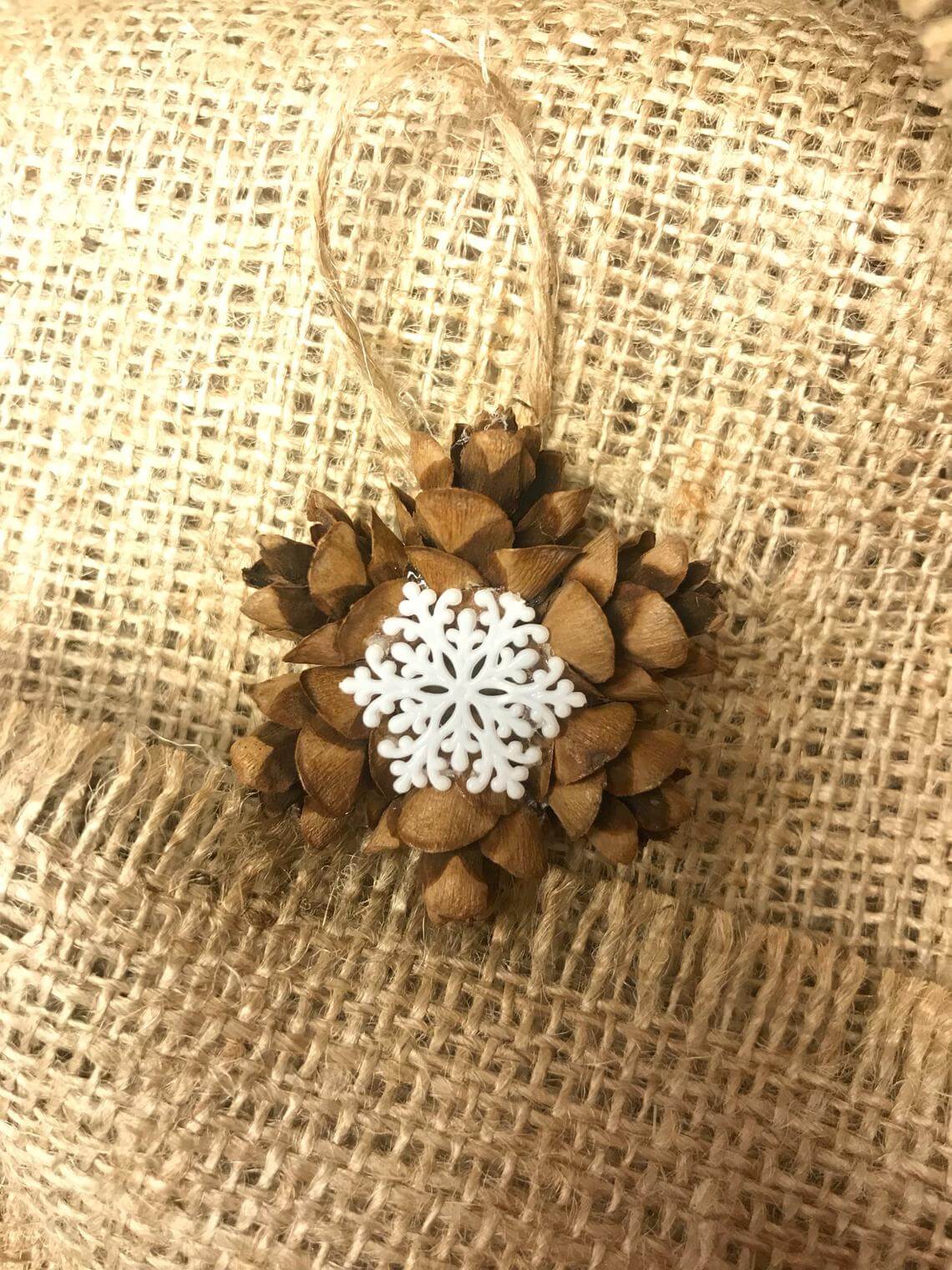 This adorable
Christmas tree ornament
consists of a snowflake-shaped collection of natural hemlock pine cones. The miniature wreath features an adorable white lace doily and jute cord for hanging, but you can also use it as a decorative gift attachment. It's one of our favorite
pinecone crafts
for Christmas. Since many of these are available on Etsy, you can use your free time to decorate cookies and other vacation activities.
17. Aromatic Pine Cone Potpourri for the Tree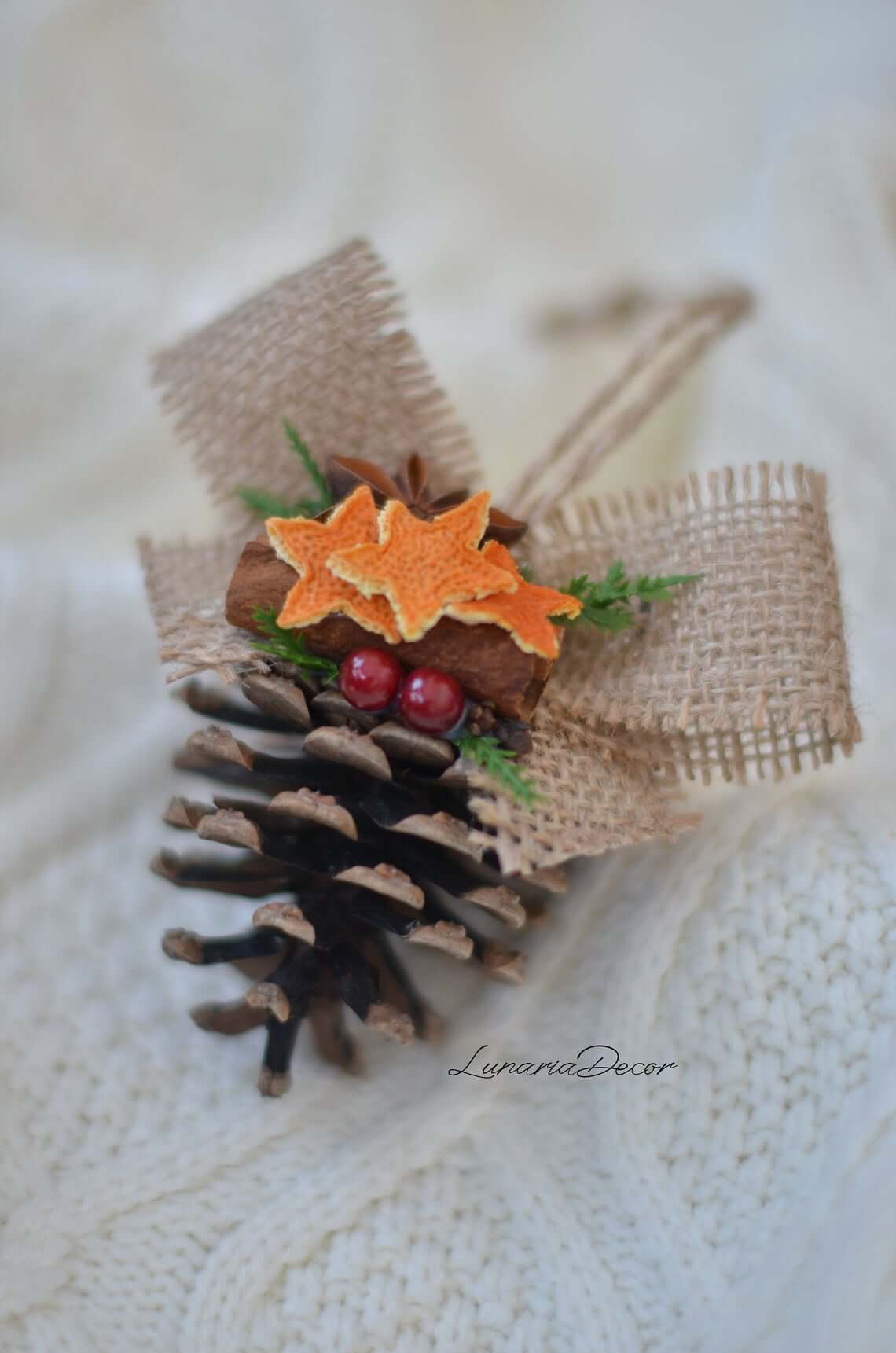 These rustic country pinecone ornaments are the perfect addition to your Christmas tree. Each ornament consists of a natural pine cone attached to a jute cord hanger, burlap bow, and an aromatic bundle. The grapes made from aniseed, cinnamon, dried orange stars and cloves smell like freshly baked gingerbread. Make sure your holiday season has sugar, spices, and everything beautiful!
18. Miniature Mason Jar Pine Cone Ornaments with Lights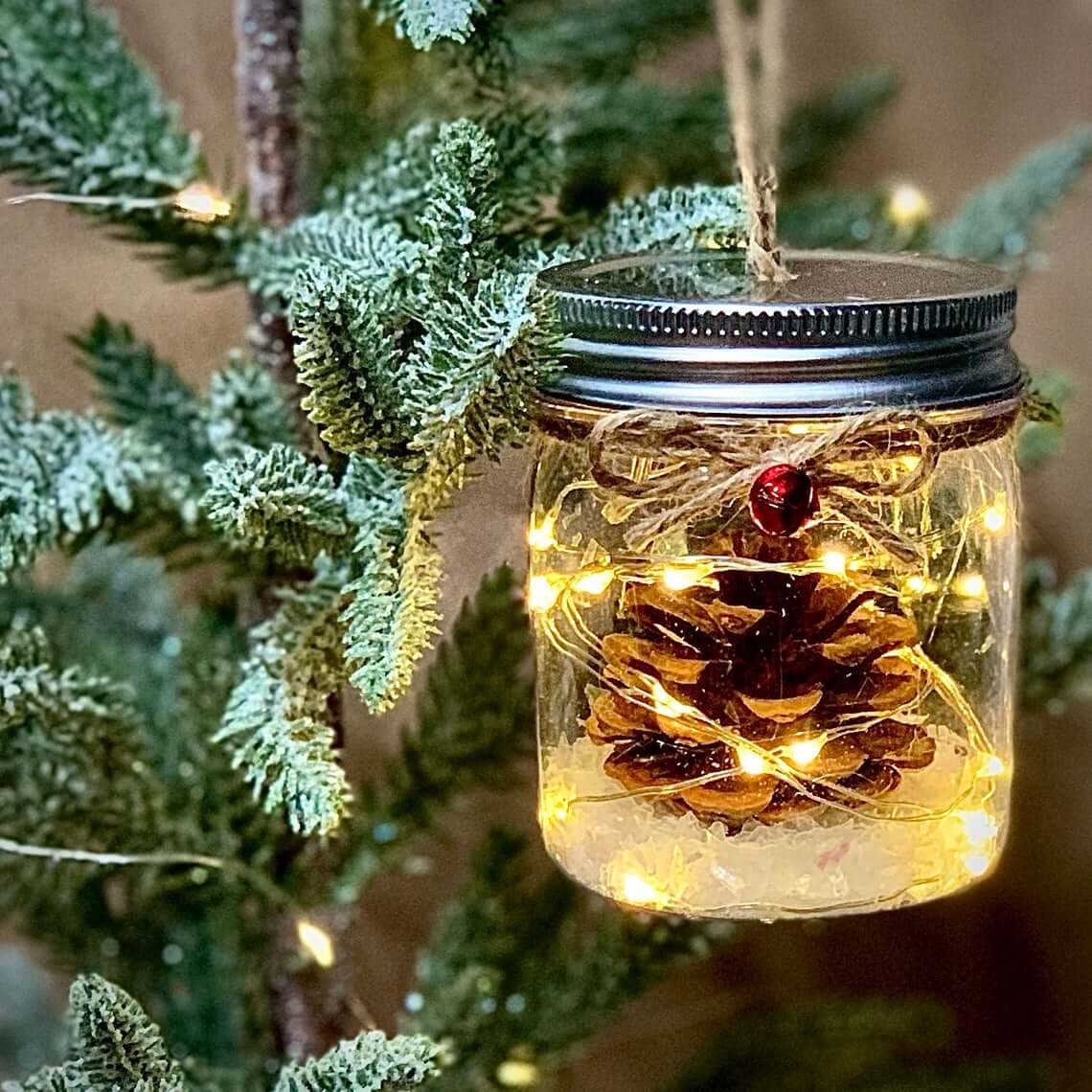 These miniature mason jar ornaments feature a natural pine cone in a bed of glittering artificial snow. As if that wasn't enchanting enough, each lamp also has an LED light chain. A simple loop of string and an artificial cranberry are attached to the top of each ornament. The plastic bases are safe for use around children and pets.
19. Spiffy Pinecone-Stuffed Globe Ornaments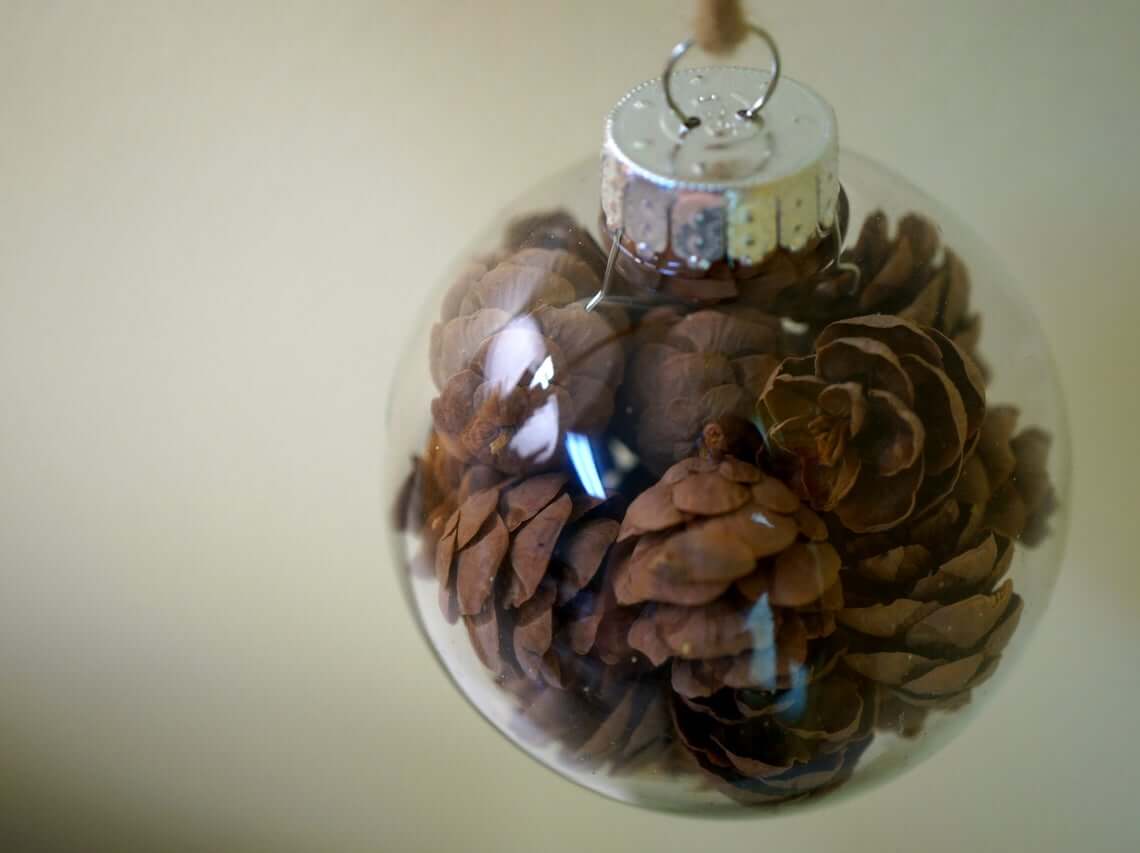 Each of these adorable pinecone Christmas ornaments contains approximately 30 miniature pinecones. The fully packed crystal balls give real and artificial trees a natural flair. Meticulous craftsmanship ensures that these pieces can be saved for years. Since the pine cones are untreated, they go well with practically any tree theme. You might even consider giving one to someone special in your life ..