Today's list is one of the interior designs I love the most. This is dedicated to all pet lovers, specially the dog lovers. Yes! Dog lovers, get ready because these rooms you're about to see have been designed in a distinctive way with so much love for dogs.
Okay, I know what you're thinking. You may think these are out of this world, impractical homes created by famous celebrities and people for our cute dogs.
Hold your horses. I hate to disappoint you, but I won't show you these. Are you getting a little skeptical now? Yes? Well! I love that!
I won't bother with interiors that we ordinary people might never get to. Of course not! I am all for inspiring and hopefully igniting your creative and innovative ideas and improving your life and ultimately making our world a better and much more beautiful place to live in.
Think of this moment as You held your puppy for the first time. Everything glowed. You have realized that you have added a new member to your family. As a family, we want them to feel safe and happy in a place that we call home. This might sound crazy to some, but as dog lovers it's only fitting that we make sure they also get a well-designed space that every family member has.
This way we make sure they feel comfortable and can enjoy every minute they spend with us. Not to mention having a designated area for them keeps the clutter under control, especially if they're not well trained yet.
Let's admit it. They're sweet and super adorable, but behind all those sweet kisses, hugs, and adorable tail wags is the dirty truth. If you want this serious business to be done in a very stylish way, check out these 20 dog-friendly home decor ideas that will be good for your dogs as well as yourself.
1. Scarsdale Project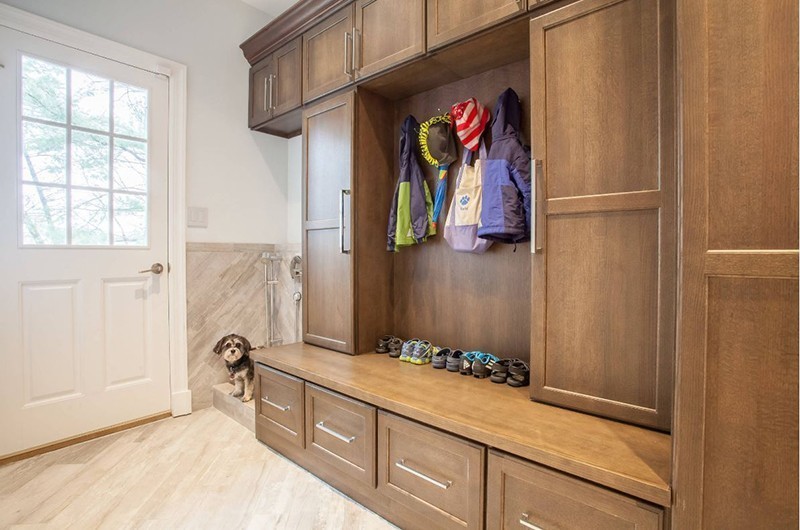 Holzman Interiors, Inc.
When you think of an entryway, our mind often wanders to a place where you could create a cozy vignette showcasing your family pictures and an eye-catching wall mirror and other beautiful, dainty decorations. In this home, the entryway is filled with plenty of storage for shoes and coats, and a surprising addition – a dishwashing station for your furry family member.
2. Chic Chateau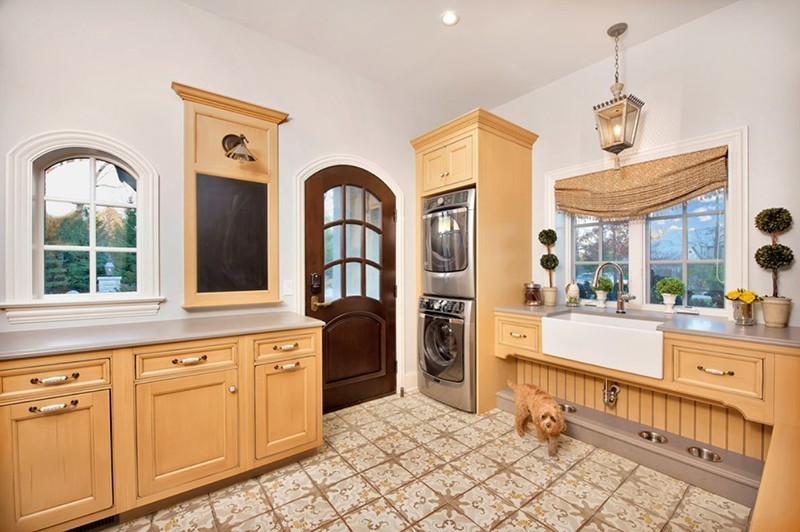 AP – A. Perry Homes
This French country style home has beautiful archways and even arched windows both stylish and gives the room a romantic touch. This beautiful laundry room features an exposed built-in dog feeder neatly tucked under the sink. It surprisingly doesn't appear to be an eyesore at all.
3. English Tudor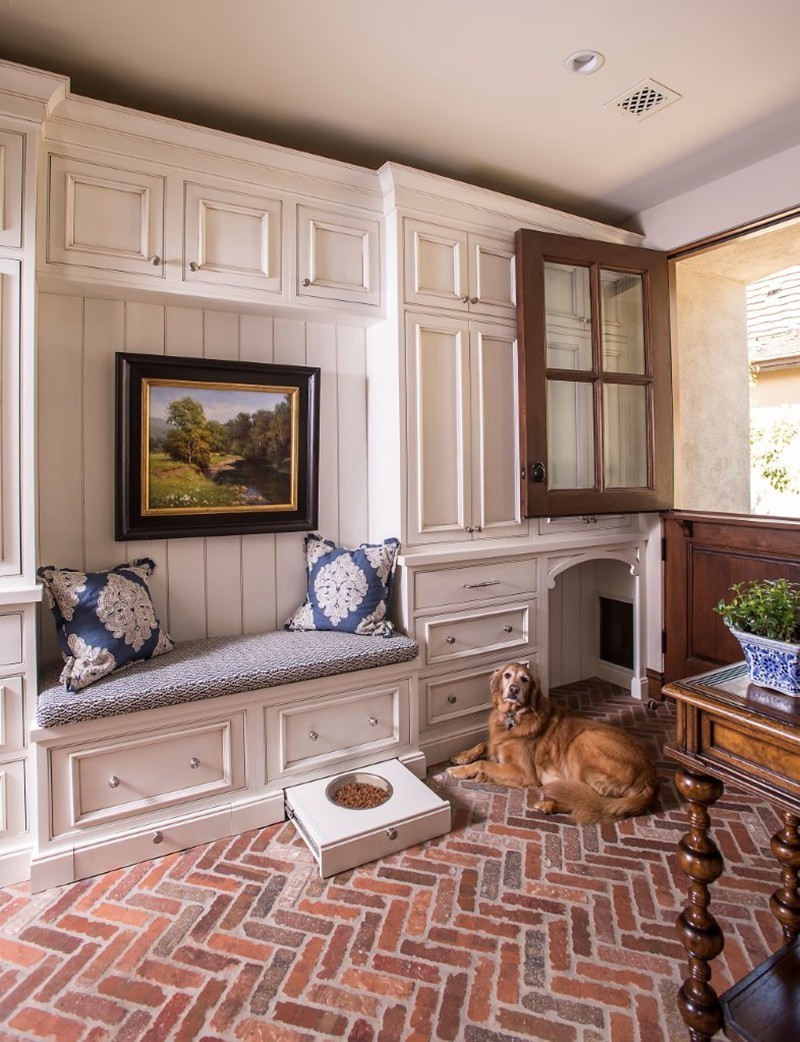 JSA Architect
Love this elegant, traditional farmhouse that has lots of storage space. It has fitted wardrobes with a built in dog bowl in one of its drawers. A space-saving solution that can be easily stored away when not in use.
4. Woodland Hills House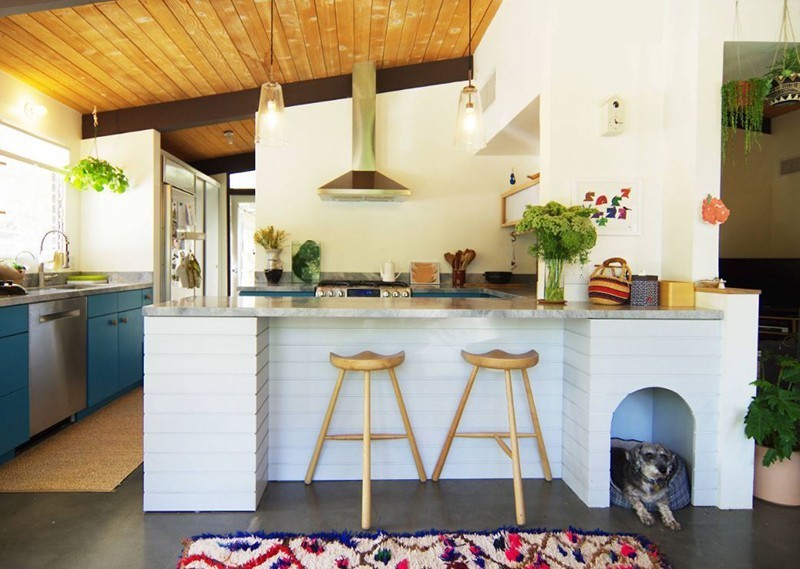 Bunch Design
If you're looking for a sophisticated way to create a cozy space for your dog, let this charming house tempt you inspire kitchen island with a sneaky built in dog crate that looks so chic and chill. Or you can incorporate a doghouse into your kitchen, much like the designers at the Sheridan Residence did.
5. Railings & Co.

Railings & Co.
This is a sensible solution if you have extra space under your stairs.Orchards 25th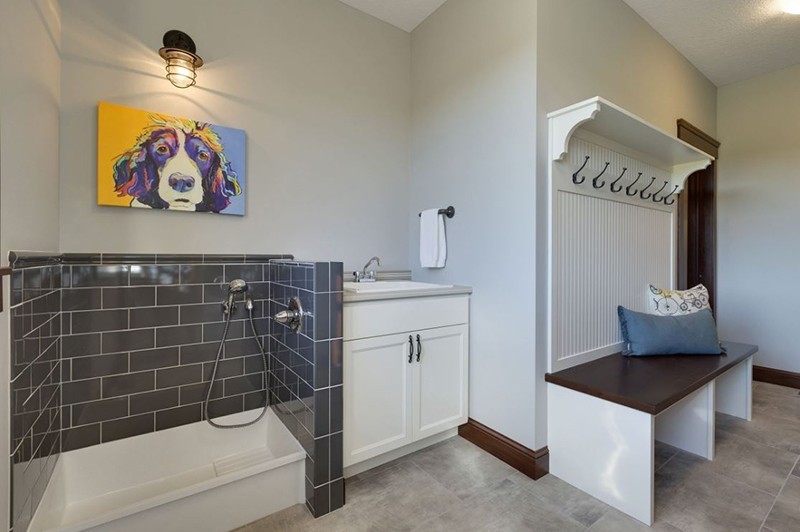 Hartman Homes
Personalize a dog area by adding a bold color dog painting to add character and punch give space. In this case, this laundry room has been made much more sophisticated than it already is by incorporating a snazzy dog ​​shower and tub.
7. Upper Hay Lake 1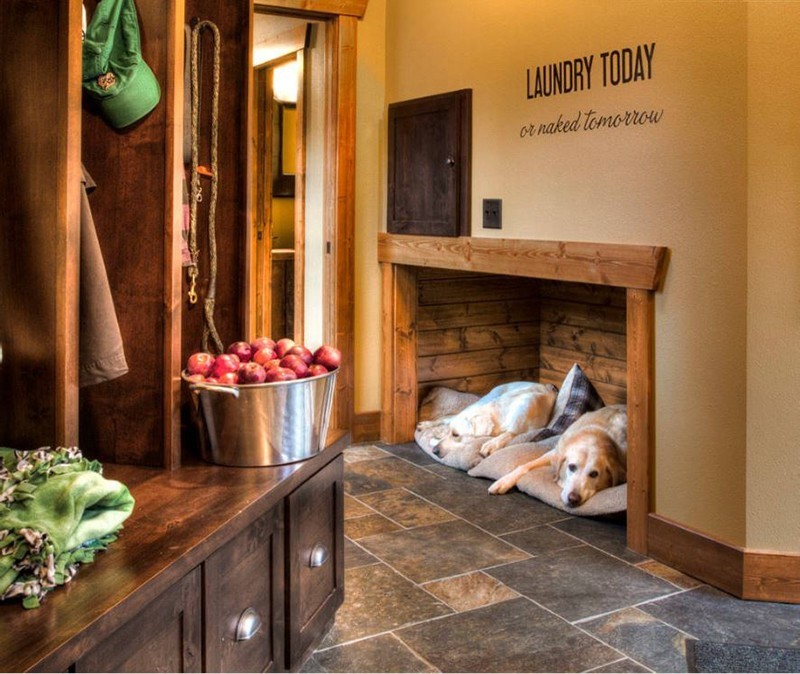 Land Ends Development
If you're short on space, you can opt for a cozy corner on one wall or any unused space you have. In this photo, the wood makes the corner warm, cozy and welcoming.
8. Racine Mudroom Supplement for Dogs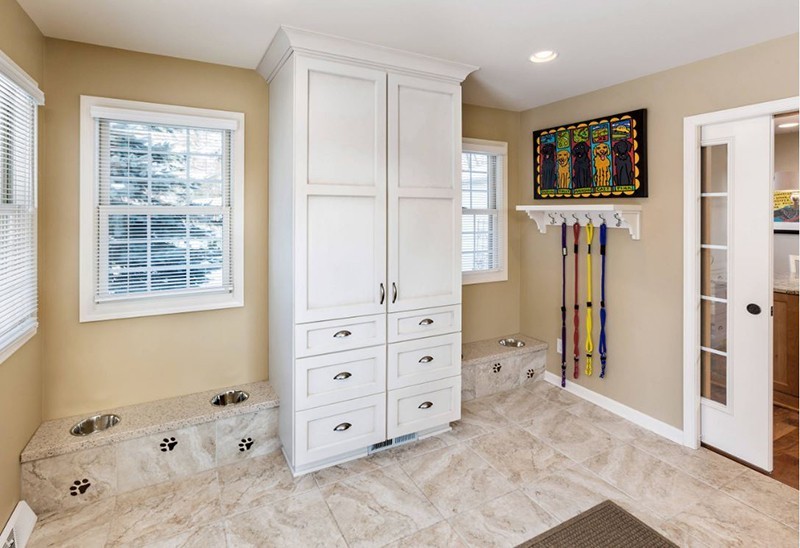 S.J. Janis Company
There's so much space in this mud room! It features a built in dog feeder, a bespoke wash area and a closet that offers plenty of storage space for dog food and other essentials. Hooks have also been added to conveniently hang the lines on the door.
9. California Cape Cod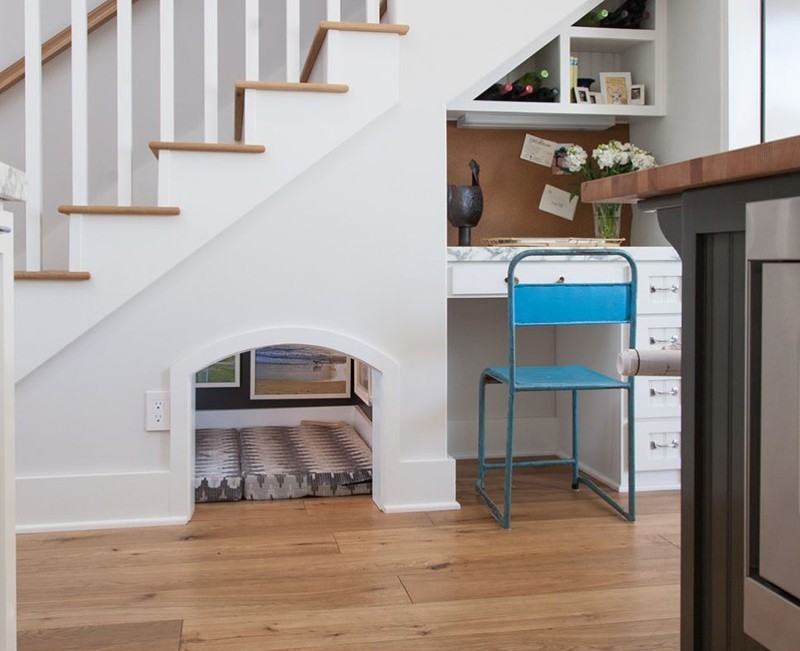 Built Custom Homes, LLC
If you have a pristine space under your stairs, now is the time use it well for that. Check out how it squeezes a workspace next to the cute dog house. Creating a nice room for your dog and a workspace for yourself is a very sensible project.
10. Hidden Falls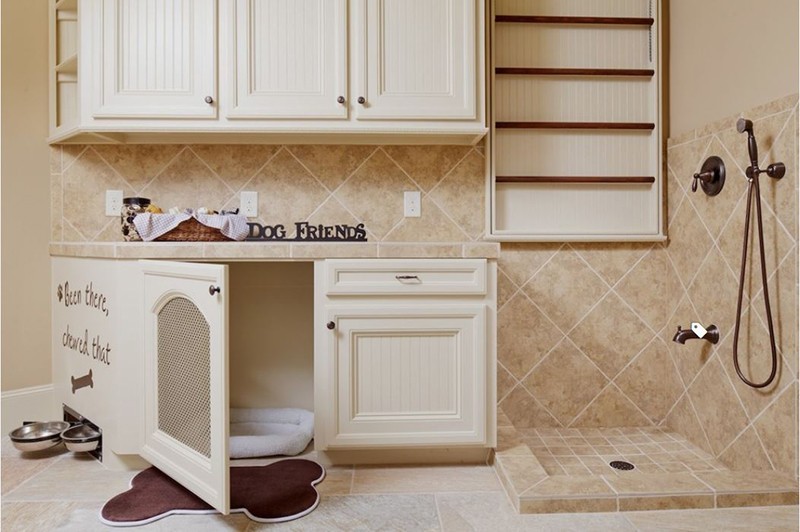 Morning Star Builders, LTD
Look at how handy this spot is for your furry family member? A complete built-in closet to store your dog's essentials. It also has a pull-out food bowl system, a nifty-looking dog house, and its own shower station with a flip-up drying rack that can be positioned over the dog shower to allow water to collect when hanging wet items on the shower floor.
11. Courtney Circle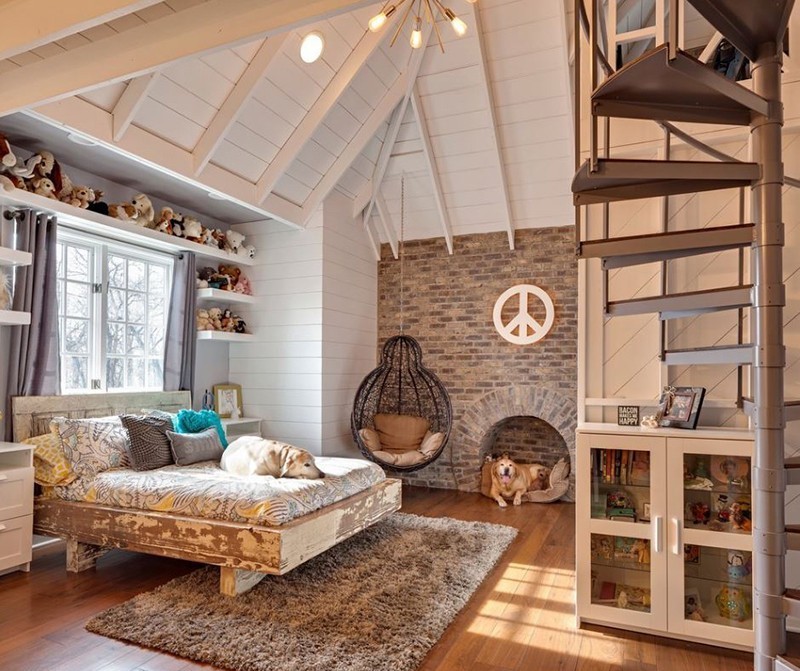 Ed Saloga Design Build
Love this shabby chic bedroom! It's so cozy, stylish and so inviting. The set-in wall, which looks like an unused chimney, is an incredible spot for a dog's own bed.
12. DKOR Interiors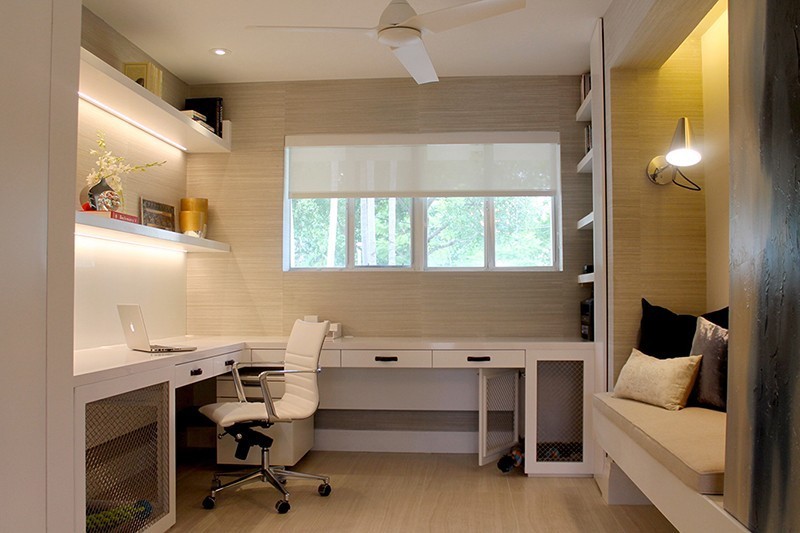 DKOR Interiors
This home office was designed for function and style. It has two desk areas with plenty of storage space. Best of all, it also includes comfortable kennels for owners' medium-sized dogs.
13. Minnesota Private Residence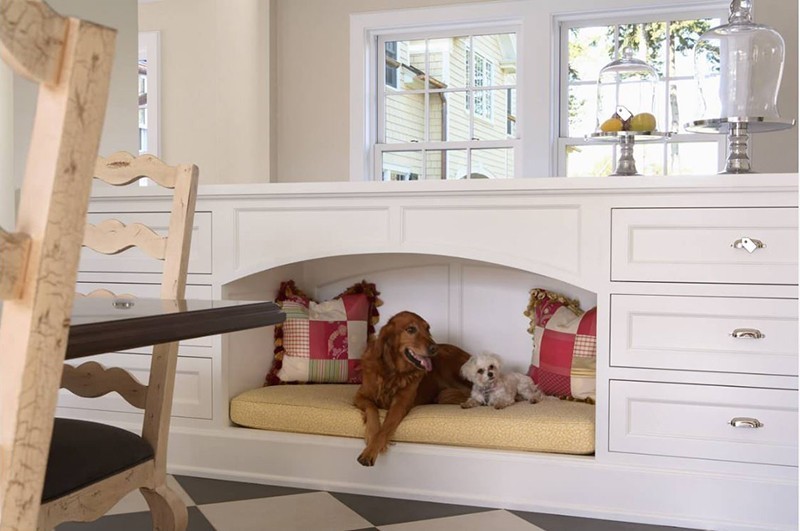 Cook Architectural Design Studio
You can make your dog comfortable anywhere in your home. This dining room has been made more interesting with a built in nook that is perfect for a dog to rest while the rest of the family dines there.
14. Dina Bandman Interiors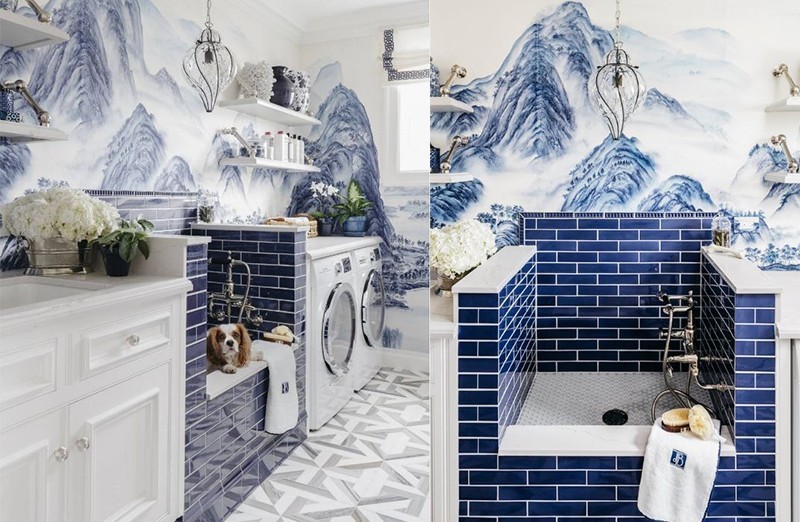 Dina Bandman Interiors
Add a touch of class and sophistication to your fur baby like this sleek laundry room featuring a stylish dog shower station .
15. Artistic Renovations of Ohio LLC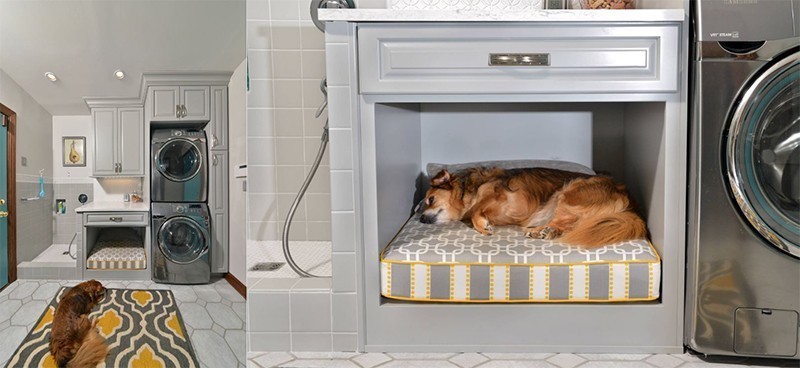 Artistic Renovations of Ohio LLC
Create a spa-like dog wash in your laundry room when you have enough space to take care of one.Your dog can even rest while he waits for you to finish your laundry under the counter on the padded open cupboard.
16. Maison de Reve Builders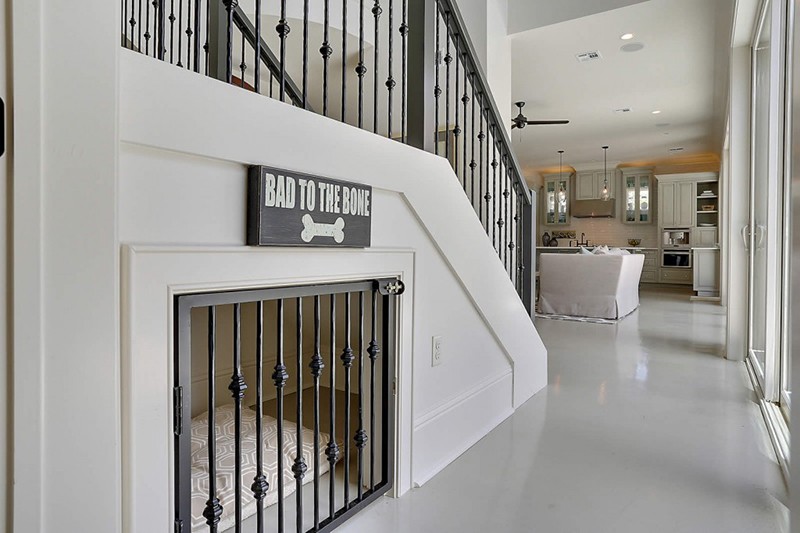 Maison de Reve Builders
Another custom kennel under the stairs! This matches the wrought iron handrails of the stairs above. It creates a cohesive and stylish look.
17. Brooks and Falotico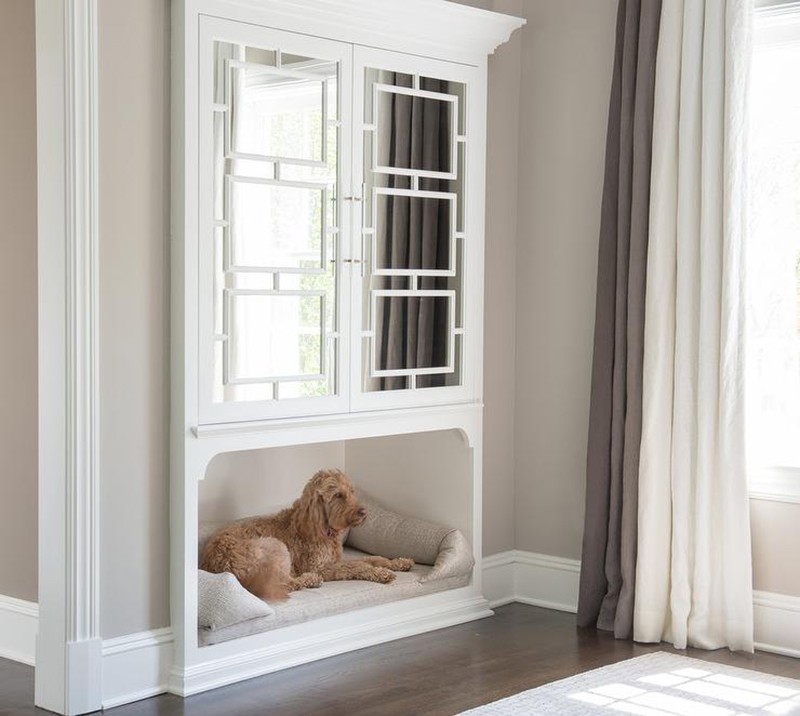 Brooks and Falotico
Add a dramatic and stunning flair to your space with a built in dog bed that will complement your decor fits, like this one.
18.Baldwin Homes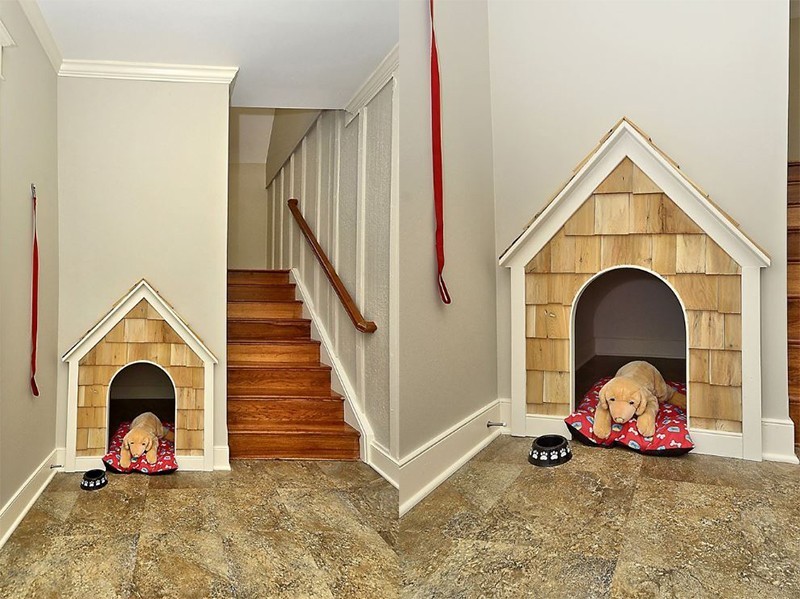 Baldwin Homes
Add a fresh and quirky look by mounting a dog house on a wall has so much space. This charming kennel is filled with cuteness and style that complements the entire interior.
20. Molly's Room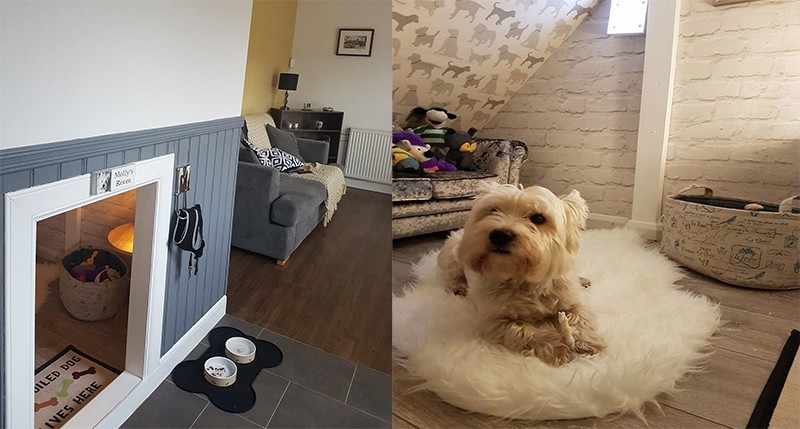 Michael McGowan
A beautiful DIY puppy room was set up under the stairs for Molly the Westie when her owners built it found out that she would be a little human's big sister. It turned out so amazing and so fabulous!
There you have it, a wonderful and stylish way of incorporating dog-friendly spaces into living spaces. I am sure you will agree that these spaces are very well thought out and well designed to meet the needs and comfort of our dear pets as well as the tranquility and peace of mind of the owners. Even the dead space in our homes can be turned into an adorable dog sanctuary like some of the interiors above. Designing and designing a space for your pets is just as important as designing your own space, after all they are family members too. But if you are a cat lover, you can check out some interiors designed especially for your feline friends.