Your Halloween decorations aren't complete without a wreath! Although you can buy a ready-made wreath, it would still be different if you made it yourself.
If you make it yourself, you're not just having fun. They also express your creativity and you will no doubt have something perfect for your home.
Agree?
Well, if you're a DIY enthusiast, you definitely will Answer yes to that question.
But what if you're not?
When you see this roundup of DIY Halloween wreaths, you might change your mind and start making to do something after seeing this post!
Check this out:
1. Burlap Crow Wreath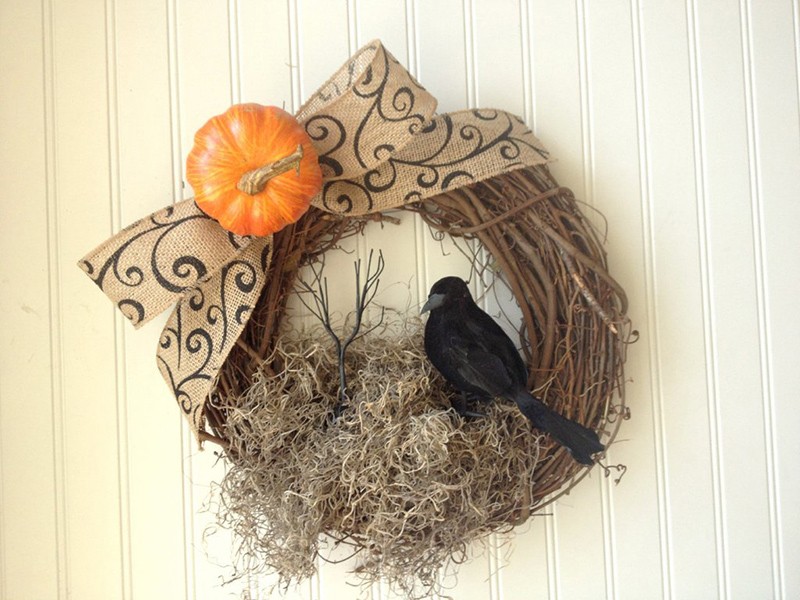 Pop Sugar
If you want a simple yet eye-catching design, then this is for you! It may look like a crow on a nest, but with the added pumpkin on it, you know it's a Halloween and fall wreath rolled into one!
2. Halloween skull wreath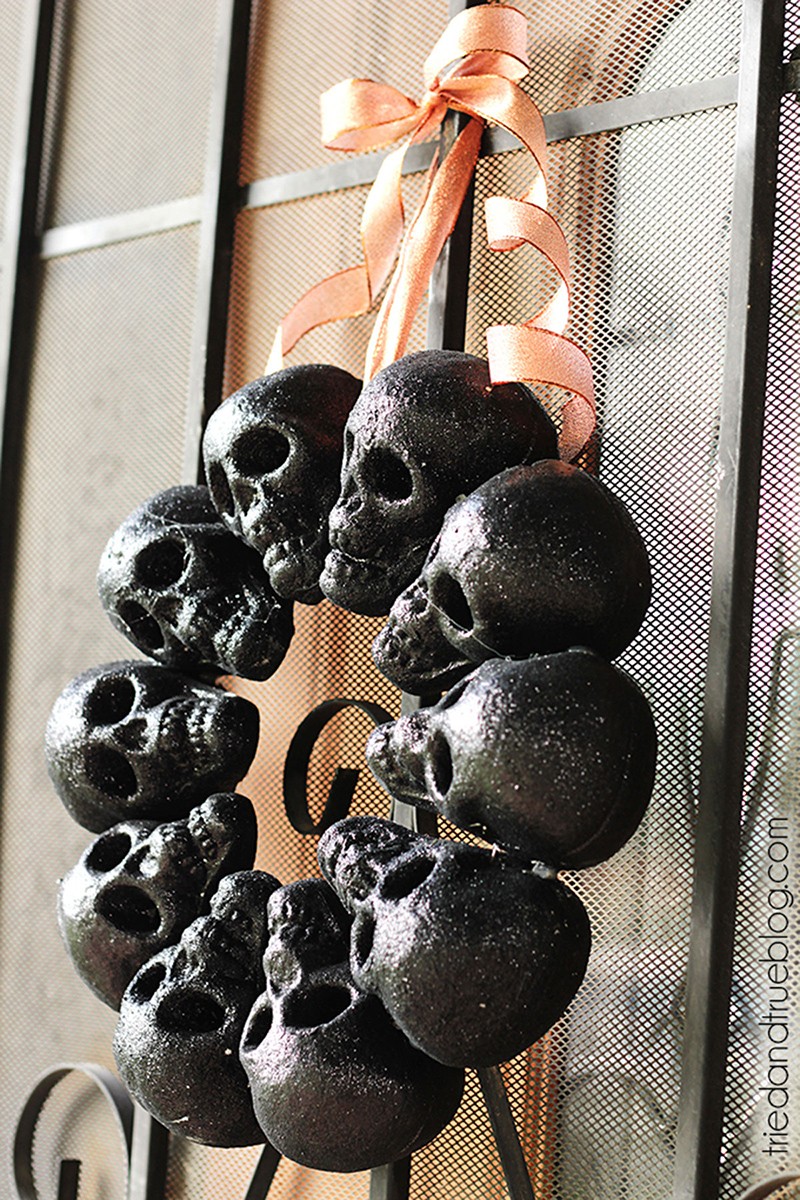 Tried and trusted
Assemble small Styrofoam skulls in glittery black into a circle with cable ties. Then add a band! So easy!
3. Boo Wreath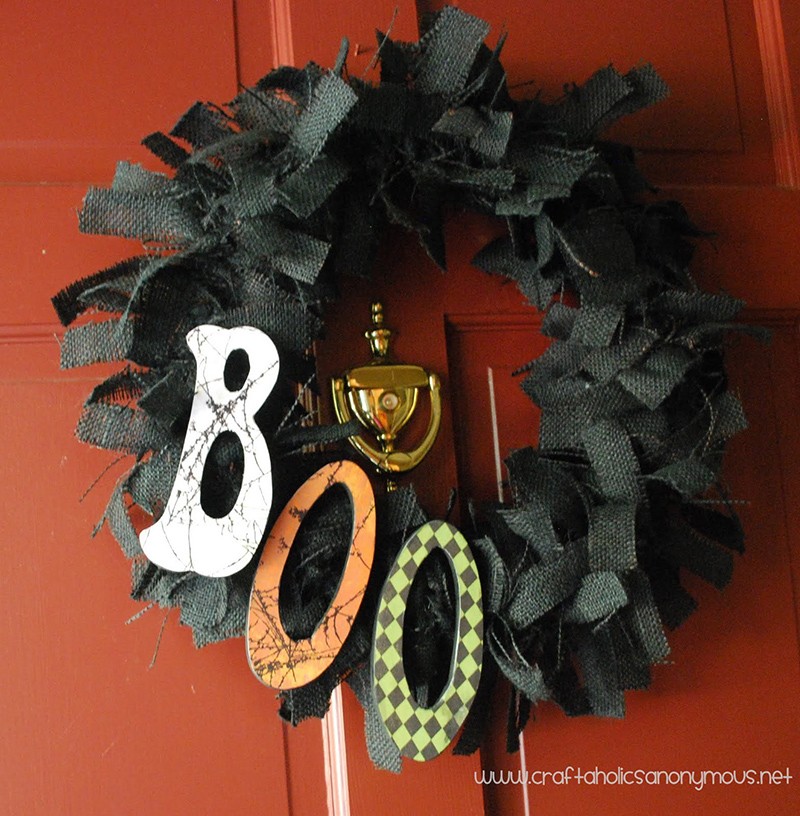 Craftaholics Anonymous
Now tie some black ribbon for your wreaths and just add the letters BOO, then you get the look for! You can also add some pops of color to your ribbons!
4. Black Lace Wreath
Pop Sugar
I love the effect of the black lace inside the black painted branch wreath. It's also a good idea to have some gold glitter added to the branches and black roses.
5. Chevron Fabric Wreath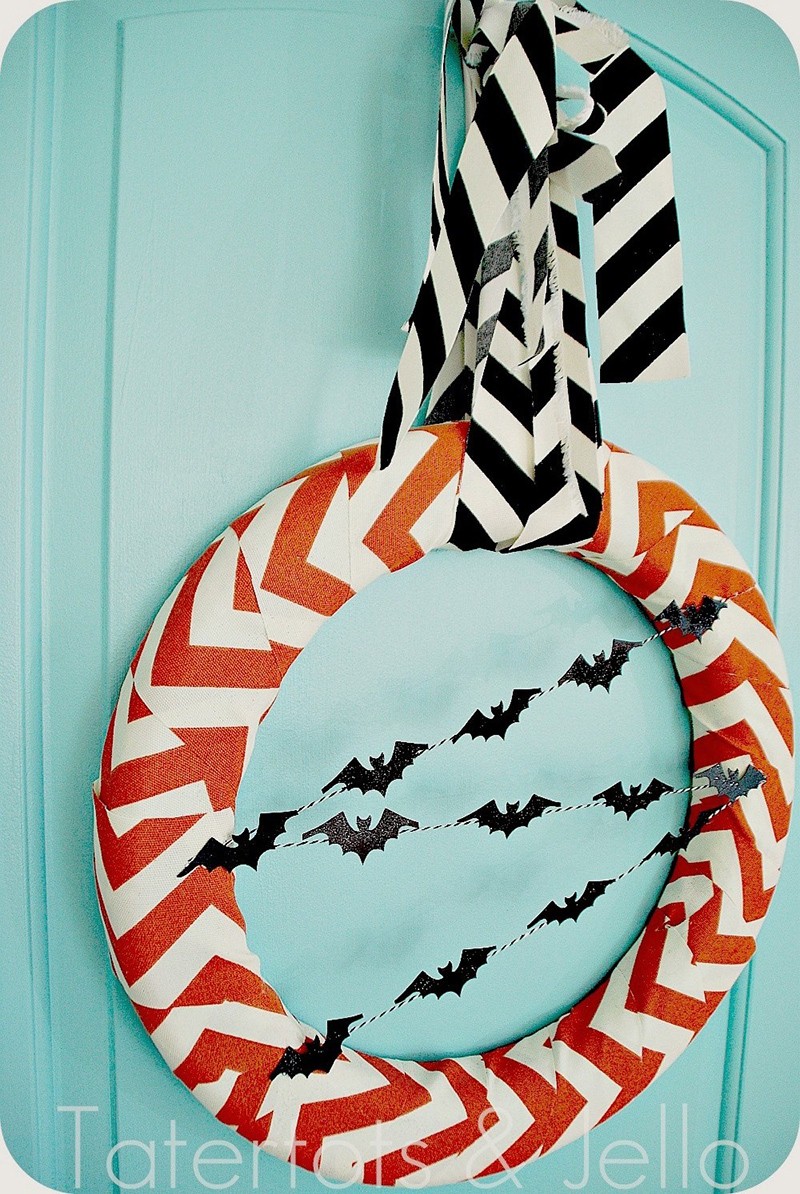 Tatertots and Jell-Os
Use Baker's Twine to thread tiny paper bats through your wreath to make it a subtle Halloween touch. This would be a perfect minimalistic Halloween decoration!
6. DIY Halloween Net Wreath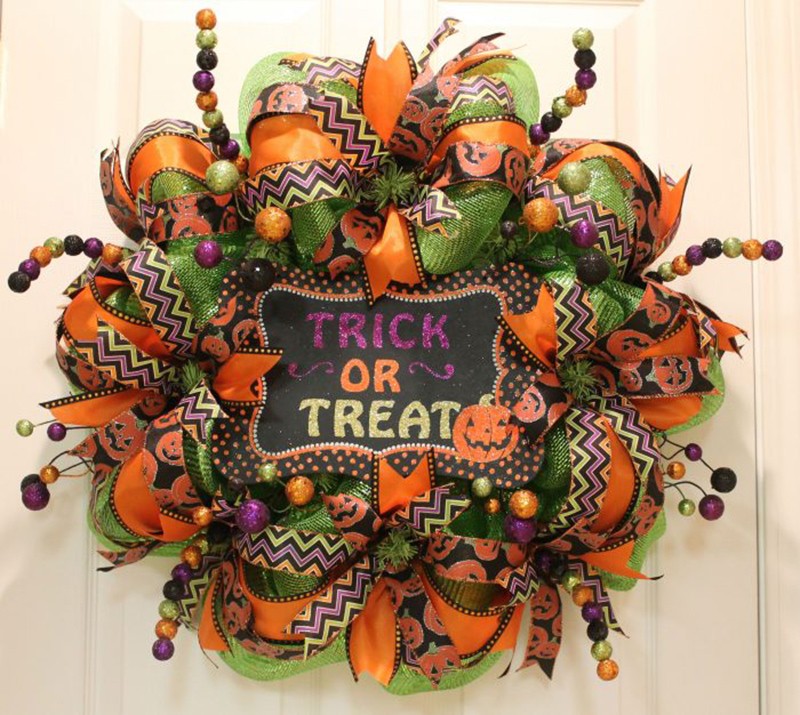 Lolly Jane
This pretty wreath is made from a combination of deco net and colorful ribbons. It's especially nice with the "Trick or Treat" sign.
7. DIY BOO Halloween Mesh Wreath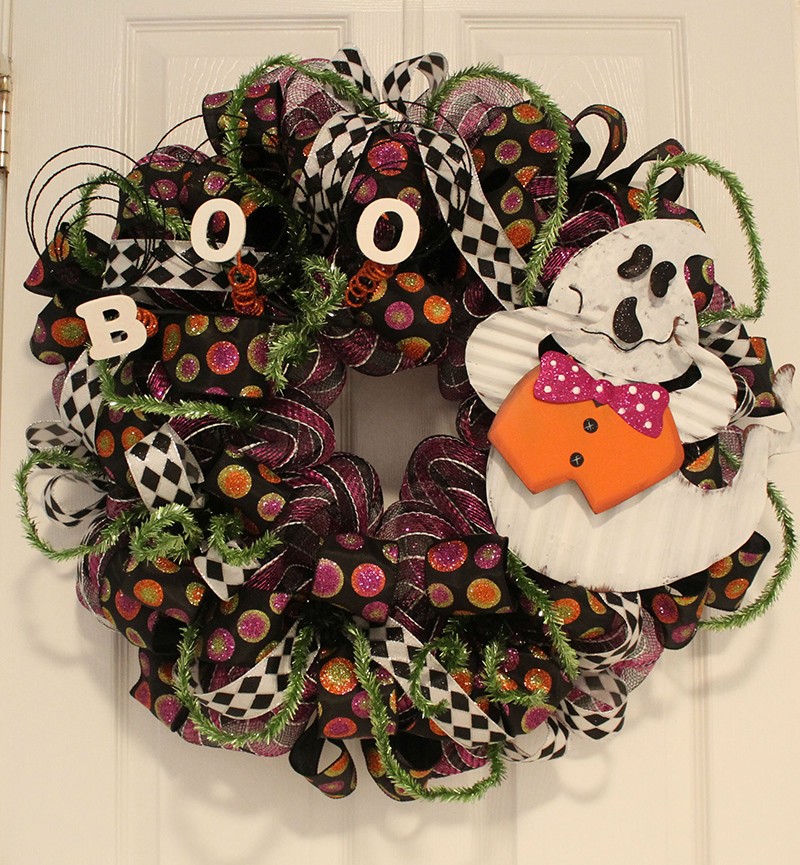 The Wreath Depot
Add some more tinsel curls for some color around the inside to bring the wreath . This DIY Halloween wreath can add a festive yet spooky decoration to your front door!
8. Halloween Wreath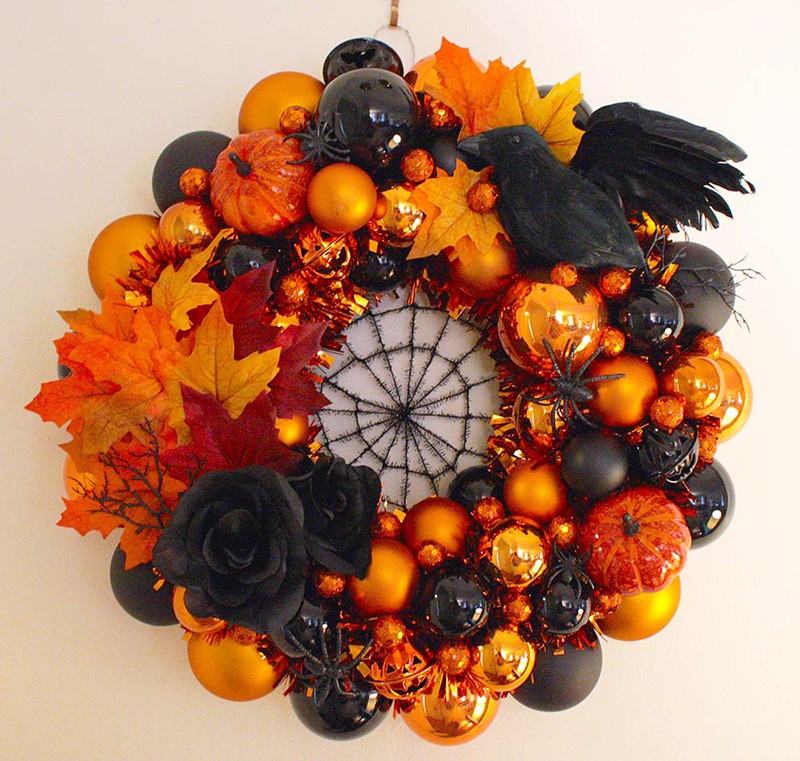 Retro Makeover
This wreath used Christmas ornaments to complete the look. Orange and black glass ornaments were used, as well as mini glitter balls, pumpkins, autumn leaves, and spiders.
9. Tutu Halloween Wreath Tutorial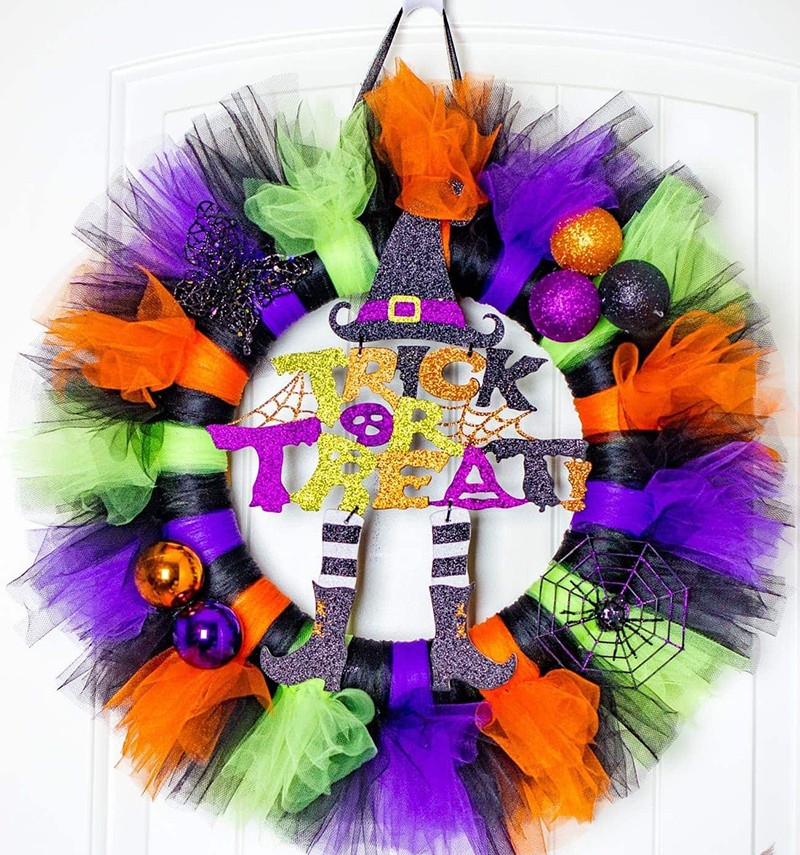 Busy making memories
For this tulle, collect different colors and tie them around the wreath.Cast Spell Wreath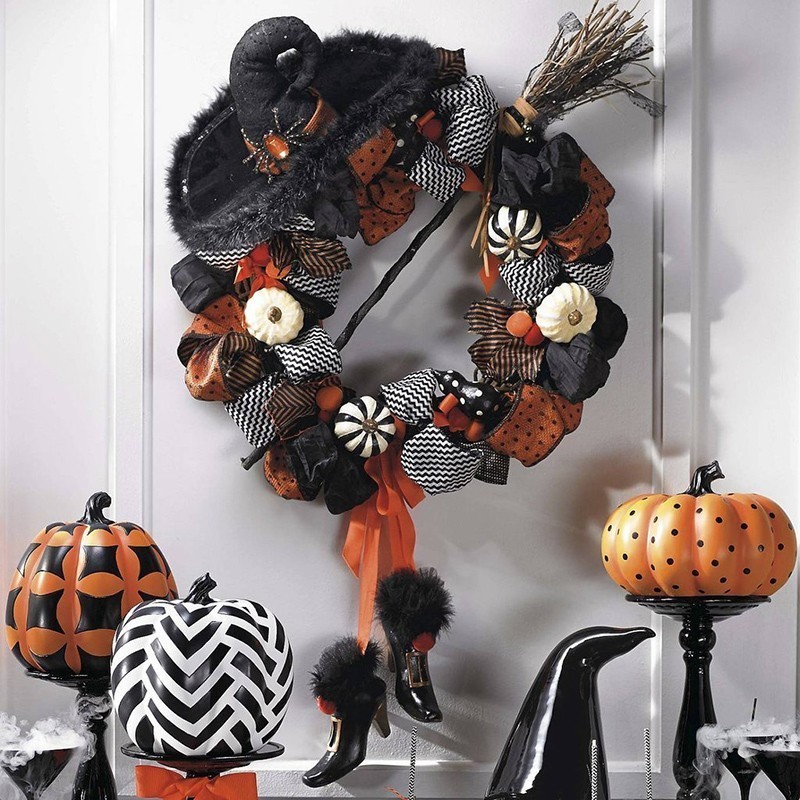 Pop Sugar
Black and orange go well with Halloween, as do what they do for this and that wreath used rest of the decors. Another thing I love here are the pumpkins! Check out other uncarved pumpkin ideas we've featured previously.
11. Witch Crash Wreath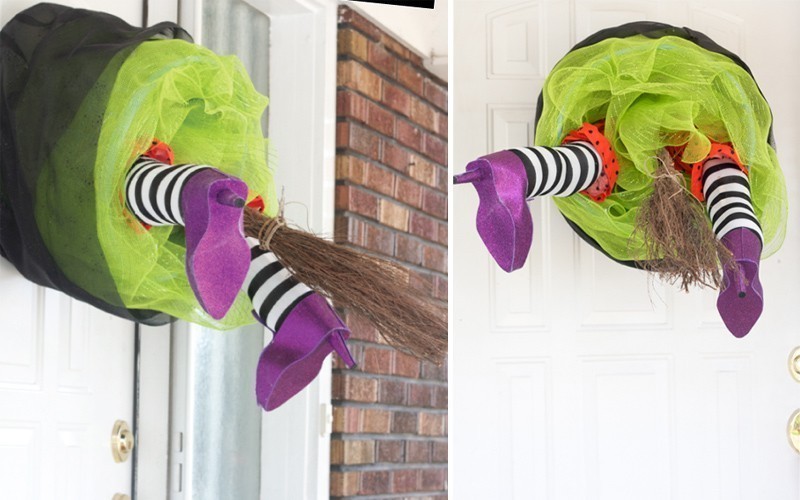 The Alison Show
This clever idea will surprise everyone! It looks like a witch literally crashed into your door! Isn't this a very creative wreath design? A plastic trash can was used, which was decorated to achieve the look.
12. Halloween Skeleton Deco Mesh Wreath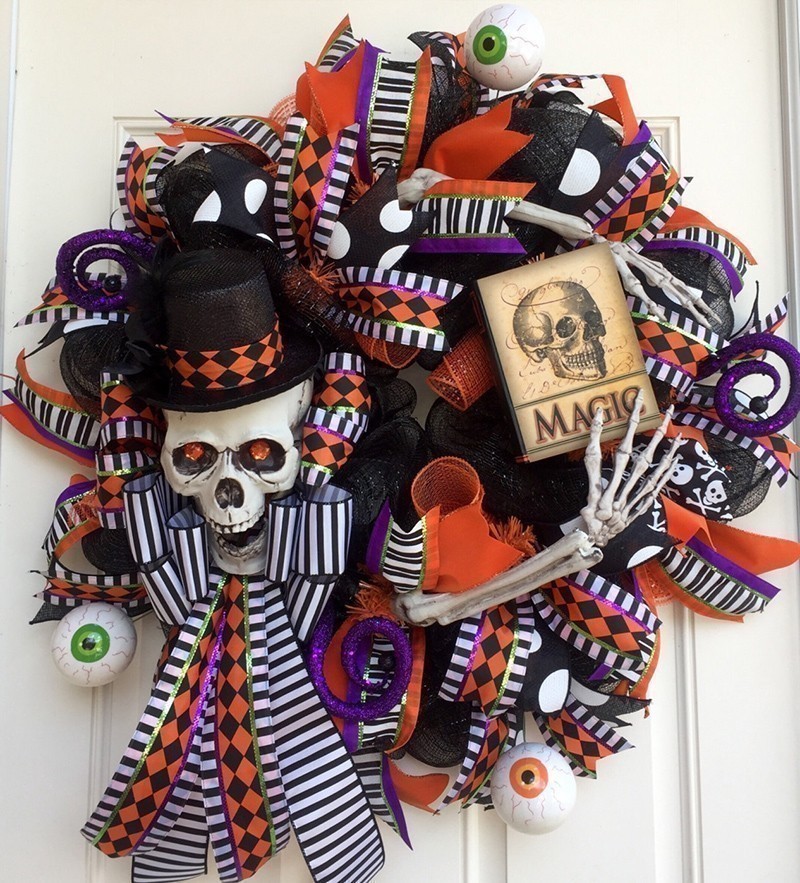 Wreath Whimsy by Robin
In addition to the colorfully printed ribbons used here, skulls and eyeballs were also designed for one spooky yet ornate wreath.
13. Boo Spooky Halloween Wreath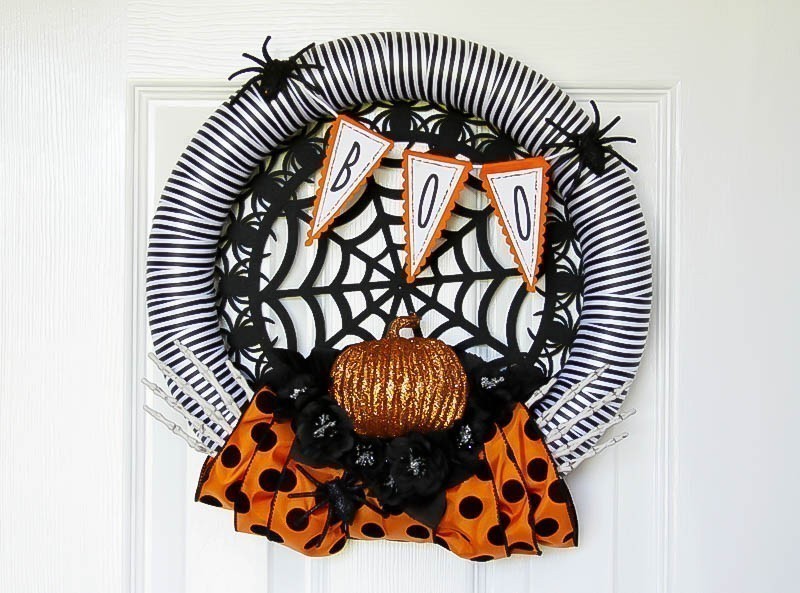 Lil Luna
This one looks lovely in black, white, and orange! I love this golden pumpkin surrounded by smaller black pumpkins. And also note that little spider at the top of the orange dotted ribbon.
14. Halloween Wreath Featuring RAZ Halloween Elf SBO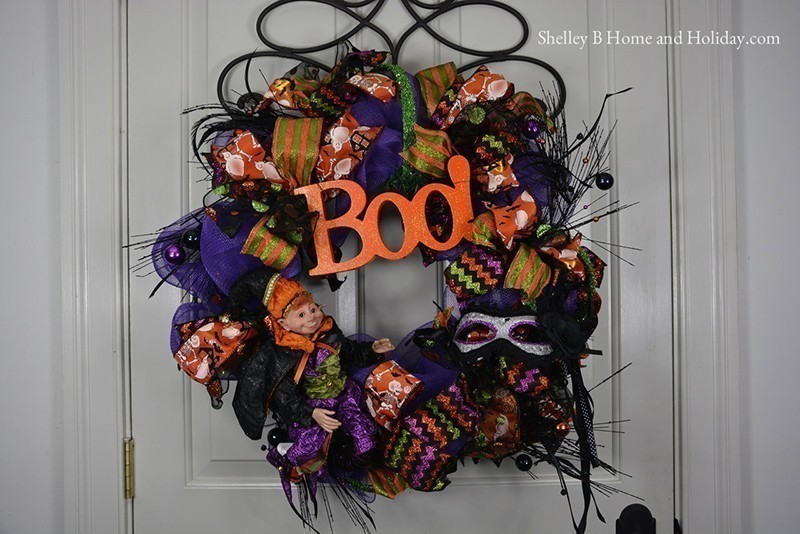 Shelley B Home and Holiday
This is a Halloween wreath made of deco mesh and ribbons with moving Halloween -Elf. It also includes an orange glittery BOO shield and a masquerade mask with feather, glitter and jewel embellishments. A glittering green garland is attached to the wreath.
15. Make a Tulle Wreath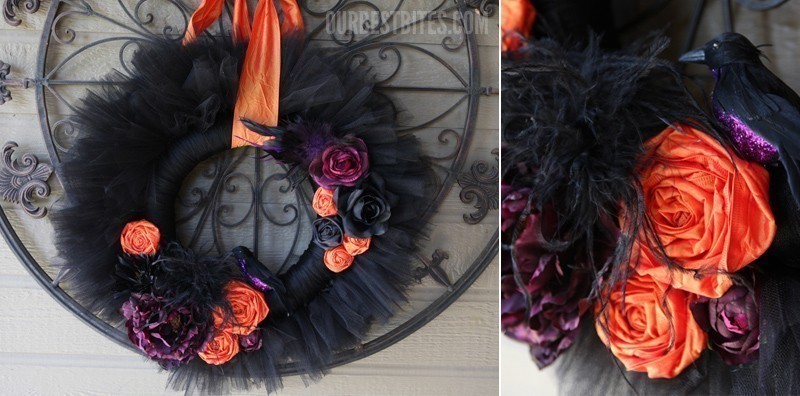 Our Best Bites
This is so pretty! I love the soft effect of the tulle used around the wreath. It's easy to tie just like a tutu skirt. The added purple roses and orange ribbon flowers took the look to the next level. Also note that there is a crow made of feathers. So adorable!
16. Skeleton Greeter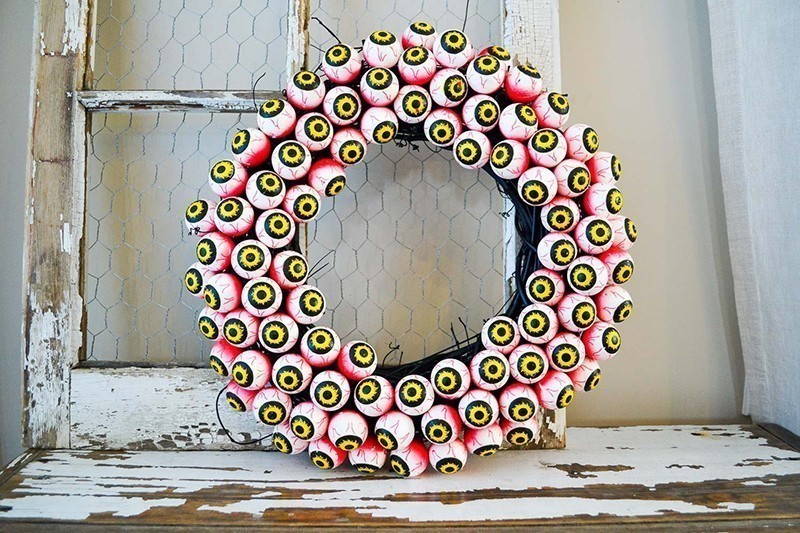 A Pretty Life in the Suburbs
This spooky eyeball wreath is a perfect addition to your Halloween decor! You only need a few supplies to make this easy and spooky wreath! Just buy some eyeballs and you can get this home decor.
17. Pinecone Monster Halloween Wreath Tutorial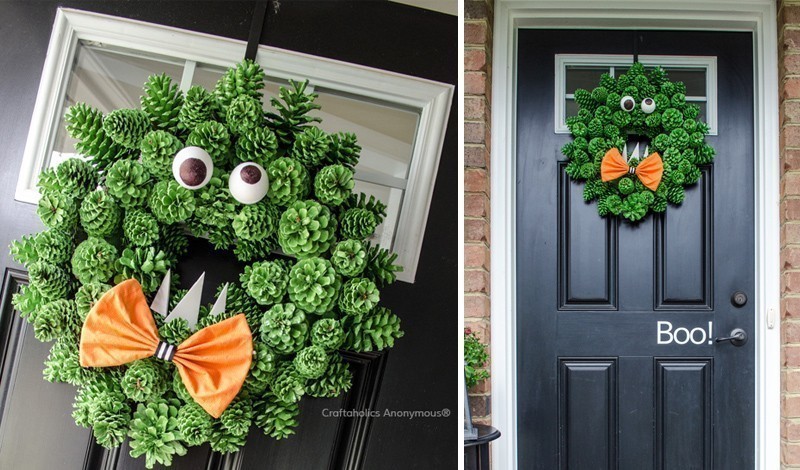 Craftaholics Anonymous
Pine cones are used for this cute googly eyed monster wreath. This would be a perfect way to welcome guests into your home this Halloween! A good plus for this design is that it won't scare the kids.
18. Halloween Mason Jar Lid Wreath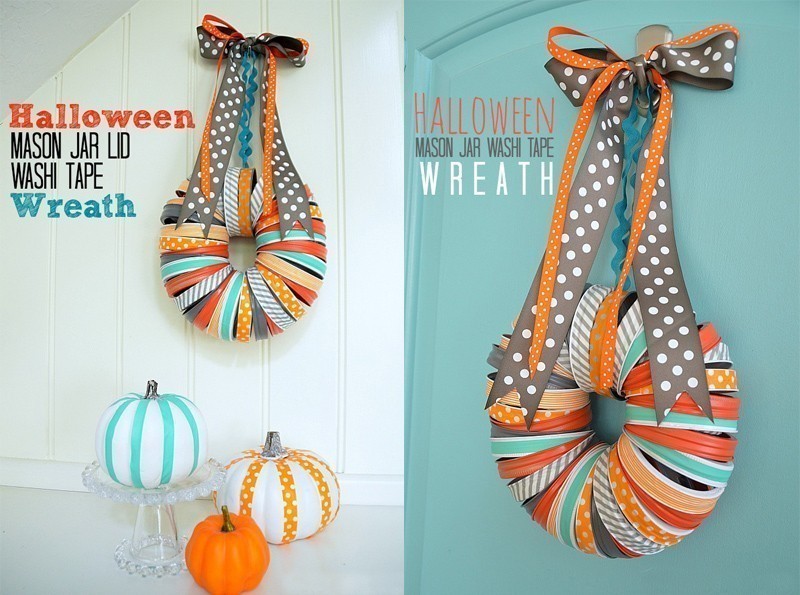 Eighteen25
Gather some jar lids and wrap them with different patterns of washi tape. Then put them together to create this beautiful wreath!
19. Spiders Fall Wreath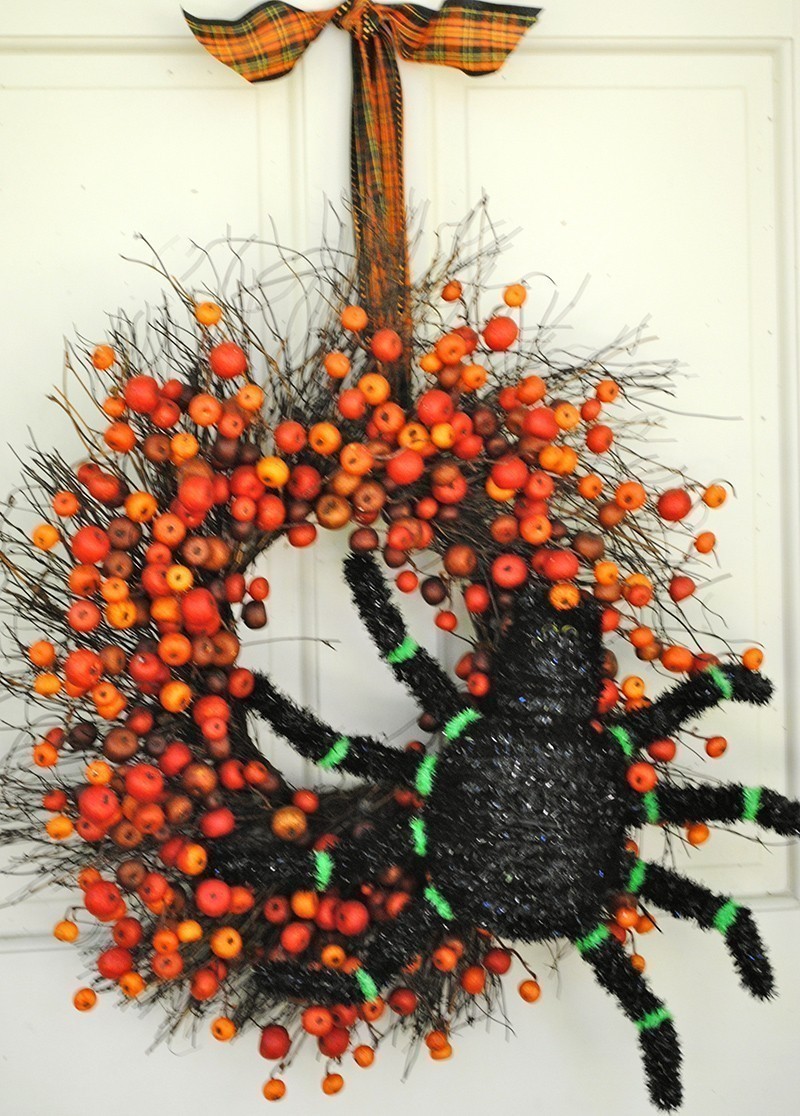 Flair for Home
All you have to do is find a pretty fall berry wreath here at any local craft store.
20. Easy Halloween Wreath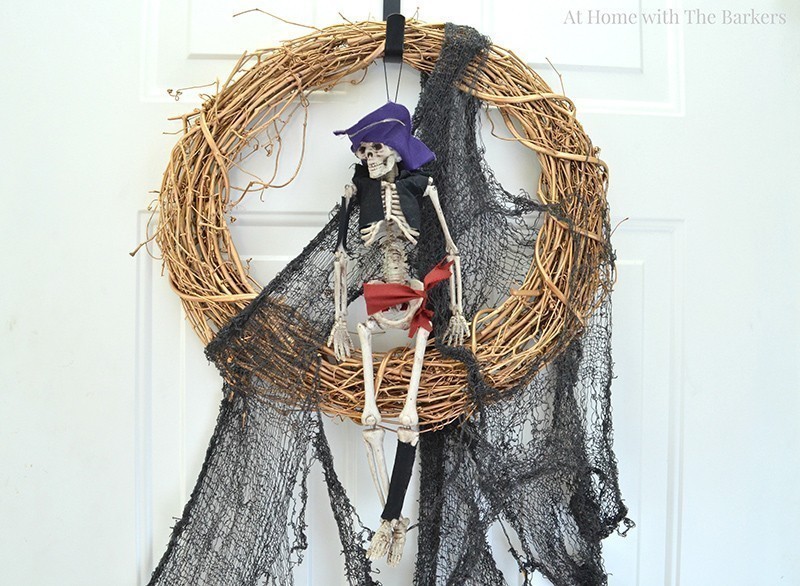 At Home with the Barkers
Grapevine wreaths are very versatile for any seasonal decor and very budget friendly.After Halloween it can actually be used for other wreath designs for other occasions.
These Halloween wreaths are so pretty! It's nice that they come in different ideas that you can make with materials you have at home. You can also try repurposing and redecorating old wreaths. You just have to be creative so you don't have to spend a lot on it. Once you've finished your wreath, decorate the rest of your porch with these Halloween porch design ideas! Surely you can think of something that goes great with your home.