Nothing says class more than adding the best DIY gold projects and home decor to every room in your home!Lots of people shy away from a nice splash of gold as this color can be viewed as pretty bold and a bit unruly if you don't know how to pair them properly.The fall season is officially here, so now you have absolutely no time to waste.If you have very neutral colors on the walls in your home, a cool swab of gold will serve you well.Even if your home is full of bright colors, there are certain ways to add homemade gold projects in a way that instantly catches the eye of all the guests who walk through your front door!
20 chic DIY gold projects around your hometo give a desirable autumn transformation
The color gold gives decorations a special taste that no other color can.When you think of gold you think of success and royalty.That is the presence that you want to deliver from the comfort of your home at any time.From dining room decor to a simple bedroom accessory, there are plenty of gold DIY decor projects out there that aren't very difficult for you to do.What better time to explore your creative side than spice up your home with a color that symbolizes luxury.
This really is the time of year when throw pillows and cute leaf decorations shine as the centerpiece of home decor.As the weather keeps getting colder, you will be spending more time indoors and in the walls of your own home.It is time to create a welcoming environment for all of the guests who will soon be inviting to fellowship and usher in the holidays. Sit back, relax, and have a nice timeWalk Through These Amazing Ideas To Find Out Which One Is Best For Your Home!
1.Touch of gold feather garland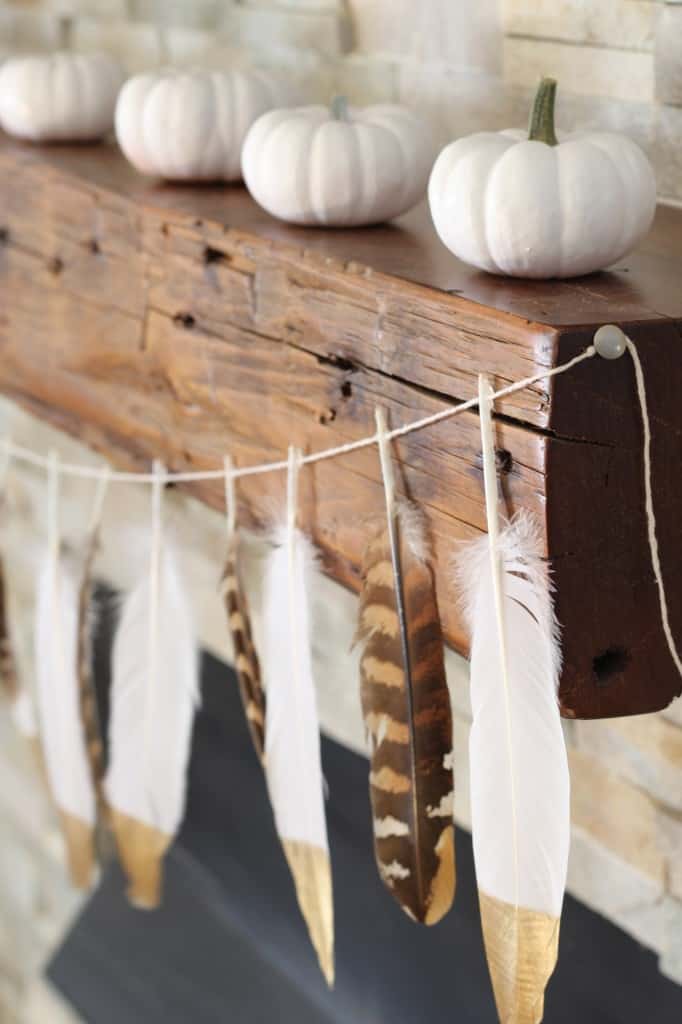 You may be thinking that you don't want to overtake yourself by adding a garlandaround your house.It's not winter yet!Fortunately, this unique garland option adds the perfect golden accent to the mantle above your fireplace.You can never have enough gold!Maybe that's not entirely true, but you definitely don't have to worry about this problem with this decoration.All you are going to do is choose a neutral feather design and then put some gold spray paint on the tip.You will be surprised how much gold a little can do.
2.Creatively cute golden fairy lights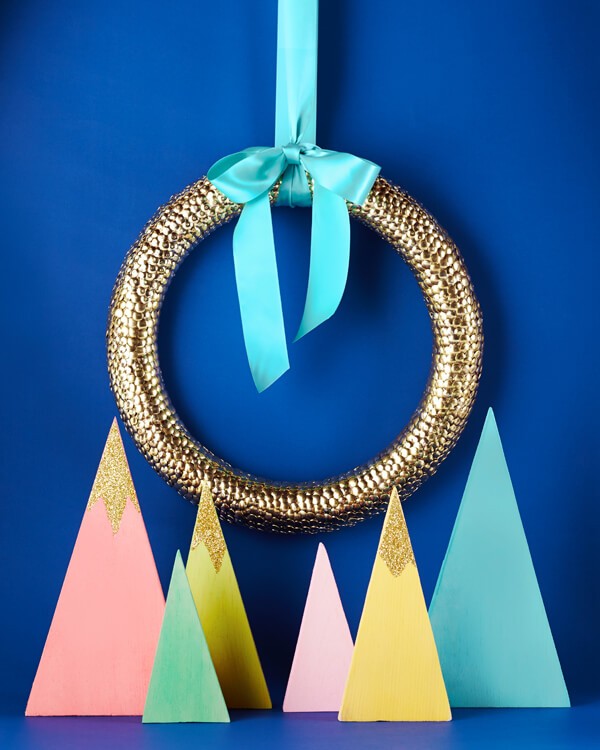 It is never wrong to use your local hardware store to make some great decorationsfor your home.These golden fairy lights start out as ordinary, dingy lights that you can buy anywhere.After adding a little bit of spray glue and some gold leaf, you have a living room decor that looks extremely expensive!In reality, you know that you only spent a few dollars on the resources and left the rest to your creative hands.These lights add a touch of gold to any room.Hang it vertically next to your favorite portrait and call yourself creative!
3.Spunky Cork Board with White Geometric Design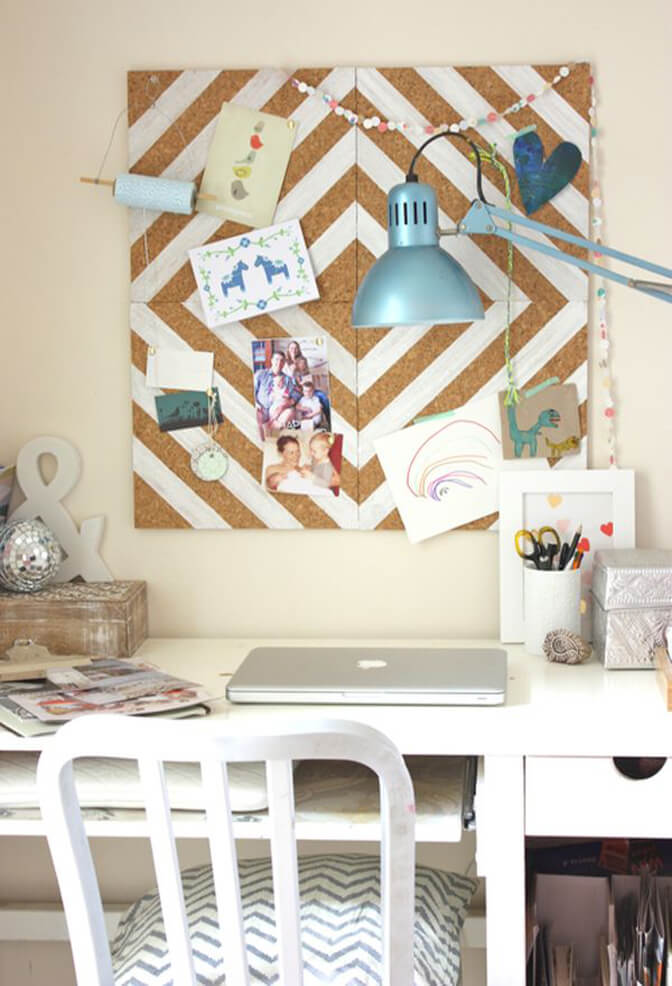 This fun bulletin board is perfect for college students whowant to look at something other than a boring wall when they spend countless hours at their desk.This zippy cork board is also great for anyone who can be placed right above their bed so they can have great pictures of their friends and family as close as possible while they slide into a peaceful sleep.Splash of Gold Geometric Spray Painted Mugs
4. Splash of Gold Geometric Spray Painted Mugs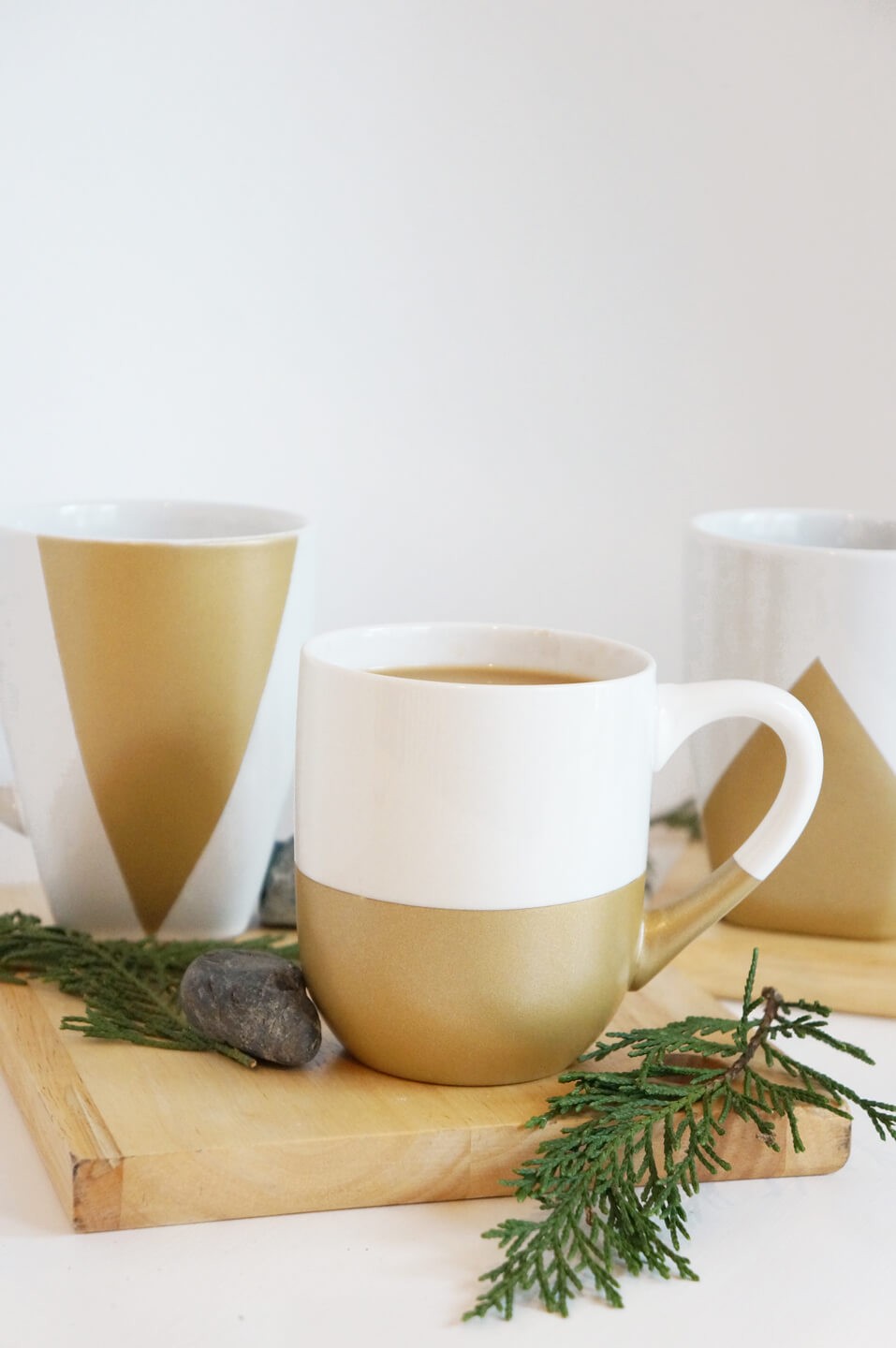 Take your typical kitchen environment to a whole new levelthis simple project!All you really need is some painter's tape and gold spray paint to bring this look together, make sure you stick your painter's tape evenly on the mugs so you can get a very clean look.Imagine you are sitting at the white table in your breakfast nook and drinking a warm cup of coffee from your newly designed cups.Nothing can beat the golden sheen on a cool autumn morning.
5.Stunning gold-framed jewelry organizer artwork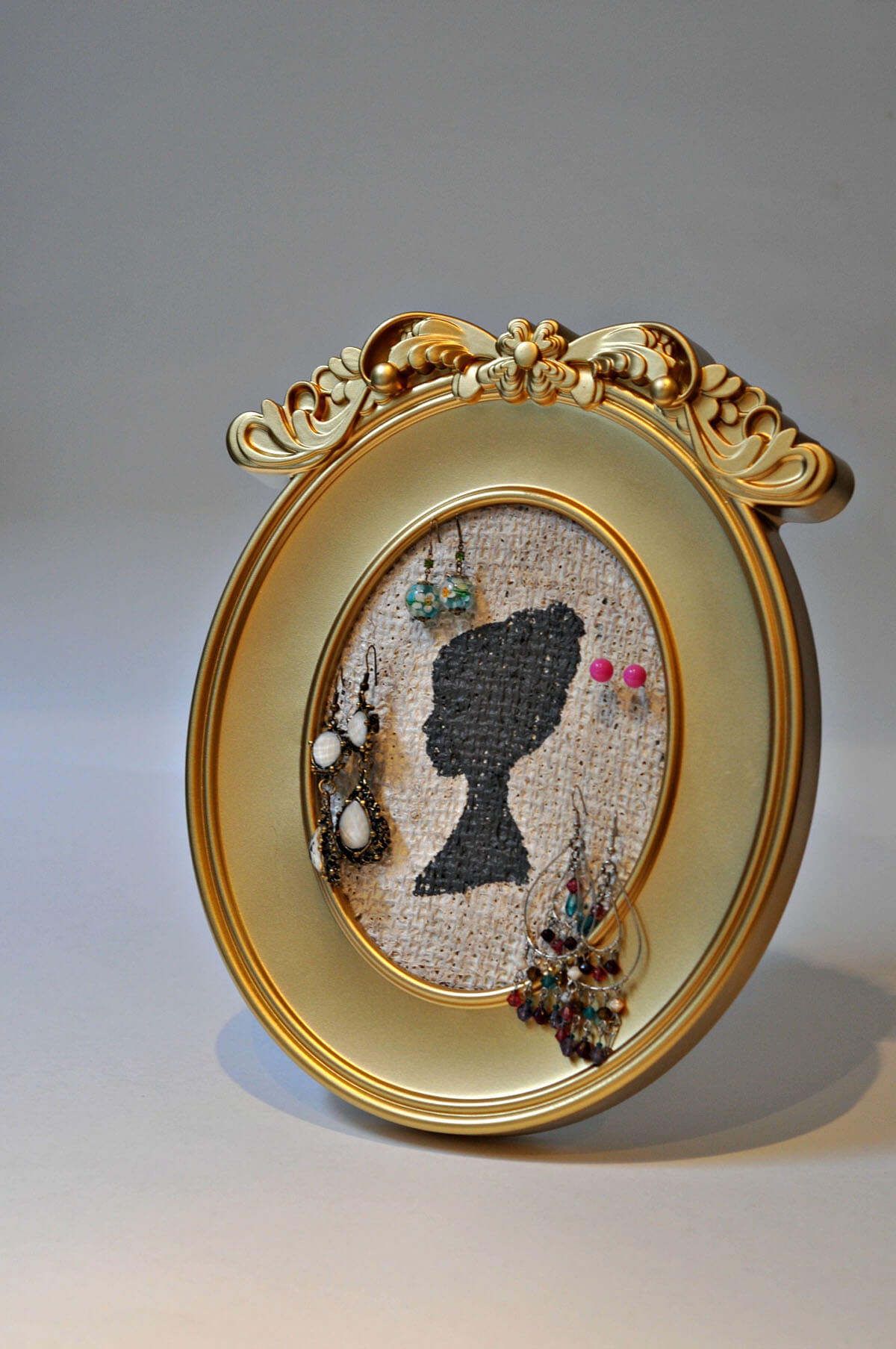 Got a huge selection of jewelry and nowhere?to put it?You're in luck because this gold-framed jewelry organizer is also a great work of art.Put this amazing decor on the desk in your office or the lovely vanity in your room.You will fall in love with this look no matter where you place it!Put this creative look together to give your room the vintage look you've always wanted.With a sheet of cork and some extra color, you can enhance this neutral look with a historical silhouette of your choice!
6.Elegant golden chandelier centerpiece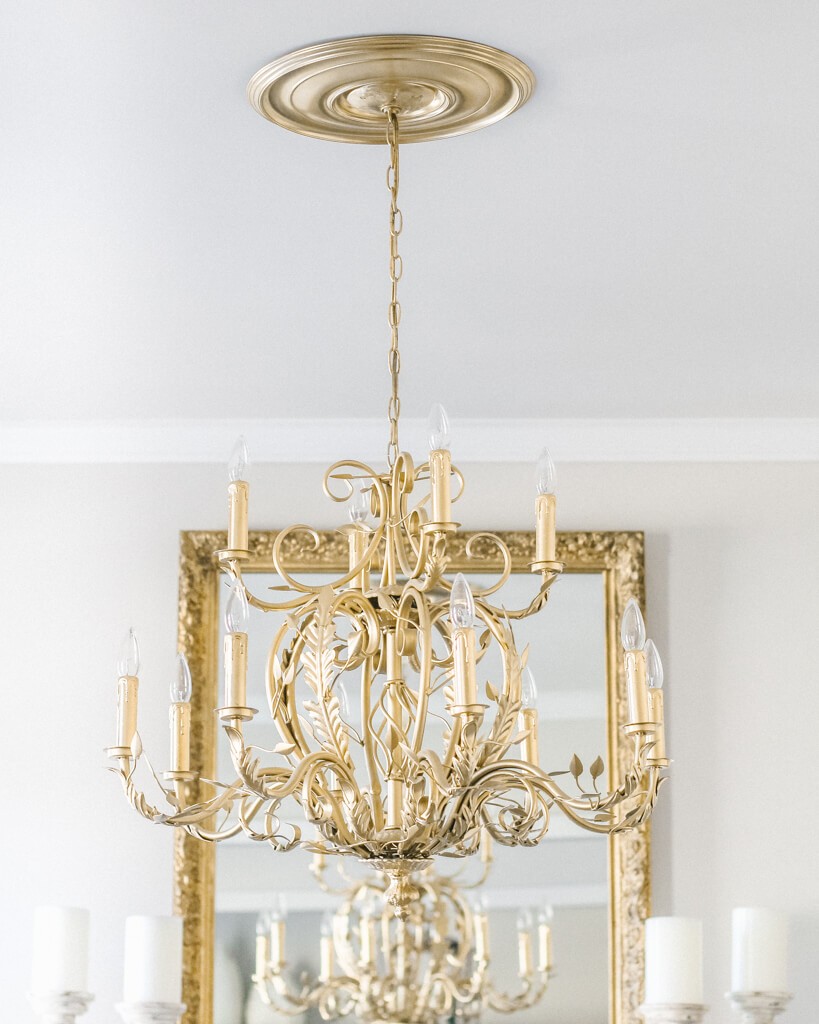 This is an absolutely stunning centerpiece that will keep all of your guests simplestand and stare!Imagine you have an incredibly beautiful chandelier hanging right above your dining table and completely covered in gold.When you go for such a bold decoration, make sure that the other decor that you have in close proximity to your elegant chandelier is a perfect match for this new atmosphere!Allow your family and friends to show off your more refined side by renovating this incredible piece of art with just the right amount of gold!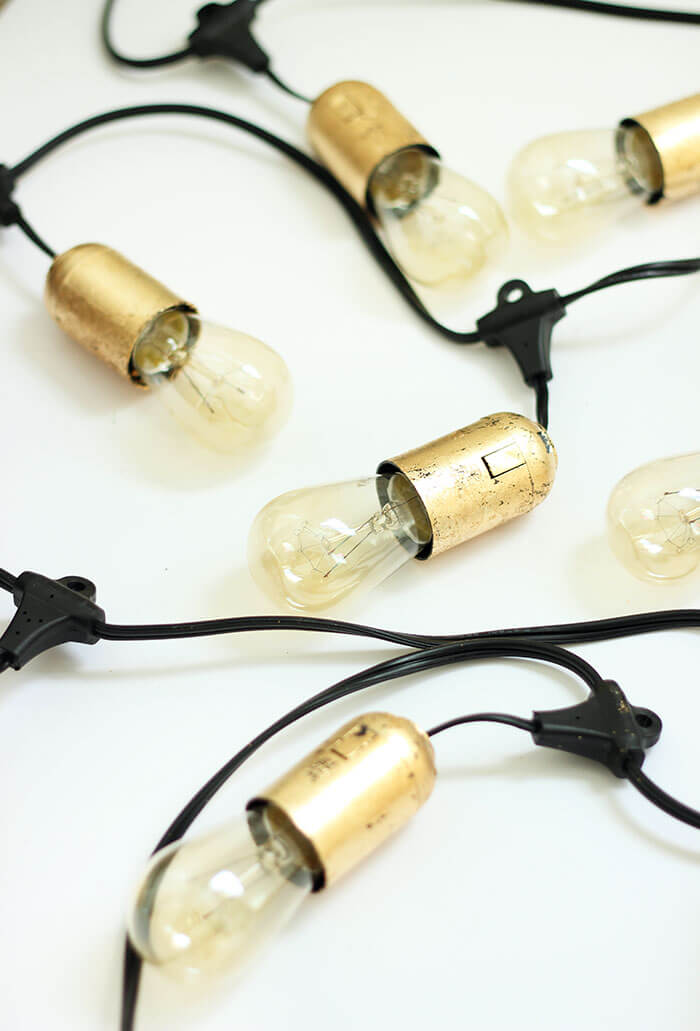 In this situation, bigger is really better!The large paper flowers you create will suit every season.Everyone who walks into your home won't be able to help but watch out for your fun new creations!The rose is always a classic when it comes to beautiful flowers that can easily become an eye-catcher in any room.By placing this large, gold decor on your mantelpiece, you can fill the room with something other than the extremely expensive vases you need to make your living room shine!
8.Unique state map with a golden vintage frame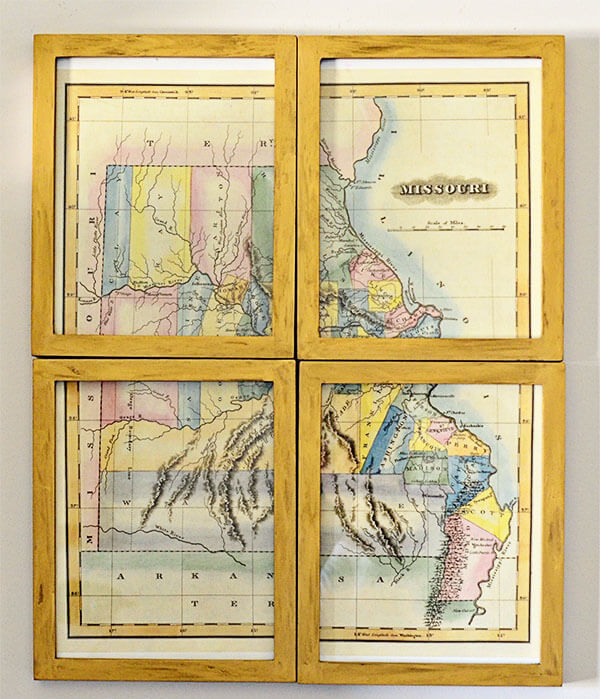 If you are a history buff this is one of the bestDIY gold projects that you can create!You will love how this gold colored frame complements your favorite card of your choice.Grab some old picture frames, sprinkle them with gold paint, and place your amazing new creation on the wall just above your desk so you can see them every time you finally decide to be productive in your home office!
9.Gold Tone Ombre Lamp with Glitter Base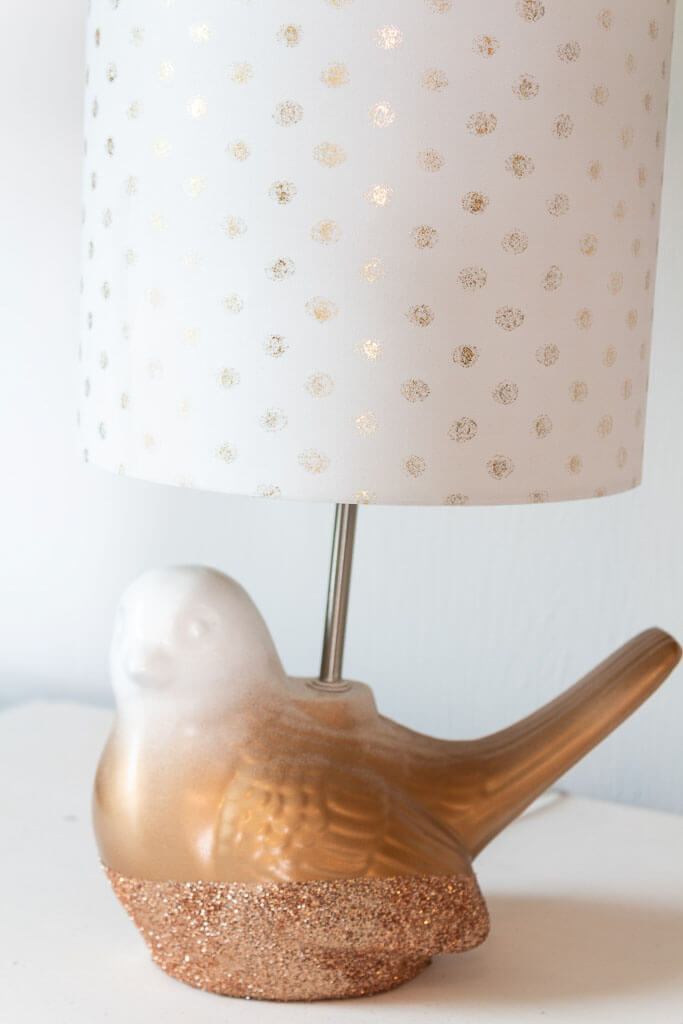 Save the oldest lamps in your house with this amazing DIY Idea! Depending on which lamp base you choose, you can place this modernized version in any room in your home.All you really need is some metallic gold spray paint as well as your favorite gold glitter to make this DIY project pop!It will take the more creative side of you to get the ombre look just right, so this creation is not for the faint of heart. DIY golden fall leaf table centerpieces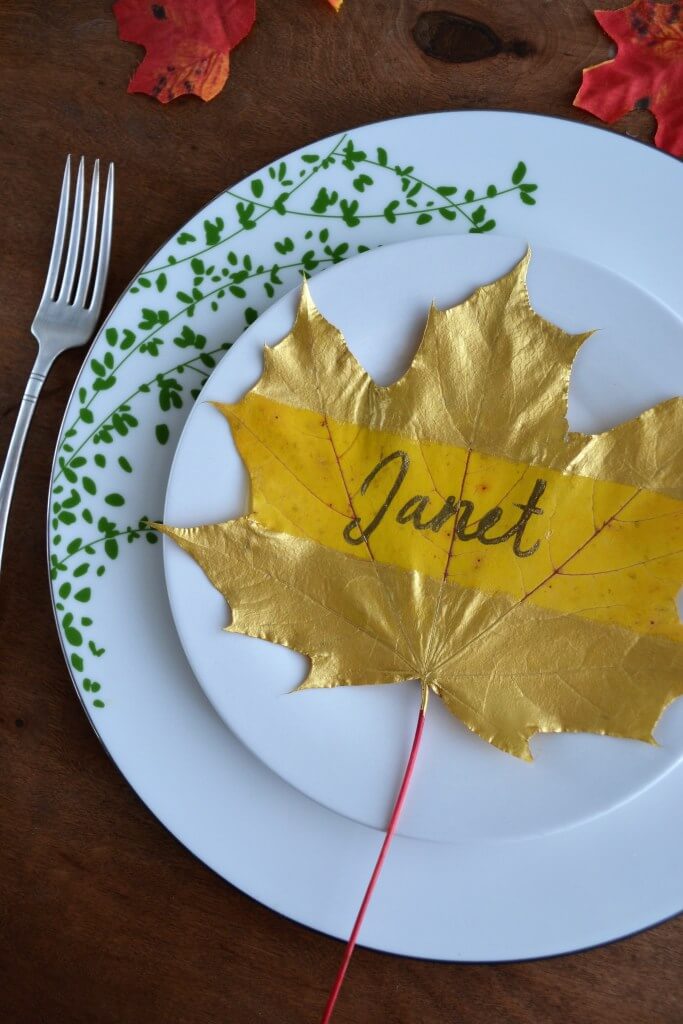 When you're ready to add a unique pop of color, add these golden fall leaves to your dining room set.You won't regret taking the extra time to personalize them with your name and the names of the guests who come over so often that by that time they are practically living in your home.When it is time for the beautiful fall leaves to fall from the trees, these homemade projects with gold will be so much fun!If you can't wait that long, buy some art sheets from your local store and add these custom gold decorations to any dining room plate!
11.White plush gold arrow pillow decor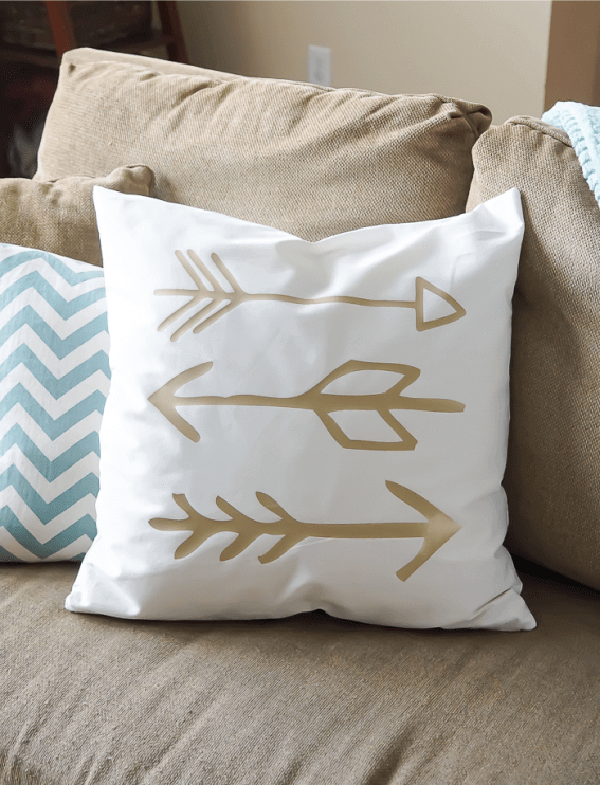 The season is finally where it is socially acceptablehaving a ridiculous amount of pillows in your house without anyone questioning your motives!Take this opportunity and take a trip to your local store to find a white twill throw pillow that you will absolutely love!This gives you the perfect base to add your gold arrows to once you've completed a vinyl heat transfer.This may sound like an extensive process, but you won't regret the incredible result.Use your own creative skills and try this cute throw pillow!
12.Gold Accent Mason Jar Flower Vase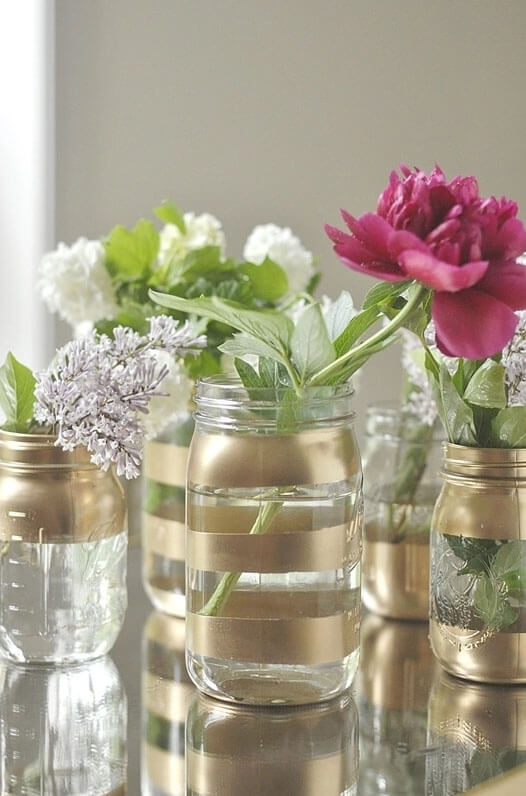 Everyone loves a unique twist on classic mason jar designs.Whenever it comes to cute ideas that are meant to make all of your guests jealous, always see what you can create with a mason jar first!With this DIY design, you can really decide for yourself what you want the gold pattern to look like.Maybe you're someone who loves to do a little bit of half-and-half action.If not, you can also create a nice stripe look that can be cute in any setting!Once the outer part of this decor is done, add a flower that will make you happy every time you see it.
13.Gold Ambiance lampshade decor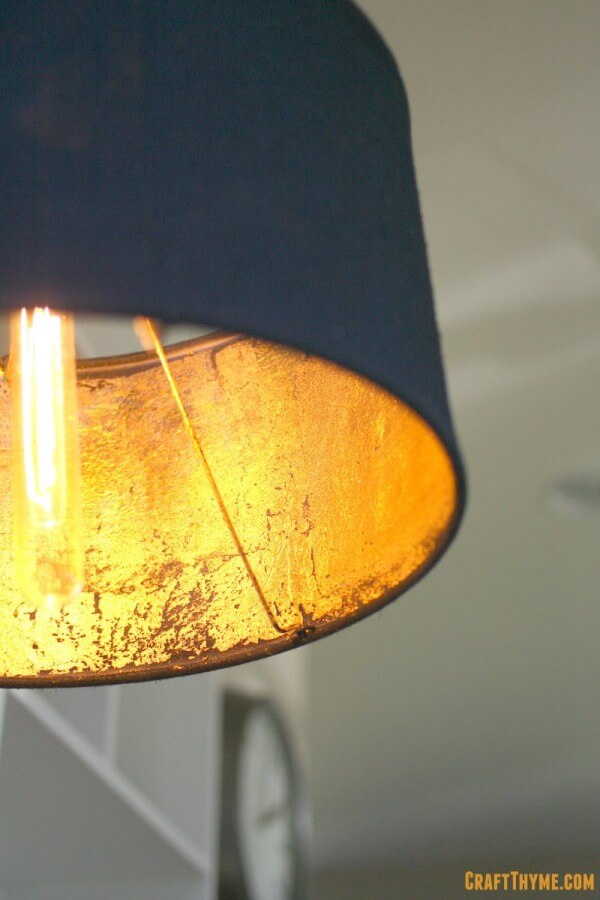 Who doesn't love beautiful, golden ambient light?This is especially true when the weather is getting cooler and the sun is fading in the dark a little earlier than you are used to in the sunny summer months.This is sure to be one of the best DIY gold projects because it really is that easy to make at home!
14.Simple DIY Gold Polka Dot Vase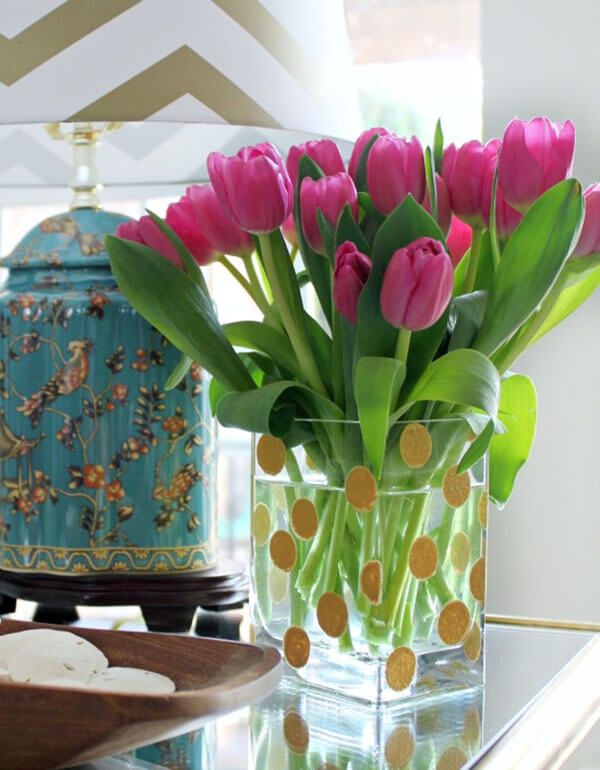 If this is your first time trying to decorate your home,you may want to keep it simple and stick to the basics.With a simple and modern look, you really can never go wrong to accentuate your home decor.When you add these gold leaf dots to your favorite flower vase, you get an incredible centerpiece for your dining room table.Choose your favorite bunch of flowers and place them in the center of the table.If you're trying to make this a sideshow rather than a centerpiece, just give the dotted vase a home on every little table in your home!
15.Fabulous Faux Gold Glitter Pumpkins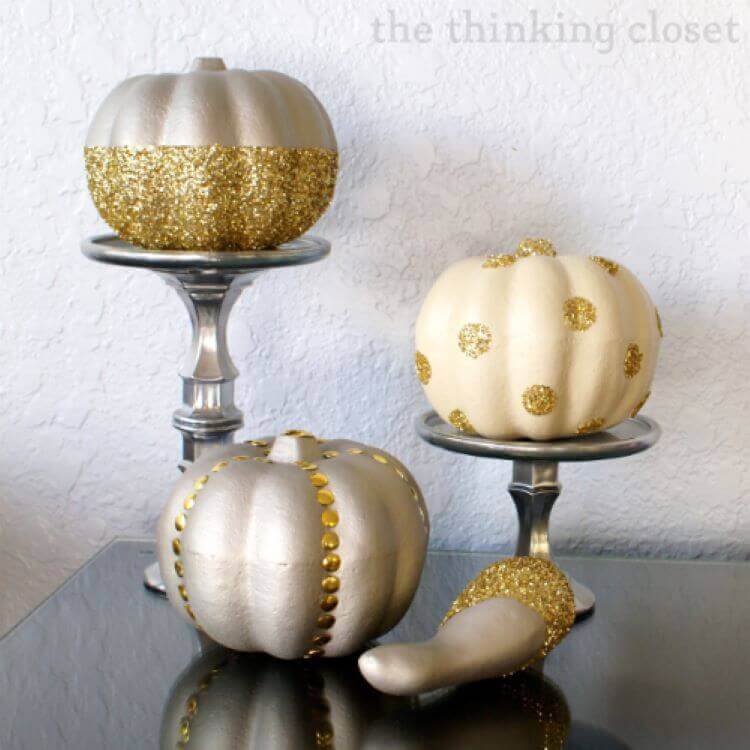 Now is the time to find out about pumpkins in the "The creepy season to be "happy" is just around the corner!This time of year you can always find lots of fake pumpkins just waiting to be bought by someone who loves to change their home decor to suit the seasons.Homespun Gold Leaf Mid-Century Modern Cabinet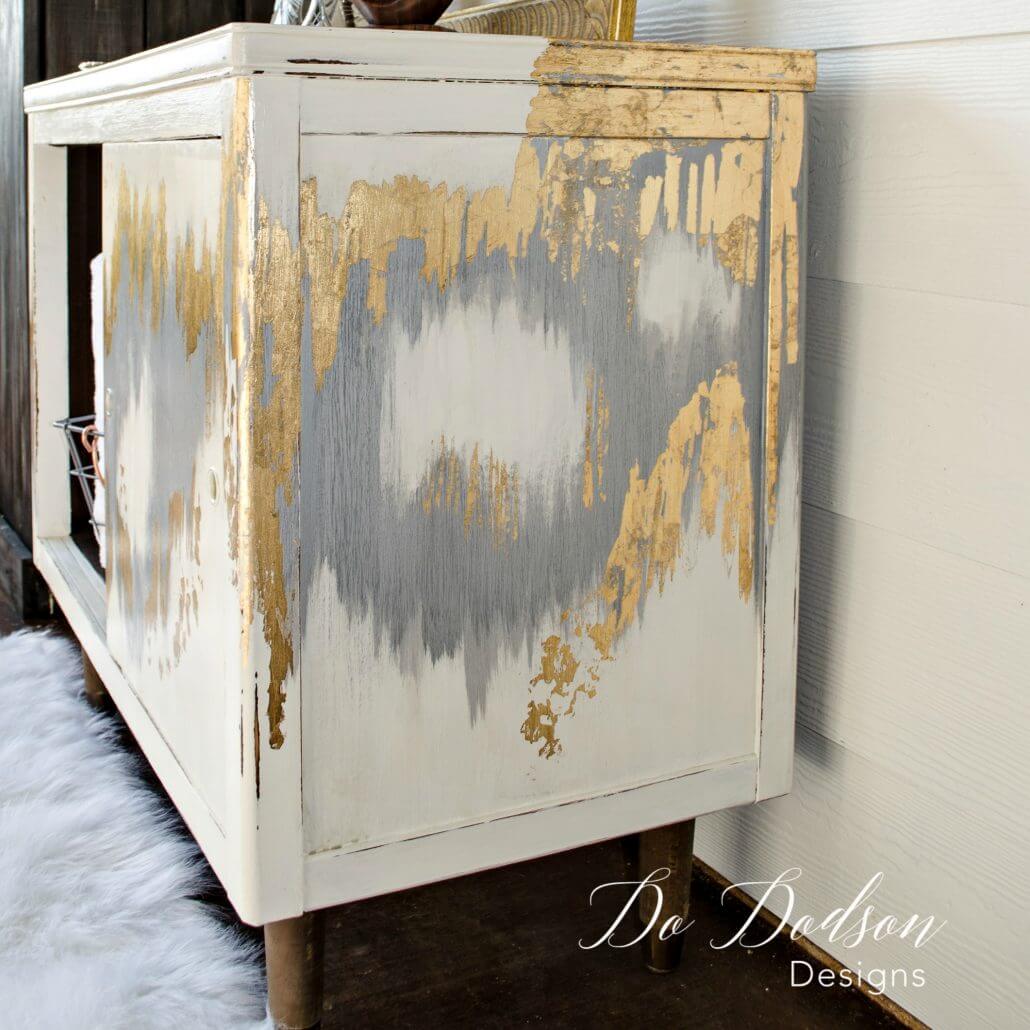 Perhaps you love the color gold, but you don't like bringing it with you to all the furniture in your house that is just too flashy.This rustic modern cabinet from the middle of the century offers you a perfect combination of rustic and classy.You don't have to live in a farmhouse to appreciate what this amazing furniture style can add to your living room or even your kitchen area.Your guests will be impressed with your ability to create such a contrasting combination.The creation process is easy.All you have to do is get the resources and be ready to put in a little elbow grease to bring your gold DIY project to life!
17.Modern DIY Gold Spray Paint Art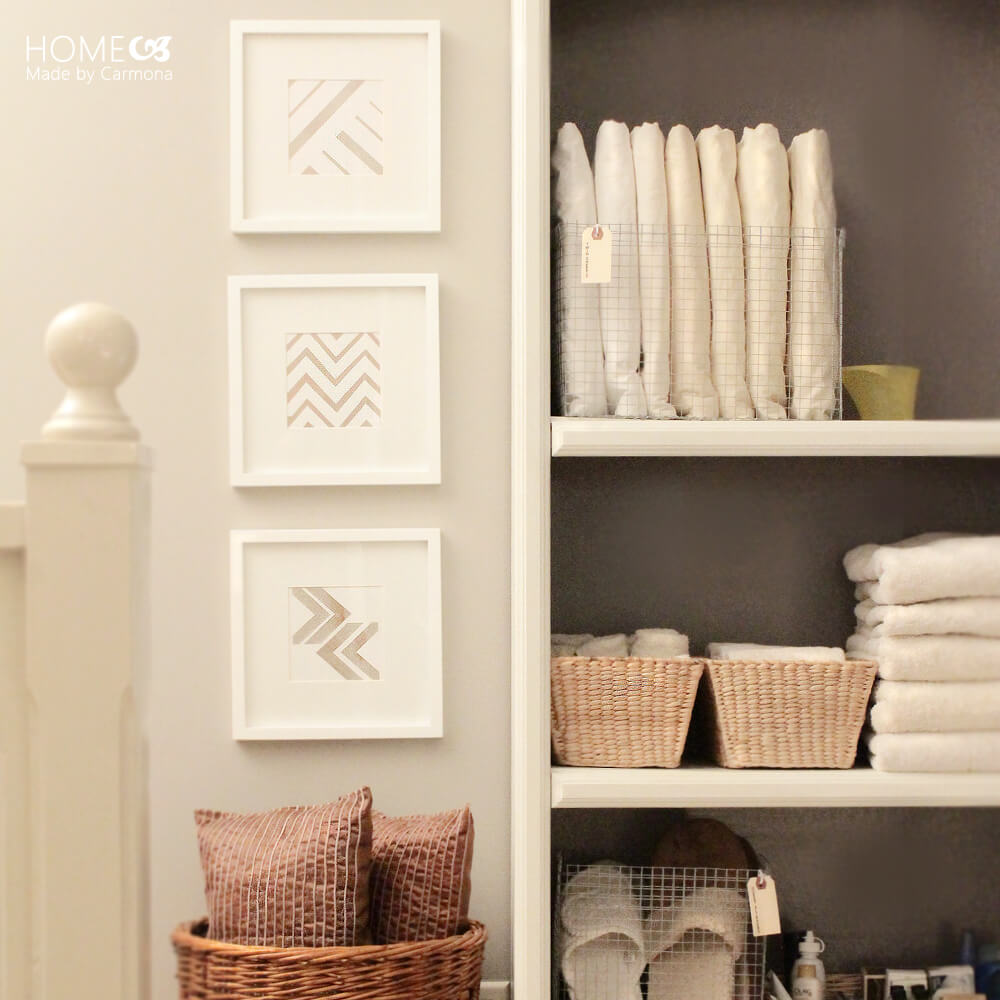 Don't let the walls in your house go unadorned for a second!This modern gold spray paint just gives you the light pop of color you need to add a vibrant flair to your bedroom walls.Pick your favorite Aztec patterns and frame them as true works of art on your newly decorated wall.While you're creating a gold explosion in the rest of your home to prepare for the cool weather of the fall season, forgetting about your own bedroom can be easy.These walls cannot be neglected!This beautiful arrowhead will never let you down.
18.Rustic wooden and gold jewelry bowls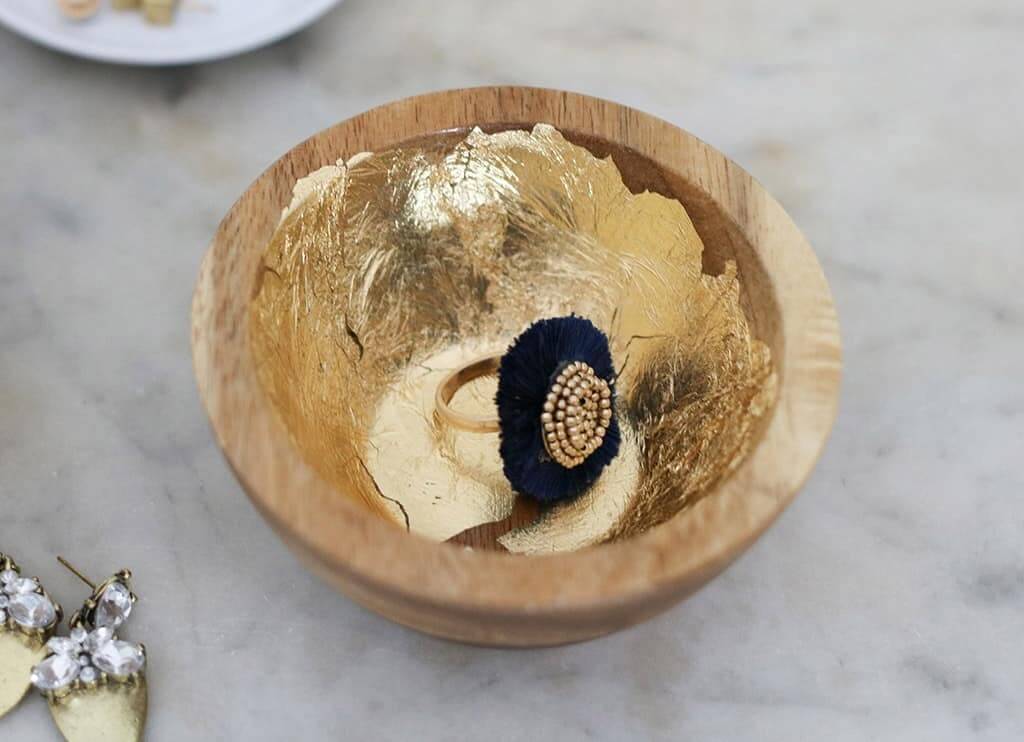 This amazing combination of gold leaf on a wooden bowl brings modern class to oneFarmhouse feeling.To create one of these homemade projects with gold, you can use either gold leaf or metallic gold spray paint.All of the great memories of your childhood art class will come back when you pull out your mod podge, acrylic paint and brushes.This cute design can easily be the centerpiece of any dining room table or a great addition to the coffee table that your guests will stop at when they first walk into your home!Surprisingly smooth ring of gold tacks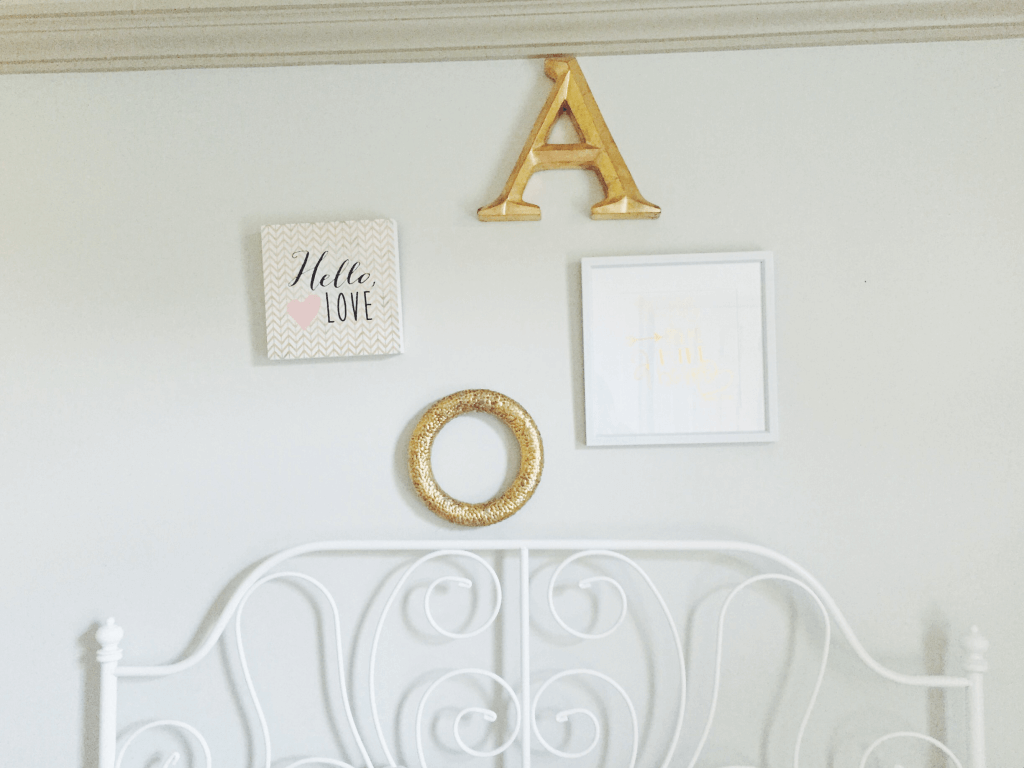 After you have created this extremely simple work of art, you are you willquickly find this is one of the easiest gold DIY decor projects to create.All you really need is a styrofoam wreath and a couple of gold thumbtacks!Don't worry about accidentally stabbing yourself as the sharp end of the thumbtack will go into the wreath while the smooth, shiny side is exposed for you to enjoy!If you're struggling to figure out what decorations to put on the wall just above your bed, consider this wreath of gold pins.When you walk into your room and look at the wall, you will feel as if you are in the presence of a royal family!
20.Gold-colored terracotta pots in aztec design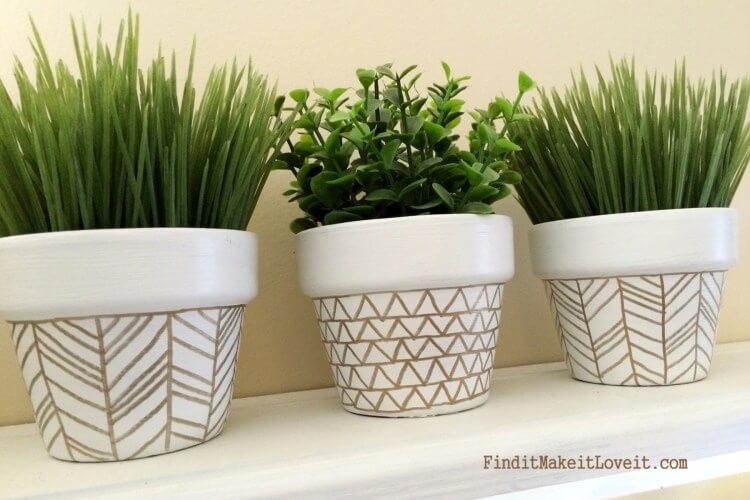 The thought of decorating your home with flower pots can be terrifyingYou if you are afraid that the plants may die.Fortunately, there is a great alternative that will help you overcome this fear once and for all!Instead of using real flowers, just grab some unique, yet classic, artificial plants that you love.Then choose a trio of white terracotta pots at your local store and be ready to let your creativity flow.Since there are so many possible designs to choose from, pick one that will go with your new pots and accentuate your home perfectly.