It's that time of year again when everyone plans to make pumpkins, turkeys, and sweet potatoes in ways they haven't tried in years, but if you've already planned the food then you might be interested in some DIY Thanksgiving table decor ideas instead.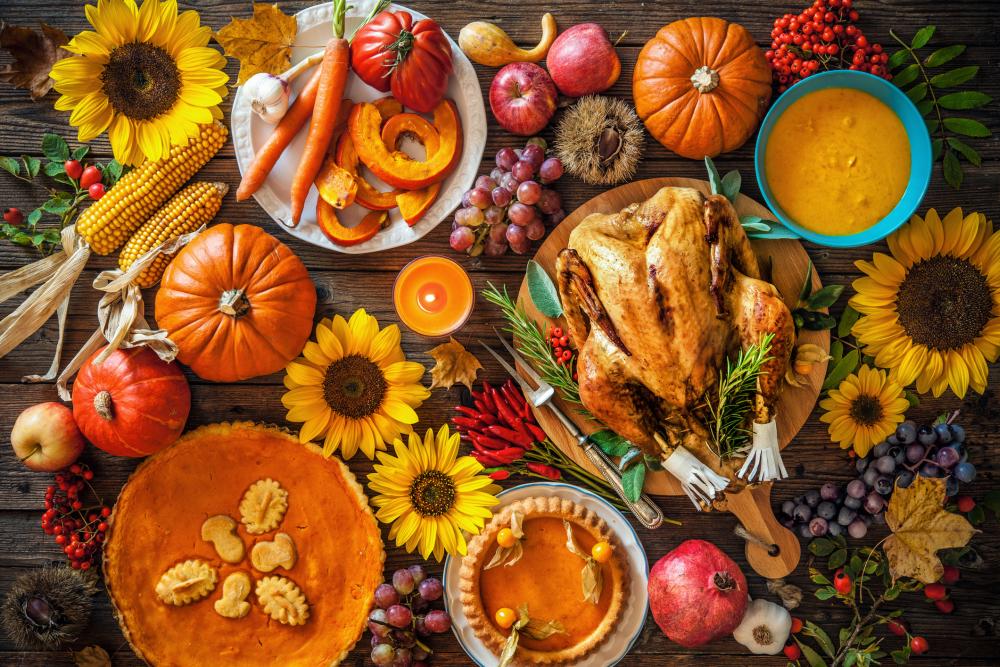 As Christmas morning is the most anticipated moment of the winter vacation, Thanksgiving dinner is the culmination of the one day of the year when Americans are most grateful for what they have in their lives. Even so, the Thanksgiving dinner has to be as perfect as possible, and you can do that via table decorations, but it also has to fit into every budget, and that's where the DIY part comes in. Anyway, we've put together a list of the best decorations to try this fall, and while it's part of a very large checklist that most of us follow during Thanksgiving, it's a good place to start.
About Thanksgiving
Thanksgiving has been a central American holiday since the country was founded, and while everyone likes to stick with tradition, there's nothing wrong with spicing things up and letting modern trends sway the style and feel of the holiday , especially when it comes to Thanksgiving table decorations. It turns out that there are some great Thanksgiving table setting ideas out there this year, but before we get into that, let's talk about what exactly Thanksgiving is all about. About Thanksgiving: As we told you above, Thanksgiving is a central American holiday celebrated on the fourth Thursday of November. It happens every year, and has been around since 1621 when the first English pilgrims arrived in Plymouth, Massachusetts after a long journey from England across stormy seas. The holidays started off with how healthy the new colony was and how well everyone was doing for the first year, but some changes have emerged over time. Today is Thanksgiving a day when Americans celebrate and say thank you for what they have, and that includes happiness in their personal and professional lives.
Here are the best thanksgiving table decorations 2022
Trends change year after year, and that includes the way you do things on Thanksgiving, the way you do You cook the turkey or the filling how you decorate the house or what Thanksgiving table decoration you end up using. That's why we've done a little research to find out which are the most popular table decorations to try in 2022. Remember, this article is just a list, not a ranking, so that doesn't mean the first decorating ideas are better than the last.
1. Thanksgiving Flower Centerpieces – Flower Garland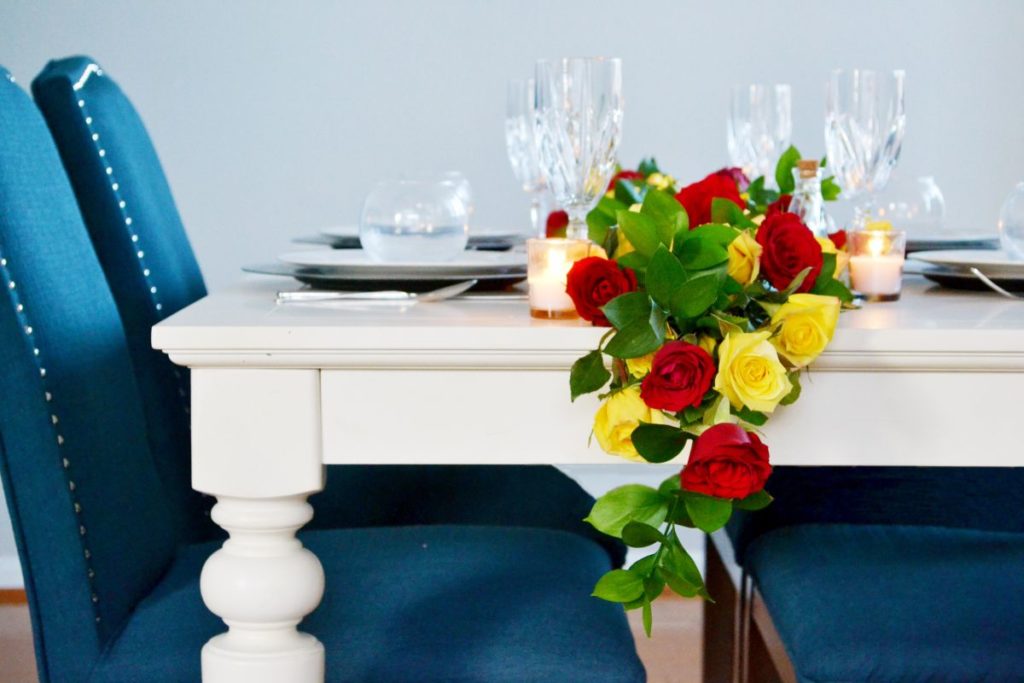 Unfortunately, when it comes to Thanksgiving table decorating ideas, many people forget about the flowers and just focus on the food. But before we delve deeper into this matter, let's explain what exactly are flower garlands (in case you didn't know). They are basically floral arrangements – preferably fresh – attached to wire mesh, usually shaped like a circle. These types of decorations used to only be reserved for public places like funerals and graduations, but that changed when Pinterest hit the mainstream. Nowadays they are back in fashion and people are using them to decorate their homes or to meet with friends and family. To our surprise, we found for 2022 (based on trends over the past few years) that flower garlands could become one of the most popular Thanksgiving table decorations. We say this because floral centerpieces are popular in general, and not just for Thanksgiving, for their versatility and effortless beauty. For example: you can plant it in a flower pot and use it as an interior decoration, you can put it in a vase and put it on your table for Thanksgiving dinner, and you can also use it to decorate it outdoors, for example when you to host a party or family gathering by the pool.
2. Inexpensive Thanksgiving Table Centerpieces – Mini Decorative Pumpkin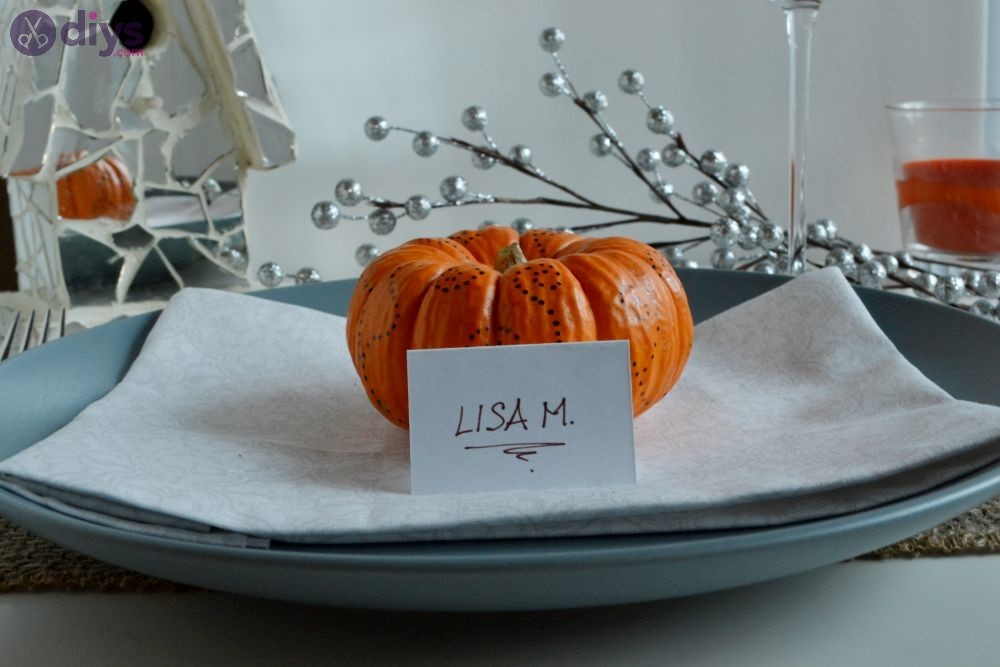 The beauty of this little pumpkin centerpiece is that you can perfectly spice up your home for fall without spending a lot of money or taking up a lot of space.You can draw more than one pattern on each pumpkin and it's always fun to combine different patterns like you would with normal clothing. However, if you are looking for simpler designs you can try adding some lines or dots in the white space around the pumpkins and this is easy enough that even kids will love it. As an alternative to drawing designs on these mini pumpkins, you can paint them instead and both will work perfectly, so it's up to you!
Children will love being able to help with this project because it is so easy and fun for them. In fact, they'll have a lot of fun mixing different colors on each pumpkin or using glitter paint if you have some on hand. If you're looking to save time, it's a good idea to get all of your pumpkins ready in advance and let your kids decorate one while you work on the rest – since they're small enough to fit in a cardboard box, which makes them suitable for packaging good to set this up.
3. Easy Thanksgiving Table Decoration – DIY Chevron Candles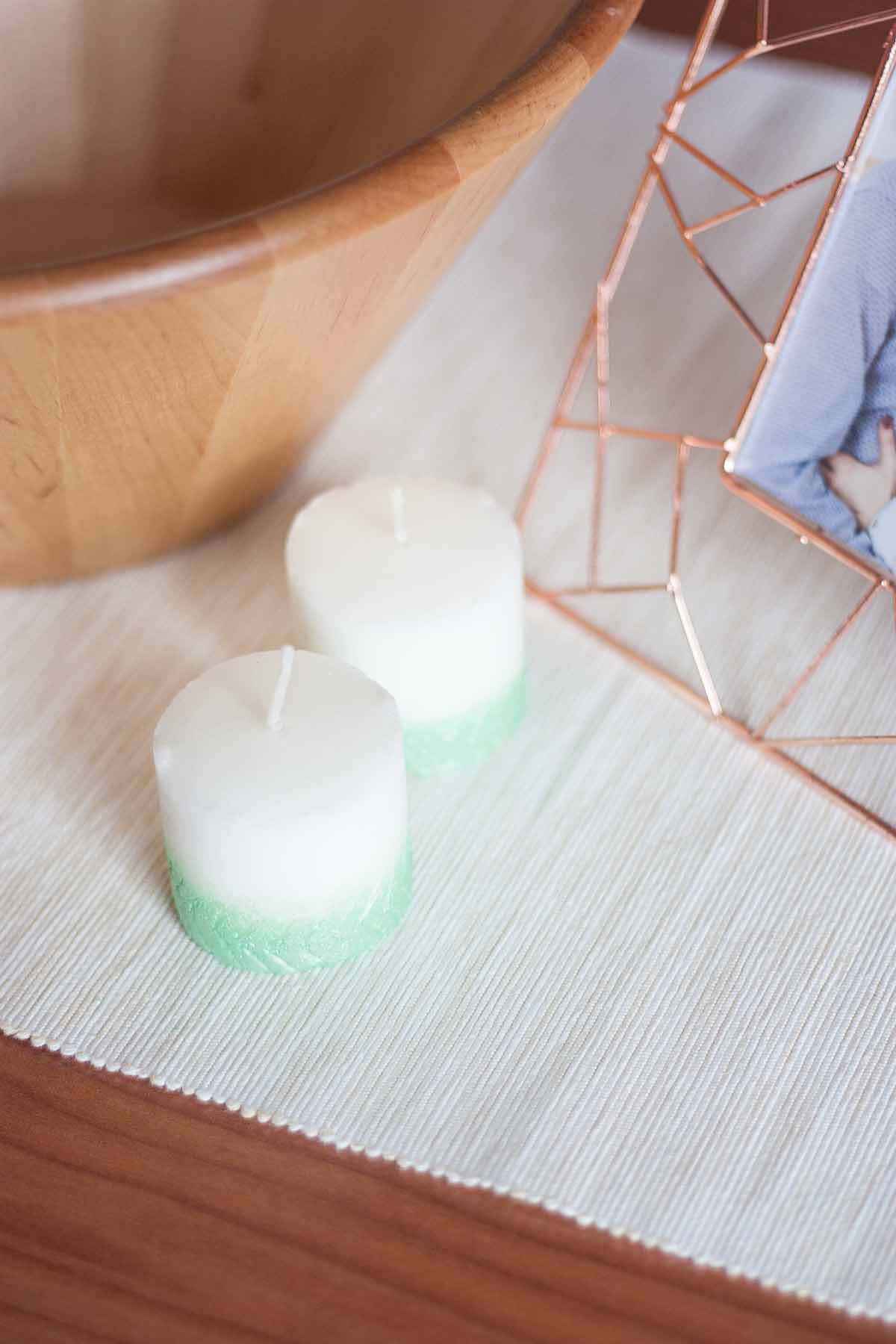 Many people think that decorating a table with too many candles becomes too romantic for festive occasions, but as long as they look a certain way or don't exude certain scents, they will be fine to do. However, if you're the type who loves everything to look a certain way, the best way is to make decorations yourself, and surprisingly, even chevron candles are easy to make at home too. You will need candles, pens, acrylic paint, and a brush. As for the color, you can use any color you like, but we recommend that you use colors that go with the tablecloth, napkins and any other table decorations. To highlight the lines in your candle, you first need to either heat the needle and use it around the candle, or draw small horizontal lines with a pencil.
You can then paint over these lines with your acrylic paint of choice. If the line is too thin, it will still be visible after painting. So just wait for everything to dry before using another coat of paint to fix this problem. While the paint is still wet, take a pen or pencil and draw zigzag patterns over your candle. Make sure that you use different shades of color for your zigzags so that they stand out after they dry. Finally, all you have to do is let everything dry and then light it up! These candles are perfect for decorating Thanksgiving table decorations as they look absolutely gorgeous.
4. DIY Thanksgiving Floral Centerpieces – Flowers in a Pumpkin Pot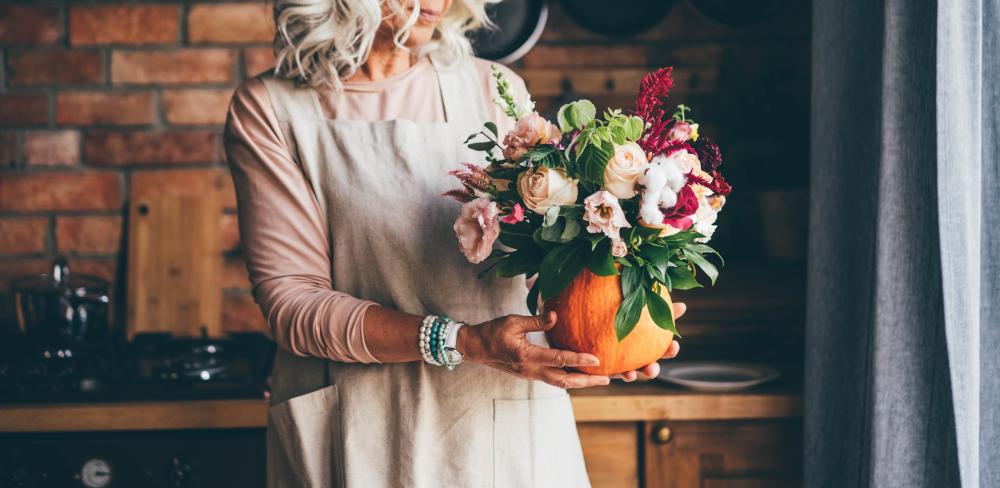 This Thanksgiving table decor, a pumpkin with a bouquet of flowers in it, is sure to look great when displayed on your dining table. All you need to make this festive centerpiece are a few items from around the house and some basic handicrafts. What you will need for this project is a pumpkin big enough to hold a bouquet, a knife to carve it, and any flowers you love most, including those that are in the off-season (though we recommend for reasons of realism.) that you stick to flowers that are there even in autumn). Start by carving the pumpkin with your knife. To do this, draw a circle about 7 inches or so on your pumpkin before tracing it with the tip of your knife. Then carve two triangles of the same size next to each other about an inch apart exactly where you drew the circle above.
These triangles are the opening where you will later put your flowers. If you are new to pumpkin carving there are plenty of tutorials on the internet that can help you learn all there is to know about how to do it! If not, you can skip these steps and go straight to arranging your flowers in the pumpkin once everything else is ready! Gently take the bouquet apart so you can reuse the flowers later, then arrange it in your carved pumpkin. Make sure they fit snugly so they don't fall out too easily. If any of these steps are confusing, your local library has plenty of internet tutorials, as well as books that can teach you everything about carving pumpkins and working with different types of flowers! Finally, put these table decorations somewhere in the middle of your dining table and make sure everyone sees them too!
More DIY Thanksgiving Table Decorations
As mentioned earlier, this article is not a ranking of the best DIY Thanksgiving table decorations, but a list of them, and while the previous 10 submissions were the most popular ideas of the Year 2021, that doesn't mean that you can't try something more classic.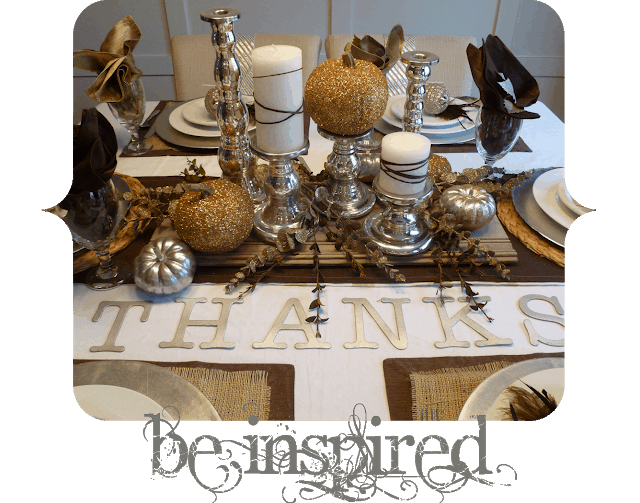 Are you the type of person who loves a little sparkle and sparkle in their style, both in the decor and personal space? Then, in our opinion, you will get a real kick. Tater Tots & Jello created this beautiful metal-inspired table landscape that introduces the idea of ​​colder temperatures into the atmosphere! We especially like how they made their glittery mini pumpkins.
6. DIY burlap and corn husk table decor idea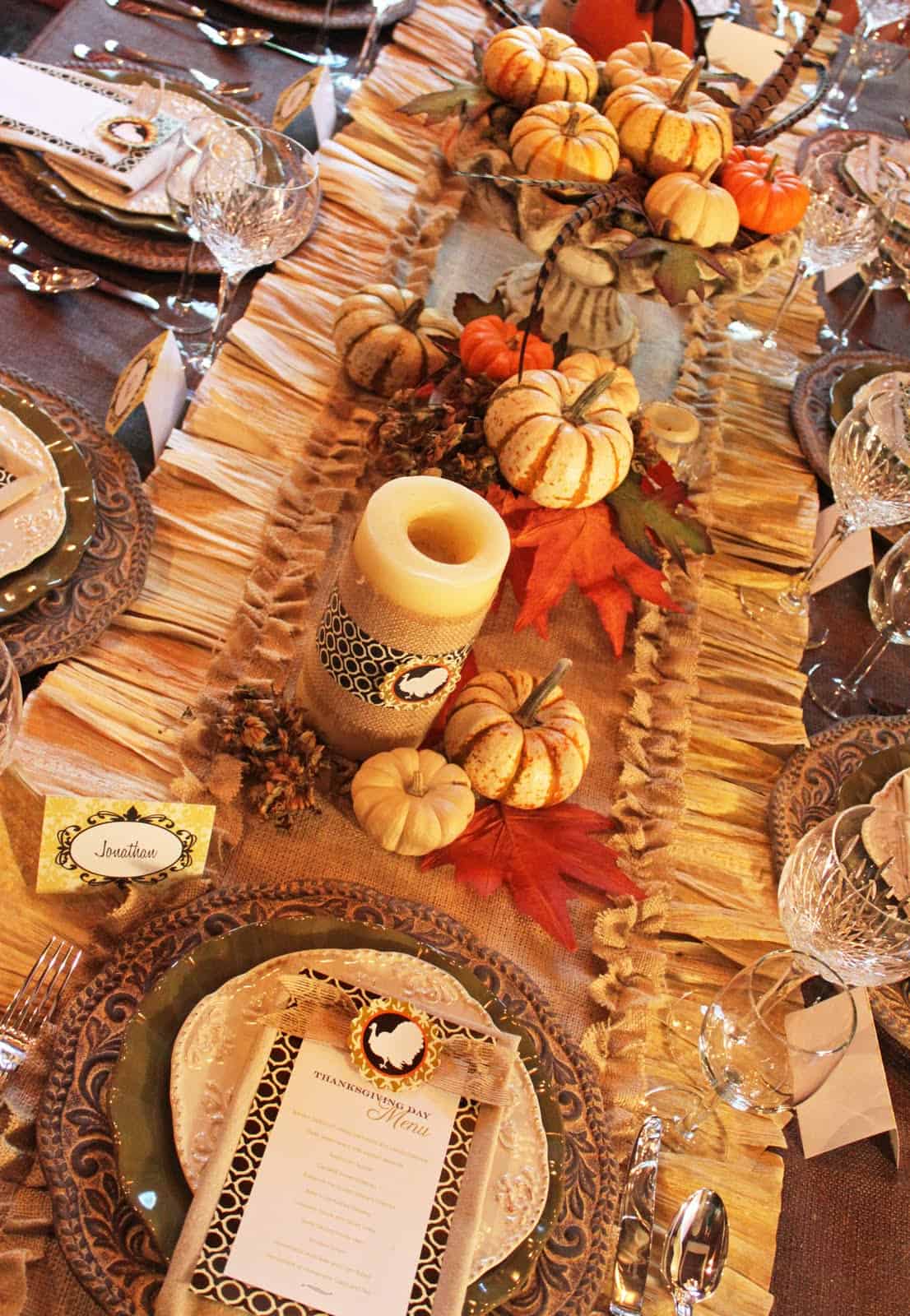 Are you actually convinced in your space that a slightly more rustic and down to earth aesthetic would suit your home a little better? Then we think you'll have a little better luck looking at something like this table setting scheme from Amanda's Parties To Go that includes burlap and corn husks! We love the way it goes back to the harvest on the farm.
7. DIY Modern Organic Table with Succulents – DIY Thanksgiving Centerpiece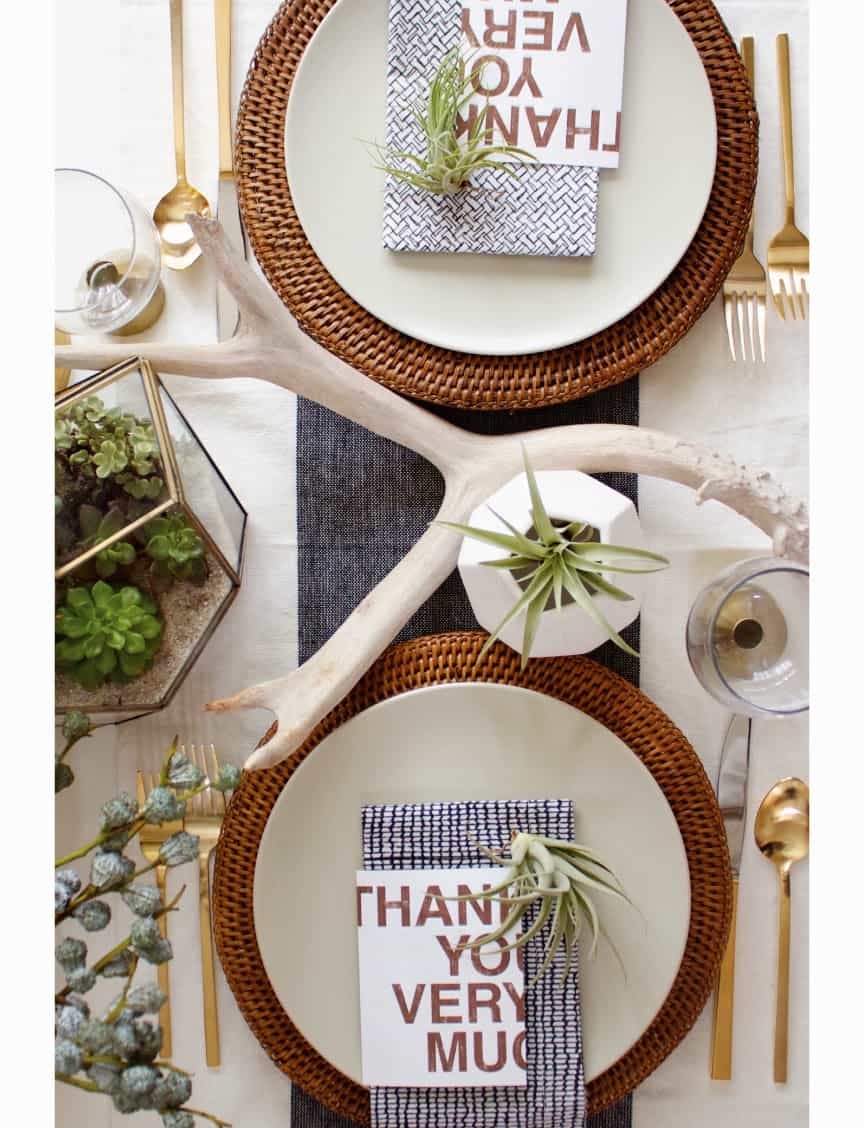 Even if you are undoubtedly celebrating harvest time, would you prefer to make it a little more contemporary and minimalist, but also somehow very natural and organic to suit the season? Then you will really appreciate this bright, neutral, and green decor scheme that puts beautiful succulents in the spotlight. Craft and Couture even suggests leaving a cute little succulent like a place card on everyone's plate!
8. DIY Thanksgiving Table Decor Idea – Rustic Wooden Table Runner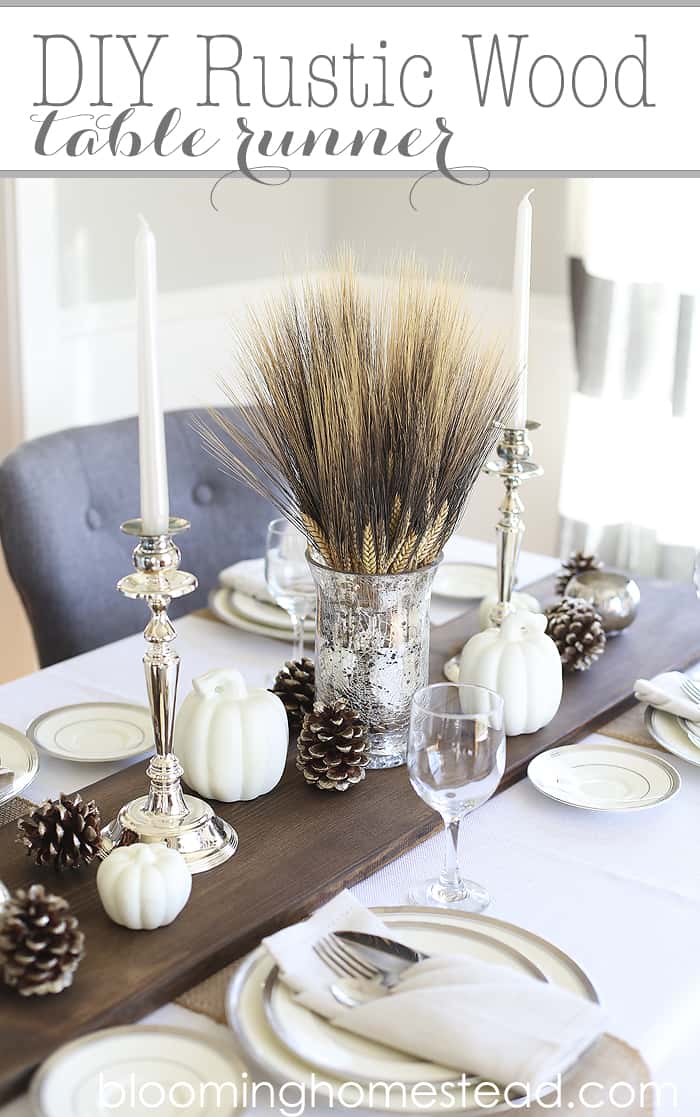 If you're going for a rustic feel to your Thanksgiving table, would you rather go all out and make it a little more explicit? In that case, we have a feeling that this beautiful stained wood table runner, sketched with surprising ease step by step on Blooming Homestead , is for you! They will show you how to make the sturdy statement piece that is decorative and very practical at the same time.
9. Rustic Chic Thanksgiving Table Decor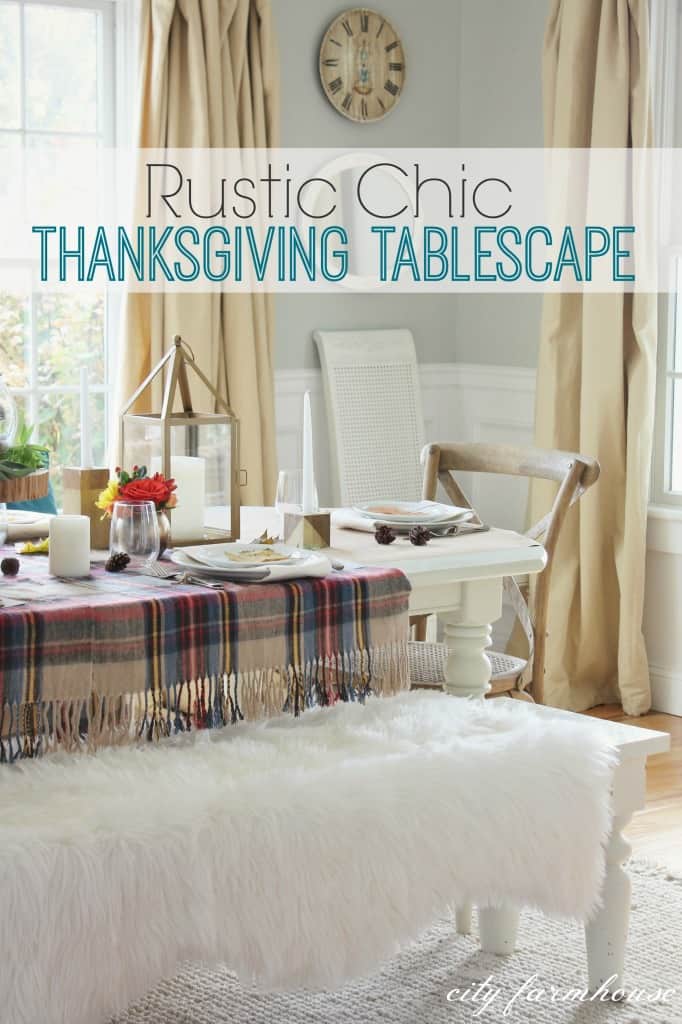 When you first started thinking about how to make your table landscape a little more "rustic," your mind actually wandered to an aesthetic that is closer to what you might be in an old fashioned one. found farmhouse? In that case, we'd happily bet you will love the way the City Farmhouse has lanterns, plaid fabric runners, and even some (fake) fur lining that gives the table a sense of country coziness on the seats and Benches for coziness and comfort while everyone is eating.
10. Pumpkins and pinecones wrapped with branches Thanksgiving table decorations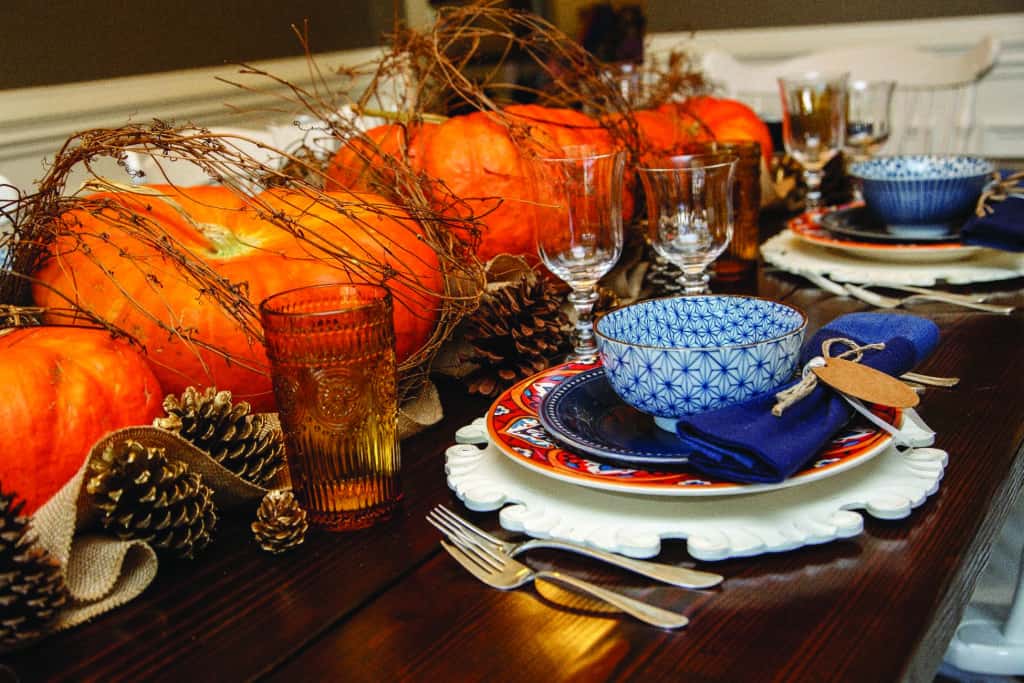 If you could have your ideal Thanksgiving table, would it actually contain a lot more nature than anything you've seen before? In which case, you will likely appreciate the way suburban living managed to incorporate pine cones, pumpkins, and twigs, and create great visual textures by moving the thin, pliable twigs like one around them Pumpkins wrap and wrap cell phones, cell phones.
11.Rustic paper trays and burlap bags – Thanksgiving table centerpieces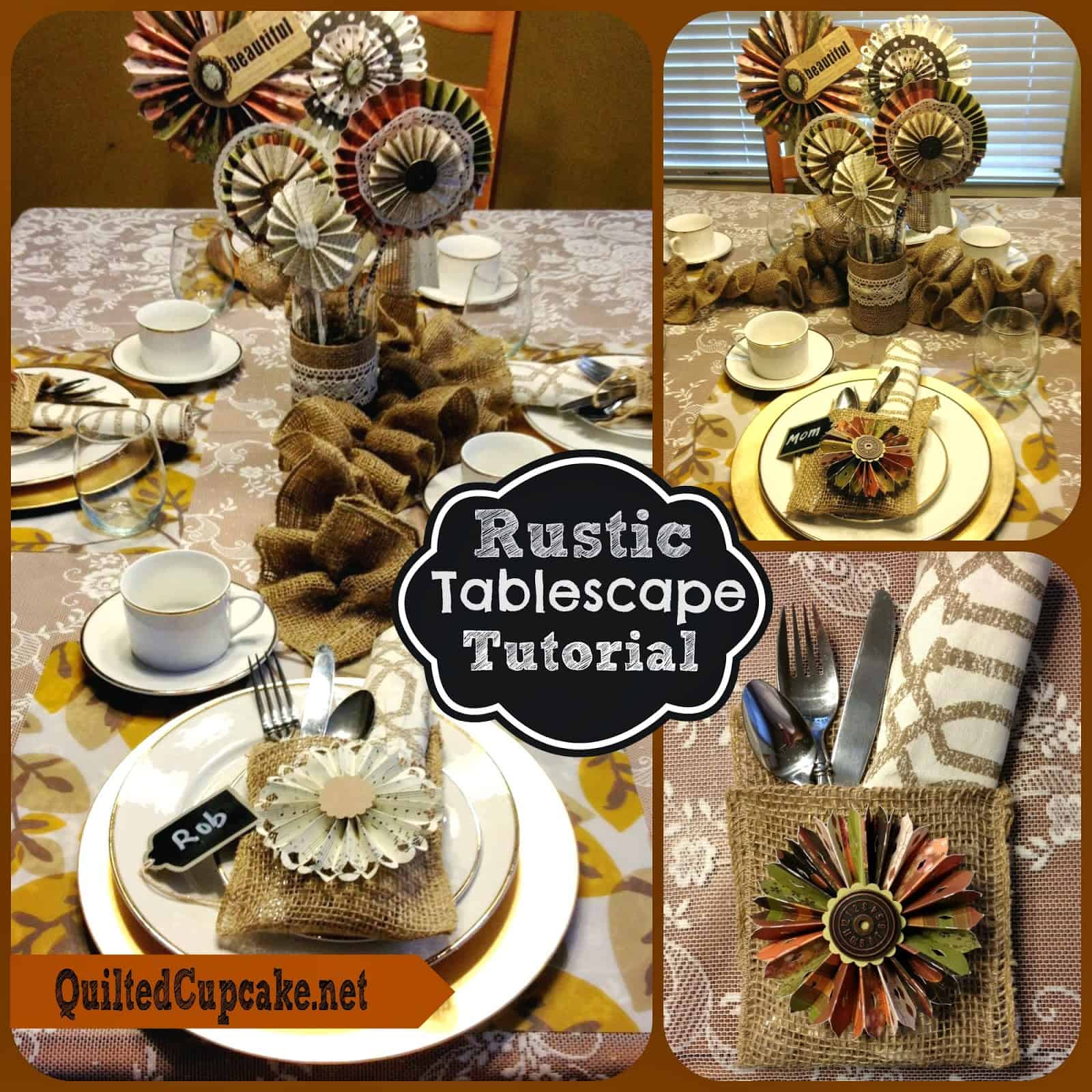 Are you actually the kind of smart person who doesn't mind simple sewing and paper to prepare for their
Thanksgiving dinner table
scenery Do handicrafts instead of just arranging things creatively like a designer? Then grab the patterned card and burlap and see how Quilted Cupcake made these pretty autumn-colored paper fans and burlap napkin and utensil bags in surprisingly few easy steps.
12.Pumpkin and Candle Thanksgiving Centerpiece Idea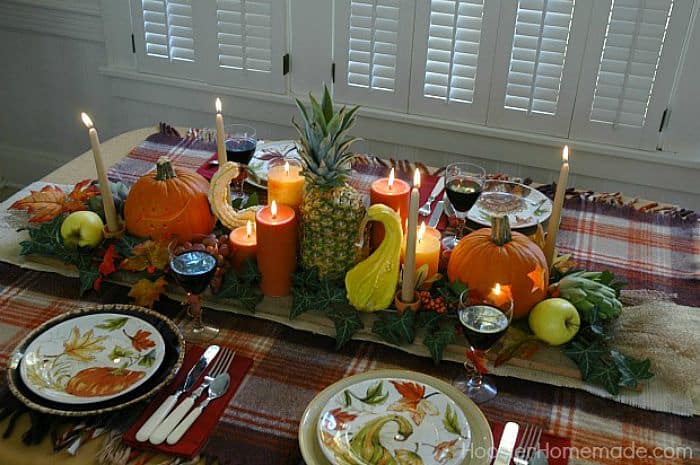 Is your favorite part about your fall shopping really the way all stores get loads of pumpkins and pumpkins that make any supermarket look like a farm? Then we'd bet you'd have a great time treating your dining table the same for Thanksgiving. We love the lightness and style of this beautiful table landscape made of pumpkin, pumpkin and candles, which is detailed on Hoosier Homemade (and we also find a real kick how they smuggle a pineapple into the middle)!
13. Easy Leaf Folded Napkin and Name Cards – Thanksgiving Table Decoration Idea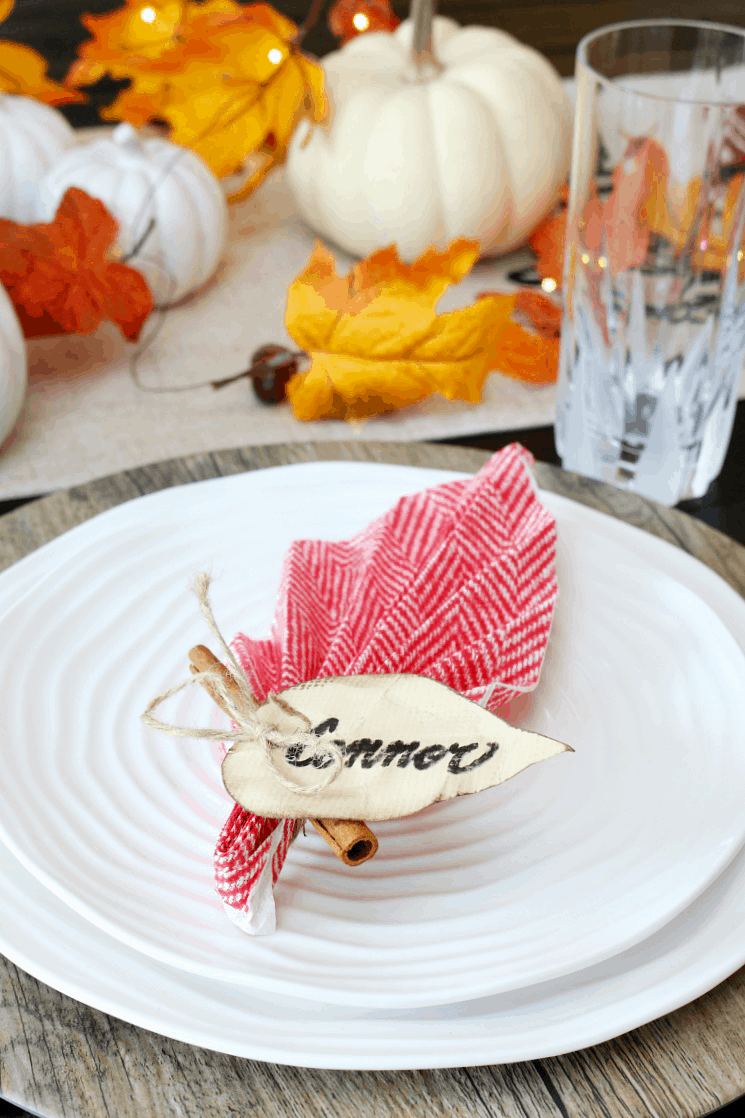 Aside from a few pumpkins and a little leaf decor in the middle, you'd actually rather keep the rest of your table decoration primarily as a place setting because that's what you want that every guest feels that they are in good hands? In that case, we definitely recommend taking a look at how Clean & Scentsible got creative with their napkin folds to make these little linen sheets and clamp them around a real cinnamon stick with a jute string and a weathered paper name bound.
14. Thanksgiving Table Décor Idea with Painted Gold

We almost won you over when we talked about Metallic-themed Thanksgiving tablecapes earlier on our list, but if you are honest, your all-time favorite is yours Metallic options just gold? Then you may get along a little better with some of the suggestions on A Pumpkin and A Princess , which teach you detail by detail how they gilded all kinds of natural elements with color to create a warm, golden one Autumn glow around your table.
15. DIY Chalkboard Table Runner – Cheap Thanksgiving Table Centerpieces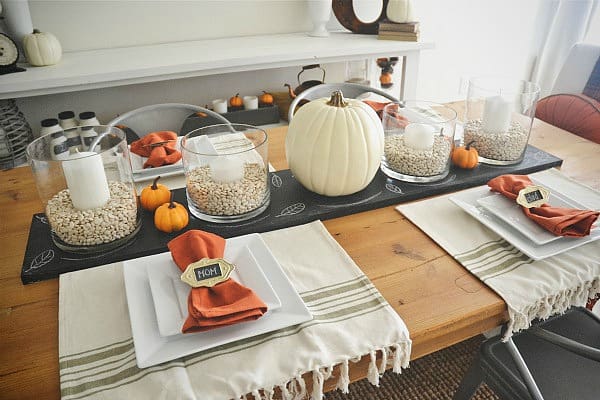 We really got your attention with this whole tough table runner concept because you think it's not only decorative but also quite practical, but you are yourself just not sure? Would you like to put more wood on your already wooden table top? Then you might want to try this concept by Liz Marie , who describes how to make a table runner with pumpkins and grain-filled candle vases instead.
16. Unique Wood, Candle, and Fall Nature Table Decorations for Thanksgiving
If you want to create some kind of table setting for Thanksgiving, do you want to go all out and make a great statement? In that case, especially if you've really liked words like "rustic" and "nature" so far, you'll just love the way Diva of DIY made this unique piece of wood with spots for tea lights carved from the lace along the entire length. Your idea of ​​surrounding it with miniature pumpkins is cute too!
17. Kid Friendly Place Cards With Fake Turkey Legs – Thanksgiving Table Decoration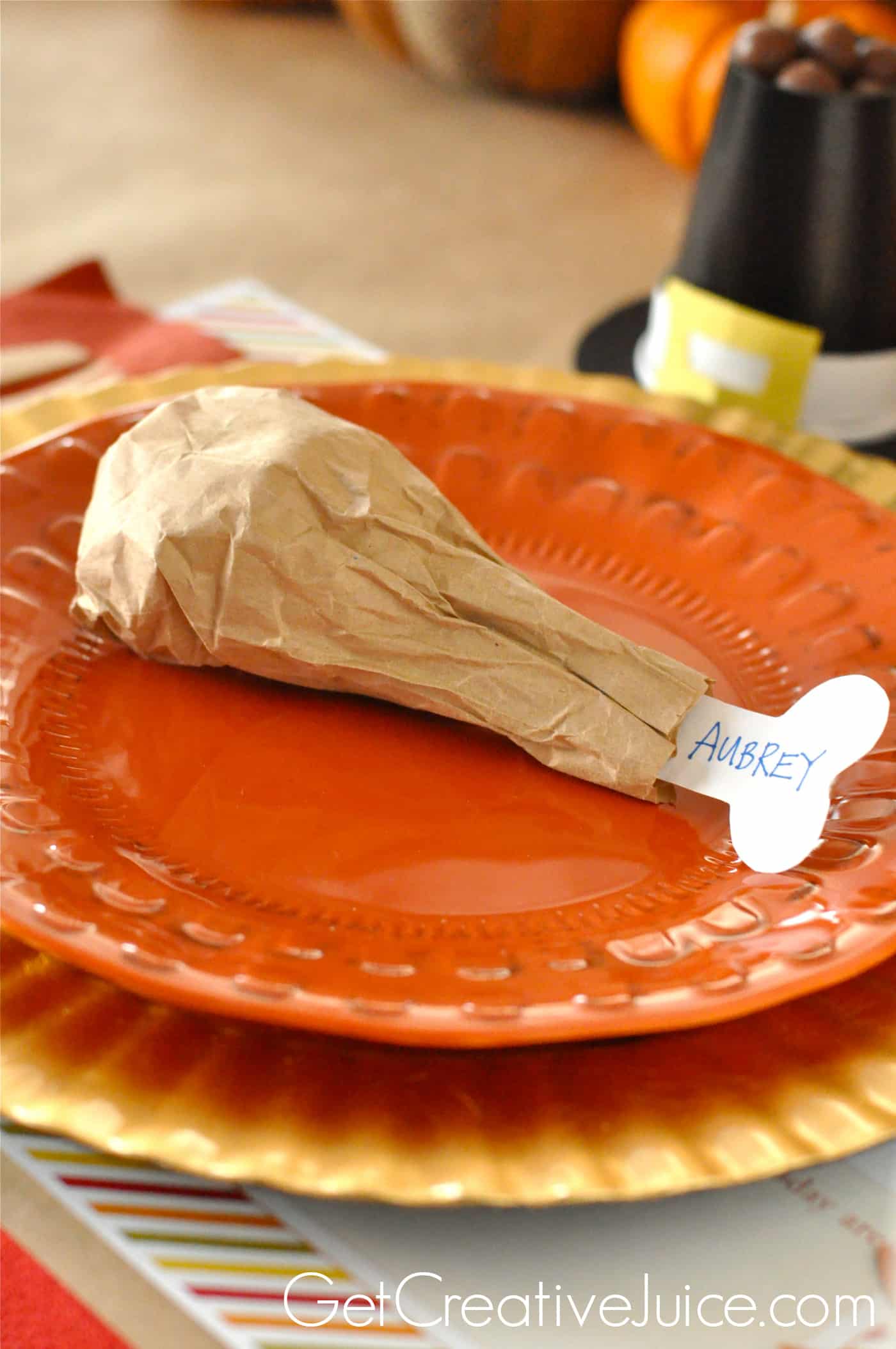 Actually scroll through our list and think about how you can get the kids to actually design and set up the table scenery and dining room decor, rather than just finding a way to use it to amuse them? If so, you'll find this next tutorial from Creative Juice really amusing! We love the way they describe the steps to make fun turkey leg placeholders that can be placed on any plate of a Thanksgiving table, like foreshadowing delicious things to come ..