We can always give a twist to the way we decorate and decorate the house on Halloween to create a more sophisticated, adult, perhaps less ephemeral decoration that leaves aside the childish nuance inherent in that party to include a Halloween decoration lots to create styles like these ideas that we will see next.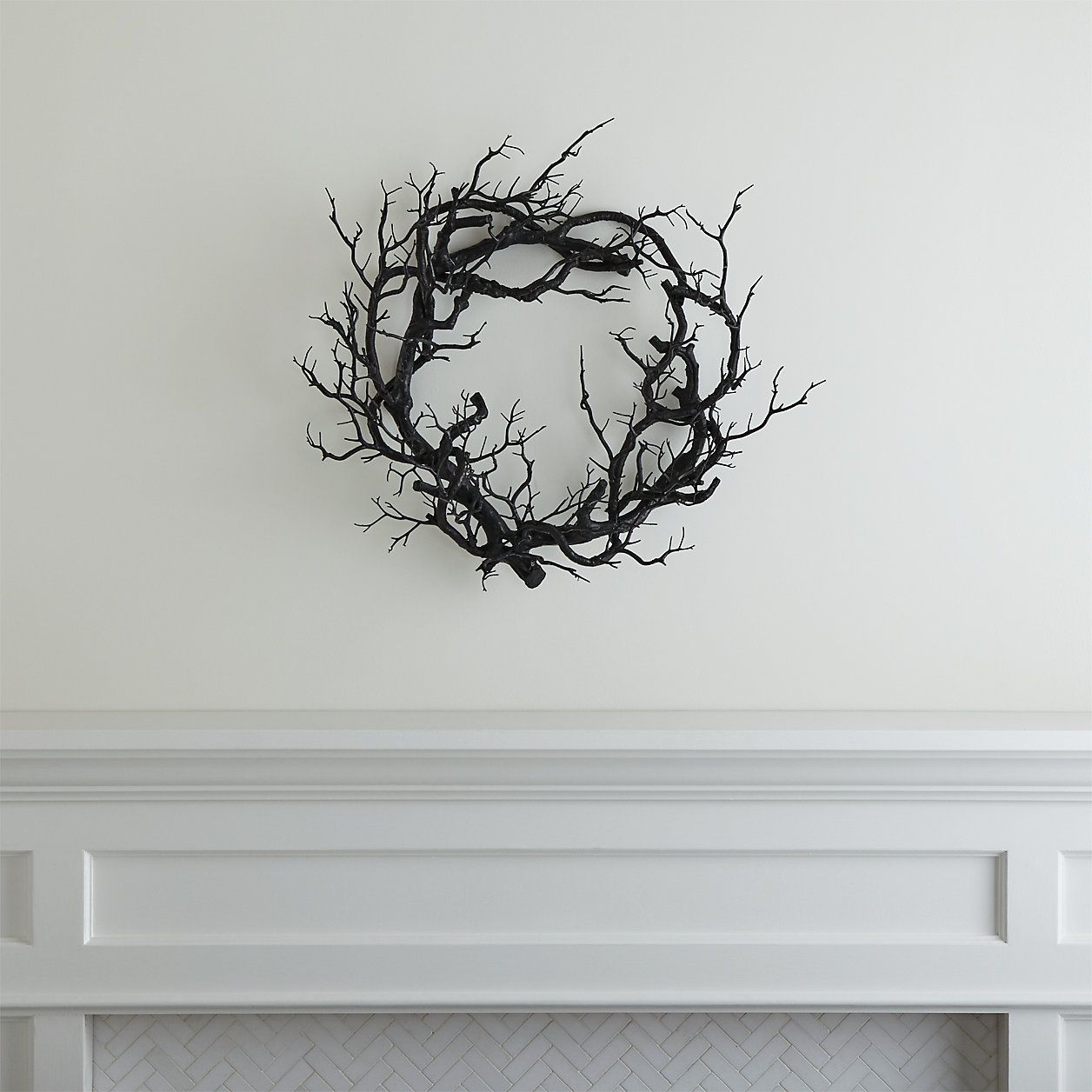 A wreath of twigs with a gloomy appearance, painted black . It's a subtle ornament with a clear reference to Halloween but with a more sophisticated twist, nothing over the top and with lots of styles.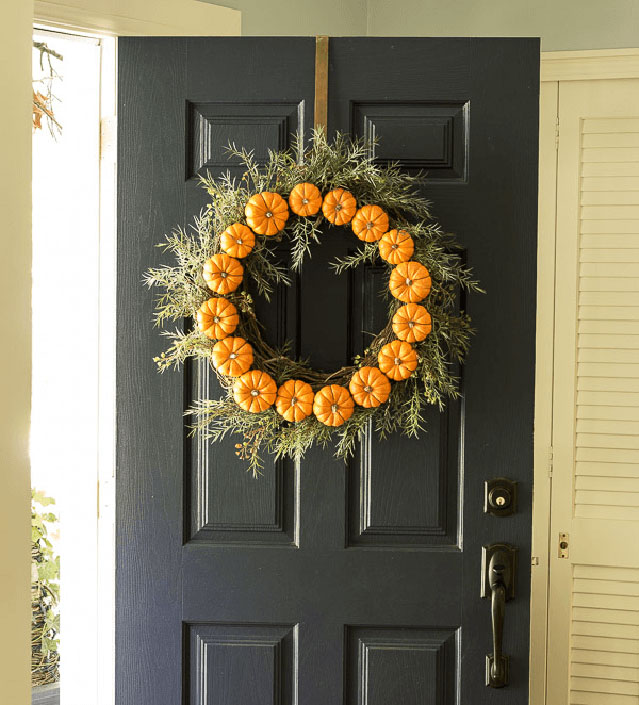 Here we see another crown for Halloween that is a bit more traditional but still doesn't match the extravagance and vulgarity that we normally see in many crowns at this party. It could even stay there longer to decorate the front door , right? That's the idea of ​​this article.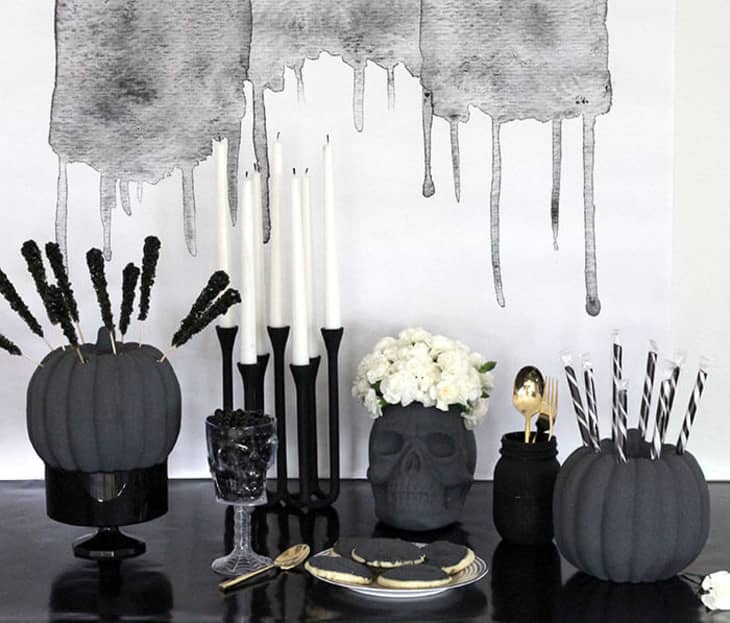 We continue with black, leaving orange as a Halloween companion or another color to create the cute table this time. It is true that here in Spain it is not customary to give sweets to children knocking on the door, but this table shows us how we have a Halloween dinner, apart from orange, can arrange in a different way than we are used to. see, maybe more demanding, more adult.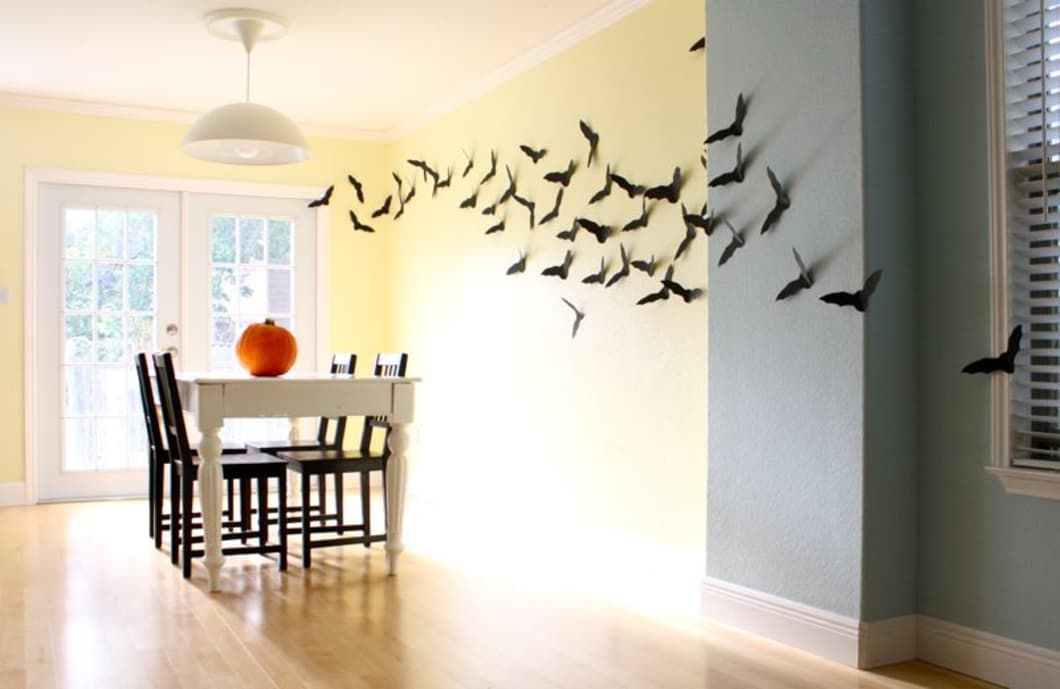 Decorate the wall with bats. Bats, like any other figure, such as whiskers, can be used to create a very eye-catching photo wallpaper with lots of art. If instead of bats this mural was made with … butterflies, for example more than one and one signed, to make it decorate your
dining room
all year round.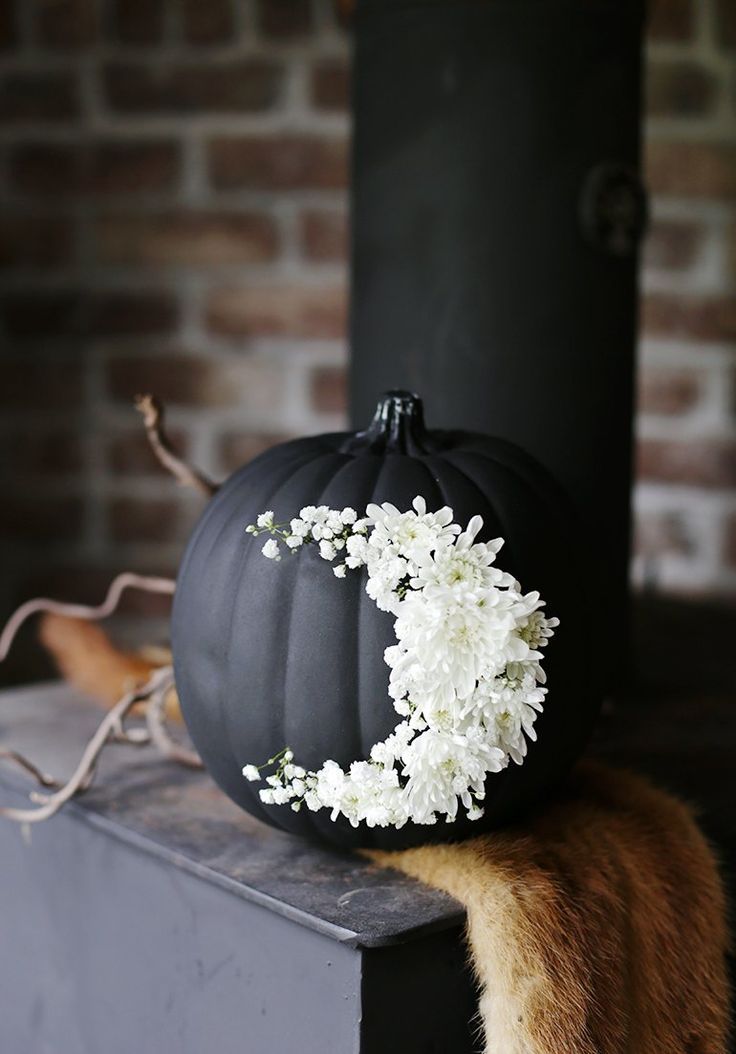 Pumpkins are an undeniable part of this party and we can decorate them in a thousand ways as we've seen over the years with the many
pumpkin decorating ideas
we've released. Among all these ideas we can pick up or attract those that can be seen as seen in the picture above this paragraph: simple, elegant and refined: a pumpkin entirely painted in matte black, with the silhouette of the moon made of white flowers.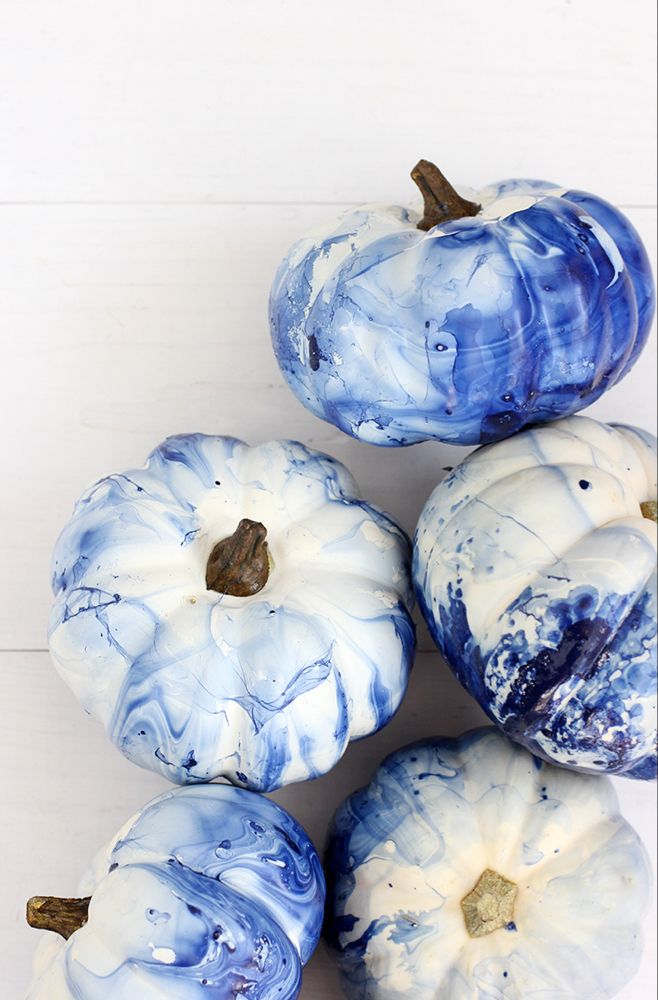 Now that I've given up the black paint, I was entranced by this idea of ​​decorating pumpkins. It's about painting them with watercolors, imitating them or creating an effect very similar to the one we saw a long time ago in this article, to decorate and paint the walls with a watercolor effect.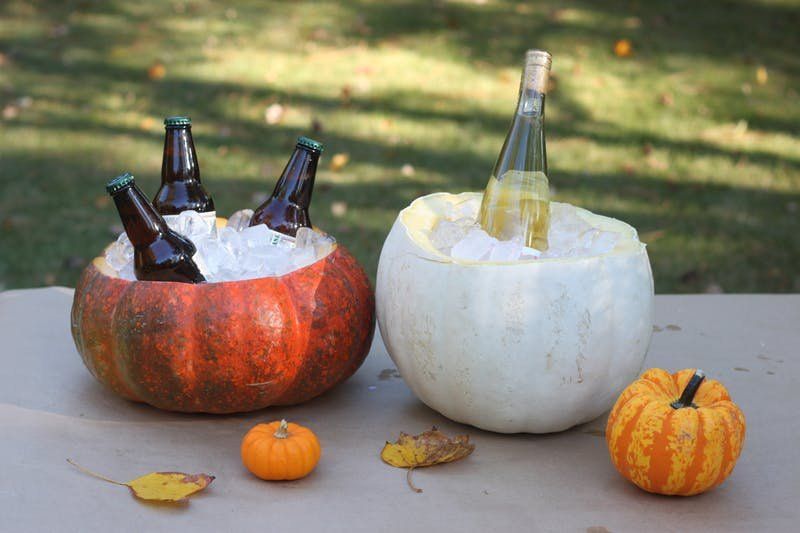 We continue with the idea of ​​decorating Halloween with pumpkins. This idea isn't as stylish as the previous ones, but more for adults, right? Use the pumpkins to keep the drink cold on the day we have the Halloween party. Although, depending on the drink, it can be a more or less adult idea.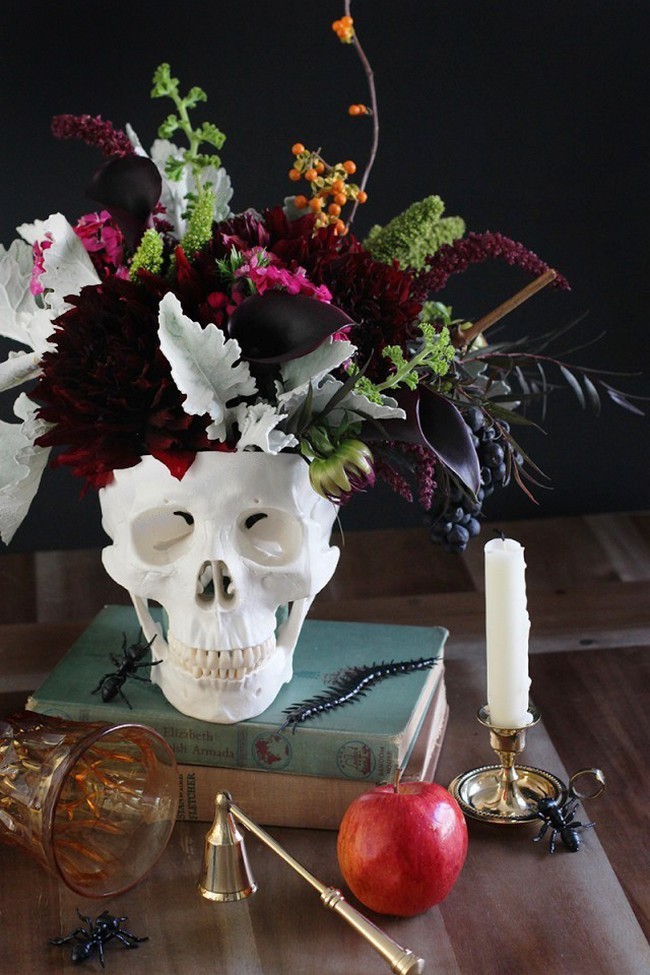 Create a suitable and elegant flower arrangement, with the right flowers for this date, not happy but gloomy, placed in an equally suitable container.We can see how to make this flower arrangement for Halloween at Honestlyyun.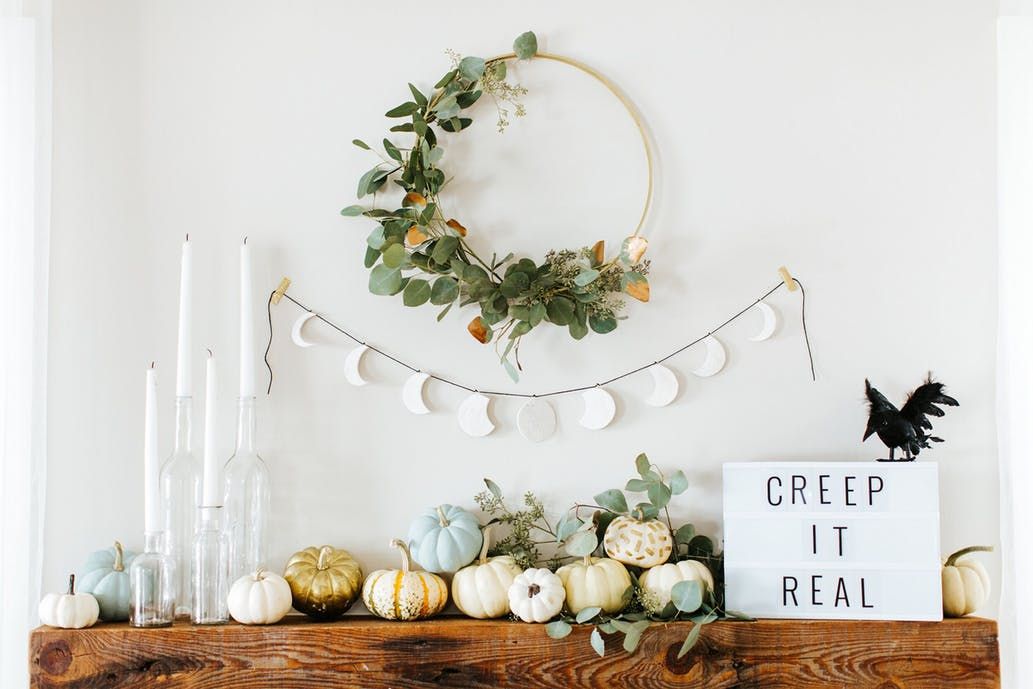 And in the end I wanted to keep this beautiful decoration for last. It's a way to use the typical decorations of this party, but with a lot of class and elegance.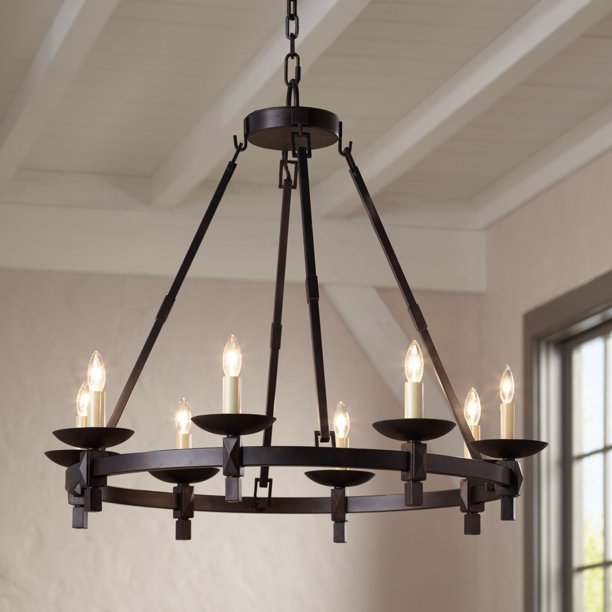 You may be able to borrow old bronze chandeliers or paraphernalia from a relative or even a friend's house that gives it a fairly old look. Get all of these as they will add to the rest of the decoration and give your home a darker look.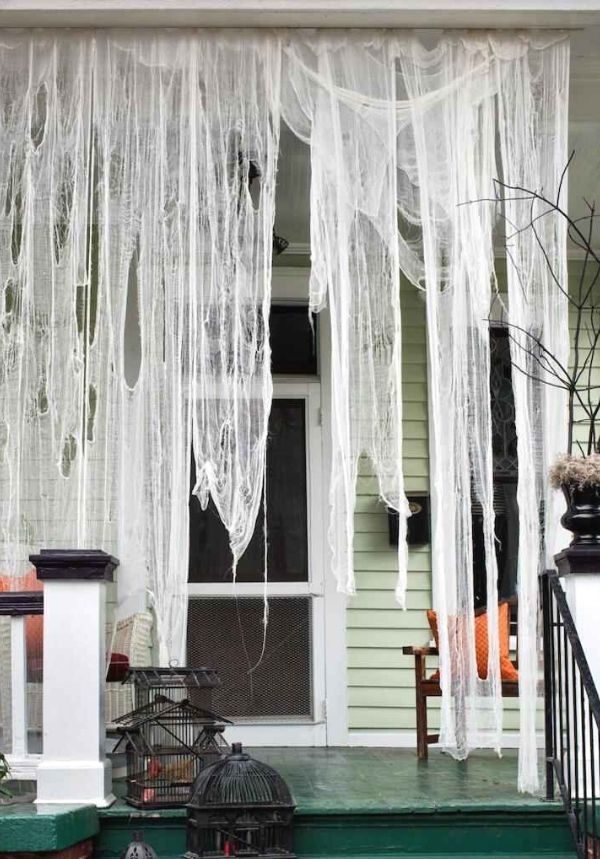 The houses decorated for Halloween abuse the abandoned effect, that is, lots of torn, dirty and old curtains or sheets. To prevent damage to your home, you can use old white sheets that you hang around the house as a corridor or a curtain. The good thing about them is that you can stain them at will and write the most terrifying messages that can come to mind.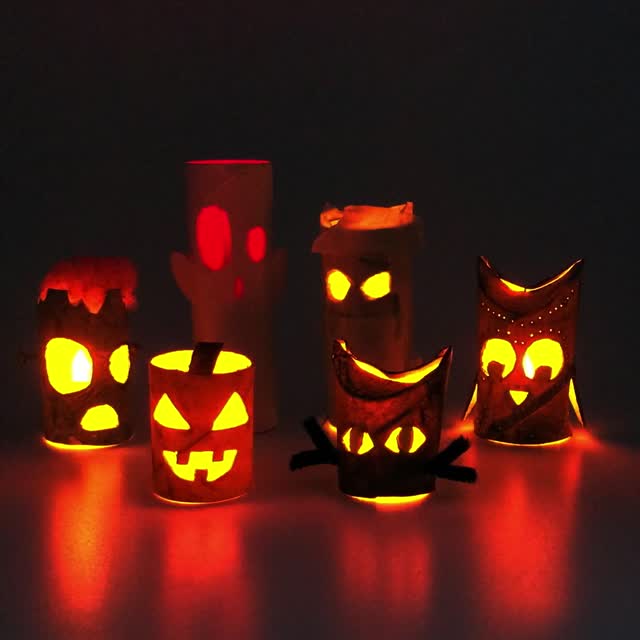 If you don't want to spend money on spider webs (although this is an investment we recommend since you can spend very little and use them a lot), you have another widely available resource: toilet paper! Place it from a door to a lamp and drop it anywhere.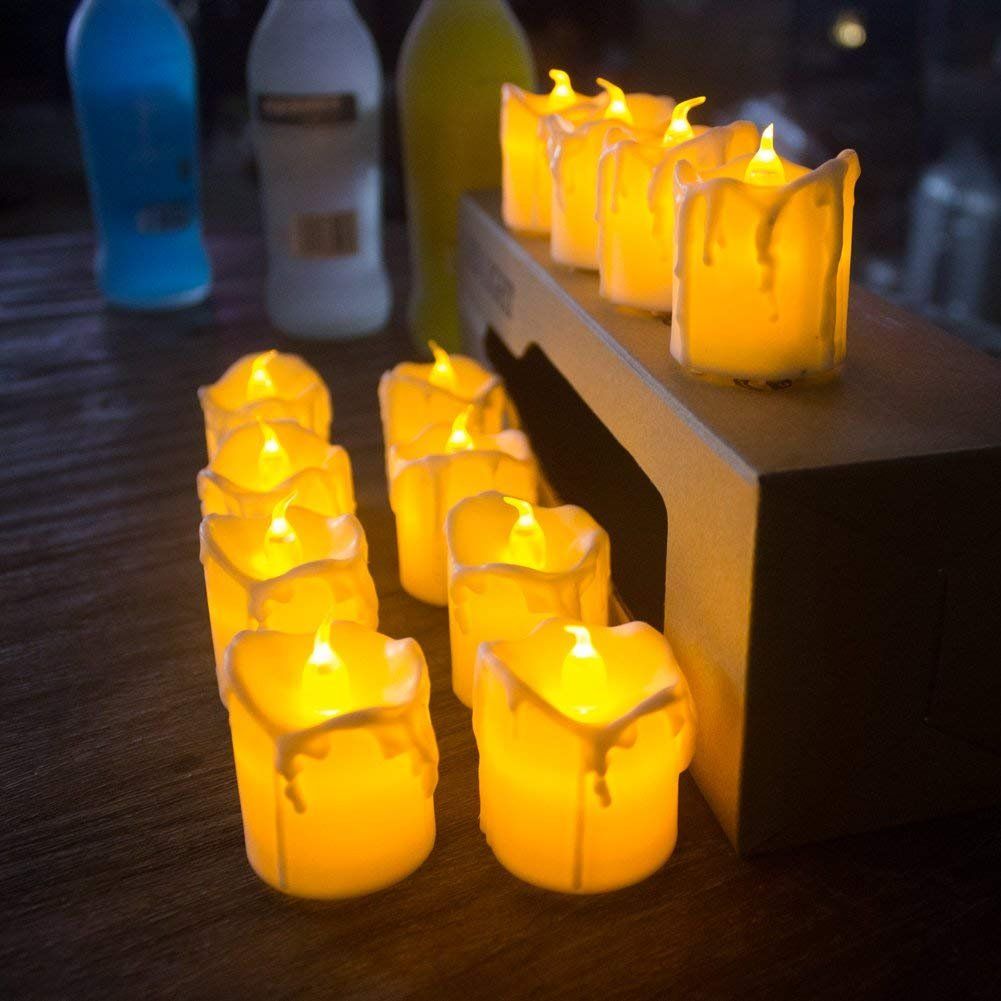 Other investments that can be profitable (because they are cheap and you can use them at other times like Christmas) are artificial candles. The ones that imitate the natural light of the flame but go on batteries. This way there is no risk of fire and you can wear them for as long as you want. There are smaller and imitating large candles. If you get several, you can place them all over the house without fear and the look will be amazing! We tell you that you can use them because you can light them up later to give your room a romantic look, for a special dinner night or as a centerpiece for Christmas.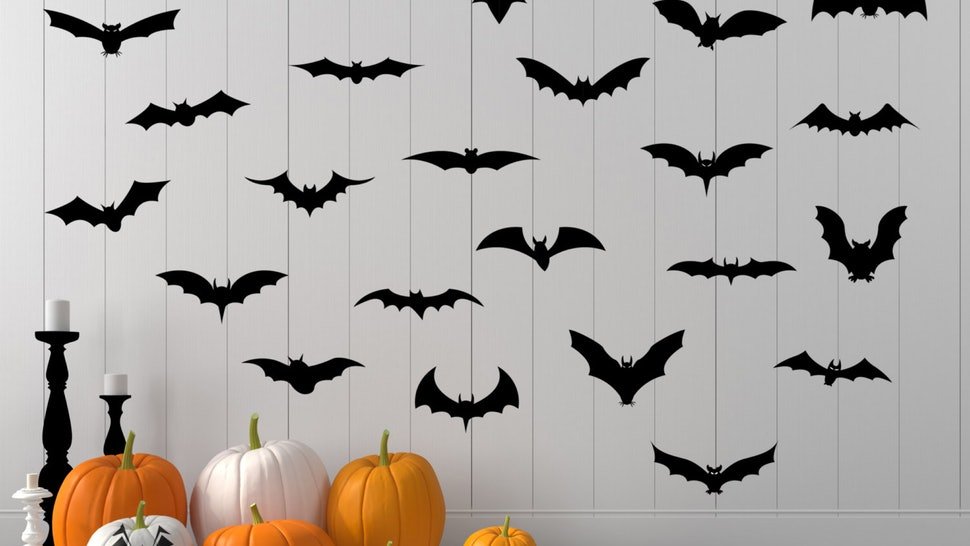 Another of the cheapest and most useful options to use is creating garlands with a creepy look. Creating matching garlands is very easy, so all you need to do is use all your talent to give them the Halloween shape you want.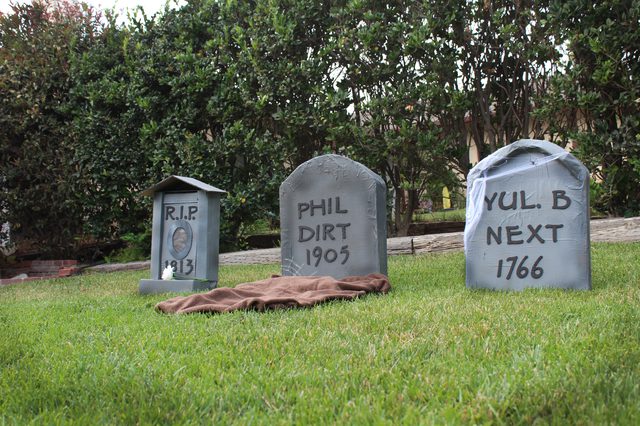 You can create different shapes with cardboard boxes that you can order in the shop below the house. For example, give a photo opportunity area the shape of several graves, paint them black, and put a D.E.P. in the center. If you create several of different sizes and you have a spider on the wall, you have a photo op of death!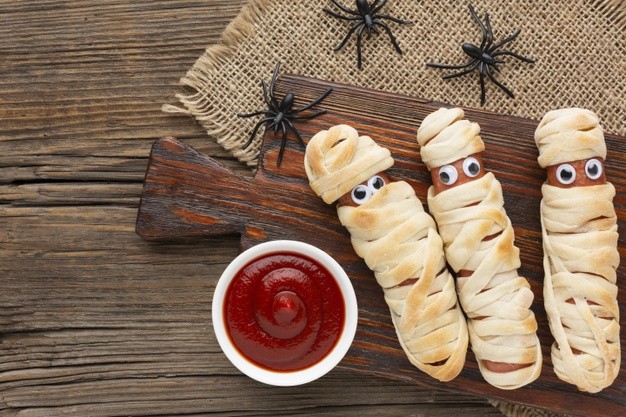 Any Halloween decoration worth it should have their ketchup or tomato sauce. We're not talking about staining the walls here, but consider staining a little on the bathroom mirror or the bedding that we talked about before. Even if you dare, the bathroom curtains would be very creepy with your hands well placed …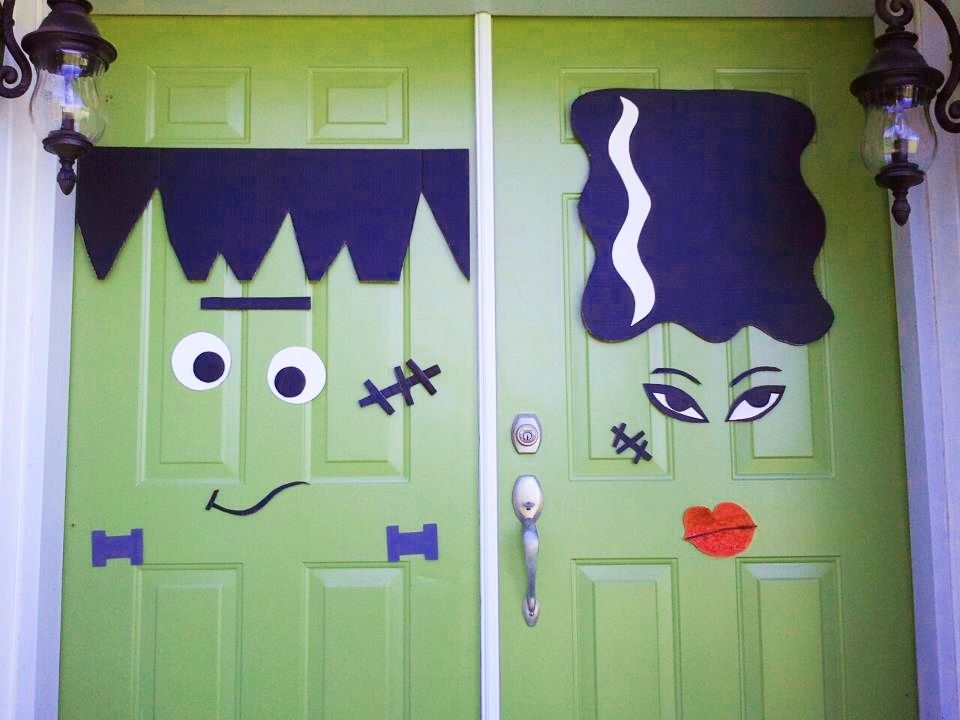 Any Halloween decoration worth it should have their ketchup or tomato sauce.Even if you dare, the bathroom curtains would be very scary with well-placed hands …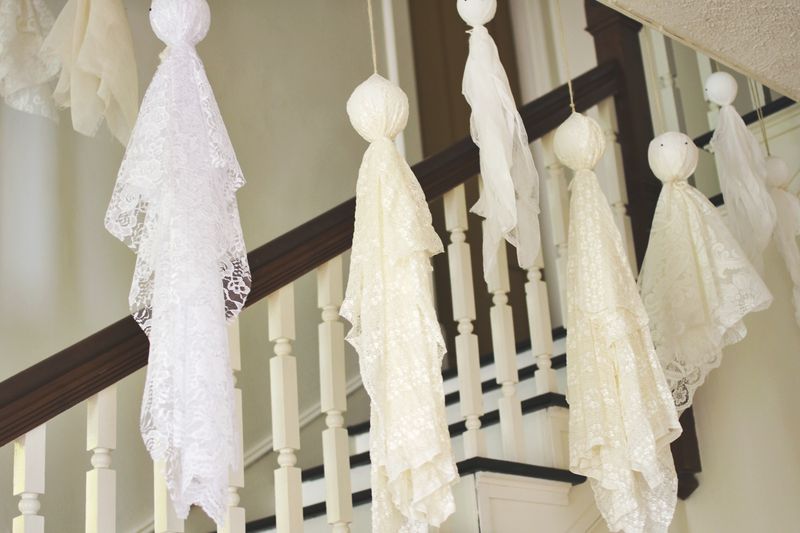 To make ghosts, all you need is white glue, water, paper and a plastic cup. The idea is to line the plastic cup with this mixture of white glue and water while putting on paper caps. Let it dry long enough and then paint two eyes and a mouth on the ghost. Carefully remove the plastic cup from the inside and poke a small hole in the head to hang it up. The result? If you hang it on the lamp, it will be a ghost hanging in the middle of nowhere … original and very cheap!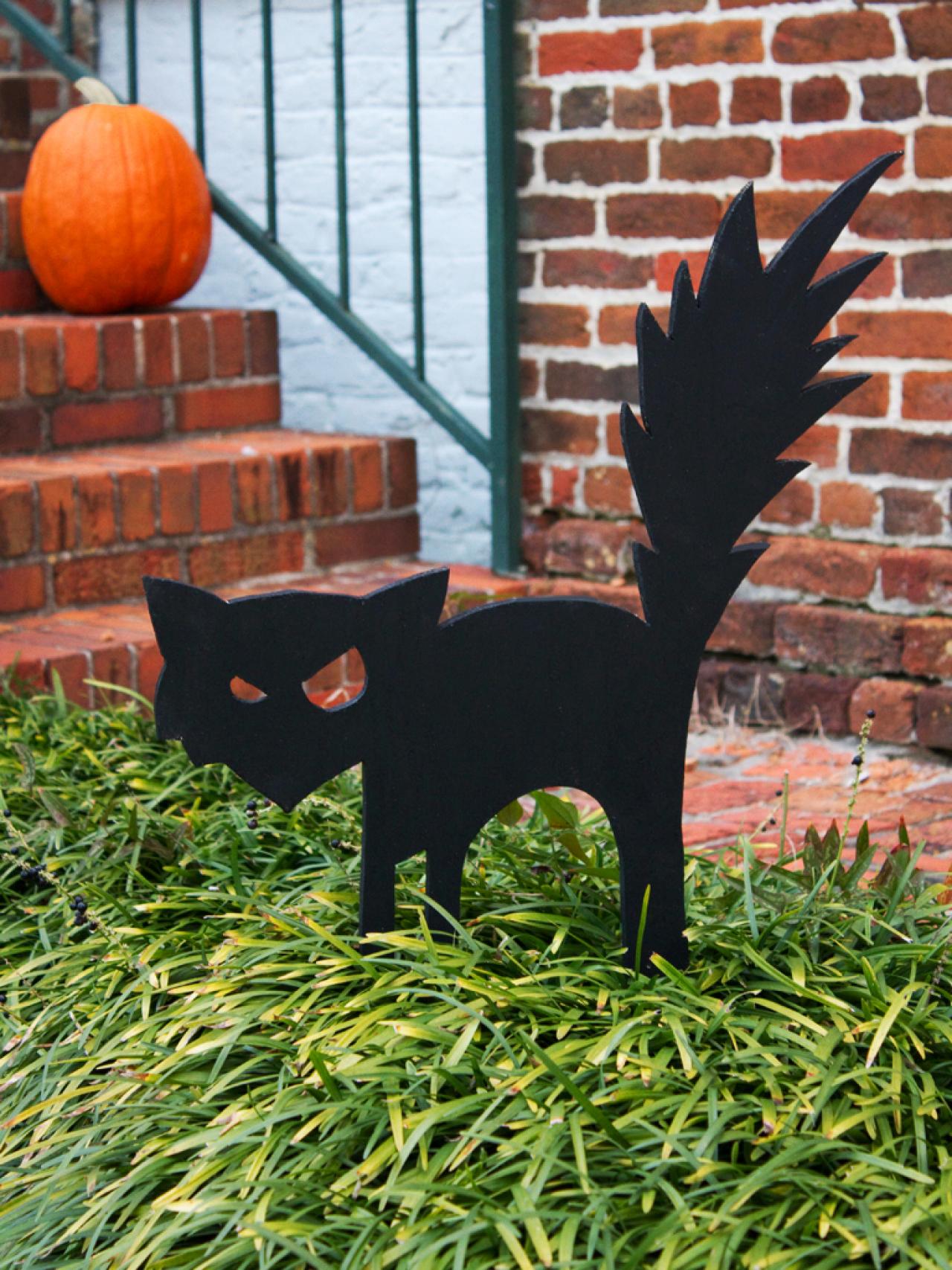 The black box must be available for all the small details of our decoration. Use it to cut out the shape of a black cat and paste it into your photo op. Also to make little mouse shapes that you can put on the baseboard or threatening eyes and hands that come out of the toilet cistern. How about?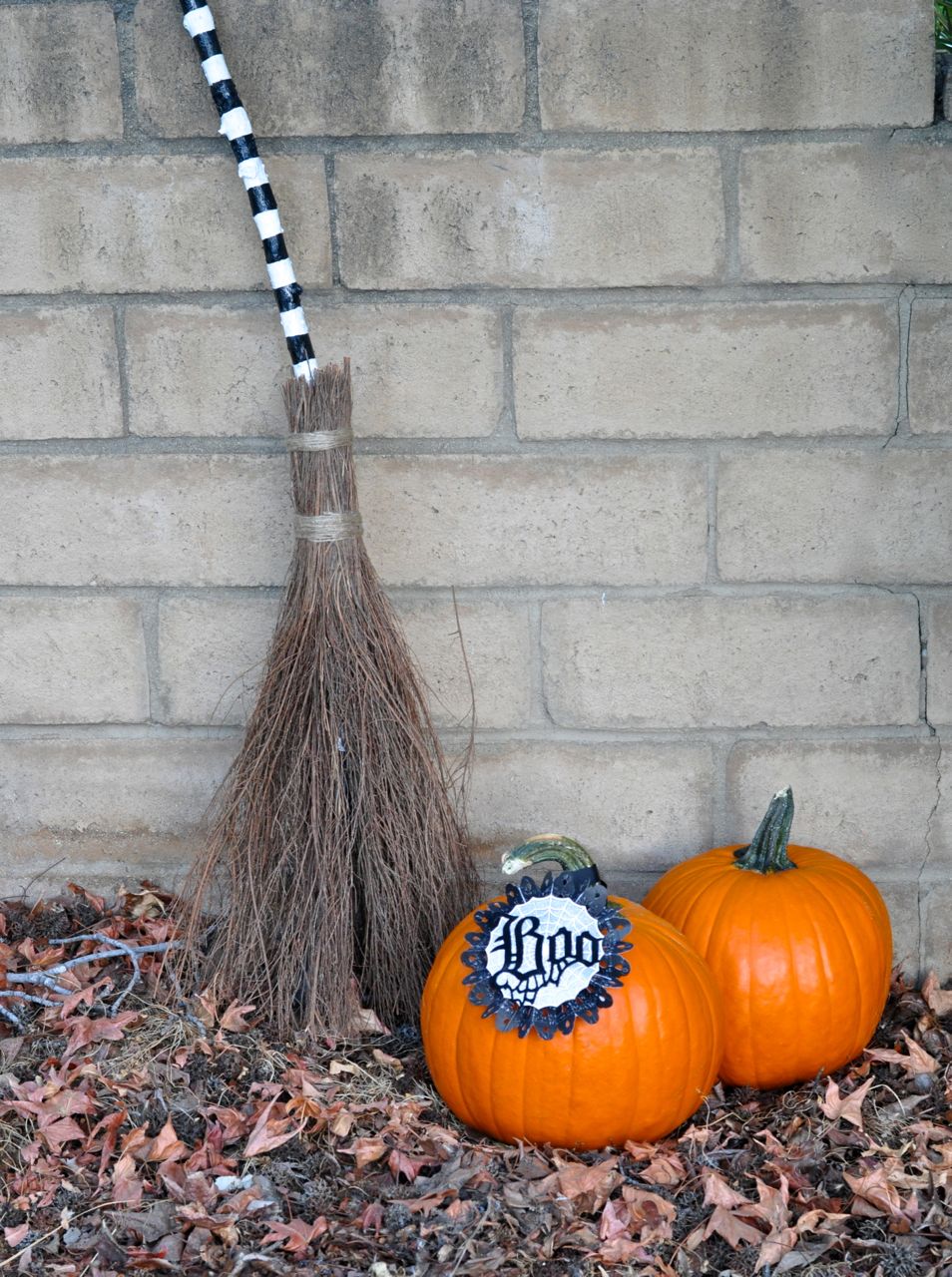 Of course, we can use whatever material you have at home to decorate your Halloween party. For example, we're talking about a simple broom that you can turn into a real witch's broom. Or do you think that if you leave it near the photo op, you won't succeed? ..