When we talk about relaxation and the beach, we often think of lounging on a hammock and sipping piña coladas with our sunglasses on. The hammock has always been associated with holidays, relaxation and serenity.
Wouldn't it be nice if you had a hammock at hand at home all year round?
We all know indoor Hammocks that are easily available in the market that only require you to have assembly skills and voila! An instant vacation in your home. As beautiful and simple as these lovely indoor hammocks are, it's not the one I'm featuring today. I'm going to talk about a more innovative and practical way to relax.
Are you curious now? You better be!
I'm talking about hammock floors, which are trending in most modern offices and homes. Seriously, I was speechless when I first heard about it. This clever idea would blow your mind if you haven't already. It utilizes unused space and turns it into an oasis of relaxation.
You and your kids can enjoy the whimsical touch and offbeat look that encourages fun and relaxed atmosphere where you can just nap, read and easy just chill can chill. In most offices with this type of setup, it creates a welcoming environment for employees to hang out, relax and unwind in while they work.
So let's get to that by looking at this Check out 20 Hammock Deck Ideas. I collected for you. Take the opportunity to get some inspiration for your own home or office and maybe, just maybe, it'll transform your space and give you that fun yet calm vibe.
1. Sinèrgics – The Social Project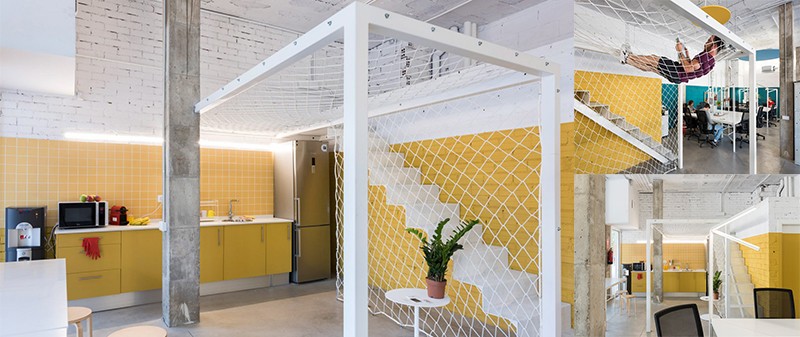 Colombo and Serboli Architecture
The architects chose to have limited space for a lounge Have it light and hanging instead of occupying part of the kitchen space. A giant hammock has been added as a mesh mezzanine accessible via a perforated metal stair ramp. It serves as a relaxation area for workers.
2. Tower House
Austin Maynard Architects
This is a study with a fully vertical space. It has a bookshelf that goes from floor to ceiling. A hammock-like net hangs in this high-ceilinged space for the children to read and ponder with a view of the street and backyard. It's fun to learn!
3. Two Story House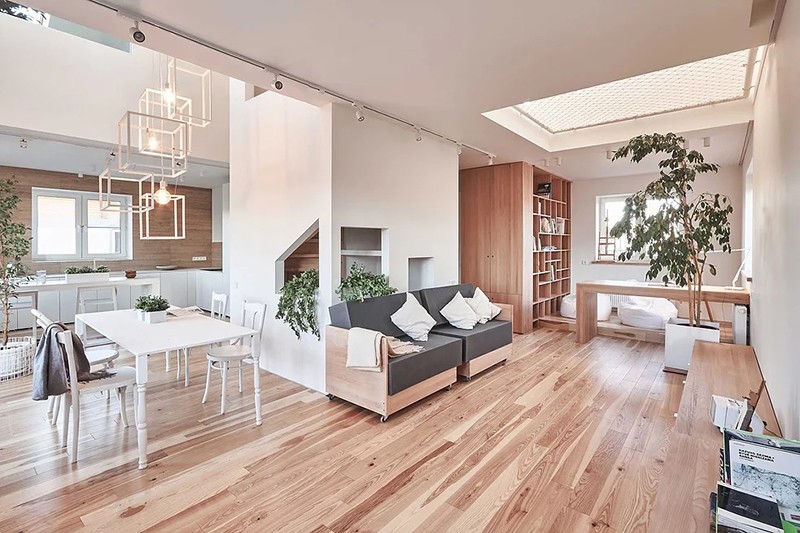 Ruetemple Studio
This hammock floor is neat and a great touch for those who love modern, minimalist interiors with a unique style .
4. Jerry House

Onion
Create a unique play area for children and adults with hammock floors. It could save some space and would definitely give you the fun, modern, quirky look and vibe.
5. Townhouse B14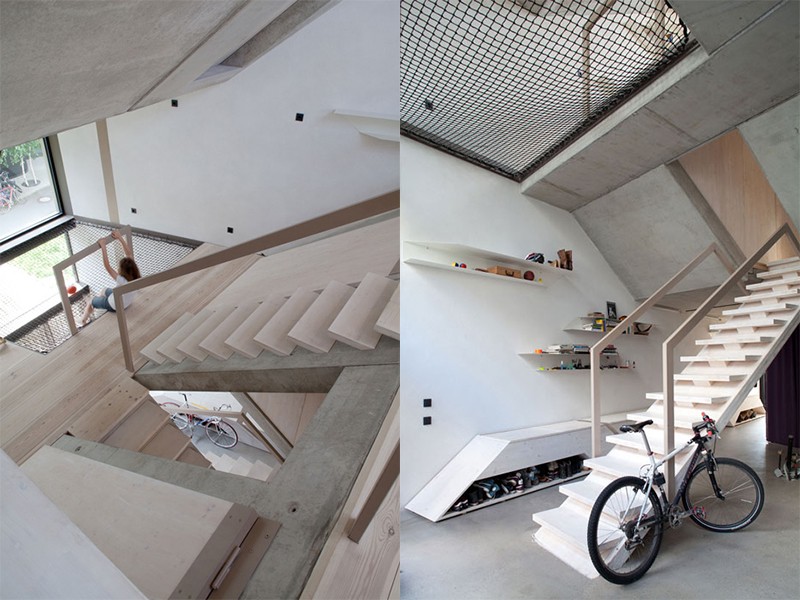 XTH – Berlin
This townhouse features doors that open like drawbridges and sloping wooden hatches that act as Slides serve level to another and hammock floor and nets to create a fun and safe play area for the kids.
6. Skinny SCAR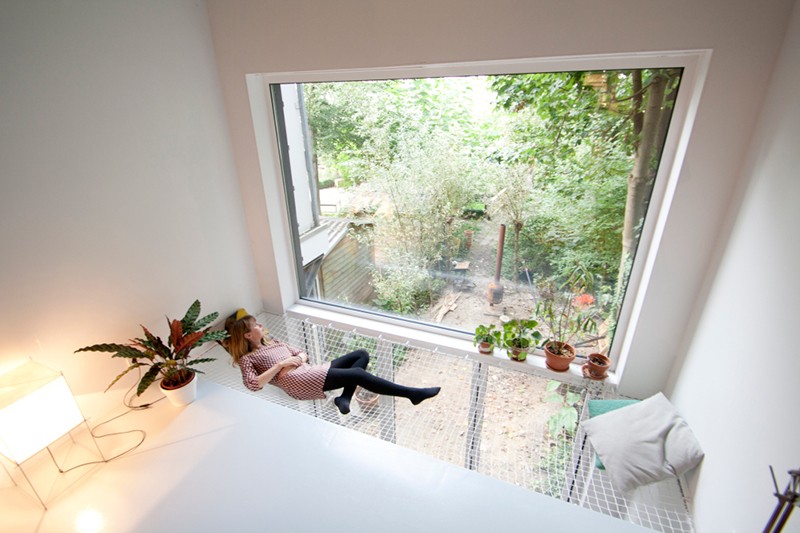 Gwendolyn Huisman and Marijn Boterman
Add a unique and striking accent to your space with this amazing concept.227 Flat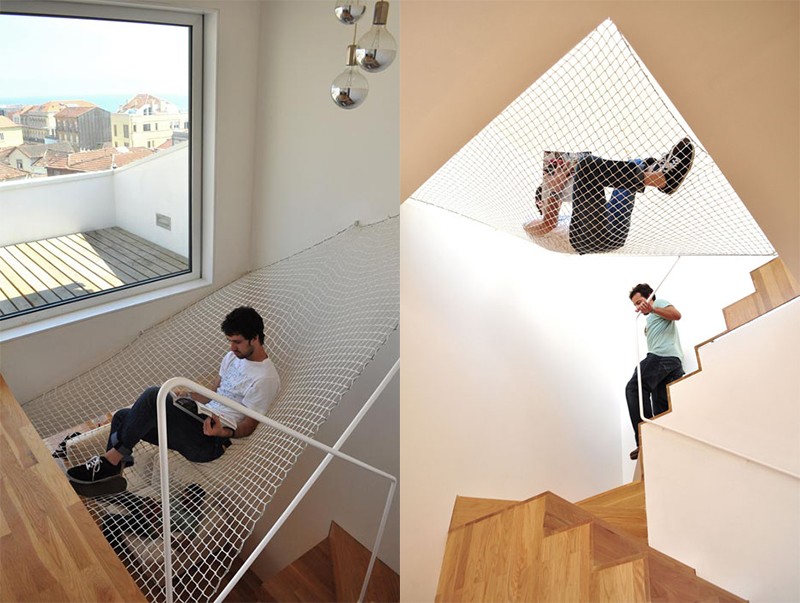 OODA
I love how this hammock seat suspended from a metal structure above the stairs has a bizarre Look creates and adds a playful atmosphere throughout the room.
8. Apartment in Korolev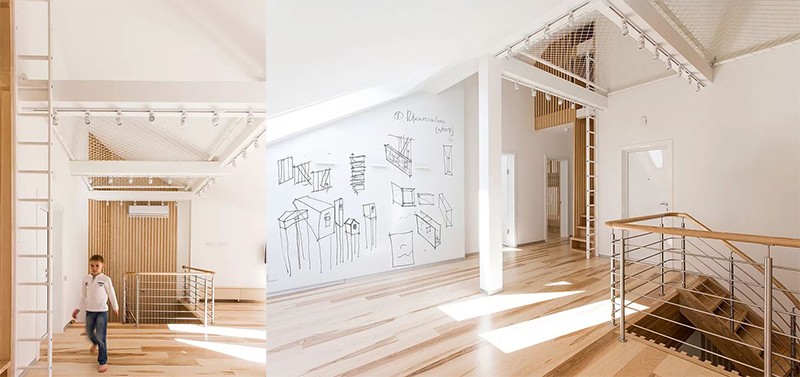 Ruetemple Studio
This well-lit home has been made even more exciting by a spacious recreation area with hammocks over the stairs.
9. Baan Moom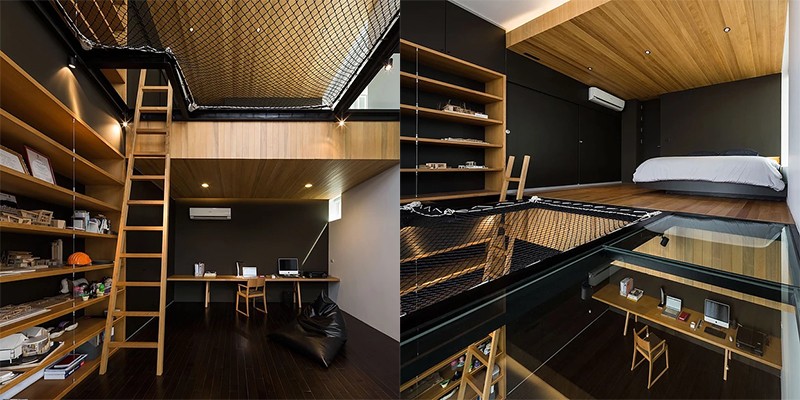 Integrated Field Co., Ltd.
I love the masculine touch of black and wood in this interior! A net used on the ocean liner was chosen as the hammock in the double room between the study (2nd floor) and bedroom (3rd floor). Great!
10. Hammock Ground Net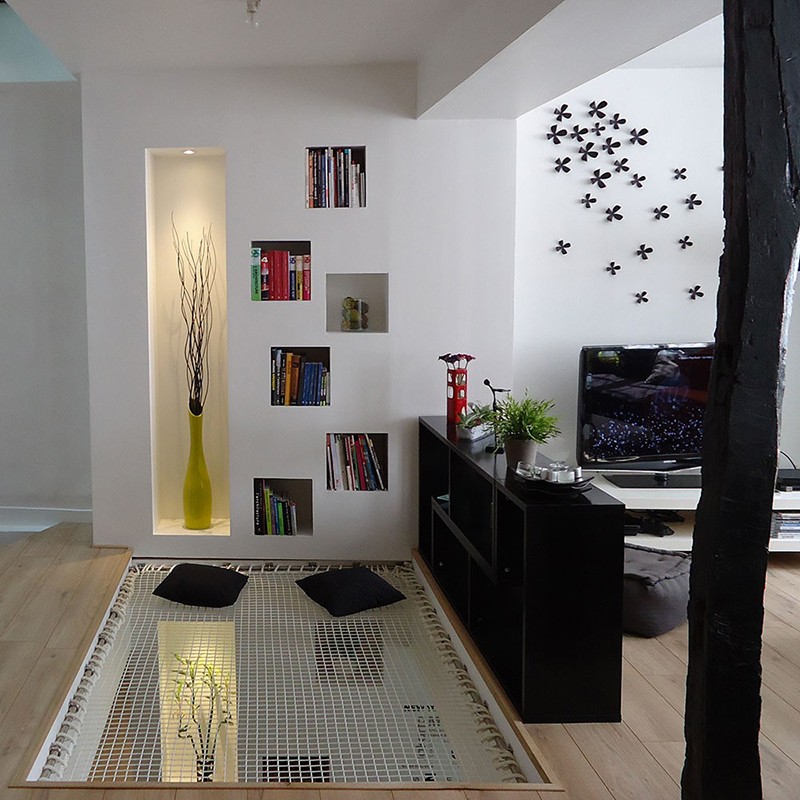 France Trampoline
Be inspired by this photo. Check out how a hanging hammock floor gives the whole room a bohemian character.
11. Architect's Studio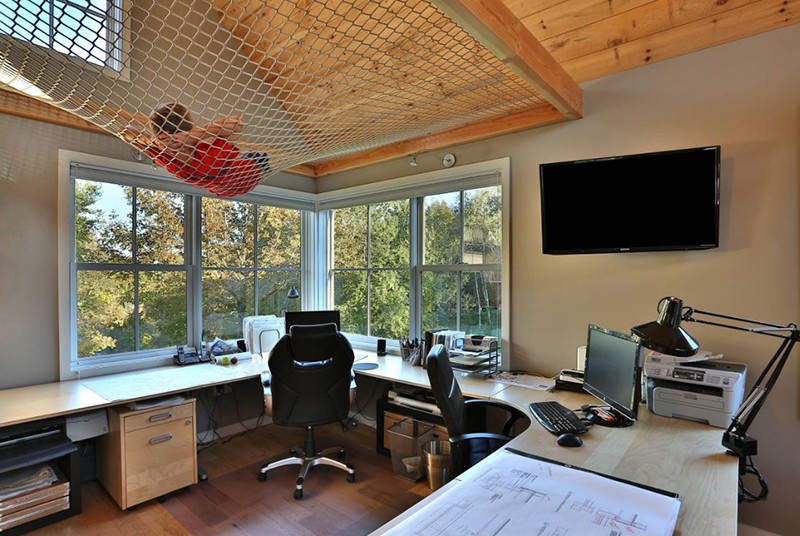 Kevin Brown Architecture
Create an adventurous addition to your office space with a suspended hammock floor on your unused ceiling space. This could serve as a relaxation area for your children or for yourself when you want to take a quick nap or just relax.
12. La Boite A2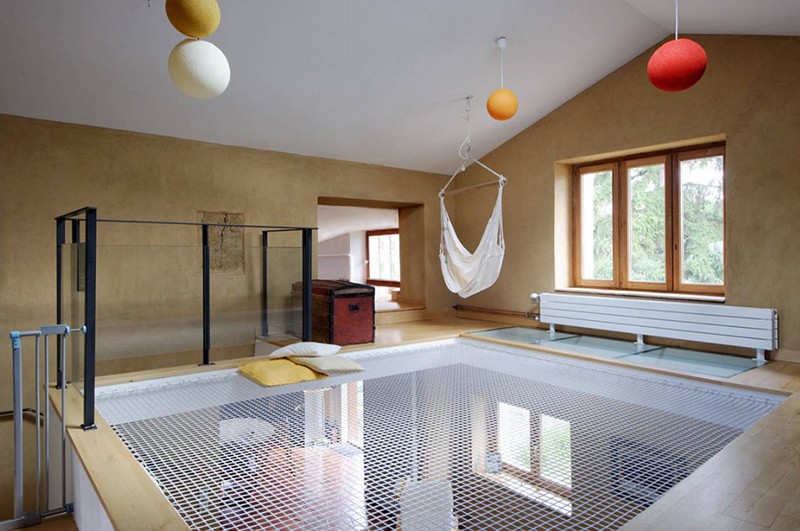 La Boite A2
Want plenty of space for the whole family to enjoy a hammock floor? Of course you can! This apartment in Viennese style turned almost the entire floor into a hammock den. Adding throw pillows makes it cozy and inviting.
13. 2NYAD-Design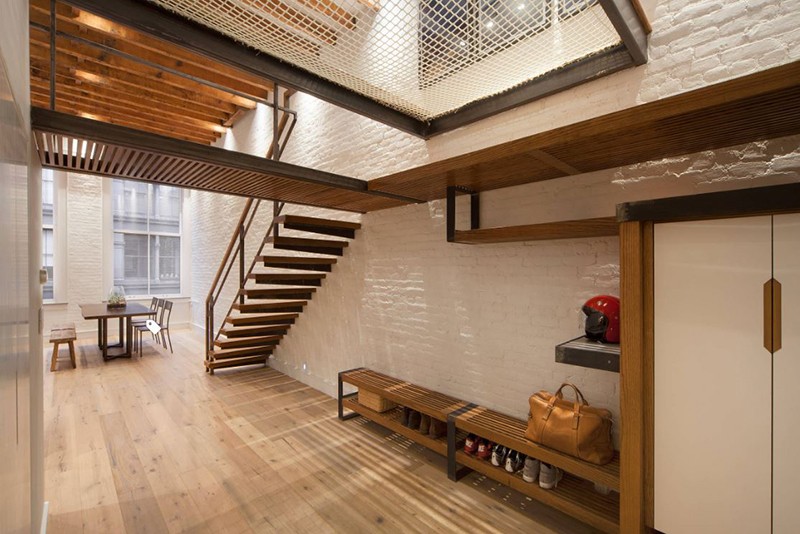 2NYAD-Design
A hanging floor effect would be a great addition to your space when you want to add an eye-catching accent – A hanging floor effect would be a great addition to your space if you want to add bold and eye-catching accents. A hanging hammock strung neatly in an empty spot in your home like the one in the photo is a stunning focal point.
14. Maison Certifiee Passive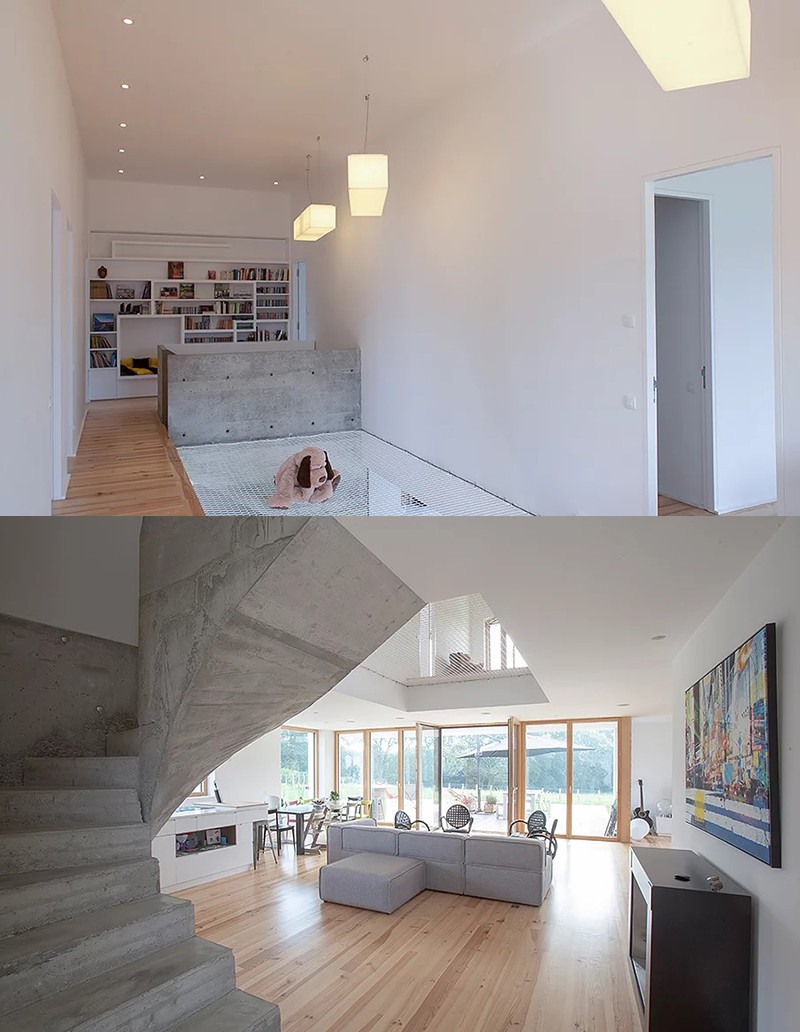 Poly Rythmic Architecture
It's not every day you see a hammock floor above your living room. It opens up the space vertically and adds height to your interior.
15. Farmhouse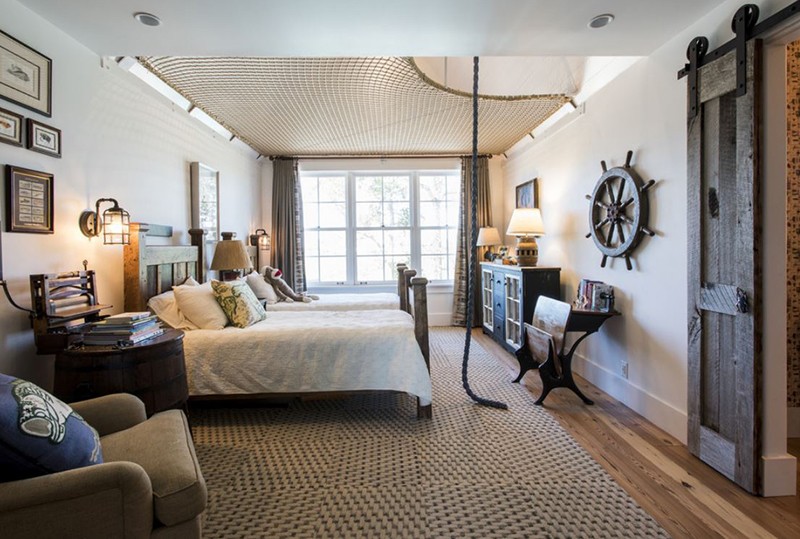 Rock Paper Hammer
A hammock floor is a great addition to a nautical themed area like this farmhouse bedroom design. I love how it creates additional space that the owner could use for rest or additional storage.
16. Patterson and Smith Construction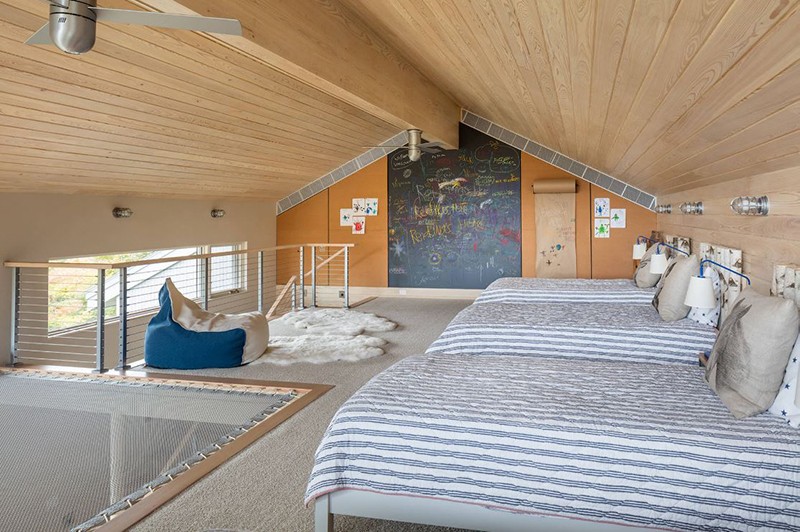 Patterson and Smith Construction, Inc.
If you have a nice unused attic space, you can use a Floor hammock in it is a great way to jazz it up. Open up the space and set up a hammock floor, add some cozy beds, a faux fur rug, some bean bags, and of course, throw pillows in different patterns and sizes, and you instantly have a chic guest room or relaxation room.
17 .It also gives the interior a bohemian look, beautiful textures and patterns, making it very interesting and useful.
18. Duet Design Group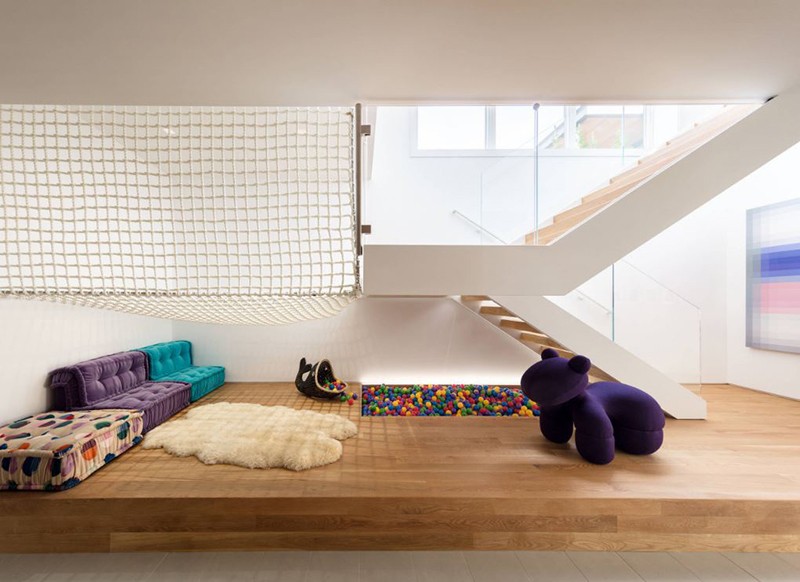 Duet Design Group
Do you want to create a unique and cheerful playroom that encourages calm and fun at the same time? A hanging net that works like a hammock in which your children can rest, read, walk, climb and play not only saves space but also creates a safe space and an intriguing, modern feature for your home.
19 .House in Krasnogorsk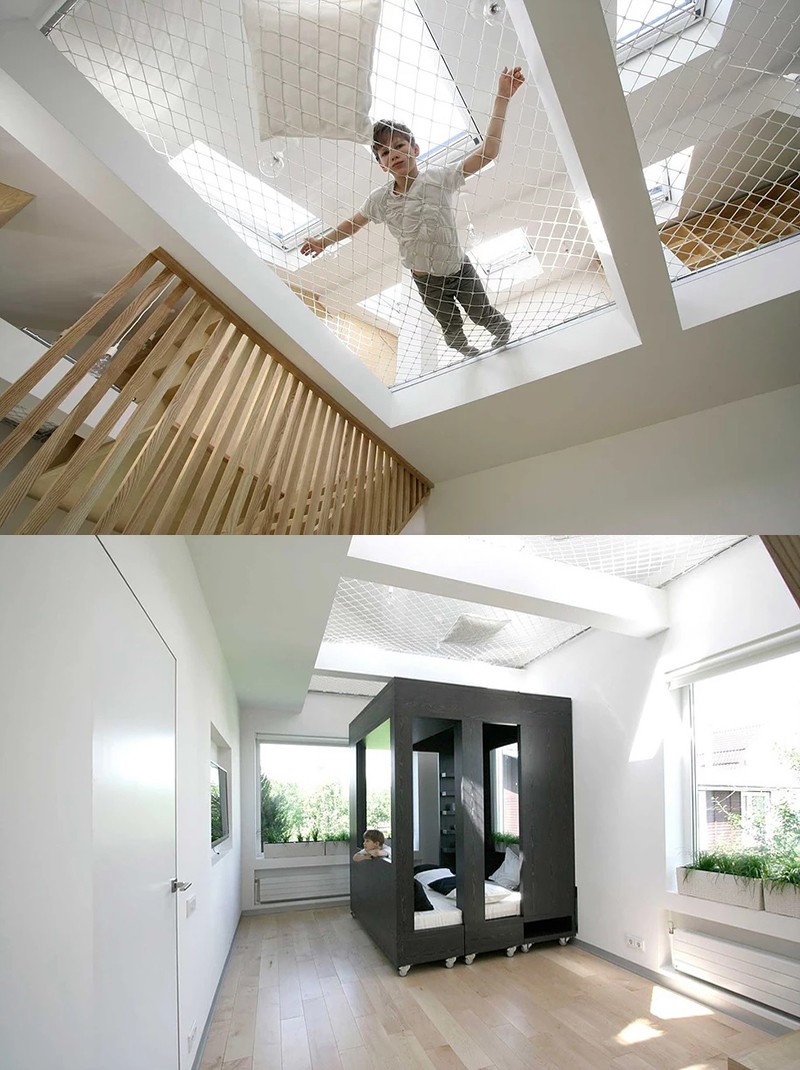 Ruetemple Studio
Maximize your space by opening it up with multipurpose furniture and the light let in. This house uses a cube made up of three modules on wheels that can be moved apart along the walls and turned into separate sofas when they need more space. The open space above was well utilized with a hammock floor where they could lie down and gaze at the sky or just relax.
20. Tiny House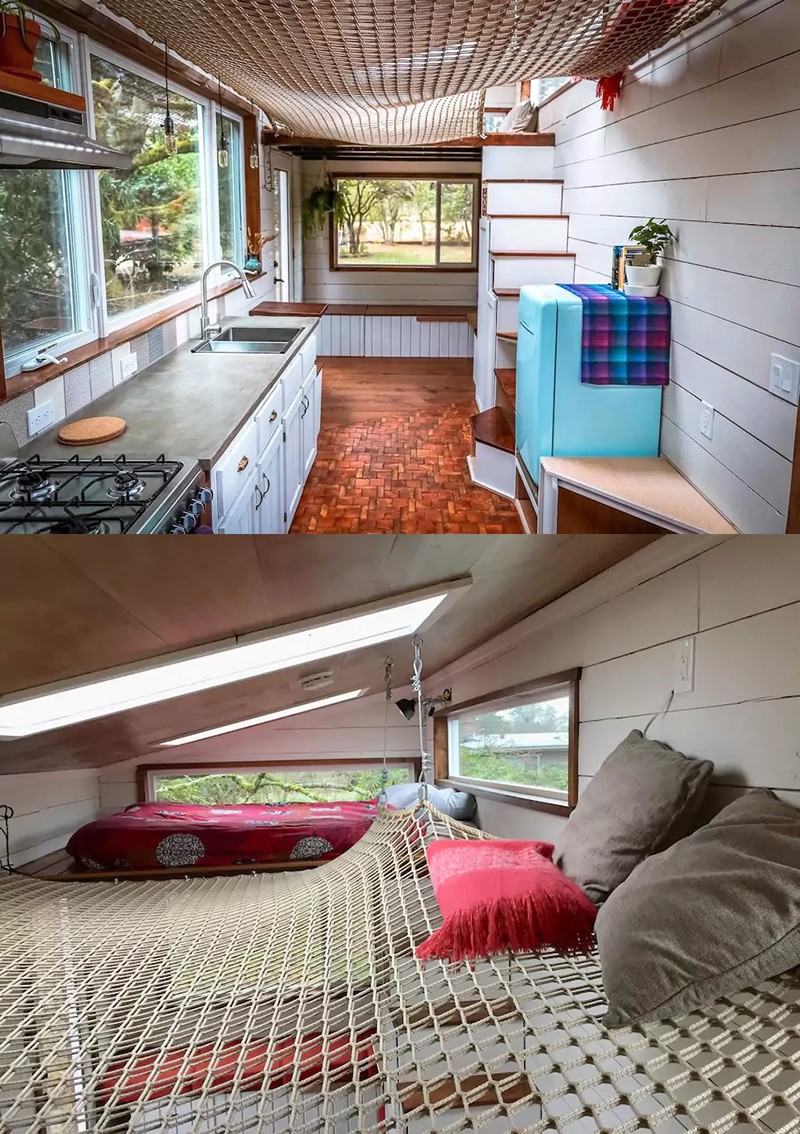 S'More Life
Looking for a way to live a hippie life or experience how it would like to live in a small house? Then this is your chance. This tiny house can be rented from AirBNB. You can check the link. They have a hammock floor where you can lounge and just relax. There is also a mattress if you are not a fan. Seriously, this house looks so cozy and beautiful to me. I personally would like to pay him a visit and stay there for some time. I don't know about you, but I'd love to live there if I could.
Are you creative yet? I hear you. Really, adding a hammock floor is a brilliant way to utilize pristine space or spaces you never thought existed. It helps open up the space vertically, creating height and letting in more light. This gives you a wider, more spacious and brighter home. You can turn your dead space into a cool playground, extra sleeping space, or a great seating area for reading, pondering, or chilling. It's a fantastic place for kids and adults to relax or have fun.