Do you think, given the modern and contemporary trend these days, it would be right to add retro or vintage decors to your home?
Do you think it will look good?
The Answer is yes. That doesn't mean we can't bring some vintage items just because our homes are modern in design.
In fact, it can make your space look even better.
You always have Any doubts?
Well, today we have combined modern and contemporary kitchens with vintage bar stools.
Yes, that's all. The homeowners and designers just added vintage bar stools.
You know what?
Their kitchens looked really amazing and unique! If you're still not convinced, scroll down to see these areas.
1. Trinity-Bellwoods Townhouse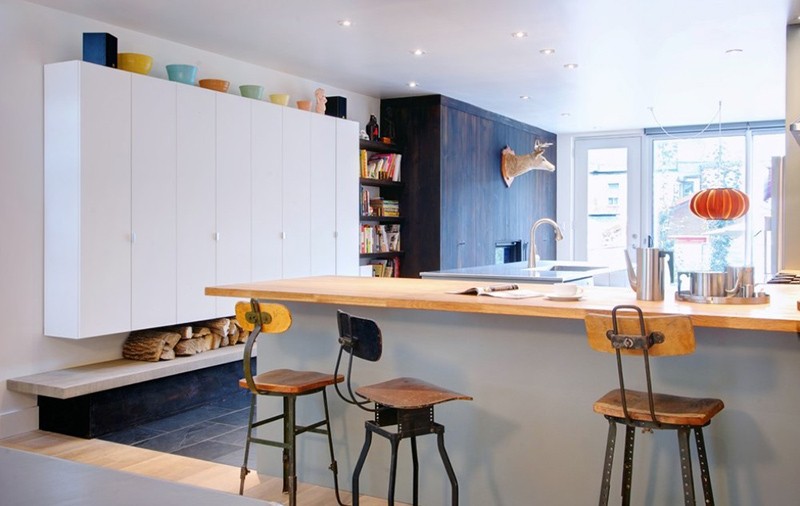 Andrew Snow Photography
A modern L-shaped kitchen with flush cabinets, white cabinets and countertops Wood. Also note the vintage bar stools with backs that use some metal elements.
2. Rollingwood Residence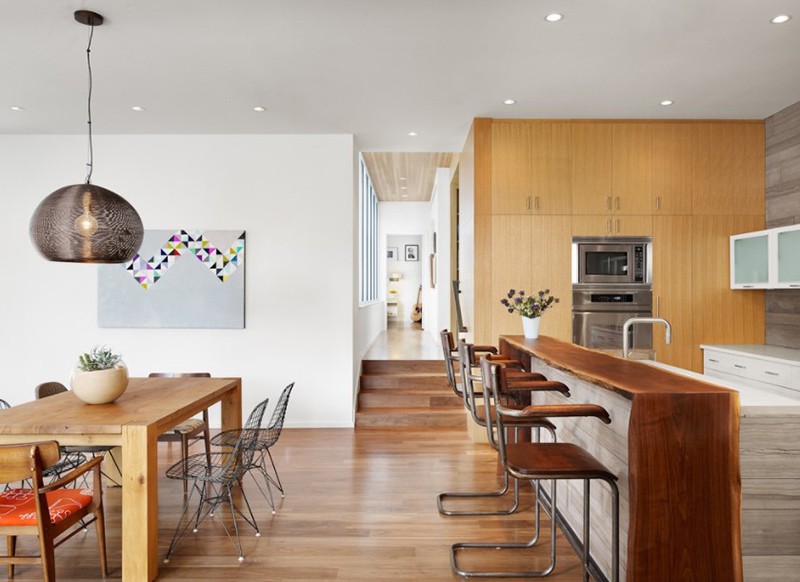 Chioco Design
This beautiful contemporary home has used a mix of modern and vintage furniture, just as we can see you in the kitchen and in the dining area. I love this colorful geometric wall art! You can also try adding some vintage wall decals.
3. Homes Portfolio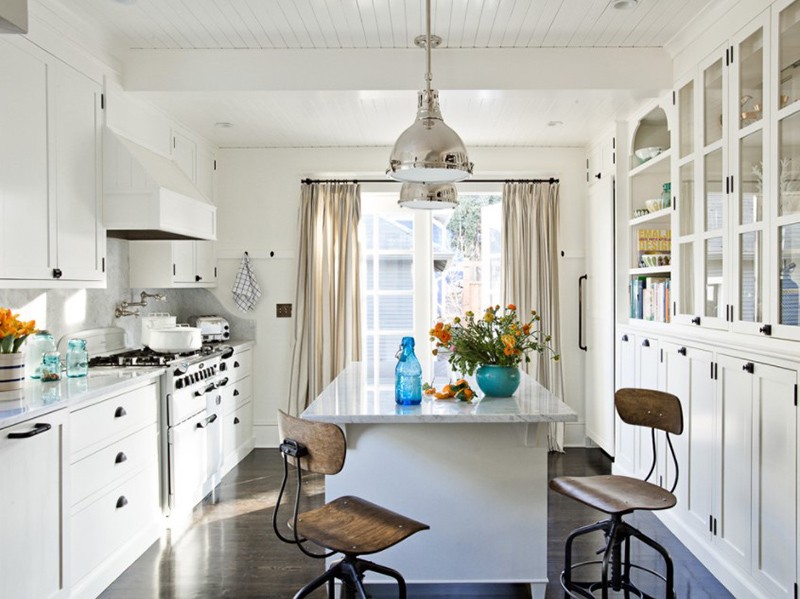 Lincoln Barbour Photo
An all-white kitchen deserves a warm wood contrast from its bar stools. Also note that vintage pendant lights were used which are perfect for a nautical style home.
4. Black is the new farmhouse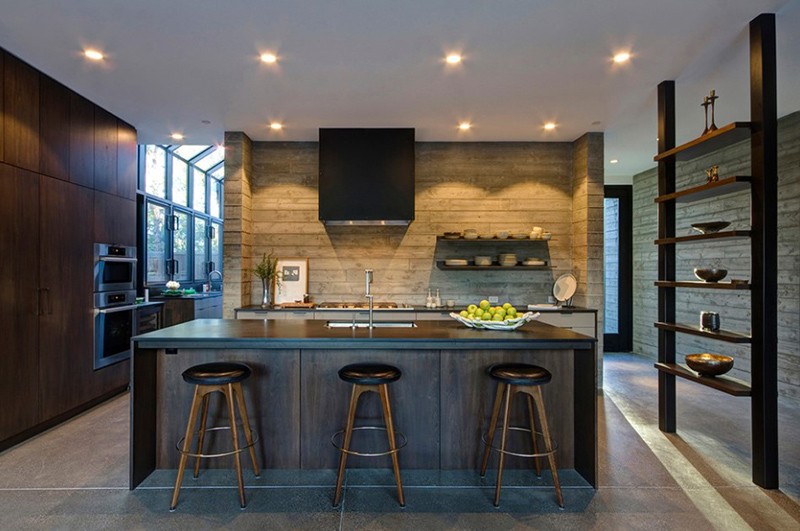 A.D.D. Concept + Design
The stain and finish materials for the kitchen were completed first before the owners of this home chose the exterior materials to complement them. Isn't this a unique approach to designing a home? The wall is made of concrete but has a wooden structure. It looks great with the black colors and the vintage wooden stool from Past Perfect.
5. The Magnolia – Custom Residence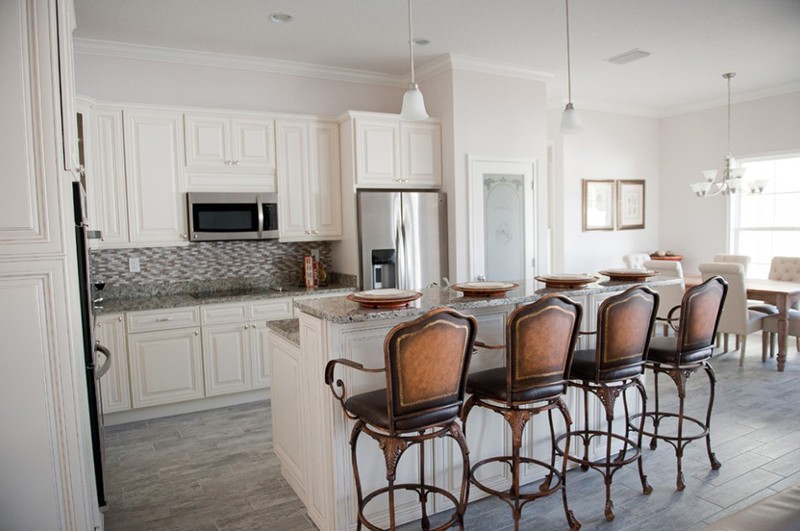 Regatta Building & Development II
If these aren't vintage stools, I don't know what is! Just look at the details and classic colors!
6. Atomic Ranch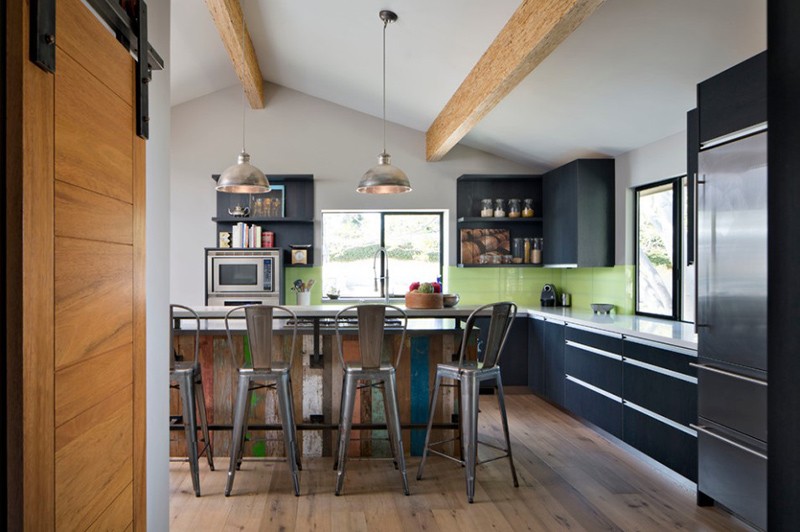 KW Designs
This kitchen perfectly captures a modern style with its clean, horizontal lines and minimal ornamentation. The exposed ceiling beams, the colorful island with reclaimed wood paneling and the vintage metal stools are perfect decorative elements.
7. Case Design / Remodeling, Inc.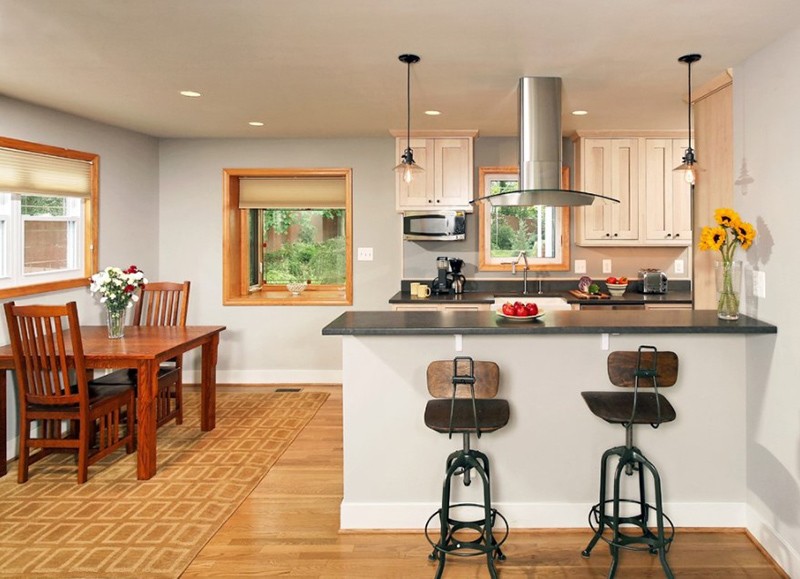 Case Design / Remodeling, Inc.
These vintage industrial bar stools help that Kitchen area separated from the more traditional dining area on the left. They are an allusion to contemporary trends with a more reserved interior.
8. Big Timber Riverside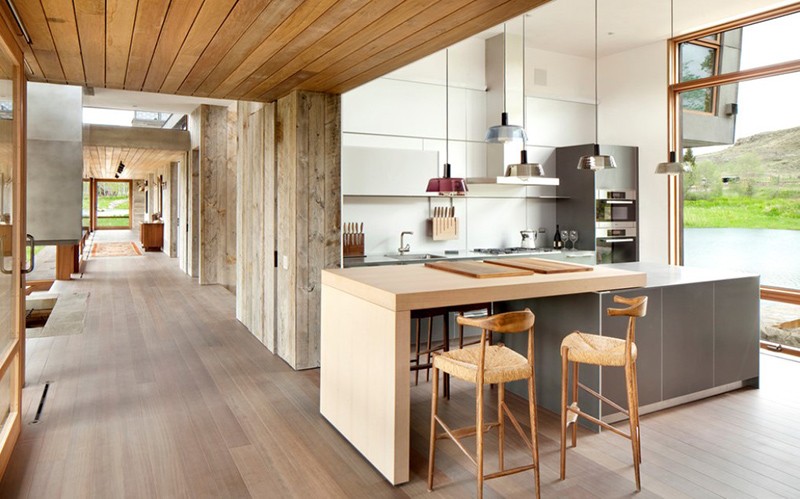 Hughesumbanhowar Architects
Given the complexity and texture of the wood, the architects opted for an elegant kitchen, with white laminate and gray metal cabinets. They chose vintage bar stools and modern lighting fixtures.
9. Modern, Renovated Seattle Home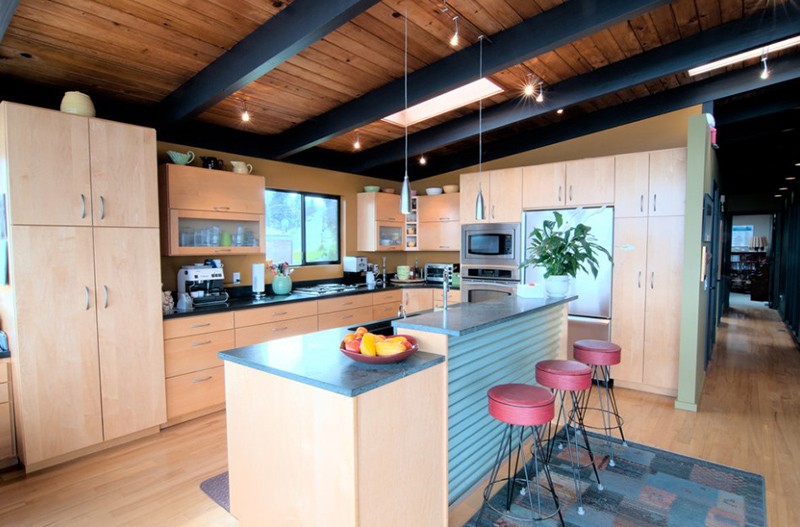 Louise Lakier
A false ceiling has been removed in the hallway that leads to a bedroom beyond .Franklin Street Loft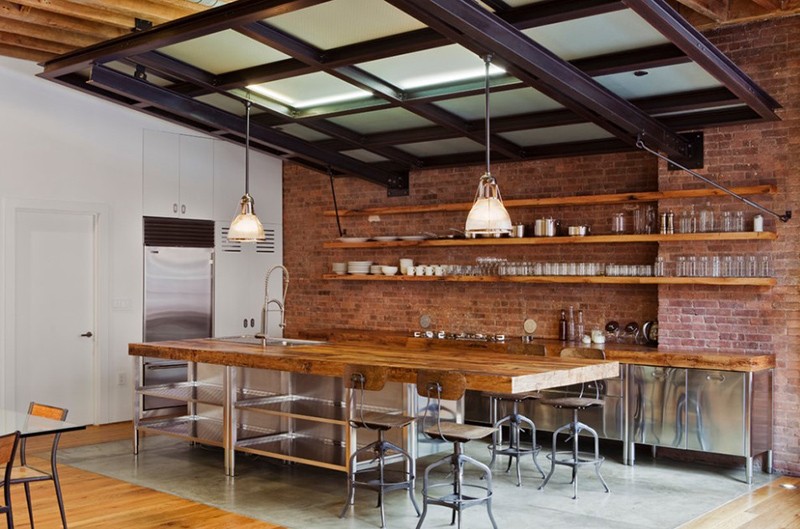 Jane Kim Design
Recovered materials such as reclaimed barn wood for the counters and reclaimed marble slabs in the master bathroom were used to improve the industrial feel of the room. Combining the best of a commercial stainless steel kitchen with the warmth of wood, this kitchen is both beautiful and highly functional. Industrial pendant lights, vintage Toledo chairs, open shelves, and stainless steel cabinets with solid wooden workbenches go perfectly with the exposed brick wall.
11. Modern Flat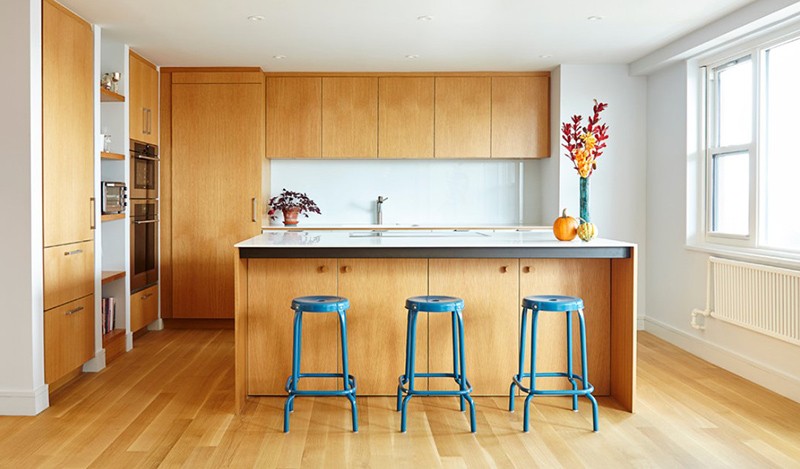 Lauren Rubin Architecture
The bright, open kitchen has clear cabinets made of white oak and a solid Corian surface fitted worktop. Turquoise vintage bar stools add color to the room and add a touch of mid-century aesthetics to the family. Although Rubin usually designs bespoke kitchens for their projects, this one comes from HenryBuilt.
12. Lakeville Basement Finish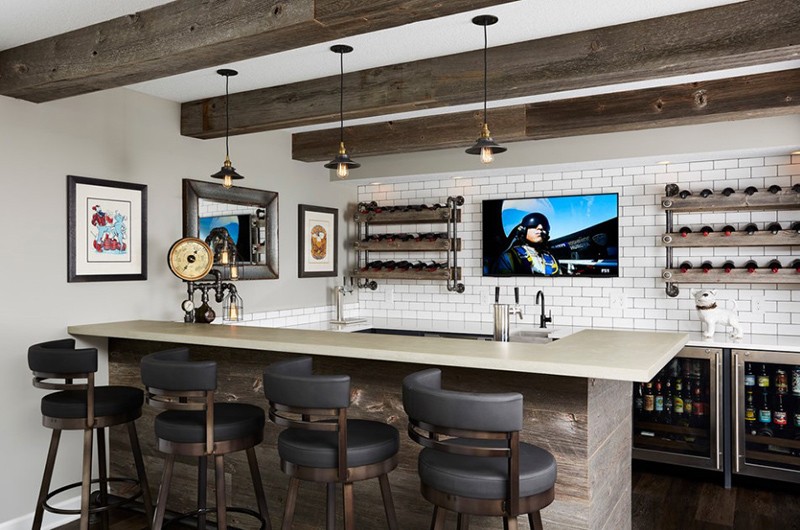 R | House Design Build
Vintage Vibe – This Minnesota basement bar contains many popular materials including subway -Tiles, industrial lights and fixtures, and reclaimed wood to create a vintage feel. With four brews on tap and two under-counter fridges, this bar created by R | House Design Build is well-stocked and popular.
13. Sag Harbor, NY Residence
bar stools offer the perfect opportunity for some personality. These Calvin stools by Arteriors give this otherwise traditional kitchen a modern twist. Notice how the black of the pendants balances the black and white of the bar stools.
14. Kent Traditional Luxury Kitchen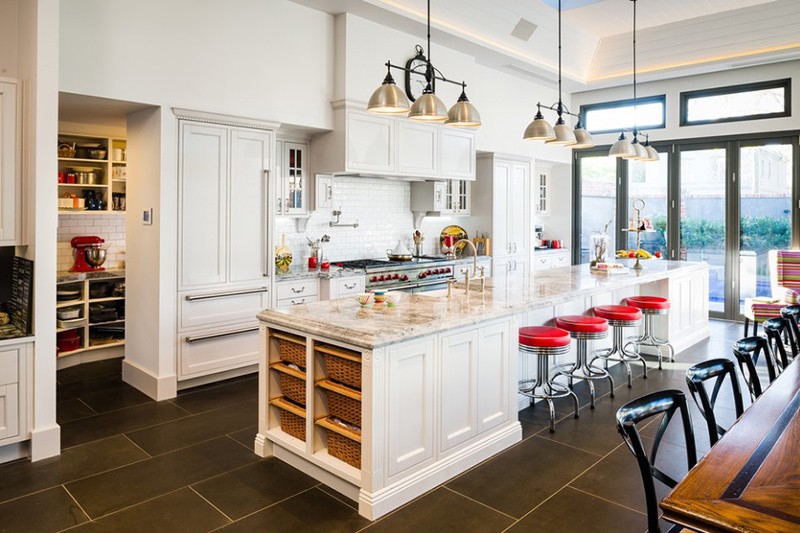 Let's Talk About Kitchens and Interiors
If a dining area gets more casual, it doesn't mean that You have to lose all of its glamor. The secret is to find the balance between elegant functions and the usual everyday objects like the fabulous chandelier with a natural wood table.
15. California Rancher with Pool House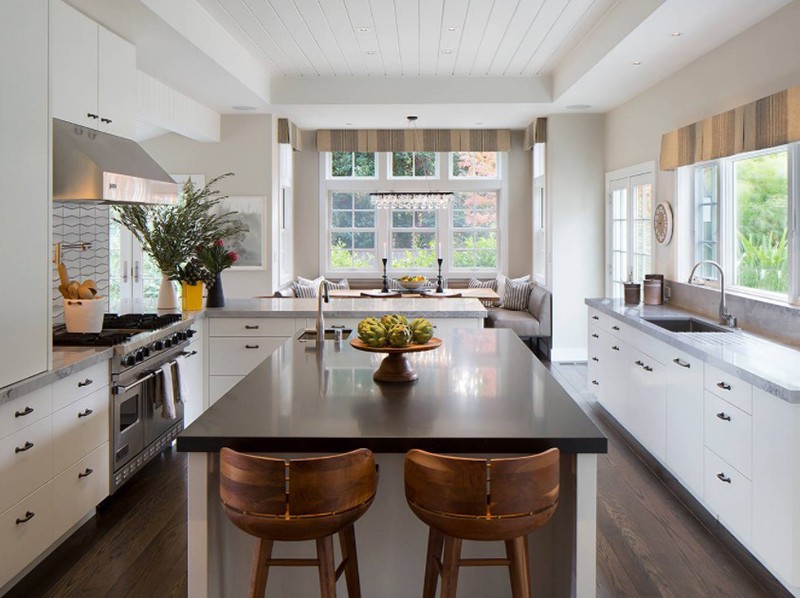 LMB Interiors
As befits a gourmet, offer high-end appliances in gray / white granite ge the kitchen gravitas. A spacious central island with polished black granite offers plenty of space for preparing meals, morning coffee or kibitzing with the cook.
16. Modern loft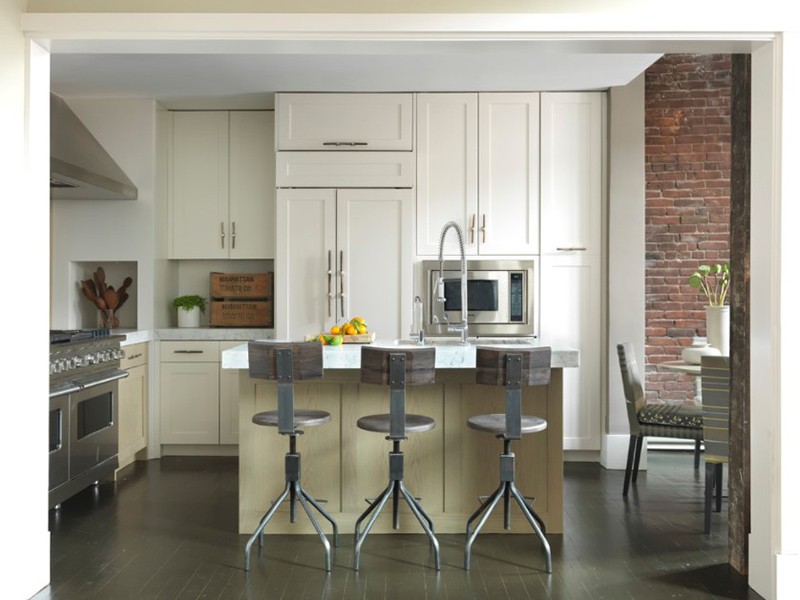 Group3 Architects LLC
The counter with butcher's block island gives a traditional white palette natural warmth.
17 . Calgary + Edmonton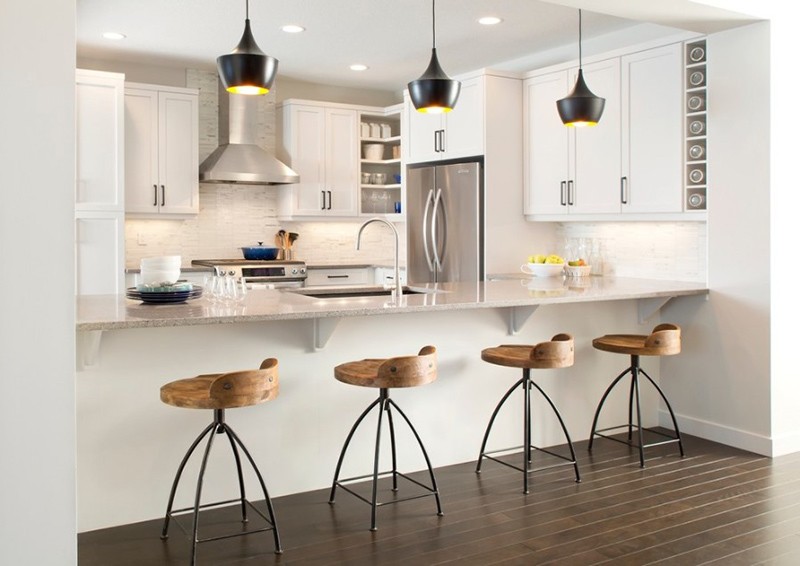 Sabal Homes
And while it's easy to be overwhelmed by the variety of designs available, you need to carefully evaluate your needs before focusing on your purchase. As you can see, the wrong bowel movements can make you feel dissatisfied and uncomfortable. What's worse is that you won't see it coming until a few days after you've used your bar stools extensively. So how is your purchase worth it?
18. Vail Ski House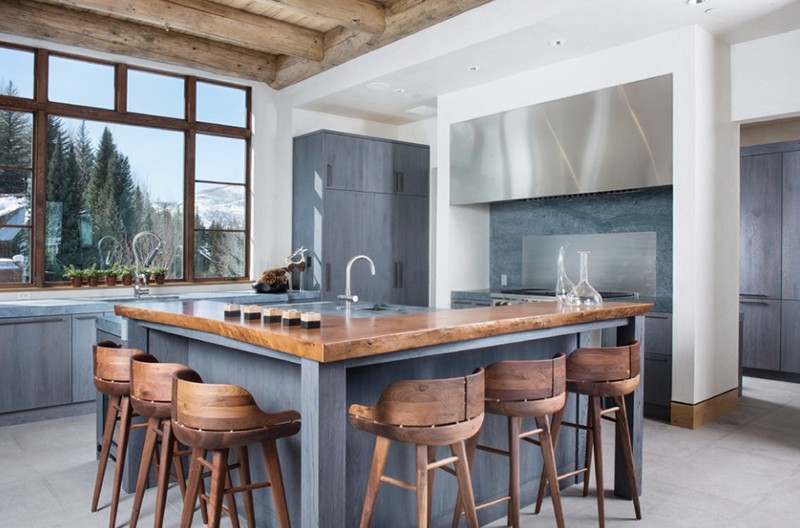 Reed Design Group
The wooden bar stool used here is the same as one of the kitchens shown above.Tim: Akron, Ohio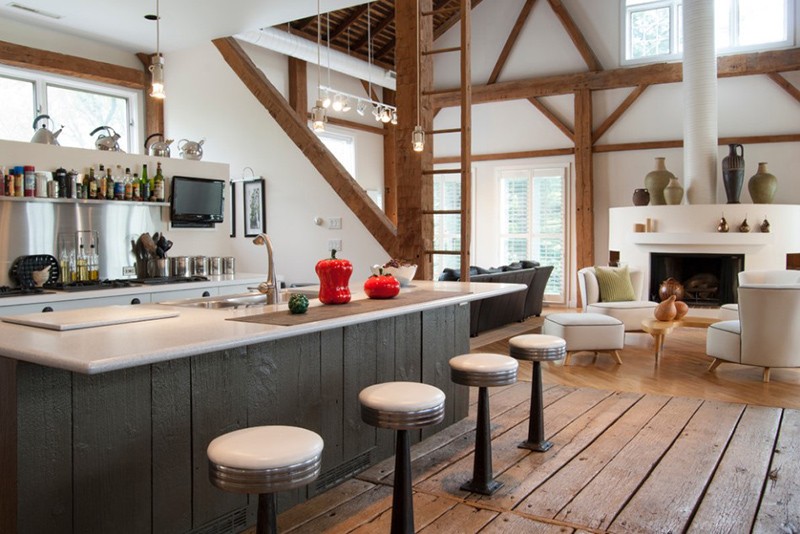 Adrienne DeRosa
Bring in a bar stool to create an interesting stool and add style to your kitchen. This homeowner renovated his old barn and wrapped his island in reclaimed barn wood that adds warmth and texture.
These kitchens look amazing with vintage bar stools! See? Even if you have a modern or contemporary kitchen, you can give it a vintage touch simply by adding furniture or some decors. You can see that in the kitchens upstairs and they all looked very nice. I'm sure you'll agree that adding a vintage bar stool actually made the kitchens less attractive. Will a vintage item also be added to your room?