We have prepared a collection of 25 photos and ideas to decorate the front door. We found it very appropriate to present these ideas to you, as the door is our house's calling card. Although later we will only have a few decorative elements inside in honor of this party, it is enough to have the door decorated. They are also simple decorations with objects that we can easily find or even make ourselves. So, if you want to add a scary touch to your house for Halloween, these door decorating ideas will enchant you. Let's look at them. Cardboard eyes were placed on a black door, imitating peeping monsters, on each side of the door some pretty pumpkins and a large black cloth as a canopy are the main elements of this decoration.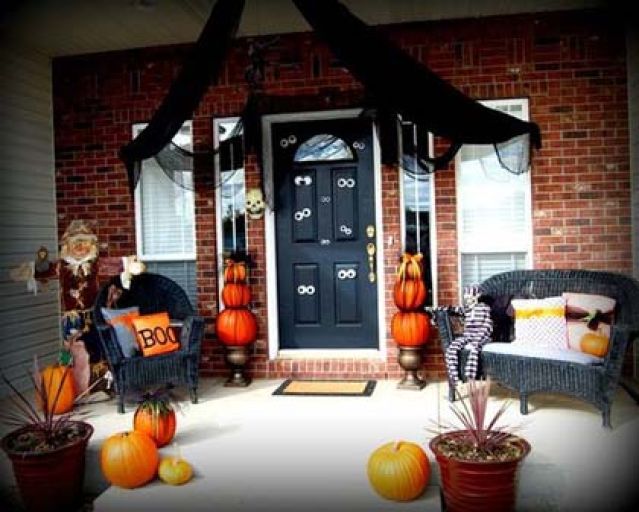 A skeleton hanging on the door, bats, pumpkins, a ghost and cobwebs, nothing is missing and all of this is very easy and very cheap to get.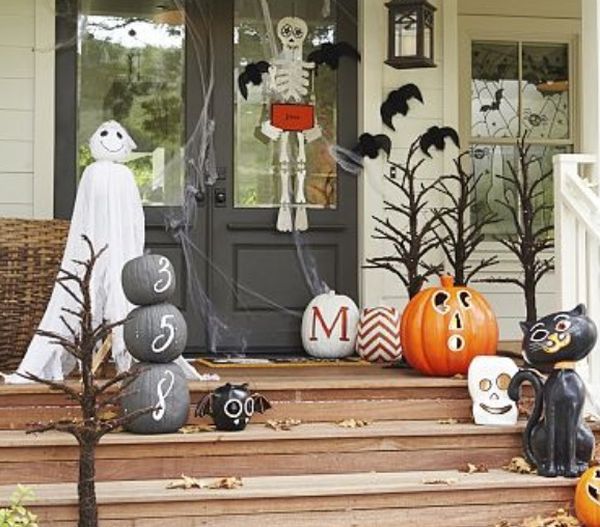 This door has a much simpler decoration but has the perfect Halloween touch.
A crown plus a few black fabrics are sufficient.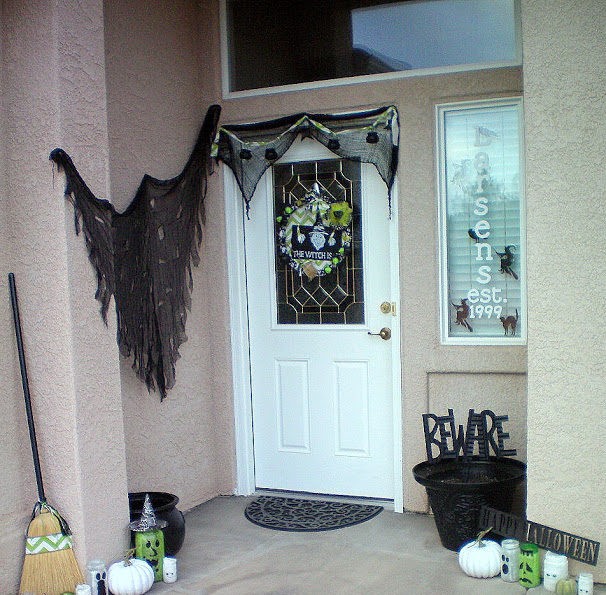 Ghosts, black twigs, little white pumpkins, and a couple of bats, all well arranged and placed, add a terrifyingly beautiful touch to this door.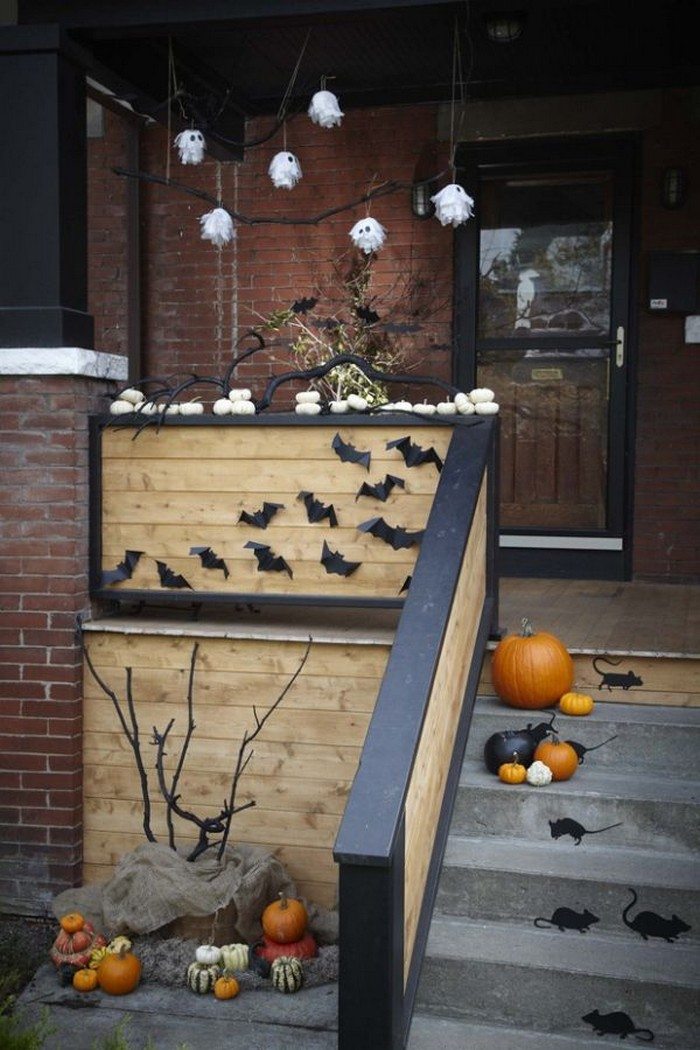 This other door has a simpler but very elaborate decoration. A large garland made of fabrics and a wreath also made of fabrics honor this festival.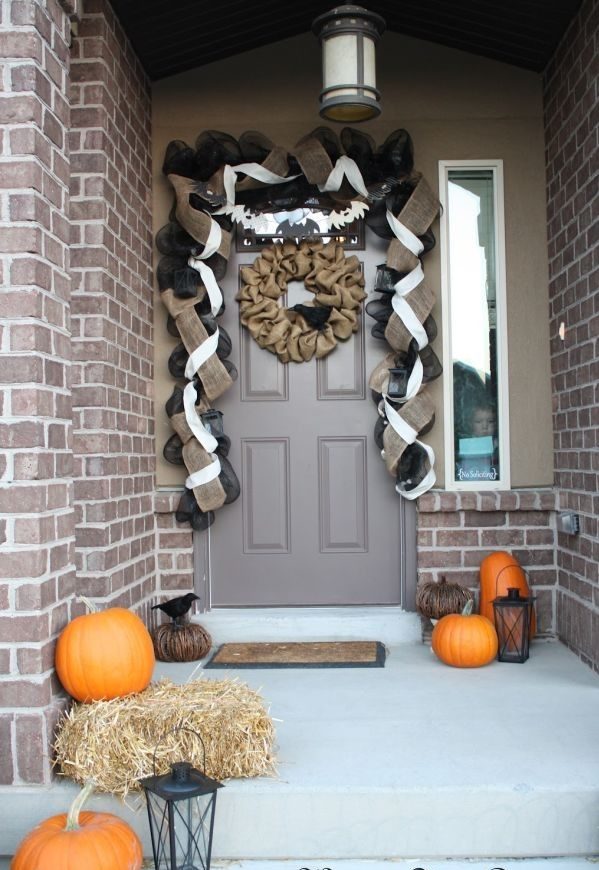 A wreath with a very seasonal garland adorns this beautiful door. Also a couple of bats attached to give the finishing touches.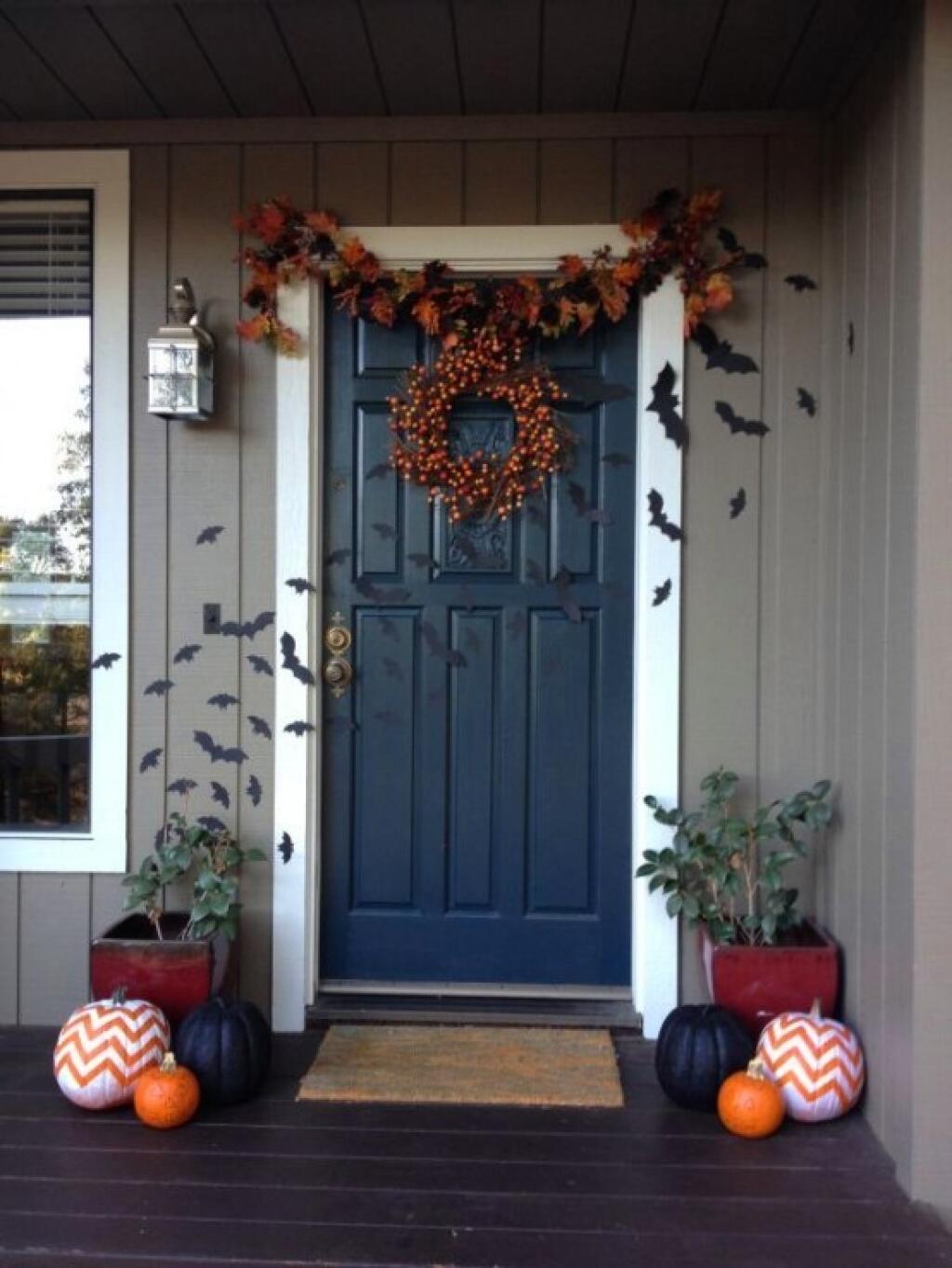 Here we can also see that the typical elements were used for this party, spiders, black fabrics, ghosts, monsters … But I liked the orange tape that covers the door that indicates danger the most.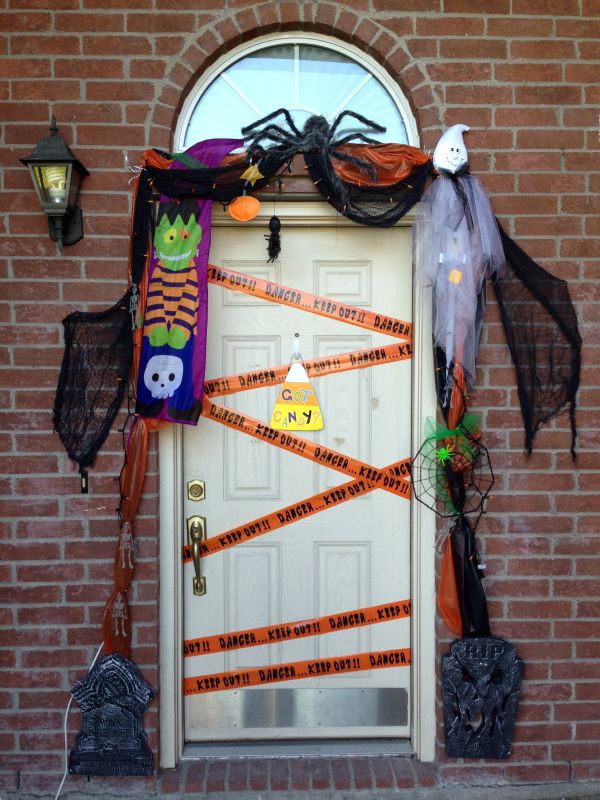 In this other door, they have opted for a less terrifying but equally appropriate decoration. Not everything has to be ghosts, skulls and pumpkins.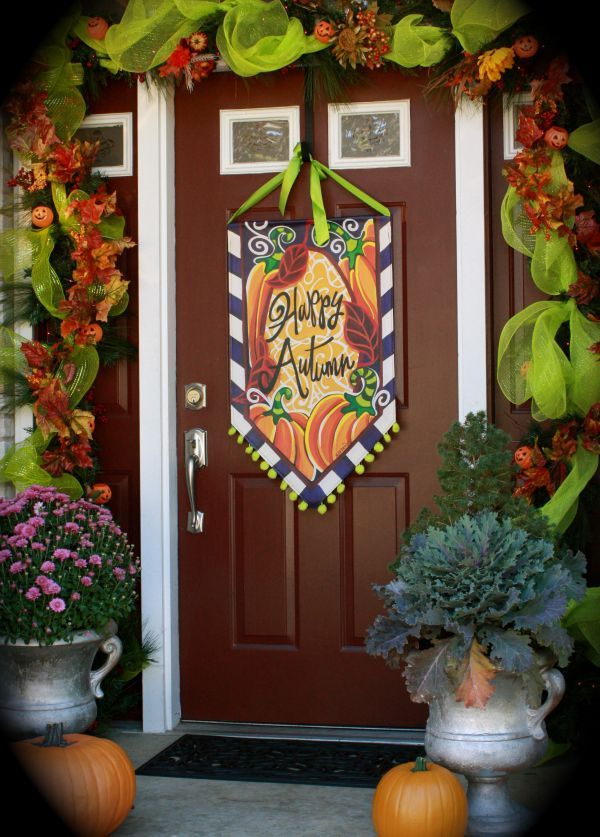 Super original. The door was decorated as the head of a large green monster.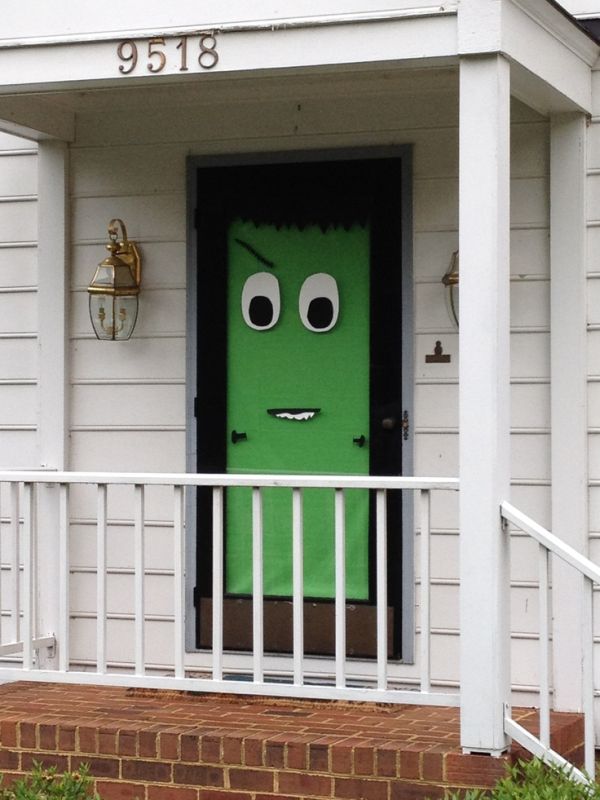 We return to the classic. Pumpkins, ghosts and dry twigs make up this pretty Halloween decoration .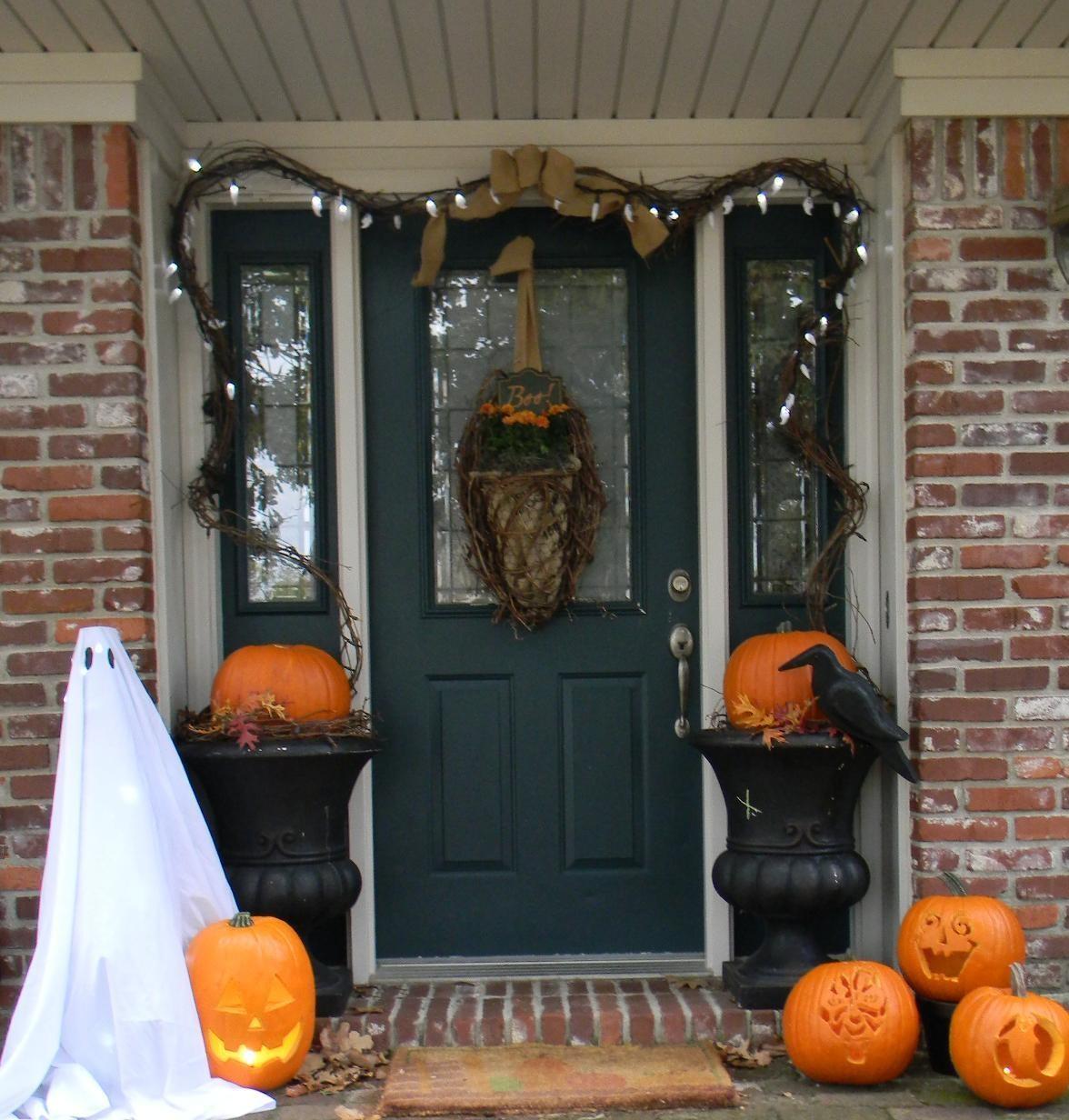 In this other door, they combined everything, the door is a monster,
and they also added the typical pumpkins and dry twigs.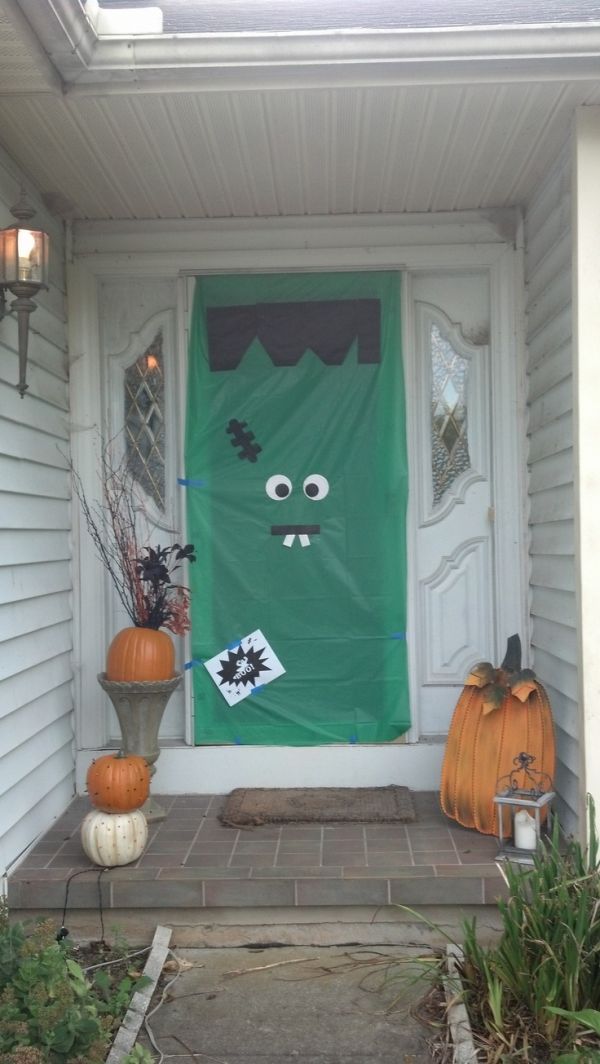 That other door is beautiful, and I don't mean the Halloween decorations,
but the seasonal leaves that adorn the facade and canopy.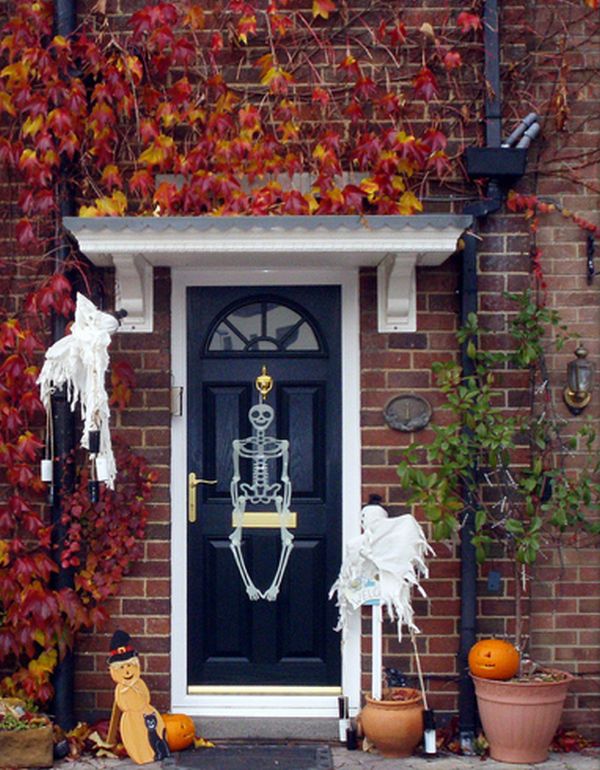 Beautiful door decoration in which we see a path made of pumpkins that leads us to a door, where we see two pillars of dry branches protrude on each side and in their upper part two lights that perfectly match the skeleton of the door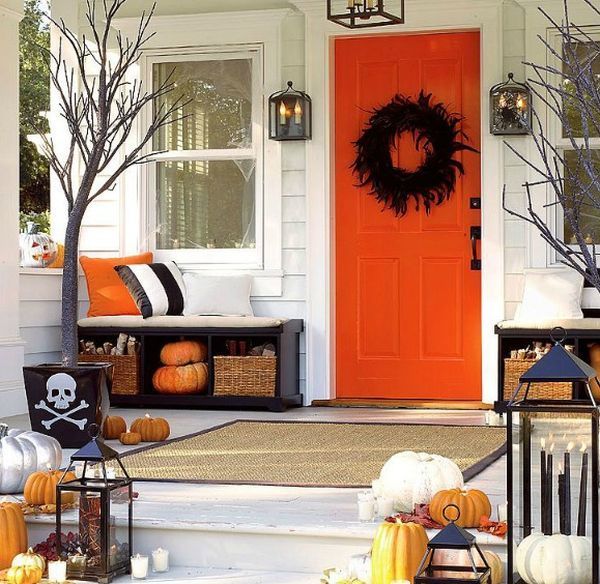 More elaborate but beautiful decoration and easy to make. At the foot of the door only a garland of seasonal leaves with a few pumpkins and a triple crown was placed, and then the entire facade was covered with cobwebs.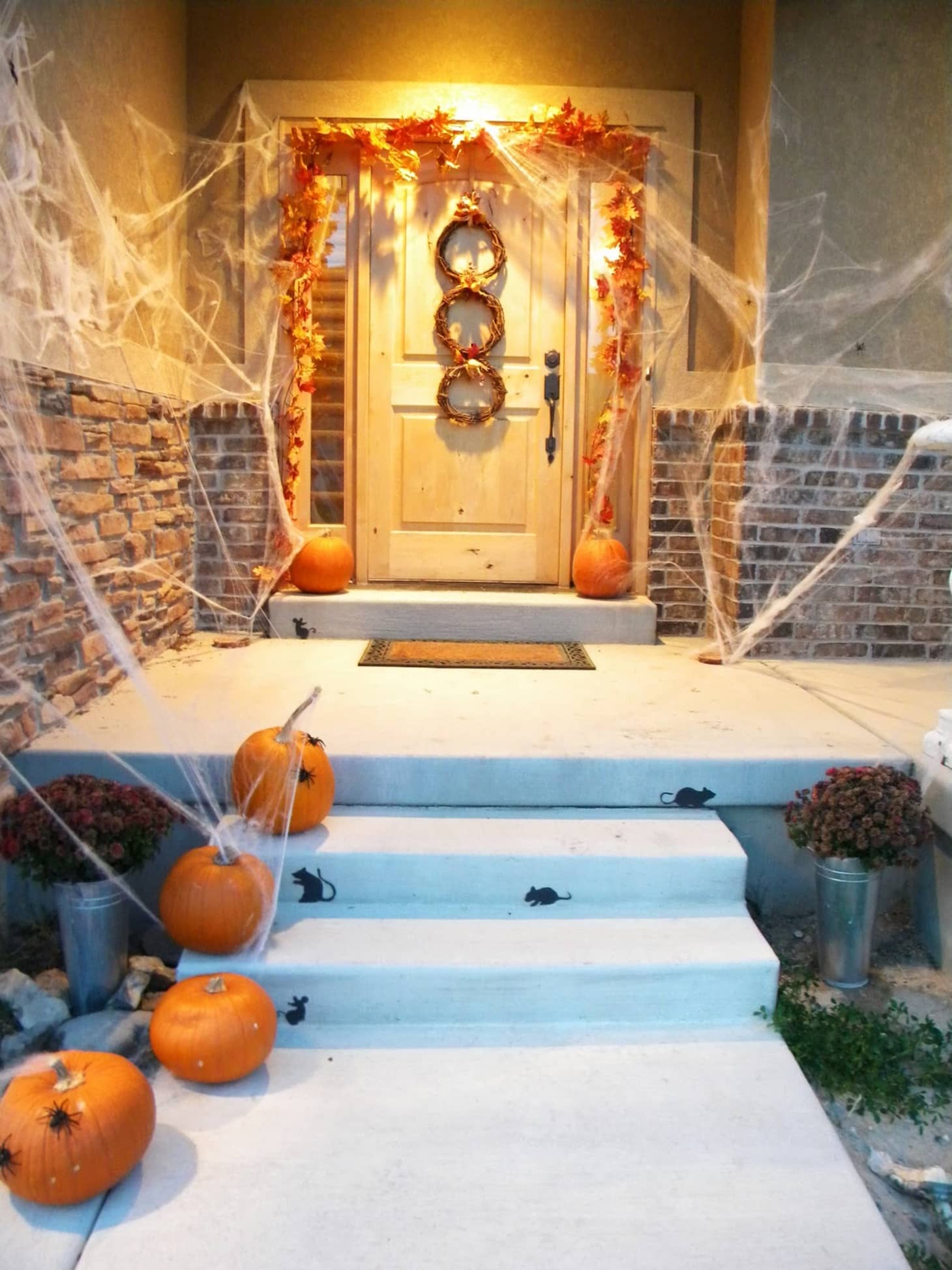 This red door is adorned with a cobweb that covers the entire door and a crown.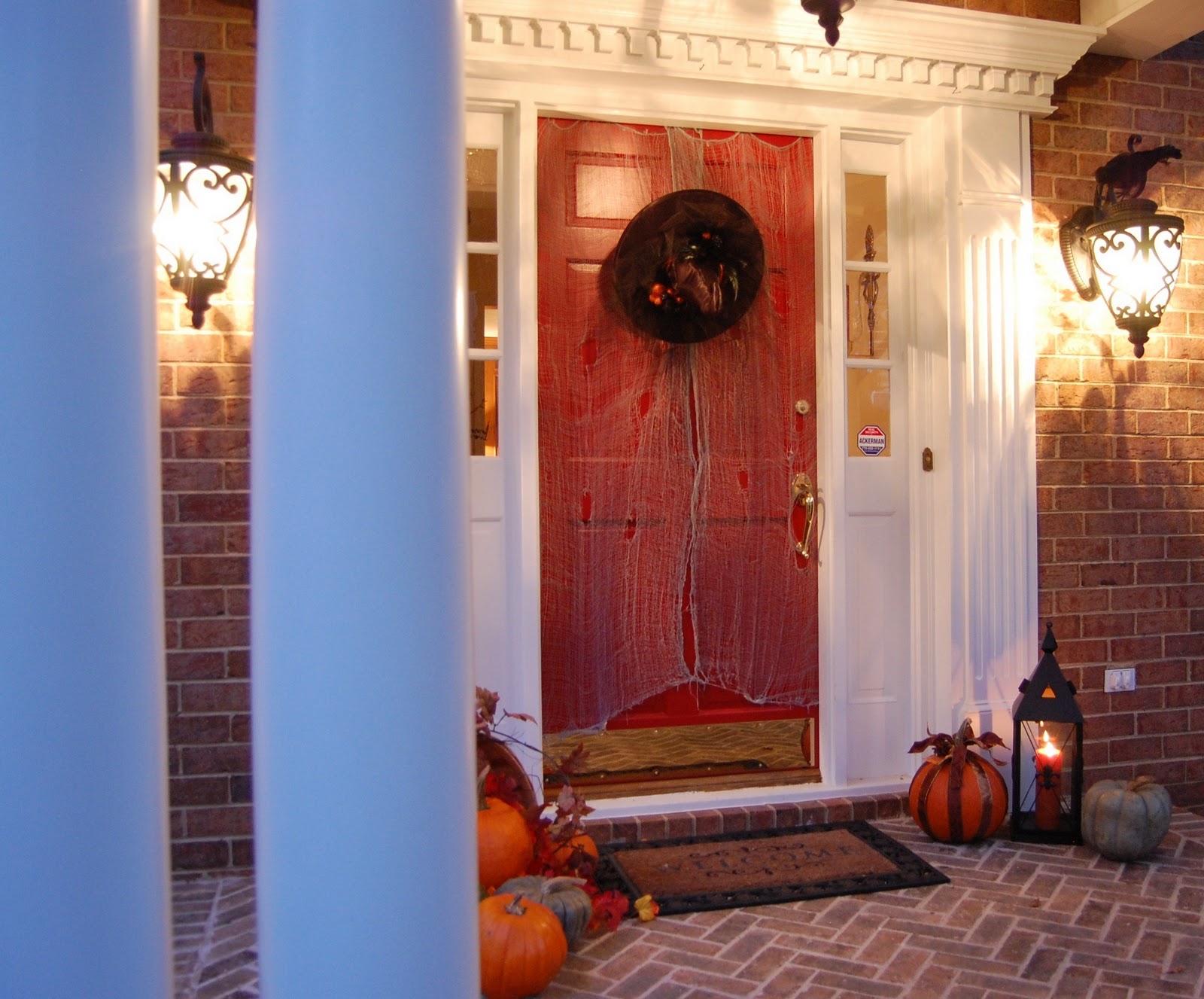 Another beautiful door, this time in black, where just a few matching decorative elements are more than enough to create a very suitable environment.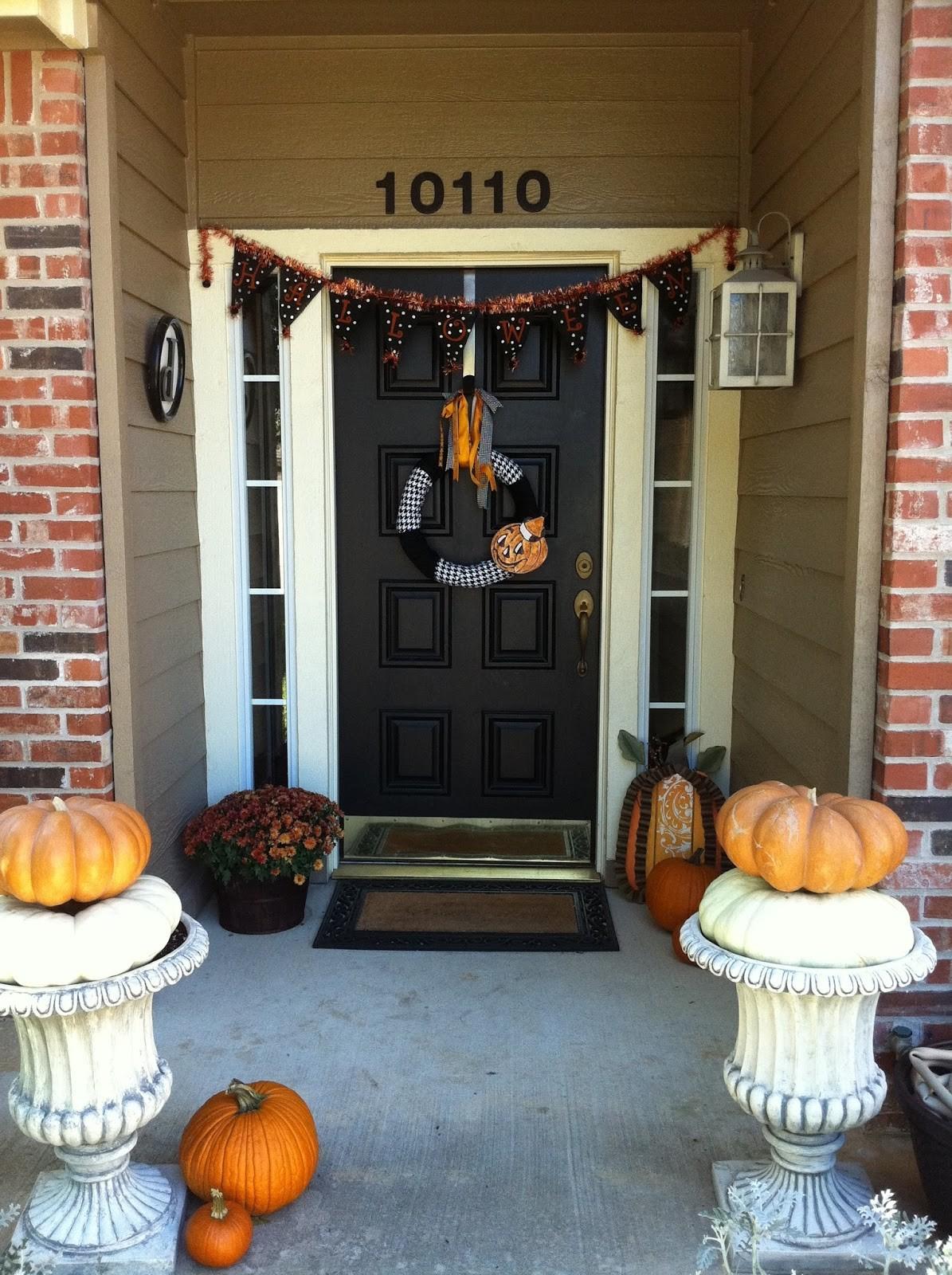 A very simple decoration. Cobwebs and a big spider. Simple and very effective.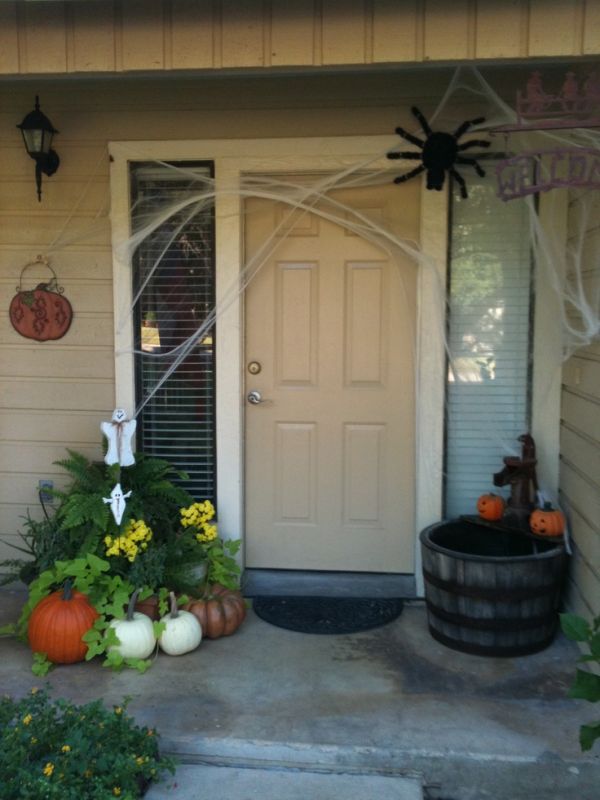 This other decoration, while clearly prepared for Halloween, is a little more cheerful. A nice large wreath adorns the entire door with pretty yellow flowers and pumpkins.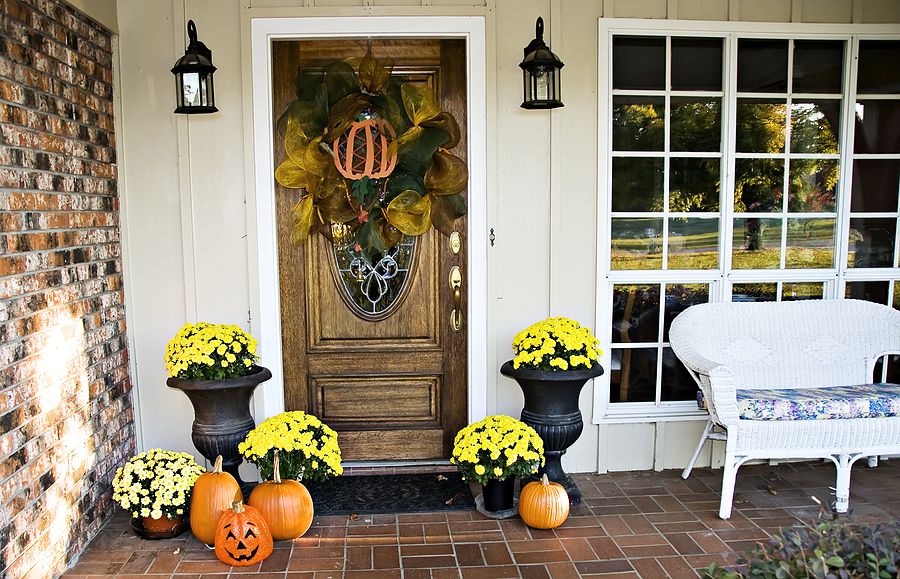 In that other red door just a glowing pumpkin garland has been added, a spider web on one side and some pumpkins on the floor and the result is amazing.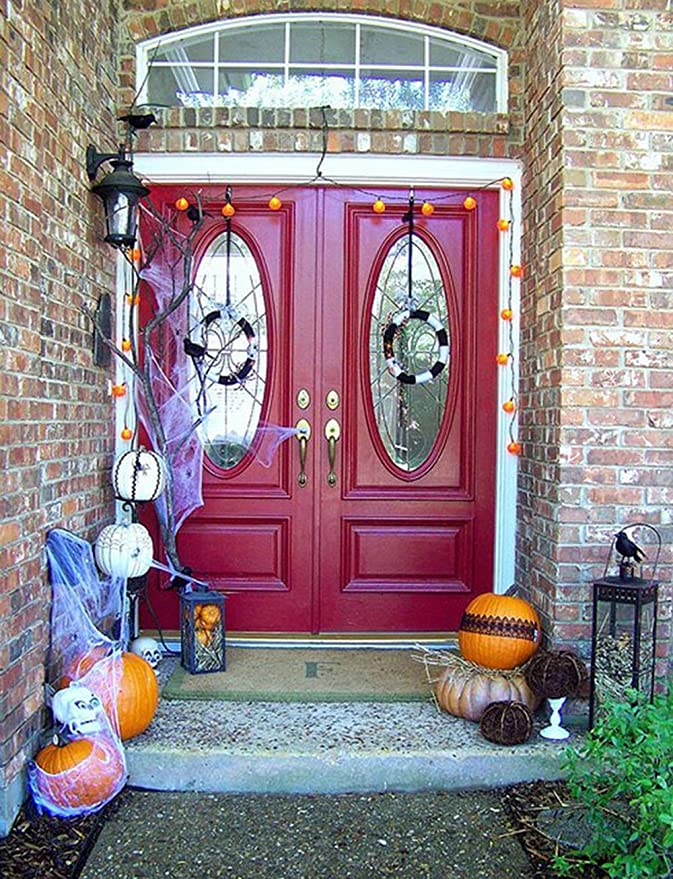 There is no lack of detail on this other door. You have created a beautiful backdrop.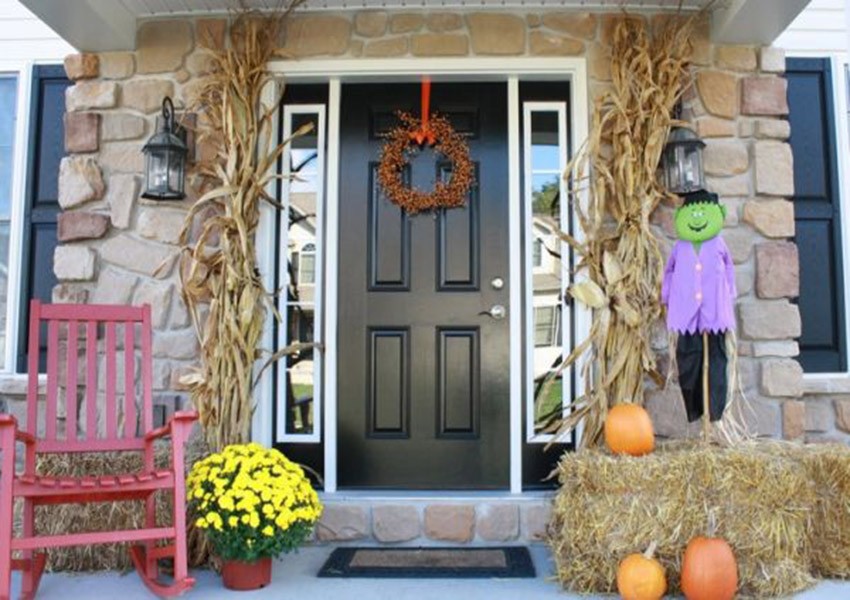 Another decoration based on typical elements.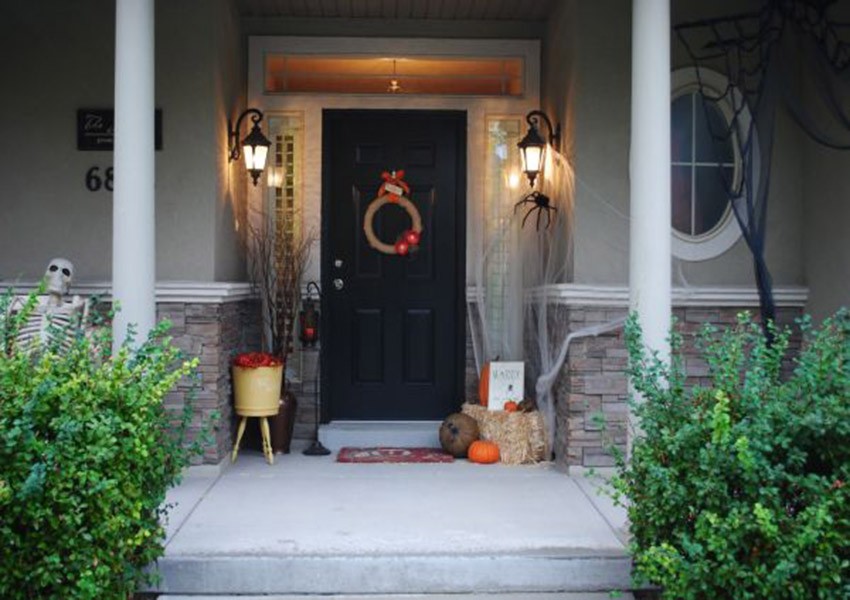 That other door was only enough to put a few cardboard bats and a large spider web all over the door.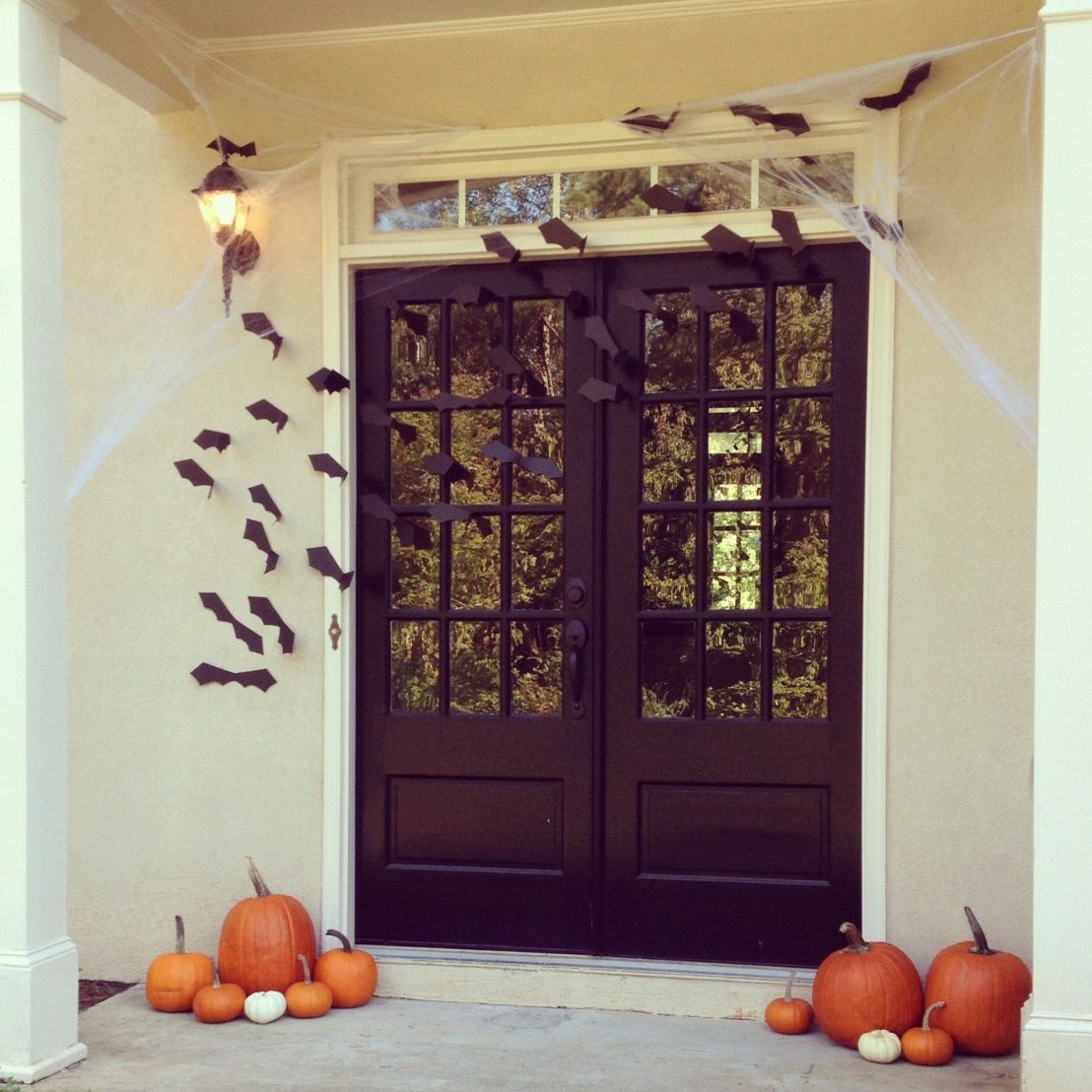 Very original this other decoration besides simple. The police tape is the big protagonist.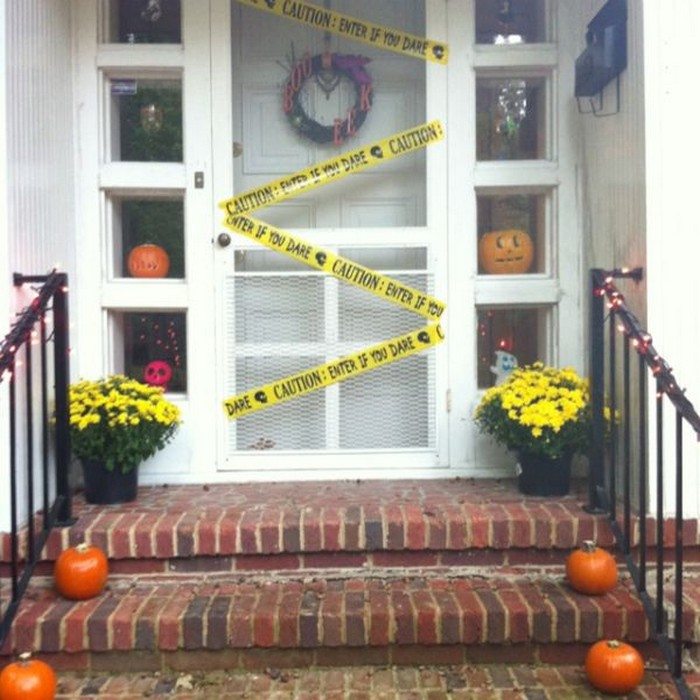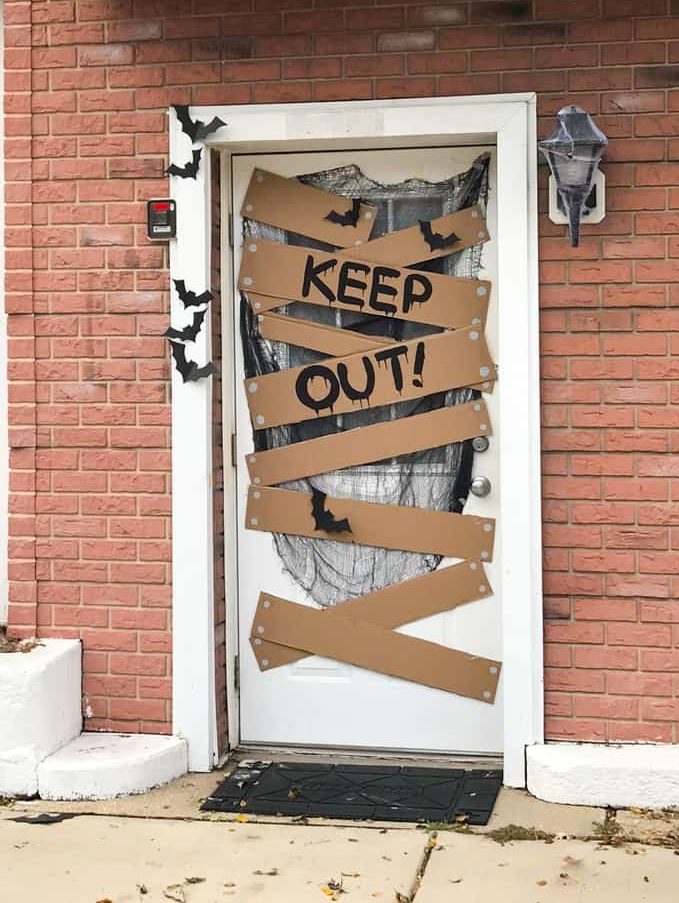 ..