Thanksgiving is still a month away, but that doesn't mean you have to wait another day to get in the mood! We've rounded up some of our favorite Thanksgiving door signs and murals that you can make in minutes with what supplies you already have!
From festive vines and pumpkins to a cute little turkey ready for a feast, we have the perfect DIY Thanksgiving decoration for you! Some of these items can be made from scratch while others can be purchased from online stores. It's up to you to decide which Thanksgiving door hanger and wall art ideas are right for you and your family.
Best Thanksgiving Door Signs and Wall Art
Here are the best Thanksgiving door signs and wall art ideas to try this year: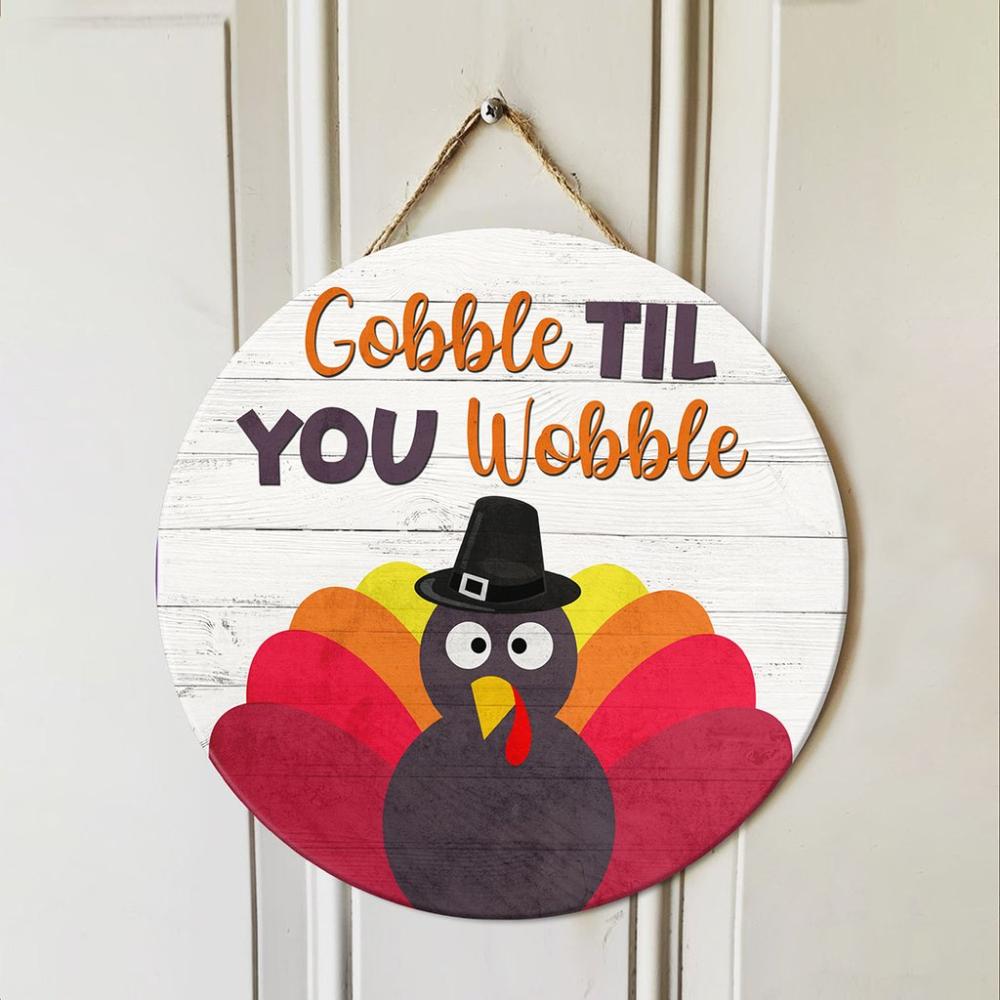 This cute and fun Thanksgiving Sign would look great on your front door or in the kitchen. It's a wooden plaque that shows a colorful turkey and says Gobble Till You Wobble. Aside from being hilarious, it's easy to clean and there's no glass to break. We found this piece at Jack the Unicorn which is made from high quality plywood and has bright and vibrant colors. The sign is round and has a beige cotton rope so you can easily hang it on your front door. Not only can you hang it on your front door, but also decorate your room, garage, kitchen, garden or any other part of your house with the Gobble Till You Wobble sign. It goes well with modern farmhouses and country decorations.
2. Thanksful Turkey – Happy Thanksgiving Sign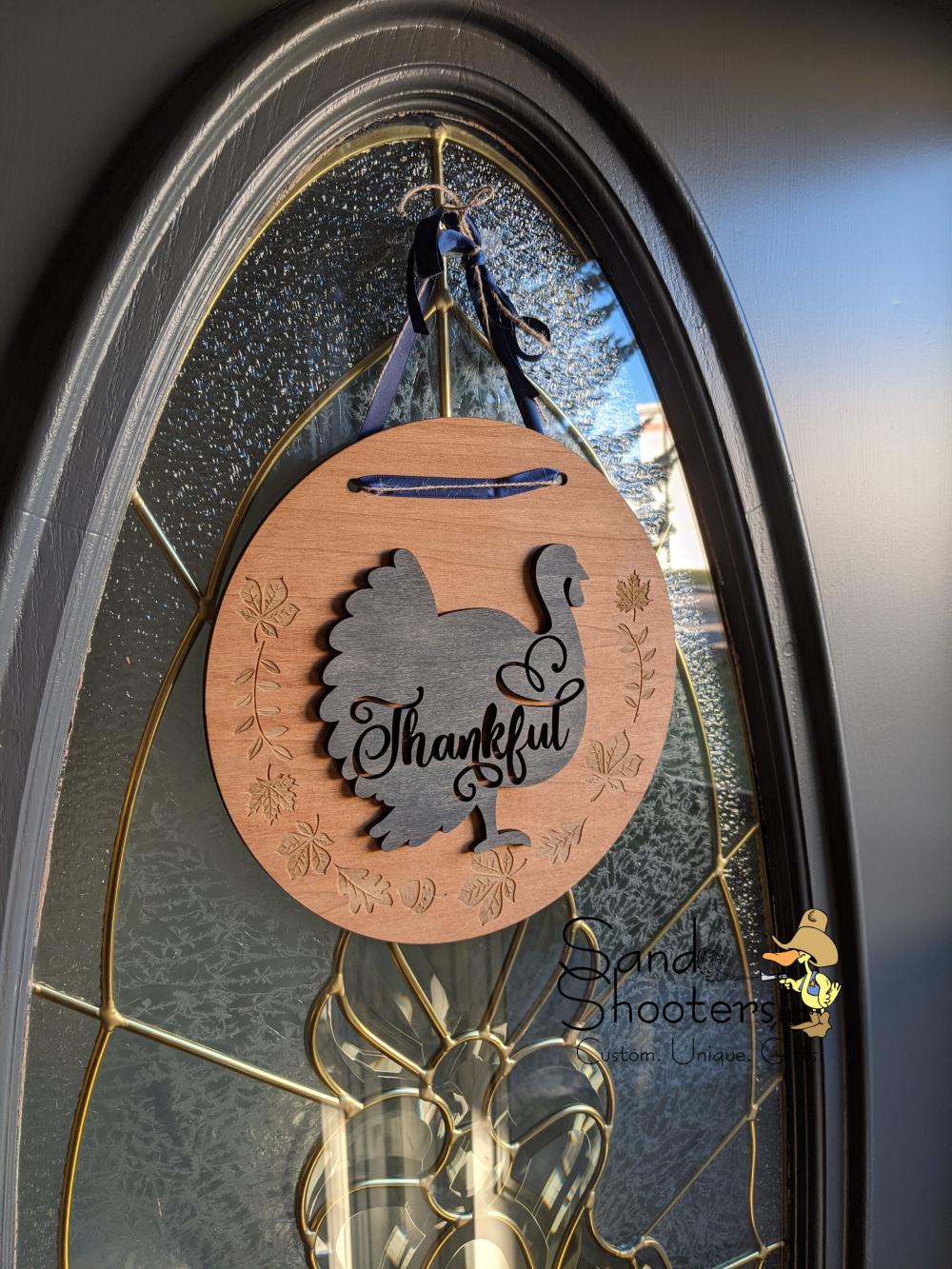 Our second choice for Happy Thanksgiving Signs is this cute wooden decoration that spells Thanksgiving and shows the silhouette of a black turkey on a wooden background. You can hang it on your front door with a satin ribbon and string. You can buy the thankful turkey from Sand Shooters and personalize the sign by choosing the colors of the base wood, turkey, and ribbon. The sign is lightweight so you can easily hang it anywhere. You can also attach it to any flat surface with double-sided tape or glue for more stability.
3. Hello Wreath – Thanksgiving Door Decor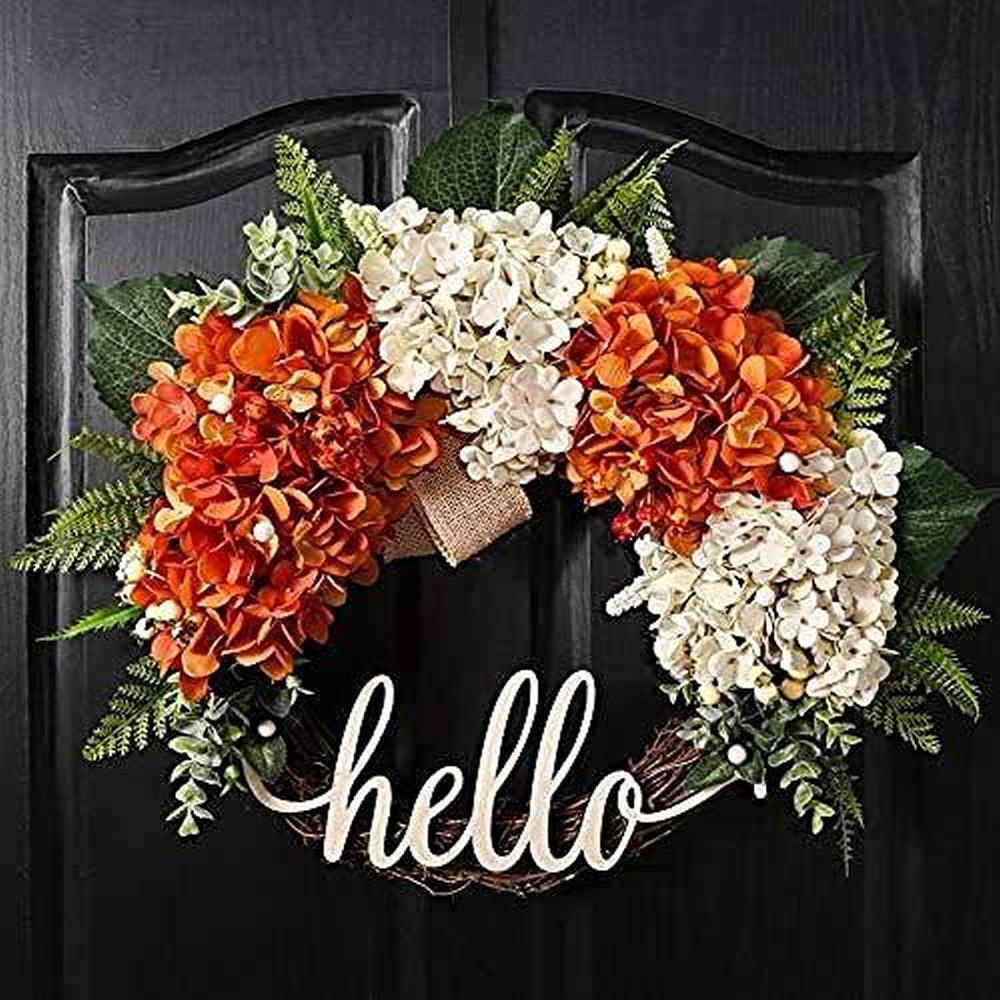 If you want to hang something adorable on your front door for Thanksgiving, this Hello wreath is a great choice. It's a wooden wreath covered with white and orange hydrangeas and various green leaves. It looks like a traditional Thanksgiving garland with brightly colored fall leaves, white and orange berries, and a burlap bow. The ensemble and colors are perfect for fall. The Hello wreath comes in a size of 18 inches, so it works well for most people. If you have very tall doors or want to use more than one garland for your door, consider buying two instead of one large garland. You can buy these Thanksgiving Door Decorations at Venue.
4. Hello Pumpkin – Thanksgiving Door Decor

If you love pumpkins and Thanksgiving, this DIY decor is a must for your
home
. It's mostly white and says Hello Pumpkin. You can use this cute door or wall decoration as a November wreath or Thanksgiving garland to decorate your home. It looks especially adorable when paired with other fall decor pieces like candles and leaves for fall. The sign consists of a round, bare wood with the words Hello Pumpkin in orange. The round wreath is covered with wooden beads.We discovered a nifty tutorial at The Happy Scraps that walks you from the ground up every step of the way of building this Hello Pumpkin. As for the accessories, you'll need a blank wooden plank circle, cutting machine, stencil vinyl, transfer tape, brush, paint, hot glue gun, bead garland, and the Hello Pumpkin SVG, which you can quickly download from the website for free.
5. Always Be Humble and Kind – Thanksgiving Sign Sayings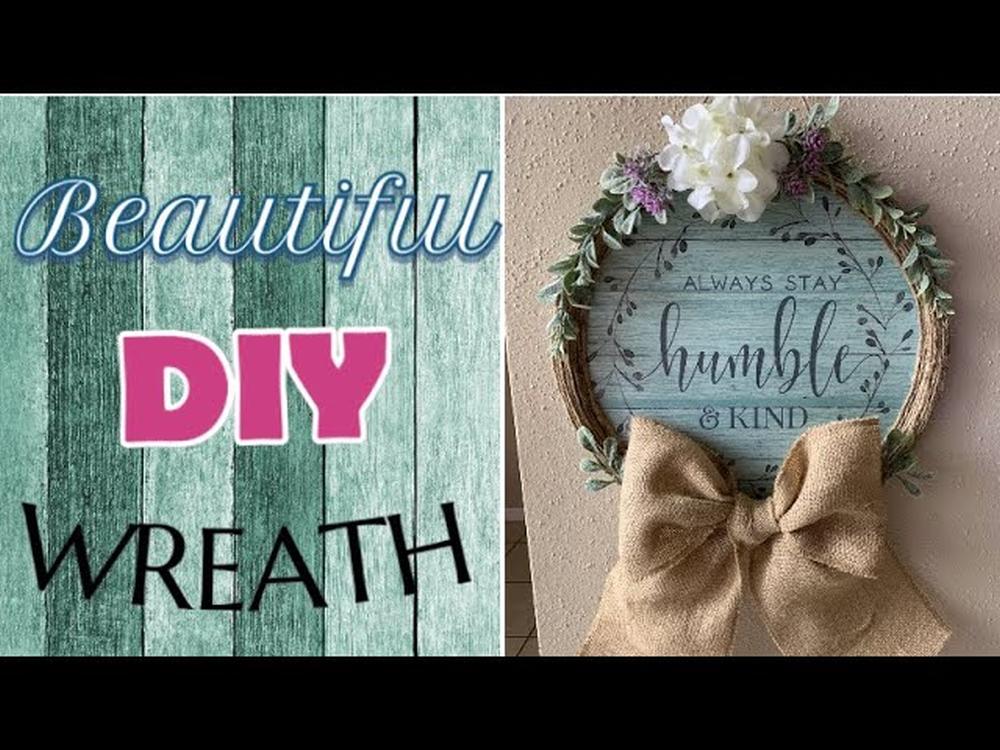 In case you're looking for another style of Thanksgiving Sign Sayings and want something inspiring, we have a great YouTube video Tutorial by. found DD's Art Workshop on how to make an always humble and kind sign, depending on how you want it to look, you can either paint the lettering a different color or print it with a white background. This Thanksgiving decoration is also a wonderful gift for your family and friends as it looks so inspiring and stylish. You can buy a wooden board from your local store or pick it up at a hardware store. As for the materials, you'll need the following: a pizza pan, pencil, wax paper, permanent marker, flowers, tape, hot glue gun, string, mod podge, plastic placemat, tape, and much more sponge brush. The pizza pan may sound unusual, but the whole project is pretty ingenious!
6. Easy DIY wall hanging for fall wall decor – Thanksgiving wall decor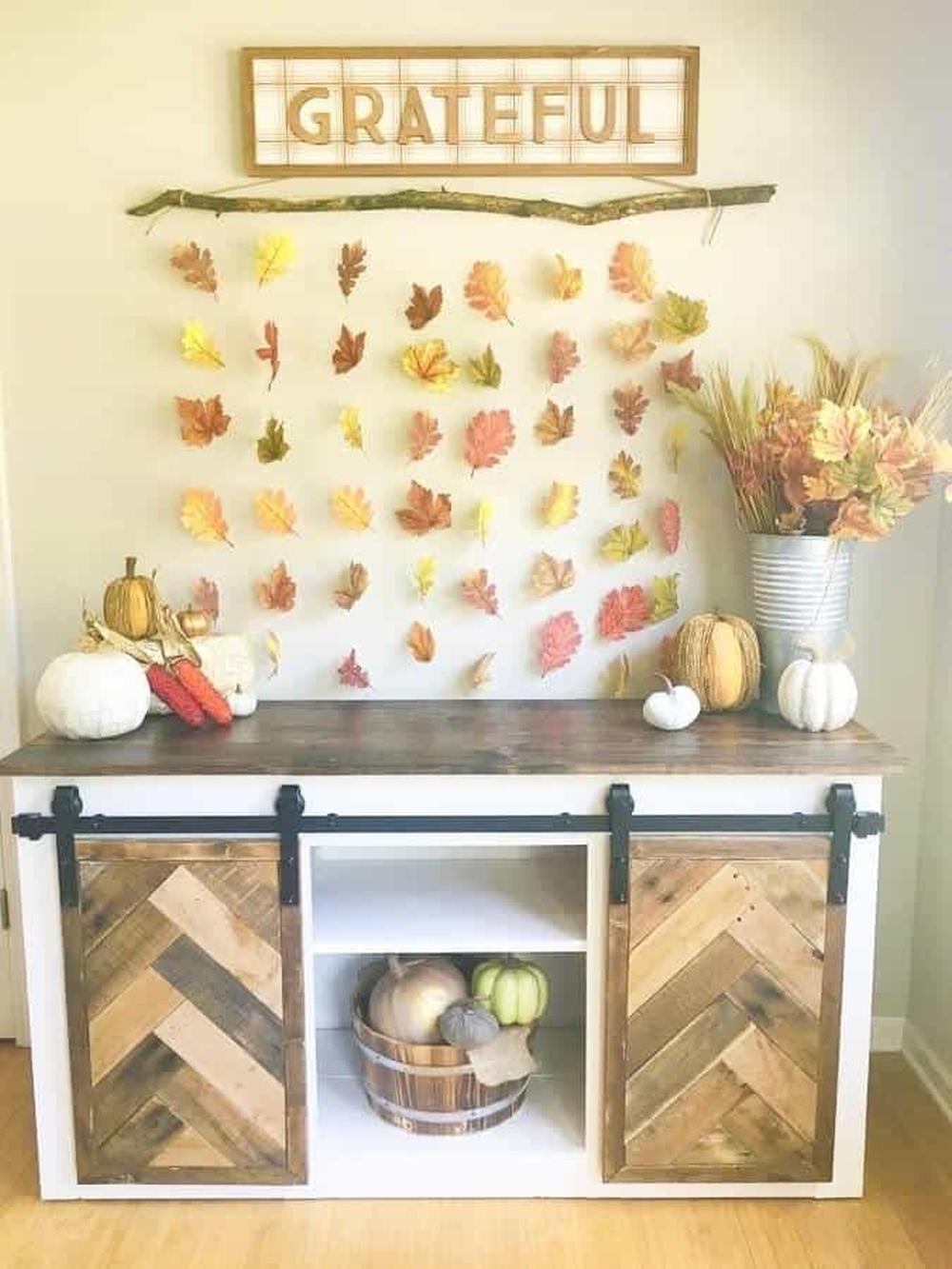 This thanksgiving wall decor idea is an excellent choice for your home decor. It's perfect for Halloween, Thanksgiving, and the fall season as you can use it to decorate any wall of your home, be it the dining area, bedroom kitchen, or something else. The wall hanging looks fun with its fake fall leaves attached to a small branch after gluing them to a clear fishing line. You can hang the branch on a wall with twine so you don't have to drill holes or make permanent changes to your home. If you don't want as much work as this homemade decoration, consider buying an already finished similar product rather than making it from scratch. You can use a pre-made one as a DIY prop in a family or friend's home. The Savvy Sparrow shows a simple tutorial with pictures on how to bring this project to life, so be sure to check it out!
7. Maple Leaves – Thanksgiving Wall Décor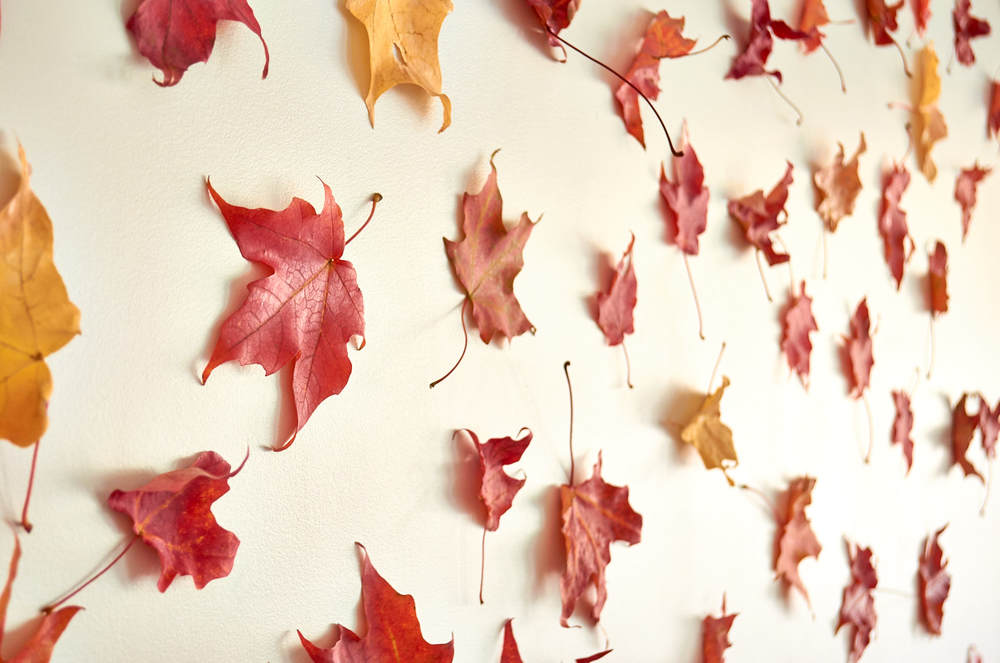 Here's another way to use maple leaves as a Thanksgiving wall décor – by sticking them directly to your wall. This time, however, you don't need a wooden twig or any additional accessories other than the stickiness method. We don't recommend taping the sheets directly to the wall with a hot glue gun as the paint will likely peel off after removing the sheets. Instead, you can use double-sided removable glue dots, like in this cool tutorial we found on Curbly. Then all you have to do is unleash your creativity by figuring out how to arrange the leaves. With a little patience and the imagination, you can even spell Thanksgiving signs like Happy Thanksgiving on your wall. The sign doesn't require a lot of work as it is mostly made up of artificial leaves that you can buy at any store or craft store. You can also use fresh ones if they're still available at this time of year, but be sure to keep them away from water until you find a way to secure them. Also, you can try using other types of leaves like or elm or changing the color palette for more variety.
8. Gratitude Chain – Fall Door Signs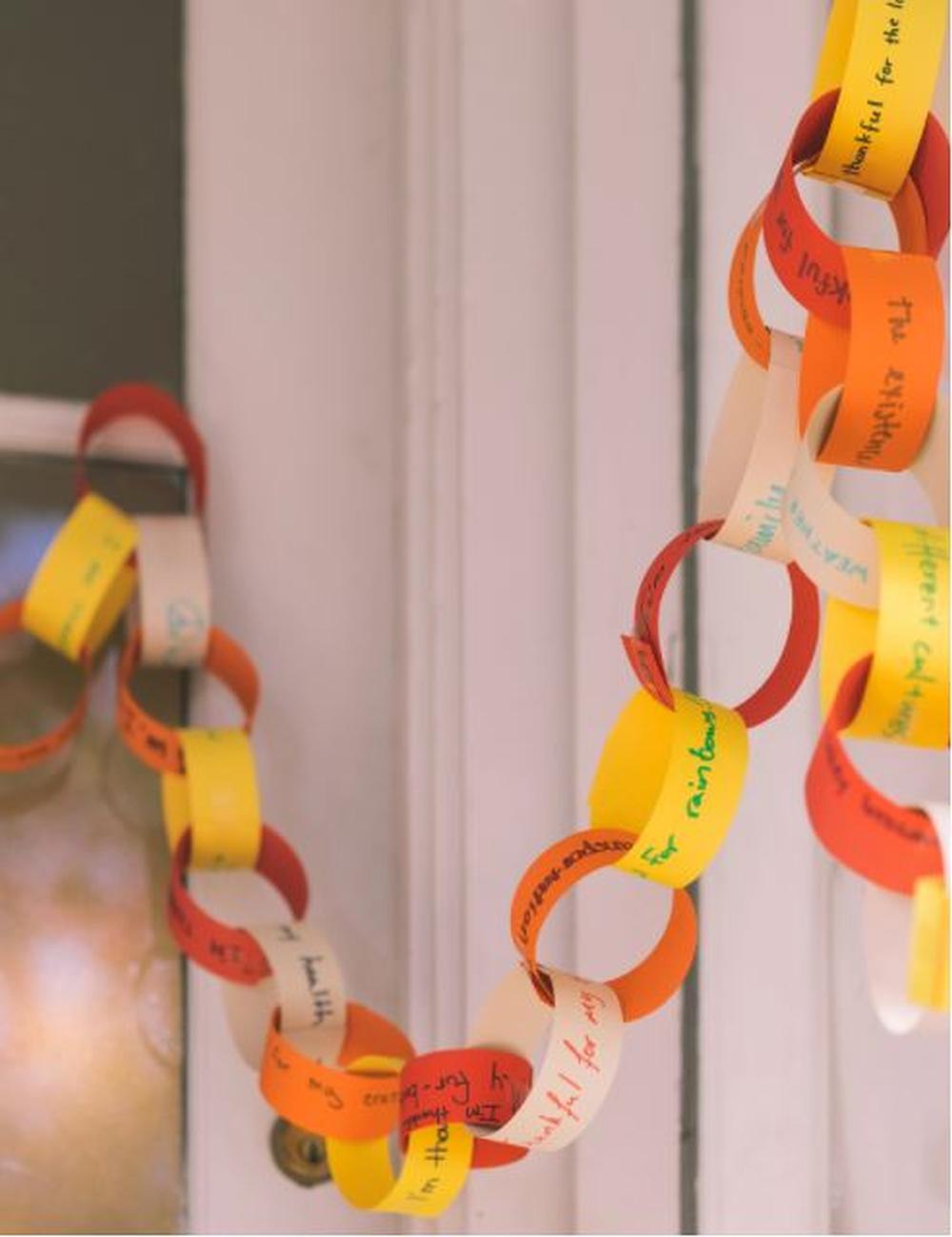 If you're in the mood for a more spiritual, thoughtful Thanksgiving decoration, we've found a cool art project that you can use to express your gratitude to family and friends – a gratitude chain.Then print or write words of thanks such as happy, grateful, grateful, joy on every strip. You can do as much or as little work on this part as you can, as there are many ways to express gratitude – even full sentences! After you have printed or handwritten the text on colored strips of paper (or plain white), cut them out one by one and write one word per strip (you get 20 strips in total). Cut another set of neutral colored pieces of paper into 20 smaller squares. Write each guest's name on a square and put all the squares in an envelope. After completing this process, put a strip in the envelope for each guest.
The trick is to make sure someone else doesn't know whose name is on each stripe – it should come as a surprise! Finally, attach each word of gratitude to your Thanksgiving door hangers with tape or string. When guests arrive at your home during Thanksgiving dinner, have them anonymously select a strip from the envelope. At the end of the day, after everyone has left, read out your gratitude chain to see the wonderful things to be thankful for. Check out this simple tutorial from Kiwico to learn more about creating a gratitude chain! We love this door sign idea for Thanksgiving Fall because it embodies everything you need to be grateful for not only during the Christmas season, but also outside of it.
9. Turkey Wreath – Thanksgiving Sign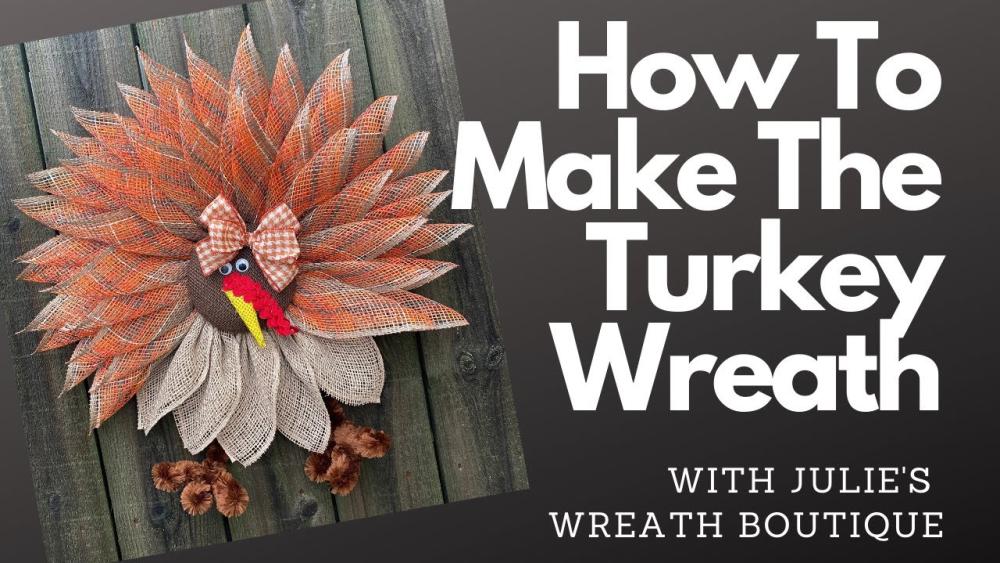 You may be wondering how to really highlight Thanksgiving . Well, we've found the perfect solution – a fun turkey wreath that will turn heads! This YouTube video tutorial created by Jullie's Wreath Boutique explains how to effortlessly make a great looking turkey wreath out of natural poly burlap. You'll also need regular poly burlap, a wreath shape, ribbon, chenille stems for the turkey feet, foam circles, a brown felt and burlap, a red rick rack, zip ties, a yellow burlap or felt, and googly eyes.
10. DIY Wooden Branch Pumpkin Wall Art – Thanksgiving Wooden Signs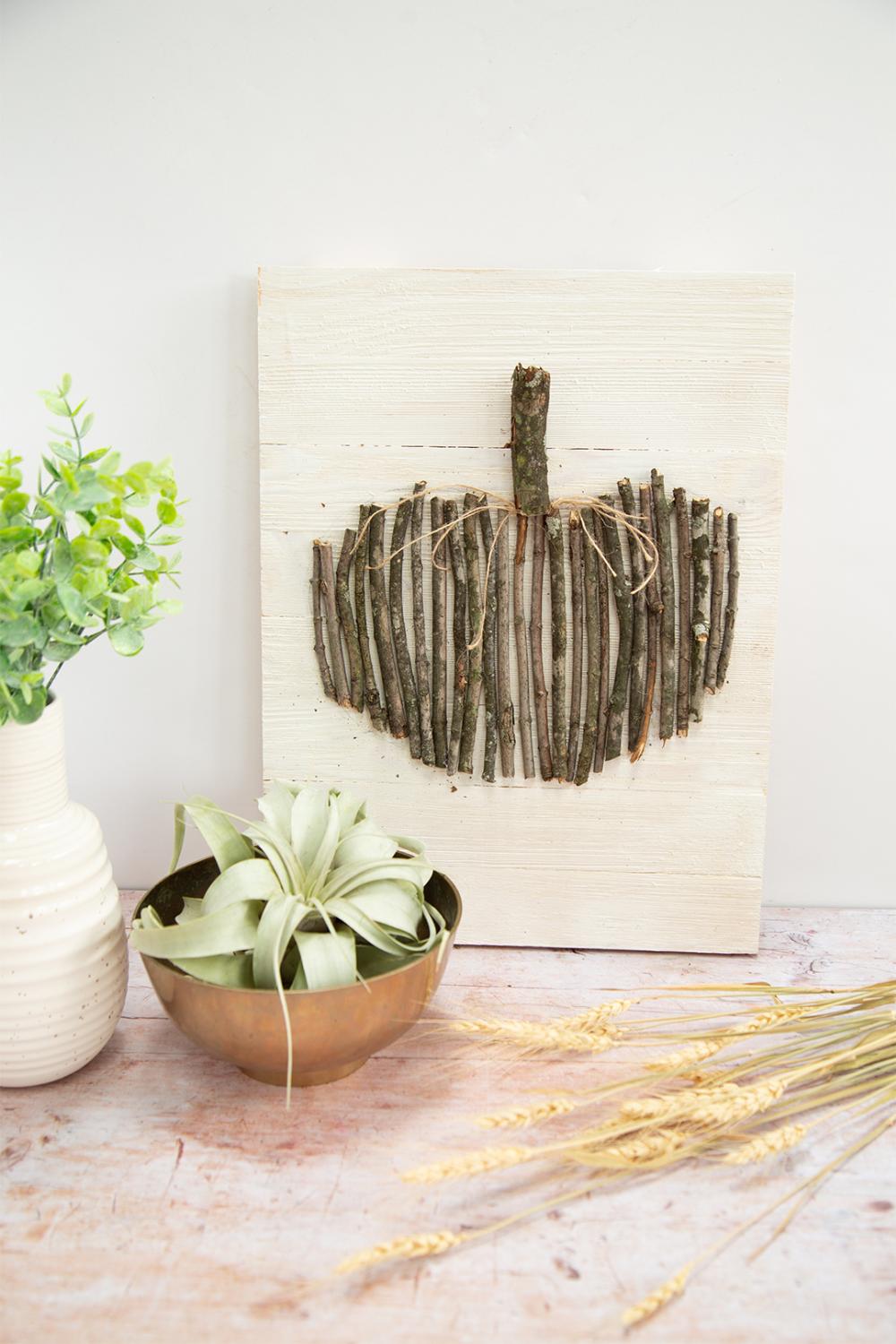 If you're looking for ideas for Wooden Thanksgiving Signs , we've found this fabulous wooden branch pumpkin wall art that won't cost and look good good throughout the fall season. The concept behind this is to arrange a pile of sticks in the shape of a pumpkin and then glue them onto a large board before hanging the board on your wall or front door. The project shouldn't stop there as you can make a flower arrangement or write a welcome sign and attach it to the pumpkin. Check out this excellent tutorial we found on BHG to find out more! This project will require a wooden palette, branches, twine, acrylic craft paint, a foam brush, flower clippers, a pencil, and a hot glue gun. The best part about working with stores is that you have complete freedom in designing them – all you have to do is find one that suits you! Also, no two wooden pumpkin wall art projects will look exactly alike.
11. DIY Fall Decorations with Pumpkin Spice Whisk – Thanksgiving Door Decor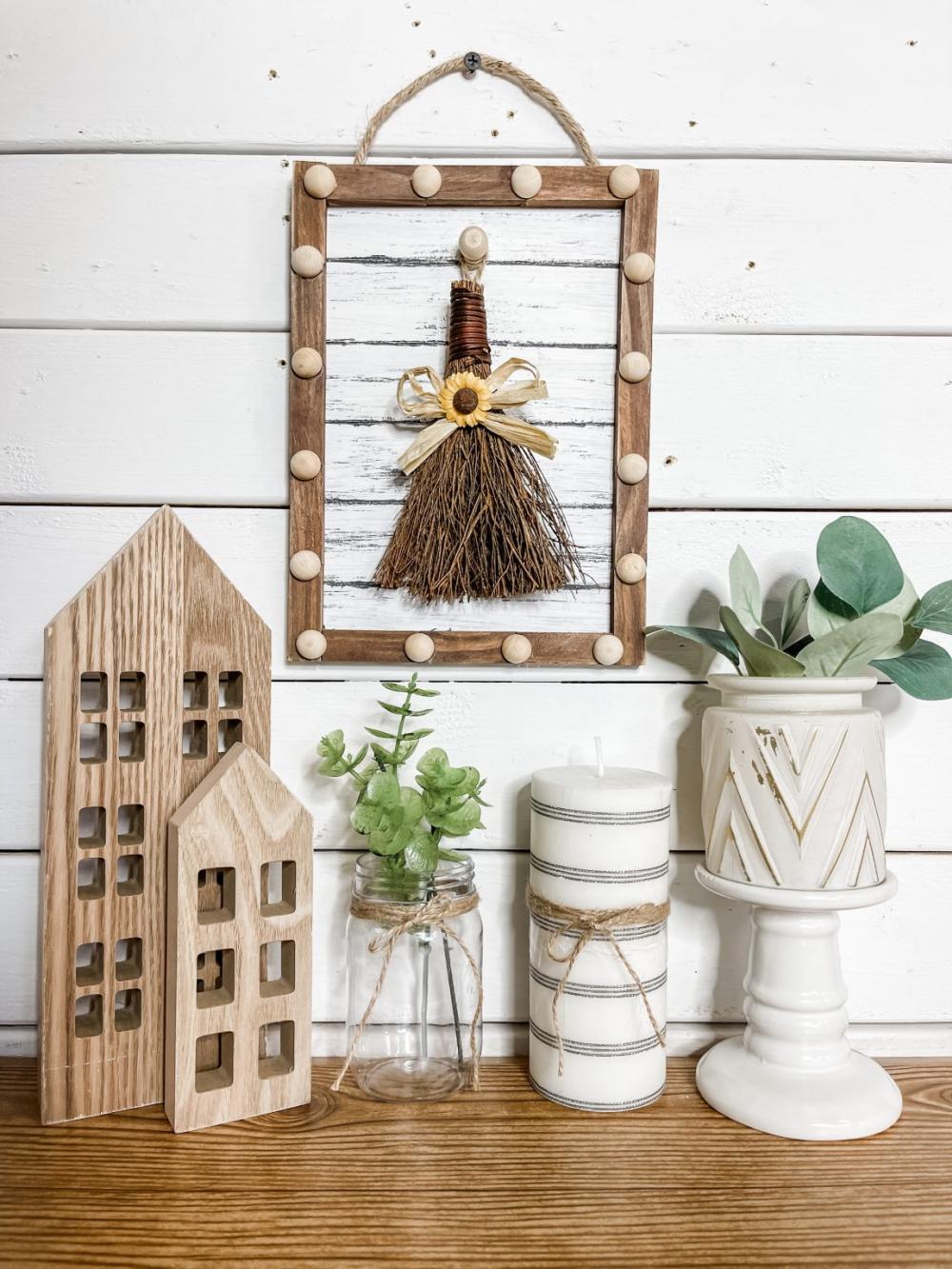 Here's another great Thanksgiving door decor idea that will pleasantly surprise your guests as it doubles as an air freshener serves! It's super easy and cheap, so don't be afraid to try it out. This wonderful project, which we discovered on The Maker's Map, contains a blackboard sign, a broom smelling of pumpkin spice, a wired jute cord, sunflowers with wire, tower blocks, raffia, half-wood beads, a razor, a hot glue gun, a screwdriver, and black, white and baked umber acrylics. You should be able to track down all of these items at your local craft store. However, if you can't find a fragrant broom, you can get a regular broom and use essential oil.
12. Whitewashed Pumpkin Ruler Art – Happy Thanksgiving Sign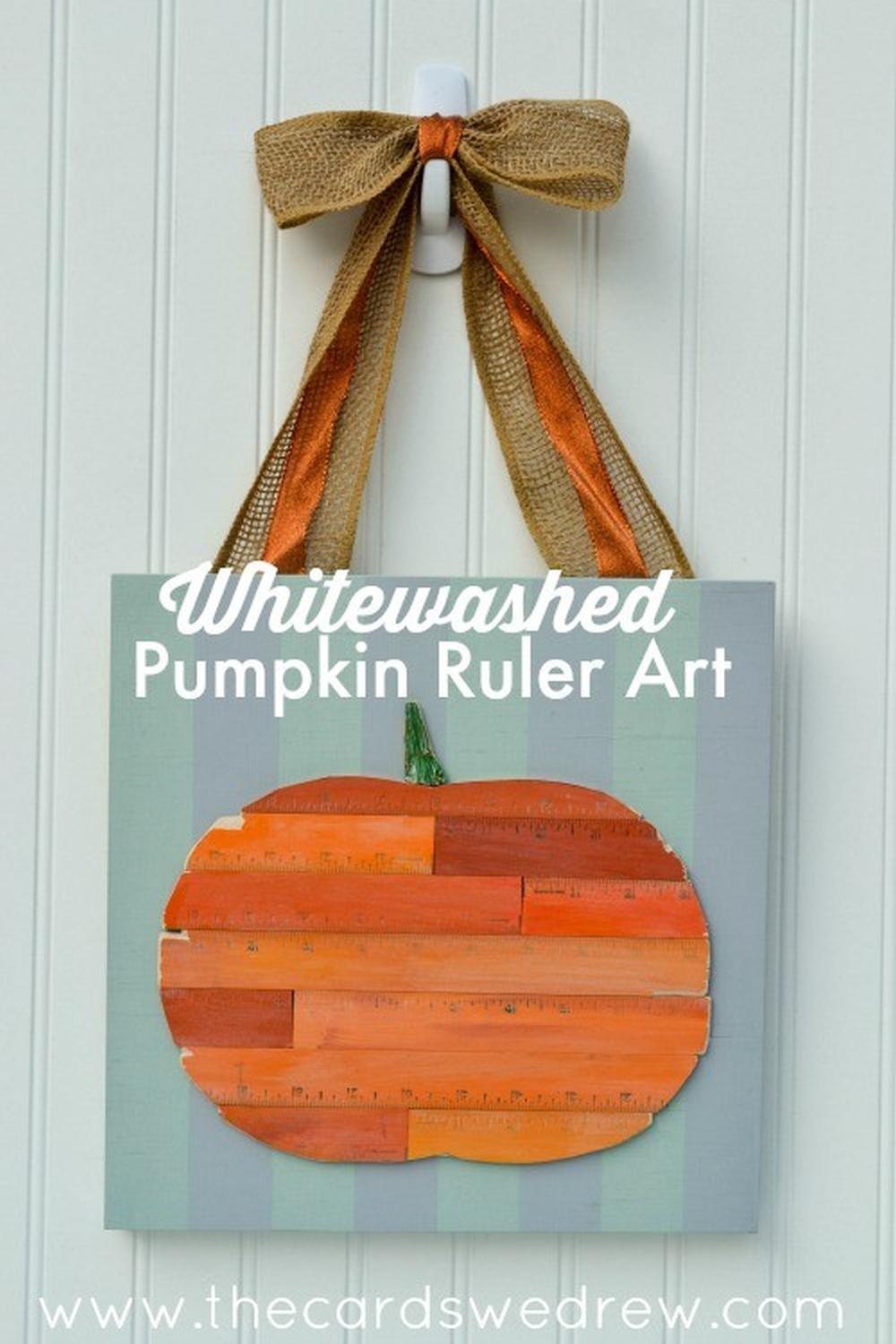 We recommend using a funky pumpkin ruler art to spruce up your room for Thanksgiving. It works especially well if you happen to be a math teacher! The whitewashed pumpkin ruler art is a straightforward project that doesn't take much time. And if you don't want to hang it on your front door, it is ideal if you have a large empty space on your wall. To make this lovely project as shown in the picture, check out the tutorial created by The Cards We Drew. The materials for this
Happy Thanksgiving sign
you need 12-15 wooden rulers, painter's tape or washi tape for stripping, orange acrylic paint in various shades, chalk paint, white paint, brushes, including a 12 × 12 wooden board, a hot glue gun, Box cutter to cut the rulers and a ribbon to make a loop and hang the sign.
13. Autumn wreath with colorful leaves – Thanksgiving door decor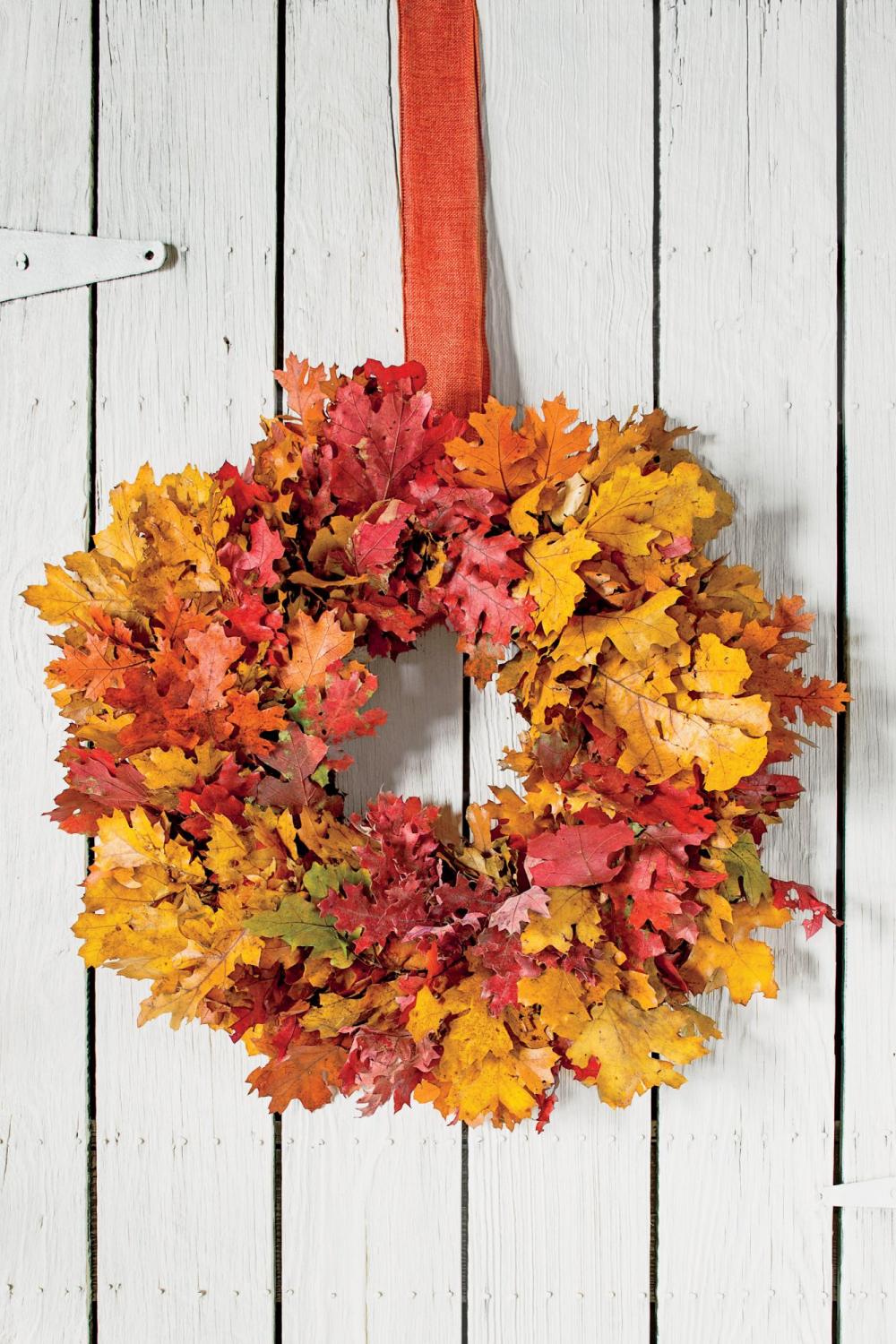 Here's another fantastic idea for Thanksgiving door decor – a colorful wreath of leaves. This project is super easy to do and still looks fabulous! It perfectly embodies the spirit of fall that you can display on your doorstep to greet your family and friends on Thanksgiving Day. Make sure to add the following items to your shopping list: sprigs of fall leaves, hand scissors, floral wire, a wire wreath frame, wire cutters, food coloring (if you want other colors), an orange ribbon, warm water, and liquid glycerin. And the results are spectacular! Just ask Southern Living!
14. Nut wreath – Thanksgiving sign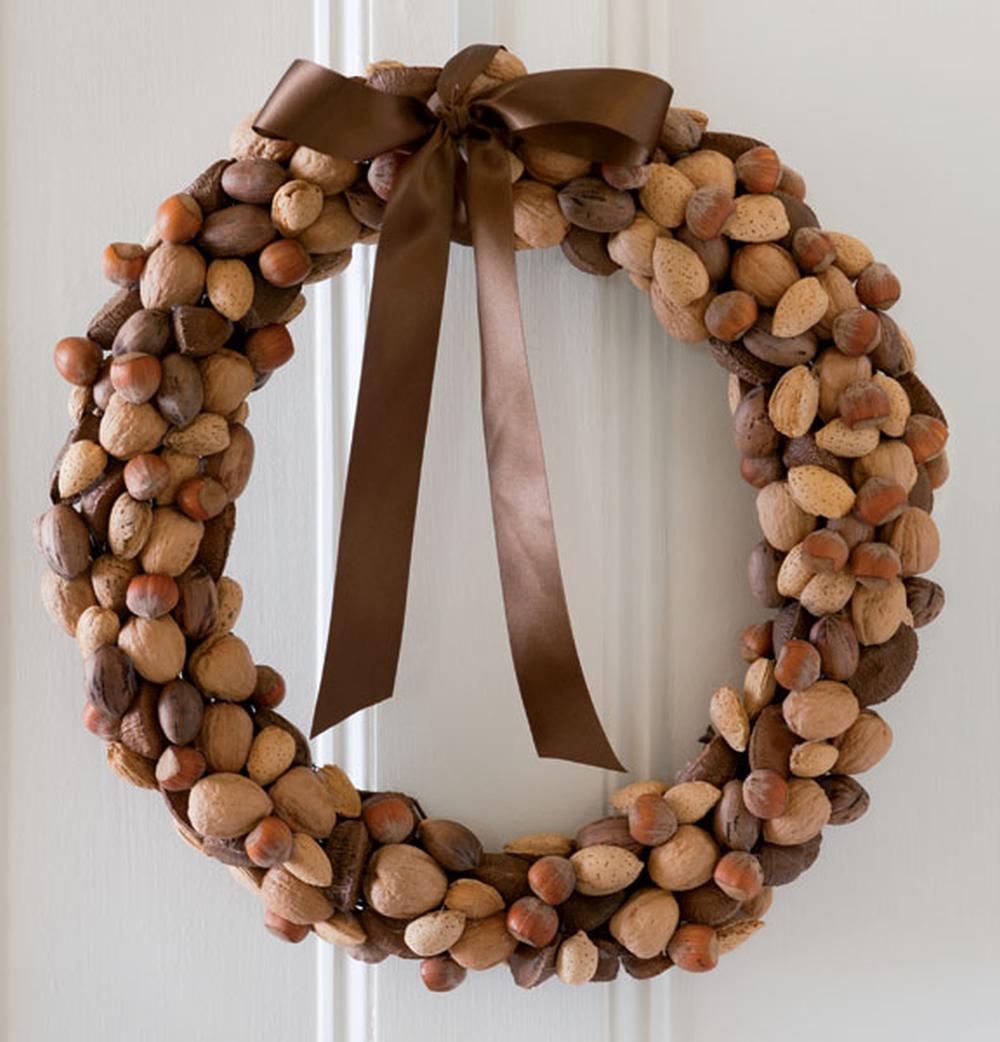 Nuts have always been a symbol of hospitality, friendship and respect. So, you can use them to say hello to your family and friends on Thanksgiving Day. However, instead of filling a bowl with nuts, you can go a step further and put together a wreath of nuts. It's easy to make this Thank You ! The simple design of the nut wreath gives every home an elegant touch and can even be used all winter long, because nuts symbolize the warmth of the season. Check out this excellent tutorial from New England to find out more! You will need a variety of nuts (in the shell), a 16-inch wreath shape made of wood or grapevine, a hot glue gun with extra glue, a ribbon, and a wreath hanger or picture hook.
15. Leaf Fall Art – Thanksgiving Wall Decor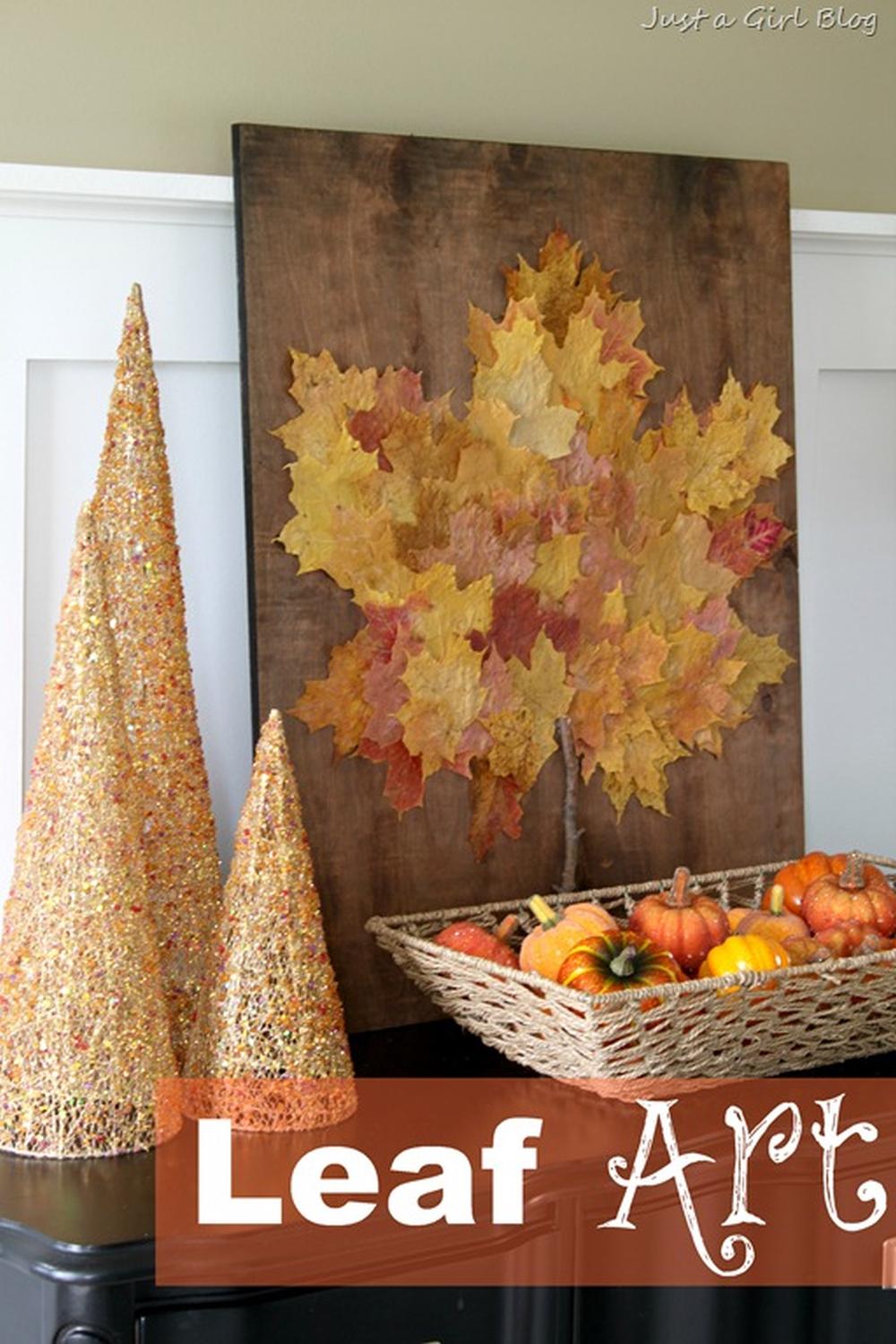 Another idea for your Thanksgiving wall decor r is to create leaf fall art. If you have kids this project is a fantastic way to explain to them where the leaves come from and why they all change color in the fall. Creating these cut out sheets is easy, but it will certainly take some time as cutting each sheet out will be a tedious job. We recommend printing out a sheet template, gluing it to one side of the cardboard, and then drawing the sheets with a pencil. You will also need a pair of scissors, a Mod Podge for sealing, and cardboard paper with an autumn theme. Or you can check out this tutorial we found on Just a Girl Blog to see how to glue multiple sheets of paper in the shape of a giant sheet attached to a large wooden board. We recommend using this Thanksgiving wall decor in the kitchen or even in the living room if you have a fireplace. It's a great way to add warmth and happiness to your home!
16. Autumn wreath with pumpkins and acorns – Thanksgiving Signs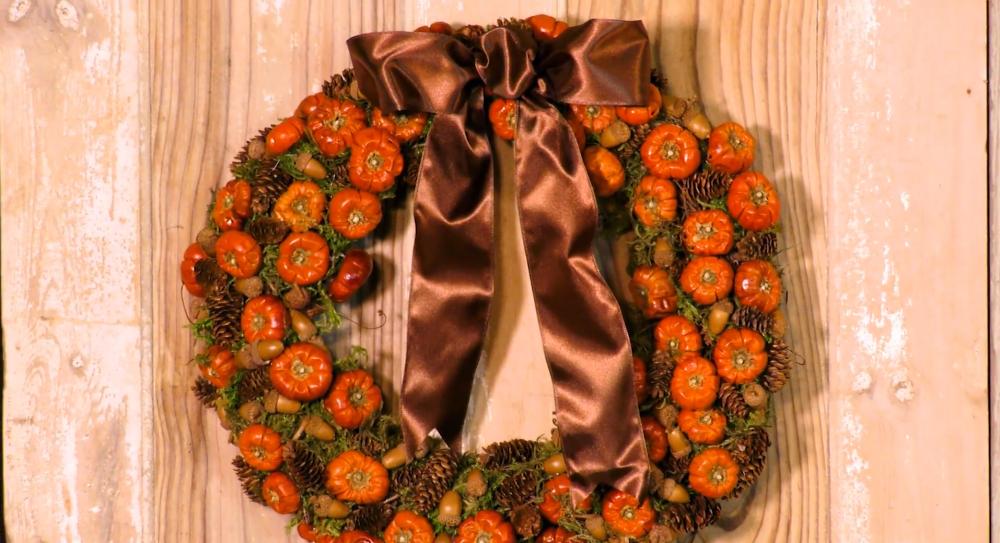 This adorable autumn wreath with pumpkins and acorns is a great addition to your autumn decoration as a
thanksgiving sign
.We found a wonderful video tutorial at Southen Living that you should definitely check out! You will need the following materials: a decorative sheet of moss, a hot glue gun with extra glue, a grapevine wreath shape (14 inches or larger), florist scissors, acorns with caps, pumpkin on a stick eggplant, alder cones, and a chocolate brown satin ribbon that is 3 inches wide. If you want to hang this Thanksgiving sign outside on your front door, be sure to keep it out of the rain.
17. DIY Gold Leaf Pine Cone Garland – Thanksgiving Wall Decor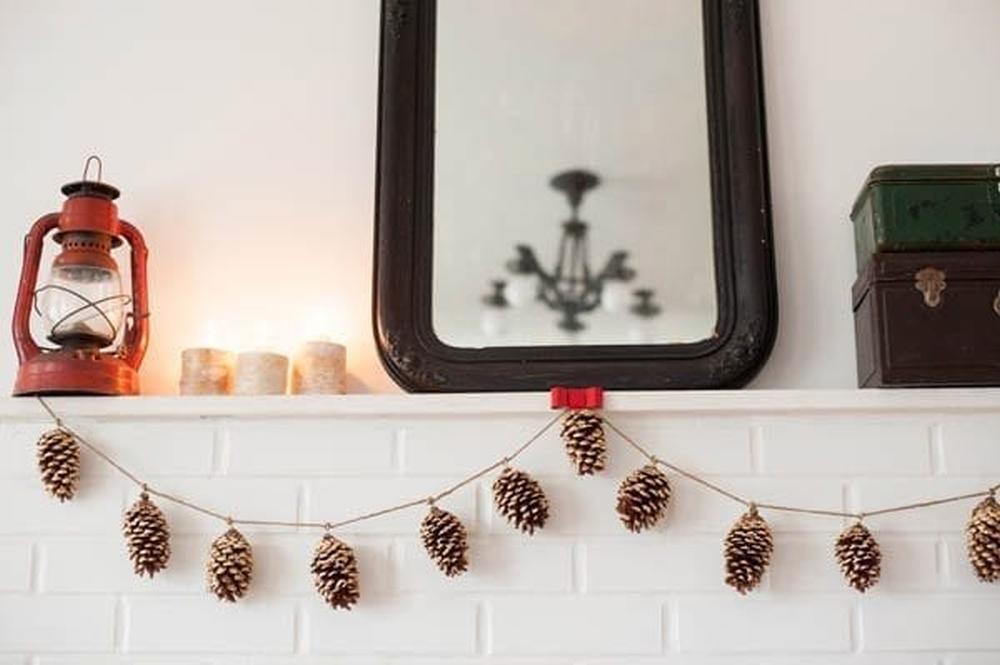 Gold leaf garlands are a wonderful way to add a special touch of elegance and luxury to your home. In fact, you can create these Thanksgiving Wall Decor for almost any room in the house! The process of making these gold leaf garlands is simple enough. But it will certainly take some time as gluing each pine cone with gold foil will be a tedious job. We recommend printing out gold leaf templates, gluing them to the tenons, and then sealing them with Mod Podge. You'll also need a hot glue gun (with extra glue), thirty-six 2-inch pine cones (which are fresh or artificial), twenty-four 6-inch pieces of wire, 24 4-inch pieces of wire, metal scissors (or scissors). Alternatively, check out this simple tutorial we found over at The Sweetest Occasion!
18. Framed Leaf Art – Thanksgiving Wall Decor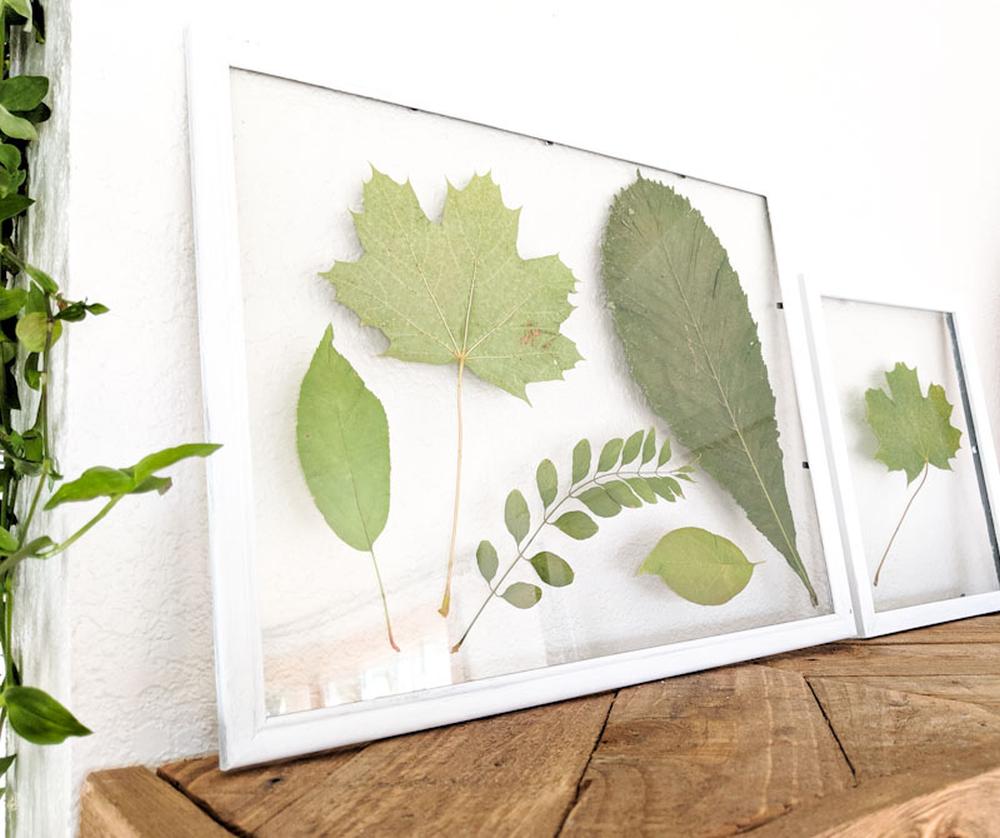 Framed leaf art is a great way to add fall color and happiness to your home. You can find cheap wooden boards at craft stores or even the dollar store, cut them to size, and then paint them with your favorite fall colors. We found this super easy project on My Happy Simple Living and we highly recommend it for those of you who want fall decorations that are easy to create without investing too much time and money! You will need frames, white chalk paint to paint the frames, leaves, a piece of paper, and an iron. And if you want to experiment with different colors for the leaves, you can spray them in gold or another color before making the leaf arrangement for these  Create thanksgiving wall decoration .
19. DIY Fall Pumpkin Rustic Home Decor – Happy Thanksgiving Sign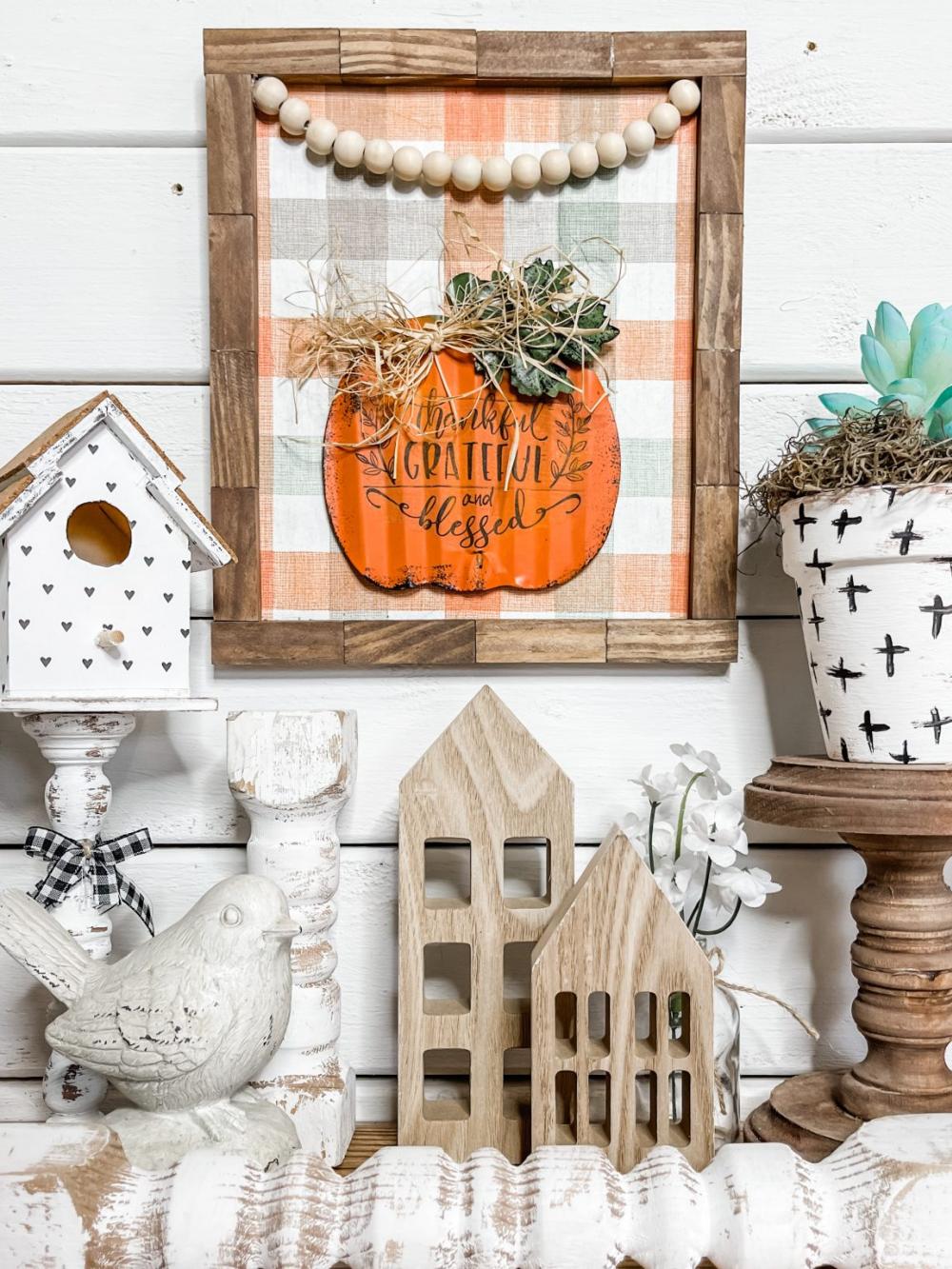 Pumpkins are a wonderful symbol of fall. And you can bring plenty of fall cheer into your home by making a Happy Thanksgiving Sign that focuses on a pumpkin. If you are the creative type, this project should be for you. Check out this excellent tutorial from The Maker's Map to find out more! You need an orange checkered napkin, raffia, an autumn napkin with the words Dankbar, Dankbar or Blessed, a metal pumpkin pole, jute cord, sackcloth, wired jute cord, tower blocks, cardboard, wooden beads, a hot glue gun, etc. mod podge, as well as acrylic paints (white and burnt umber) .
20. DIY Framed Wood Pumpkins – Thanksgiving Door Decor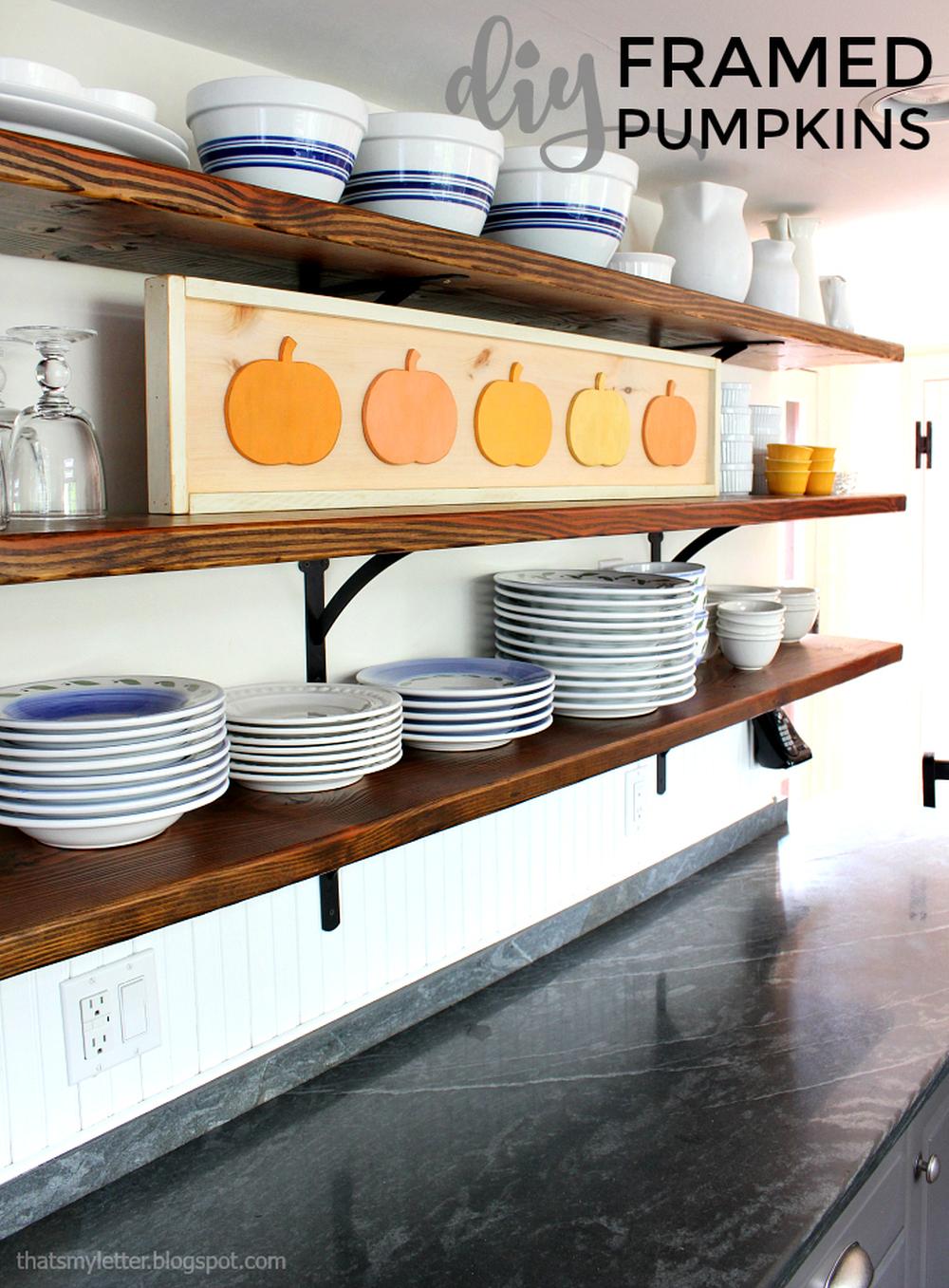 If you're looking for
Thanksgiving Door Decor ideas
that require less effort but bring a lot of stylish beauty, then DIY framed wood pumpkins are for you She ! You will probably be surprised how easy it is to make these framed pumpkins. There is no complicated carving. We recommend reading this nifty tutorial from Pretty Handy Girl carefully before you begin. The materials you need are pumpkin clip art to download from the Internet, tape measure, pencil, scissors, sandpaper, scroll saw, two pine boards, brush, orange acrylic or latex paints, wood stain, natural white acrylic paint, a piece of fabric for staining, wood glue, finishing nails and a power finish nailer or hammer. Although the guide will show you how to make art that you can place anywhere in your home, such asJust make sure to protect it from moisture.
21. Basket Gallery Wall Fall Decor – Thanksgiving Wall Decor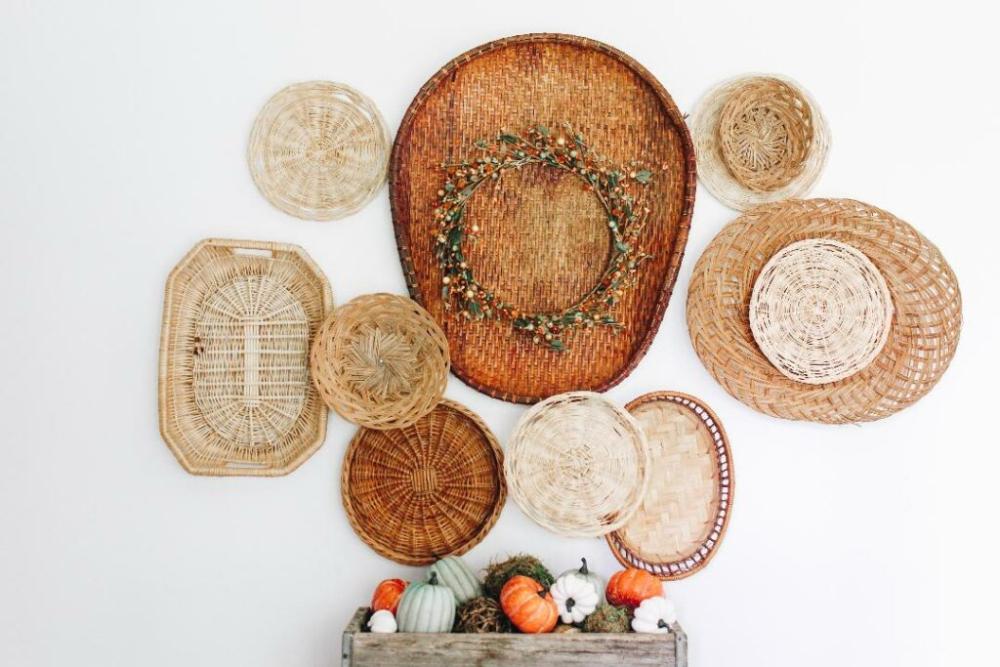 If you love the idea of ​​fall gallery wall decor then this project might catch your attention. You can create a gallery wall using baskets of various shapes and sizes to create spectacular thanksgiving wall decorations . You will need white pillar candles, small pumpkins, acorns, pine cones, berries, sheets of fabric of various colors and textures to add some visual interest to your fall decor, and a hot glue gun or string to attach the garlands to the bottles / baskets. Alternatively, you can use wire hangers to secure all of your items together. It is important to be careful when handling these sharp objects. But they will definitely help you create a stunning arrangement without spending too much time DIY! We also recommend taking a look at this intuitive tutorial from Roost and Restore to learn how to arrange a basket wall.
22. Hanging Basket – Thanksgiving Sign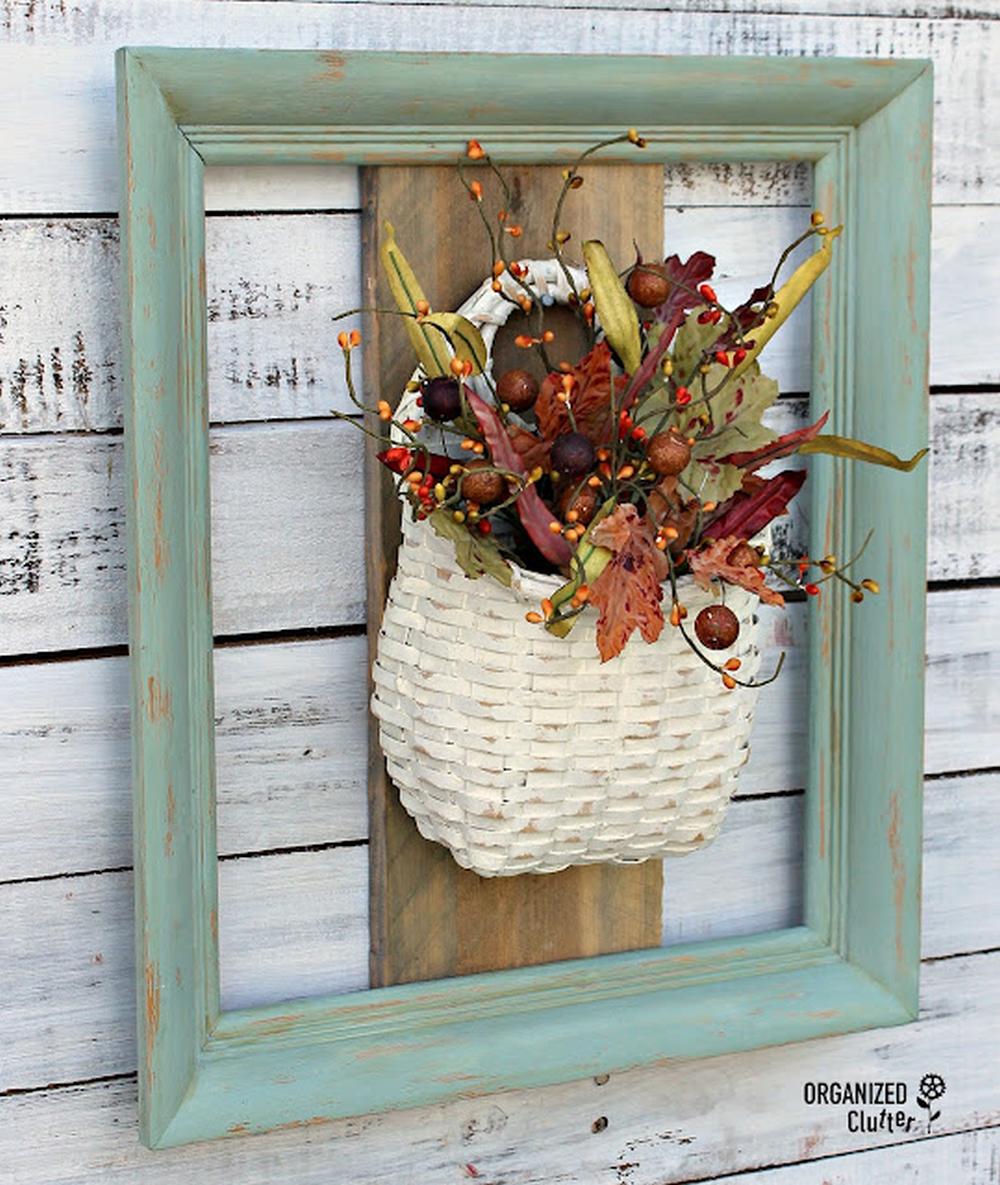 Here's another quirky idea that deals with baskets. But this time you can hang a basket on your front door as a thanksgiving sign , which you can fill with an autumnal flower arrangement and wrap in a wooden frame. It looks natural and warm. To make this wonderful wall decor, you should have some baskets from your old collection, thread or string, a hot glue gun, a paintbrush or sponge brush, acrylic paint in four colors (preferably turkey red), scissors, and an electric drill with a screwdriver bit to help with the To attach the frame supplied with hooks. You can also check out this charming tutorial from Organized Clutter to learn more about this project. The great thing about these baskets is that they are really adjustable and suitable for all spaces. So if necessary, you can make some signs for Thanksgiving dinner or decorate your mantelpiece with them.
23. Fall Leaf Wreath – Happy Thanksgiving Sign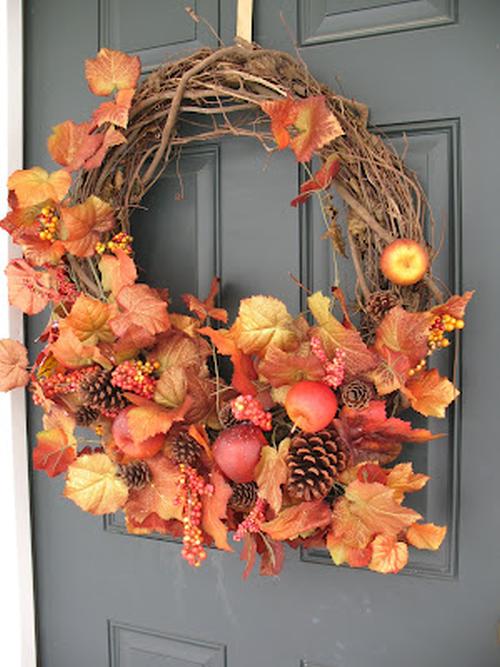 Looking for fall-style, cooler decor that isn't too difficult to make? We have exactly the right solution for you! Check out this stylish fall leaf wreath idea to warm up your party room in time for Thanksgiving dinner.To start making this Thanksgiving fall wreath, be sure to carefully remove the leaves from the wire hangers so they don't get damaged or bent. Then attach your stems to the wire ring with hot glue. Make sure all the leaves are evenly spaced around it to ensure balance and visual appeal. Finally, attach your decorative hanging accessories (sawtooth hangers) to the top. You can also make smaller arrangements with one large leaf or two or more small leaves to add clear vases for extra fall decor accents if needed! Check out the Just a Girl Blog article for more inspiration!
24. Pilgrim Man Thanksgiving Door Decor

Here's another idea for a simple fall decor that is really easy to make with items you already have in your supply! It's a pilgrim sign that will add rustic charm to your interior in just two or three hours. You can use this wall artwork for Thanksgiving party decorations, but it would also be perfect if you want to greet guests in classic pilgrim style any time of the year (just change the color scheme). It would be best to have some old wooden embroidery frames, acrylic paints (turquoise and black), a wooden plaque (or a piece of plywood), white and black acrylic paint, sandpaper and a pencil with you. For this
Thanksgiving door decor
project, you should first prepare your wooden embroidery frames: lightly sand and clean with a damp cloth.
The next day you can proceed by painting all sides of your pallet or sheet of plywood black and then marking the shape of the clothes on the front. You can also track around your wooden hoop if necessary! When this part is done, use sandpaper to smooth out the cut edges for added rustic charm. You can finally pin your clothes to one side of your pallet or plywood. You can nail them on or just glue them with a hot glue gun as the wood is not very thick and strong, which makes it a perfect home for little nails. Finally, attach a sawtooth hanger to the back of the wooden panel to get your new sign ready! Or, if you don't feel like embarking on that complicated journey, you can see a pilgrim wall art like the one in the picture on Etsy.
25. Reversible door sign in winter and autumn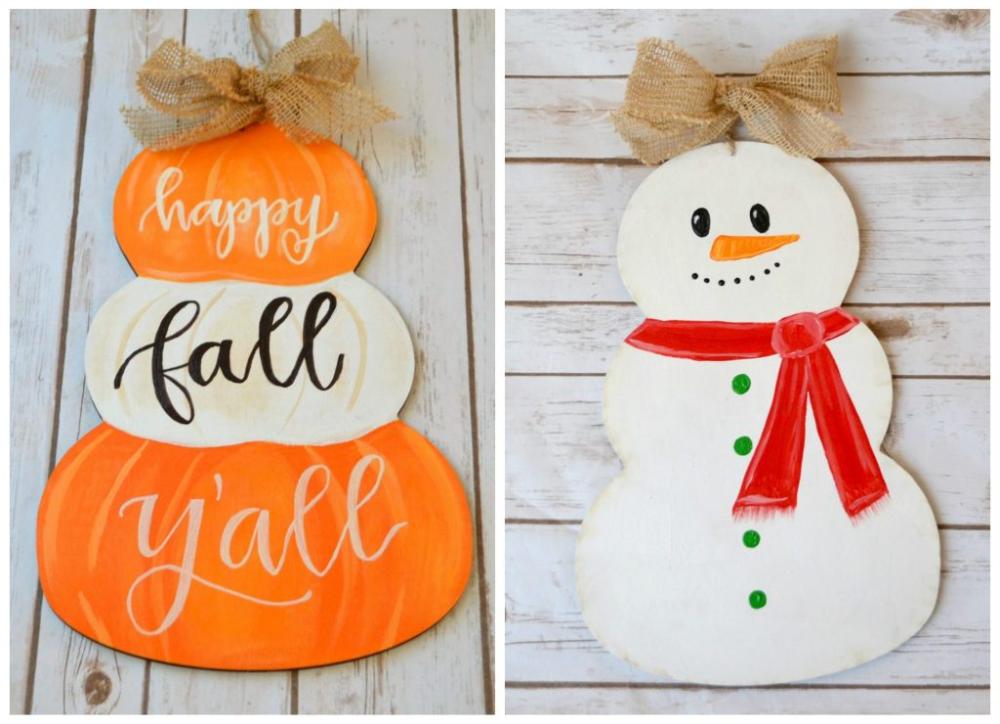 Would you like to greet guests at your main entrance during Thanksgiving? Why not try making this reversible winter fall door hanger that is great for fall and winter decorations! When it's Thanksgiving time, hang the page with the three pumpkins that say Happy Fall Y'all. And when Christmas comes you don't have to worry about making a new sign as you can flip this one over to reveal an adorable snowman. It's incredibly creative and especially practical! This cute idea is actually quite easy to make if you have the following items in your supply: multilayered satin acrylic paint in different colors, brushes, an unfinished wood cutout, a ribbon, scissors and jute or twine.
26. Feather Wreath – Thanksgiving Signs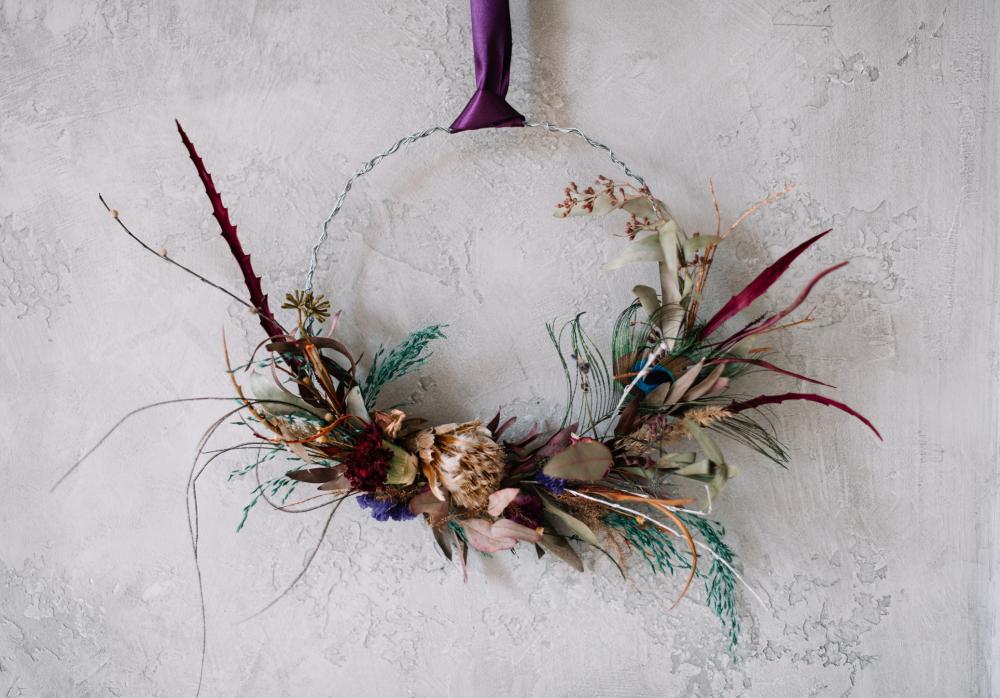 Make your Thanksgiving party decorations interesting by hanging up this cute feather wreath that mixes a little rustic country style with urban chic! This beautiful door decoration is actually quite easy to make as it doesn't require any special skills or talents. All you need are wooden clothespins, autumnal feathers of various colors, twine, scissors, wire cutters, and glue sticks to make DIY Thanksgiving art like this one. First, determine how long you want your wreath to be, then use the wire cutter to cut out appropriate pieces of wire. You will need about six parts in total.
Next, divide your feathers into two groups (one larger, one smaller) and attach them to the end of the wire with glue sticks. Make sure they are evenly spaced on both sides of the wire, then use hot glue to secure them at their center point for long life. Finally, hang your handmade Thanksgiving wreath on your front door by tying it with twine! It's exactly what you need when you want attractive focus decor for a Thanksgiving Sign but don't feel like investing money or time making something too complicated or difficult. We love this idea because it is really very simple!
27. Peel-Off Quote Thanksgiving Sign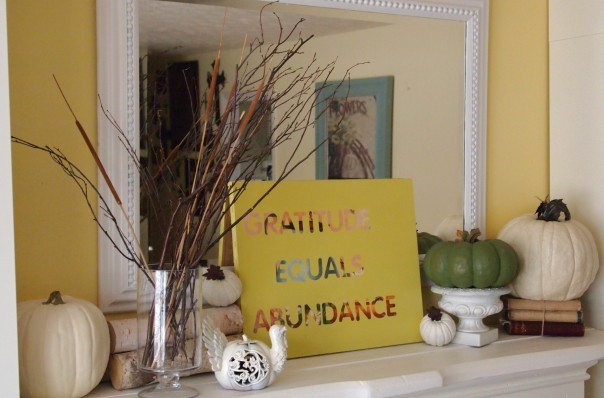 A cultivated nest has taken an old canvas artwork, glued some letters on, painted over them, and then peeled it off to create this detailed and unique piece of art that can be used as a sprinkle decor or to hang on the wall! There are so many different ideas that can easily emerge from this idea!
28. Gold Leaf Thanksgiving Sign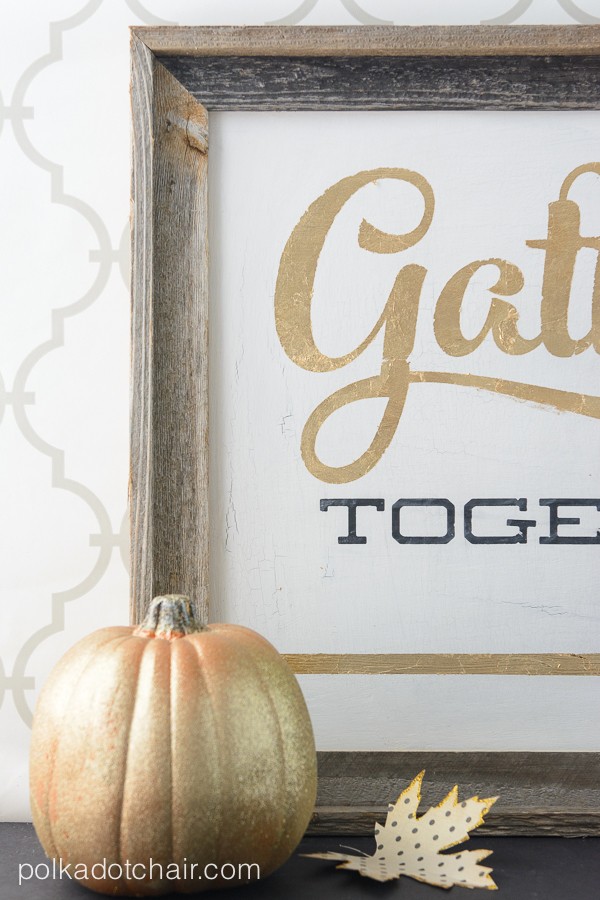 Get a little more precise and elegant with this gold leaf project from Polkadot Chair. She will teach you how to create something for the vacation while you learn to work with some light. We love the finished product and love how versatile this tutorial can be in the future.
30. Distressed Thanksgiving Sign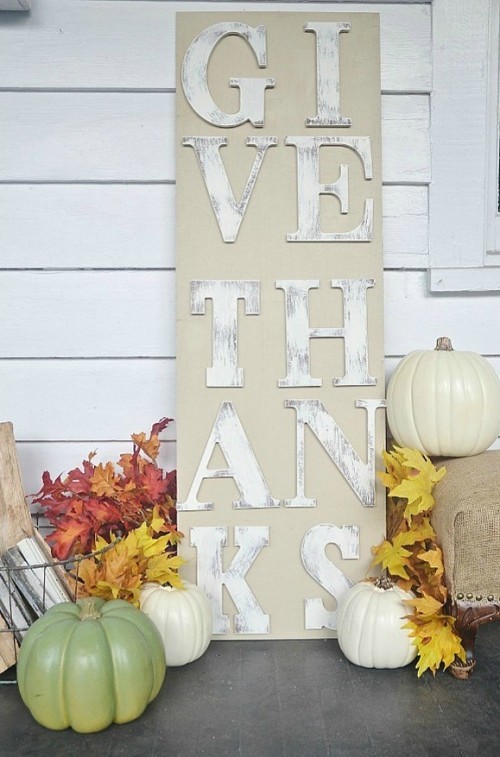 Shelterness shows us how to make this simple distressed sign that will blend in perfectly with a variety of shabby chic or cottage flair homes. With a little bit of stain and drybrushes, you'll be on your way to a new, festive and versatile Christmas decor in no time! ..