Whether you're looking to salvage an adorable arched front door for an elf house or an intricately carved architectural panel door for a king's wardrobe, there are plenty of great ideas for repurposed old doors out there.Freestanding doors abound because the craftsmanship of yesteryear produced specimens that were built to last.Sometimes a high quality door will outlast the house or room that once adorned it for a long time.At other times, beautiful doors cease to work, but the owners do not want to part with them.Countless vintage doors that have been separated from their original homes end up in antique stores for collectors to buy.
40+ Ways to Turn Vintage Doors into Art
Many door hunters are do-it-yourselfers toowho want to realize all of their repurposed old door ideas.Old doors can find a new purpose as interior doors, free-standing room dividers or even as converted furniture and shelves.Adding a vintage door to your home design adds character and function.If you have a vintage door waiting for a new life, check out this curated collection of repurposed old doors to spark your imagination.
1.Headboard DIY with a number of doors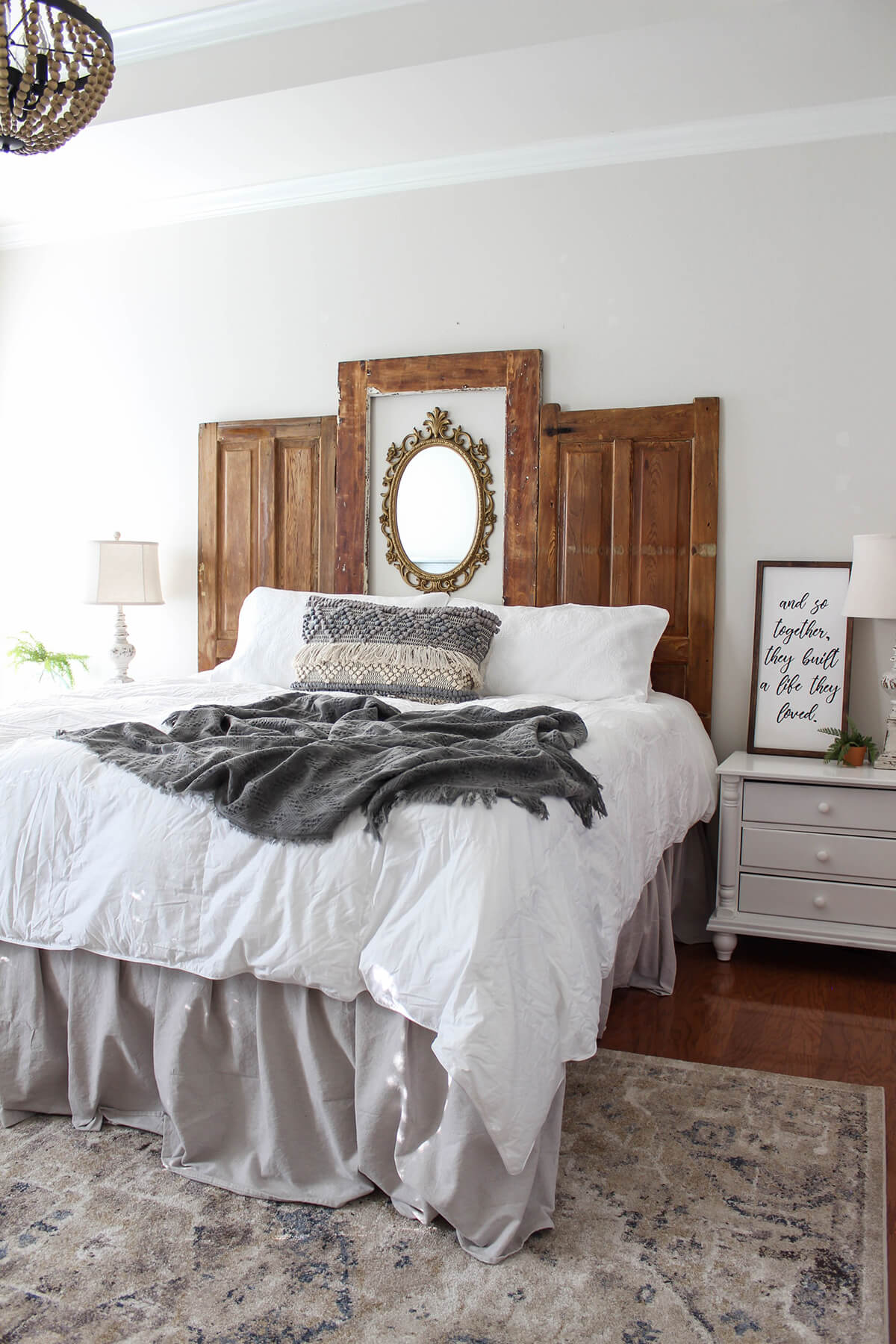 This amazing DIY project uses a number of doors andFrame to create a multi-story headboard with space for a decorative piece.This one has a mirror in the opening, but you can also use it for a picture, a wreath or a wall lamp.This unique look can be easily replicated.You can choose any door style and make your own unique headboard.
2.Rustic decorative door with wreath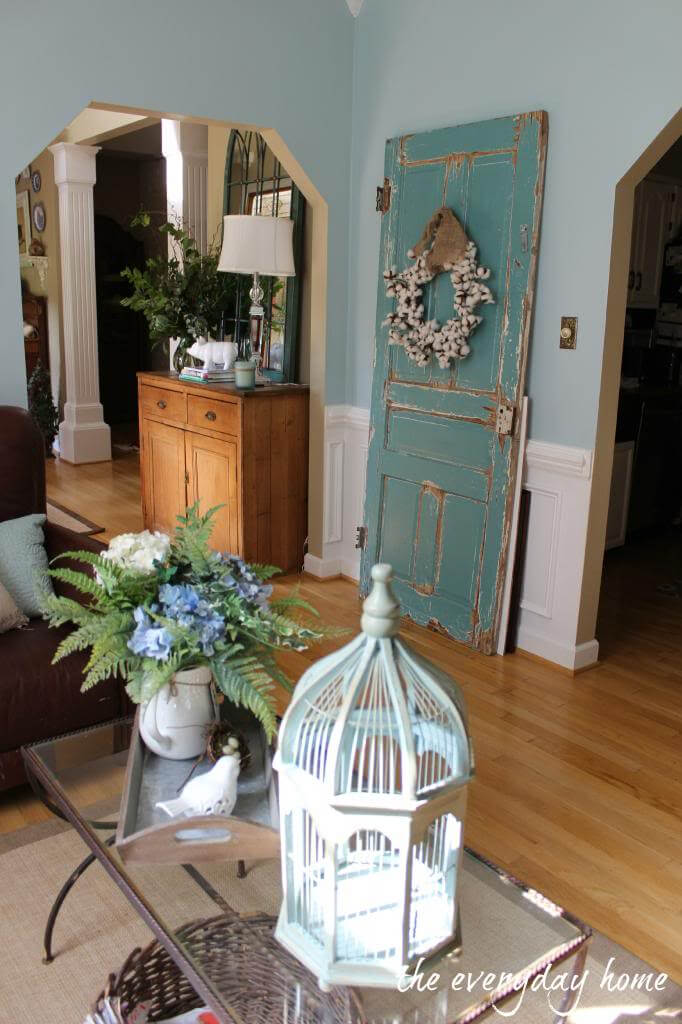 Sometimes a door is just so beautiful that it has no new purpose,but it has to be visible.This antique door has a rustic charm and is just a nice conversation piece.You may be lucky enough to find a door that is already looking weathered, but you can get this effect with some supplies too.
3.Screen Door with Wire Mesh Display Stand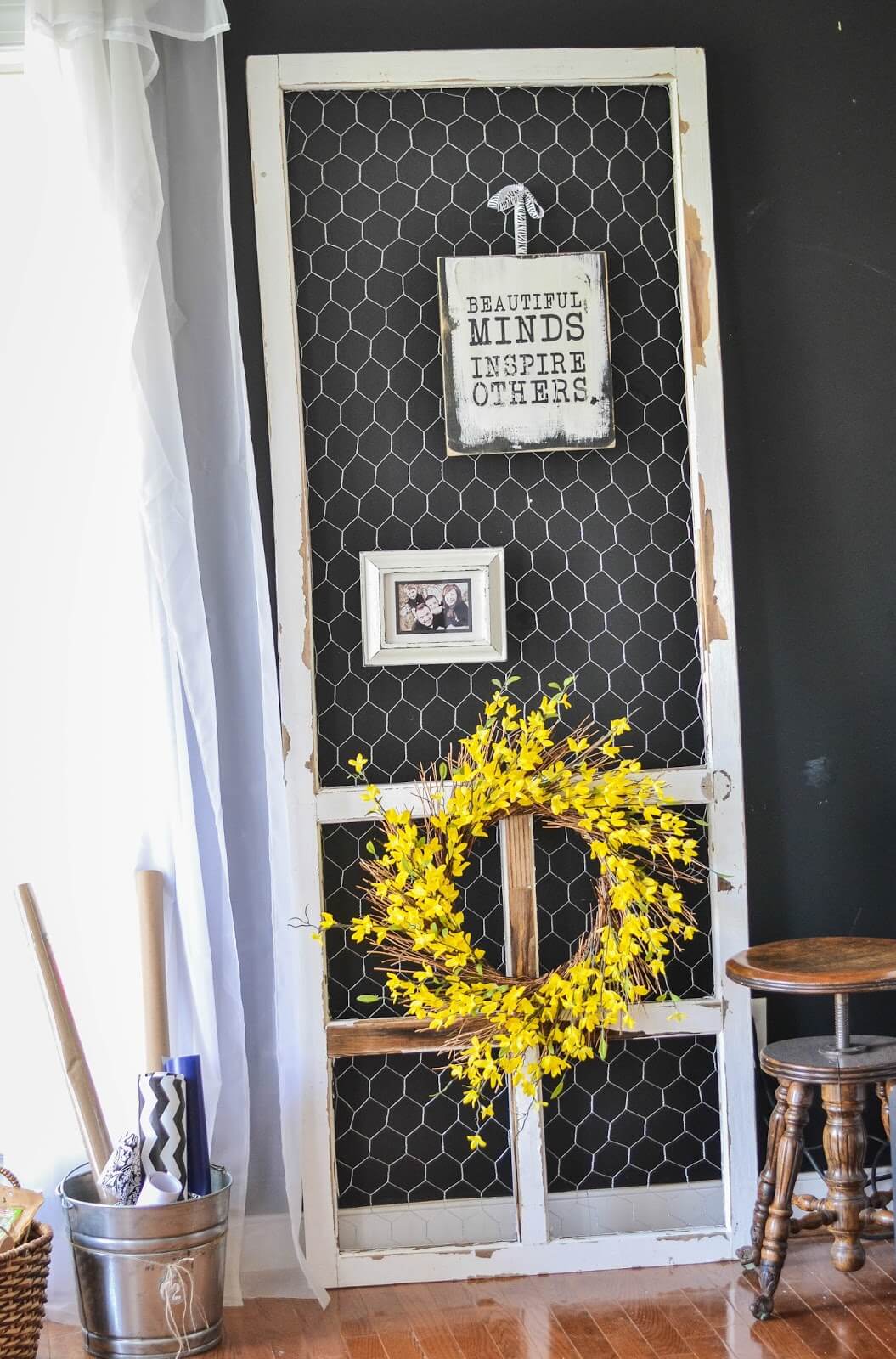 Turn an old screen door into a beautiful display stand with this simple tutorial.The chicken wire looks amazing, but it also makes it super easy to hang anything on.Painted signs with wreaths, hooks for hanging small decorative items, and clothespins with family photos look great on this beautiful display stand.
4.Antique door and bench combination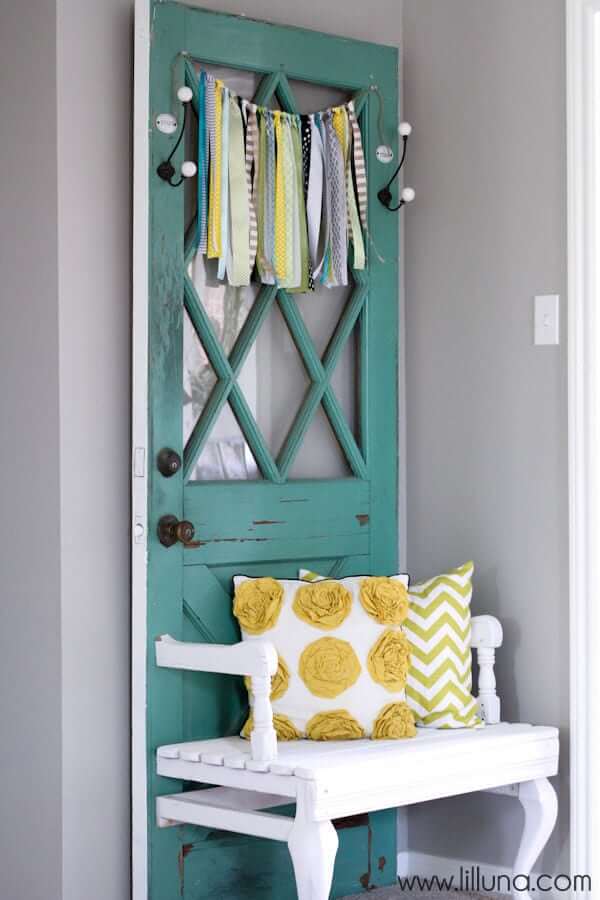 You can use a vintage door for this great DIY, or youcould use chalk paint with a crackling medium to give any door an antique look.Then follow this simple DIY to learn how to add a cozy bench.You can also add some hooks to the top to hang coats, hats or bags.The finishing touches include a fabric banner and pillows.
5.Door and Reclaimed Bookcases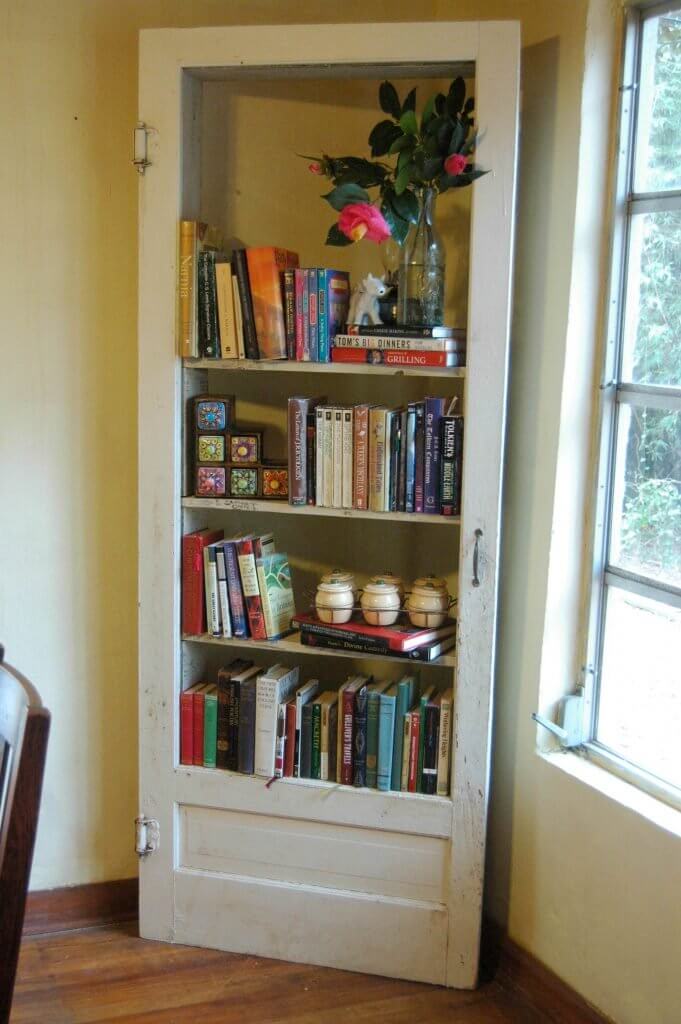 An old door was the perfect face for a wonderful corner shelf unit.Choosing different heights for the shelves added visual interest.As a corner piece of furniture, the door can come into its own from anywhere in the room.
6.If you want the look of old shutters without the expense, this awesome DIY shows you how to make fake shutters out of an old door.It only takes one afternoon and the end product looks amazing.
7.Door repurposed for ironing station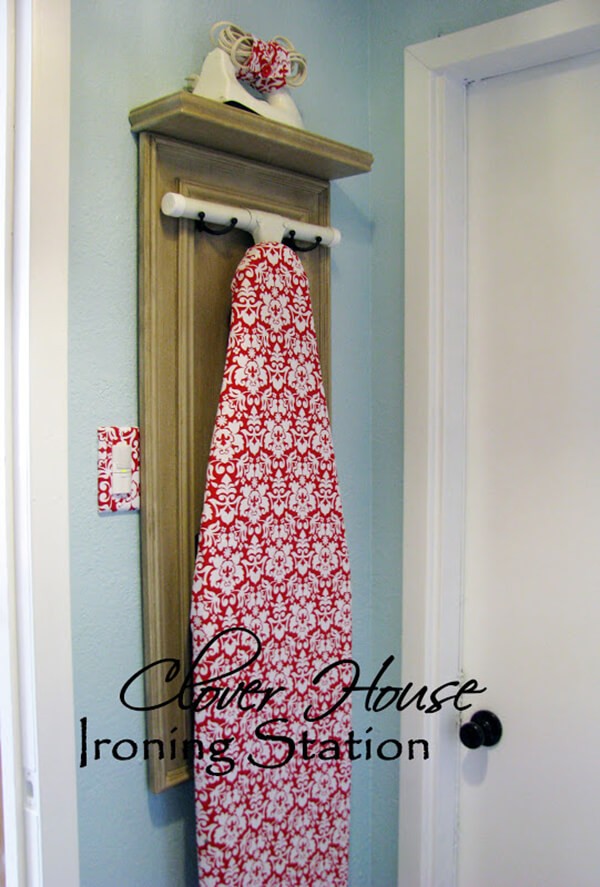 One of the best ideas for repurposed old doors is this fun andeasy DIY ironing station.With a few hooks to hold the ironing board and a shelf to hold the iron, this old door will quickly become a permanent place to hold your ironing board and iron.This one uses a closet-sized door, but you could use a larger one for a larger statement piece.
8.Outdoor table DIY with template details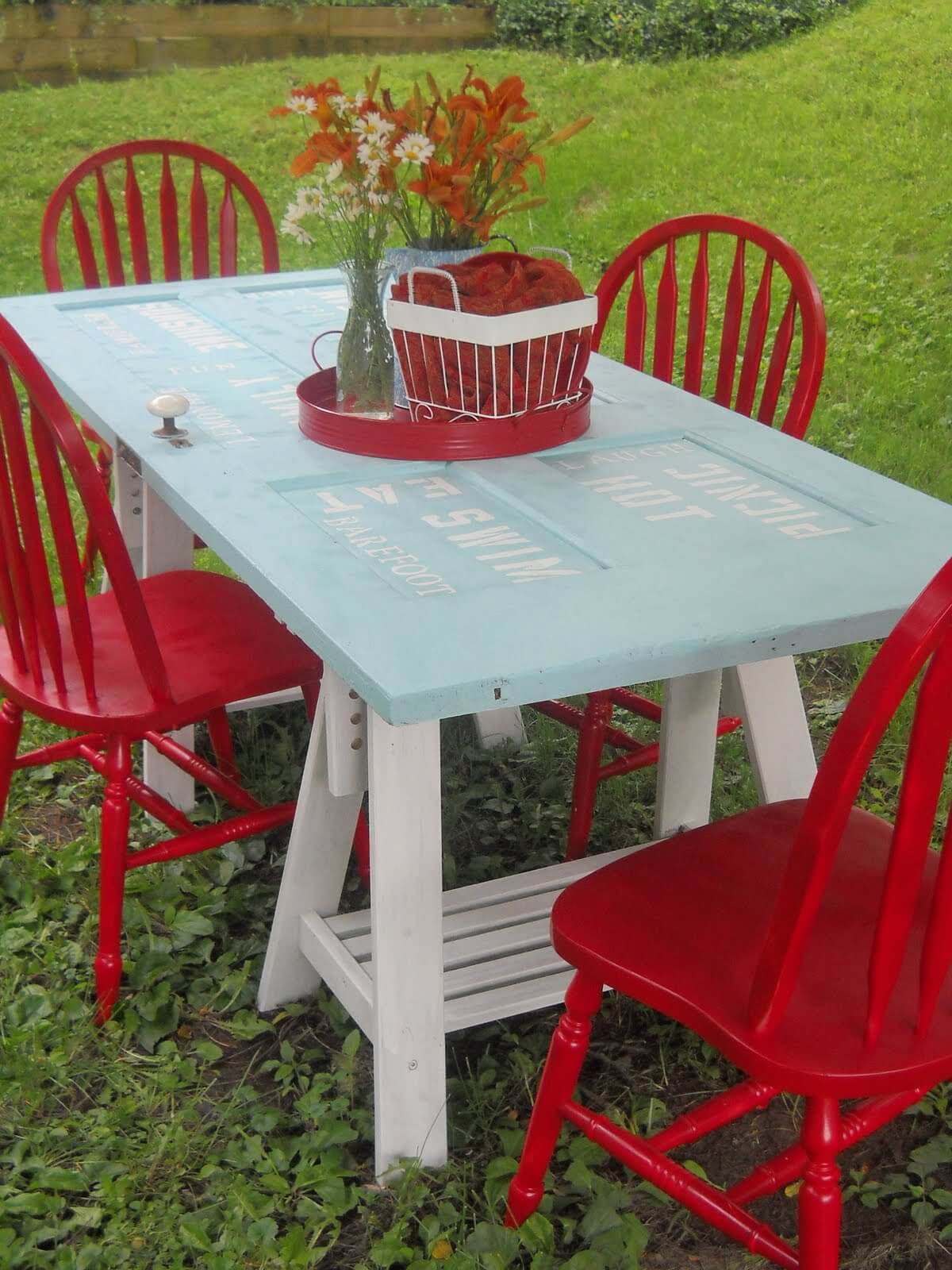 This tutorial shows another great outdoor table out of a door.This one has added some really funny templates to highlight the fun of summer.Everyone will feel welcome to hang out on the door for the summer with words like friends, picnic, ice cream and relaxation.What a fun way to bring family and friends together.
9.Jewelry Holder from Old Door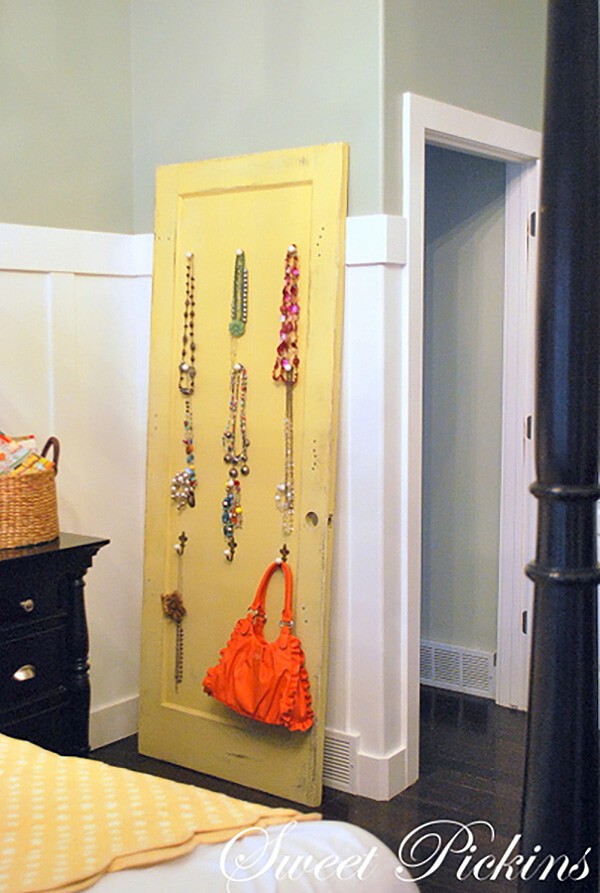 This is a great idea, especially if you have jewelry with you larger pearlsthat may not fit well in a small jewelry box.Just add a few pins or hooks to the door to hang necklaces, bracelets, and even bags.Not only is it functional, but also a great decoration with all that beautiful jewelry.
10.Weathered Bench with Reclaimed Wooden Door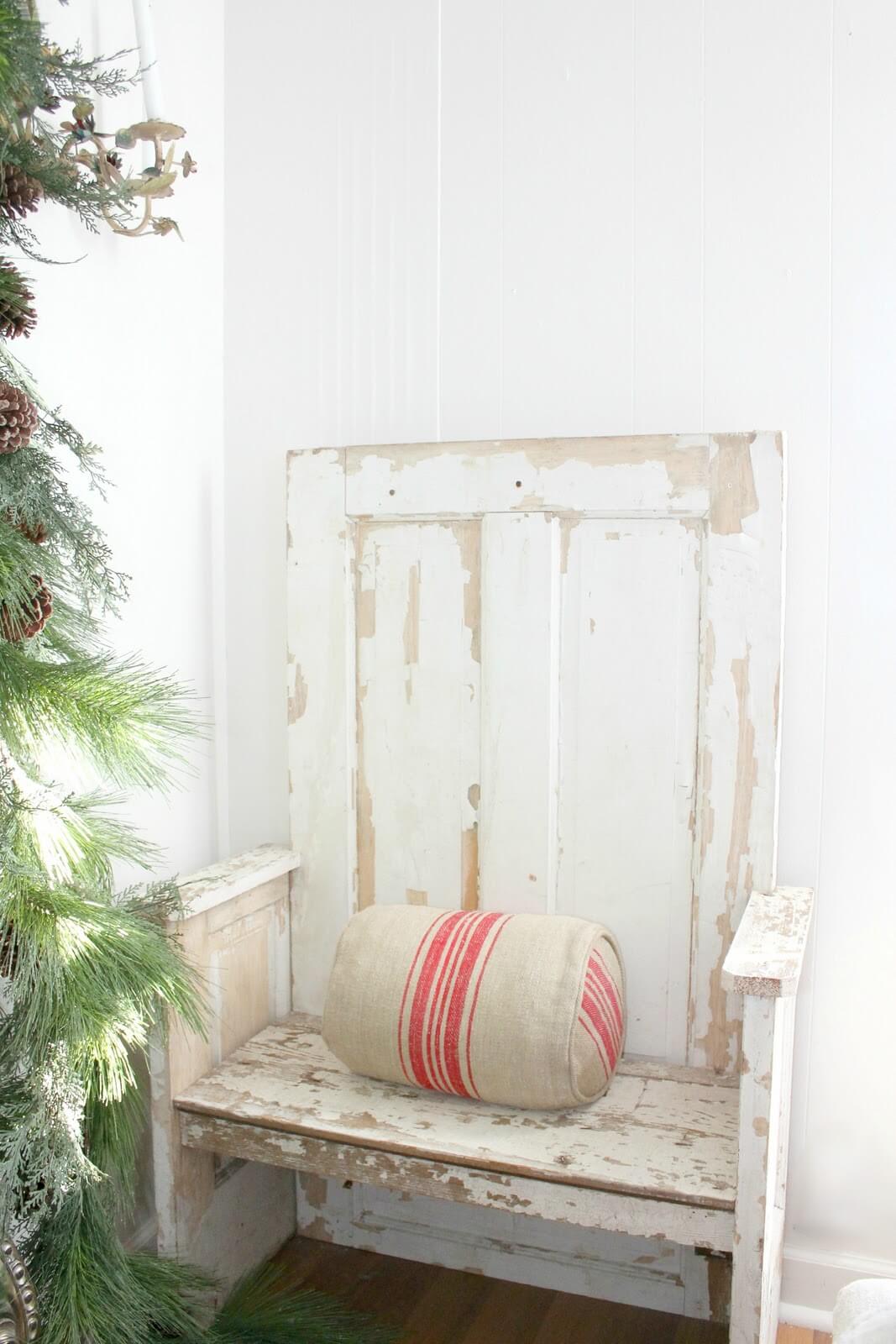 This rustic wooden bench looks fantastic with its weathered style.You can start with a weathered door or use painting techniques to achieve the effect.You can easily see the parts being cut and assembled.Maybe add a pillow if the seat is well weathered so it doesn't get caught on clothing.
11.Upcycled Door with Blackboard and Shelf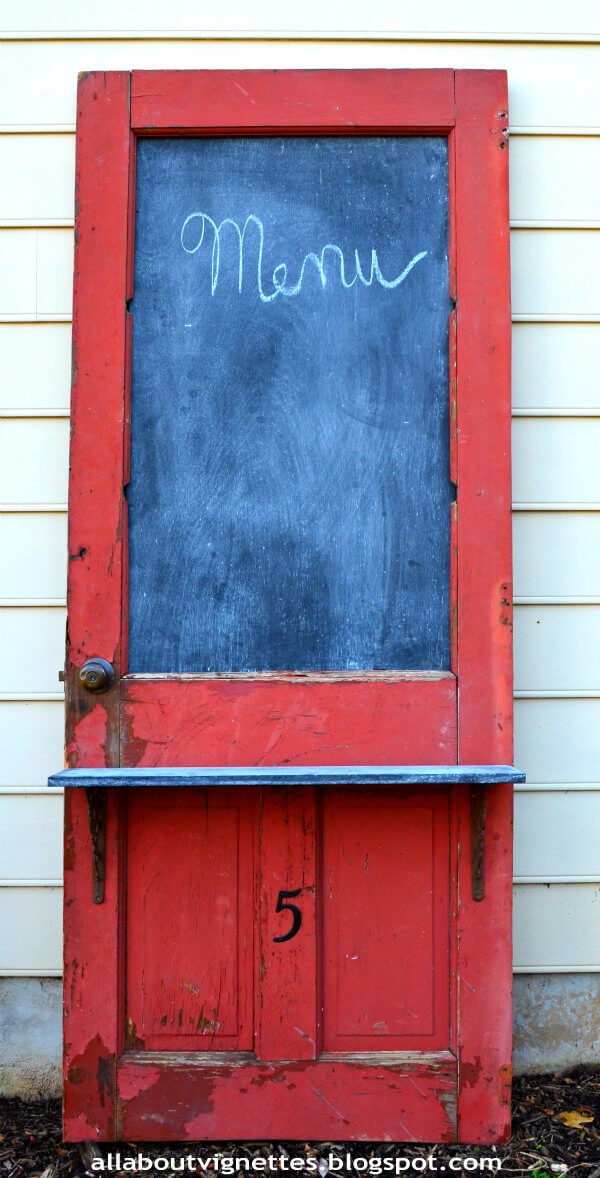 This piece would look fantastic outside of a quaint restaurant.The window part of the door is replaced with wood treated like a real blackboard.Underneath there is a practical shelf for a small bucket with chalk, plants or potted flowers.Follow this fun and easy DIY to learn how it all comes together.
12.Barn door converted into an outdoor table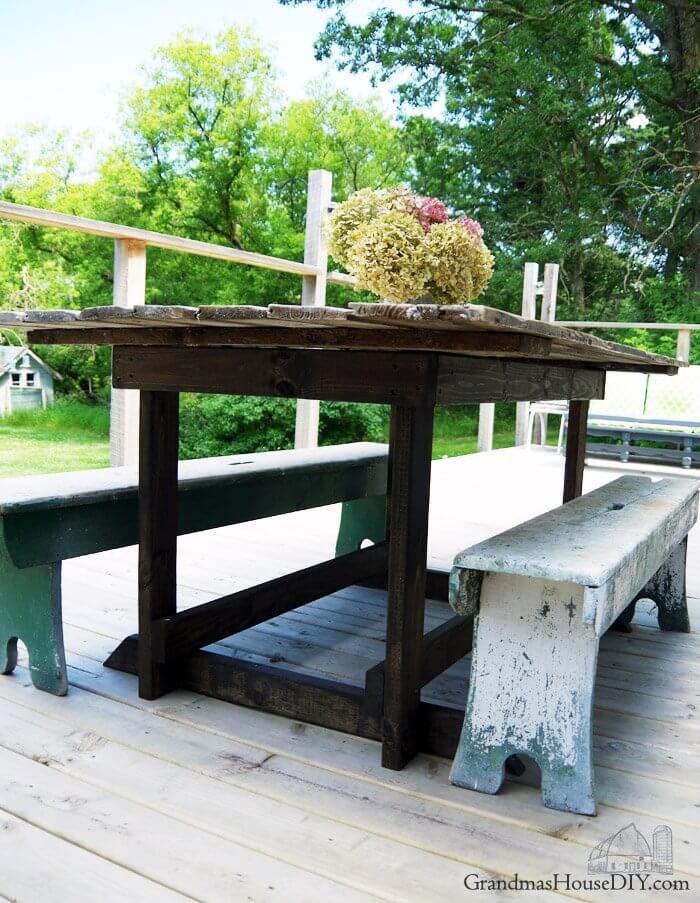 This outdoor table looks fantastic with its reclaimed barn wood.It would be a great DIY project over the weekend.This tutorial is great because it shows you how to keep the base small and the table large so you have more legroom than many other tables.
13.DIY headboard from old wooden door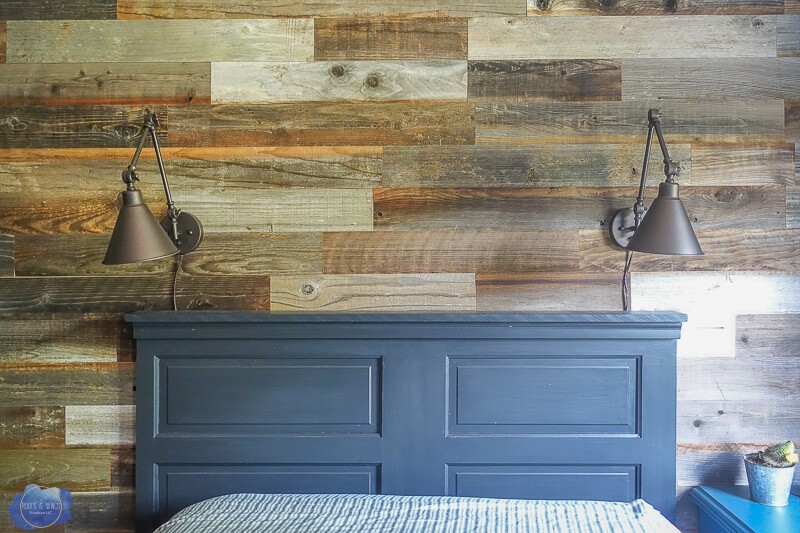 Headboards can really make a statement in your interior, but they docan also be pretty normal and boring, unless you want to pay a lot. Veranda swing out of old door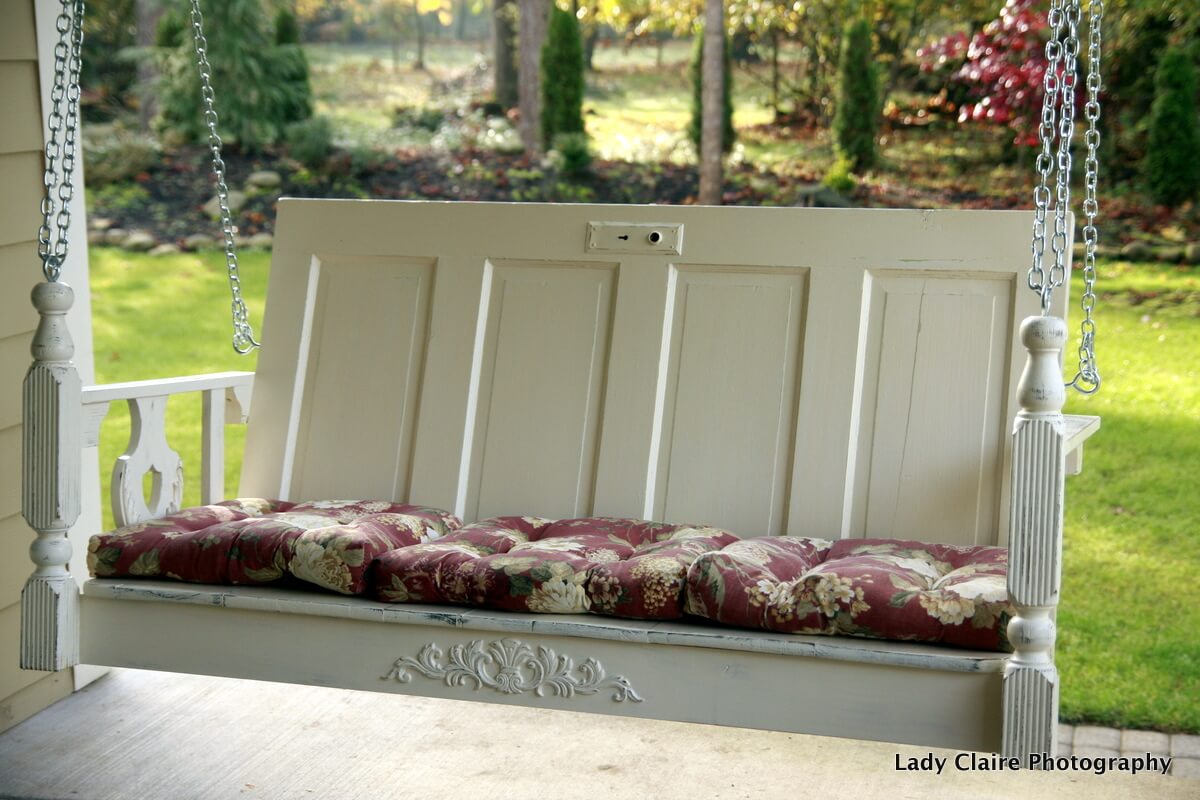 The back of this porch swing is made from a beautiful antique door that was no longer useful to the owner.He combined it with a tabletop for the seat. The table legs were used as posts for the armrests.This DIY shows that you can make absolutely gorgeous new furniture out of old furniture, so hold onto those old doors.
15.Upcycled Wooden Door Sill DIY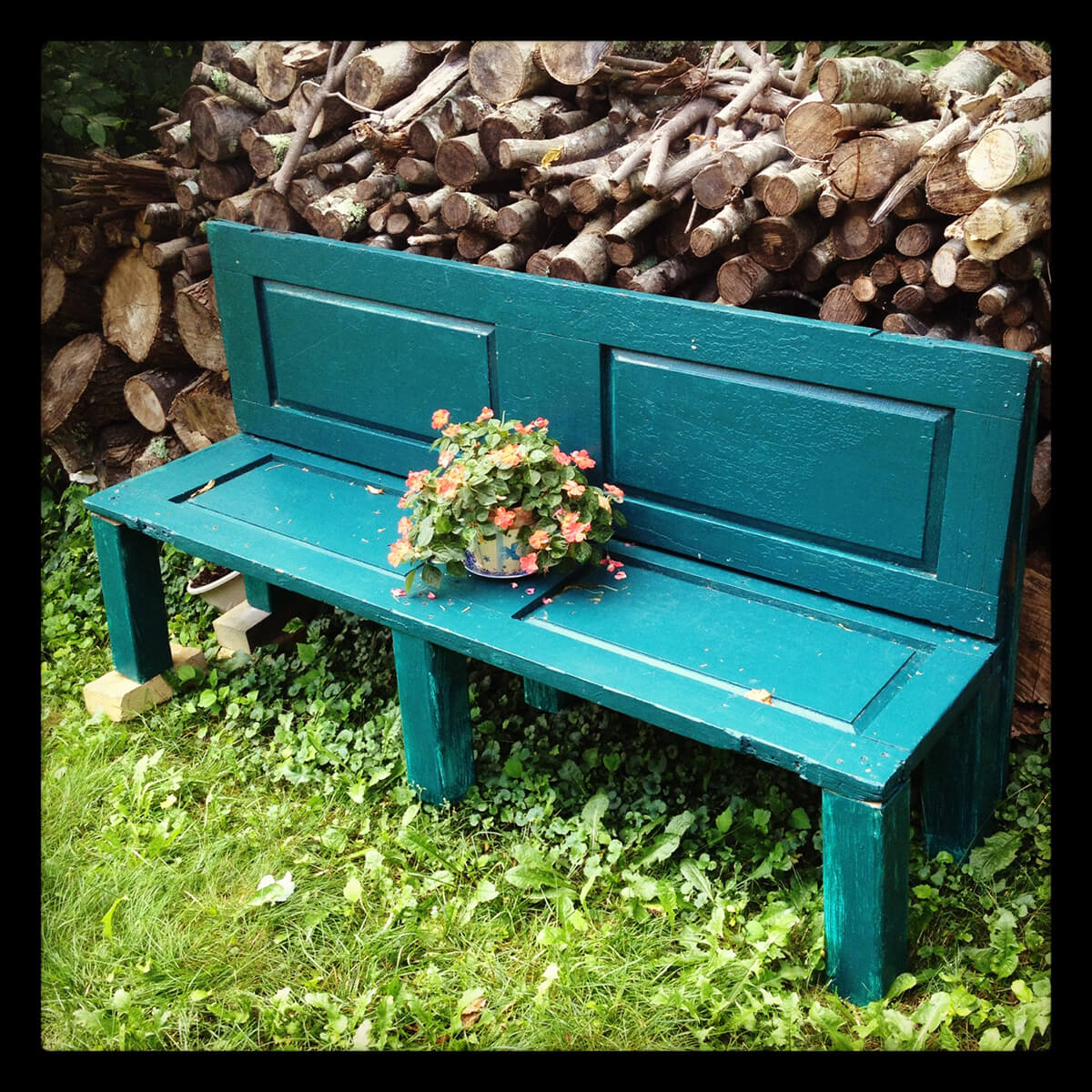 This wooden door has been turned into a beautiful new wood bench.It's amazing what you can achieve with doors cut in half.This tutorial will show you how to use the door to create the seat and back of the bench.Even the legs have half a second door.It's beautiful, sturdy, and ready for a guest.
16.Crafting table from an antique door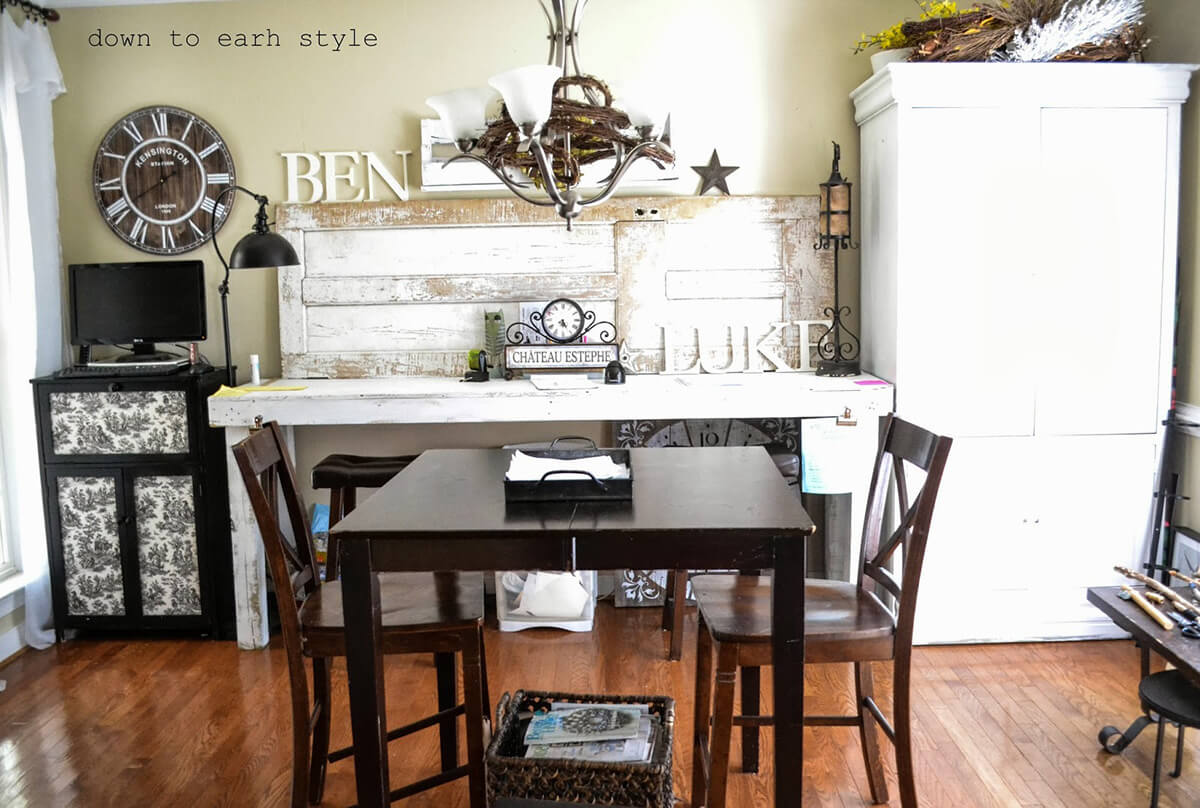 This crafting table is unique.An old bench style work table has a thin door in the back.This makes a lovely backdrop so it's stylish enough to leave in the dining room, but it also provides space to brainstorm while you work on your crafts.The finish is weathered so tape and pins will work fine on it.
17.Outdoor privacy screens with old doors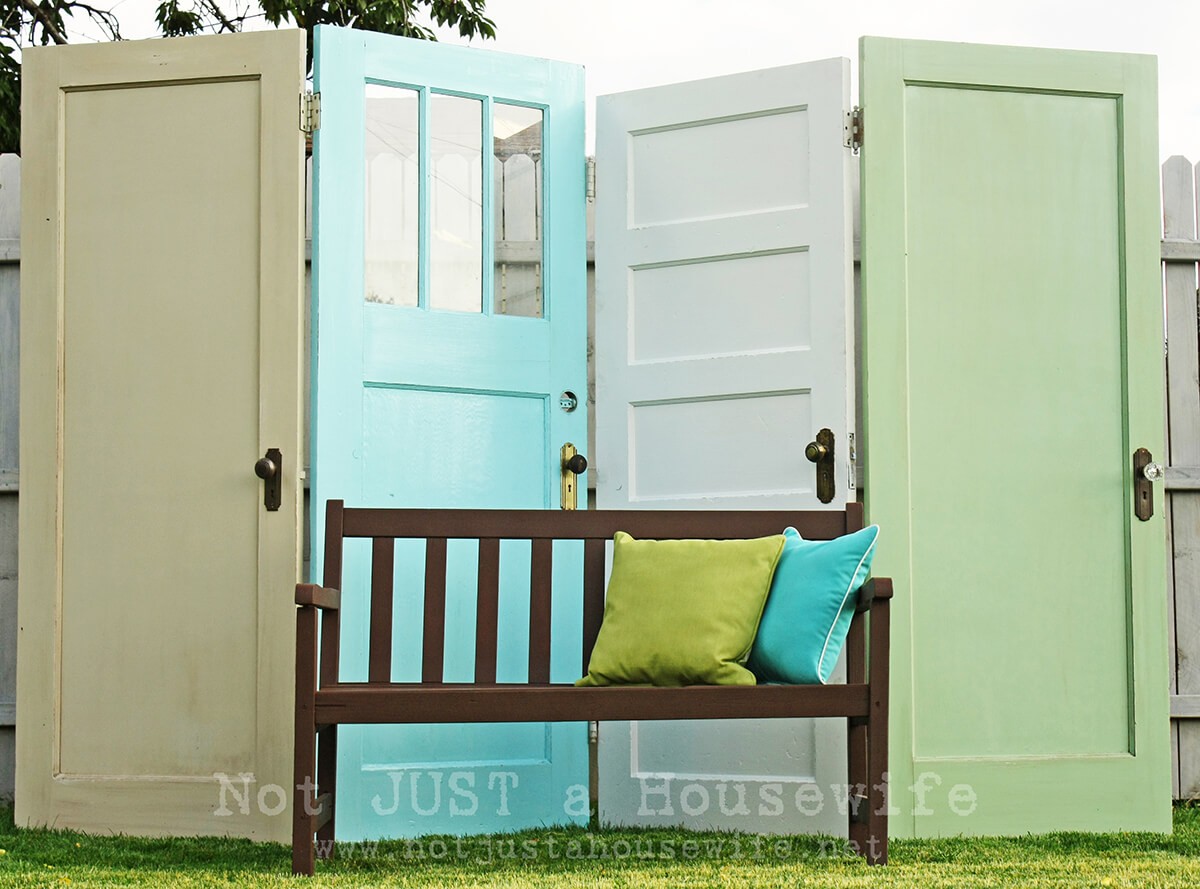 Outdoor privacy screens are nice for dividing up or closing your gardenseparate the barbecue area from the children's playground.This DIY uses four unique doors and some hinges to create an awesome folding screen.They made each door a different color, but you can do the same color if you'd like and maybe even add some weathered details.
18.Wine rack made from a converted door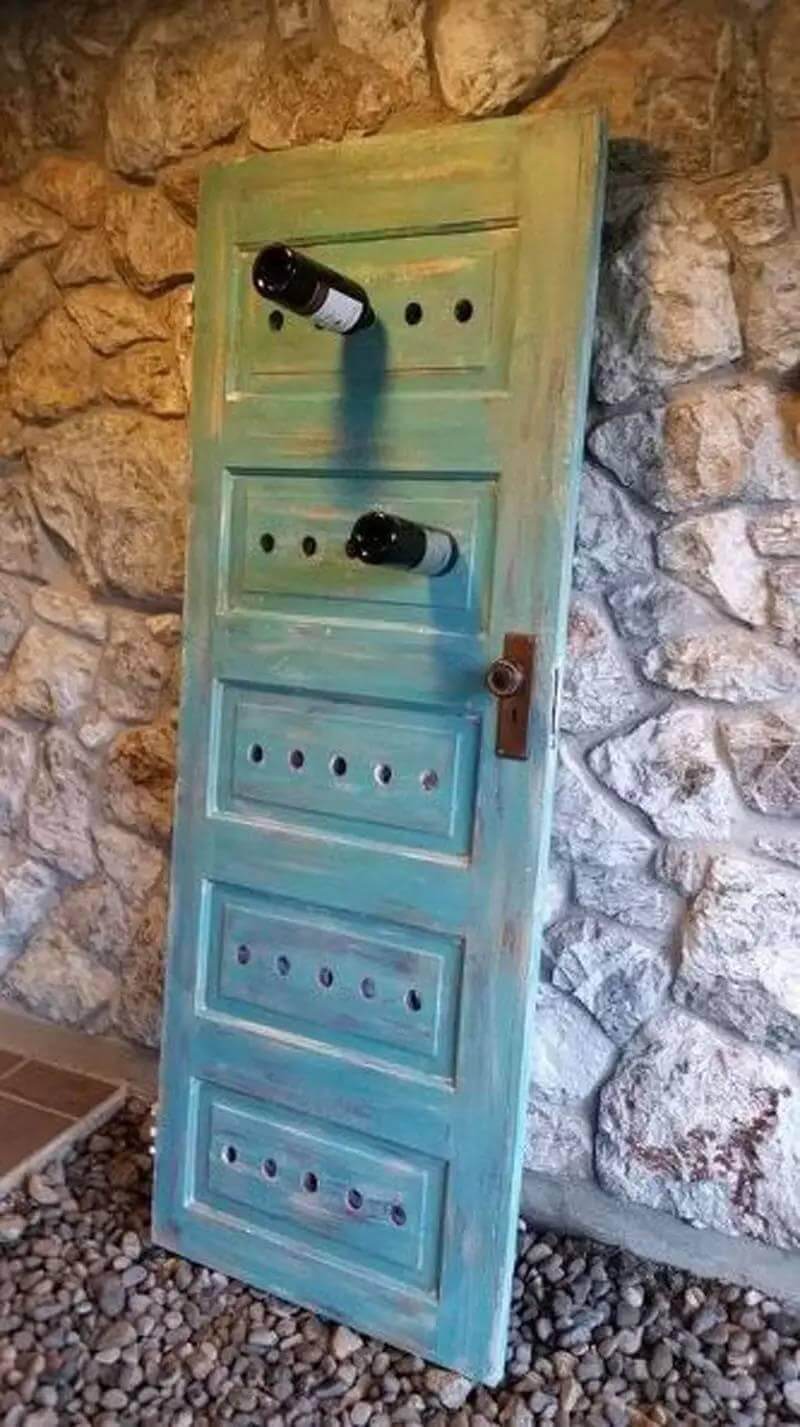 This unique wine rack consists of an old, interesting door and some holes.You can completely recreate one of these for your home after this simple DIY.Pick one you love, drill a few holes, and lean it against a wall.
19.Bar or counter upcycle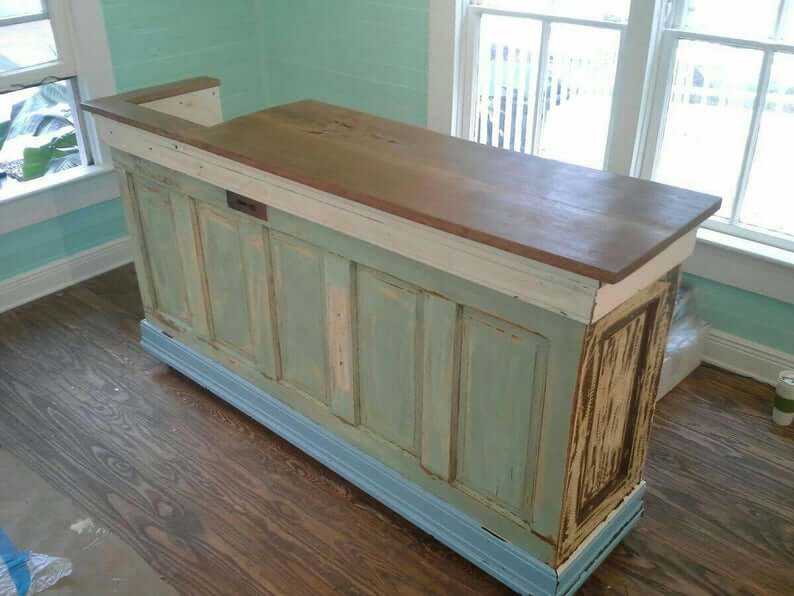 This beautiful product is sold on Etsy andis made to order.You specify the dimensions and other settings.The artist will work with you to create a beautiful product just for you.They'll have it ready in just three to four weeks.This is a great way to get a beautiful upcycling wooden door without having to do it yourself.
20. The old front door has been converted into an eye-catching barn door red pantry sliding door.The pop of color makes it the focal point in a room painted in more neutral tones.The door is also interesting with its rounded top and the original letter slot.The windows let in natural light when a solid door wouldn't.
21.Gothic door desk with dressing table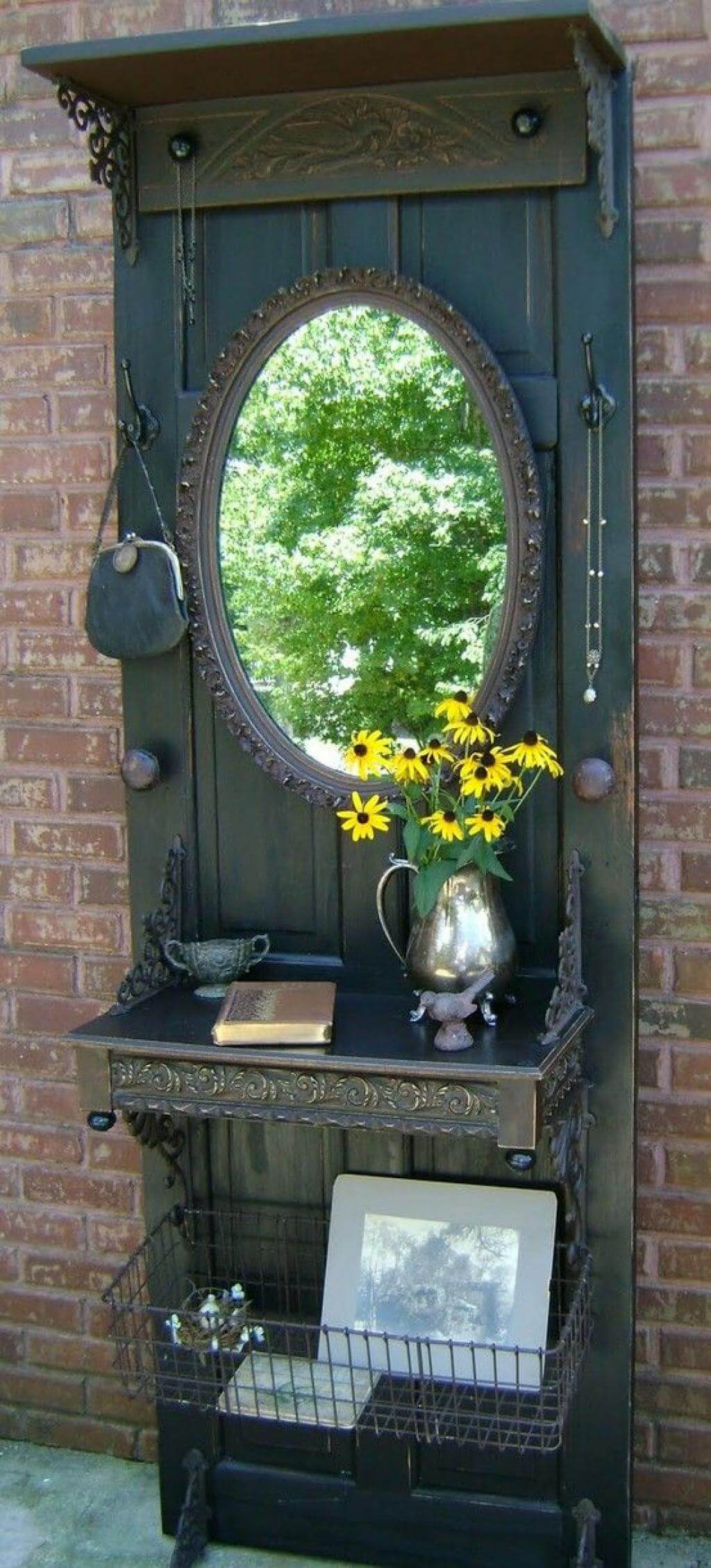 Vintage door reinvented as a dressing table, and storage area.The oval mirror adds to the antique flair as does the deep color and worn color.The wrought iron brackets add to the vintage farmhouse look while keeping the desk and wire basket in place.The worktop, basket and shelf at the top of the door provide storage space or space for other farmhouse decors.
22.The converted old door becomes an airy ladder-bookcase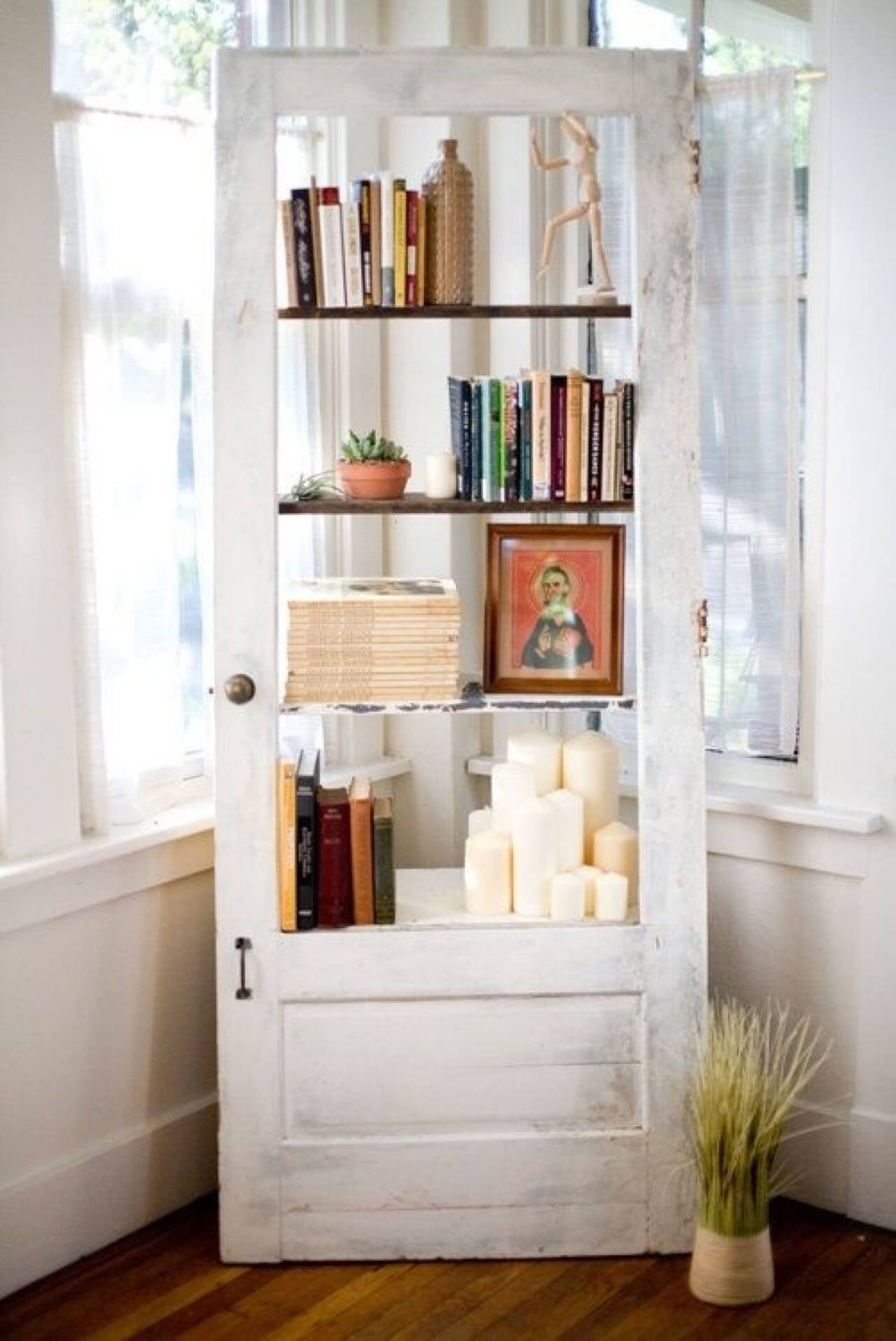 By adding shelves whereOnce the panes of glass were, this was The discarded door has been turned into a beautiful corner bookcase.The original hinges have been left intact and the paint has been worn to keep the door's vintage look.A unique way to expand the country house style in unexpected and creative ways.
23.Elaborate, sturdy door shelf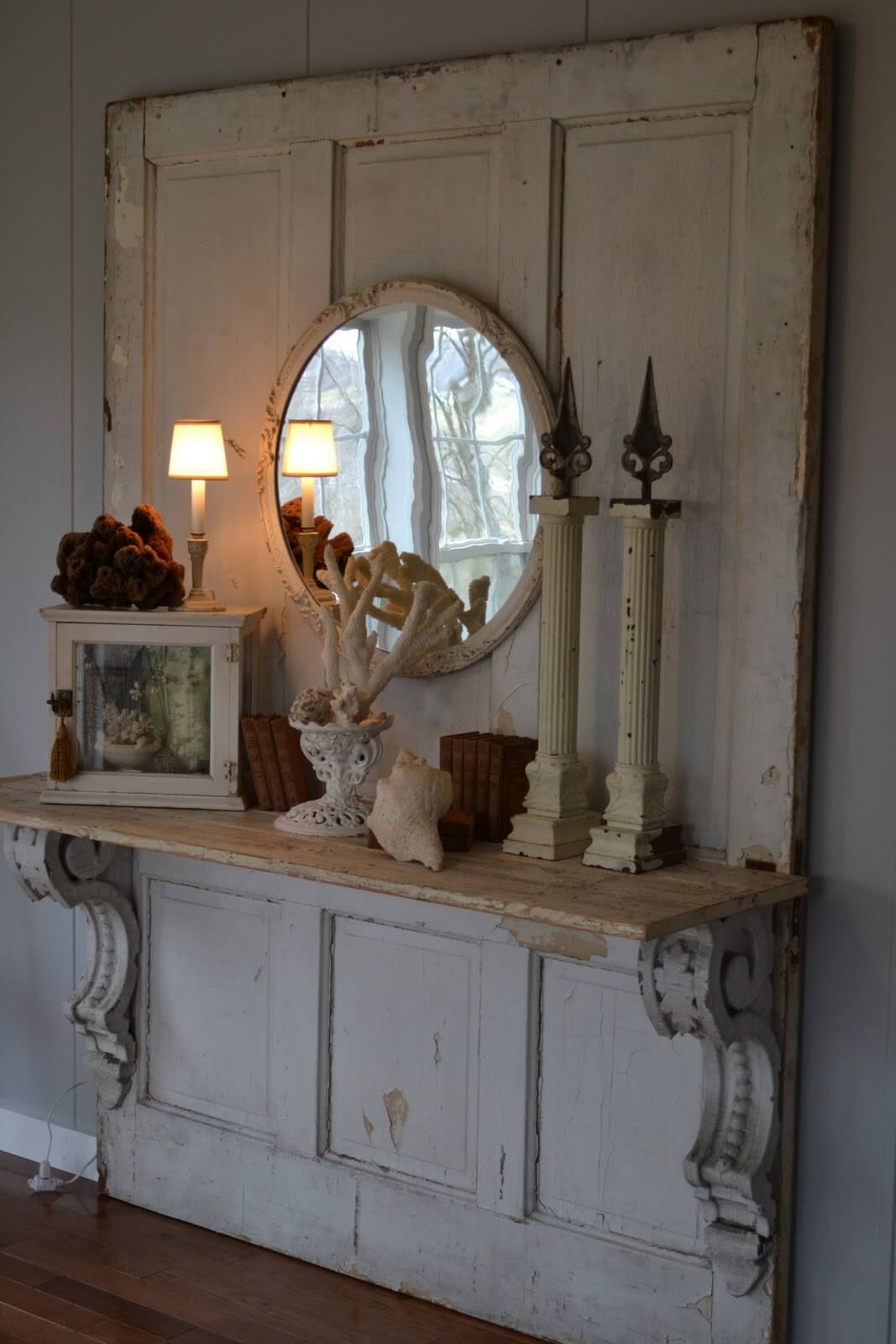 Once a sturdy door, now converted to a coatresemble.The original paint has been retained and is peeled and cracked for a real vintage feel.The door was attached directly to the wall and a presentation shelf adds to the coat look.The oval mirror reflects the light and the shelf can be decorated to match the style of the house.
24.China Cabinet Photo Frame and Coat Rack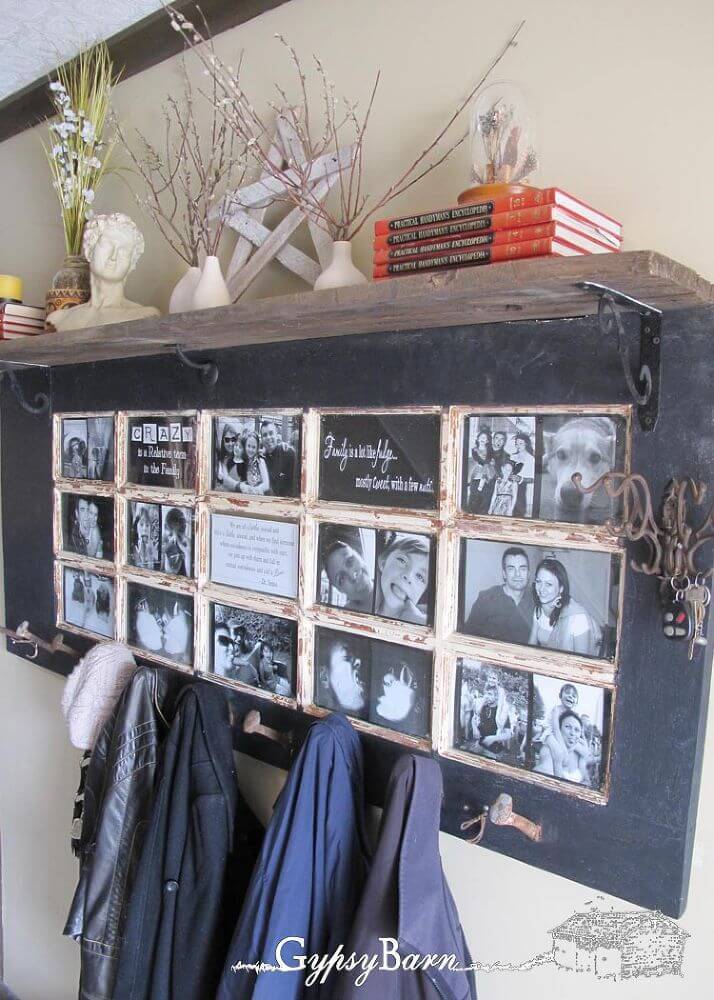 An old door turned sideways turns into a picture frameand wardrobe that is fun and functional at the same time.A shelf was attached at the top to present more pictures or decorations.There are practical key hooks on the side and coat hooks on the underside.This is perfect near the entrance area as it gives easy access to the things your family needs when they leave the house.
25.Classic full-length panel-framed mirror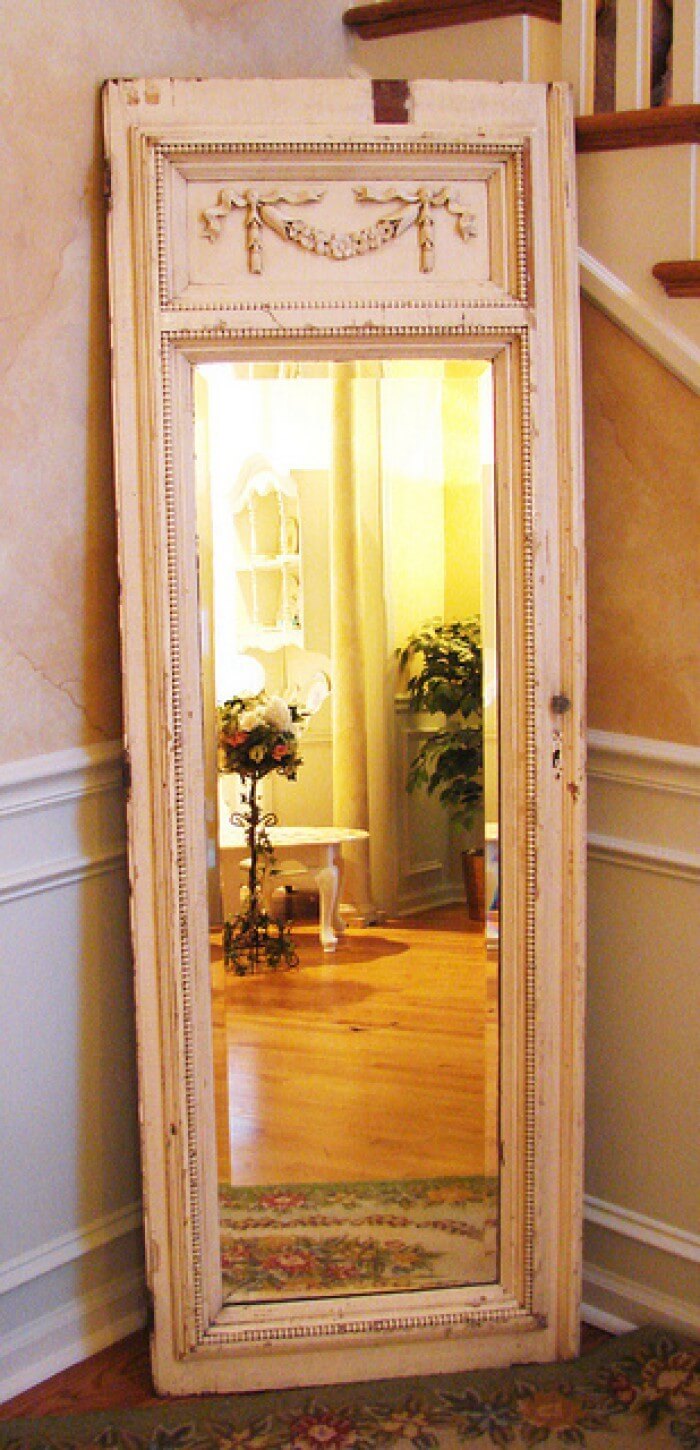 Ornaments on the top of this converted door give it a Victorian feelFlair.The floor slab was replaced with a full length mirror.This gives an entrance area, bathroom or bedroom charm and functionality.The original hinges have been left intact and the cream-colored used look is neutral to blend in with any color scheme.
26.Rustic main bed headboard with five double doors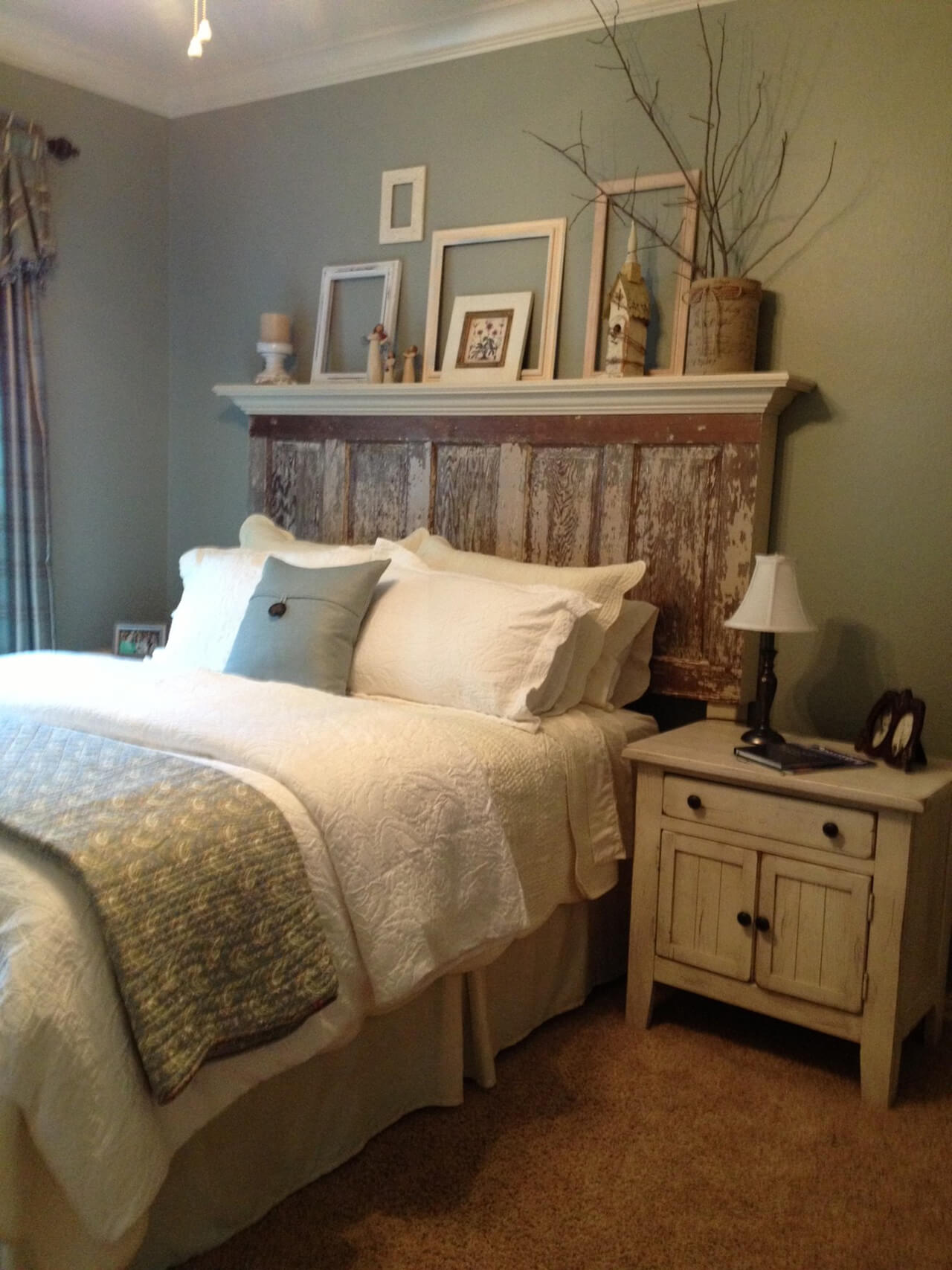 Sanding and reworking an old door to make it uniqueCreating a headboard is another way to add style and personality to your bedroom. The used color in neutral colors goes with almost any color scheme you've chosen.
27.Intertwined Gothic lattice door made of glass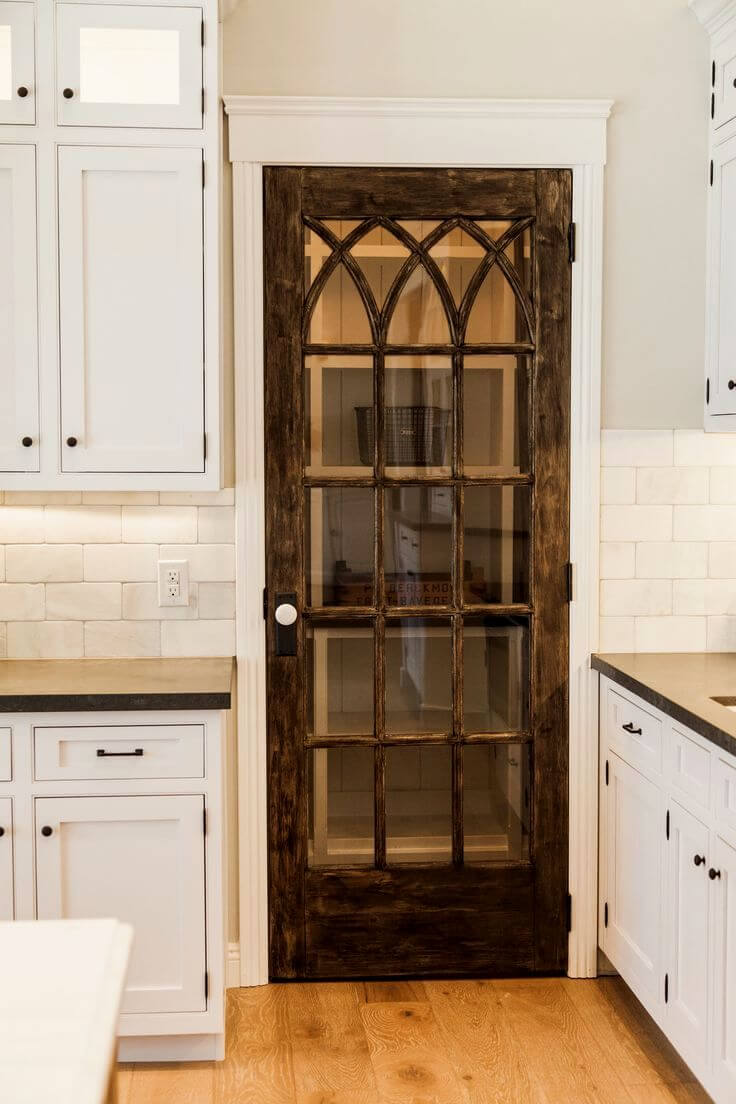 This Gothic lattice door was reworked to serve as the pantry- The door is stained dark brown to reinforce the wood grain.The glass panes are decorative and allow a look into the pantry itself. The glass also lets light through and gives an otherwise common pantry entrance a unique flair.
28.Cabinet door made of six panels becomes a relaxing garden bench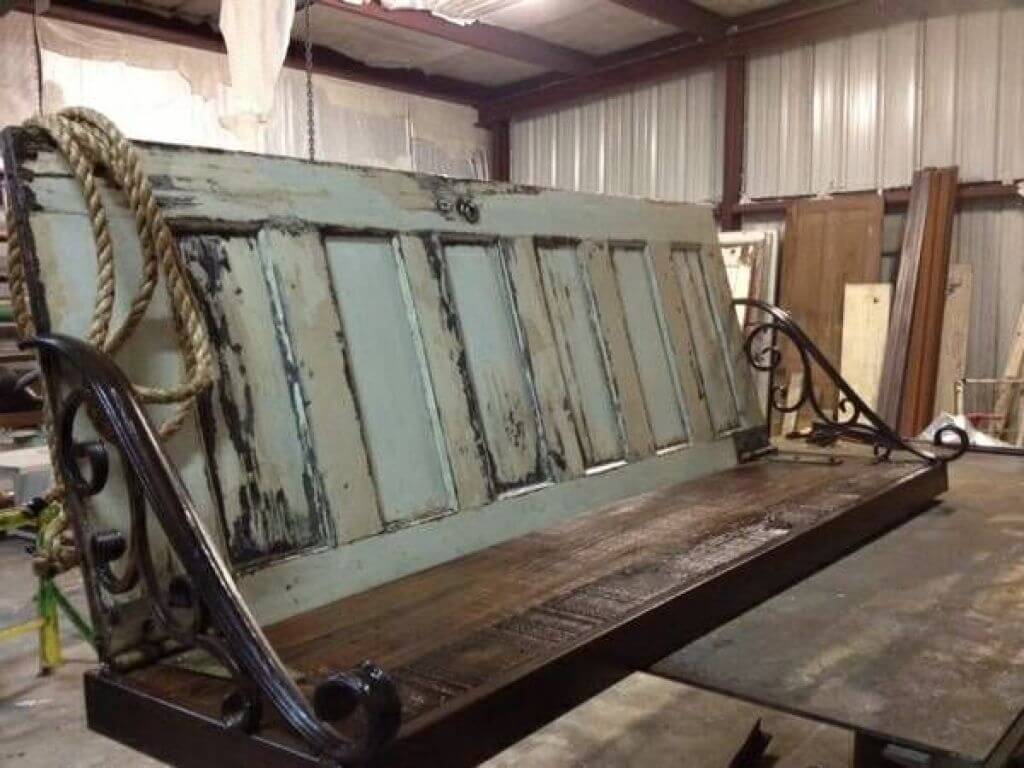 Innovative creation of a rustic garden bench from an old door.The seat is attached to the actual door hinges and wrought iron armrests add to the look and comfort of the bench.The worn paint adds to the vintage look and the bench would have to be treated to withstand the weather.
29.Crawl Space Entry became a coffee table with storage space

A rescued crawler door became a coffee table.The additional shelf on the underside offers storage space for books, games or additional pillows.Wheels have been added to the bottom of the table to make it easier to move around if necessary.Worn paint adds to the vintage look of the portable coffee table.
30.Wrought iron office door with scroll window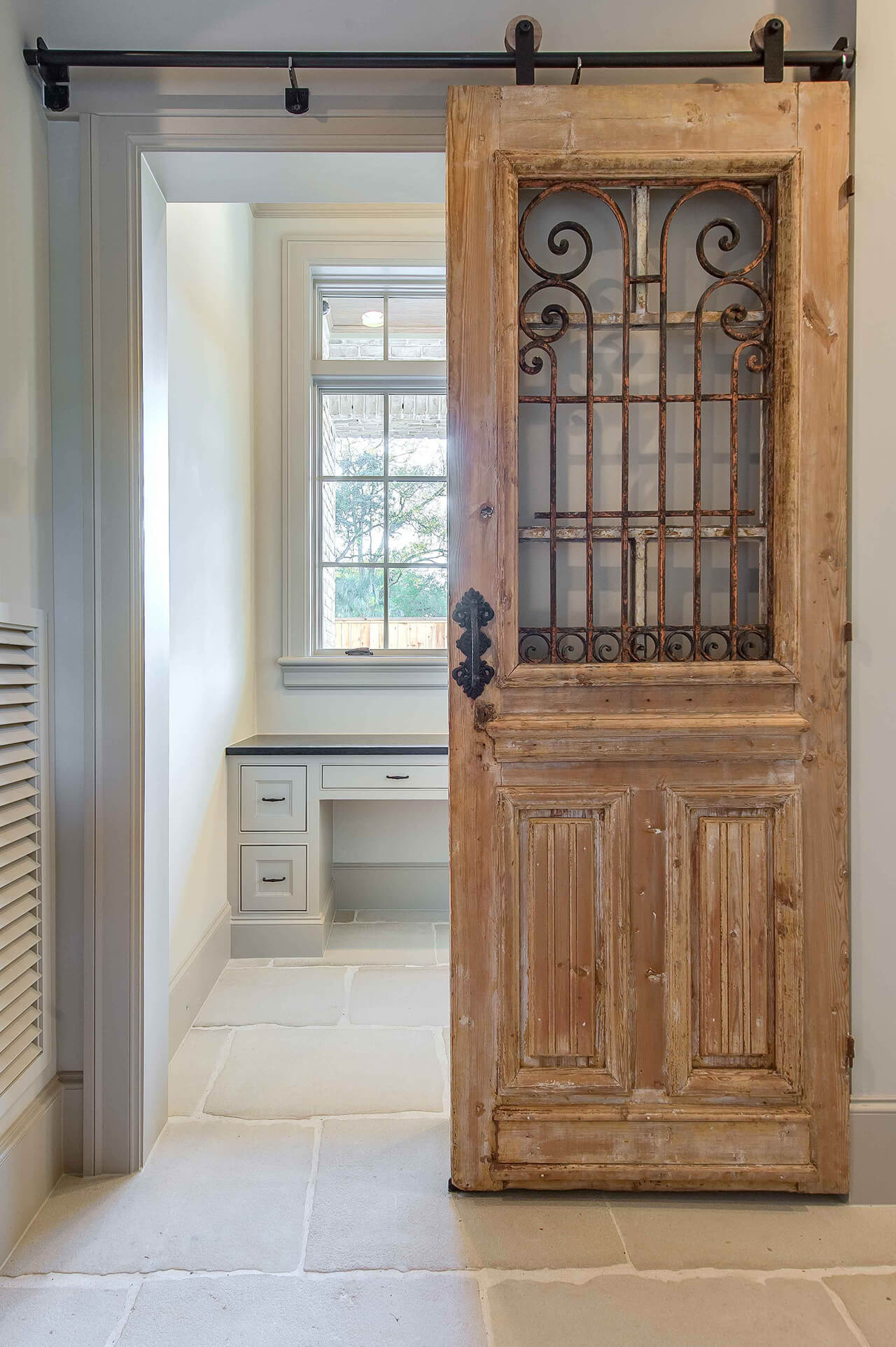 Beautiful wrought iron scroll door has been turned into a sliding doorOffice door.The stripped appearance of the wood reveals the imperfections and reinforces the antique look.
31.Ornate Victorian Mill Door Frame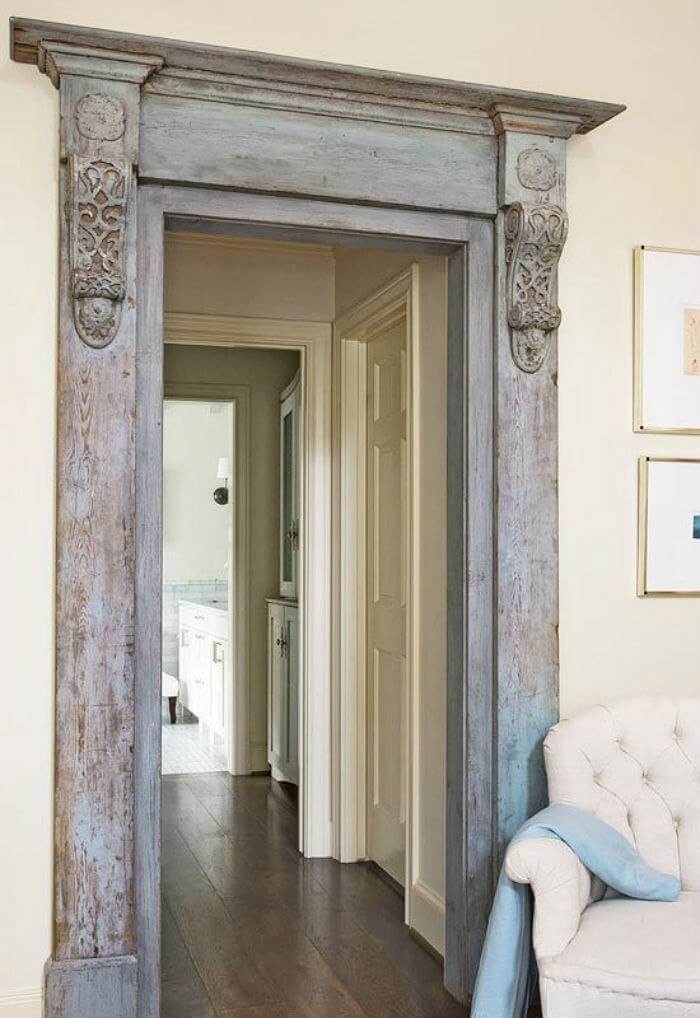 Make the door to any room more interesting with this ornate VictorianDoor frame.Elaborate scrollwork above and reworked to bring out the original wood.Also makes the entrance to the room an eye-catcher.This Victorian door frame adds elegance to your home design and interior.
32.Cozy sofa with Dutch Diamond Door Back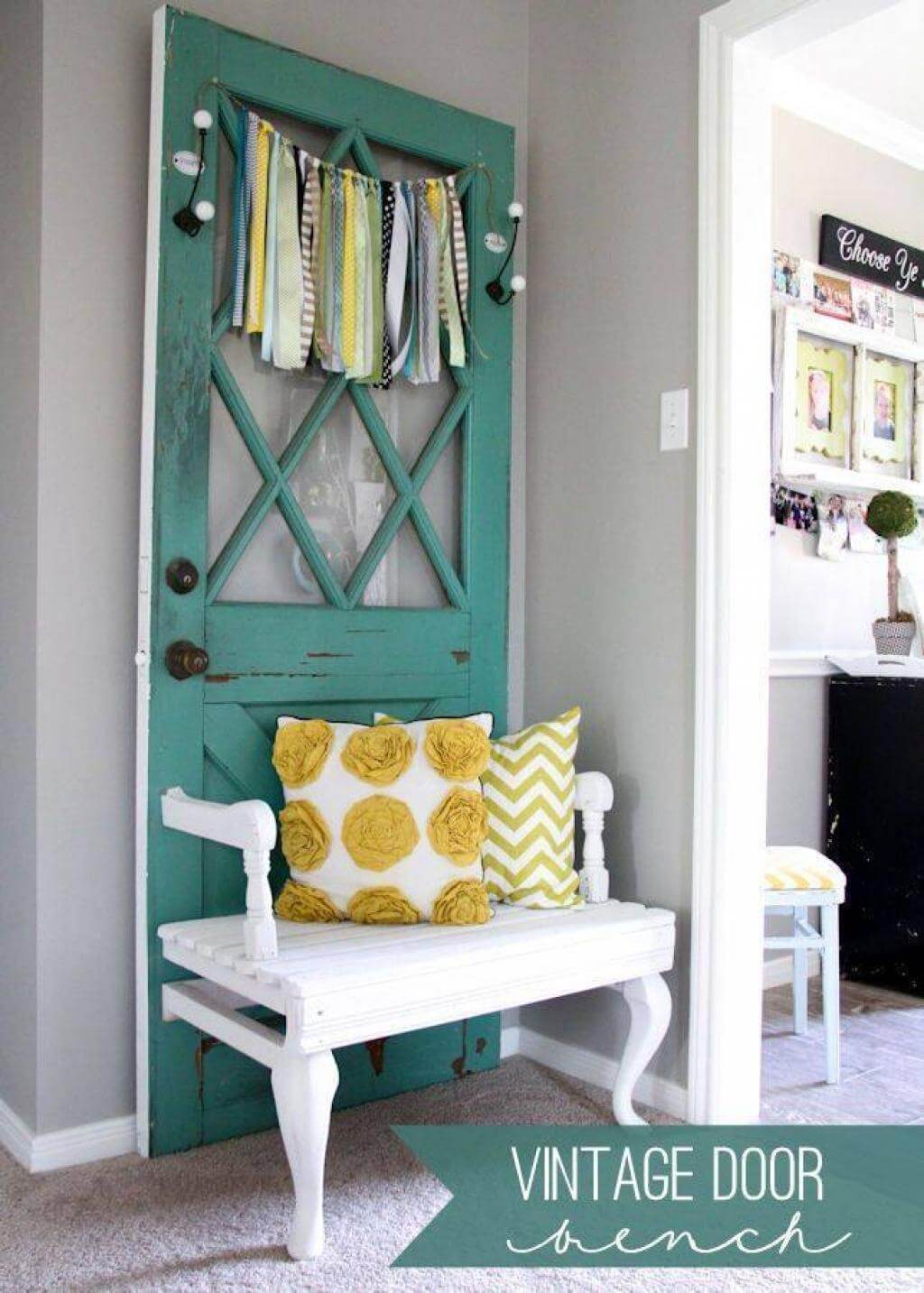 Turn an unused corner of the house into a charming seatArea or reading corner.A bench was added to the bottom of the bench while retaining the original glass and doorknob.The decorative swag and the throw pillows add a touch of humor.The used look paintwork corresponds to the vintage decor of the farmhouse.
33.Office delimited by hanging French door panels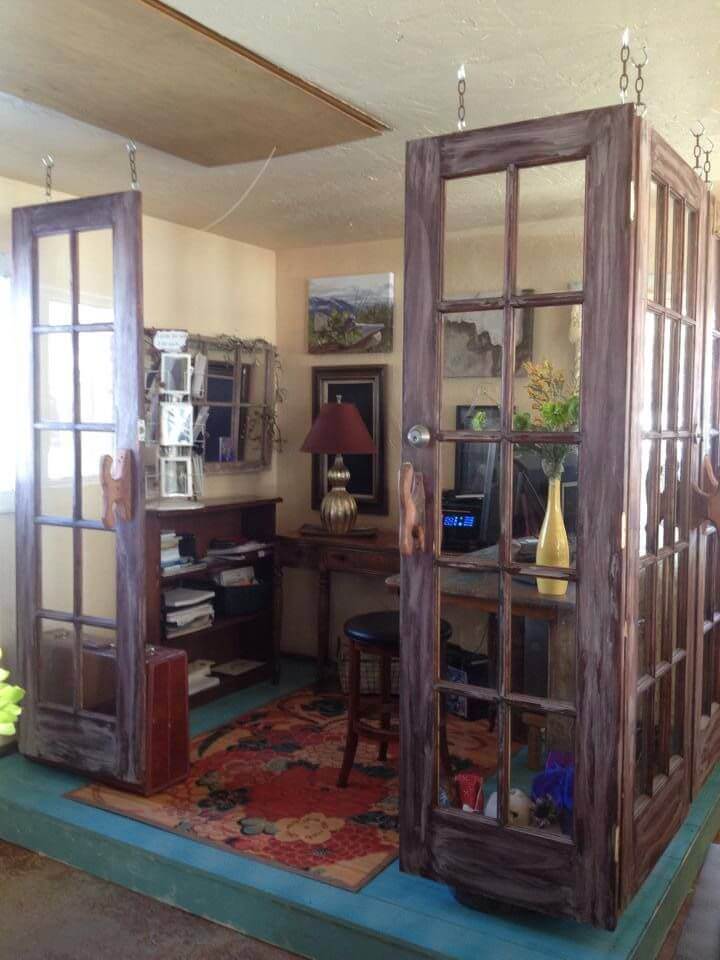 A home office is separated from the ceiling by hanging French door panels.This describes the room as a work area without turning it into a cramped and dark office. You can be productive without being isolated from the rest of the house and the action.
34.Repurposed Hutch Door Living Wall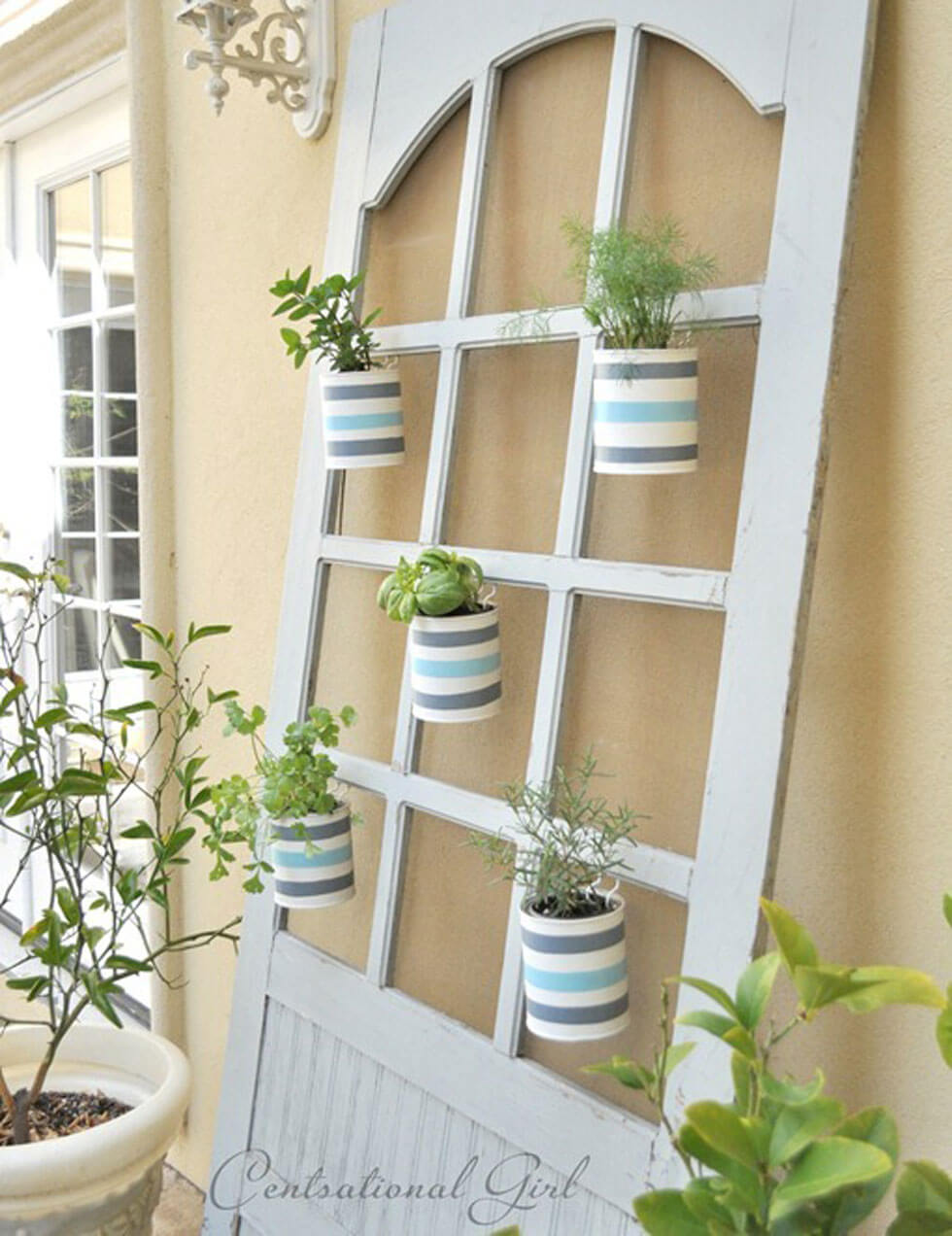 Expand your yard or porch by removing an old doorin a decorative planter.Make sure you use exterior paint or treat the door to protect it from the elements.Attach pots to the window frames and plant seasonal flowers for year-round enjoyment.
35.Old Fashioned Classroom Doors Message Center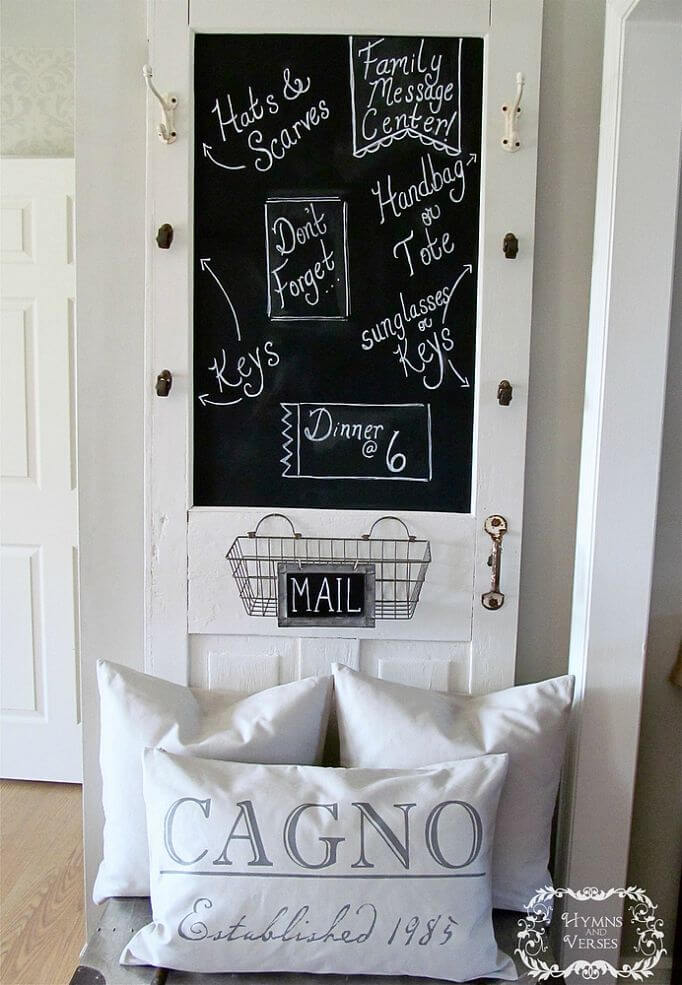 Turn an old door into a fun and functional family news board with blackboard paint.Additional hooks for keys or sunglasses and a wire basket for mail add to the functionality.At the bottom there is a bench for putting on and taking off shoes on the door.
36.Illuminated shelf with vintage door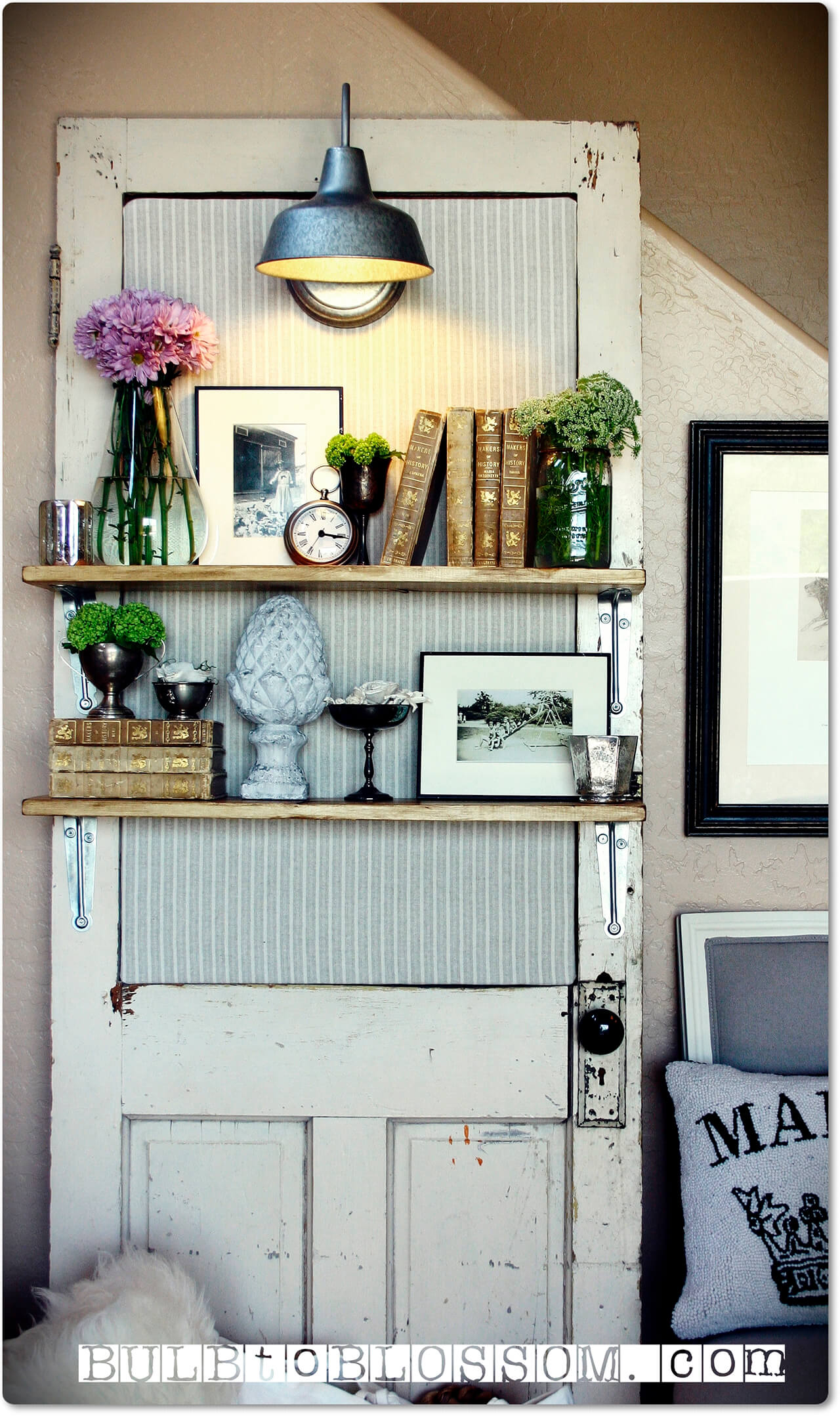 This rescued door has been transformed into an illuminated display that isexcellent for a foyer or even living room.You can keep the original doorknob or add one to match your decor.Smudge the paint to get the vintage feel of the rescued door.Antique corner shelf with folding doors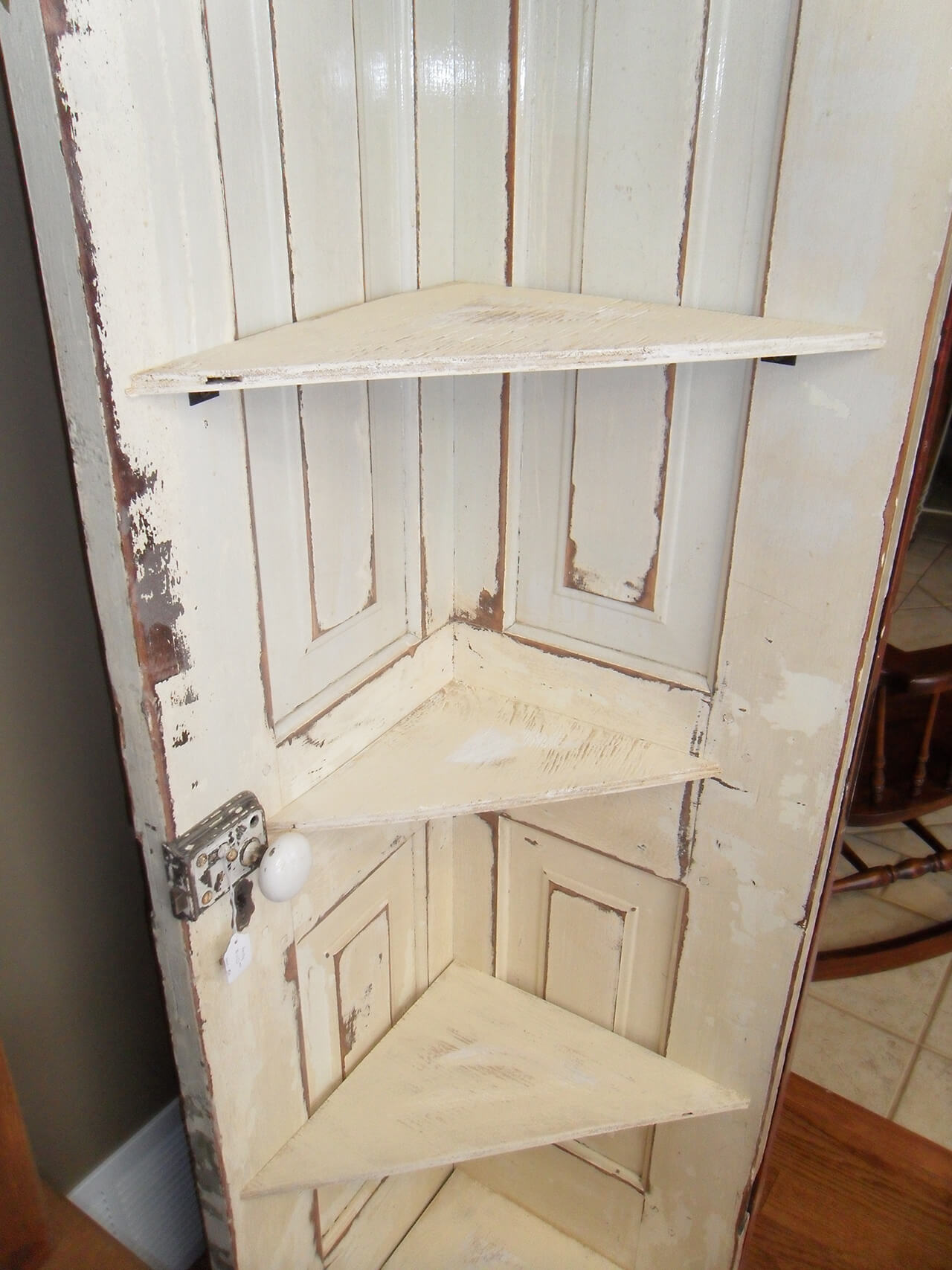 Double folding doors become a doors corner shelf for every unused cornerof the house that needs a little polishing up.The shelves can be used to display photos, store books, or even display fresh flowers.If possible, keep the antique doorknob and even the original paint job depending on how damaged the doors are and your color preferences.The doors can be sanded and repainted to match your style.
38.Whitewashed wall lights with two shutters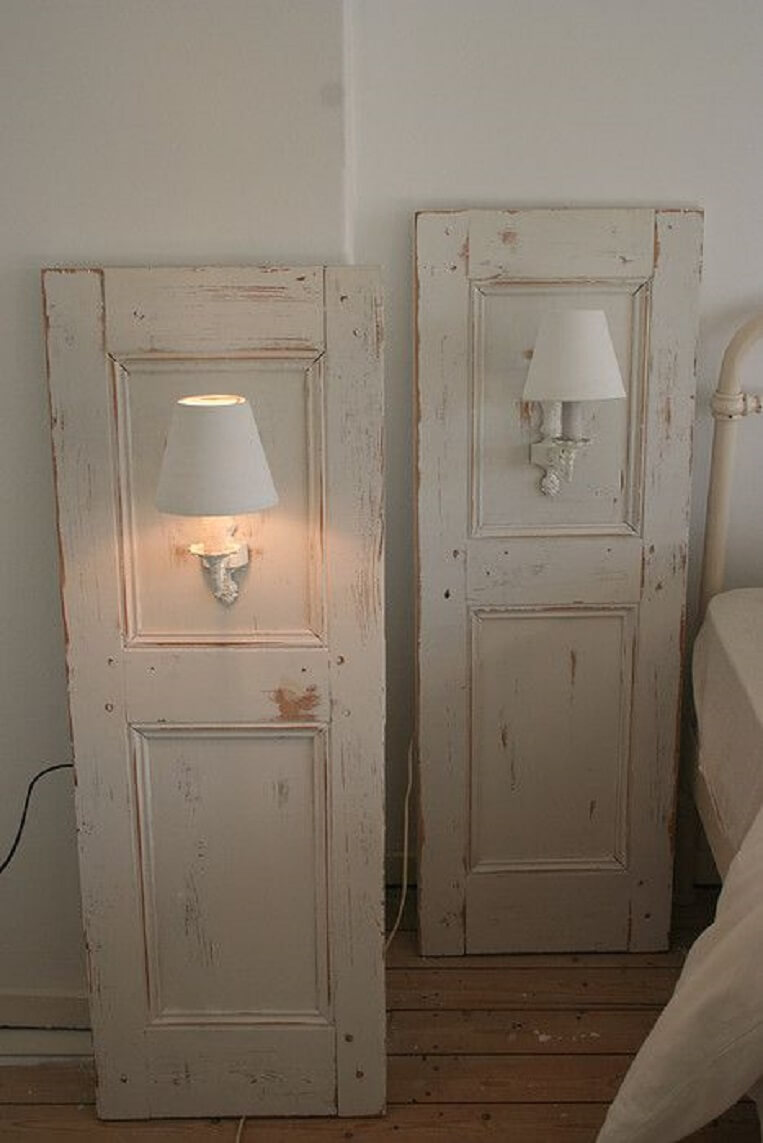 Turn old shutters into whitewashed wall lights.These are perfect for a bedroom or living room to add soft lighting and vintage style.Add some light to the traditional wall lighting with the repurposed shutters.Fun, functional, and unique, these old shutters will go perfectly with almost any interior.
39.Tempered glass dining table with twelve panels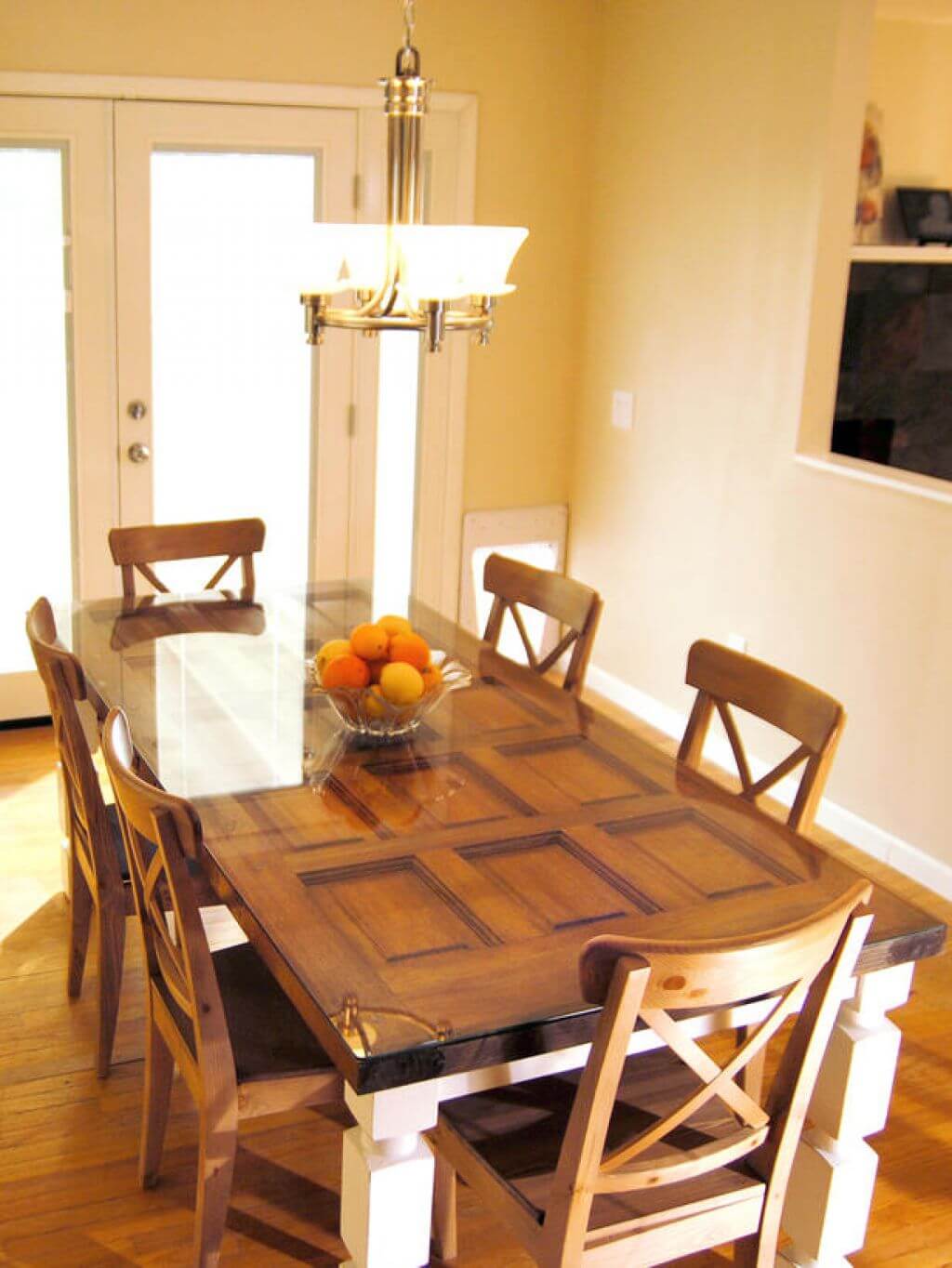 A twelve-part door becomes a glass plate dining room table.This classic dining table retains its vintage farmhouse feel in the whitewashed legs that have been added.This is really a nifty conversion of an old door.The glass plate protects the wood from splashes and stains.
40.Shabby Chic Barn Door Jewelry Stand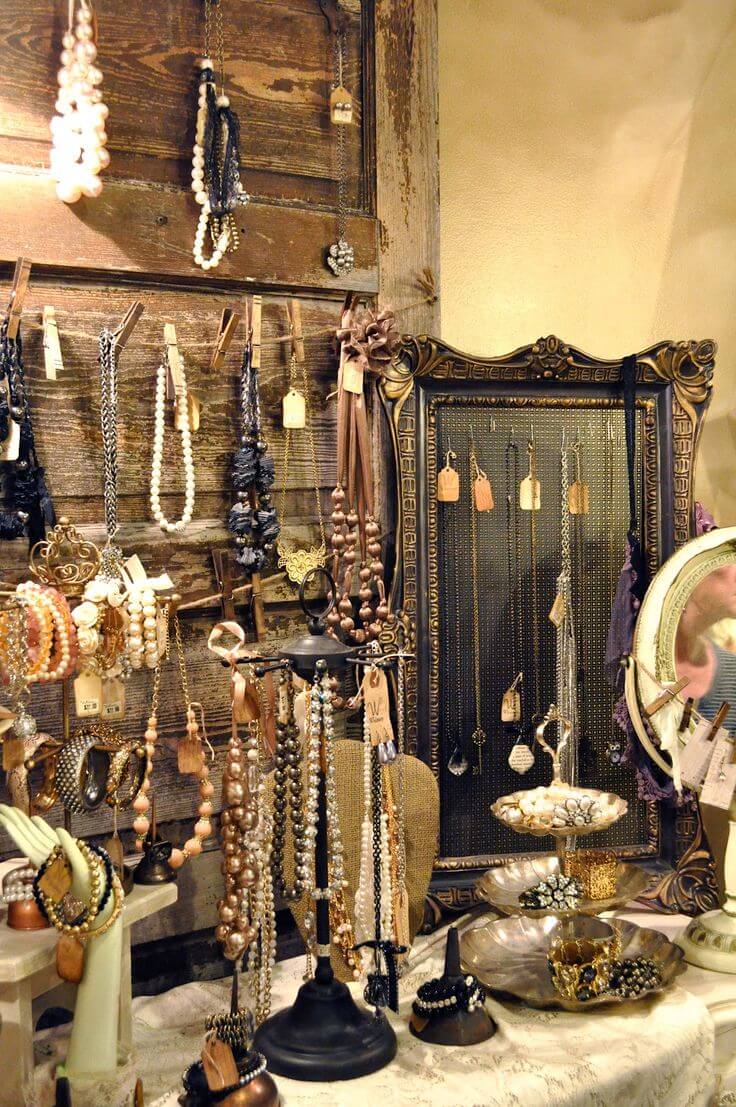 Trade in the traditional jewelry box against a converted barn door into a jewelry stand.String of nails have been strung on either side of the door and clothespins are used to attach necklaces for display purposes.Other pieces are also displayed on the shelf.
41.Door converted into Entryway Essentials Organizer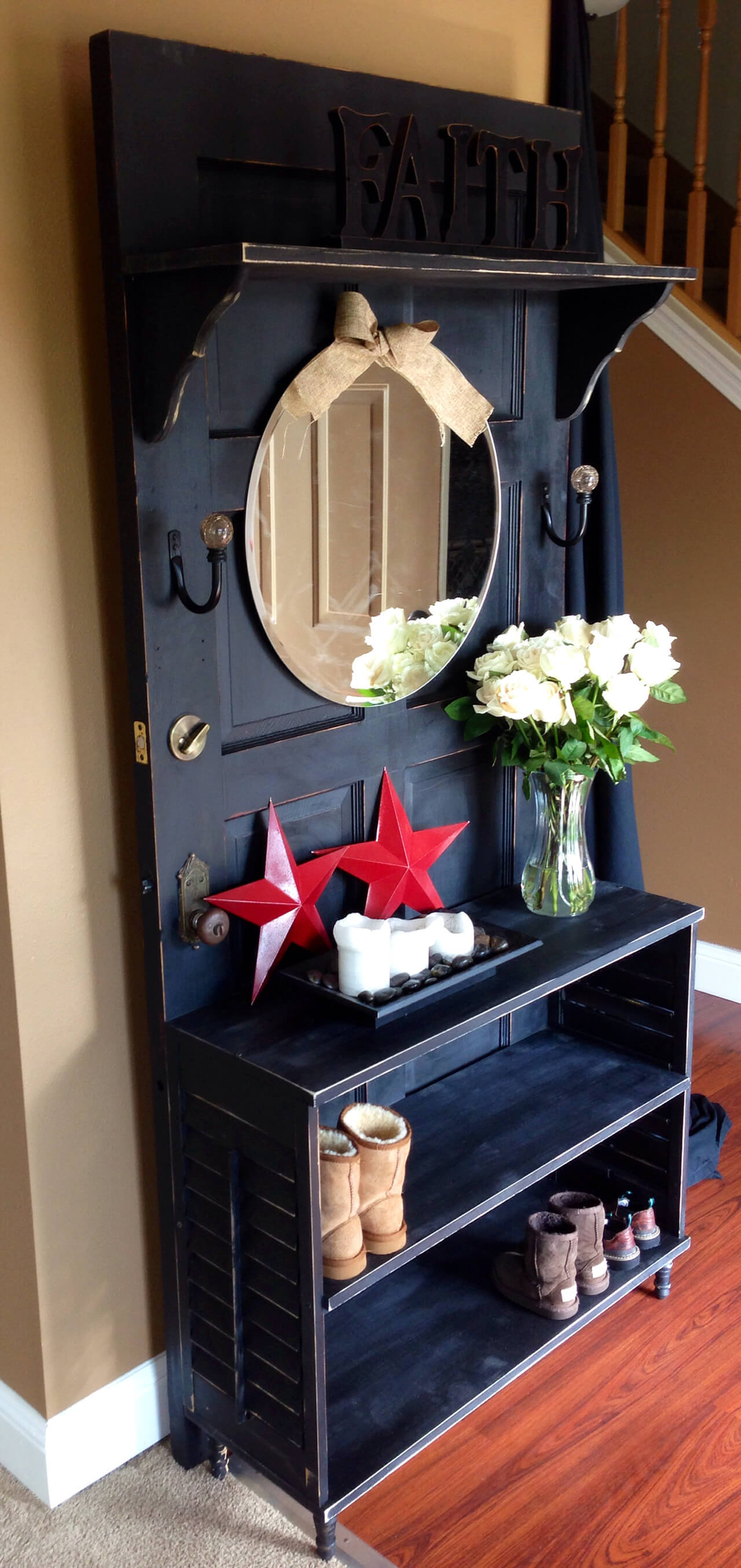 Everything you need to take with you when you leave the house, organized with a repurposed door.Old shutters were also used to create the shelves at the bottom suitable for storing shoes.Hooks on the side keep the keys easily accessible and the mirror is nice for checking your looks one last time before you go.
42.Versatile, covered garden corner with four doors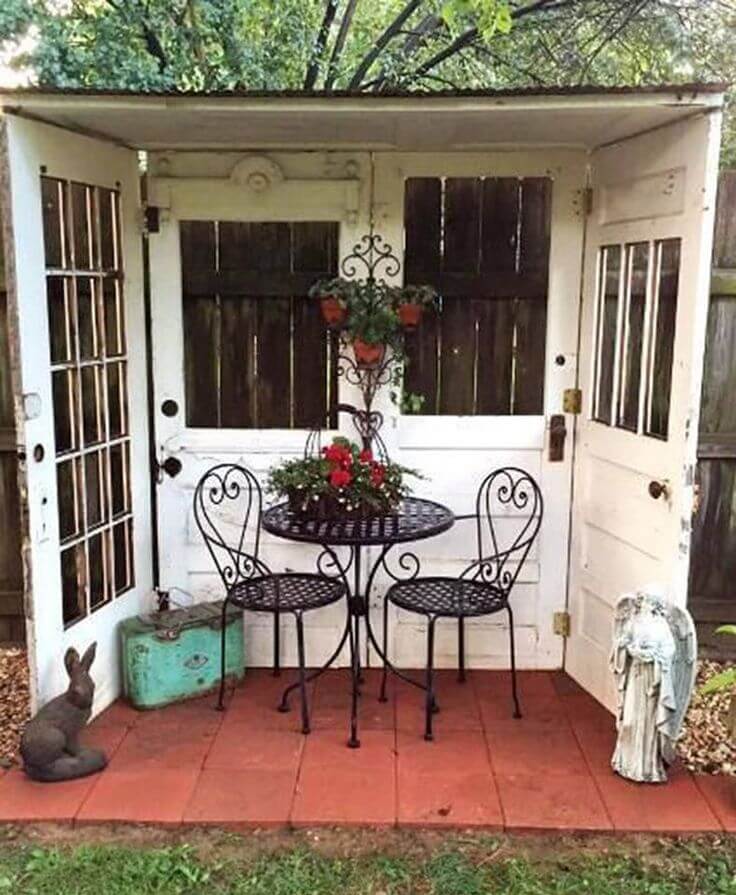 Four converted doors create a protected seating area in the garden.Add a table and chairs or bench to relax and enjoy the nice weather and your lovely garden.Make sure the door is appropriately weatherproof to withstand the elements.
43.Cloakroom from three old doors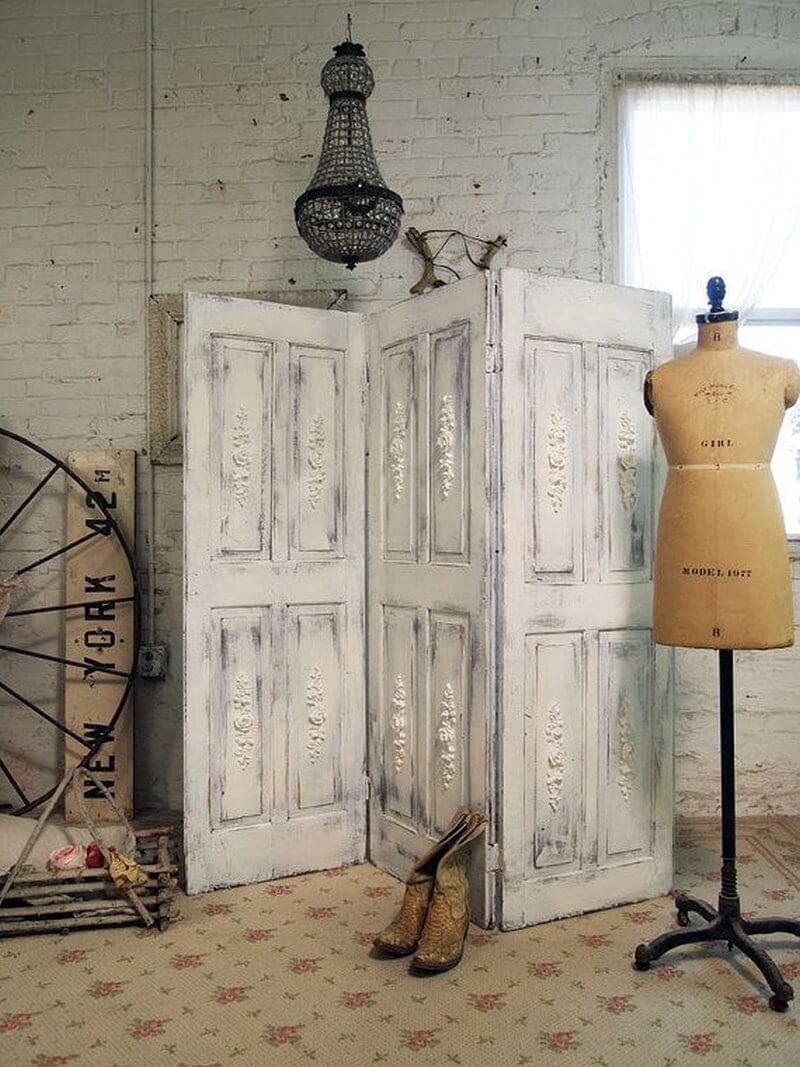 Create an old-fashioned cloakroom or even a room partition from three old onesDoors.The used look paintwork and the decorative wood decorations create a dramatic effect.Can be easily added to any decor in a bedroom or large bathroom.
44.Freestanding garden door window box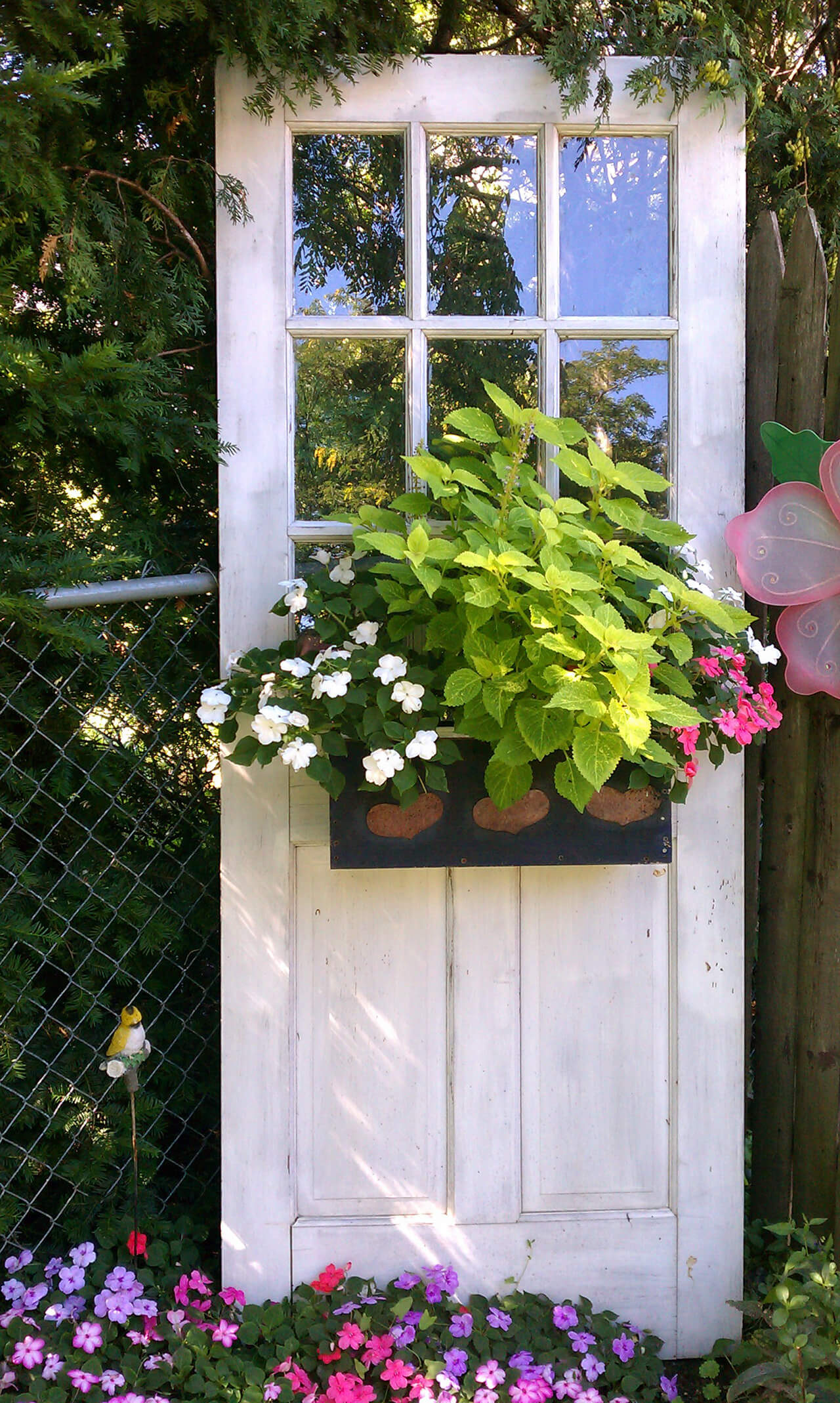 Use a repurposed door to add a unique decorative touch to our gardenlend terrace or porch.This freestanding door has retained the original window panes and has an additional flower box for seasonal flowers all year round.Brighten up a corner of your yard or porch with this creative use of an old door.
45.Fading Layers Decoupaged Statement Door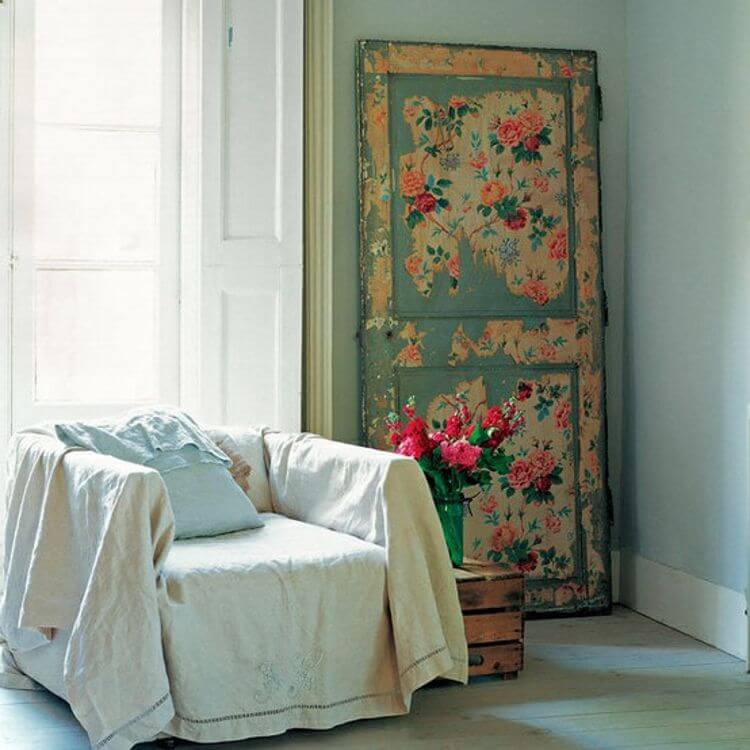 Decoupage an old door for a faded antique look.It appears that the door has peeling paint that is exposing other layers underneath.This Victorian look would be perfect for a bedroom or even a den or library.The decoupage adds to the attractiveness of the old door.
46.Combination of dry sink and tiwn panel blackboard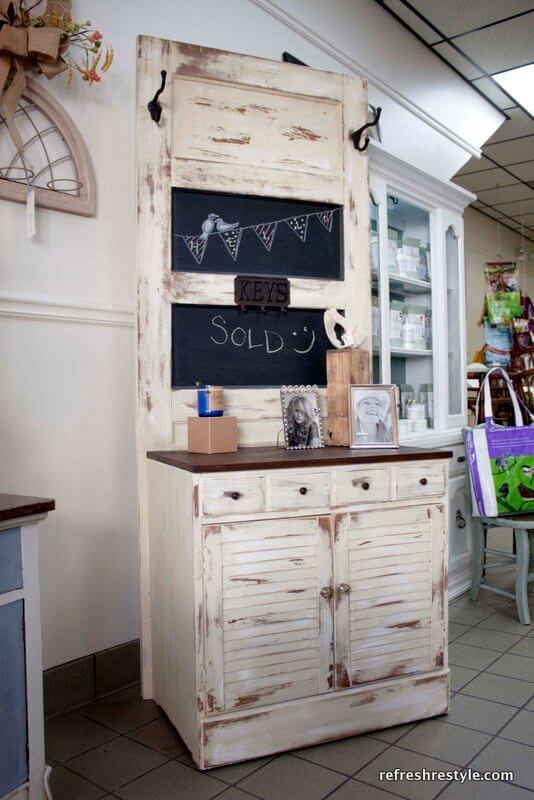 Functional and unique, this door is perfecttransforms in addition to an entrance area.The chalkboard is a great place to leave messages for those coming and going.In the closet below there is a practical key hanger and storage space to neatly stow shoes or even scarves and gloves.
47.Beautiful antique double door room dividers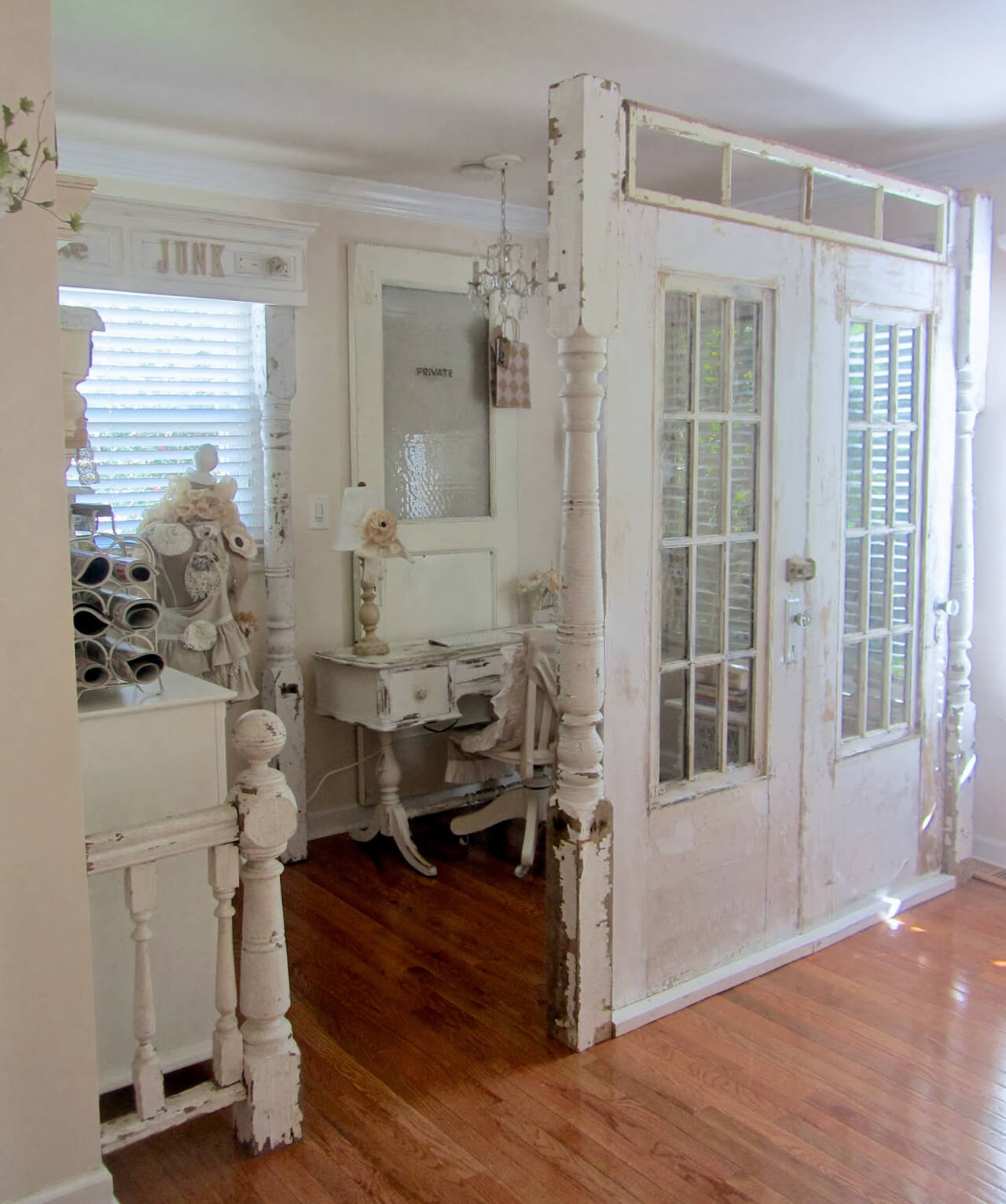 Double-glazed doors create an attractive and functional room divider.Use this idea to create a small office space, reading nook, craft area, or even a sewing room. You can continue to participate in household activities while you are away from work.
48.Arched Cabinet Door Wall Art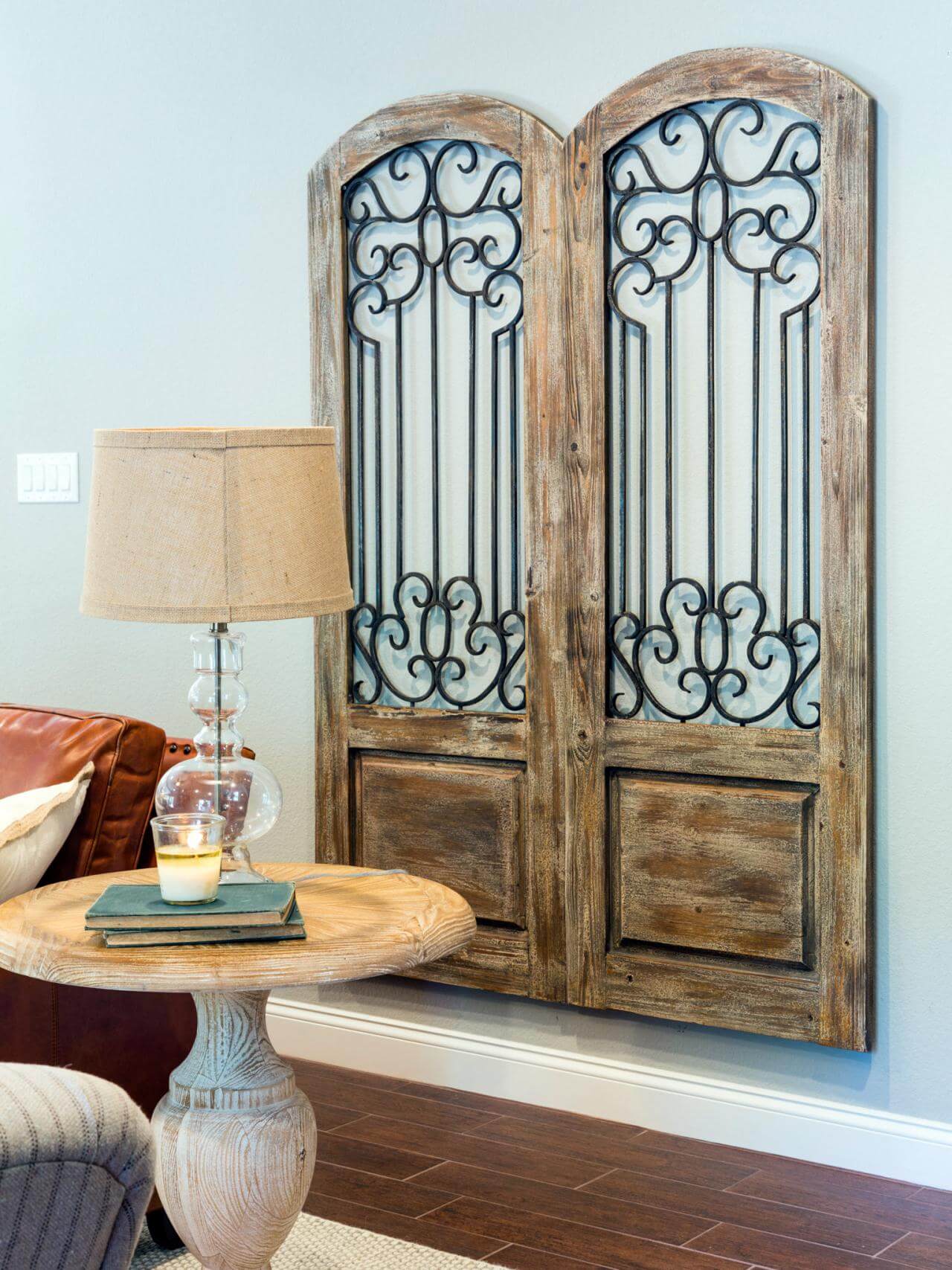 Unique wall art was created with arched cabinet doors.The wrought iron scrollwork looks beautiful on any wall color you choose.Perfect for any wall in the house that needs a decorative touch.
49.Narrow Pantry Door Study Desk Timepiece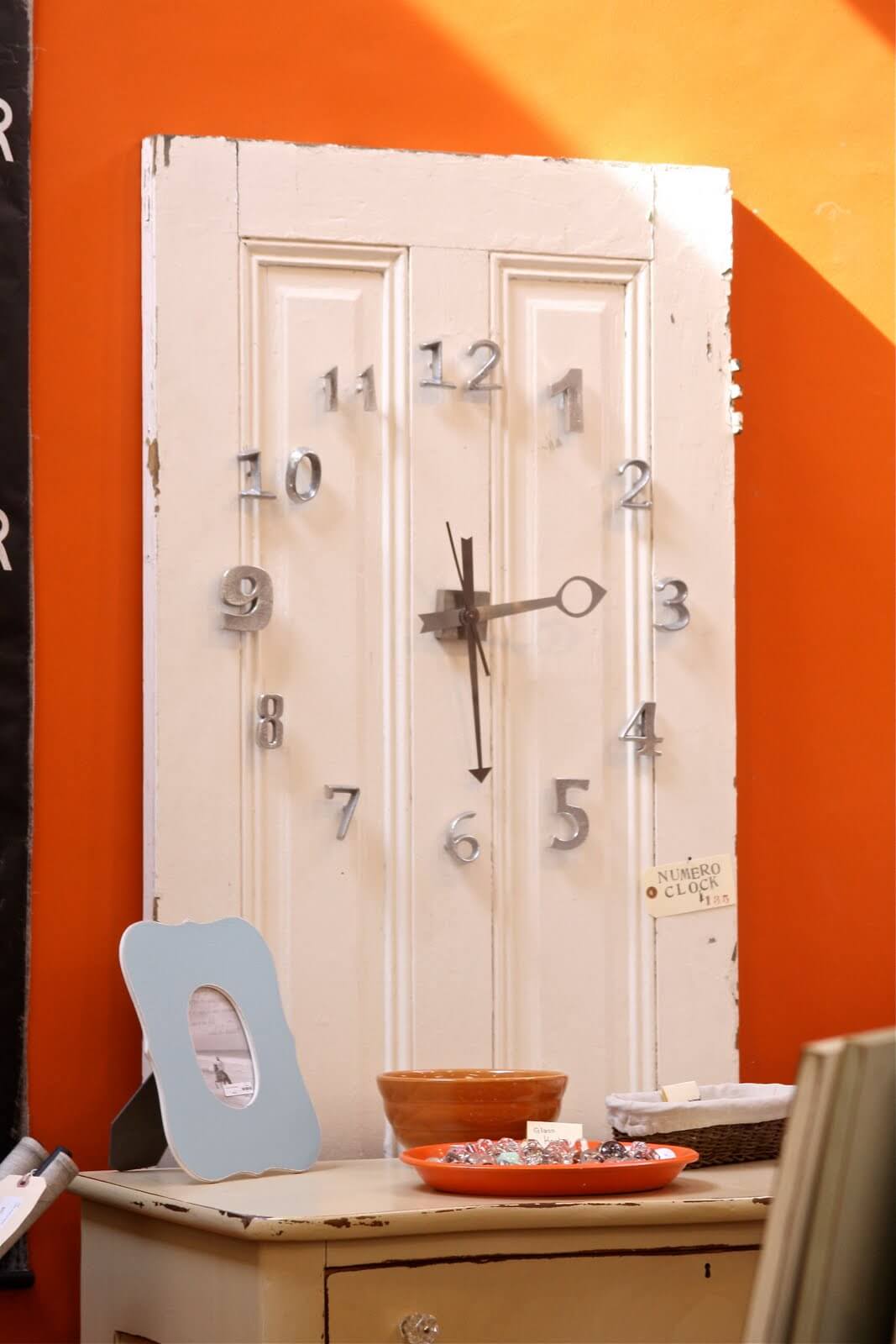 This repurposed galley door is used as a desk topper.The watch helps you keep track of the time while you work.The door and desk have been painted a distressed white paint to match any room or type of decor.Fun and creative place to work for a student.Add a vintage country style chair to continue the look.
50.Shoe bench and cloakroom with sturdy doors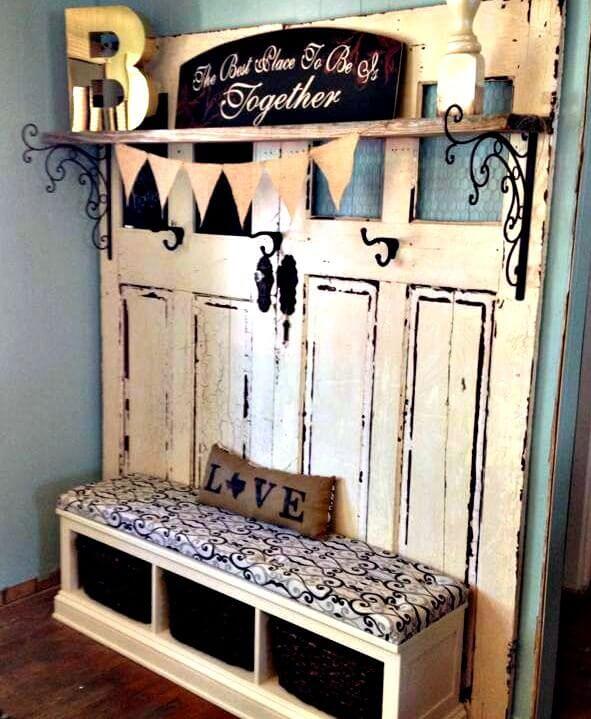 A nice addition to a foyer or entrance area, which by usingold barn doors.The doors were refurbished and fitted with coat hooks.The shelf above is ideal for displaying decorations, photos or flower arrangements.The bench is perfect for putting on and taking off shoes and the baskets in the storage compartments below are ideal for storing scarves, hats or gloves.
51.Old Blue French Panel Desk Background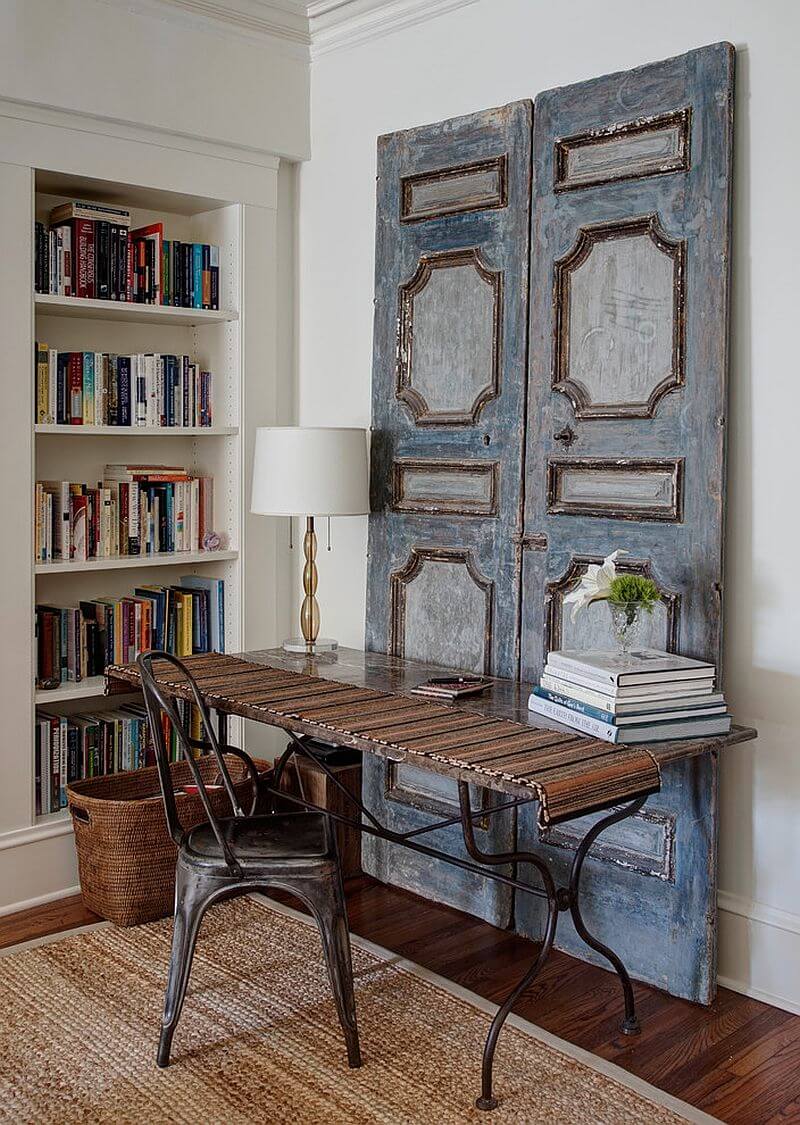 Panel doors have been repainted in a dramatic blue to add to itto make a focal point.Used as a background for a desk, the doors are a creative and decorative effect against a neutral wall.The glass-topped desk is offset by the doors behind it on the wall.
.