When it comes to the holiday season, what better way to show your neighbors and friends and family that you enjoy the spirit of the season than with a nice decoration on your front door. Christmas decorations for front doors are a festive surprise that will make visitors to your home feel really welcome. There is something magical about driving down a street full of beautifully decorated houses on a wintry night.
Find the spirit of the season with these lovely Christmas front door decorations for the year
Many of us have followed the same old formula for years when it comes to decorating our front doors. We buy a pre-decorated wreath, hang it on our door knocker and call the project complete. However, there is a lot more you can do to decorate your door than just the same old wreath. If you want to create a Christmas front door display that will truly delight everyone on your street, then try one of these fifty Christmas door decorations.
1. Garland Gift Wrapping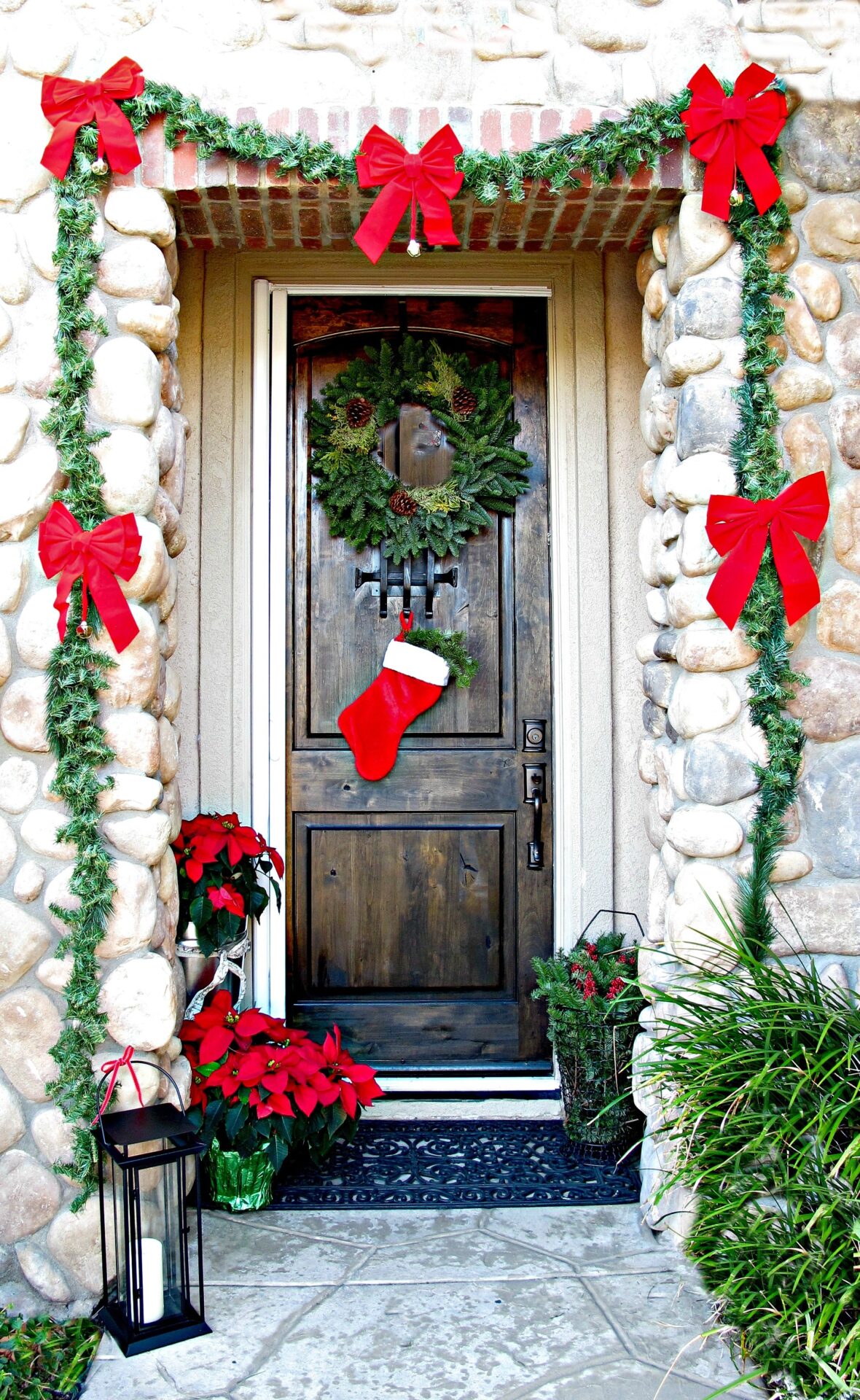 This beautiful design aesthetic is inspired by the beauty of a wrapped gift sitting under the Christmas tree. Christmas wreaths are a beautiful centerpiece for any door design. This look takes it to the next level by hanging a traditional Christmas stocking on the wreath. To create the look of a wrapped gift, thread a garland around the perimeter of your entryway. This homeowner accented the garland with brightly colored red bows, but you can add ornaments, tinsel, or fairy lights too. Accentuate the look by adding some brightly colored red poinsettias, a staple of the holiday season.
2. Dramatic, old-fashioned garland decor
While silly, modern, and cool Christmas decorations are all well and good, some of us would like to avoid anything cartoonish or childish and prefer the look of an old-fashioned Victorian era Christmas house decorations. Skip the usual wreath and instead use an oversized garland that you thread around the top half of the perimeter of your door. Avoid tinsel or brightly colored decorations and opt for ribbons, bulbs and stars in romantic colors like burgundy and gold instead. The finished look is absolutely classic and timeless, perfect for those who prefer to put their Christmas decorations on a sophisticated side.
3. A Frosty Winter Wonderland
The absolute best Christmas door decorations are the ones that really capture the spirit of the season. Christmas isn't just about enjoying the company of your friends and family by the fireplace; It's also about waking up every day in a snowy winter wonderland. To recreate this look on your own door, use a white fake snow spray to lightly cover a wreath and garland. The dark purple ornaments complement the look of the artificial snow on the green beautifully. Add a few white Christmas trees nearby to really finish off this lovely winter-inspired decor scheme.
4. A Dream Covered With Sweets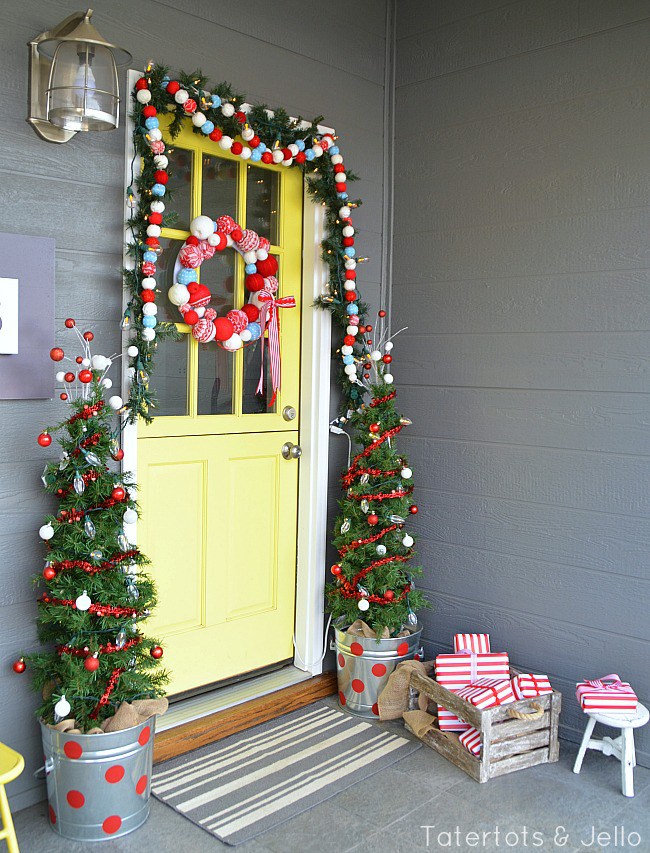 What would Christmas be without delicious sweets? This Christmas decoration idea is inspired by all the sweet and tasty things that make the Christmas season so great. To create the candy garland, simply paint table tennis or small styrofoam balls in different bright candy colors and then thread them together with a needle and thread. To make the candy cane-inspired dotted planters, simply cut circles out of a red vinyl material and glue them to a metal jar with hot glue. Complete the look by spreading some fake gifts wrapped in candy cane print wrapping paper near your entrance.
5. A touch of starlight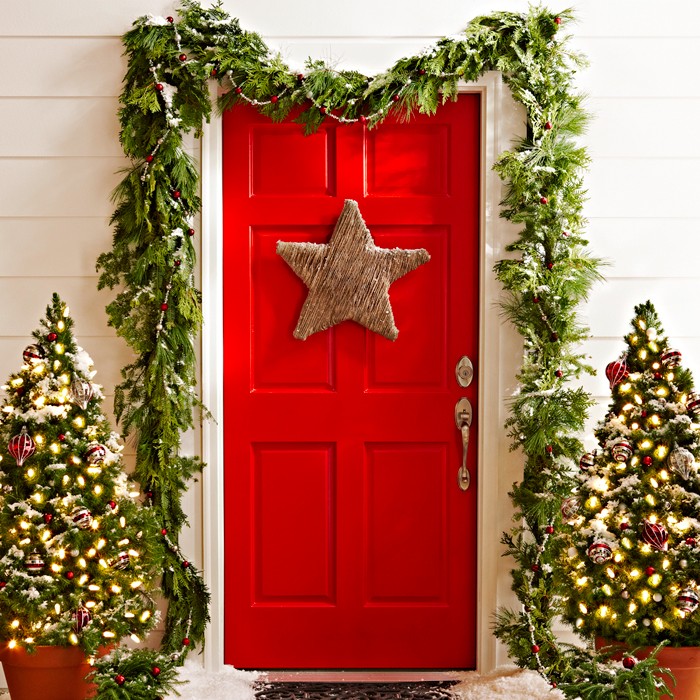 decorating your door is the perfect excuse to start a fun Christmas craft project.Spray it with gold or any color of your choice. For a more rustic look, wrap the star with yarn until all surfaces are completely colored. This simple door decoration is a unique and unexpected variant of the classic wreath.
6. Welcome to Candy Cane Lane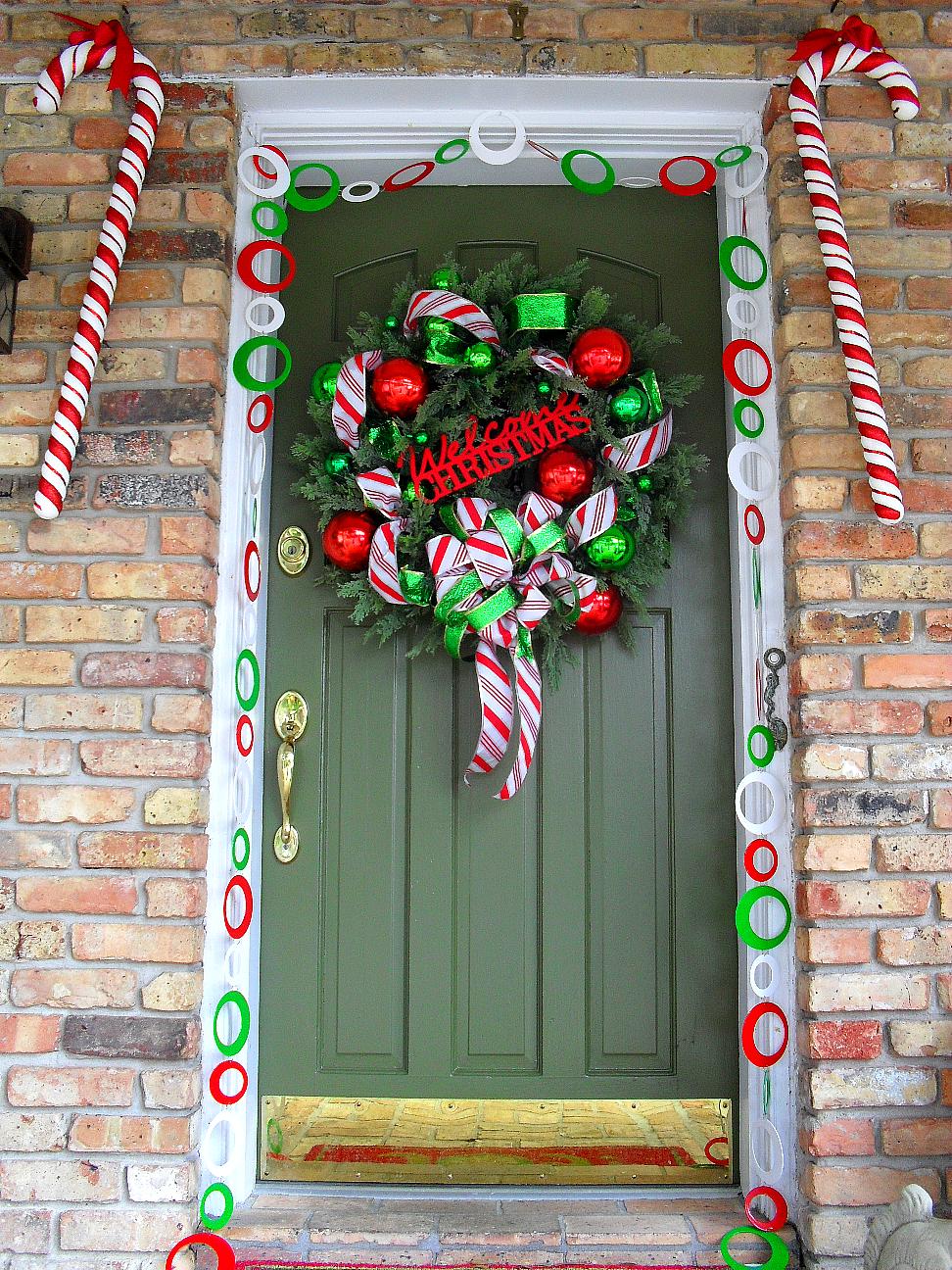 If your favorite Christmas part is the abundance of candy canes, then this Christmas front door decoration is for you. Hang two large outdoor candy canes on either side of your door with the hook pieces facing in opposite directions. If the candy canes you're picking up don't have enough shine to suit your taste, add some glitter spray that is easily available at any craft store. To really add some pizzazz to this look, loop a candy cane print ribbon around a wreath and complete your unique DIY Christmas decoration with some metallic green and red lightbulbs.
7. A Rustic Paradise Christmas Door Decorations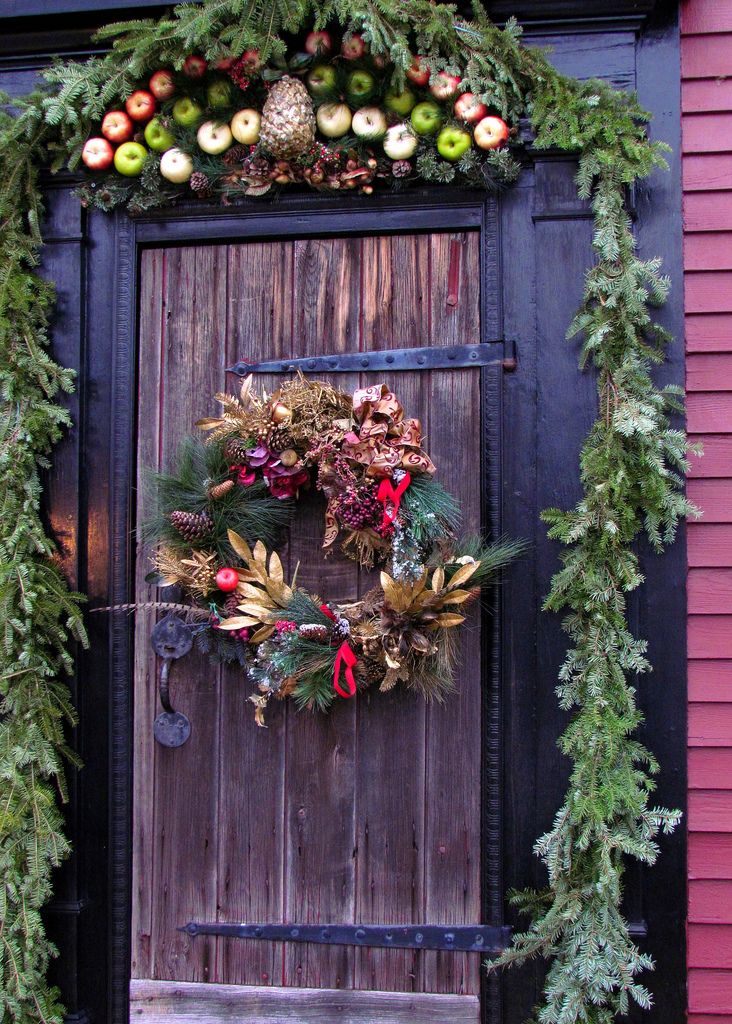 Not all Christmas door decorations have to be bright and glittery. This beautiful design idea is completely inspired by the beauty of nature. It's a perfect opportunity to start a fun Christmas craft project with some found objects from nature. Using a hot glue gun, add real pine cones, leaves, and crab apples to a wreath. These natural items show off a wreath or garland beautifully. If your favorite part of the holiday season is exploring the beauty and grandeur of a forest before the snow really starts to fall, this is without a doubt one of the absolute best homemade Christmas decorations you can make.
8. A splash of subtle snowflakes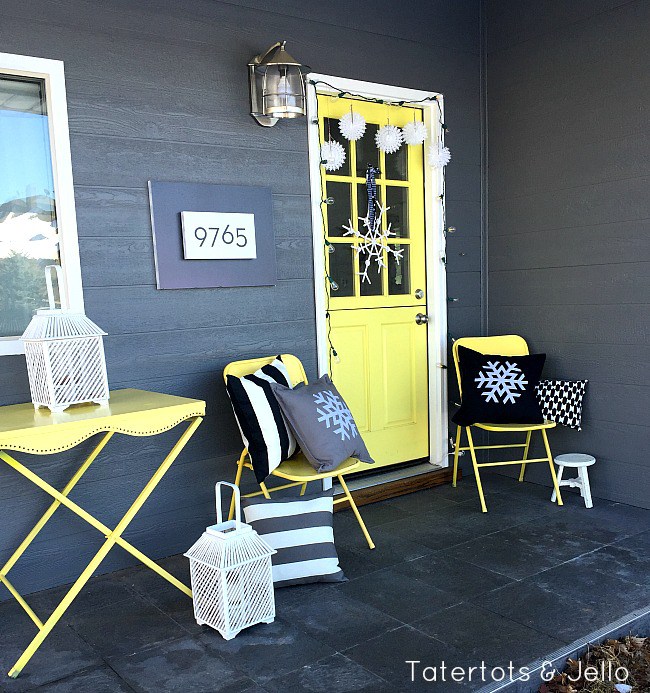 For people who live in hot climates or the desert, the idea of ​​decorating with garlands and balm may feel a little out of place. Just because you don't live in a snowy climate doesn't mean you can't enjoy Christmas door decorations. Add a touch of winter to your beach house or desert apartment by creating a simple chain of hanging white snowflakes that you place over your front door. These DIY Christmas decorations are really easy to make – just use the old trick of folding a few sheets of white paper and making small random cuts. Finish the look with a spray of white glitter from the craft store to really add some shine to this look.
9. Three wreaths for the price of one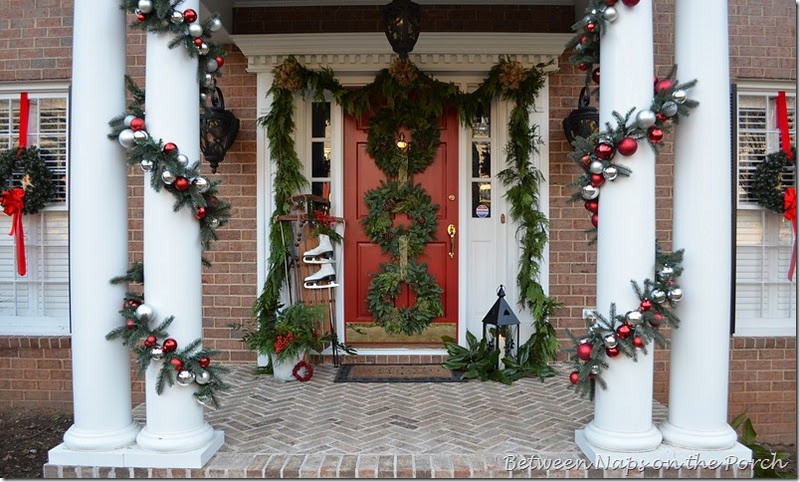 By now we have all got used to having a single wreath hanging on a door as a festive Christmas decoration. However, if you're looking for a unique but easy way to spice up that expected look, try hanging three Christmas wreaths on top of each other so that they cover the door from top to bottom. This homeowner chose to leave the wreaths undecorated, but you can easily add fairy lights or ornaments to add that extra something to the wreaths. This design scheme also shows how easy it is to decorate pillars on your doorstep by simply wrapping garlands around them.
10. Winter clothes as Christmas decorations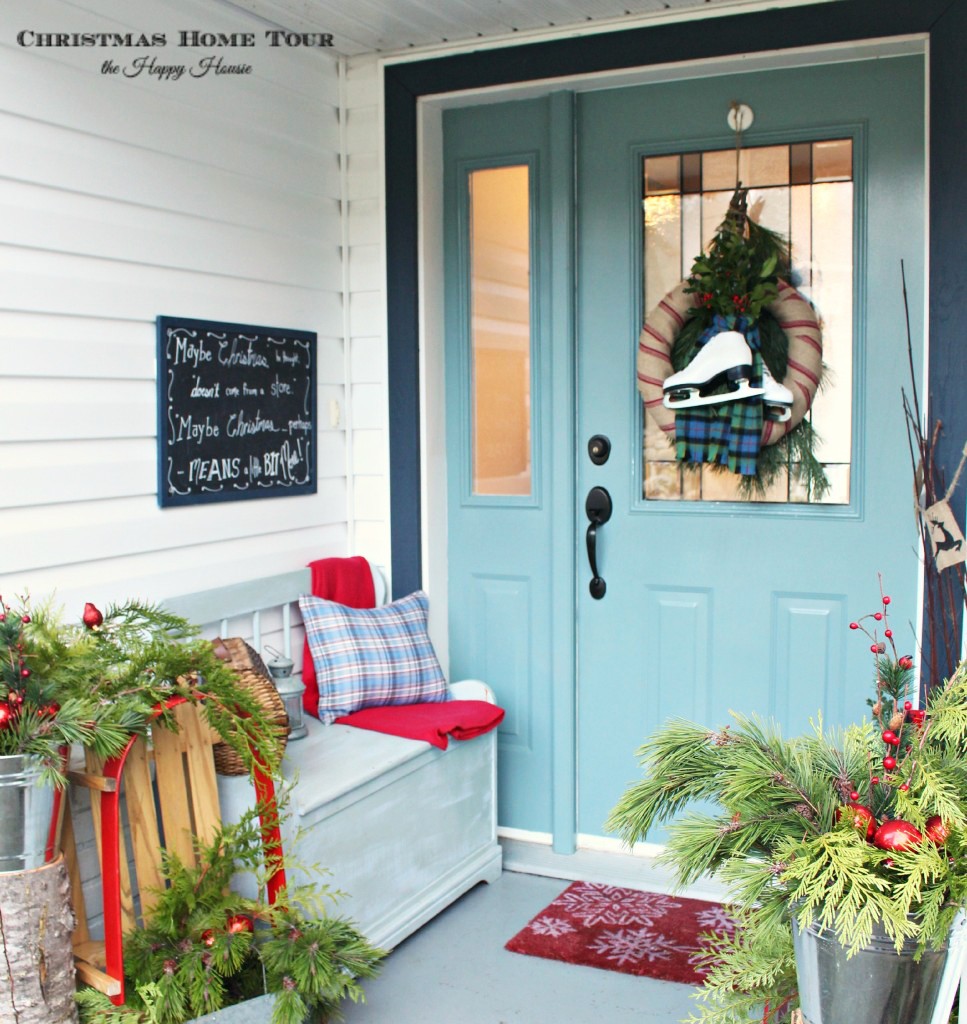 This lovely look is one of those simple yet unexpected Christmas door decoration ideas. To create this festive, wintry wreath, the homeowner simply started with a simple red and white wreath and hung a pair of clean white ice skates in the middle. To really conjure up the image of ice skating on a frozen lake on a cold Christmas afternoon, they added a dark blue patchwork winter scarf and a few sprigs of balm. This holiday door look captures exactly what a unique Christmas decoration should be: brilliant in its simplicity.
11.A Grinch Inspired Christmas Door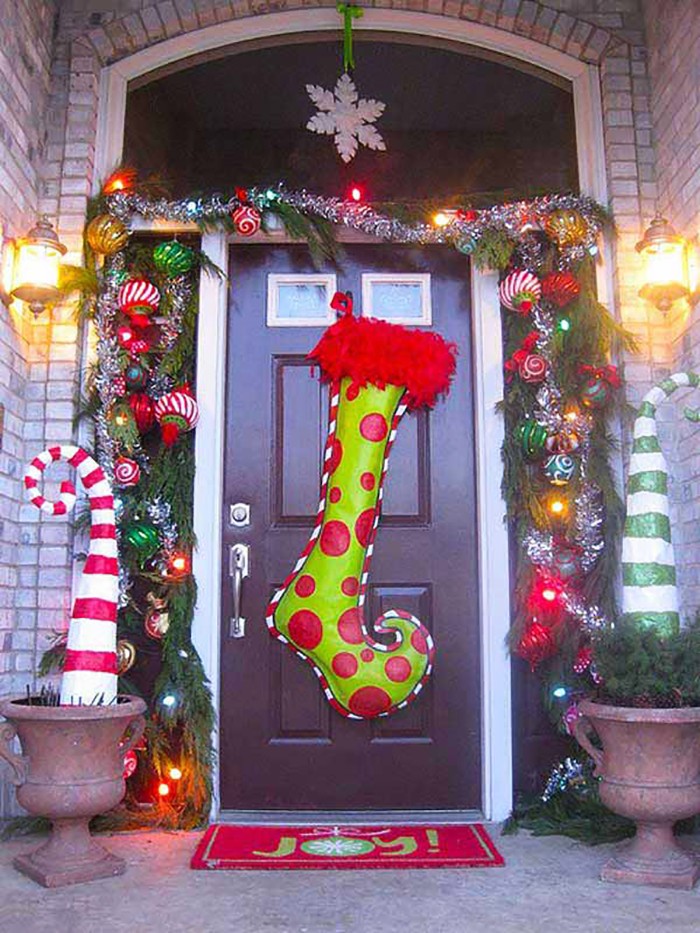 How the Grinch Stole Christmas is one of the most iconic Christmas stories of all time. This Grinch-inspired Christmas decor will impress everyone in your neighborhood. The door curtain can be created easily. Sew a large stocking out of green fabric by hand with a pointed toe. Fill it with pillow filling and close it on top. Using fabric glue, add a red fur trim and red dots of fabric and finish with a candy cane trim. With white styrofoam cones and red and green ribbons, the inverted stockings can be designed very easily.
12. Shimmery and Chic Metallics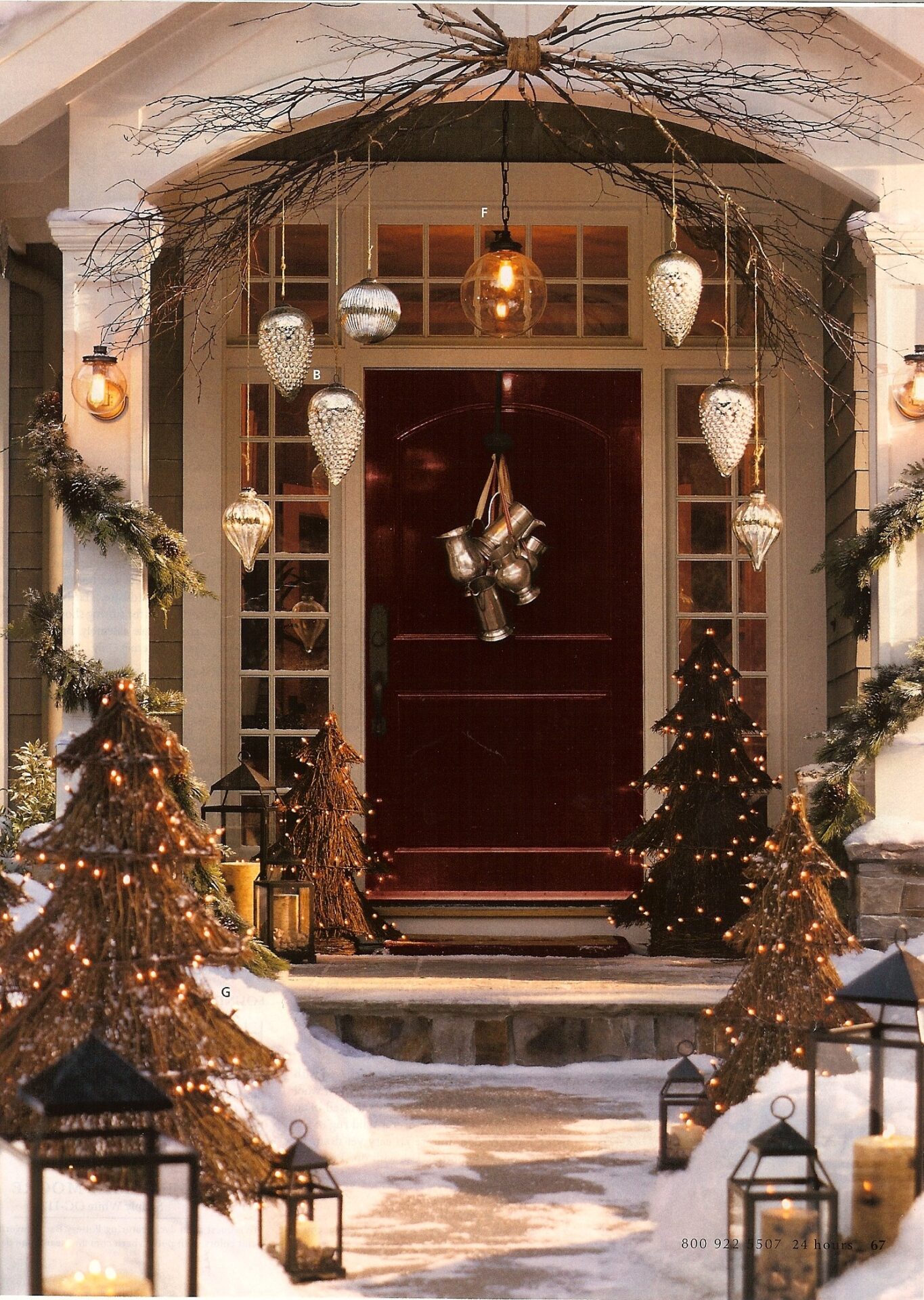 Metallics are one of the funniest hues to play with in your Christmas decorations, and this look is easy to recreate by using clear fishing wire to hang large gold or silver ornaments from the roof of your porch. To create the unique door hanger, look for small and medium-sized old metal jugs in the thrift store. Hang them on your door knocker as a bundle with red ribbon. Add fairy lights to nearby bushes and fir trees to really add some sparkle to this gorgeous Christmas front door decoration.
13. From old window frames to quirky Christmas decor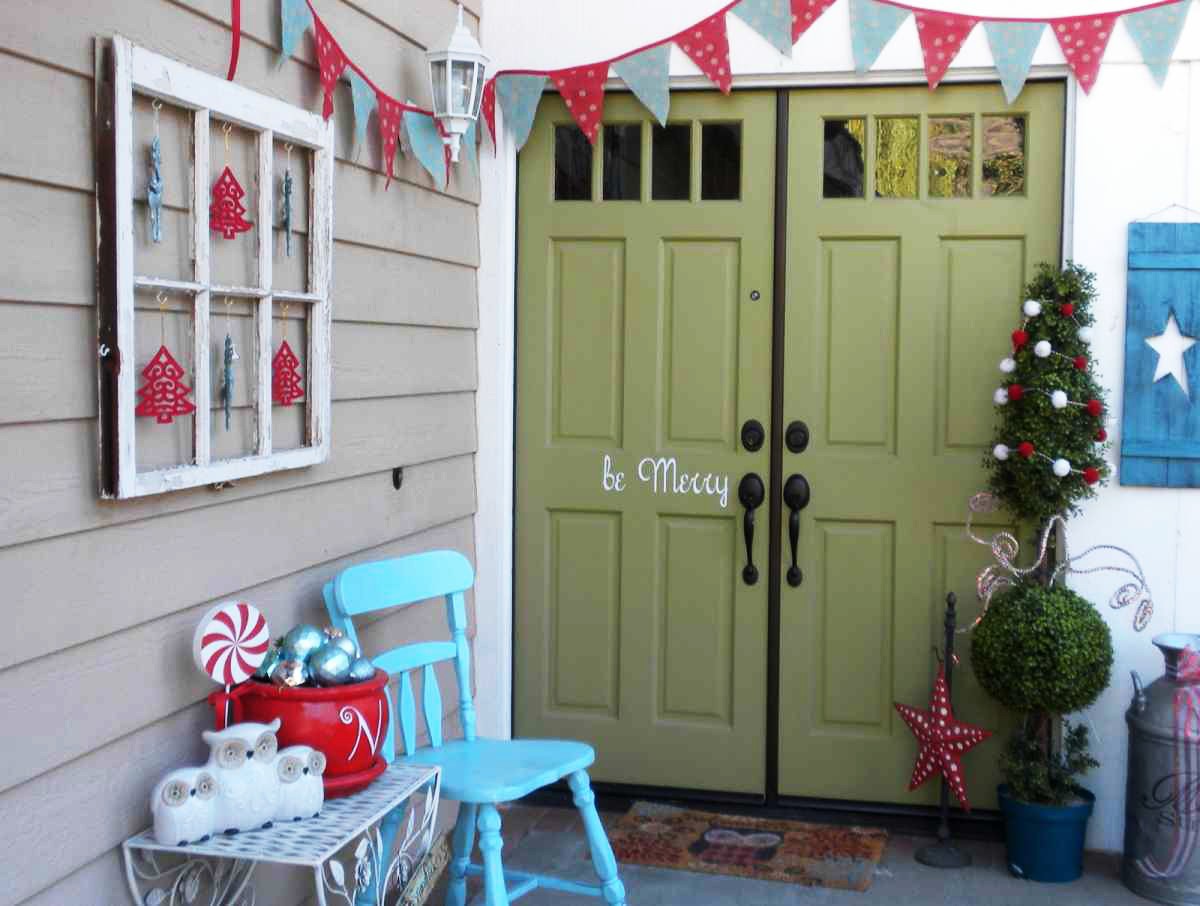 You will be surprised what the "old building scraps" in your garage can be used for if you bring a little creativity and lots of Christmas cheer with you. This brilliant homeowner turned an old window frame into a wall hanging by simply spraying it white and reaching to the outside of her home. In every single cell there are paper clippings from Christmas trees in changing colors. This bizarre decoration idea proves that the most interesting materials for cool Christmas decorations can be found almost everywhere and do not have to cost an arm or a leg.
14. Christmas Fun With Fabrics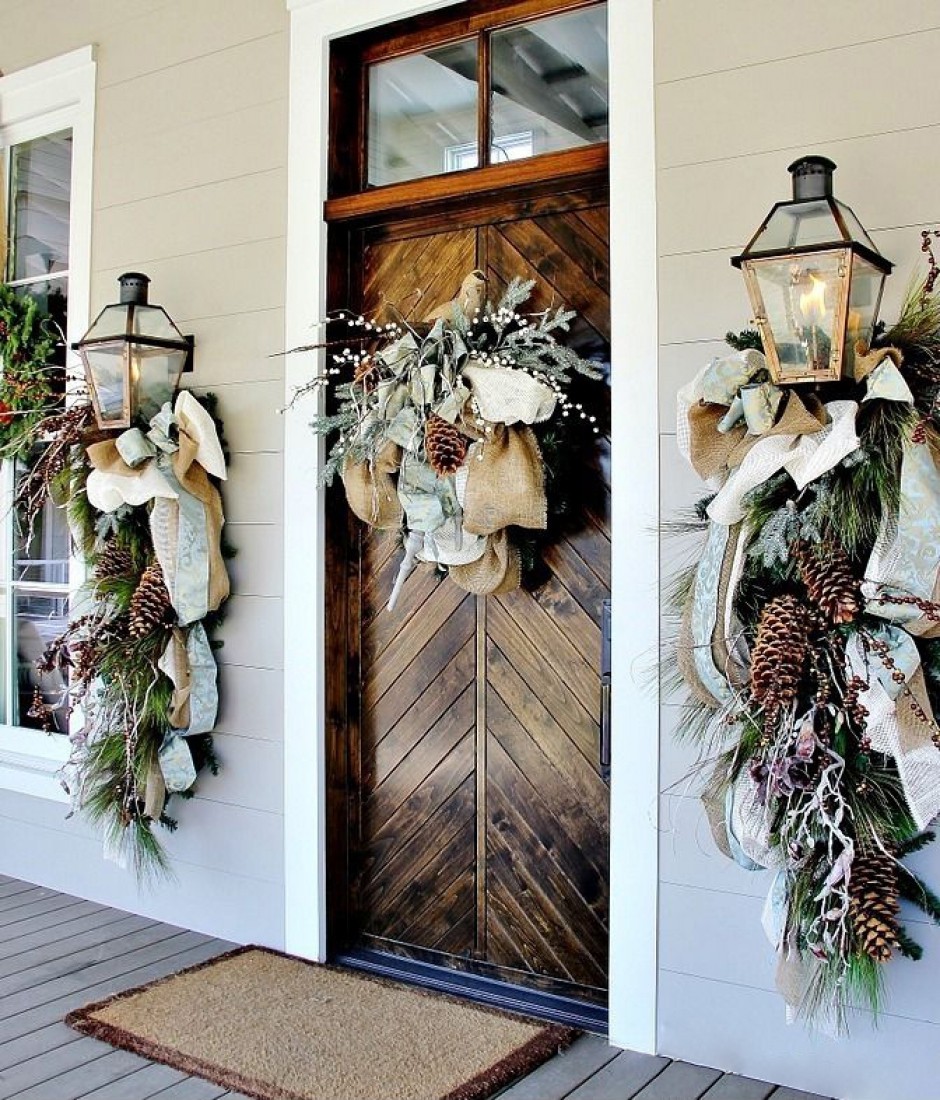 This sleek and understated look is perfect for the homeowner looking for unique Christmas decorating ideas that are as simple as they are beautiful. This look can be achieved by adding fabric details to wreaths and garlands that use a variety of colors and textures. When decorating your door with fabric or oversized bows, take this look for inspiration and combine materials like taupe burlap with shimmering white satins for a multi-dimensional finish. The addition of the pine cones gives this door design a nice finishing touch. If you don't have lanterns like the homeowner in this photo, add free standing solar powered lamps or fairy lights to light up your design concept at night.
15. Find perfection with Poinsettia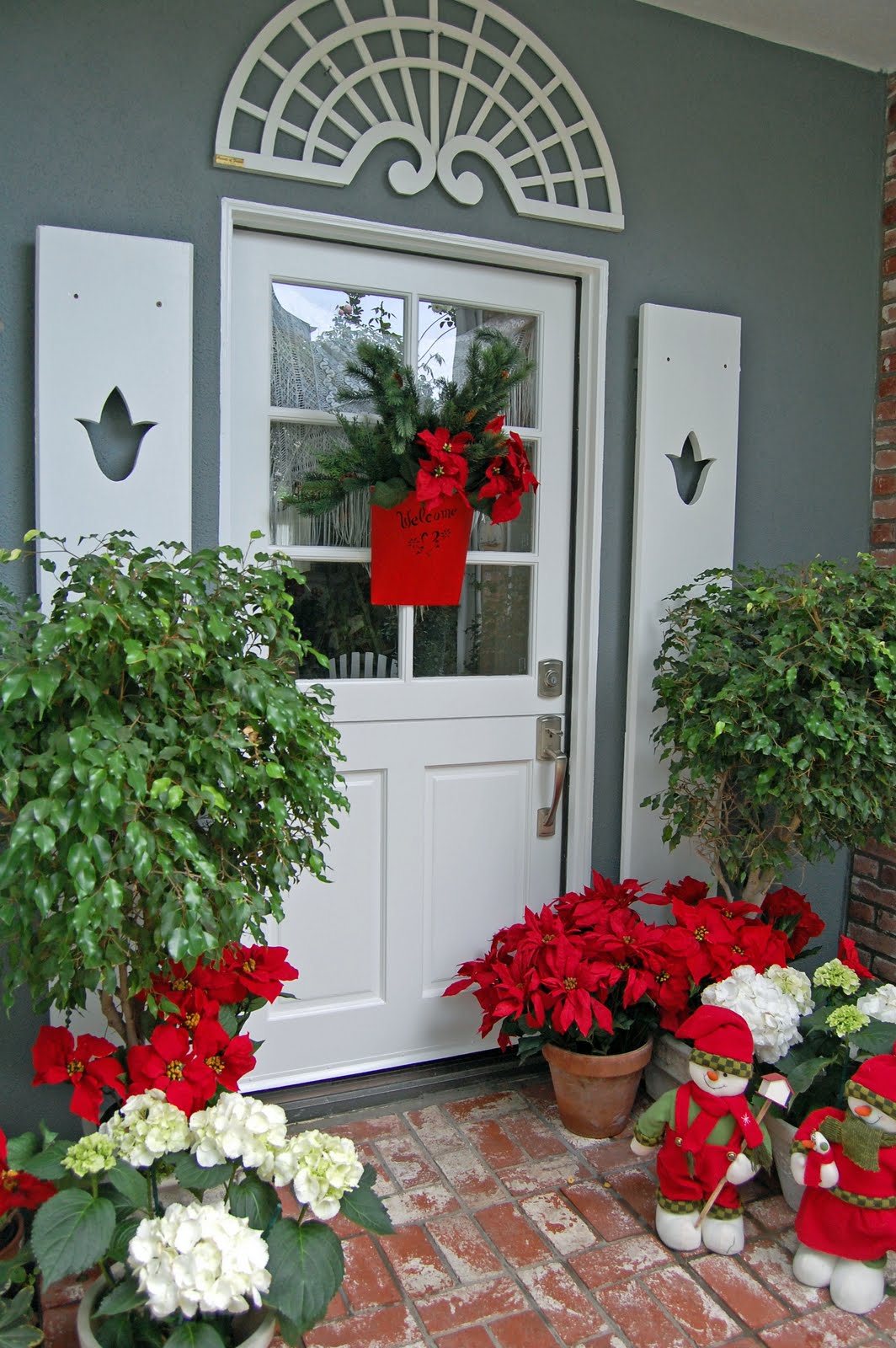 Poinsettias are ubiquitous during the Christmas season. From our churches to our offices to our children's schools, poinsettias are fairly easy to come by in December and are often sold for charity. Instead of just putting your poinsettias on a table indoors, use them to create beautiful floral Christmas decorations for the front door. To create the hanging "vase" shown here, create a folder out of sturdy red vinyl and a stapler. Fill in fake poinsettias so you don't have to worry about soil and water, then just hang it on your front door.
16. The Simplicity of Classic Decor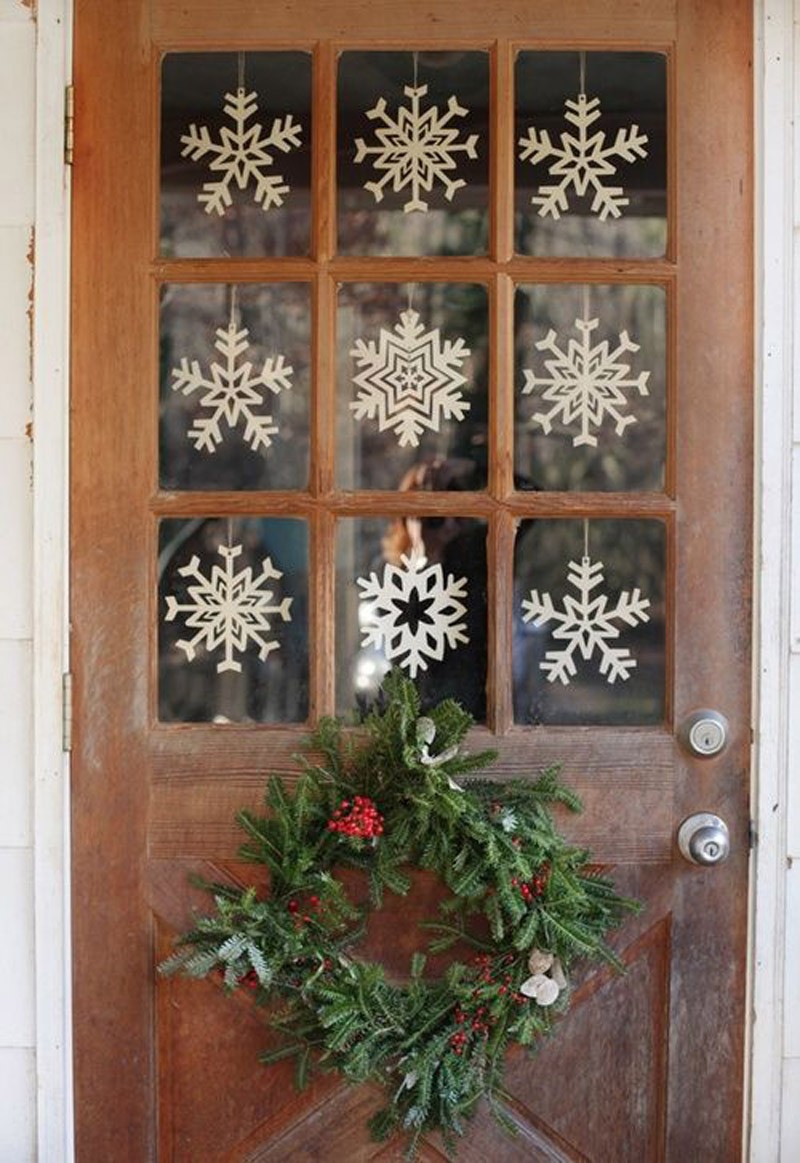 The internet is full of Christmas ideas for unique and unexpected decorations. While these exciting decorating ideas are great for many people, others just want something simple and classic.To include the whole family, have each member of your household make one of the snowflakes by hand. This will add a touch of sentimental value to your
beautiful Christmas decorations
.
17. Carol Of The Bells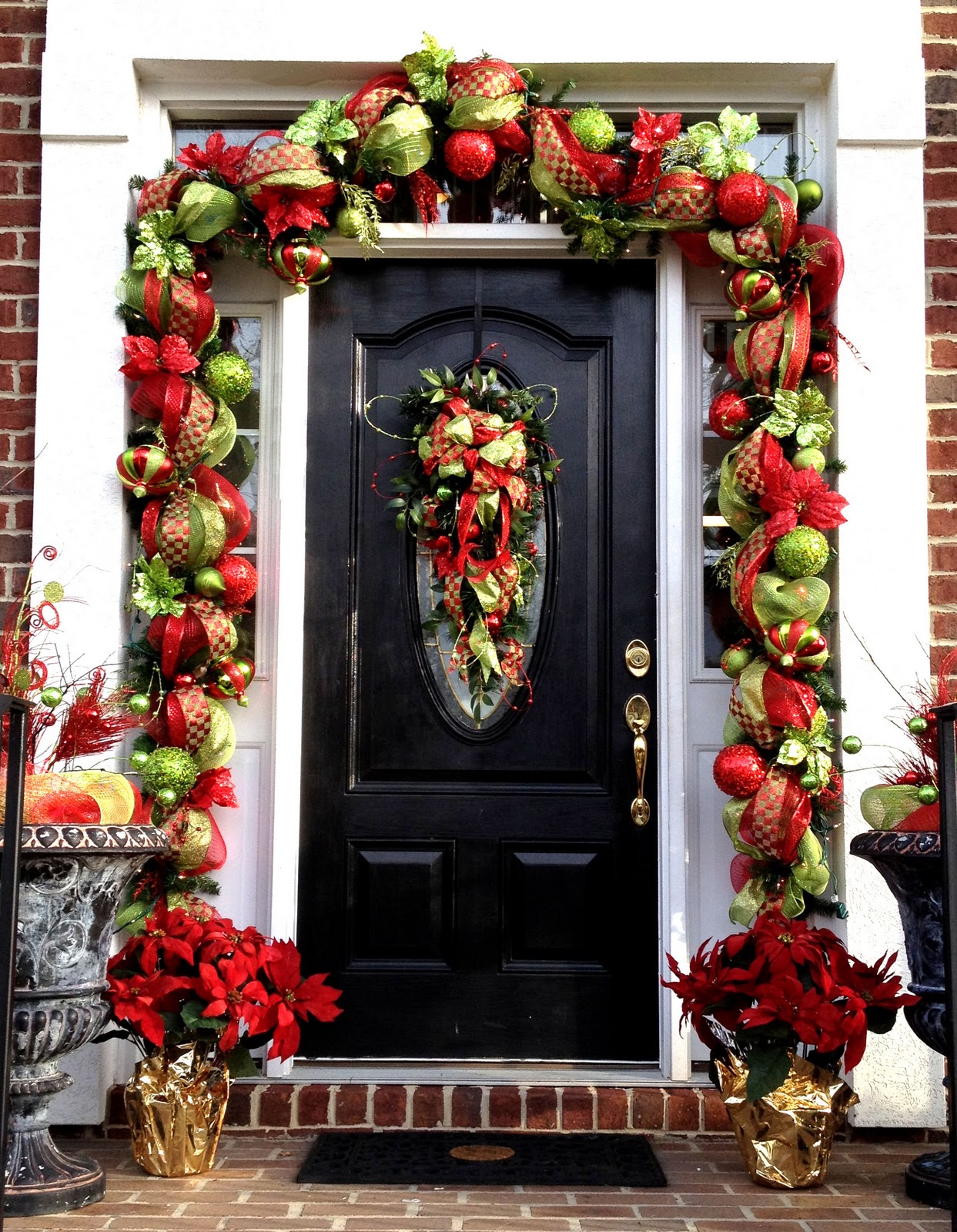 This beautiful display is one of the many Christmas-themed front door decors that works with a variety of textures and hues to create a beautiful overall finish. Rather than just erecting a simple garland around their front door, this homeowner has created something really eye-catching and unique by adding oversized bells and orbs that are connected with large ribbons in a range of textures and hues. When it comes to your front door decoration, you can also go with several different shades as long as they are all in the same basic color family.
18. Such a personal painting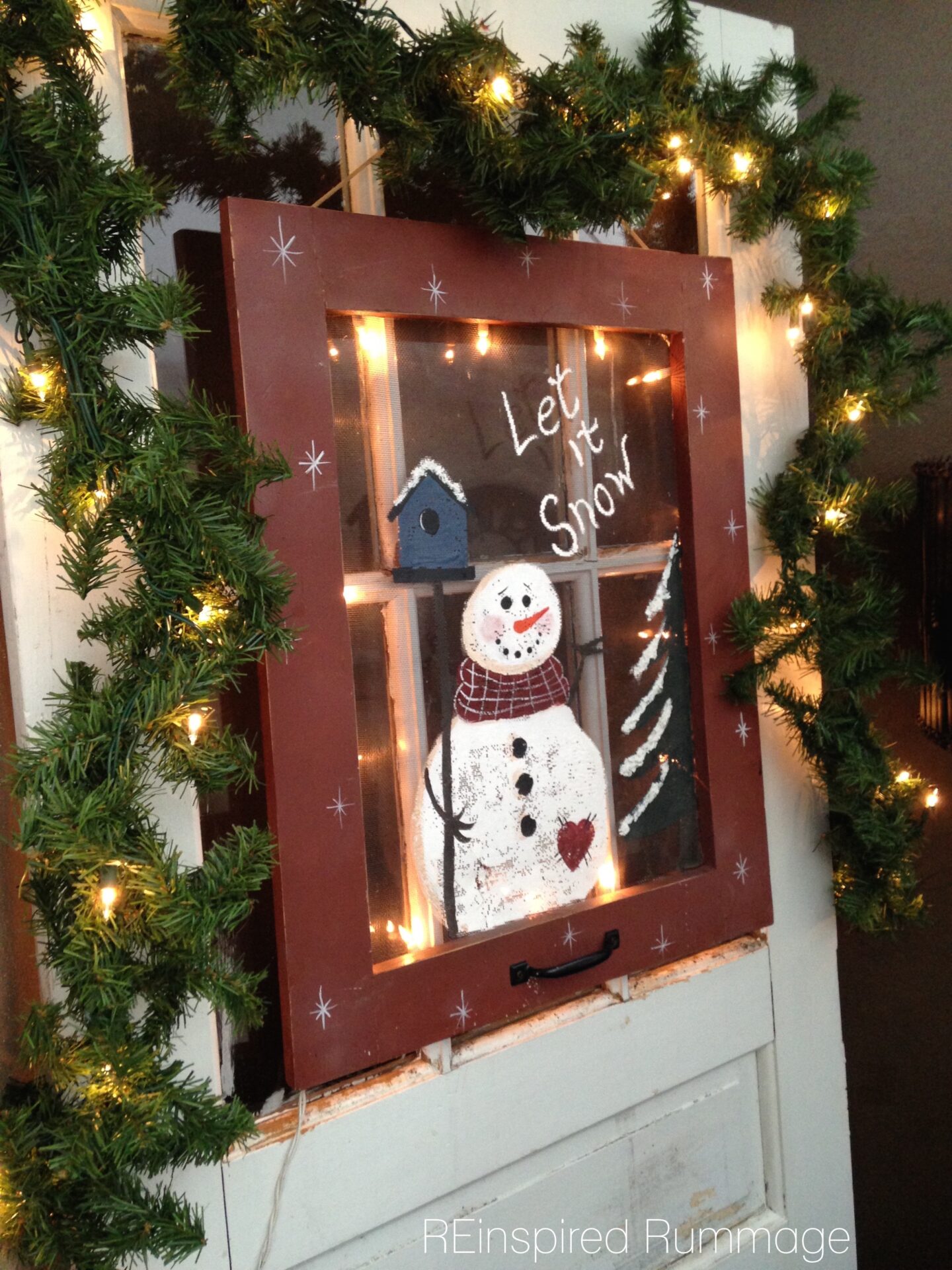 DIY Christmas front door decors are especially fun if you are already a certain artist. If you really want a front door decoration that is totally unique and original, the only option is to paint it yourself – paint the design of your choice directly on the glass and spray the frame any color you want. Use a spray sealer over your finished design to make sure it won't run or peel off when the weather outside gets horrific.
19. A Note From The Heart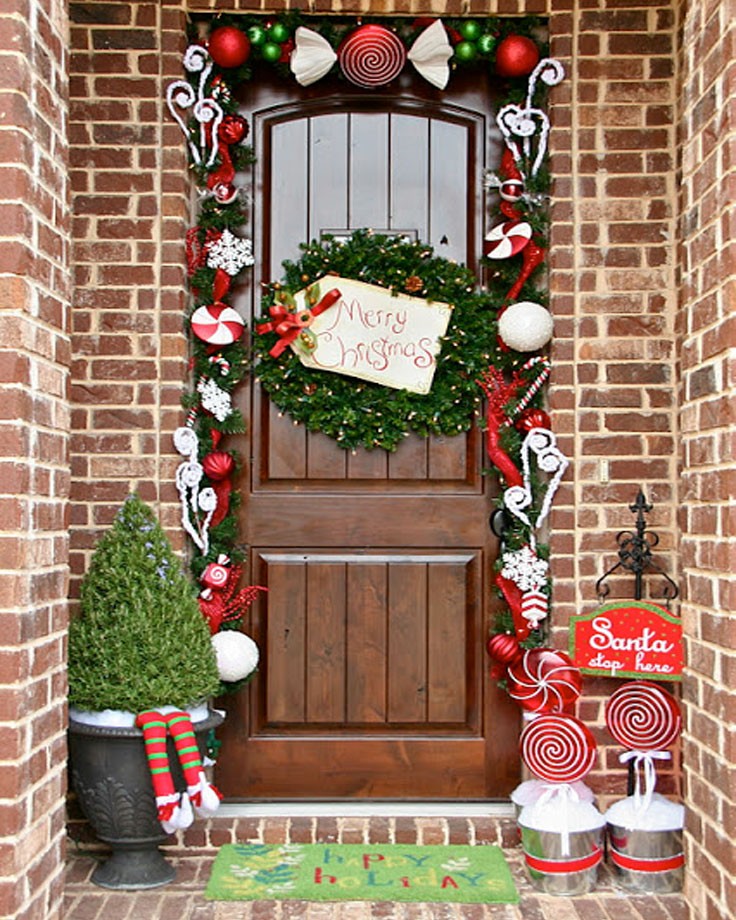 gift tags are an iconic image that instantly reminds you to wake up on Christmas morning and find an abundance of gifts under the tree. A great way to spice up Christmas wreaths is to create an oversized gift tag with a simple message like "Merry Christmas". Pin it in the center of the wreath and hang it on your front door for a cute but classic Christmas decoration. Some white fairy lights and a cheerful red bow complete this adorable door decoration, as do the ivory and styrofoam candies that can also be seen in this decor.
20. Create Stunning Reindeer Landscape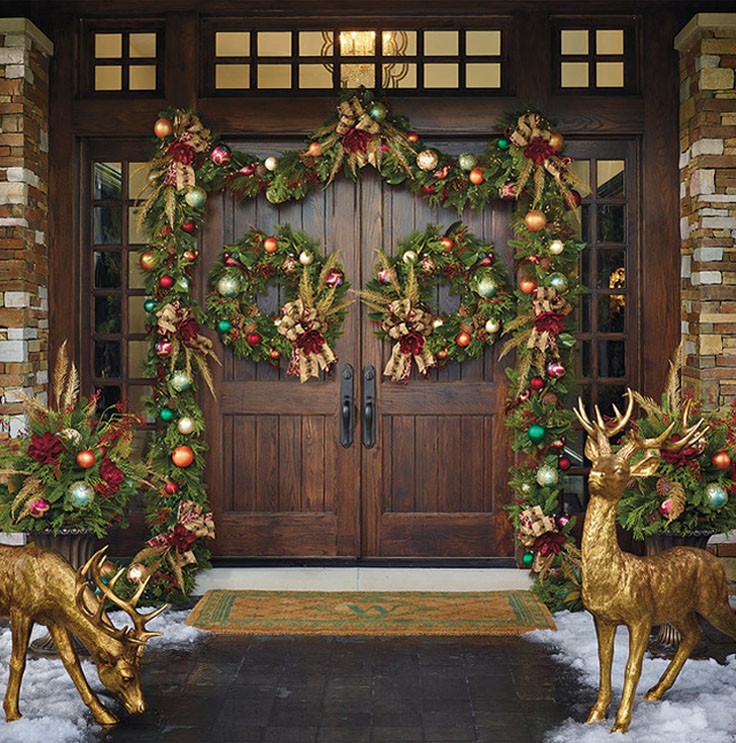 Christmas decorations wouldn't be a Christmas decoration without some classic reindeer. You can easily find these gold reindeer statues at high quality home decor stores, but they can be a little expensive. If you want to recreate this look for your own front door without spending a fortune, you can use golden spray paint with a glossy finish on inexpensive wooden reindeer, easily available at major hardware stores during the holidays. Decorate with garlands and wreaths to complete this beautiful, festive vacation landscape.
21. Conquer tall doors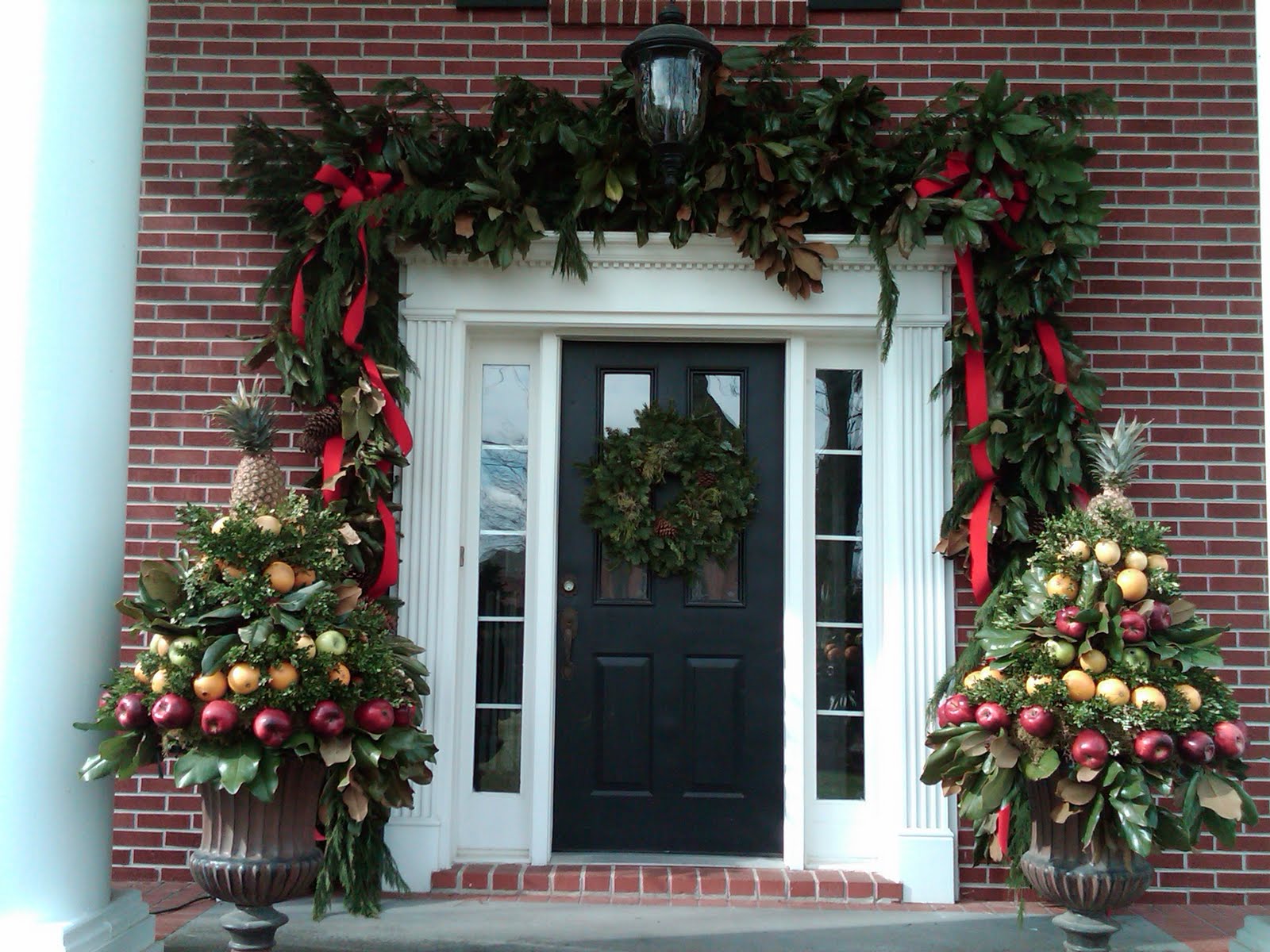 Many homeowners are at a loss when they decorate particularly tall doors. Websites and magazines devoted to Christmas door decoration ideas suggest using garlands, but cords of garlands can look weak when strung around an oversized door. Solve this problem by taking inspiration from the homeowner's photo and using several strands of garlands to form a thick bundle. Extra large red ribbons and pine cones stand out nicely on this large garland that will look proportionate on your door. Be sure to use extra fairy lights for this garland so that it really shines after sunset.
22. Sparkling lights and icicles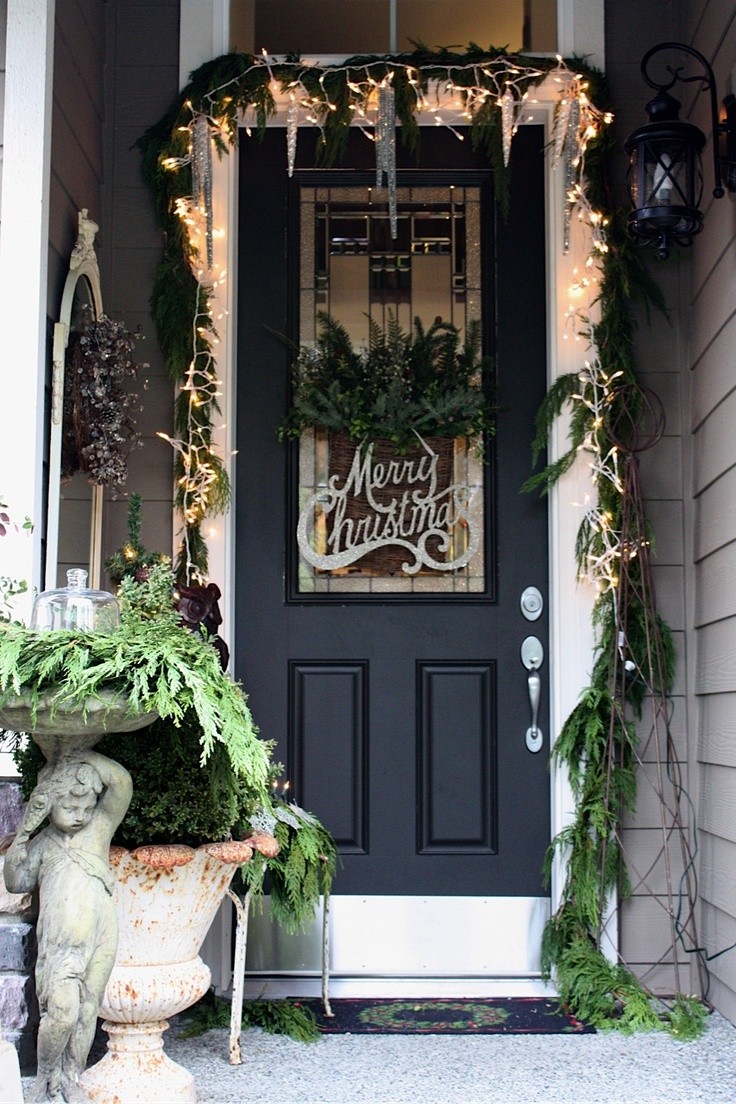 Not every Christmas decoration idea has to be over the top! This stunning front door display is one of the many simple decor schemes that is subtle but just festive enough for the holiday season. This homeowner ditched the traditional balsam and fir garland and opted for a lightweight fern material instead.A simple "Merry Christmas" door hanger rounds off this simple but cheerful look, which is perfect for everyone who wants a front door look that can be quickly assembled and dismantled.
23. Get Christmas Right With Red and White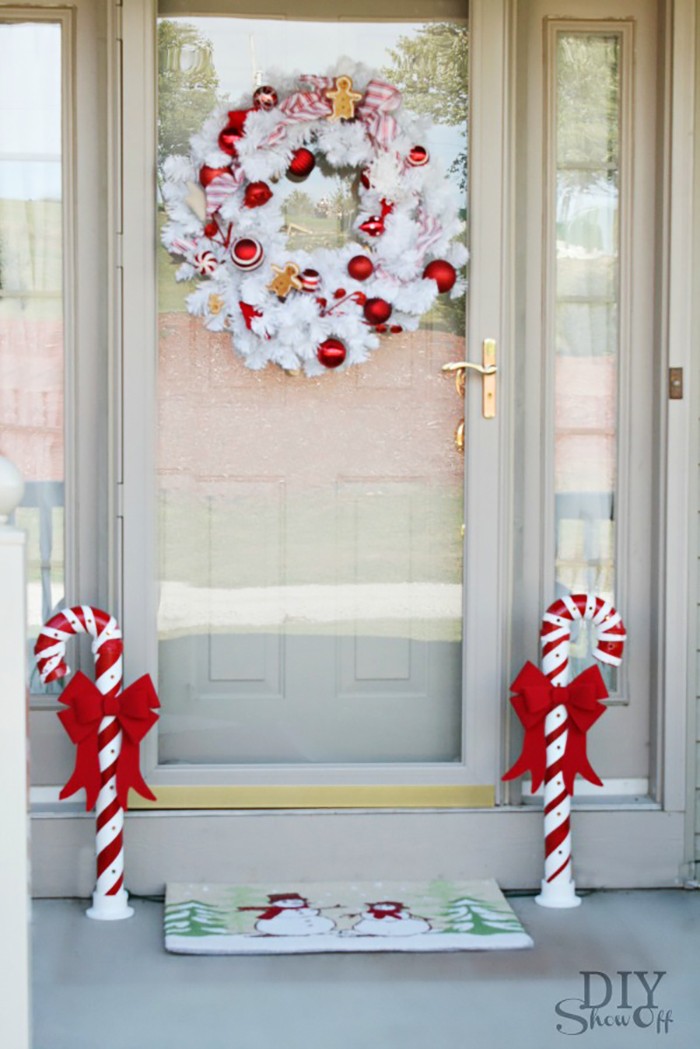 Many of the Christmas decorating ideas on this list incorporate the classic Christmas color scheme of red and green. However, you don't need fir branches and greenery to create a front door design that screams "it's holiday season". The classic candy cane combinations in red and white are just as festive. Not only did this homeowner use two candy canes on either side of their door, but they also put together an adorable red and white wreath that features several miniature snowman ornaments. The red and white snowman welcome mat is the final touch that really holds the cheerful color scheme together.
24. With decals dazzle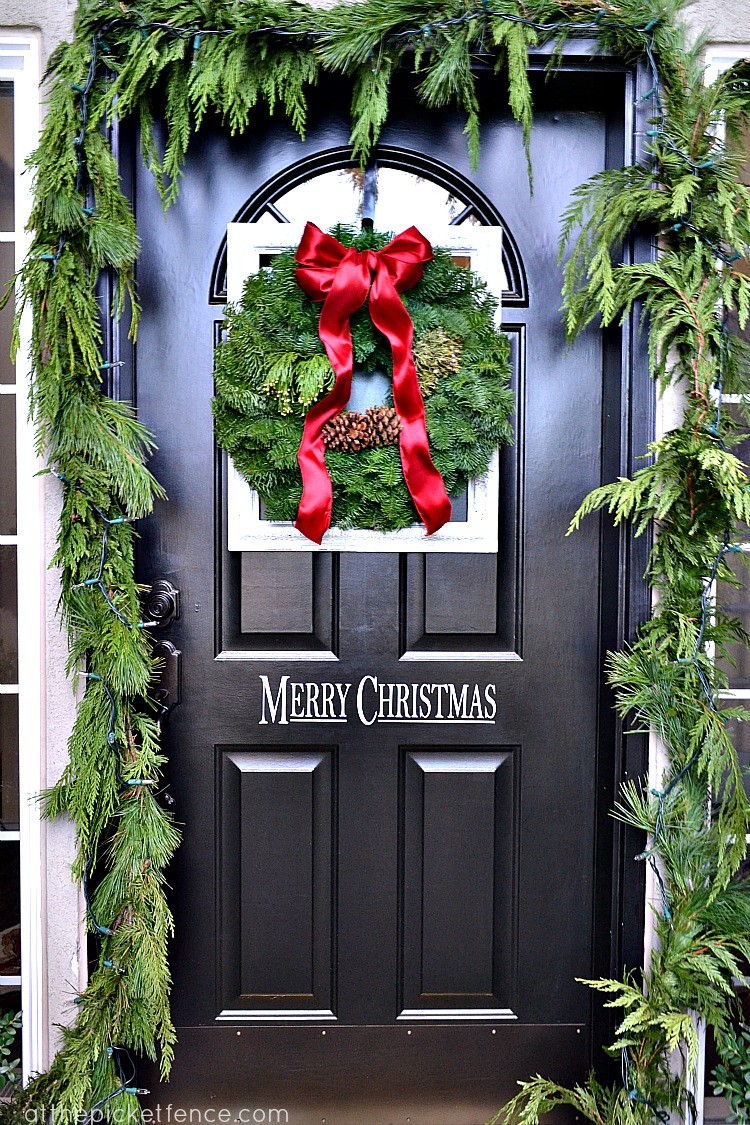 Decals are not only used to stick sentimental quotes on our walls all year round. Instead, they can also be easily integrated into Christmas house decorations. The white "Merry Christmas" sticker on this homeowner's very dark door creates a striking contrast that would look absolutely gorgeous under the floodlights. Don't worry about these stickers damaging the surface you stick them on as they are designed to be easily removed after the holiday season.
25. Make a bold statement with a multicolored design
Many of the decorations on this list have classic color schemes, like the traditional red and green or the classic candy cane-inspired red and white. However, if you're the type who never likes to color inside the lines, spice up your front door look by working with a rainbow of colors. One of the most unique Christmas ideas when it comes to decoration is spraying snowflakes in a variety of colors, from purple to cyan to yellow. Attached to a garland and hung around your front door, they create a finished look that may not be "classically Christmassy", but is undoubtedly festive and cheerful.
26. Decorate with Green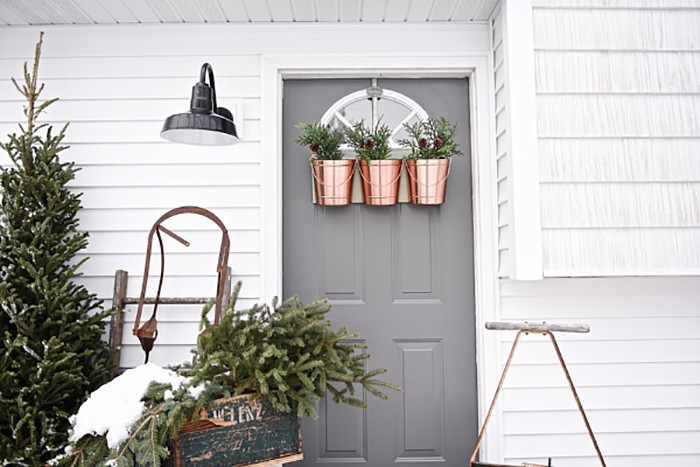 Balsam and fir are an essential part of any great Christmas decorating idea. This homeowner skipped the bells and whistles and focused entirely on showing off green in an elegant and simple way. To duplicate your door hanging, use hot glue or nails to attach three shiny metal planters to a piece of wood that you can easily hang on your door knockers. If the holidays are too hectic to worry about planting conservation, just use fake greens from the craft store. When used outdoors, it is practically impossible to distinguish from reality.
27. A Snowman Silhouette Made of Wreaths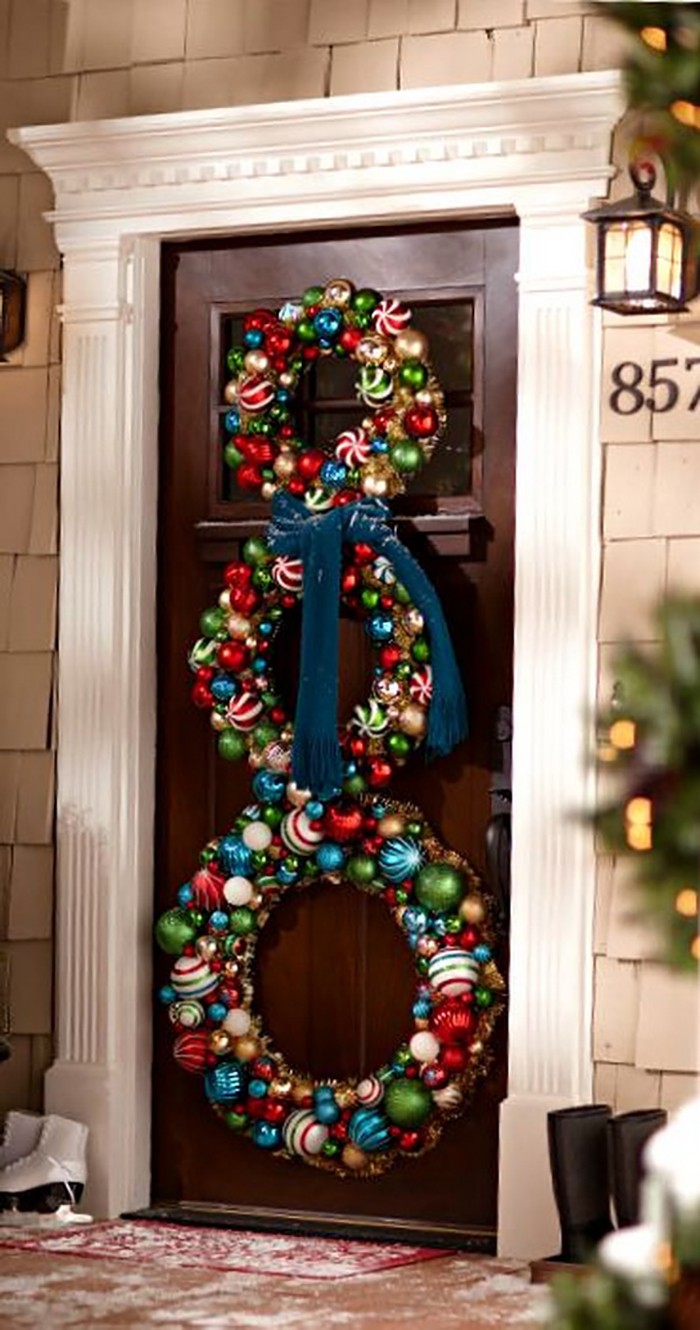 The best Christmas front door decorations are the ones that really catch the eye. At first glance, this wreath trio might look like this. But if you take a closer look, you will notice the scarf wrapped around the "neck" and you will find that these wreaths form the perfect silhouette of a snowman. Decorate the wreaths however you like, but make sure they are uniform in all three so that the snowman design is not lost. To go a step further, place a black cylinder on top of the smallest wreath.
28. Decorate your door with two beautiful green angels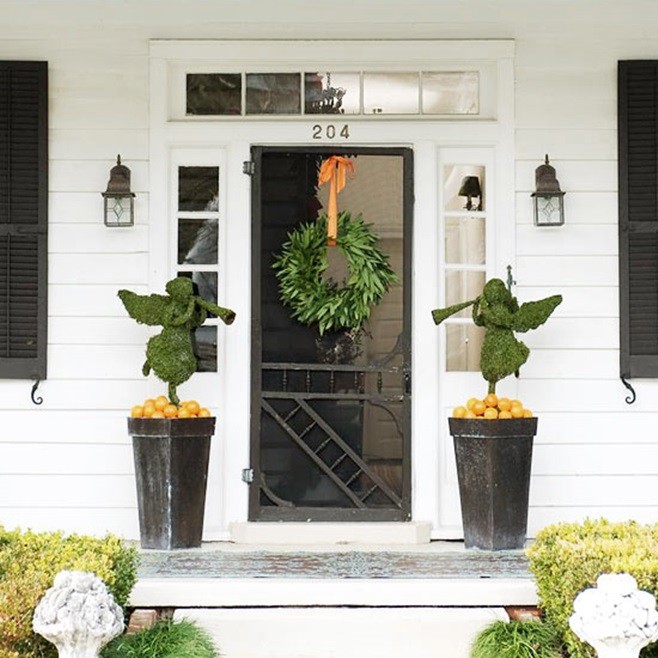 These two wire and green angels are absolutely beautiful on either side of this homeowner's front door.Like many fun Christmas ideas, this is an inexpensive but unique way to add the Christmas cheer to your home. If you want your decorations to sparkle, carefully wrap them with white or gold fairy lights. These green figures also create beautiful shadows at night when placed in front of floodlights.
29. Evoke the Image Of A Starry Night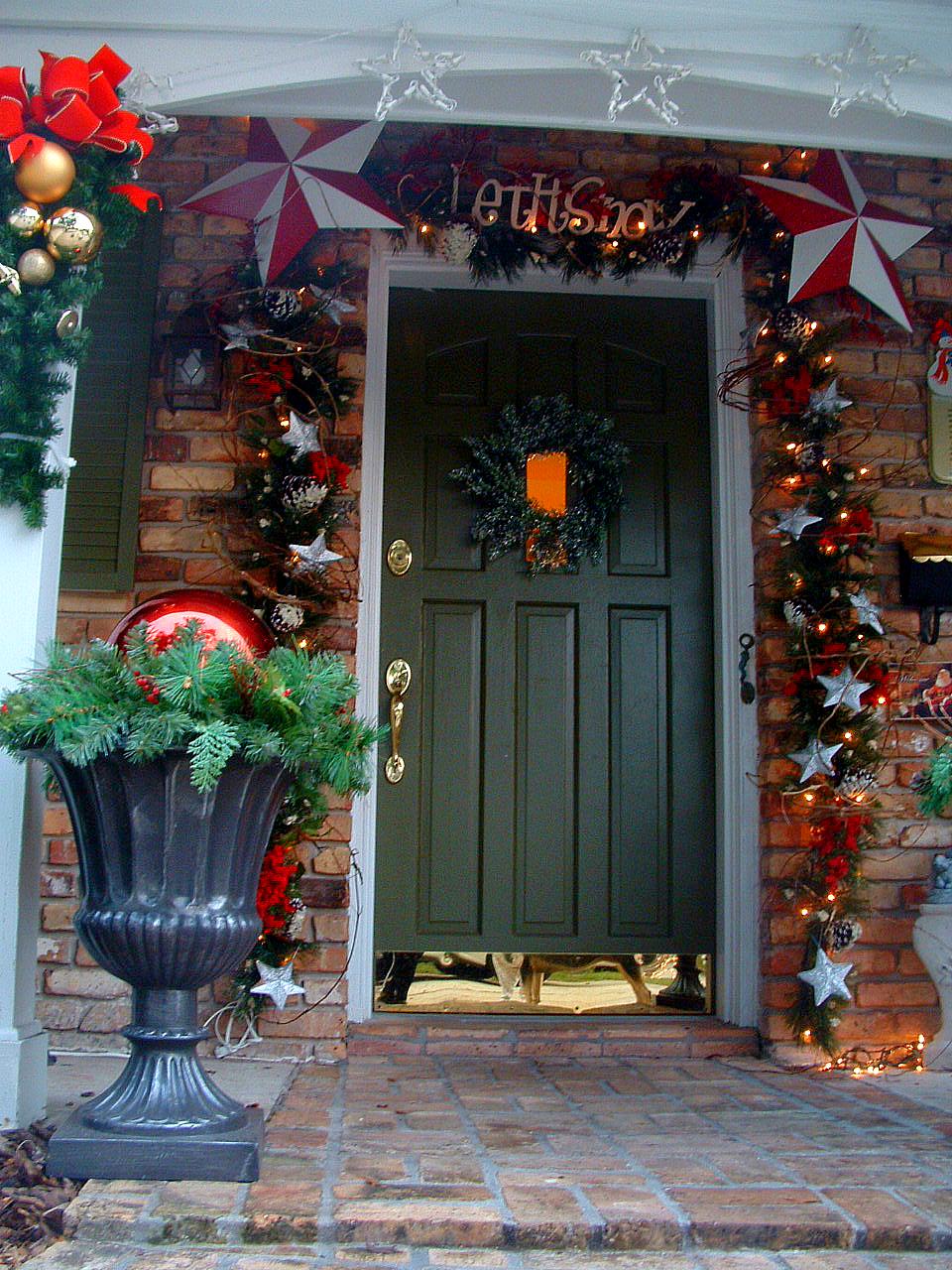 Stars are the best place to start when thinking of the perfect DIY Christmas decorations. This homeowner used several star designs to create an overall beautiful finish. The two oversized stars above are accentuated by a garland of hanging star-shaped lights. The classic green garland is provided with star ornaments throughout, which bring together the entire design motif. If you can't find stars in the shade you want when shopping for decorations, don't be afraid to use spray paint to get the exact look you want. With a little spray paint and glitter spray, inexpensive star ornaments can quickly become something splendid.
30. Spread the Christmas spirit with "upcycling"
"Upcycling", a collective term for "recycling" and "upscale", refers to turning an old material into something incredibly impressive and chic. This is exactly what these homeowners did to create their beautiful "Be Merry" sign. All it took was a few craft letters and a little bit of hot glue to turn that old wooden board into something really nifty. Finding an old scrap material in your basement and brainstorming it to turn it into a department store-worthy decorating item is one of the most rewarding Christmas craft projects you will tackle this holiday season.
31.Say it with wooden block letters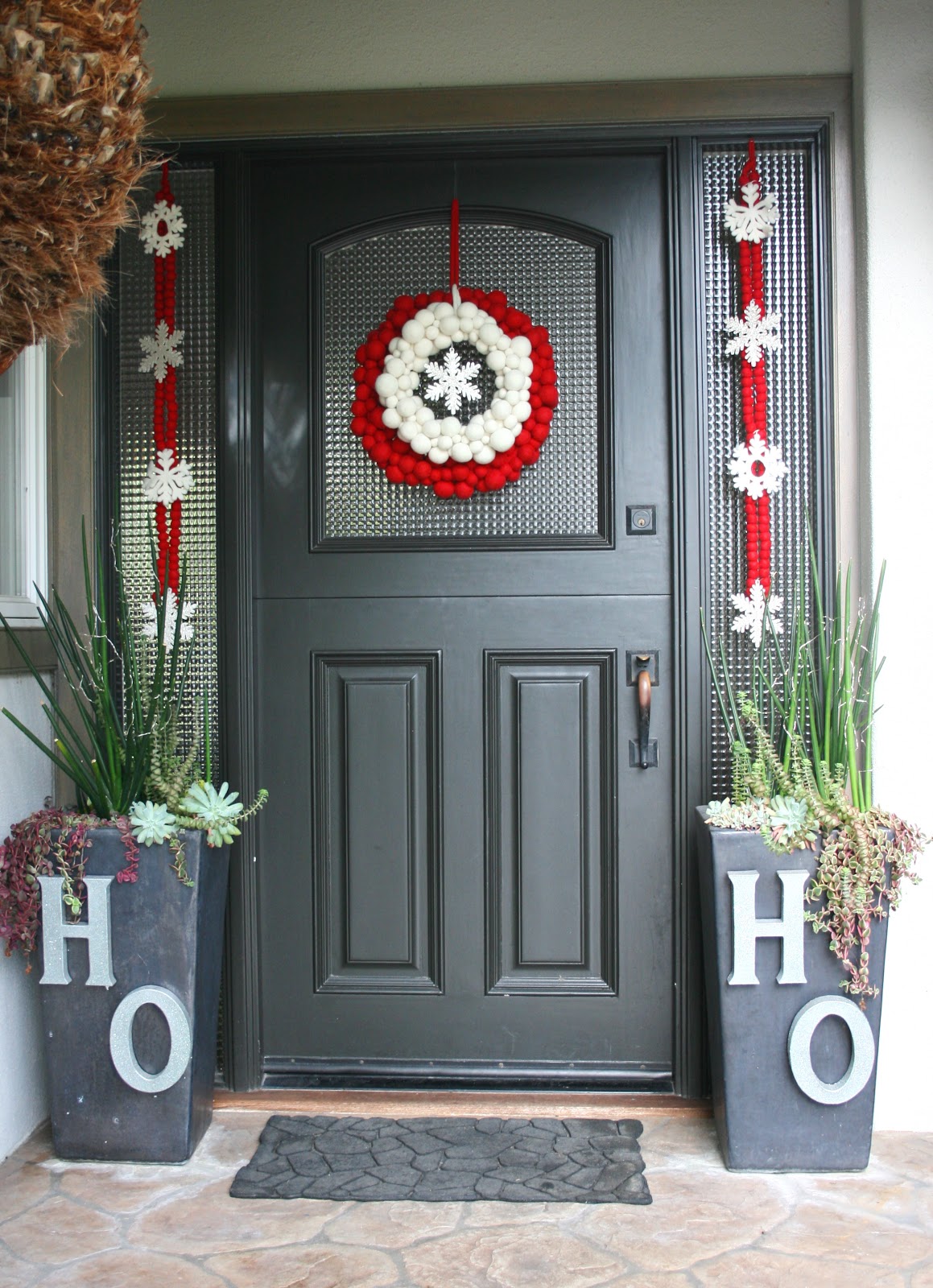 this one crafty homeowner turned two planters into unique Christmas decorations simply by using wooden block letters from the craft store. These letters are unpainted, but you can easily customize them with spray paint. Use weatherproof putty to attach them to make sure they stay in place without the use of a hammer and nails. When it comes to Christmas door decoration ideas, there is no need to stick to one formula. With the right dose of imagination, pretty much anything can be turned into a decoration.
32. Bring the Interiors Outside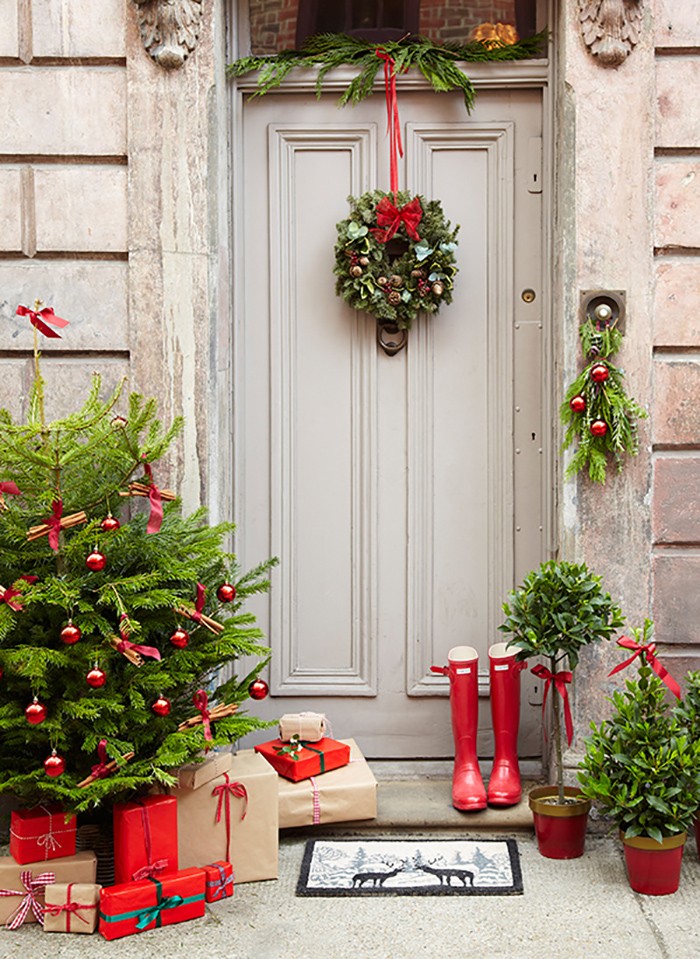 If you are looking for unique Christmas decorating ideas for your front door, consider orienting yourself from home. This crafty homeowner made his outdoor Christmas tree look even more festive by surrounding it in fake gifts. Even if you live in a rainy or snowy climate, you can still duplicate this look. Simply wrap cardboard boxes with a sturdy vinyl material in colors like red, gold or green. Surrounded by wrapped gifts, this tree looks phenomenal when either lit by fairy lights or lit by some strategically placed white floodlights.
33. Whimsical ribbon wreaths DIY Christmas front door decor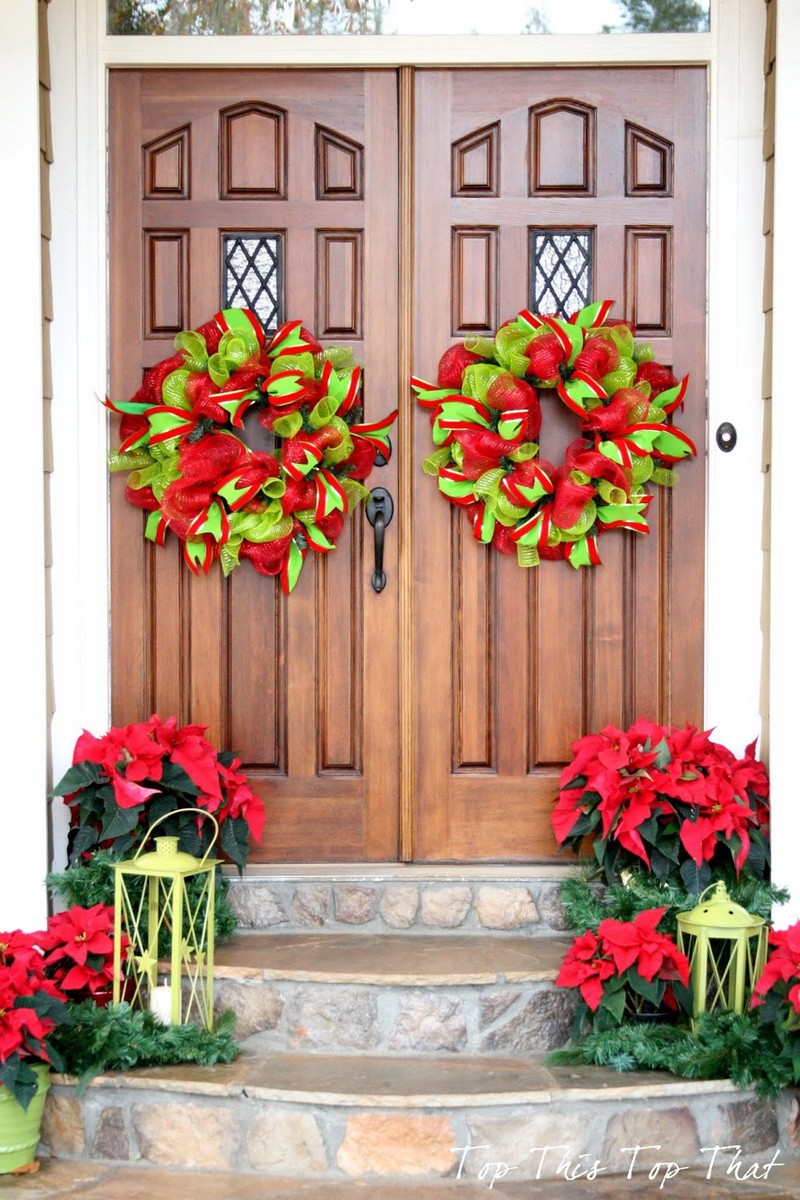 The best DIY Christmas front door decors are those that add a unique touch to a classic Christmas decoration. This wonderful wreath duo does not consist of balm and fir, but of beautiful ribbons, alternating in red and a surprising neon green. The decision to use two wreaths instead of one is perfect for any homeowner who has double doors instead of single doors at the main entrance to their home. The rest of the look is beautifully simple yet stunning, with two large candle lanterns surrounded by some classic red poinsettias.
34. The Beauty of Contrasting Colors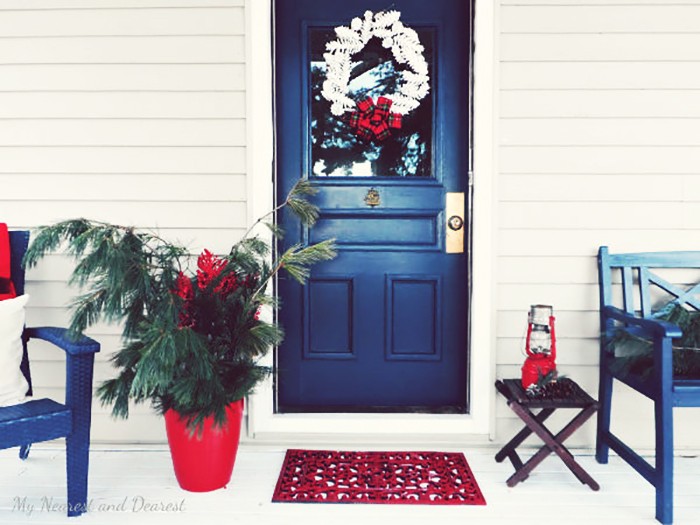 Not every homeowner has a front door in a neutral wood or mahogany tone.They do it beautiful, however, by using a crisp white Christmas wreath in place of the classic green color that would have clashed with the blue of the door. This is the perfect inspiration for any homeowner who needs to come up with Christmas home decorations that don't clash with the permanent color scheme of their home.
35. A winter chandelier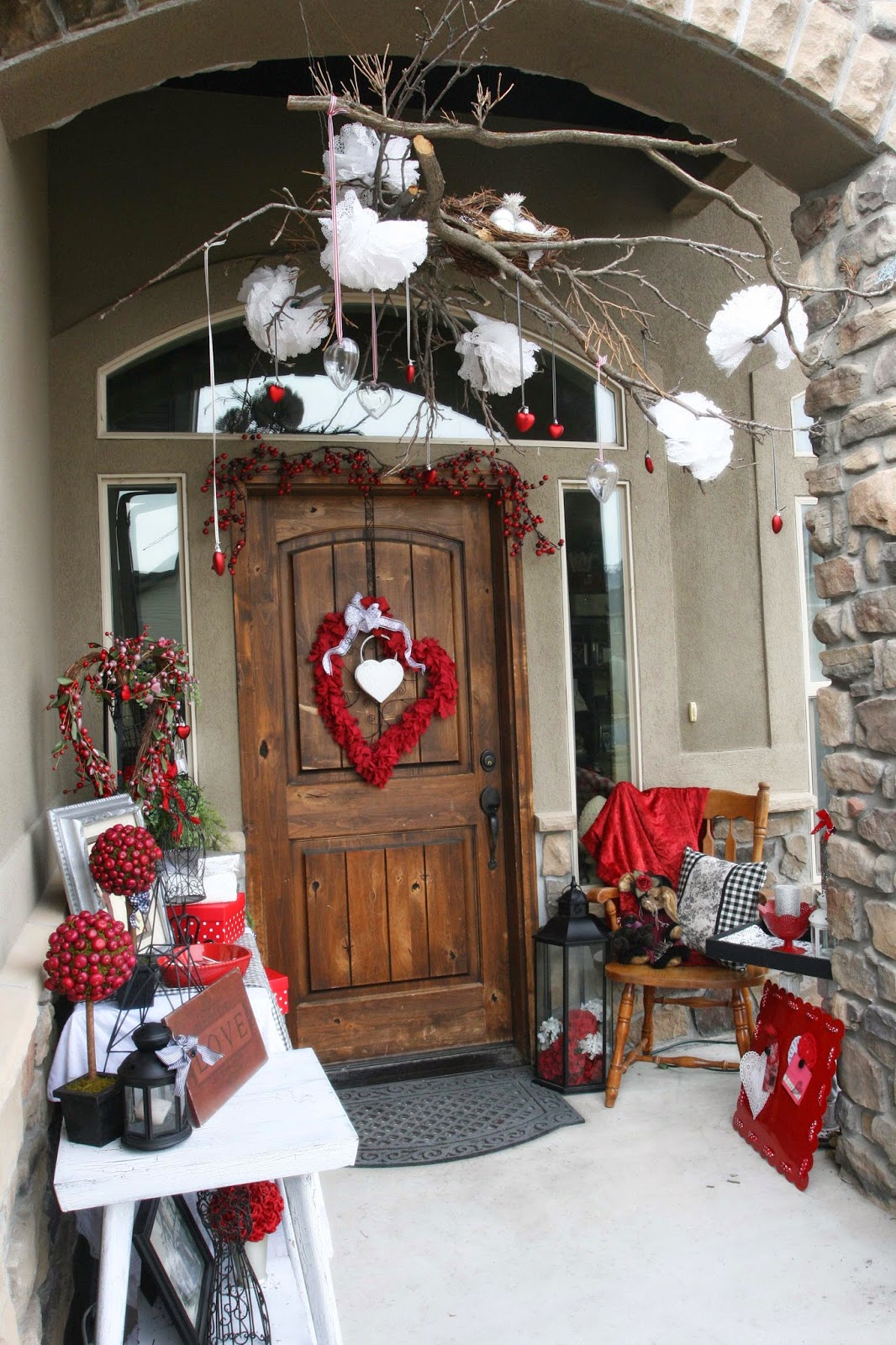 The ultimate cool Christmas decoration is the one that is homemade but resembles something that would be found in an upscale home design magazine. This breathtaking "chandelier" made of fallen branches, white fabric balls and hanging red decorative pears is a perfect example of one of these decorations. Construct your own by strategically hot taping fallen sticks and twigs together to form a bundle. Decorate as you wish, be it with fairy lights, ornaments, fabric or tinsel. This beautiful hanging decoration looks really stunning at night. Feel free to play with a wide range of colors or follow this home owner's inspiration and stick with a color theme like the red shown here.
36. A door that hangs so simply yet so beautifully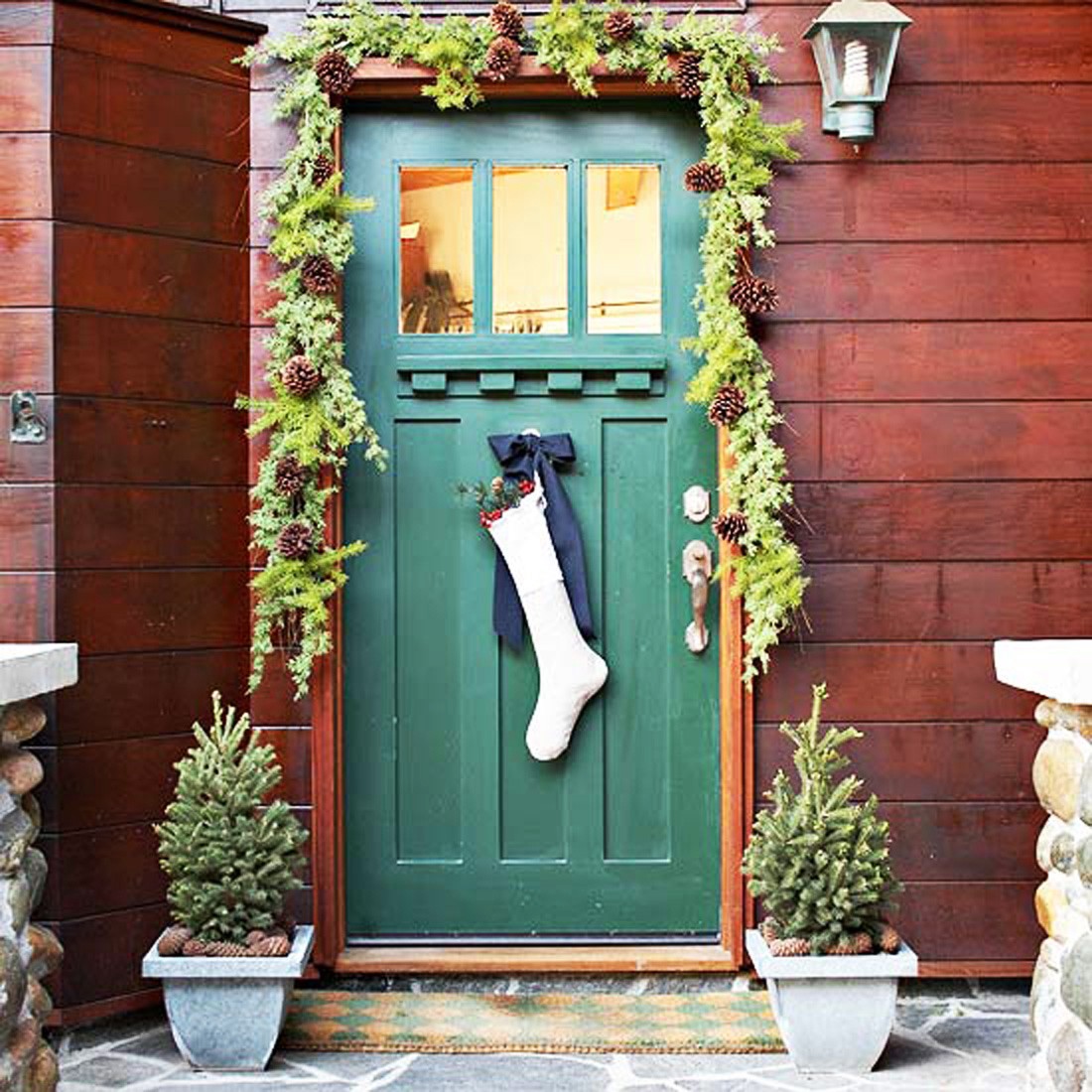 This is one of those vacation front door designs that is breathtaking in its perfect simplicity. To achieve this homeowner look, simply fill a long white stocking with pillow fill or newspaper and hang it on your door knocker by accenting it with a medium bow. This homeowner has kept the minimalist theme by hanging a very neutral garland over his dar that is decorated with pine cones instead of ornaments or bulbs. This look is proof that you don't have to go out of your way to show off your Christmas cheer.
37. Hung From A Snowflake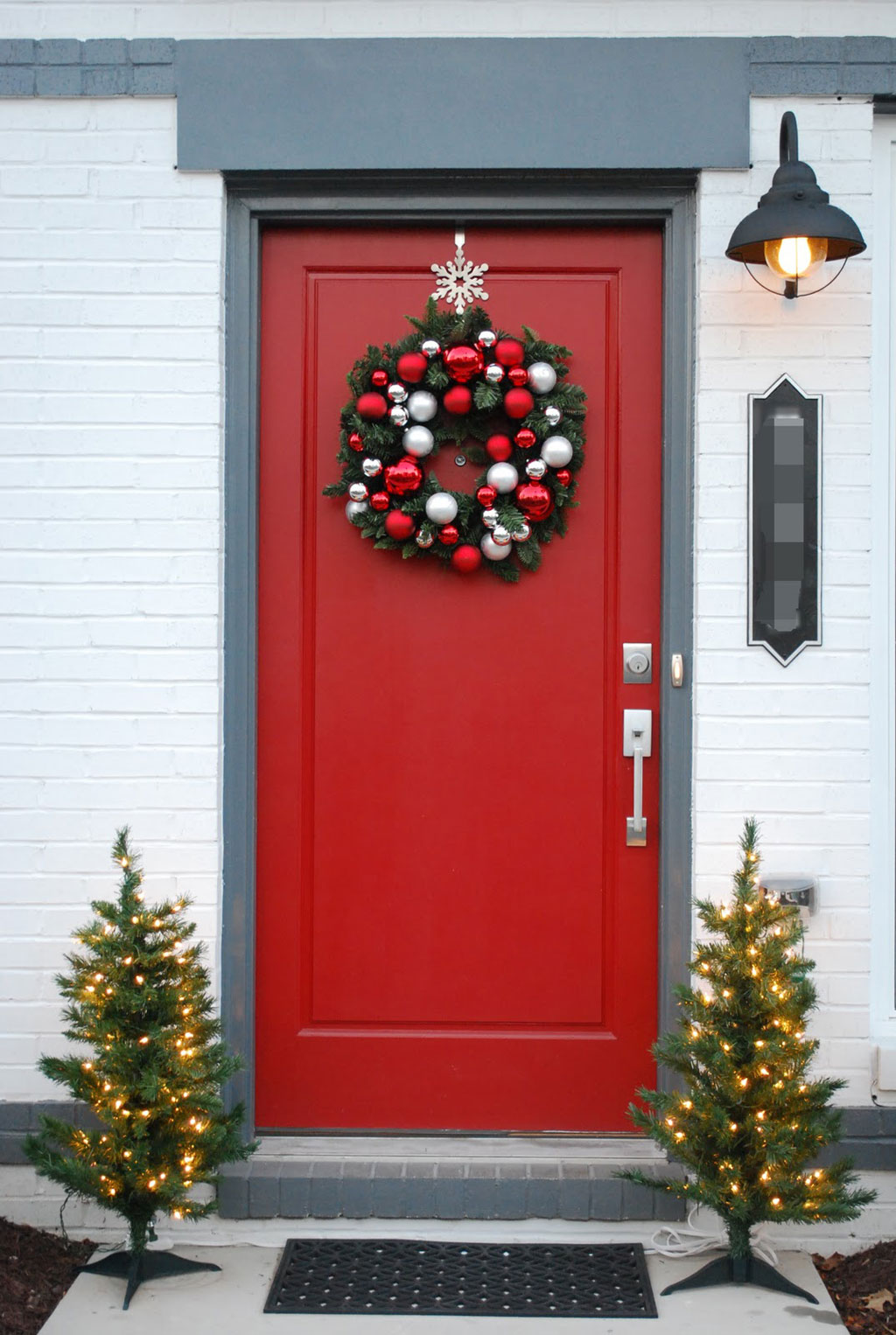 Many of the best Christmas door decorations are puzzling to homeowners. This homeowner used a snowflake ornament to solve this problem. Tie a ribbon at the top with a snowflake ornament of your choice. Nail the tape to the door where the hole is not visible. Then you can use a ribbon to tie the wreath from the underside of the snowflake. Not only is this an absolutely practical solution to a common concern, but the finished look is absolutely stunning too.
38. Spread the Christmas cheer with a festive table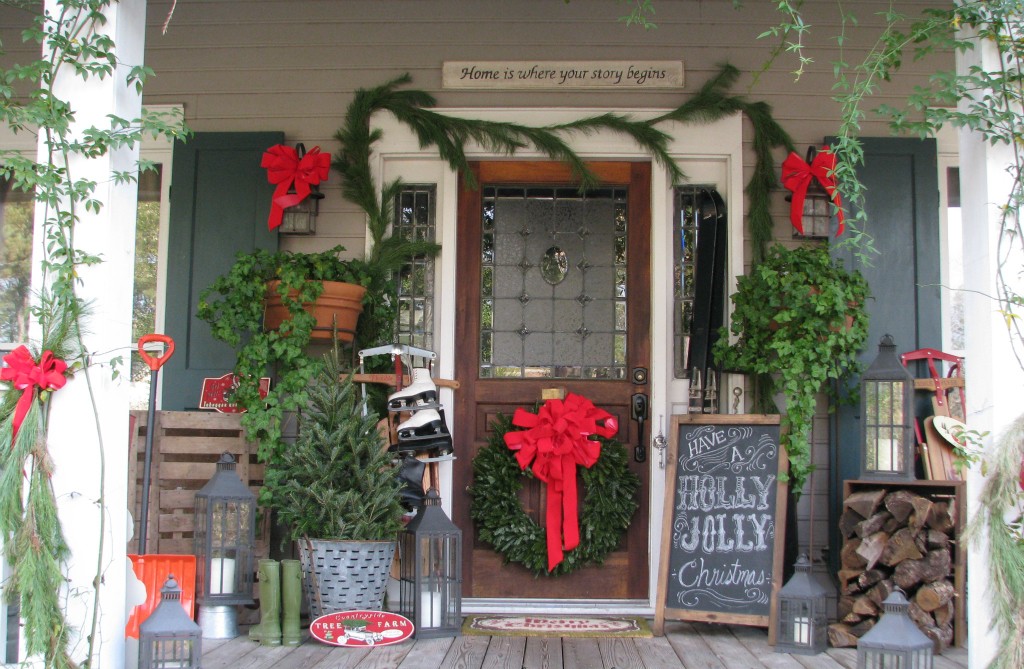 The main entrance of this homeowner is beautifully designed, with a variety of garlands, wreaths and decorative details. However, it is the use of the chalkboard that sets it apart from the rest. These standing chalk boards are easy and cheap to find in specialist restaurant shops, as they are mainly used to advertise specialties for restaurants and bars. You can create a chalk design for the whole season or change the message to whatever you want. This decoration idea is not only beautiful, but also festive and fun for the whole family.
39. A Little Christmas Snowman Made of Wreaths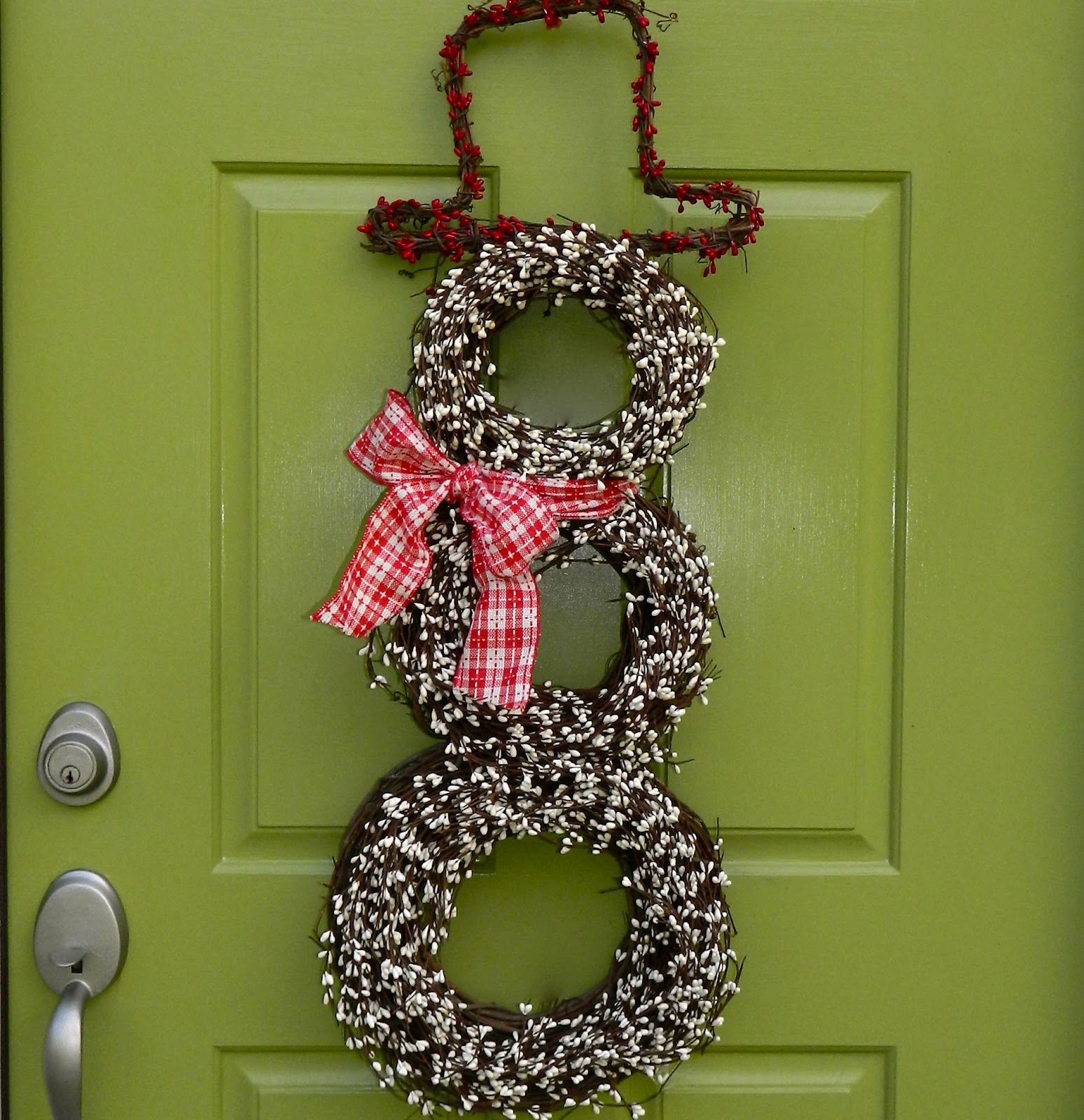 We've already seen a snowman made of wreaths on this list, but this lovely little door hanging is further proof of why homemade Christmas decorations are the best Christmas decorations. This little snowman can easily be made with little wreaths or hoops from the craft store. Use strands of a shimmering silver or white garland wrapped around each wreath to recreate the snowman seen in this photo. To create the cylinder, create an outline out of wire, then wrap it around it with brown string or twine. You can finish off the look with a nice red ribbon.
40. A Jumbo Wreath with Fun Decorations
This homeowner has chosen a jumbo wreath, which they accentuate with a variety of fun decorations.To add a really festive mood, add fake poinsettias from the craft store. Cut off the stems and attach them to your wreath with hot glue. The red decorations on this wreath contrast beautifully with the homeowner's red door. The two simple trees on either side of the entrance adorned with plain white lights complete this look beautifully.