Why do people decorate their dining tables for Christmas? What are some of the best ways to do this? Christmas is one of the few times of the year that allows us to take the time to do something artisanal and beautiful regarding DIY Christmas ideas. Creating a special kind of Christmas table decoration is a great way to warmly welcome guests into your home this Christmas season. Tables are one of the few places in the world today where we come together to share time, stories, laughs and memories.
We know that Christmas is busy, money is tight, and time is short. But trust us, it's worth creating a table display in just a few moments that you can enjoy all season long. Get ready to browse 40 of the most creative and nifty ways to set the table and impress your family and friends this holiday season.
1. Centerpiece made of birch wood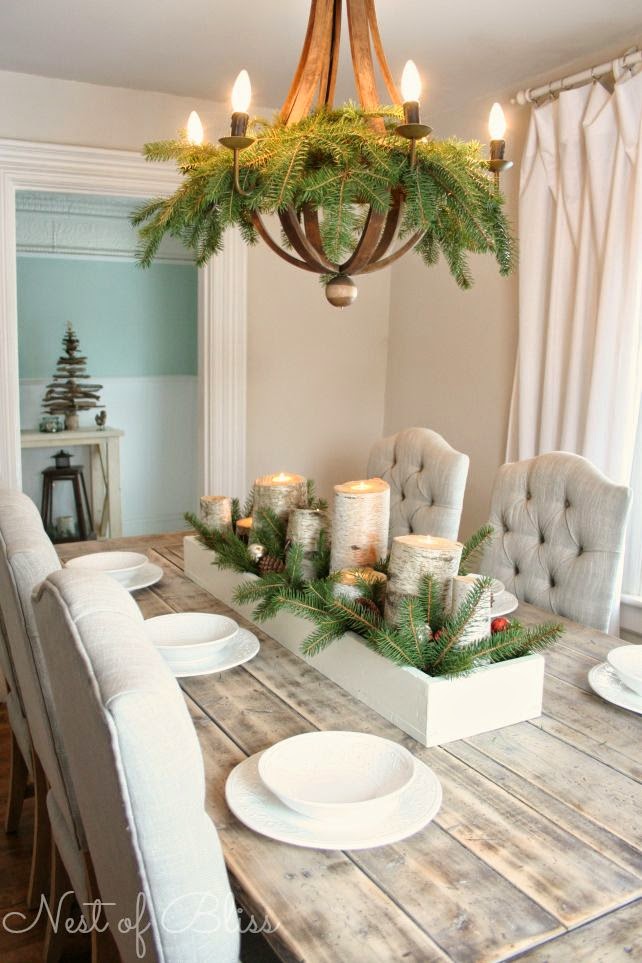 This Christmas table decoration made of recycled birch wood is a classic and simple edition for your dining room table. Wooden boxes of various sizes are available at your local craft store, votive candles create a soft and warm glow, and you can get creative with the green and red tones that you add. For a longer table, try using 3 smaller rectangular boxes and spacing them apart for a fuller and more elegant effect. Experimenting with different paint colors, like a cheerful red or a calm cream, will change the mood and be fun for you.
2. Starry Branches

Can simple old sticks be starry and bright? A simple string of lights, a trip to the woods (or the back yard) to collect some sticks, and an elegant glass. That's all it takes to make this beautiful piece a reality. For a natural, earthy effect, add some pine cones or some natural green to the bottom of a transparent glass jar and enjoy Christmas in all its natural beauty. If you put a few candles around the bases of the vases, the piece will be pulled together and the lights on the branches will be nicely tied in.
3. Cutlery stockings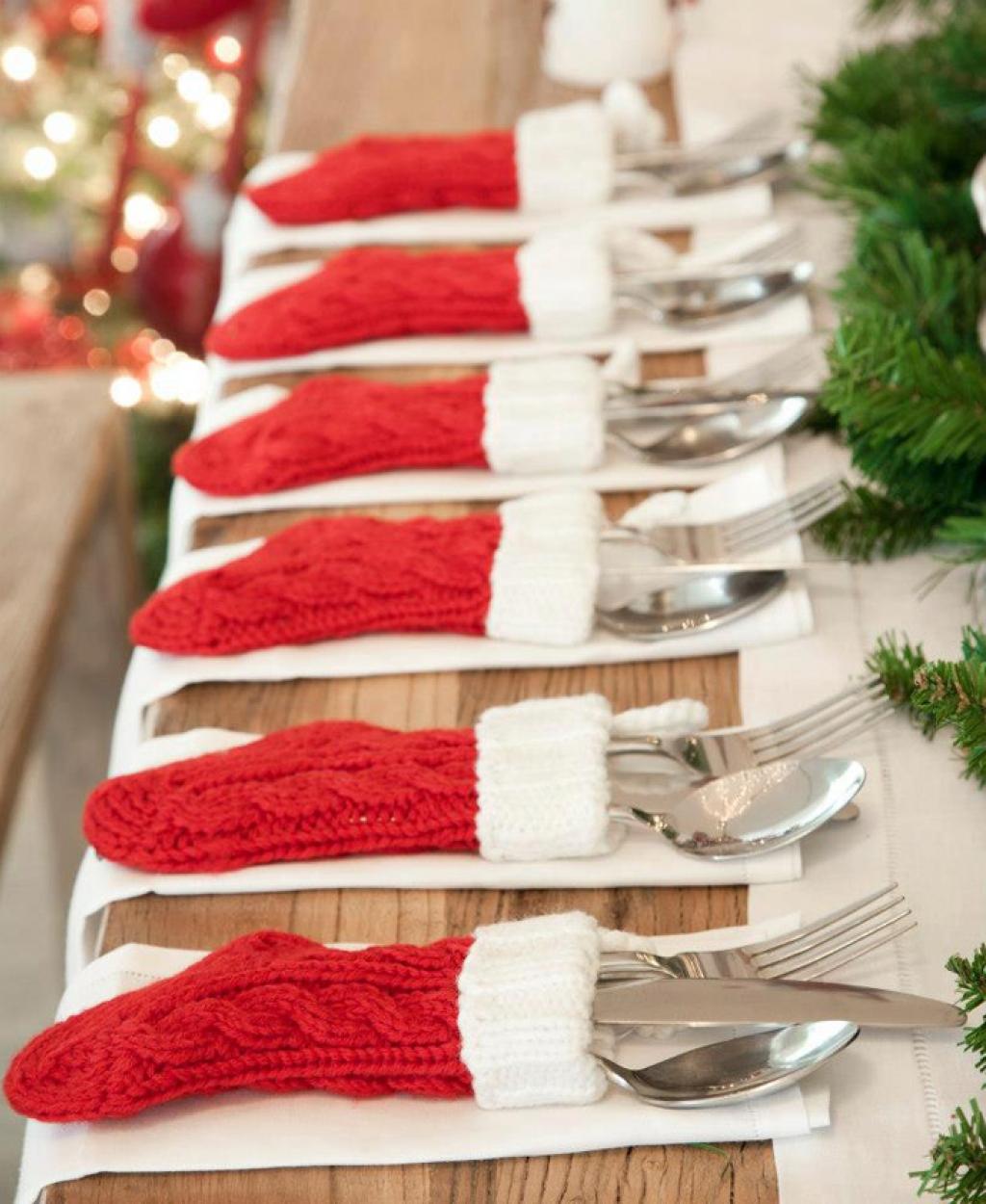 Spice up the table setting this year and bring the stockings to the table. Do you know a knitter? This is a pretty simple project that can be done over the course of an afternoon, so if you want a DIY Christmas. The classic Christmas tradition says you stick with red and white stockings, but we think it's super fun to spice it up and add some texture to the table by using different colors, zigzags, polkadots and stripes! Have even more fun with it and turn it into a game, put stockings around the table that suit each person and let them guess where they are sitting! You don't wanna do it? Google "little stockings" and you are ready to buy them.
4. Snowman Table Settings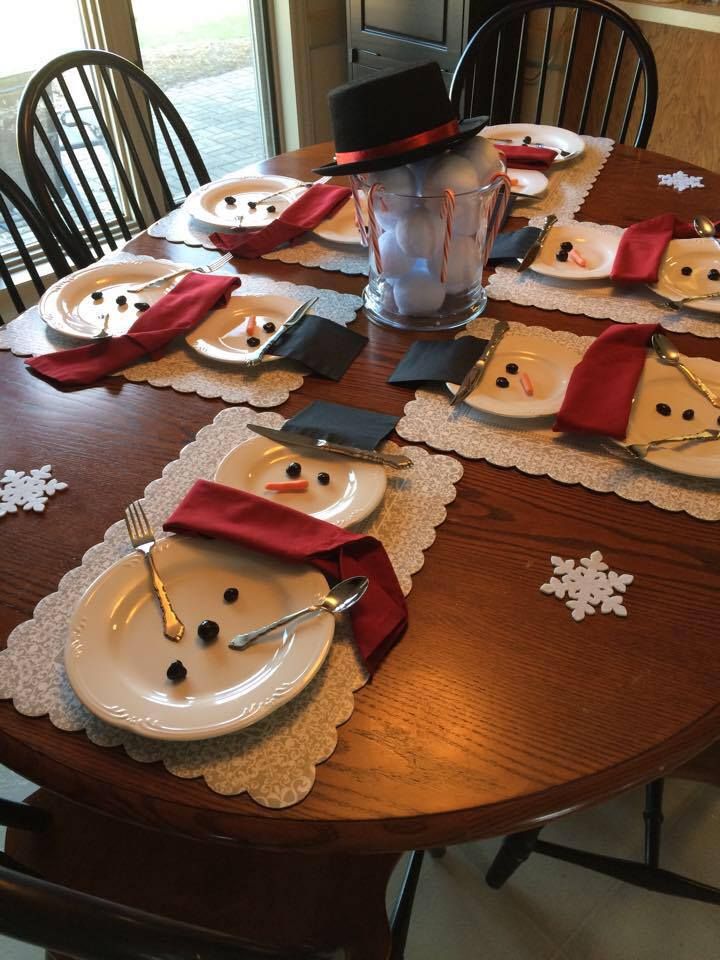 This is one of the simpler Christmas table decorating ideas that you can implement without having to look for unique, clever items. It's as easy as it gets and that makes it so damn good. White plates, black olives, mini carrots, white placemats, black and red napkins, cutlery and … voila! You are ready to go! If you're looking for great decorating ideas and a fun way to involve the kids for Christmas and have them help set the table, this is a great way to do it. Good luck trying to get her to clean up; we make no promises about this.
5. Miniature White Christmas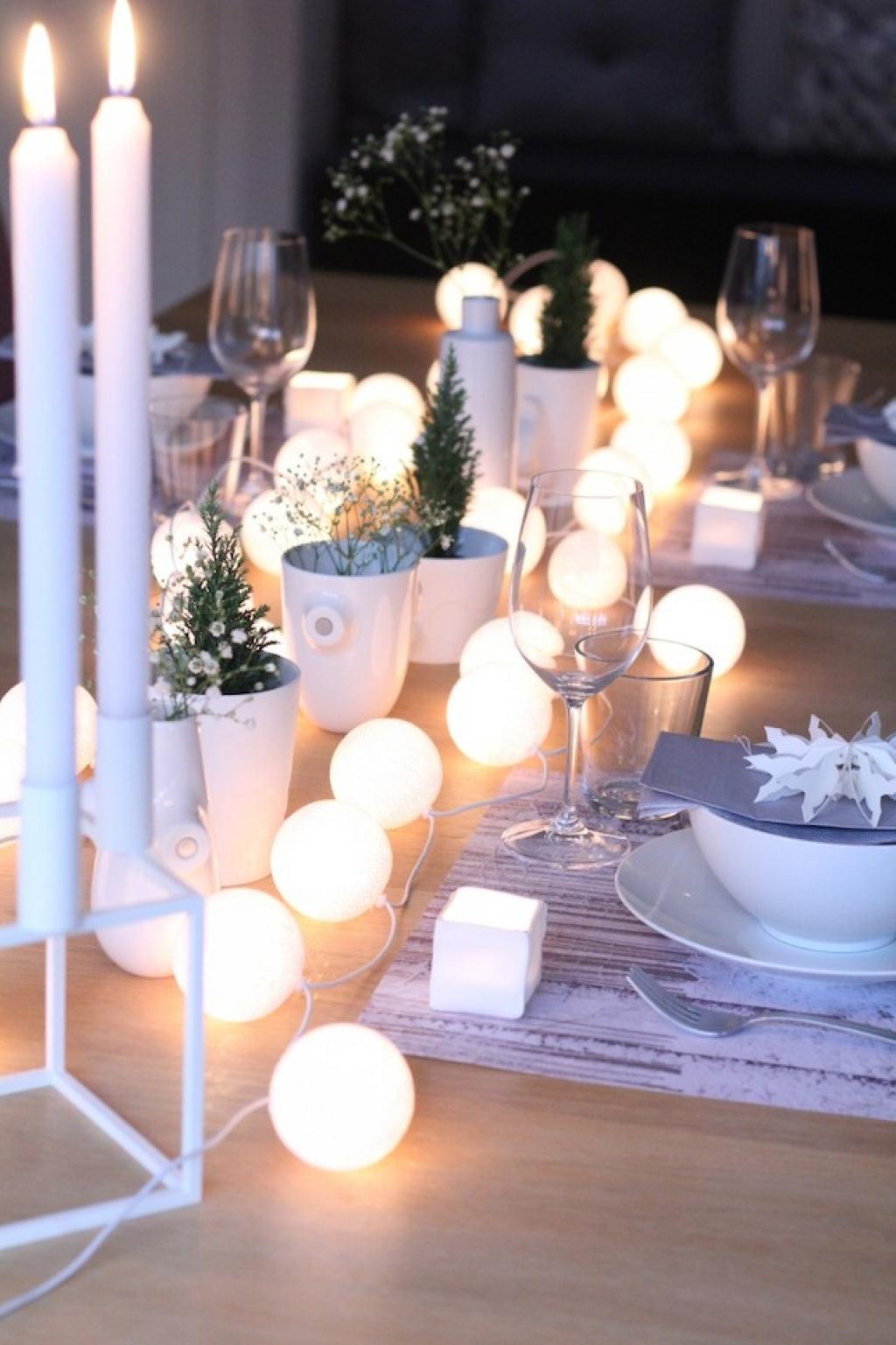 Everything is completely white and that is exactly the magic of this miniature wonderland.Candles, a few stalks of baby breath, and a couple of white coffee mugs bring this magic to life. Add a row of white lights (your choice!)
6. Rockin 'Around the Christmas Tree

Who would have thought that folding some green napkins could create a fun Christmas tree on your plate? This is a Christmas staple and a keyword for future decorating ideas, this is a super fun DIY Christmas idea that leaves plenty of room for improvisation and is a great project for families or for kids. All you need is something yellow, green, and brown. What you use is up to you!
7. Rustic Cabin Lantern Center Piece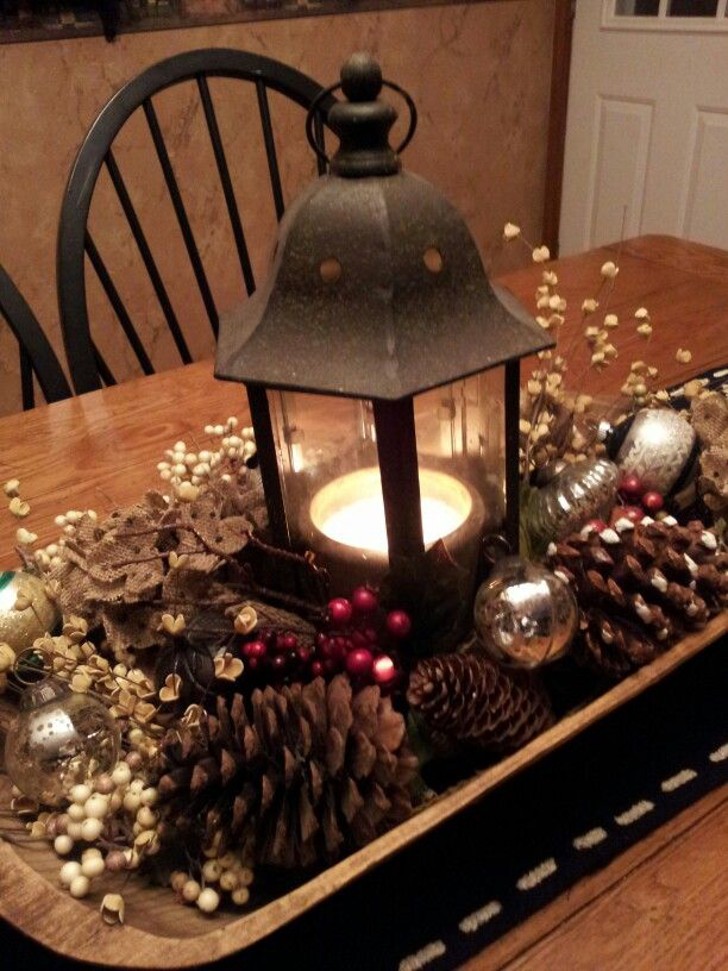 This is a great centerpiece for this cozy country cabin. It's easy to make, and can be as simple as putting a packet of potpourri in a wooden basket and adding a few small ornaments as well as a handful of your favorite dry flowers. Find a rustic looking lantern or oil lamp that goes with the woody Christmas theme and there you have it! To change things up a bit, put a red, cinnamon-scented candle in the center for a cheerful aesthetic and a warming smell. This piece is sure to give you great pleasure.
8. Deck the Halls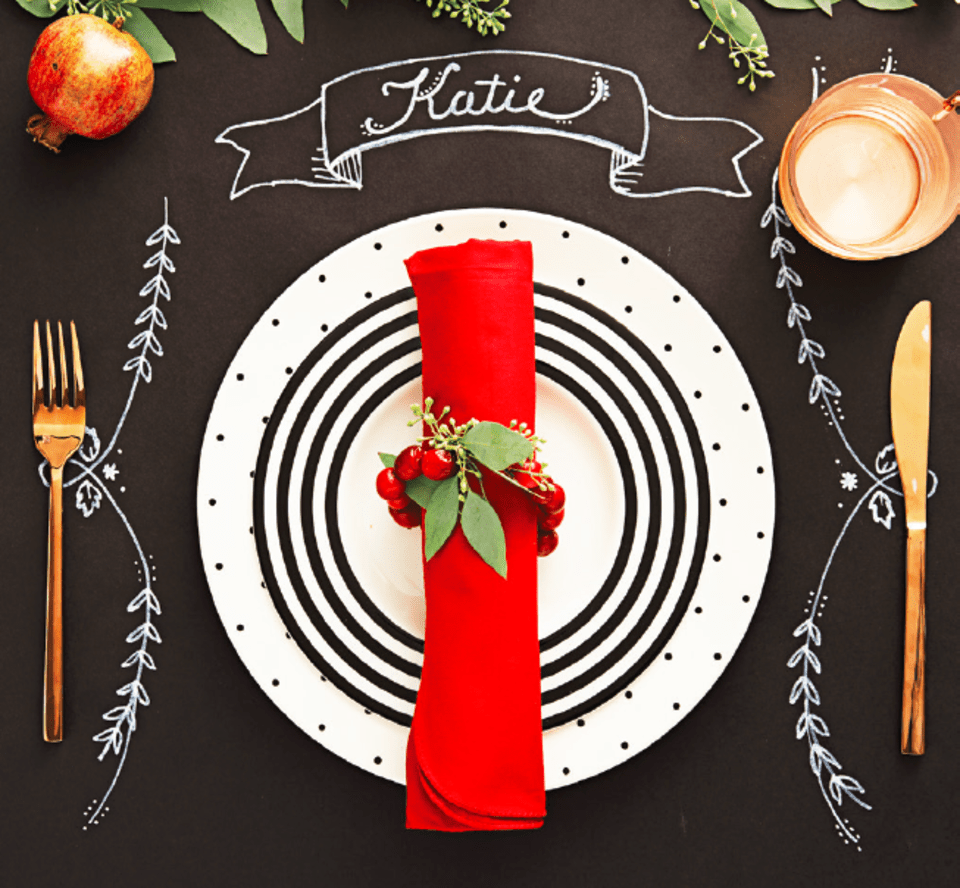 This cheerful little place setting stands on its own and is sharp enough to let every single setting speak for itself. The key to the perfect Christmas table decoration here is to find a great white gel pen that will write well and boldly on your black paper place settings. Of course, there are other little details that help make it look super classy, ​​like gold cutlery and the quirky but energetic combination of polka dots and stripes on your plate. But don't worry, you can use any type of plate and season it to your liking. If you really want to go the extra mile, get some fresh greens from your local florist and spice up the table.
9. Old Fashioned Holiday Season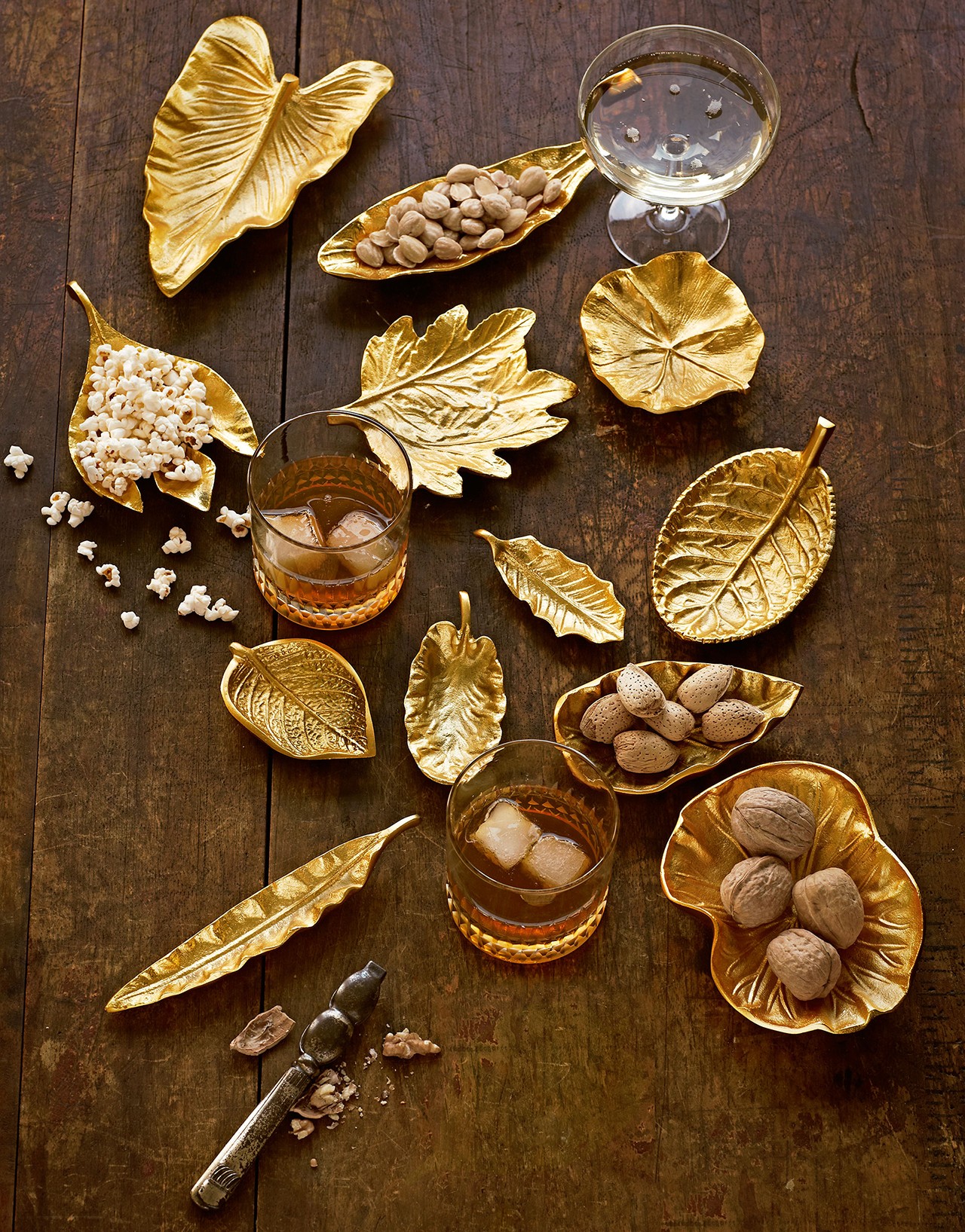 These dried leaf and seedling dishes are creative and nifty ways to serve your snacks this holiday season. This DIY Christmas idea is a festive way to spice up your happy hour without going through the hassle and preparing a series of table decorations for dinner. Keep the colors neutral, bronze and gold to give the dark bourbon or whiskey a distinctive accent that will complement your dried fruits and nuts (almonds, cashews, pecans, popcorn) so well. This warming display creates the perfect atmosphere for relaxed and relaxed conversations, to reduce stress and to enjoy life with family and friends. Add some dried fig or goat cheese starters to make it even better. Yum!
10. Hiking in a Winter Wonderland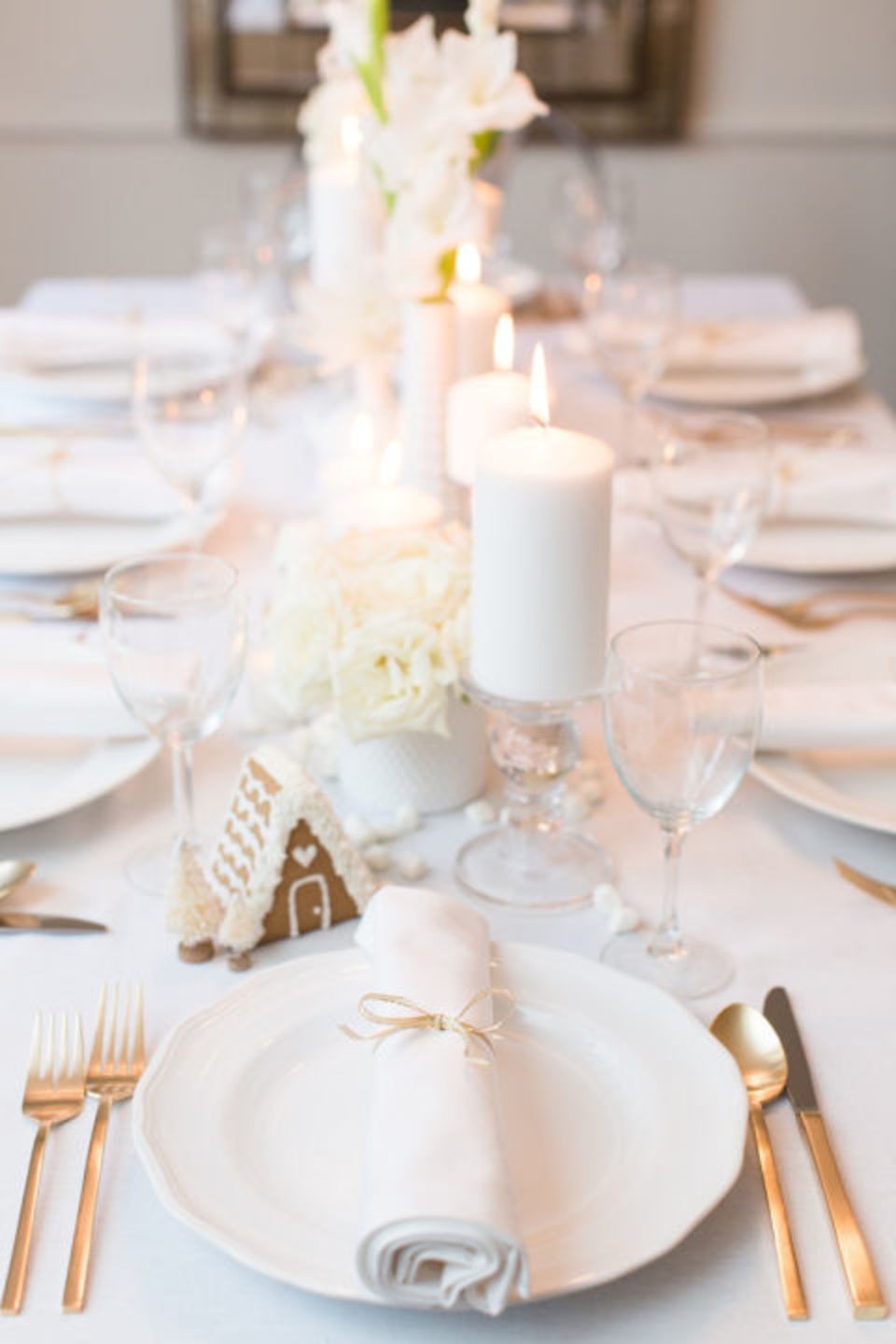 White, White, White! Brighten up the dreary December days with this all white Christmas table decoration. Get fresh and full-bodied white hydrangeas from your local florist to dine with a delightful scent and create the impression that little snowballs are sitting on your table. Then add a few candles and take the gold with the cutlery if you can (silver works fine too). While this photo shows everything white, we know that what really brings this white wonderland to life are the greens and reds you put on plates. Try serving a delicious cranberry and kale salad or some asparagus with beets and carrots.
11. Tiny Box Forest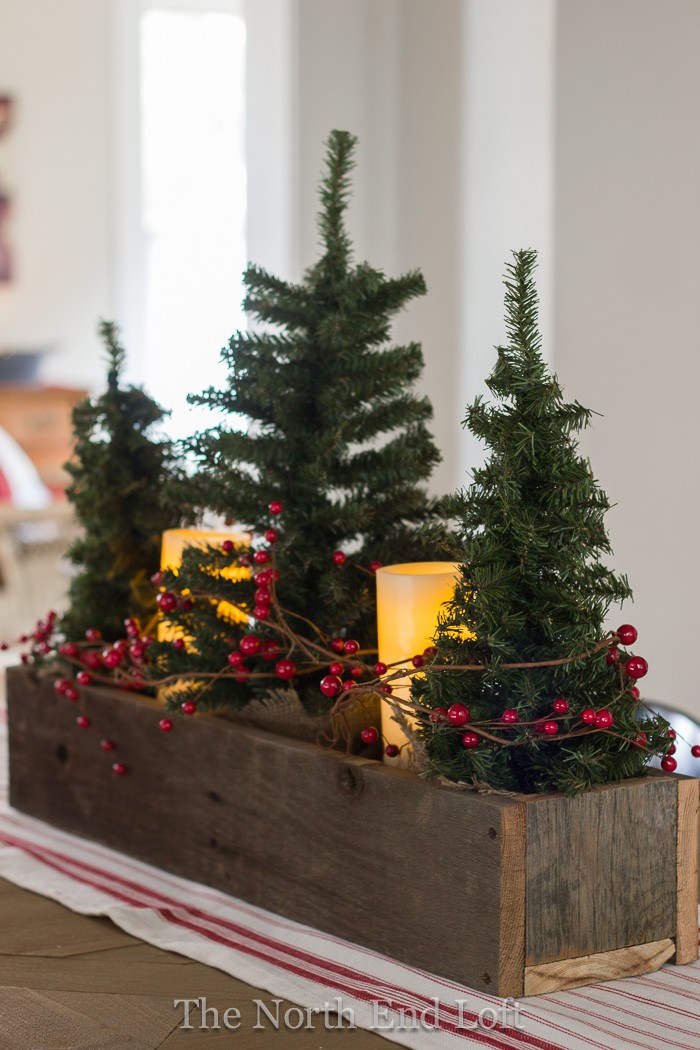 Create a tiny forest with this simple Christmas table decoration idea and place it in the center of your table.It is probably easier to buy three small trees from the store, but it would also look great if you ventured into the woods and cut a few tiny branches off a couple of pine trees for a fresh forest scent. To make that little forest of boxes stand out, place a contrasting color of a placemat underneath.
12. Name holder for candy canes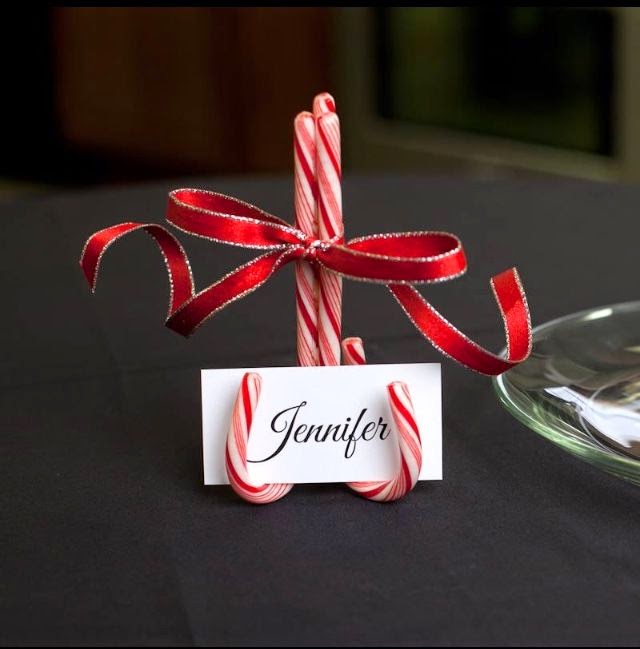 This is a simple Christmas table decoration that you can conjure up in no time. We know that on vacation you are busy, a little more stressed than usual, and walking around like a chicken with your head cut off. We are all! If you are looking for great decorating ideas and something festive but still want to save time this holiday season, this is a great option for you; simple, elegant and effective. What more could you ask for?
13. Country Christmas Table Topper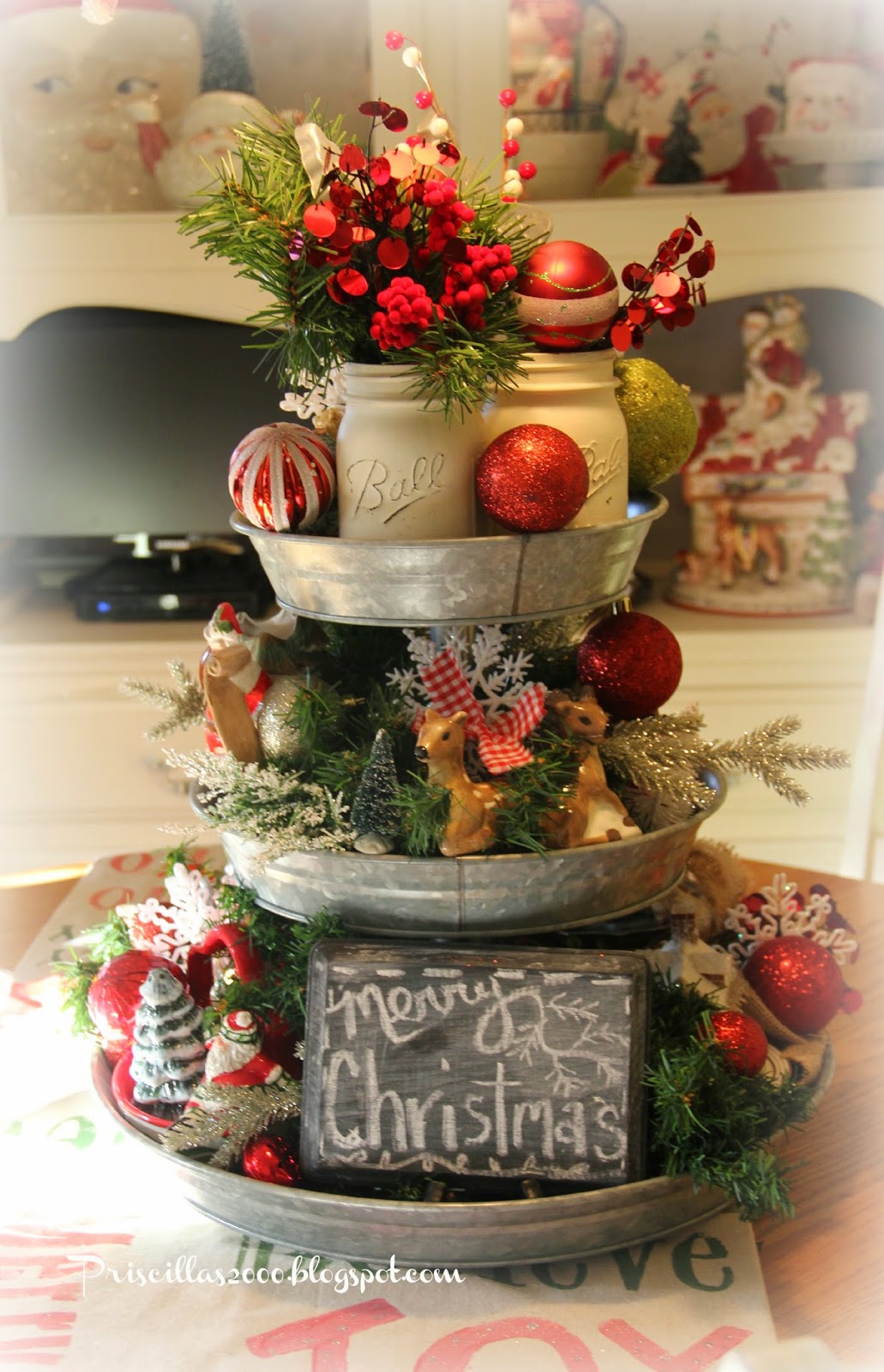 Painted mason jars and all your favorite Christmas decorations. This centerpiece is sure to be the focal point of your guests. It definitely has a country feel to it, "We're going over the hills and through the woods to Grandmother's house". Grab some ornaments, get some fresh (or fake) greens, some of your favorite Christmas trinkets (even ornaments) and place them in this 3-tier tablecloth. There is no wrong or right way to create this one. Just have fun!
14. Reindeer coffee table center piece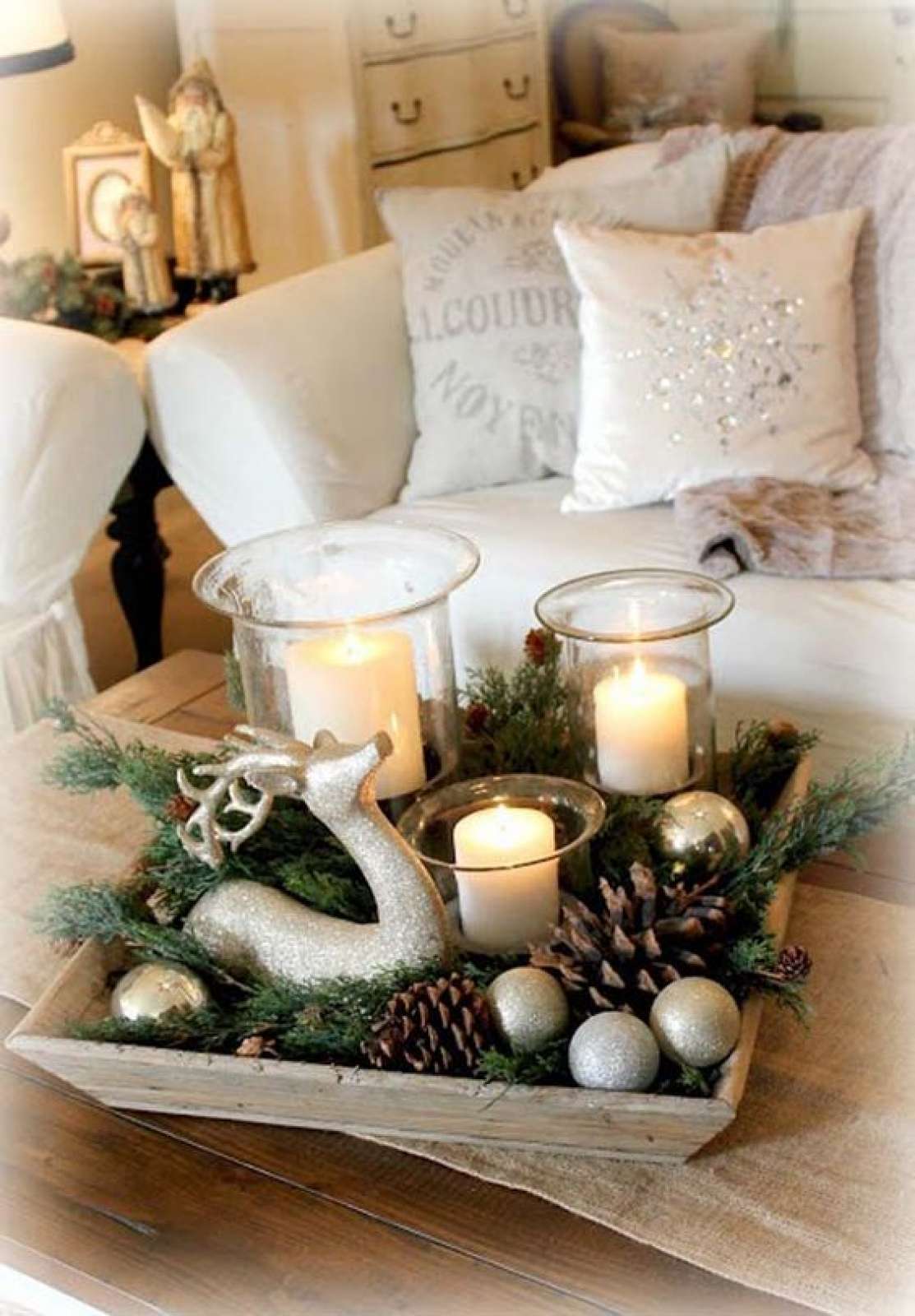 With all the hustle and bustle around the cold and crazy Christmas season, it's easy to forget the little details that make a home so warm. These coffee table decorating ideas are a great way to get the Christmas spirit all over the house. Use tiny reindeer figurines and matching ornaments to create a uniform and fun centerpiece. Then add some pine cones and greens to the project at will, light a couple of candles of different sizes in the center and you've created something really beautiful at an affordable price and in no time. These are also great gifts for friends.
15. Candy Cane Candles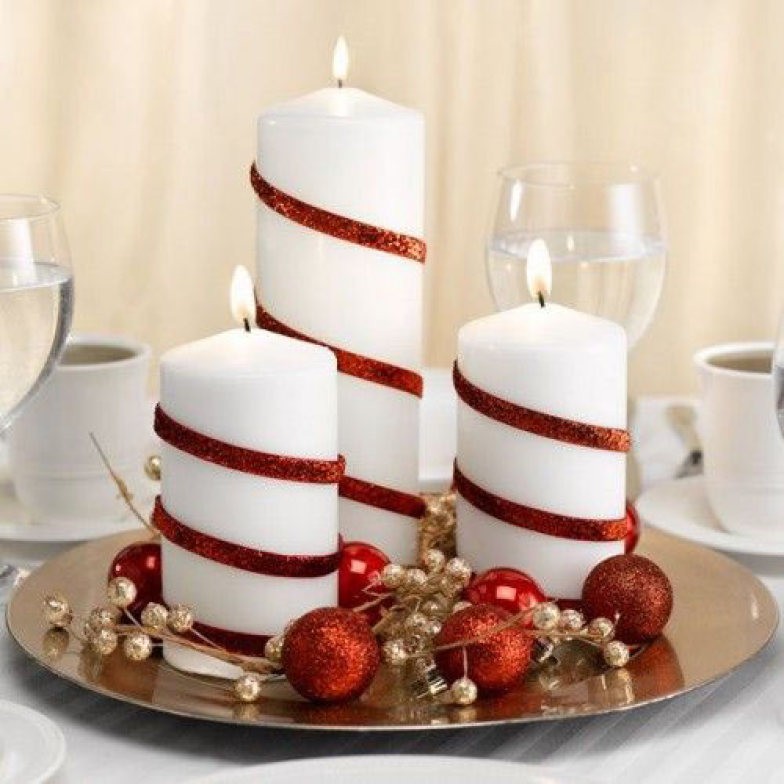 Your kids don't have to be the only people enjoying candy canes this holiday season. Turn your candles into candy canes by swirling a simple strip of red fabric around them with a simple glue. Dots of glue for scrapbooking or even a hot glue gun will work fine here, but stay away from Elmers; it doesn't stick to the wax. Get something glittery and red for that extra sparkle and use some simple accent pieces, like small ornaments or dried or wax flowers, to fill in the base.
16. Fresh Fern Center Piece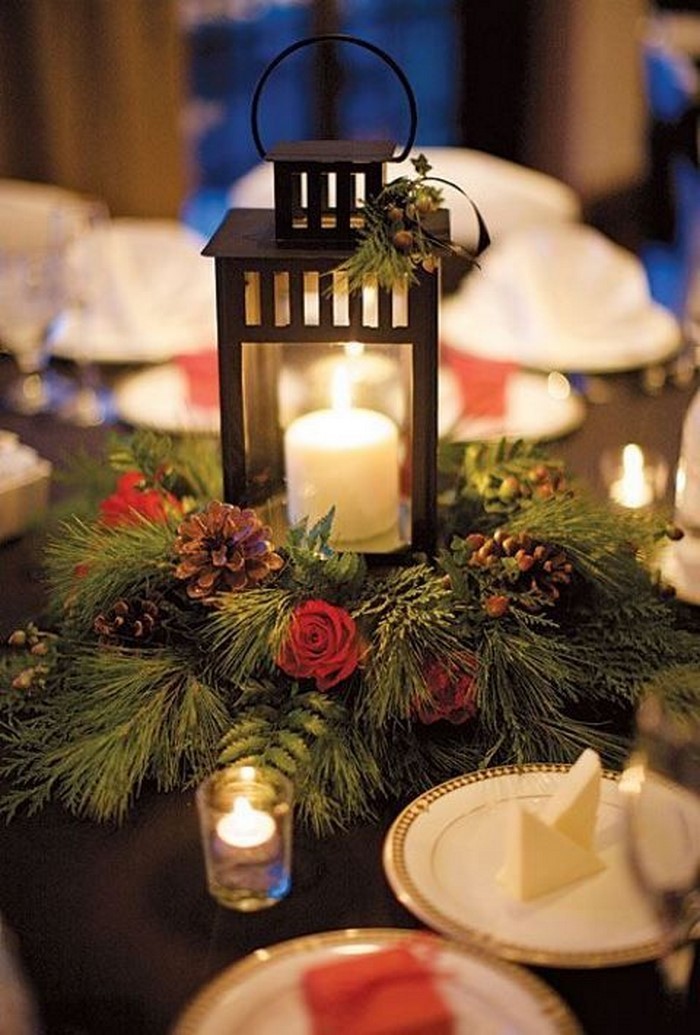 Mmm. Your guests will want to pause around this centerpiece and take a deep breath. This DIY Christmas project brings the freshness back to the forest, or rather, it brings the freshness of the forest to you. This piece will last a week or more if you use floral foam (available at any craft store) and tuck small pieces of fresh greens into the base. Flower foam allows you to water the stems, keeping them hydrated and healthy for longer. Without floral foam, your piece will likely only last 2 or 3 days before it begins to wither. Stop by your local florist and ask about ferns, pines, holly, and other types of deep, dark greens.
17. Going Go with Lighting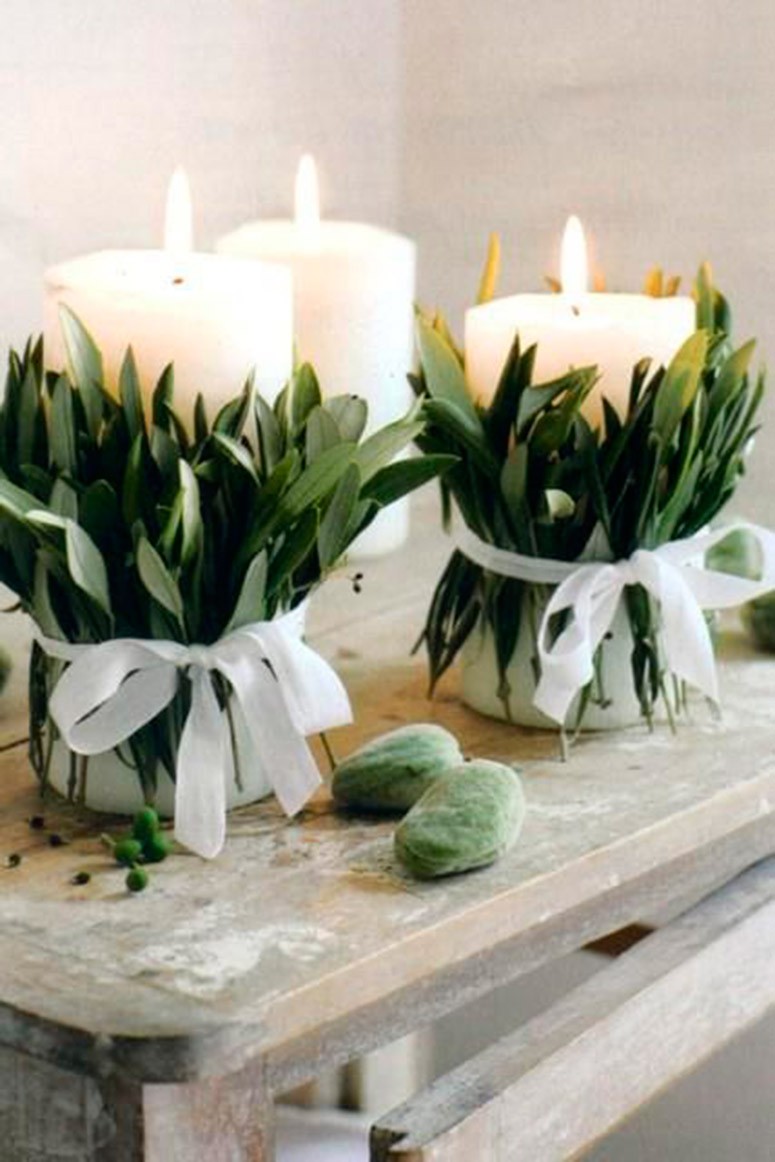 Imagine spending a whole night with candles instead of lightbulbs. These Christmas table decorations are an easy and natural way to bring a little life to your table for under $ 5.You save money, save electricity and literally let the greens lighten the mood and let you breathe a little easier. Finish it off with a see-through and lace ribbon. We recommend buying extra tall candles so that you can enjoy a longer burning time without worrying about starting a "forest fire".
18. Cinnamon Stick Servilletas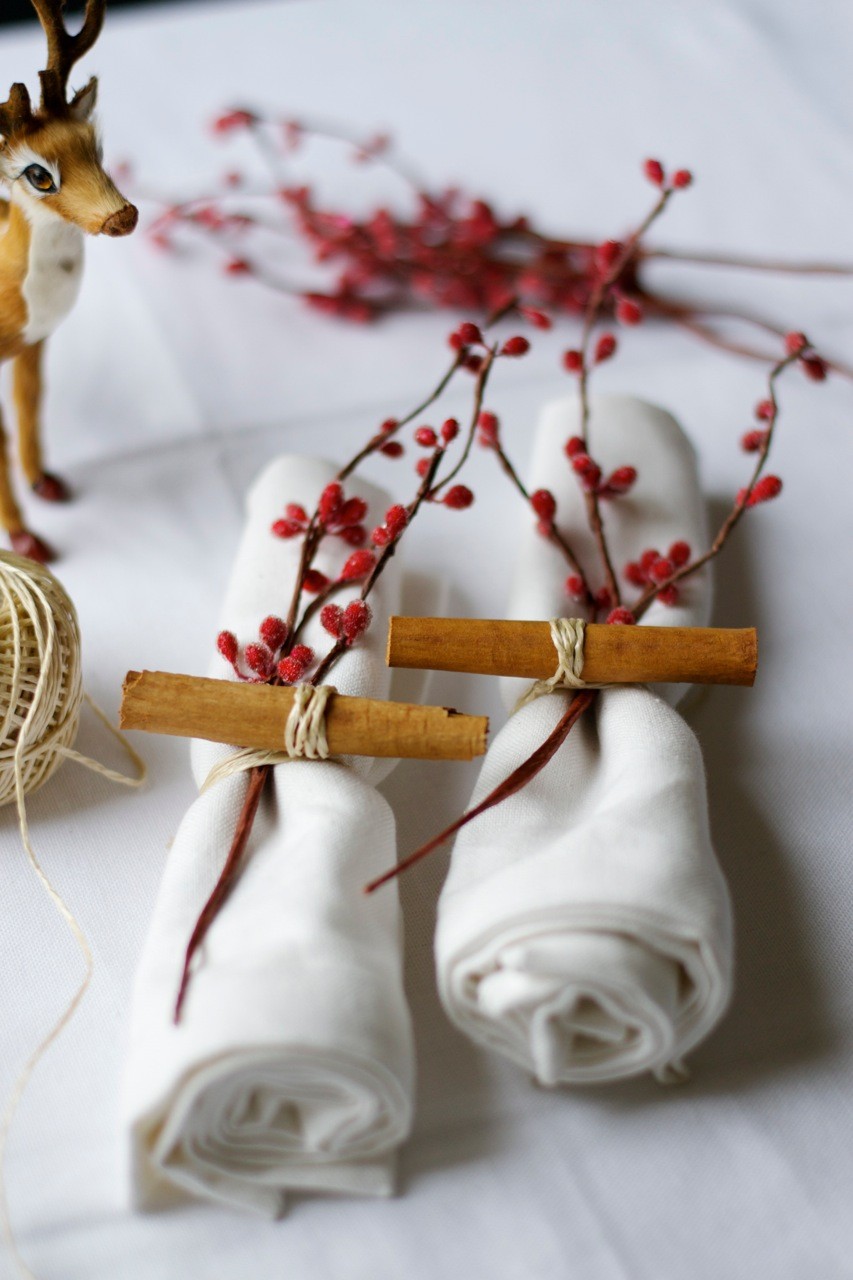 Tying a cinnamon stick to this plain white cloth napkin is a festive way to spice up your table (literally!). Use a rustic thread to add texture to your napkin and table, and garnish the cloth napkin with a sprig of fresh cranberries or dried berries to add some color and contrast. This DIY project is proof that you won't need a lot of time or money to speak up the little details and stand for yourself. When inviting guests, consider adding a cinnamon stick recipe for German mulled wine or cinnamon sugar cookies so that the napkin doubles its purpose and also serves as a gift to take away and as a table favorite.
19.Candied candles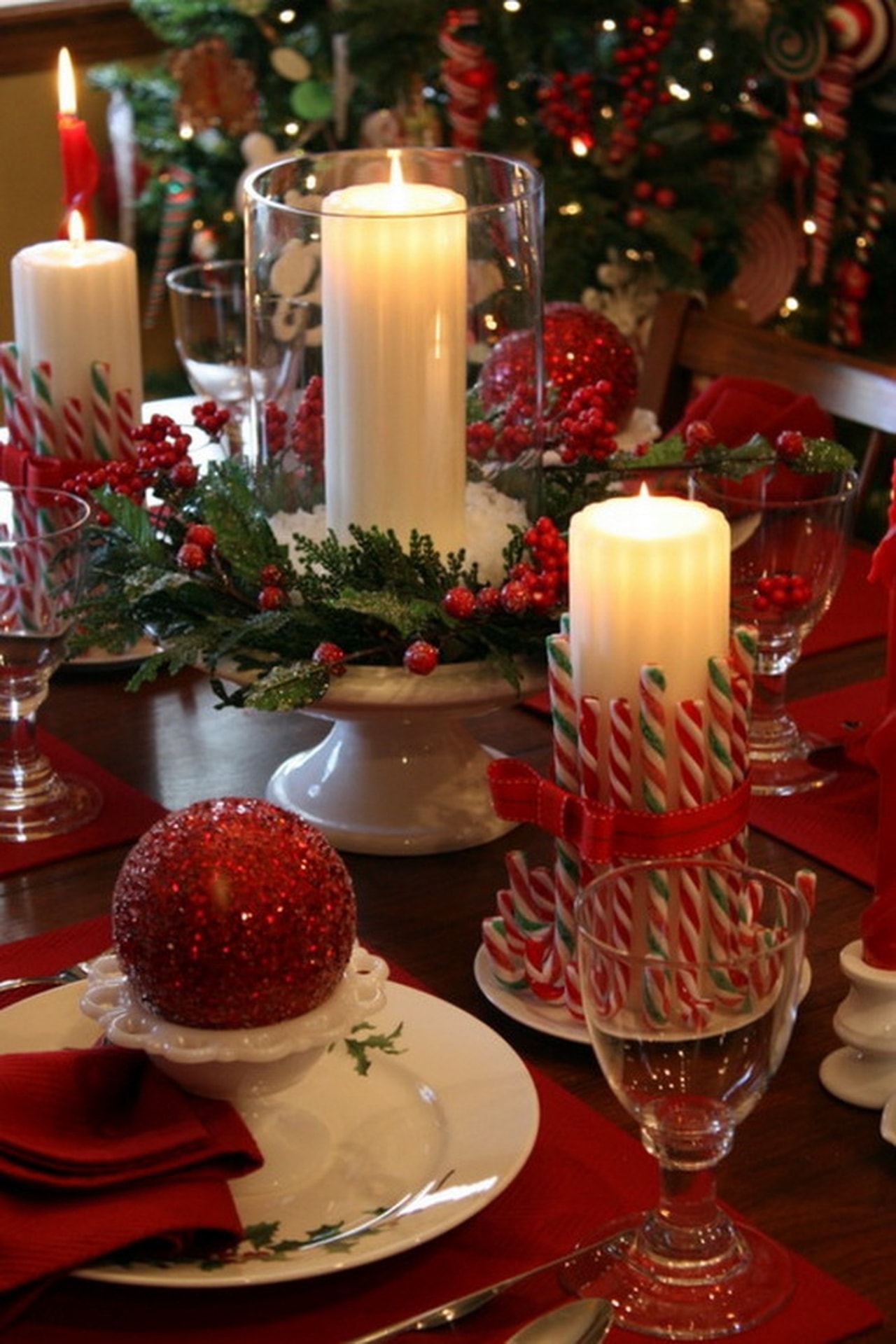 This Christmas table decoration has a lot to offer. A simple, monotonous color scheme sets the theme in motion and animates the white plates around it. Everything is red, red, red and Christmas is here with this candied display. Upside down candy canes ensure playfulness and lightness and at the same time give a touch of Christmas spirit. Tie it up with a bright and playful ribbon and let your gaze draw to a lush, fresh and bright green wreath that adorns the center of the table. Once the table is set we know you will have plenty of people to sit around and the glasses are ready to be filled. Enjoy!
20. Tiny little tea lights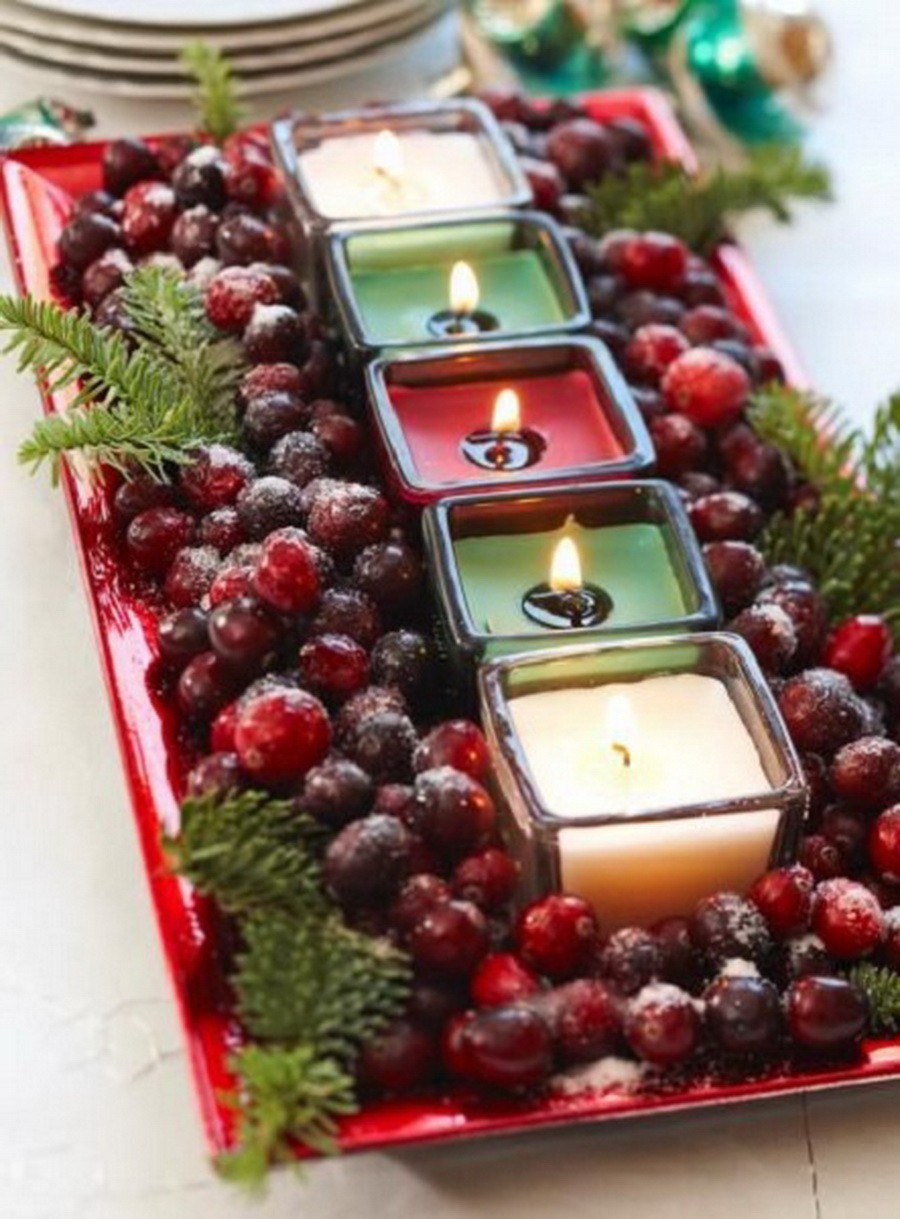 Tiny little green, red and cream colored tea lights, fresh red and purple cranberries and a few sprigs of your favorite green create a bright and cheerful atmosphere and a festive Christmas table setting. Plating the cranberries on something red draws an even deeper attention to the richness and freshness of what's on the plate. This table decoration is small enough to decorate the dining, dessert or punch table or works well as a coffee table
Christmas decoration
.
21. Fancy Decorative Place Card Holders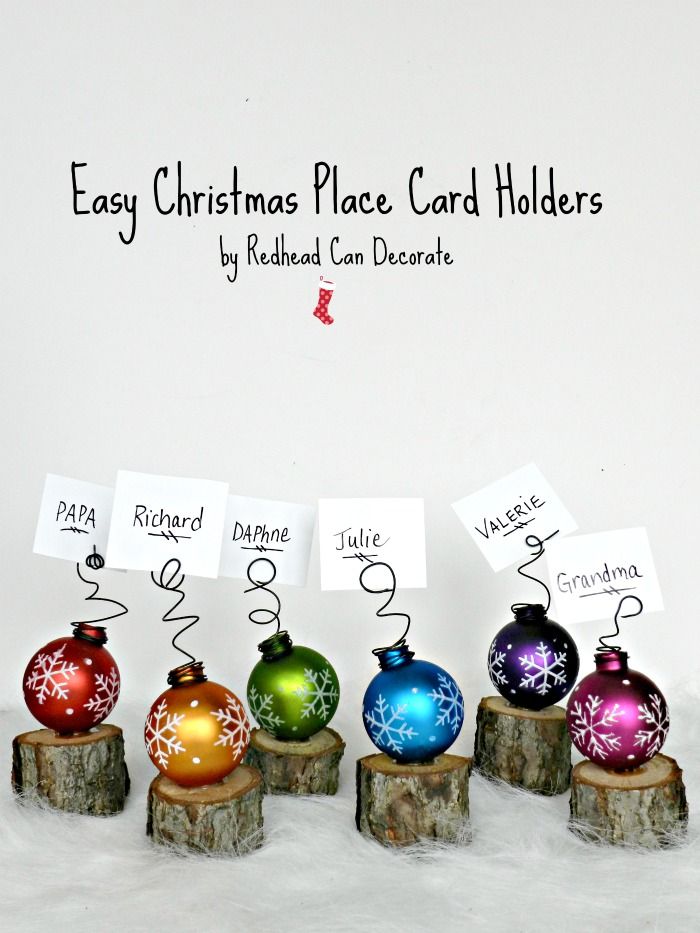 These fancy place card holders are a great way to add some sparkle to the table. This is a super fun and easy DIY Christmas idea. Buy a whimsical and unique set of ornaments that complement each other and yet remain unique. Use a pencil to twist the wiry ends up to create a fun spiral that leads to the personalized (and hopefully handwritten!) Name tag holder, and glue the onions to a small block of wood for stability. These fun Christmas colors will brighten up the dark and cold winter nights and are sure to brighten up your guests' faces.
22. Simple and urban tabletop Christmas tree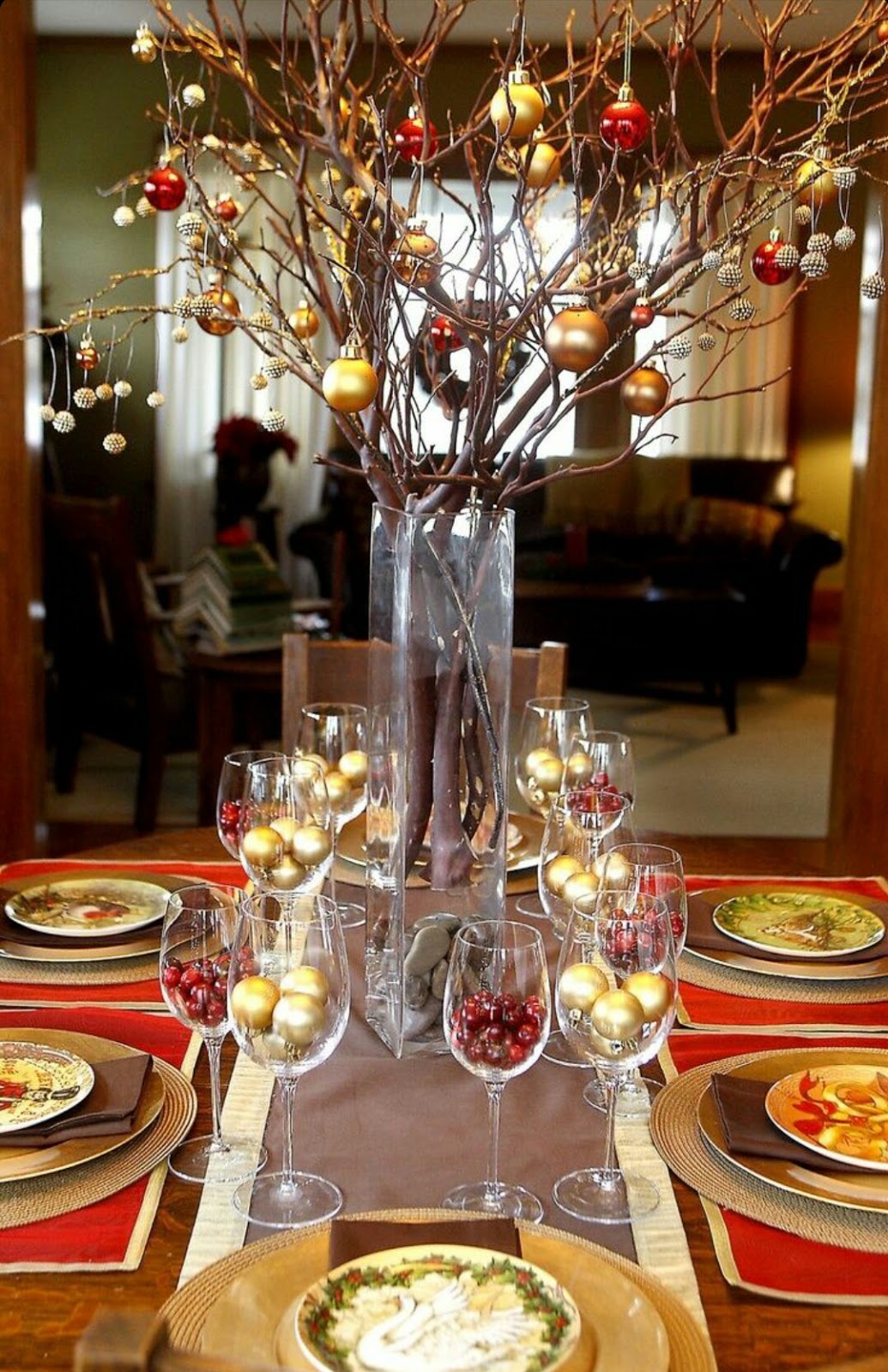 Do you live in a tiny apartment in the middle of a big city and do you have little space for your Christmas tree? Move it to the table and create a two-for-one effect: Christmas tree and Christmas table decorations. Keep it simple, however; You won't need all of those fluffy twigs and leaves. Go find some branches and dress your limbs in everything gold and glitter. Putting a few fresh cranberries on the bottom of the vase is always a great way to bring the Christmas colors to the table in a natural way.
23. Jingle All the Way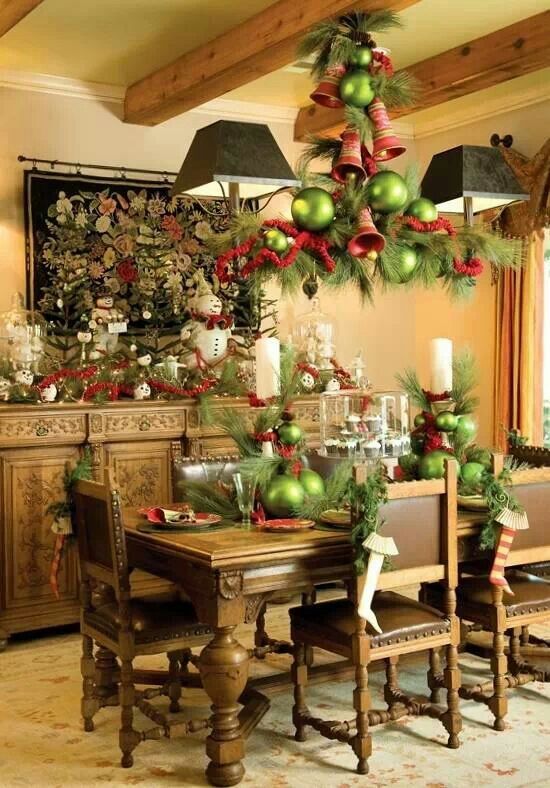 Big green balls, red Christmas bells and everything fresh and green in between.In fact, in a world where the North Pole really exists, we imagine it looks something like this. Bring Christmas to your table with these kid-friendly decorations and watch the twinkle in their eyes shimmer. With decorations hanging above you and a table full of decorations sitting below you, you're ready for a holiday season full of jingle.
24. Lyrical Table Runner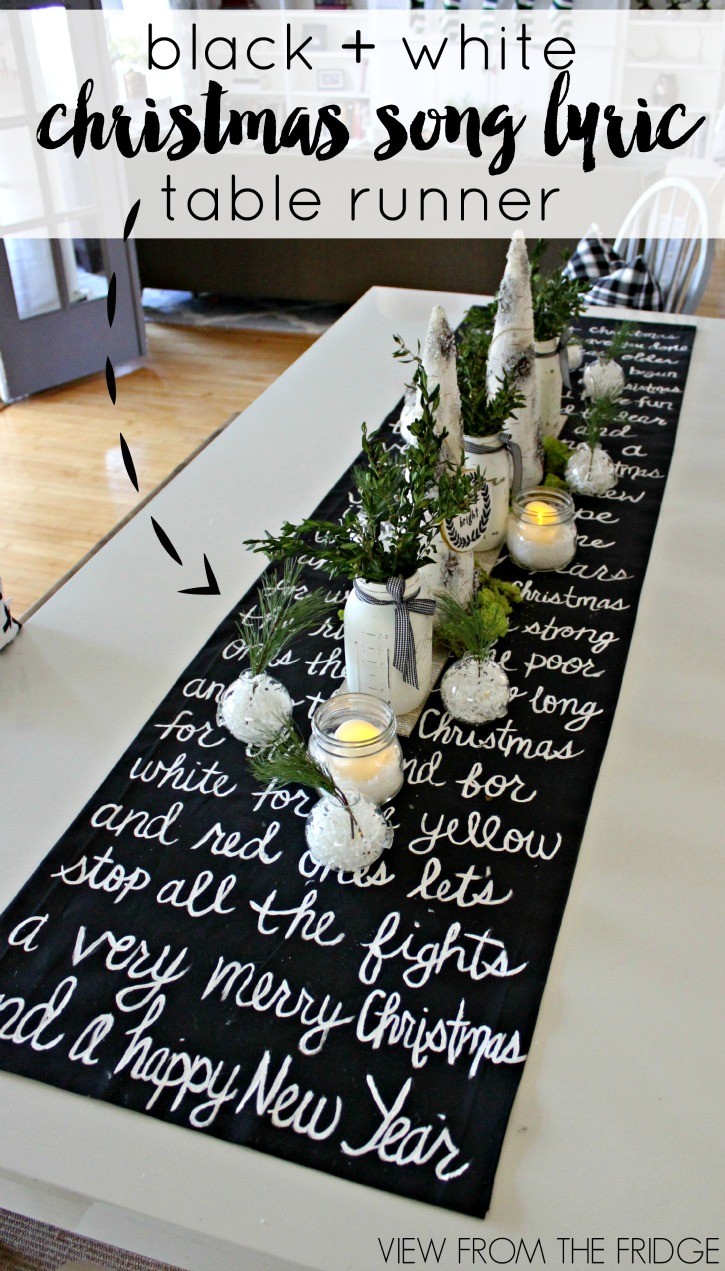 Would you like to customize your Christmas table decorations ?! This table runner allows you to say what you want on a daily basis by changing the words with a simple wipe with a damp cloth and works great with paint markers or regular chalk. This decorating idea is an inexpensive way to personalize the words you want to say. Students, young adults, and anyone looking to save a bit of money this holiday season while still staying in style should give this idea a try. Did we mention that you have extra cash to spend on gifts for loved ones? Spice up the table runner with white lacquered mason jars and add fresh shades of green for a gorgeous shine.
25. Forest of Treats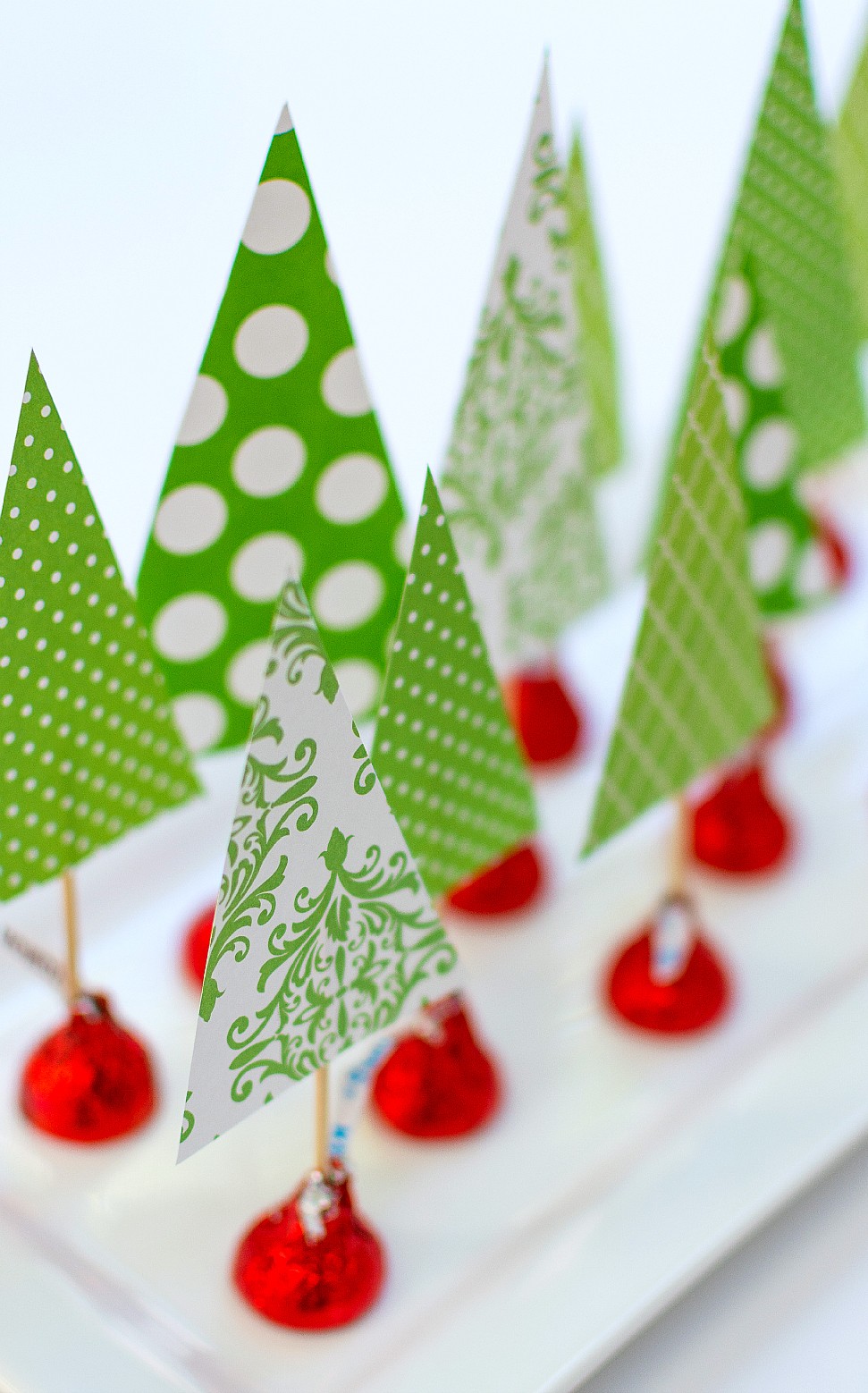 Do you still have scraps of wrapping paper from last year? Don't throw them away! Save them and cut them into little triangles while you watch your favorite Christmas movie, these are great as party favors or as a simple pre- or post-dinner appetizer. This is something for the whole family; the kids will definitely love it and have fun doing it. You might want to buy a few extra kisses; We are sure they will sneak some.
26. Red and White Cheer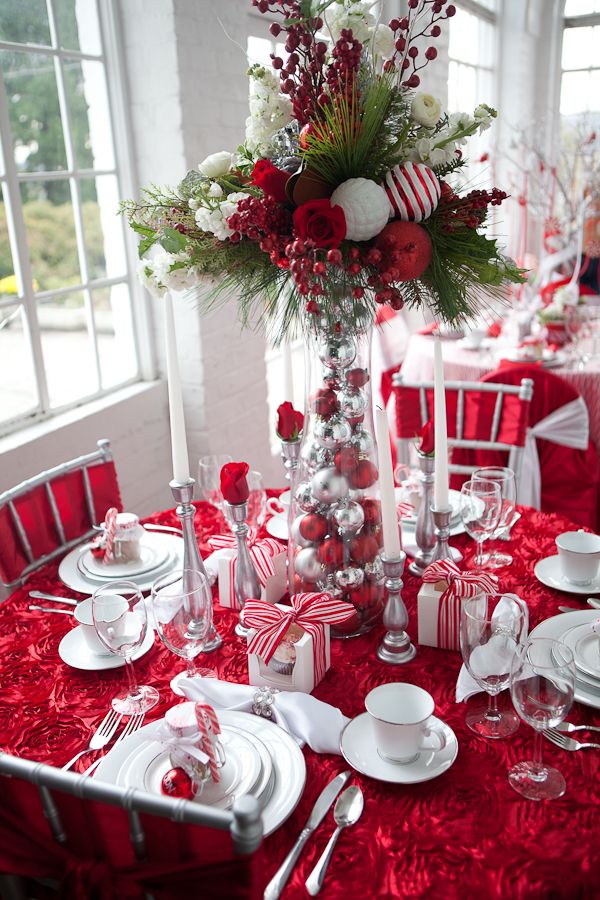 Tired of changing the decorations from Christmas to New Year's Eve? This shiny, classic and sparkling red and white theme makes it easy to keep the same decor for both holidays without having to worry about changing it or taking the time to do it. This tall and slim glass vase full of red and silver ornaments is perfect for both occasions and looks really good. Create a happy and energetic atmosphere with different textures of fresh green, sparkling ornaments and fresh cranberries.
27. Birkenbosque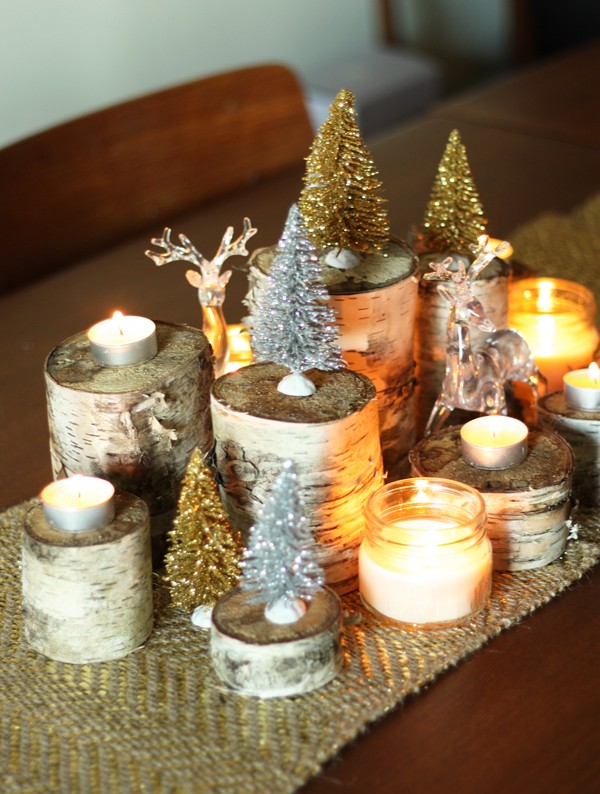 Around November, birch trees will fall in the forest and you will ask you to collect them and use them wisely. Instead of letting them rest on the forest floor, collect them and saw them into small pieces and use them as the base for this miniature table forest. Trees and tea lights are available in almost every craft store and complete this Christmas table decoration. Of course, a forest would not be complete without reindeer; Go in search of reindeer figurines and hide them among the trees.
28. Frosted Forest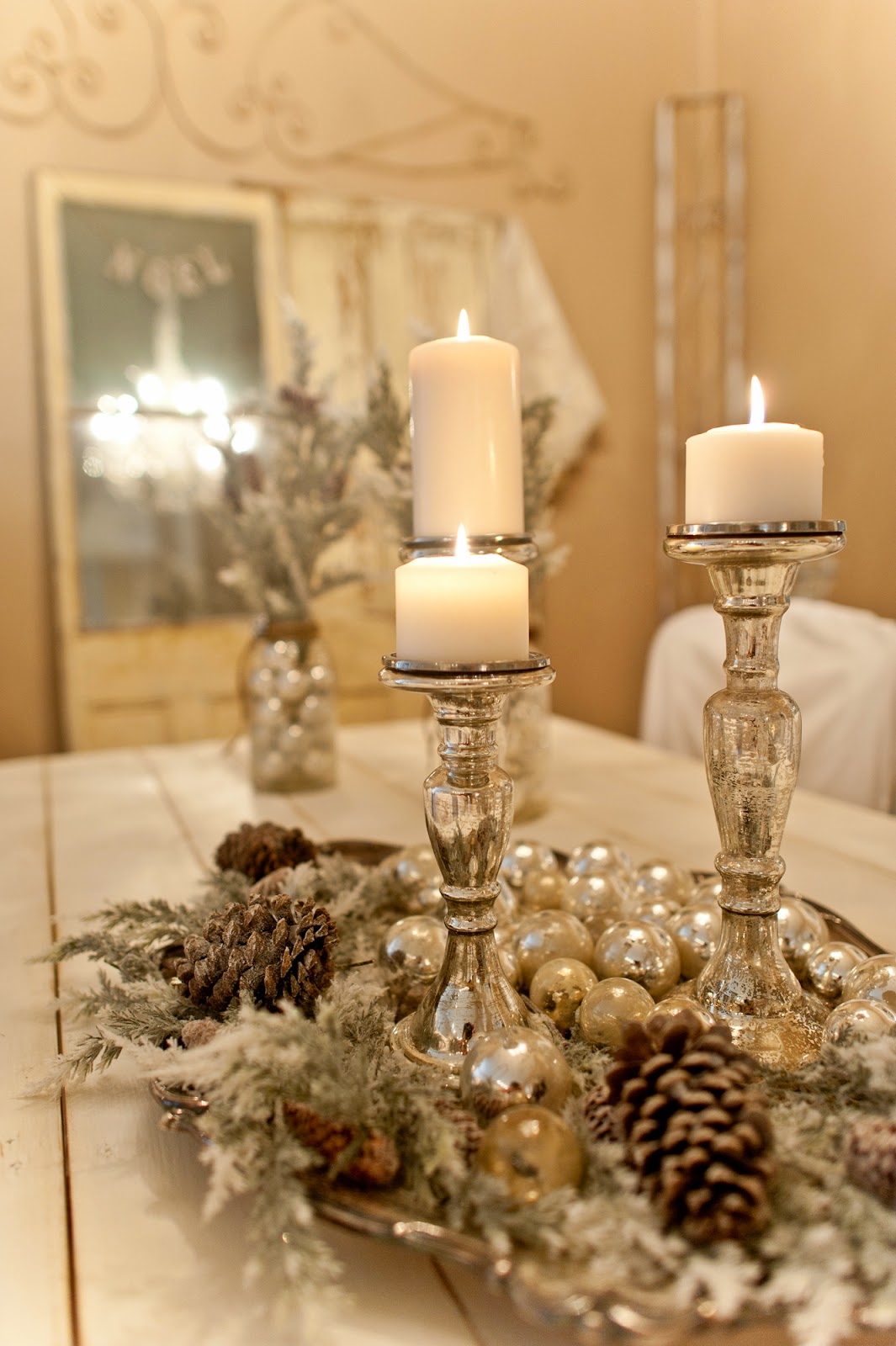 silver, white, crystals and shiny pine cones. This fresh and fashionable DIY Christmas decor is ideal for the holiday season and will keep you going through the new year. Instead of serving this turkey on a silver platter, plate out some silver ornaments and natural elements of nature to create a fresh atmosphere. Three different layers of candles create beautiful texture and add a variety of different dimensions. The table is enjoyed by all ages and guests as it is valued for its simple and elegant beauty.
29. Oh Tannenbaum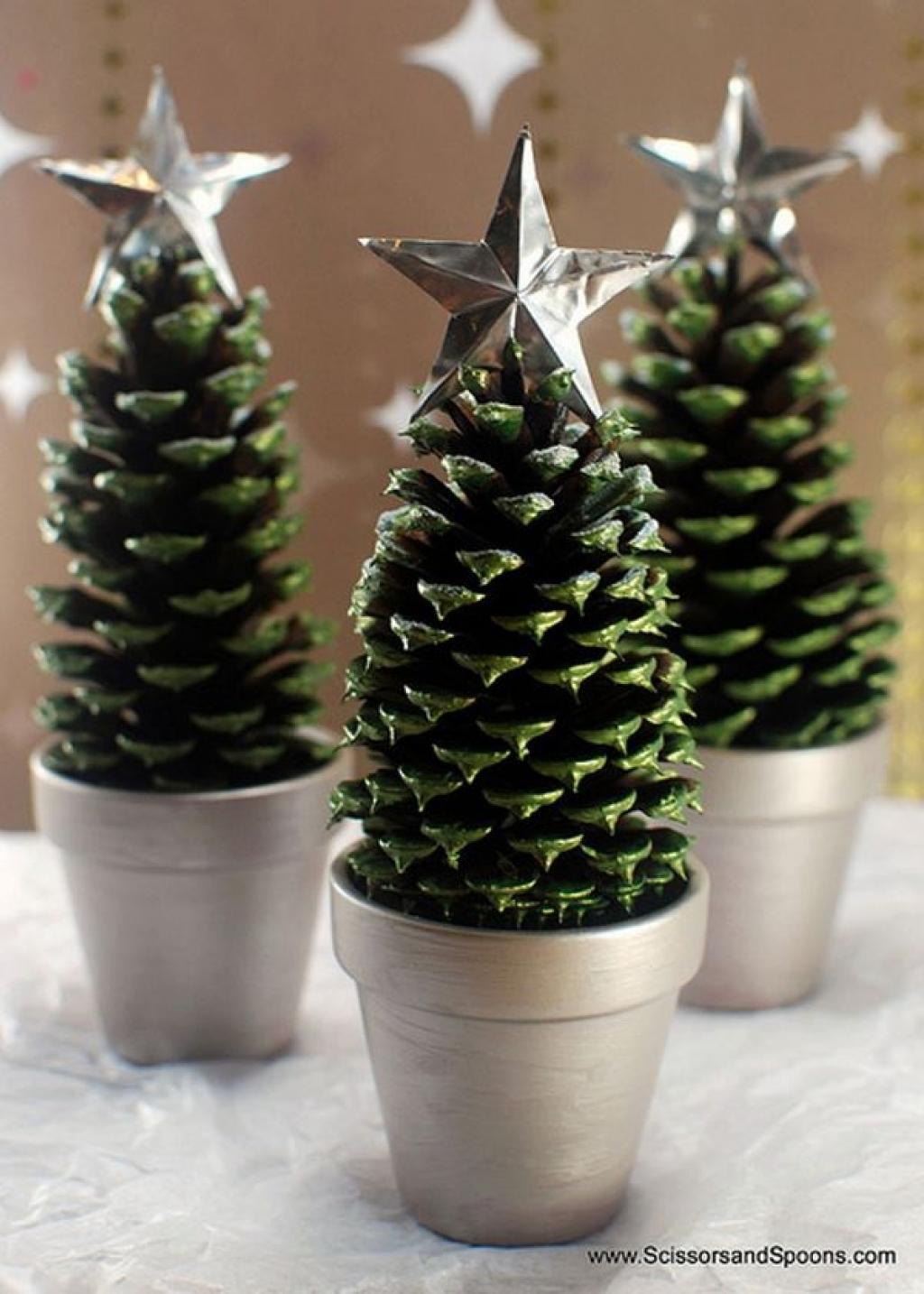 These are great DIY Christmas crafts for younger children who want to help out with Christmas decorations in a special way. They have a lot of fun spraying pine cones (in the back yard).If you are stressed by the holiday rush, take your time for this family activity and make small trees together. These will also make some really great and easy gifts as they are affordable. Add an extra spark by putting small rhinestones or sticky gems on top of the pine cone leaves.
30. Napkin holder with painted leaves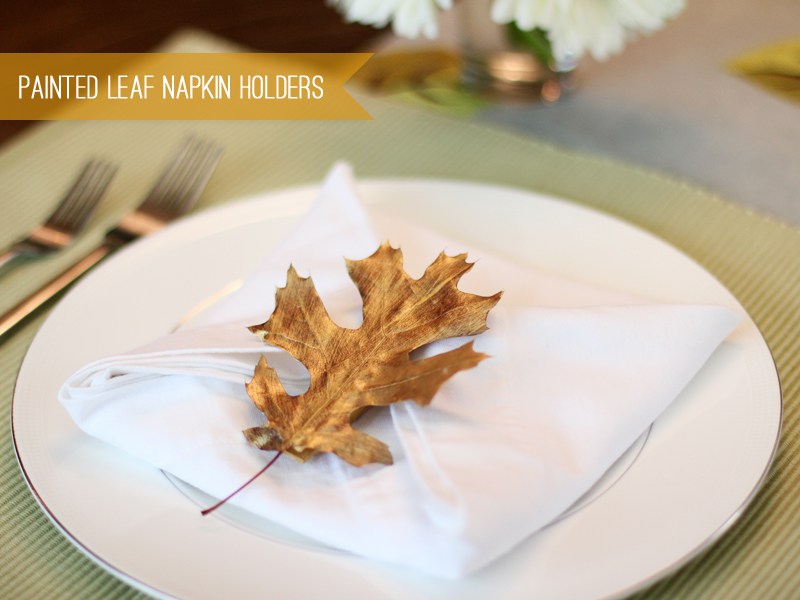 Are you looking for a way to get some peace and quiet this Christmas season? Send the kids out into the woods to find their favorite leaves, then give them a can of gold spray paint while you enjoy a hot cup of cocoa. The beauty of this DIY Christmas place setting lies in its sheer simplicity. It doesn't take much to make something beautiful. Small things have a big impact.
31. Christmas tree cutlery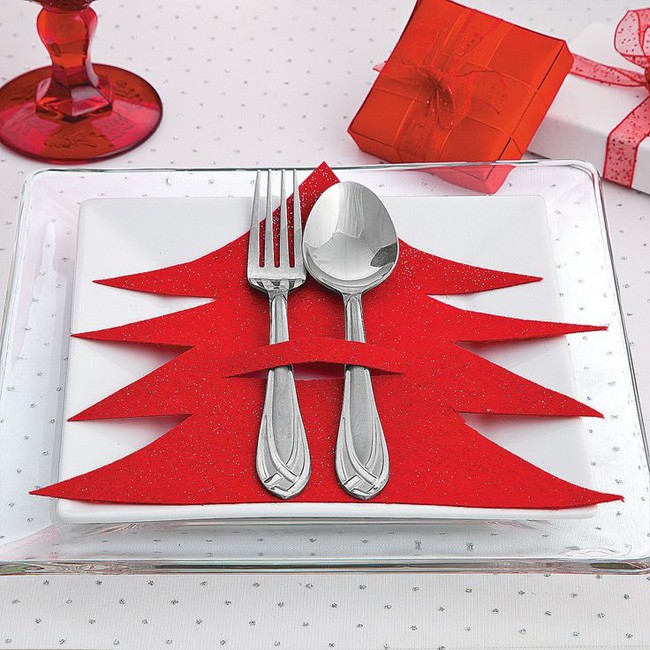 You can spice up the china with these funny Christmas tree cutouts. Something heavier and wrinkle-free works best here. We know felt is a bit of a setback at the moment, but it might be your best option. Go a little more rustic and use burlap for the tree cuttings or spice it up with some silver glitters.
32. Elongated table wreath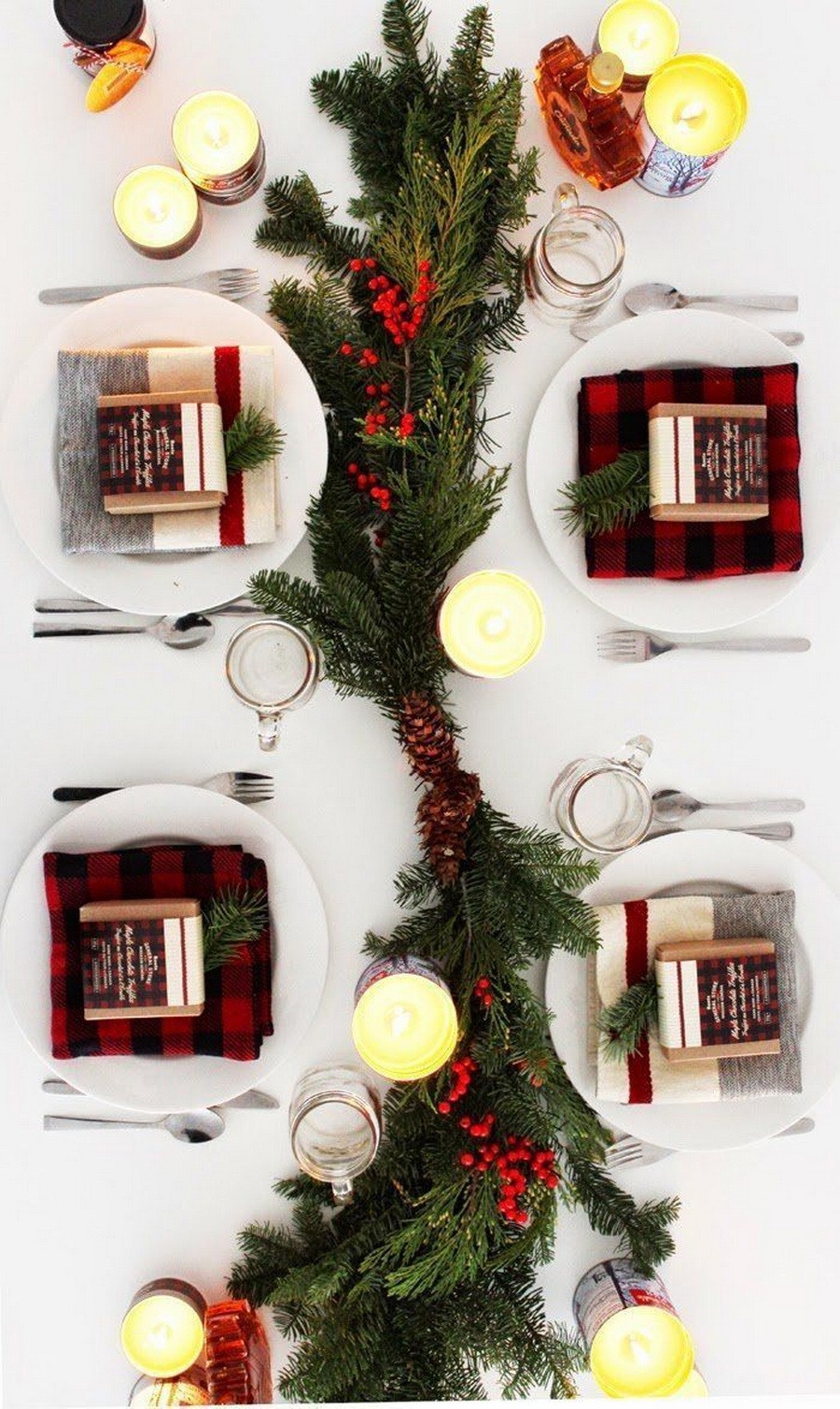 Who said that Christmas wreaths have to be round? This elongated table wreath is a great way to stretch the green and stretch it the entire length of your table. From a bird's eye view, it looks like a Christmas tree on a table with all those warm yellow candles glowing at the tips of the branches. Add a little more intent with cloth napkins instead of paper napkins and place some lovely mints or handmade candy bars on top of a sweet finish.
33.A Quirky Christmas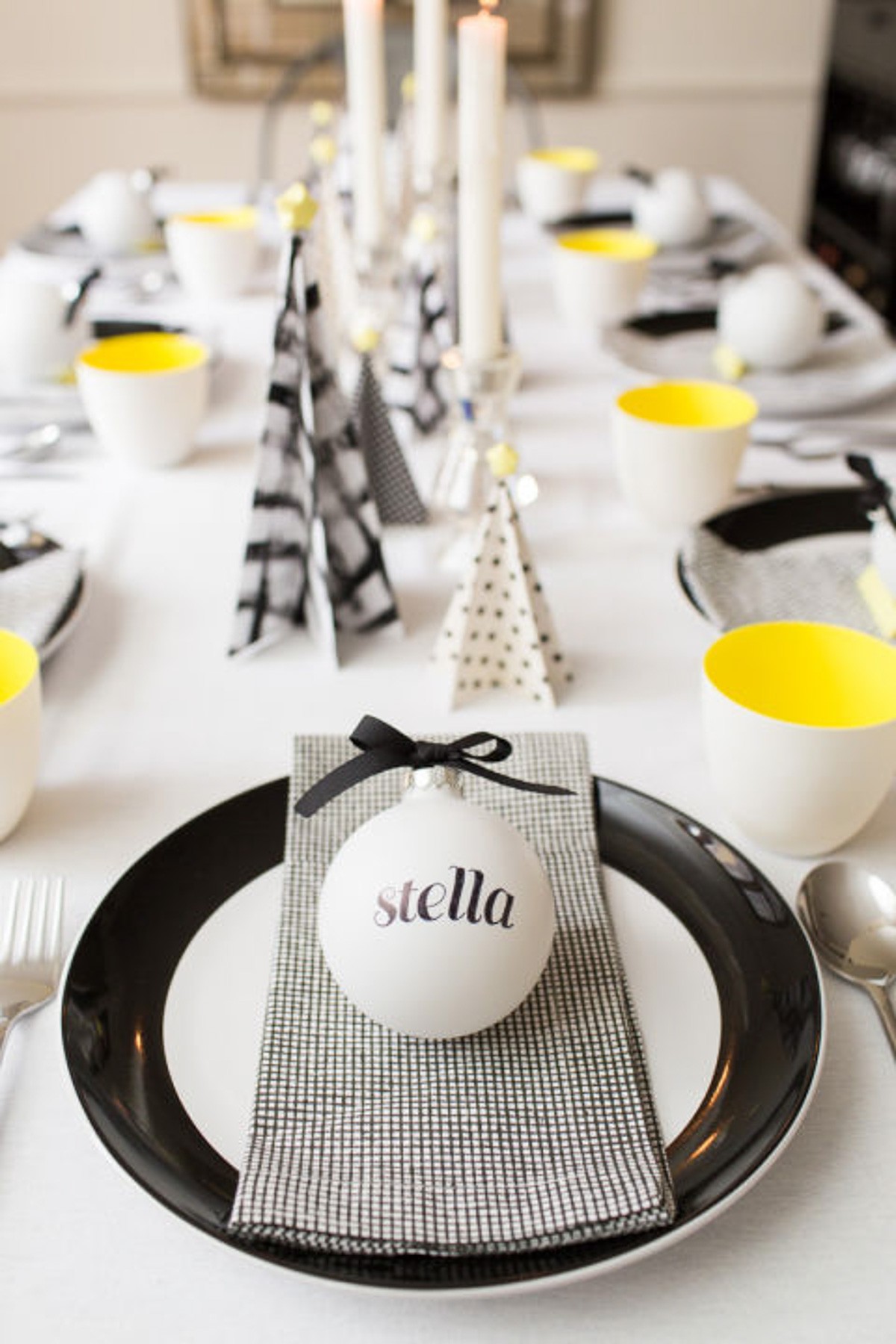 This is a trendy and slightly minimalist type of Christmas. Black and white make a bold statement and the only "color" that comes to eyes is a large part of Van Gogh's yellow from the infamous Starry Night. Christmas is a time of hope and yellow should shine bright like diamonds. Polka dots, stripes, checkered napkins and the single-colored yellow insides of tiny white teacups combine all of this to form a few shining stars that sit on the paper origami trees.
34. Mason jars on ice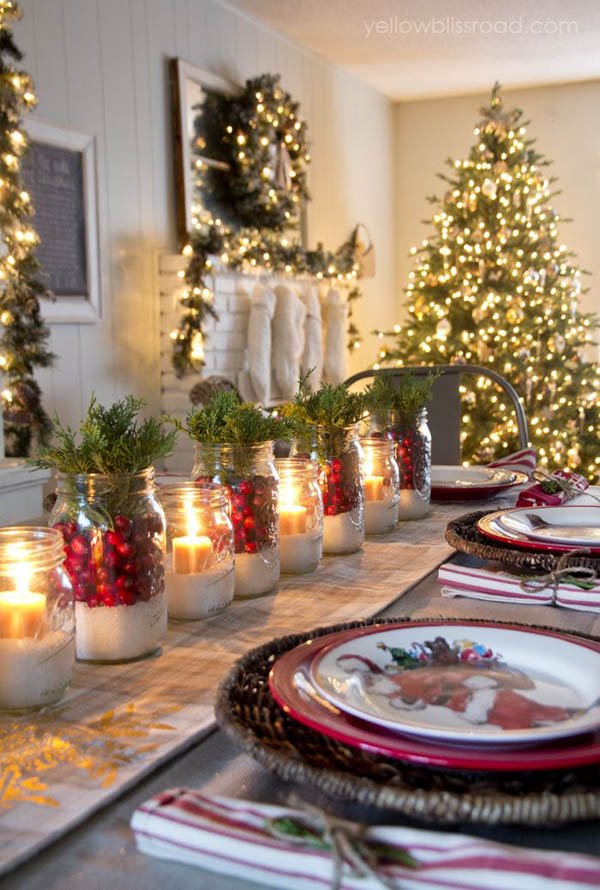 Mason jars never get old. Their simple beauty allows you to immerse yourself in an endless number of DIY Christmas projects. And this one, we think, is particularly charming. Fill the bottom of the glasses with sugar for a little Christmas sparkle, and alternately add small cream-colored tealight votivators and fresh red cranberries. The finishing touches to anything fresh about Christmas usually comes with a handful of greens.
35. Eating in the forest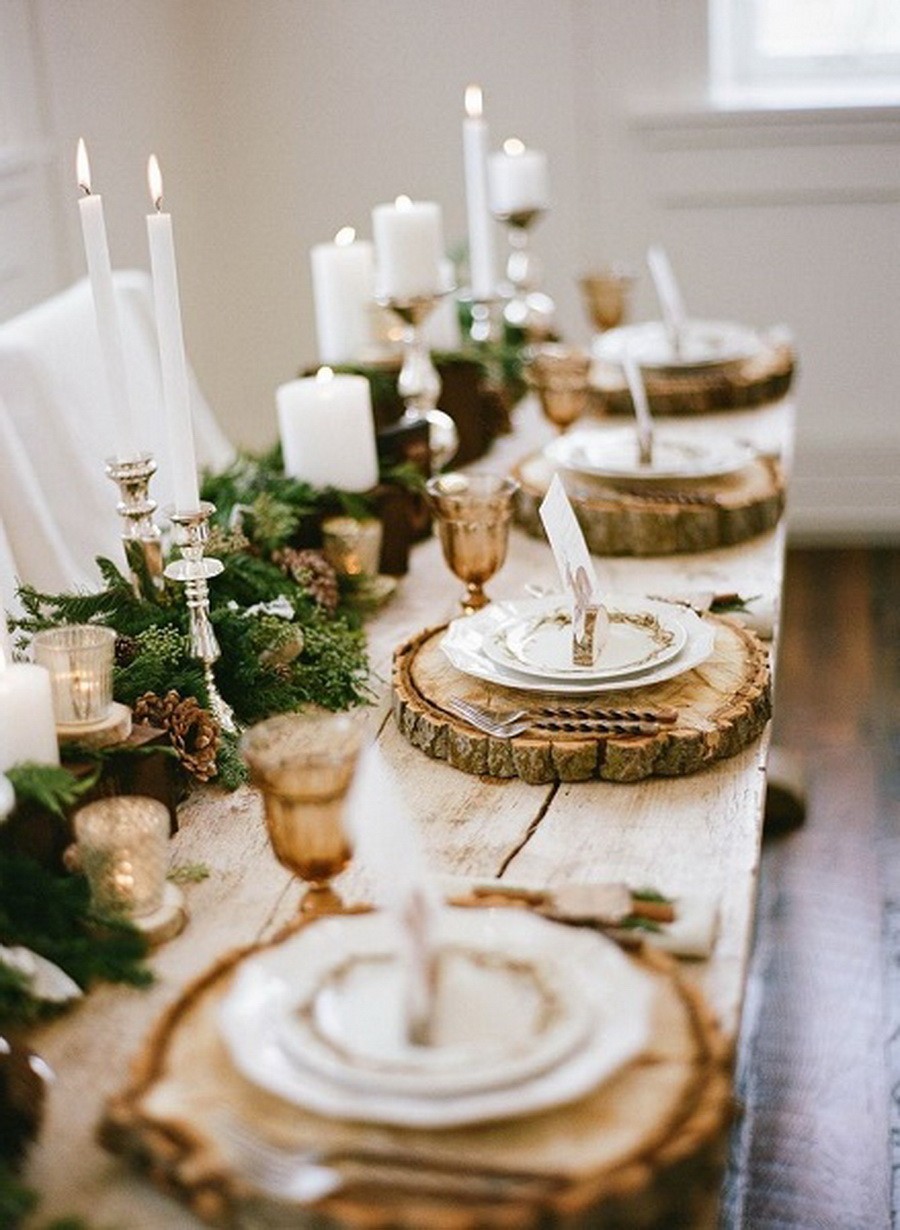 Who said that placemats had to be made of cloth, paper, or plastic? Placemats can be rustic wood slices for a lumberjack and old school feel for your special Christmas party or Christmas dinner. Complete the table with a long line of shades of green adding some pine cones and tall white candles for a sharp and stunning contrast. These Christmas table decorations will make you feel like the royal guest at King Arthur's table when you add some golden goblets for a special bottle of wine.
36. Candied Apples for Christmas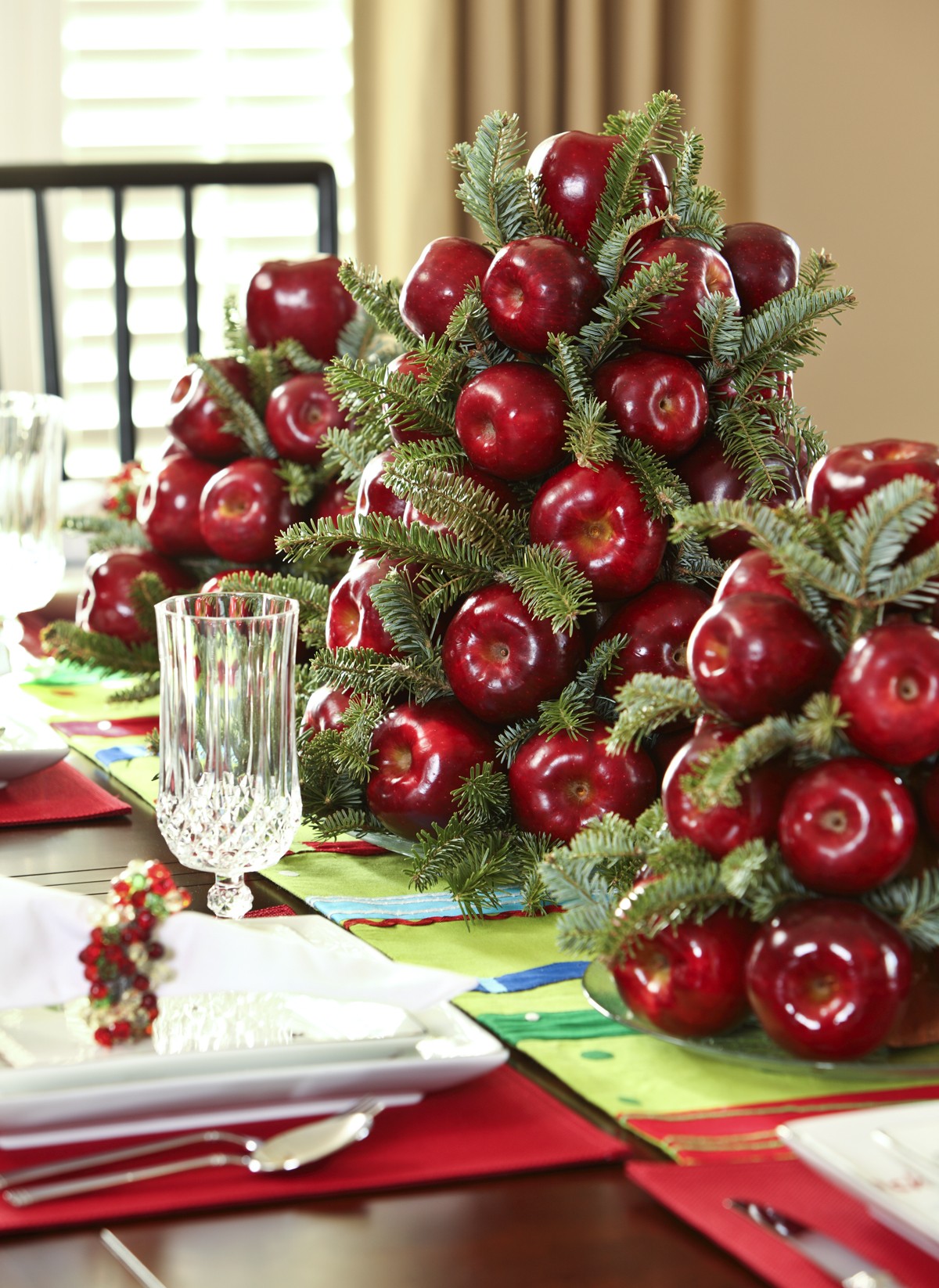 Here's a great idea for table decorations for Christmas.In addition to these two main ingredients, you'll need: glue, patience, some geometric brilliance, and a styrofoam center piece to hold everything together. This piece looks best when it is in three pieces, with the center piece larger than the others.
37. Bling, Bling Christmas!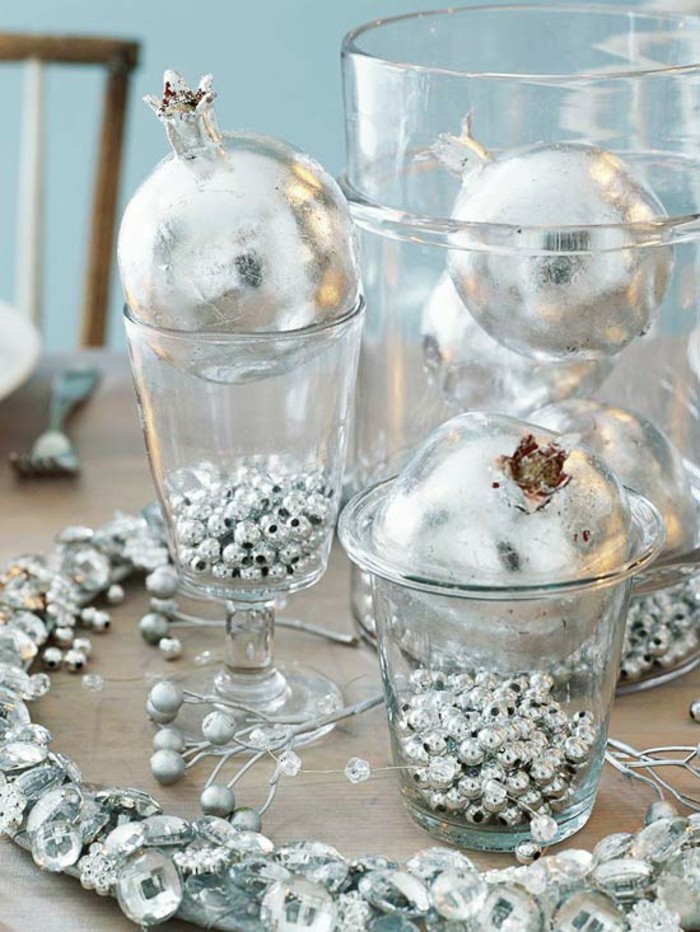 Get out the jewels, decorate the halls, and apply some glitter. This table is high quality and glittering, sporty glass stones and sexy silver colors, which ensure an elegant and icy Christmas party. There is nothing really "warm" about this Christmas look. This Christmas table decorating idea is pretty simple as you can use any type and shape of glass bowl to keep your balance between large and small silver ornaments. Loop a strand of mica around it and sprinkle a few diamonds (fake ones, of course!) Around the table for an extra touch of brilliance.
38. Festive fountain of elegance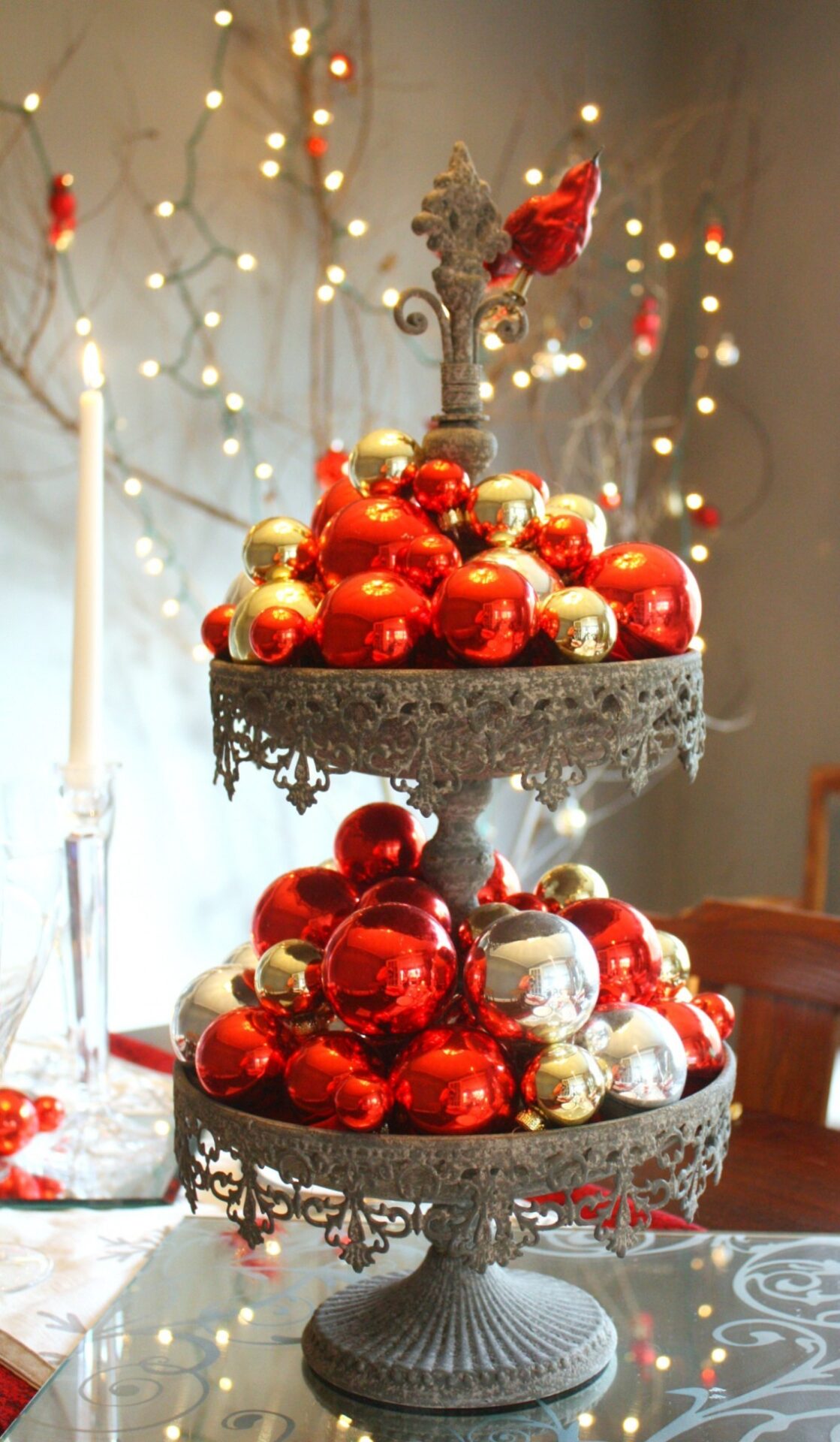 This Christmas table decoration idea has a lot to offer. In the foreground we have a 2-tier tray that makes us wonder if we are at a wedding or in the middle of a 16th century square with a water fountain. A hard silver platter is contrasted with glassy ornaments in gold and red, on which a little red bird sits and draws our attention to the back of the room, where we have lights and branches or more birds sitting on it. Don't forget the long, elegant candles! If you're looking for a complete living room look for the holidays, this could be it.
39. Arctic and Urban Wonderland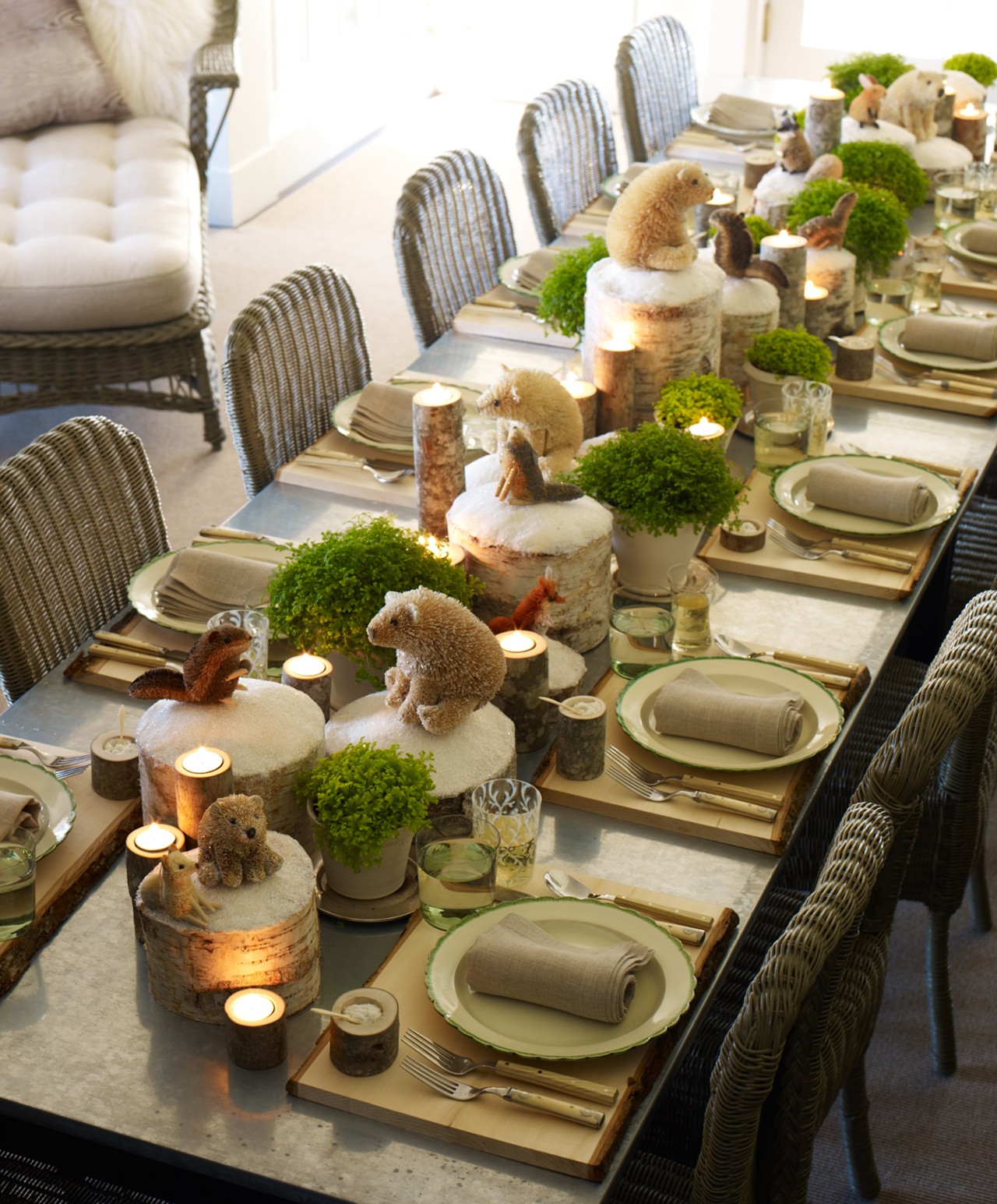 This arctic and urban wonderland is cute and charming. Small squirrels, polar bears and Christmas fox figures adorn the tips of birch rounds of different sizes. Small candles sit at the base of the rounds to illuminate them from below, and some city plants are potted in close proximity for a contrasting, crisp, and clean look that compliments the display really well. This centerpiece takes on a pyramid shape that starts smaller at the ends and grows larger in the middle.
40.Holiday Pop!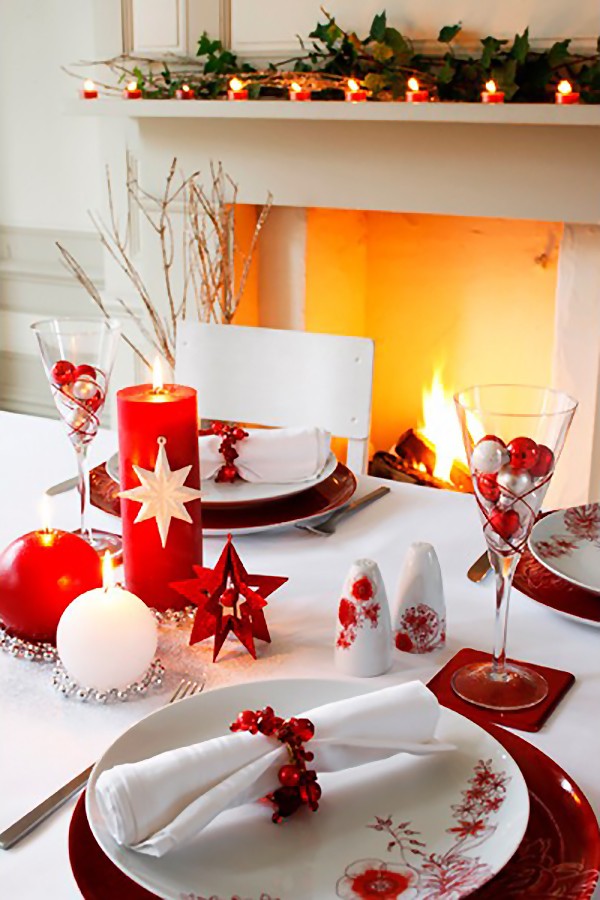 This DIY Christmas table setting works precisely because it has so many different things to offer: gentle and delicate Flower inscriptions on porcelain, bright and strong star-shaped cutouts and a mantelpiece full of ivy, holly and candles that create a warm glow. This picture is proof that you don't have to buy a lot of "stuff" to make your holiday decoration a reality. Use what you have and be creative with it …