Thanksgiving is just around the corner, and if you still don't know what kind of centerpiece to add to your table, we have a number of ideas that won't break the bank. If you're having a Thanksgiving dinner this year, you can easily run into a dead end decorating it. Luckily, there are plenty of clever ideas out there to help you step away from the usual pumpkins and gourds and make your Thanksgiving table really stylish! What can you find here? We've put together Thanksgiving centerpieces below to suit every style and budget, so be sure to read through our list and pick the one that you like. Then read on for an easy DIY!
1. Awesome Thanksgiving Centerpiece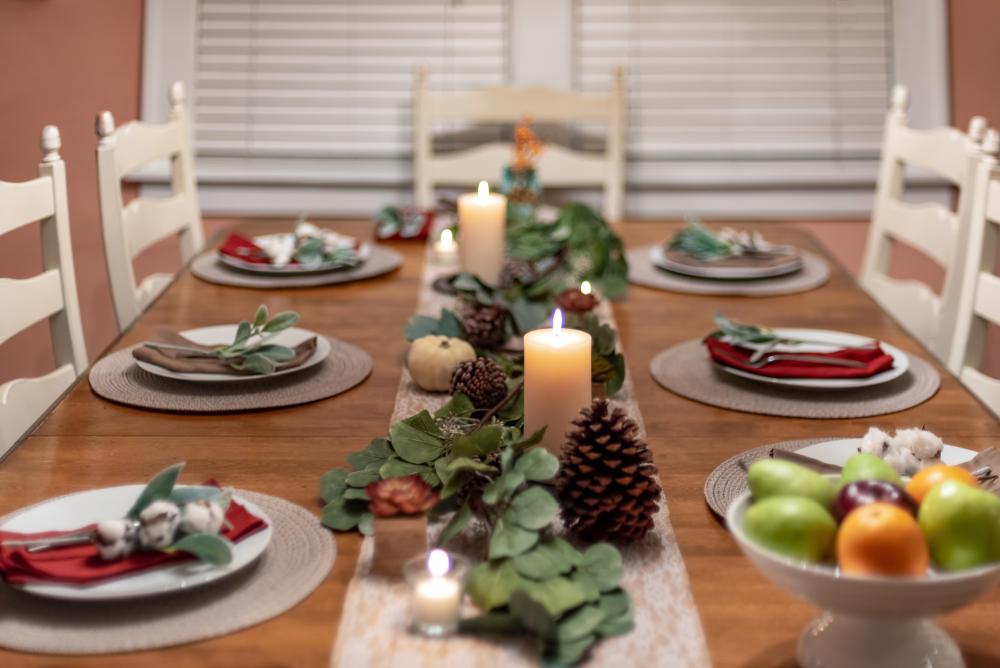 There are so many ways to decorate your Thanksgiving table DIY style. Instead of the traditional candlelight fall piece, try something different like these fall centerpieces. Think outside the box (or inside the pumpkin if you prefer) with unique ideas like mini pumpkin displays or pinecone turkeys for DIY Thanksgiving centerpieces .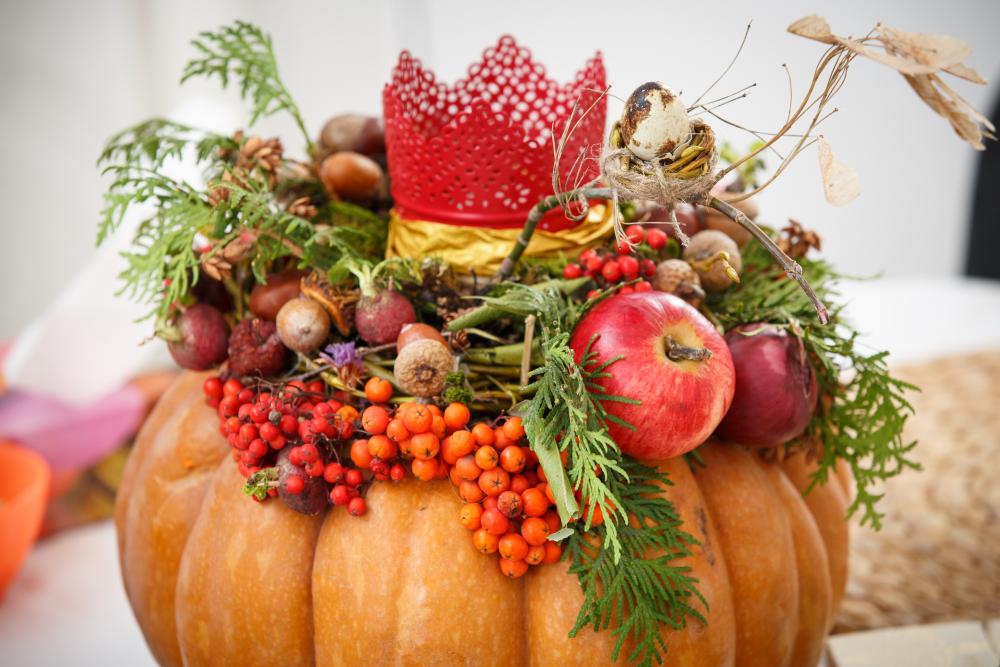 Add a modern twist to the traditional fall centerpiece by opting for a stunning fruit display when it comes to Thanksgiving Table Decor Ideas . Instead of pumpkins and pine cones, opt for a glass bowl filled with fresh pears, apples and oranges. Or you can carve a large pumpkin and use it as a vase. Add twigs, berries and other decorative elements that will remind you of autumn. Alternatively, you can put together a beautiful floral decoration for your Thanksgiving dinner table.
3. Thanksgiving Centerpiece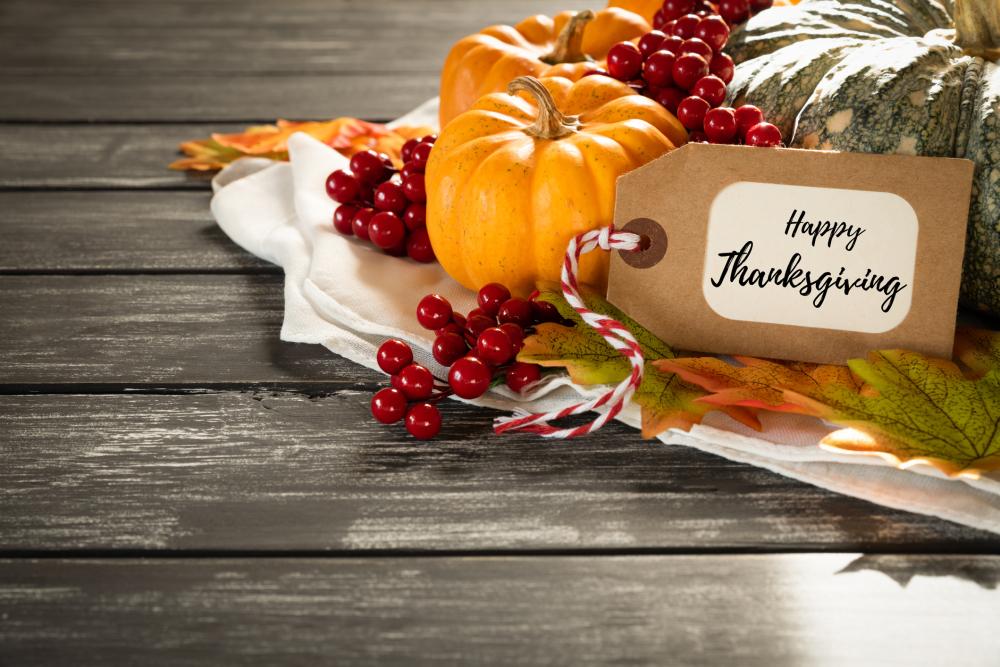 Fall maple leaves make a warm and inviting fall centerpiece that is perfect for your Thanksgiving dinner. Your guests will be delighted when they take a seat at the table and greet them with the orange tones of maple leaves and pumpkins and bright red berries. You don't even have to set a tablecloth if you have a wooden table as it goes perfectly with the rustic feel of this Thanksgiving Day idea .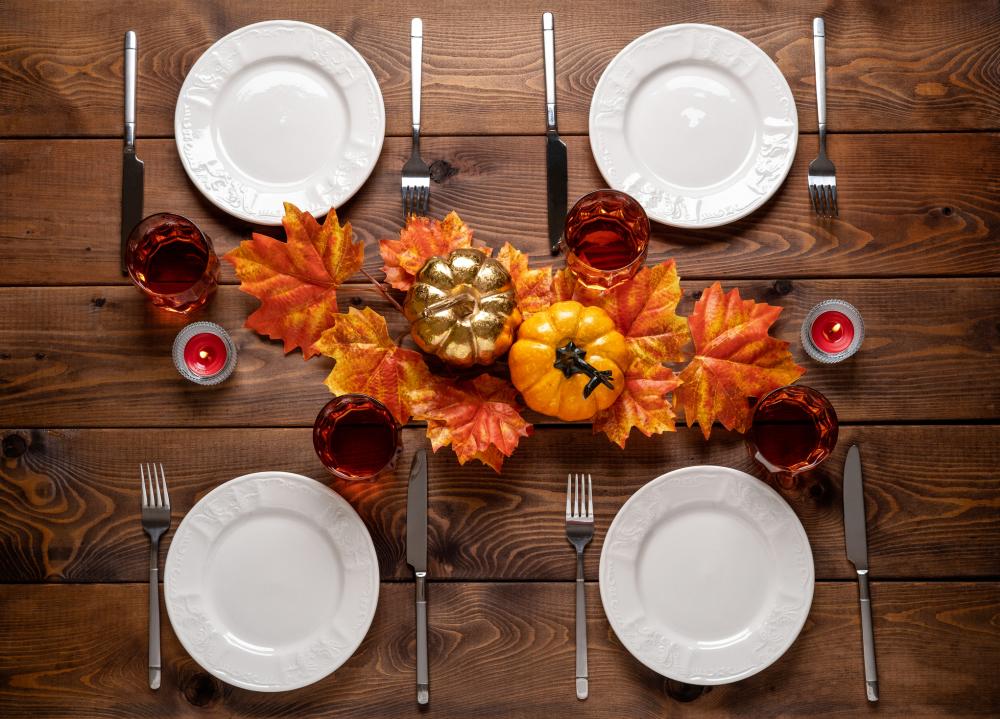 A Thanksgiving centerpiece that is easy to put together but looks nice on any theme is this fall centerpiece idea. It's sleek and elegant, ideal for those who don't want to overdo it, especially when there isn't enough space on the dining table for oversized centerpieces. Add a bunch of maple leaves and place them in the center of the table. Then you can take a couple of artificial pumpkins and put them on the leaves. You can also add candles on each side just like shown in the picture above. It's really up to you to personalize this
Thanksgiving centerpiece
idea, although we recommend sticking with the orange colors for an autumnal feel.
5. Tile Coasters – Affordable Thanksgiving Table Decoration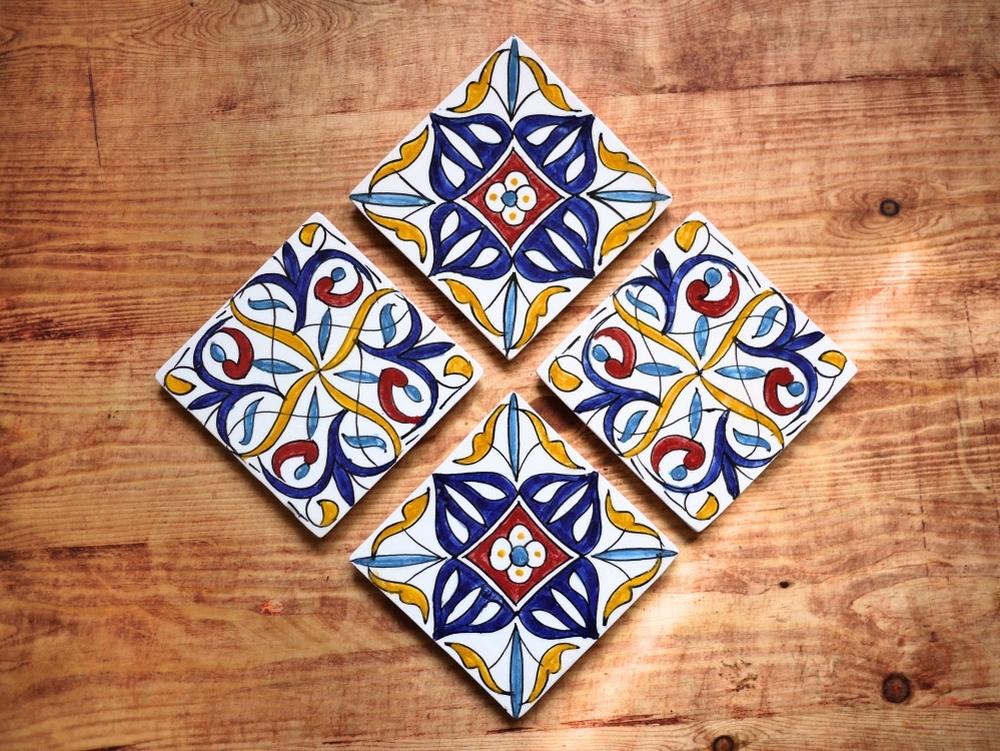 Tile coasters are all the rage right now, and what better way to use them than as a Thanksgiving dinner table decoration? For example, we love this Instagram post from @fly_gypsymoth_fly. You can also make a statement with the tiles by combining different colors, exploring whimsical patterns or using a little color to create your own tiles. If you want something a little more trendy, try gold or silver as the base color. It's also a cheap Thanksgiving table decoration idea.
6. Thanksgiving Table Ideas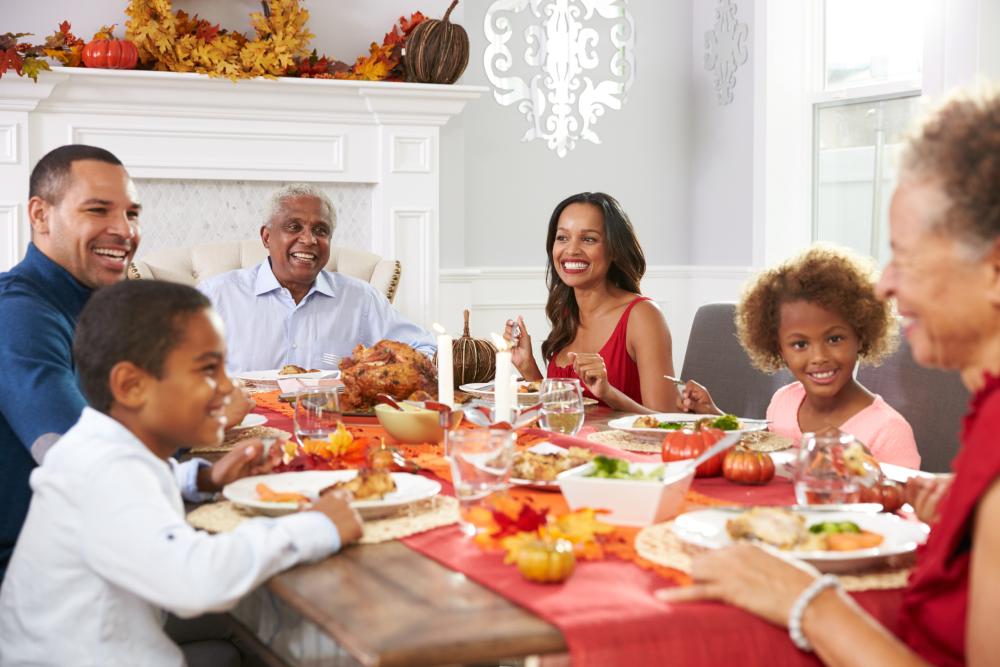 Don't overlook the tablecloth as a place to show off your Thanksgiving style! A great way to add some fall color is to layer it with pumpkins, gourds, and pine cones.The best part is that you don't need to know how to arrange flowers. All you need is a couple of sticks, leaves, and twigs!
8. DIY Simple Thanksgiving Centerpieces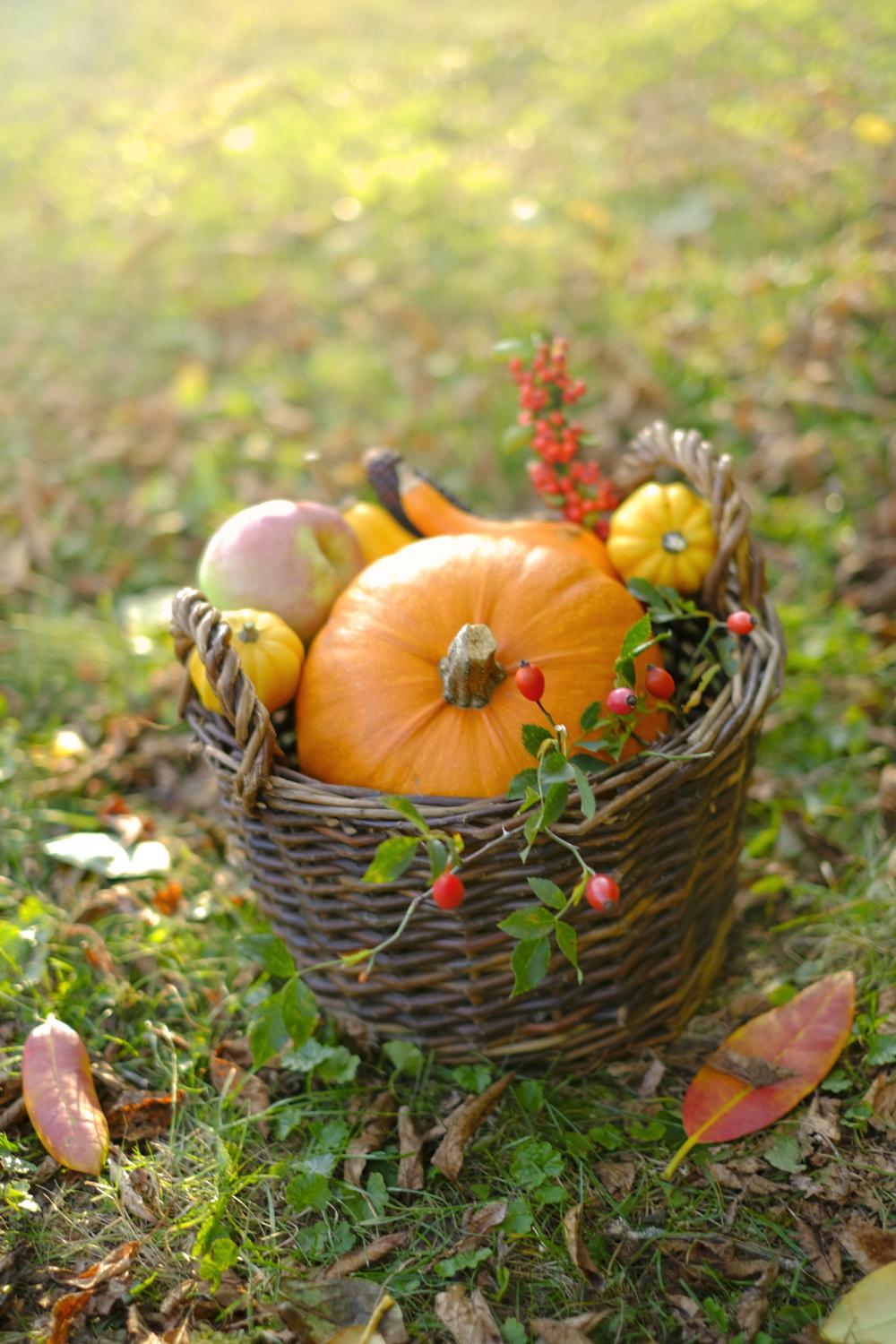 If you like simplicity then try creating a Thanksgiving centerpiece with pumpkins and a lovely basket! Simply put the vegetables in a wicker basket and arrange them according to their height. It's a easy DIY Thanksgiving centerpiece idea that is inexpensive too. Or you can use this as your Thanksgiving table decorating idea by putting it on the table along with some candles. Another idea is to add some pumpkins, berries, pine cones, and other decorative elements to complete the look.
9. Easy Thanksgiving Flower Arrangements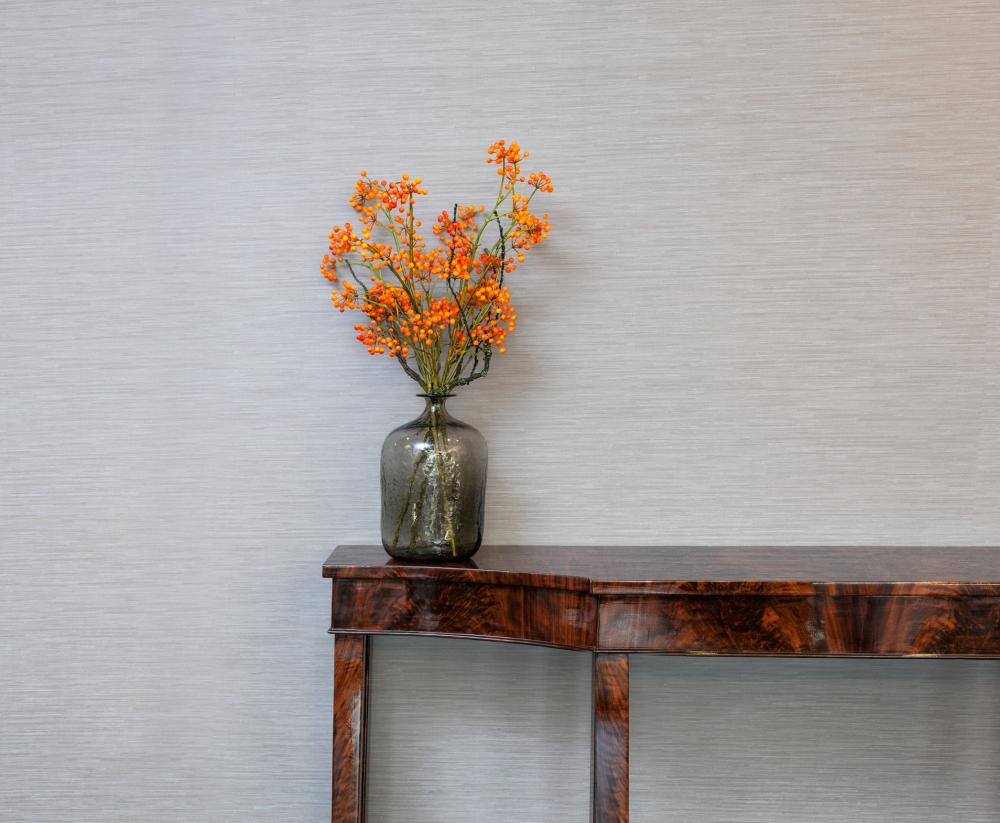 Another idea for a Thanksgiving centerpiece that you can easily create is to add some decorative items and items to a vase of water and flowers. You can use twigs and branches for a rustic and natural look, or add some decorative elements to add glamor. It's a
easy Thanksgiving floral arrangement,
that works well in any
home
. And if you love color and have an artistic streak then this Thanksgiving centerpiece idea is perfect for you as you can use brightly colored flowers and decorative pieces.
10. Cozy Fall – DIY Thanksgiving Centerpieces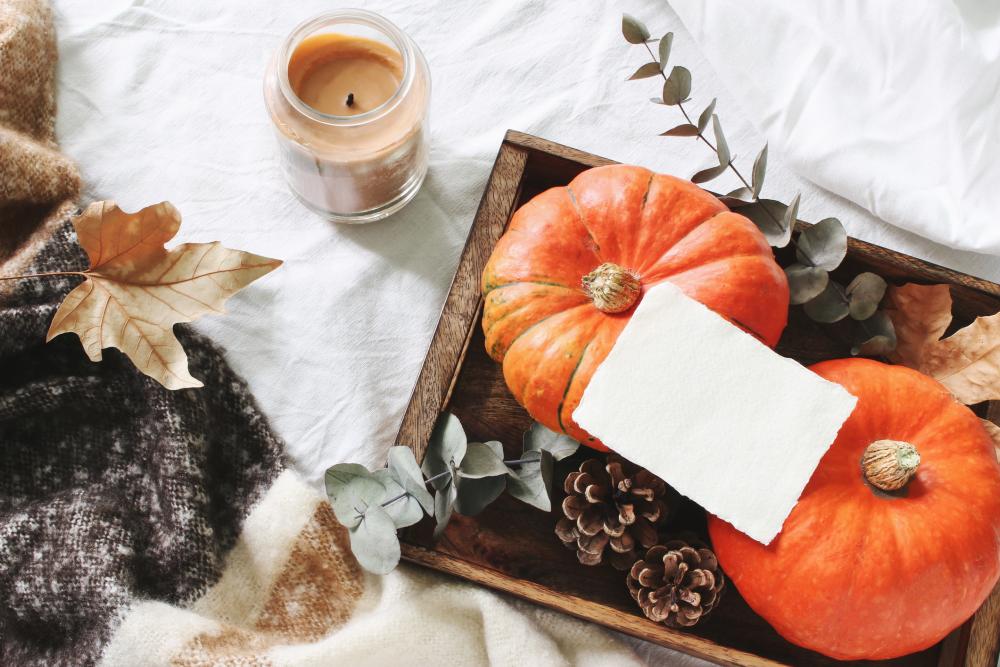 If you want to be creative, go for the DIY Thanksgiving Centerpieces . It's not that hard to pull off anyway. You can make beautiful Thanksgiving centerpieces using items that are cheap and easily available at most craft stores. Here is a beautiful example of what you can do with raw eucalyptus leaves! Just arrange them in a wooden box, wicker basket or vase and add pumpkins and pine cones to make them look inviting. This Thanksgiving centerpiece idea is elegant and rustic at the same time and is perfect for any fall or Christmas party.
11. Rye Ears and Dried Wheatgrass in a Vase – Thanksgiving Table Decoration Ideas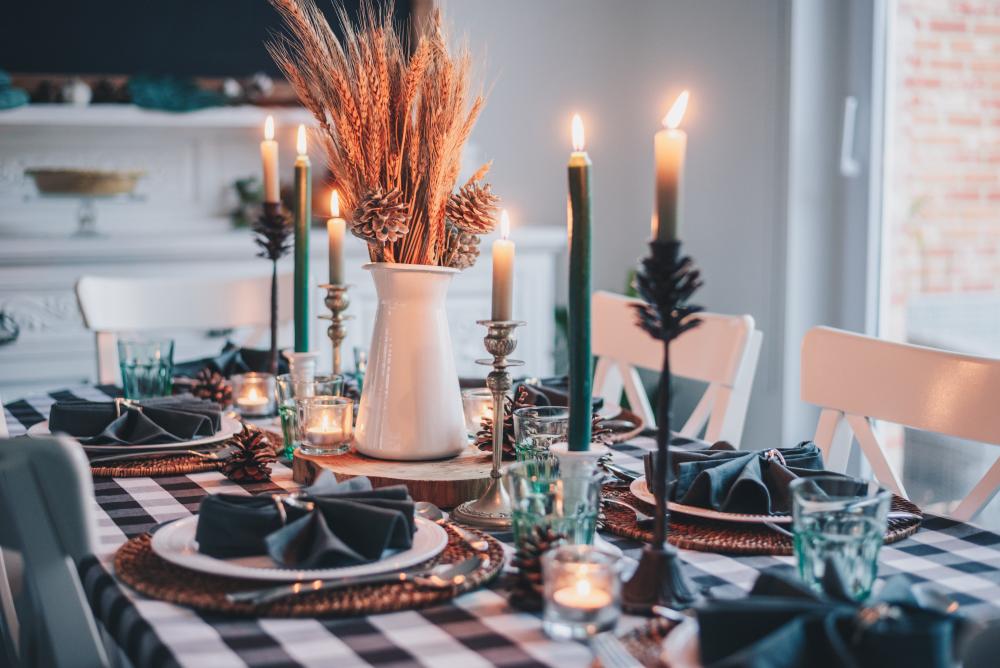 It's not just the flowers that can be used to create dramatic Thanksgiving centerpieces. Rye ears and dried wheatgrass are an unusual but stunning addition to your fall decor, and they happen to look great with pumpkins too! So why not try this Thanksgiving Table Decoration idea for your next Christmas party? Make sure you put something heavy on the bottom of the vase to keep it from tipping over. You can also use stones or marbles to weigh it down. And if you need even more inspiration, you can complement the floral arrangement with pine cones and red berry branches.
12. Lighted Jars – Thanksgiving Attachment Ideas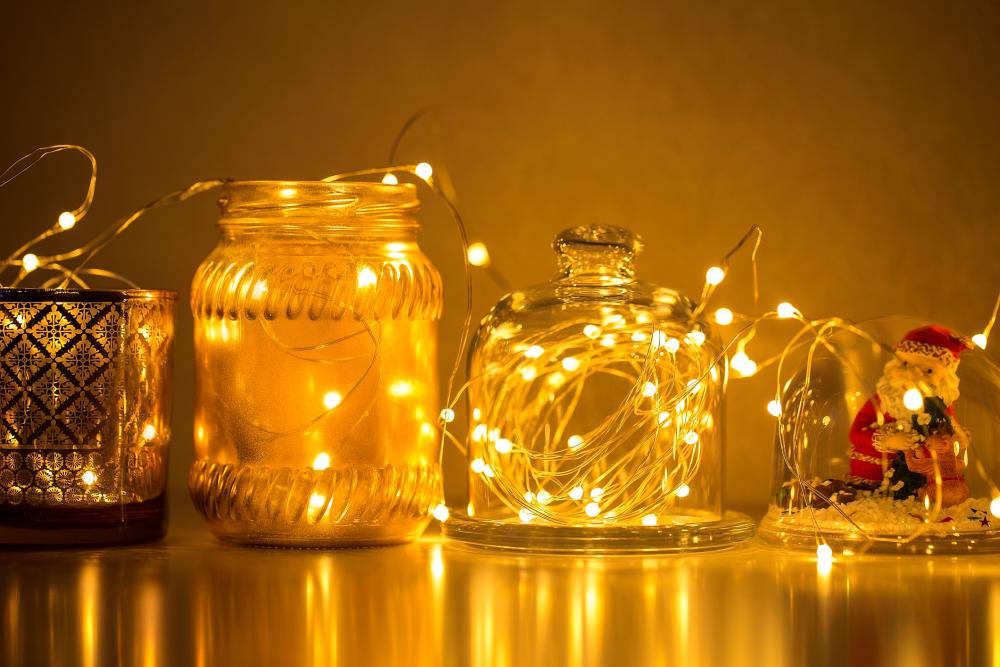 Readily available items like mason jars and votive candles can be used to create a Thanksgiving attachment that is perfect for a party. All you need to do is collect a few glasses, open them, and put garland lights in them to create a cozy, intimate setting for your Thanksgiving dinner. Just make sure there are no loose wires hanging out. And if you want to spend a little more money, you can opt for battery-operated lights instead of the conventional plug-in version. It's a perfect Thanksgiving centerpiece idea that is suitable for both indoor and outdoor use, and can even be used as a room décor!
13. Wicker Basket of Dried Flowers – Thanksgiving Centerpieces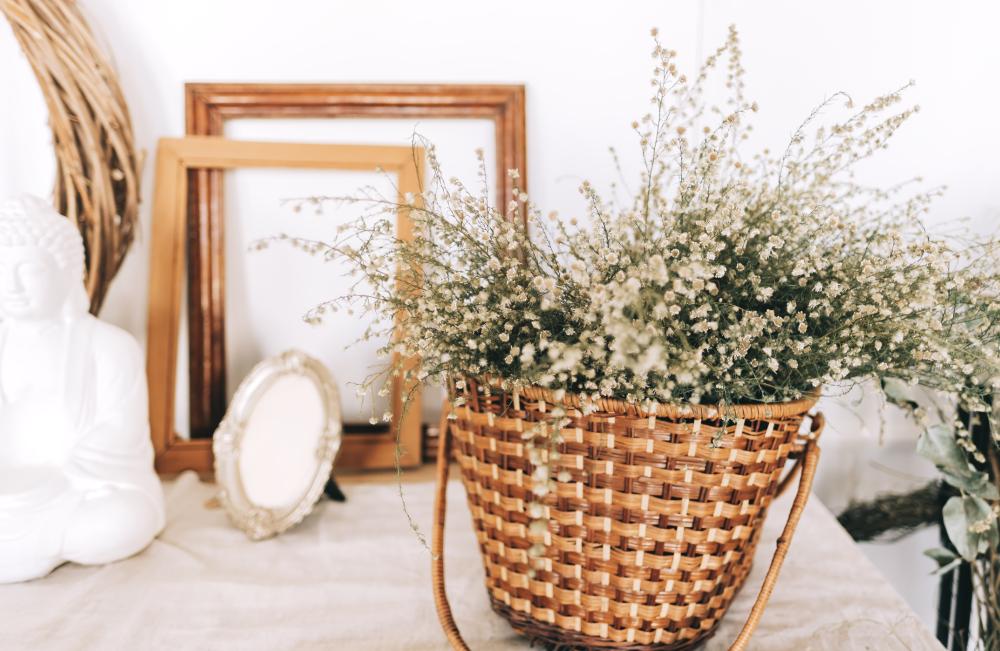 If you love the rustic look, you can make a beautiful
Thanksgiving centerpiece
out of dried flowers. It's also pleasing to the eye as colors and Complement textures well.
14. Mason Jars with Pine Cones and Candles – Thanksgiving Table Ideas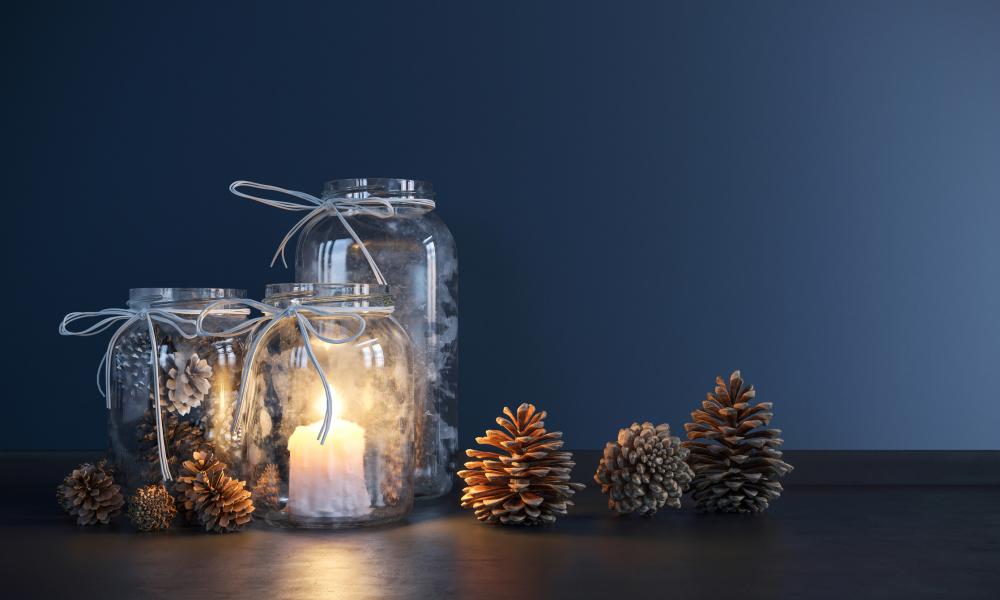 Mason jars are versatile, inexpensive and easy to find. So why not use it in your Thanksgiving centerpiece ideas? Just fill them with pine cones and votive candles for instant ambiance! It is a nice addition to any autumn table or buffet. And when you have enough mason jars at home, you can put several of them on a rustic tablecloth to create a simple but beautiful Thanksgiving centerpiece. Just make sure you are using candles with a reflective metal surface like silver or gold.
15. Dry Oranges With Pine Cones – DIY Easy Thanksgiving Centerpieces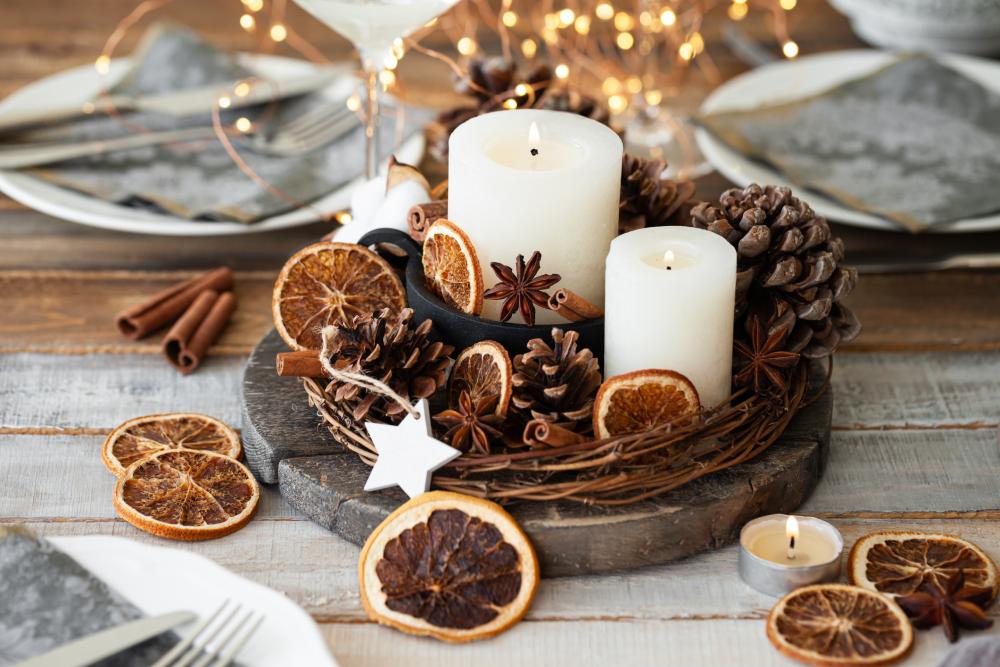 Dry oranges and pine cones are a simple but attractive combination that can be used as a easy DIY Thanksgiving centerpiece idea. Just put a few of them in a wicker basket along with some candle or tea lights for instant atmosphere! This Thanksgiving centerpiece is not only easy on the eye, but also very relaxing as it gives off an autumnal scent that helps calm the mind, especially thanks to the dried oranges. Besides, it can also be used as an autumn decoration!
16. Paper Flowers – Thanksgiving Floral Arrangements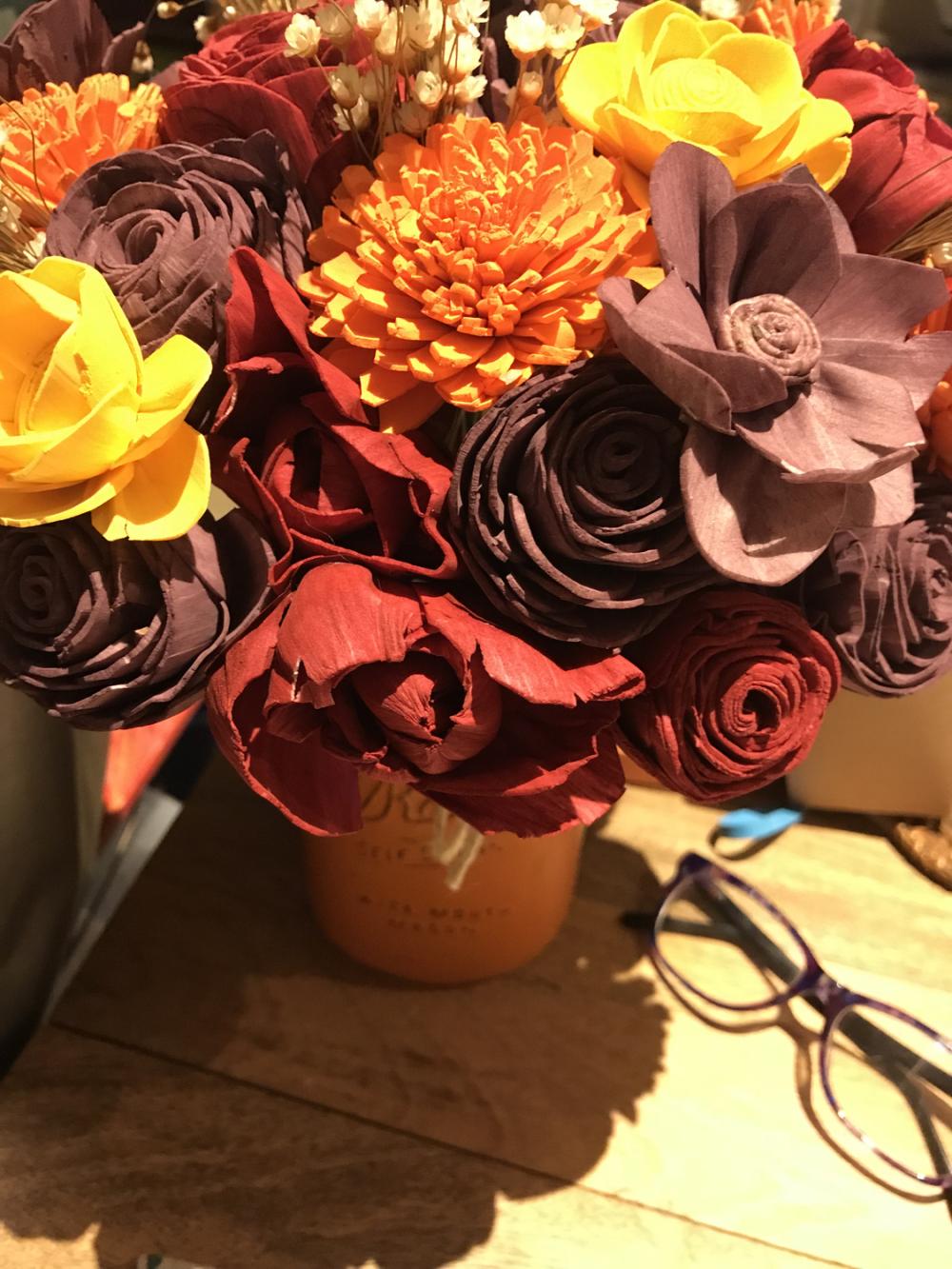 Depending on the theme, it can be difficult to find the right colors for your Thanksgiving floral arrangement. But who needs real flowers when paper offers so many possibilities? Make your Thanksgiving dinner a memorable one by adding paper flowers in a vase as a fabulous centerpiece when it comes to Thanksgiving floral arrangements, . You can add flowers that complement the color theme of your table, such as: B. orange roses and rosemary sprigs to create an autumnal setting! You need to spray them first if they are made of white paper. Just make sure you do it outdoors as the spray paint fumes can get quite strong. Once they're dry, cut them out and attach them to the vase with fishing line or clear tape.
17. Thank You Message – Thanksgiving Table Decoration Ideas
What is Thanksgiving Without Thanking? With this
table decorating idea for Thanksgiving
, you can make your table more memorable by adding blackboard color messages to remind everyone why they're celebrating. This is a creative way to make sure your guests know what to be thankful for! You can use either fabric or paper tablecloths when you go for this Thanksgiving table decorating idea, as long as it is waterproof. You can also use a black or white marker if you don't have blackboard paint on hand. Just write the messages and then wipe them off so you can use the tablecloths again next year!
18. Apples and Sunflowers – DIY Thanksgiving Centerpieces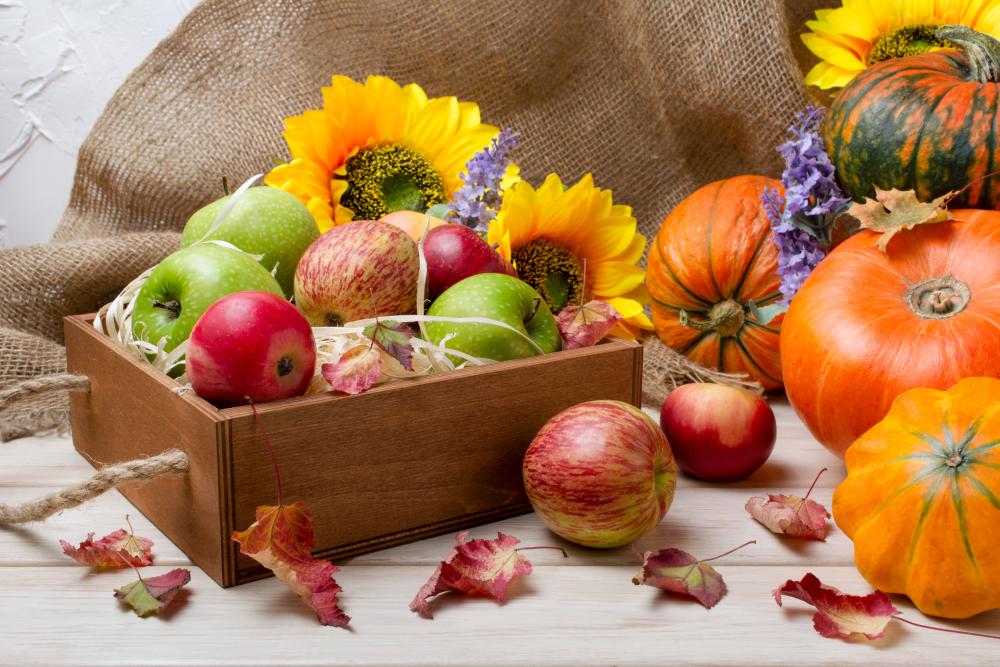 This DIY Thanksgiving centerpiece idea is perfect for a rustic fall theme as it features a simple but eye-catching arrangement of sunflowers, apples, and pumpkins. It's a great way to show your guests how grateful you are for their presence! These fall elements make the best Thanksgiving home decor too! Just grab some wooden boxes or crates from your garage and use them as vases to create a cool centerpiece for your dining table. Make sure the boxes are big enough to hold all of these items!
19. Pumpkins, Corn and Pine Cones – Cheap Thanksgiving Table Decorations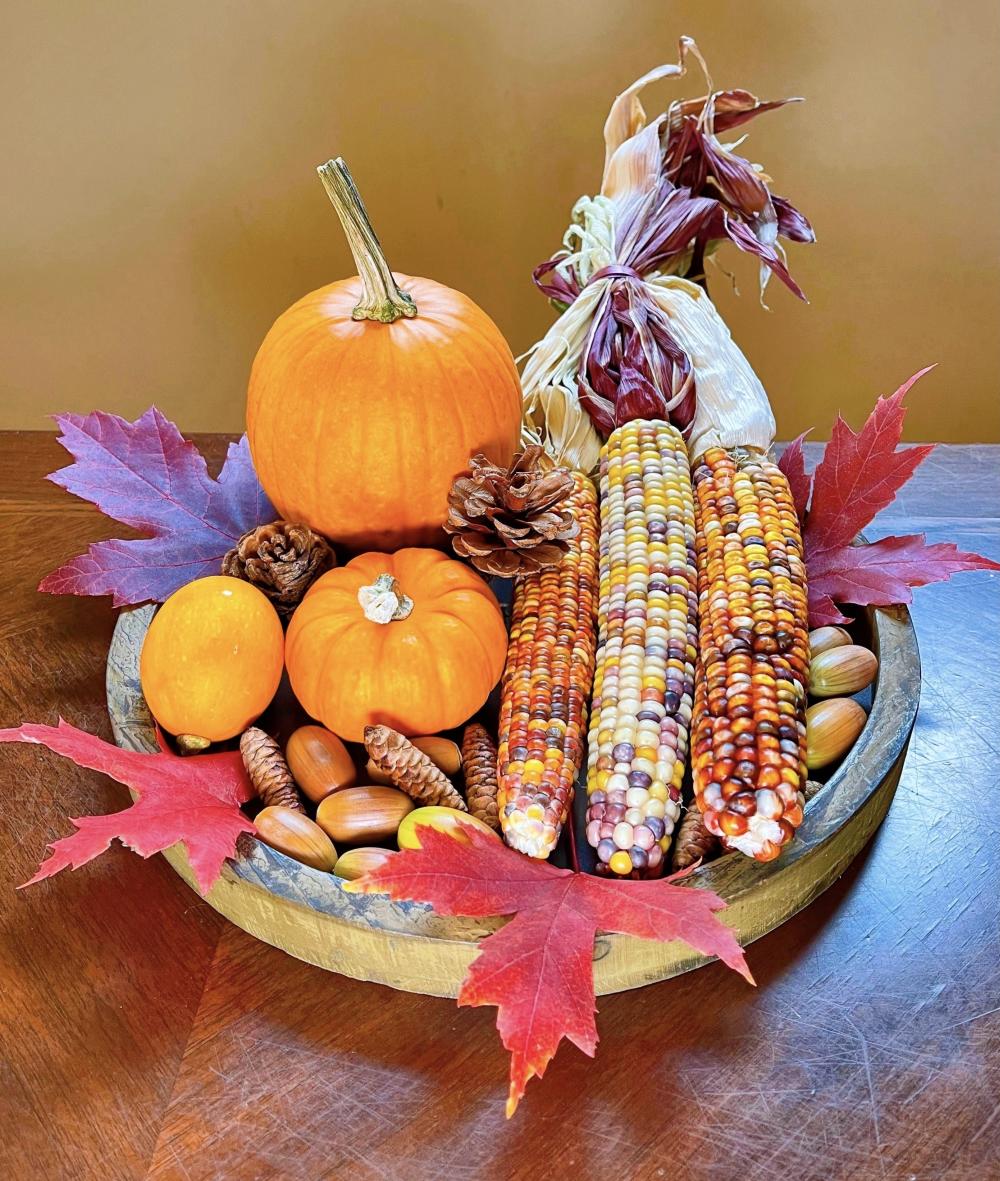 This Thanksgiving table decorating idea is one of the cheapest on the market! It uses pumpkins, corn husks, and pinecones that you can get at your local craft or hardware store. You don't have to spend too much on this cheap Thanksgiving table centerpiece idea since you can get leftover fall leaves and flowers from your yard can use to add more items! Just make sure they're all dried out.
20. Tiered Tray of Mini Pumpkins – Thanksgiving Table Ideas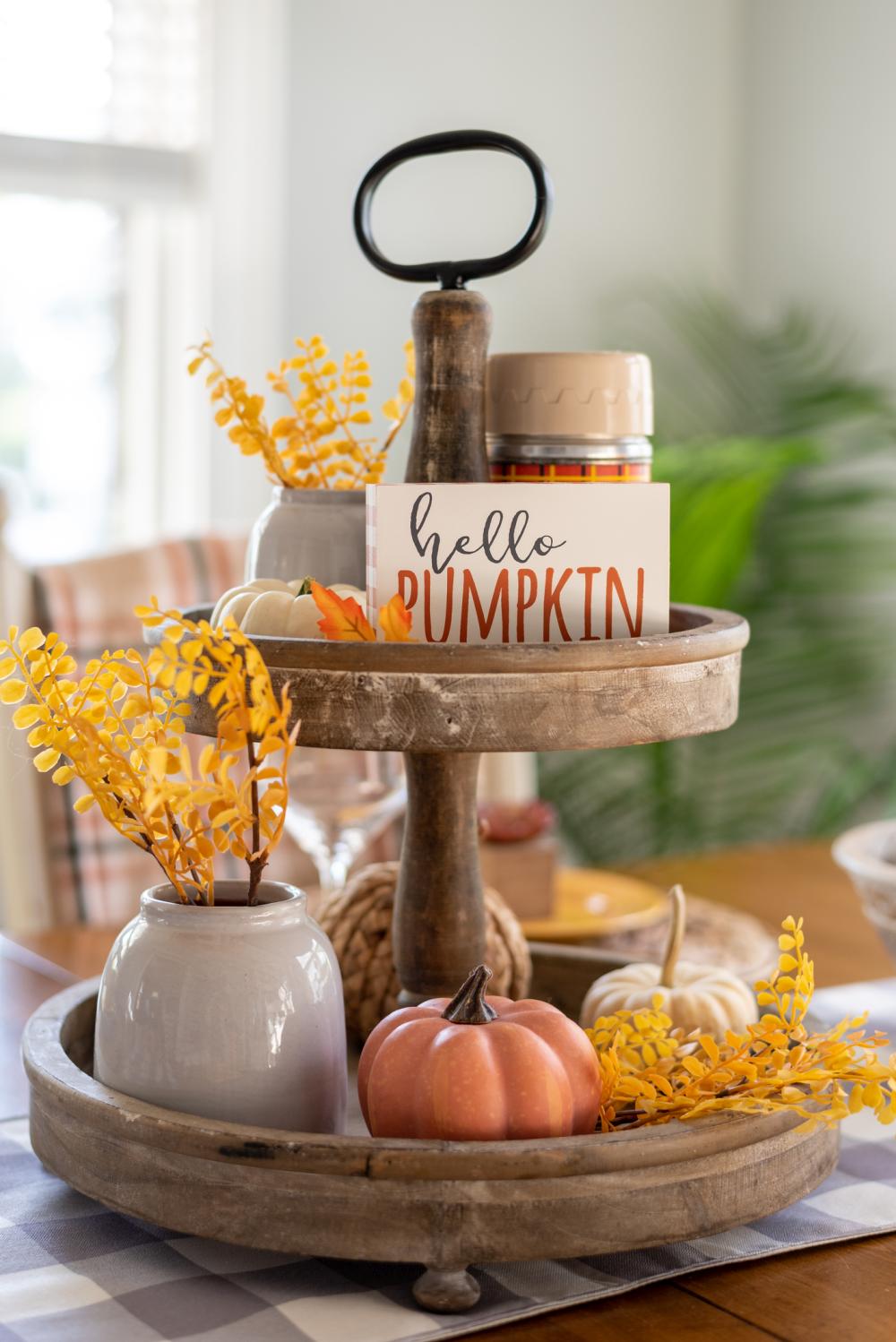 This Thanksgiving table idea is one of the easiest out there, and you probably have all of the supplies you will need for this DIY project, too Home. You can use a tiered tray as a fabulous centerpiece for your dining table, decorated with mini pumpkins, fall leaves and thank you notes. If you want to personalize this idea for a Thanksgiving table centerpiece, choose any color palette to create a unique look for your dining area. When the time has come to change the seasons, this can also be used as an excellent display piece in the living room or bedroom!
21. Confetti Filled Turkey – DIY Thanksgiving Centerpieces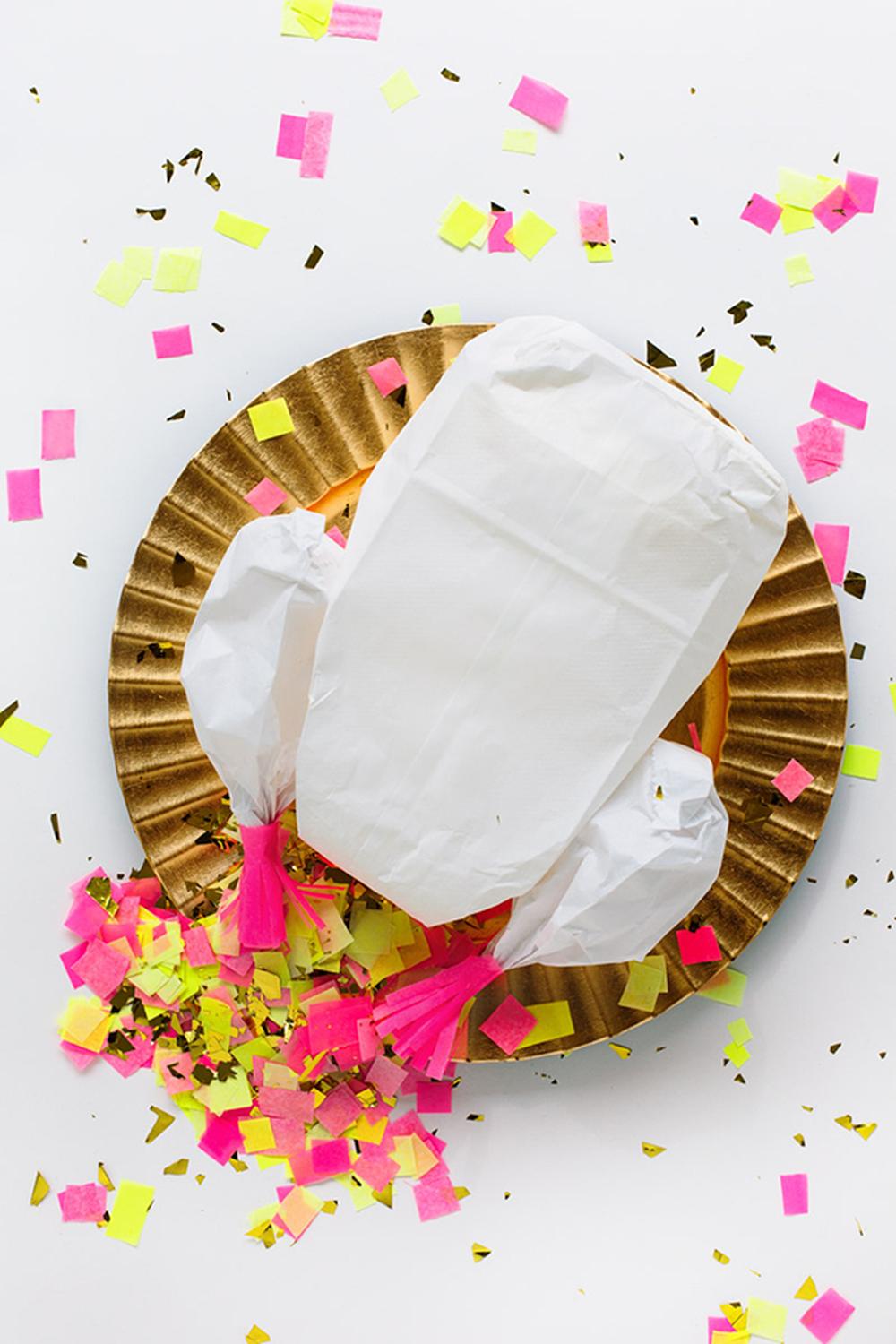 Here's a fun twist on
DIY Thanksgiving Centerpieces
: Fill a turkey with confetti! This is a great way to add a festive touch to your Thanksgiving table and keep everyone entertained until the real turkey is done. It is sure to put everyone in the holiday mood. We found this nifty guide over at Studio DIY that you can check out every step of the way! This idea works for all kinds of occasions. Who said you have to wait until Thanksgiving? To make this a centerpiece for Easter, use colored eggs or stuffed bunnies. And for Christmas, you can even hang a little ornament on the turkey's beak and add tinsel and Christmas balls sticking out of the slit in the neck!
22. Rustic Turkey – Thanksgiving Table Decoration Ideas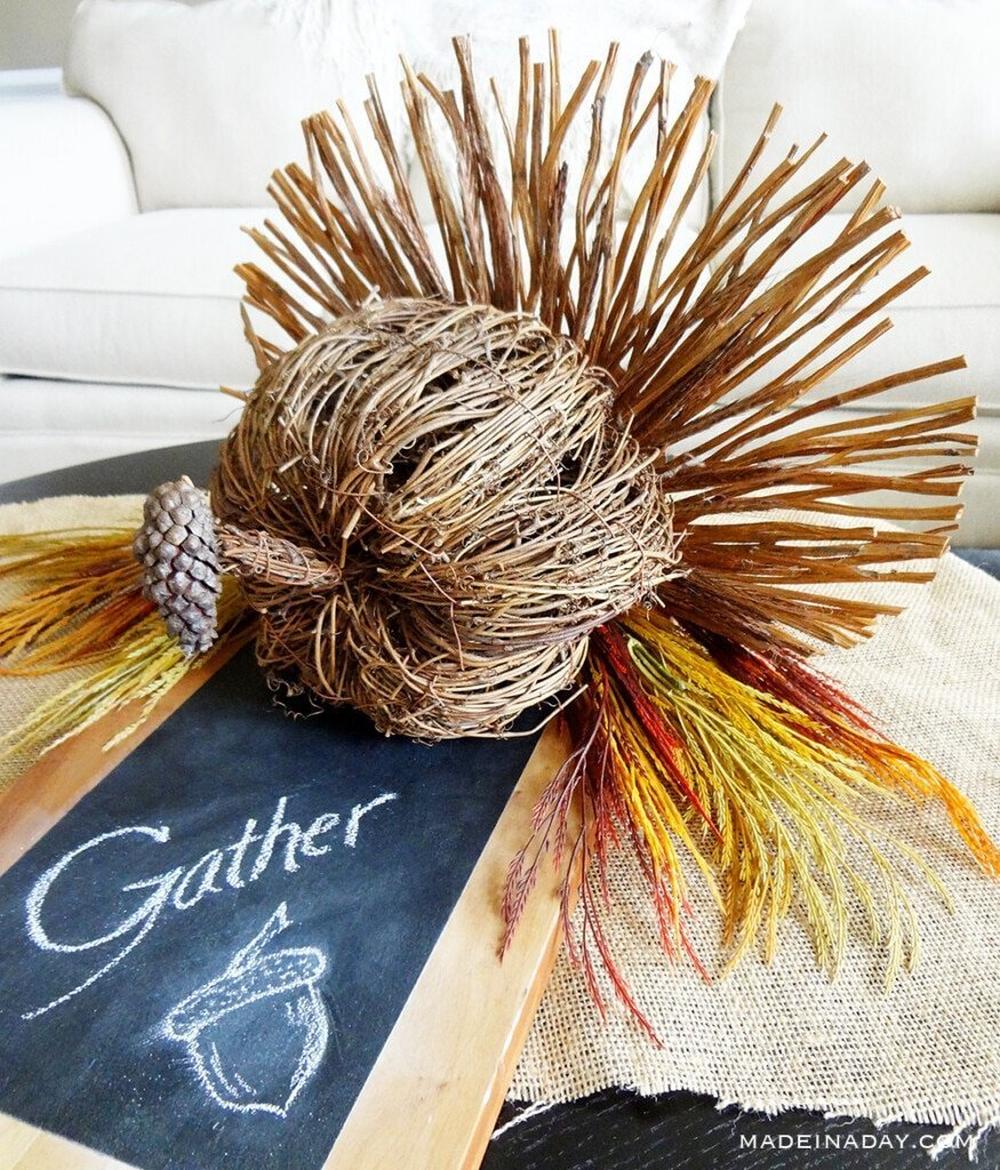 Another fun twist on the traditional turkey is to make a rustic turkey out of branches and place it as a table centerpiece. It's a fun Thanksgiving table centerpiece idea that will make your friends and family laugh. Plus, it's the perfect idea for any home improvement out there! These are easy to make with materials you can find outside or in your garage – bales of straw, twigs, and brightly colored leaves.
23. Balloon Thanksgiving Centerpieces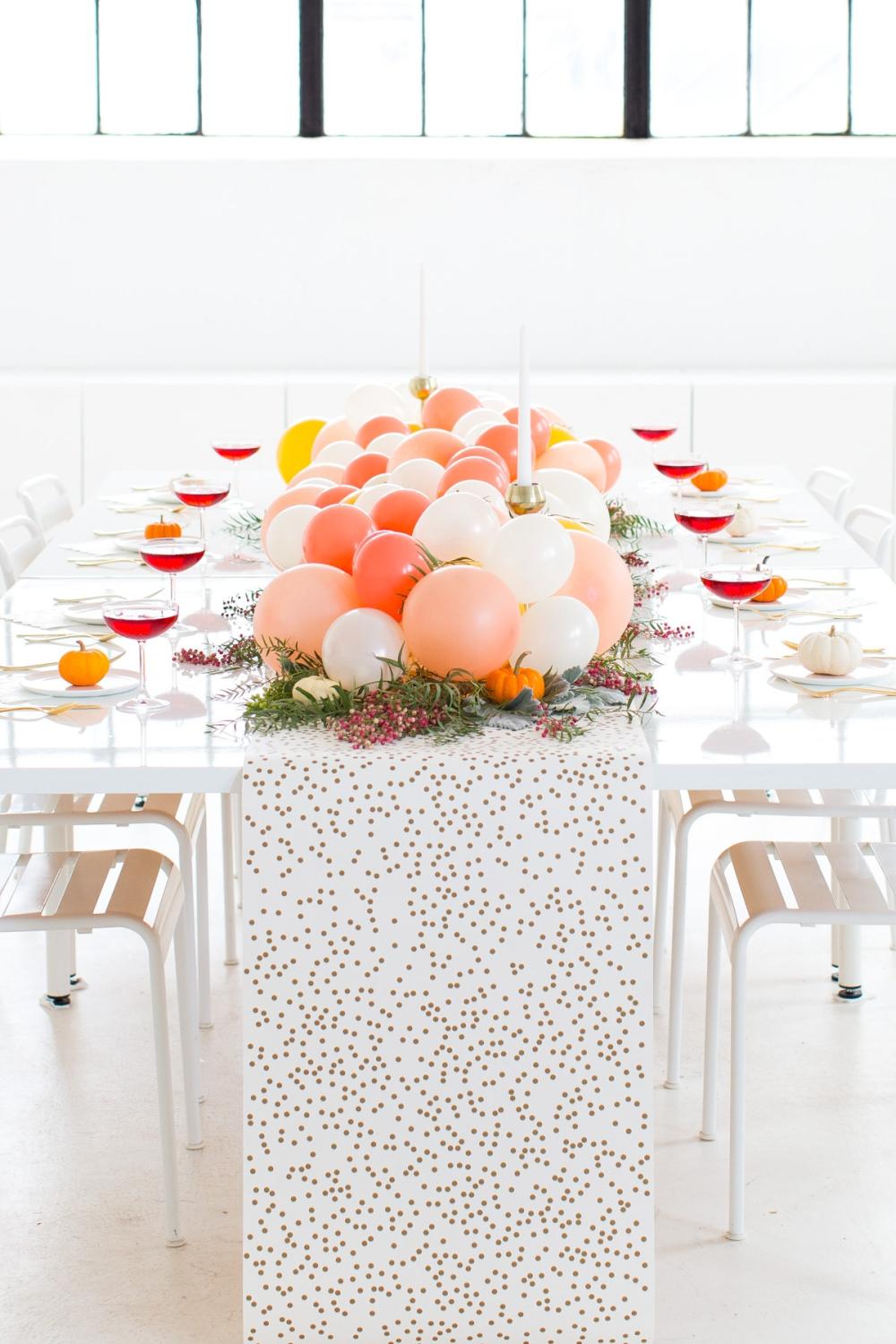 Who says you need a birthday party or wedding to use balloons as decorations? Don't be afraid to add them to your Thanksgiving decorations if you absolutely love balloons. And your kids will love it more! This idea for the Thanksgiving centerpiece is one of the easiest out there! You can make balloon centerpieces with your leftover balloons from your child's birthday party. And the best part about this idea is that you don't have to spend too much on it as all you need is craft supplies, balloons, and supplies from your house! After tying the balloons together, use a piece of string to hang them over the table. Or you can put them neatly on the table runner, just like Sugar and Cloth in this excellent tutorial! To personalize your Thanksgiving centerpiece, choose any color palette to give your dining area a unique look.
24. Menu Pumpkin – DIY Thanksgiving Centerpieces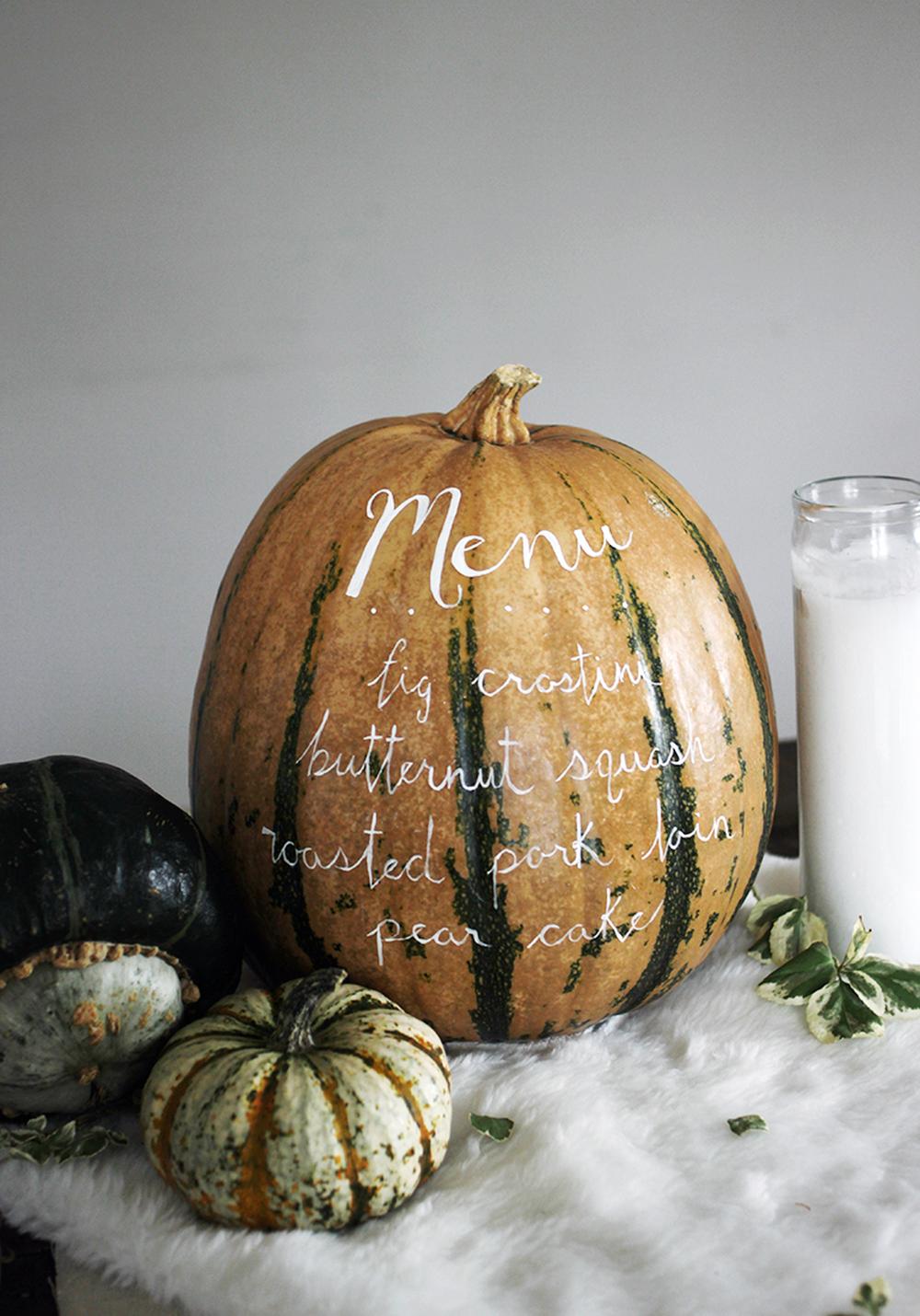 Another fun way to make your dinner more festive is to use the Menu Pumpkin as a DIY Thanksgiving Centerpiece . Not only does it look cute, it is also functional! You can write down all your favorite recipes you want to make on the pumpkins for Thanksgiving Day and display them on the table. Or, you can save some table space for your other Thanksgiving decor ideas like candles and dishes. And if you have plans to do it all with your centerpiece this year, be sure to check out The Merrythought's awesome guide on how to make your own!
25. Ceramic Pumpkins and Neutral Colors – Thanksgiving Table Decoration Ideas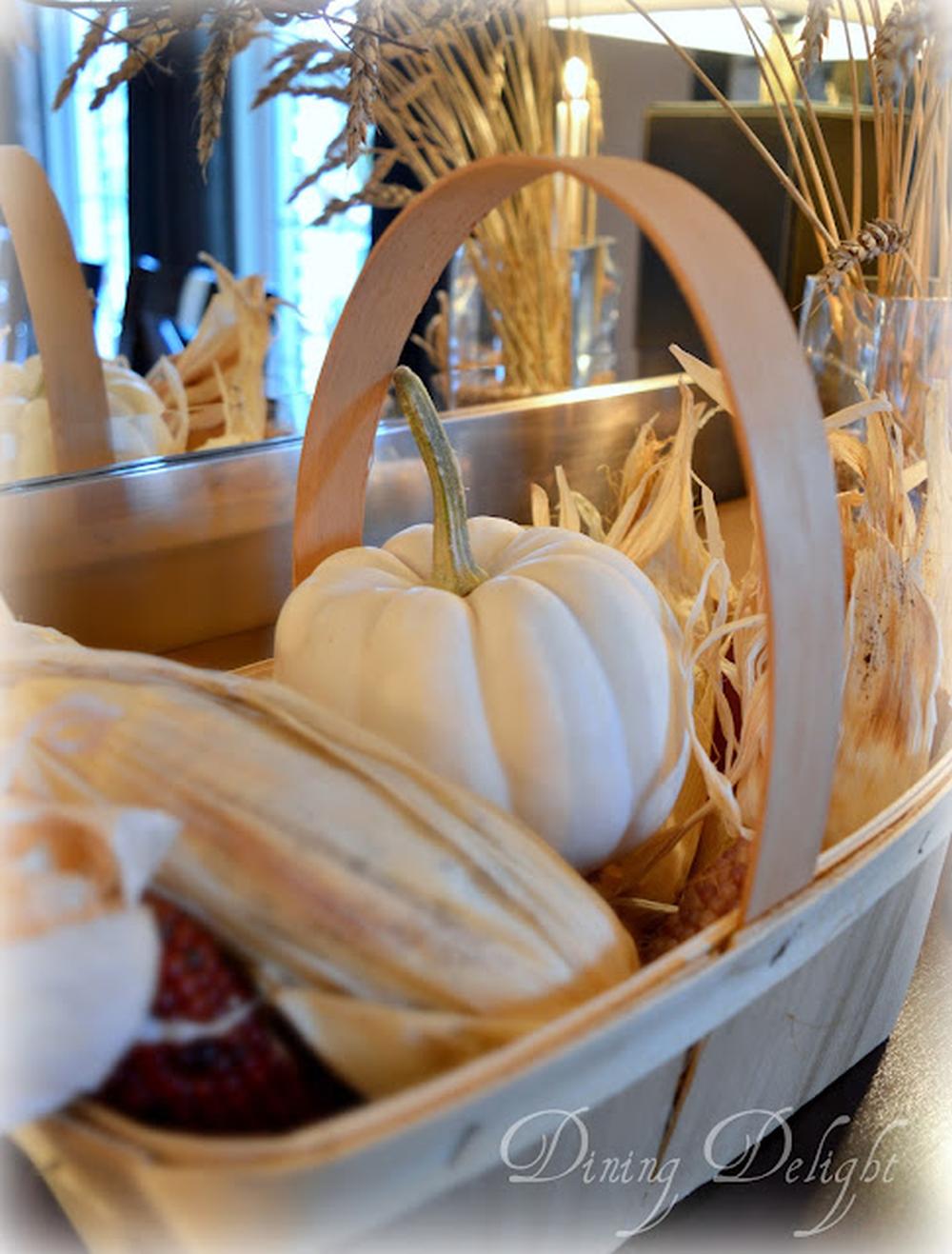 Forget your Thanksgiving dining table looks like it came from a magazine. Instead, try using lots of neutral colors to decorate your dining area, then add color to your centerpiece ideas. This is one of the easy Thanksgiving centerpieces to tinker for the holidays this year! And if you are like us, you are probably wondering how to do it. Well, this tutorial from Dining Delight will show you how to make a beautiful centerpiece for Thanksgiving. As decorations, you can add ceramic pumpkins, wheat centerpieces, a handle basket, corn husks, candlesticks, pine cones, pieces of birch, and anything else that goes well with your Thanksgiving theme. You can also hang a simple vine wreath on the wall or the mirror next to the dining table.
26. Fruit Kabob Turkey – Thanksgiving Centerpieces
If you're looking for whimsical Thanksgiving centerpieces that are also edible, this Fruit Kabob Turkey Centerpiece is the place for you! It will add a rustic touch to your dining table and make your Thanksgiving decor look super cute. So, if you think this idea is for you, this tutorial from Happy Home Fairy can show you how to make a fruit kabob turkey centerpiece. You will need a pumpkin, watermelon, skewers and toothpicks, grapes, pineapple, honeydew, pear, apples, cheddar cheese pieces, googly eyes, and a hot glue gun to apply the googly eyes.
28. Organic and Modern Thanksgiving Table Decoration Ideas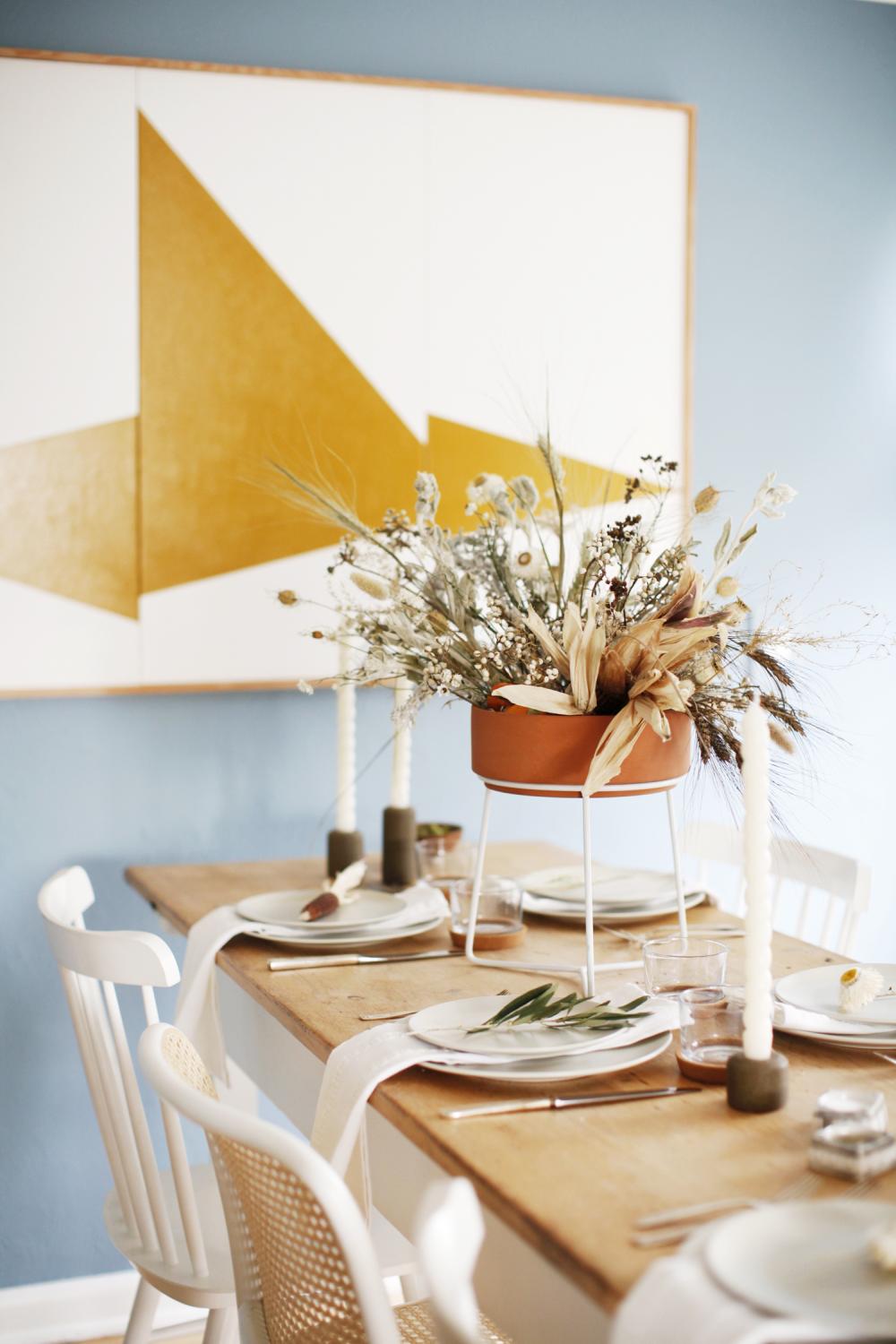 Thanksgiving decorations can be both classy and modern with the right Thanksgiving centerpieces. Use this idea for table decorations to make sure your place setting looks gorgeous while staying true to your minimalism principles. So if you're not a fan of classic table decorating ideas for Thanksgiving , why not give this organic and modern design from Coco Kelly a try? It's perfect if you want your Thanksgiving decor to look chic thanks to the modern elements and neutral color palette.
30. Cone Ucopia DIY Thanksgiving Centerpieces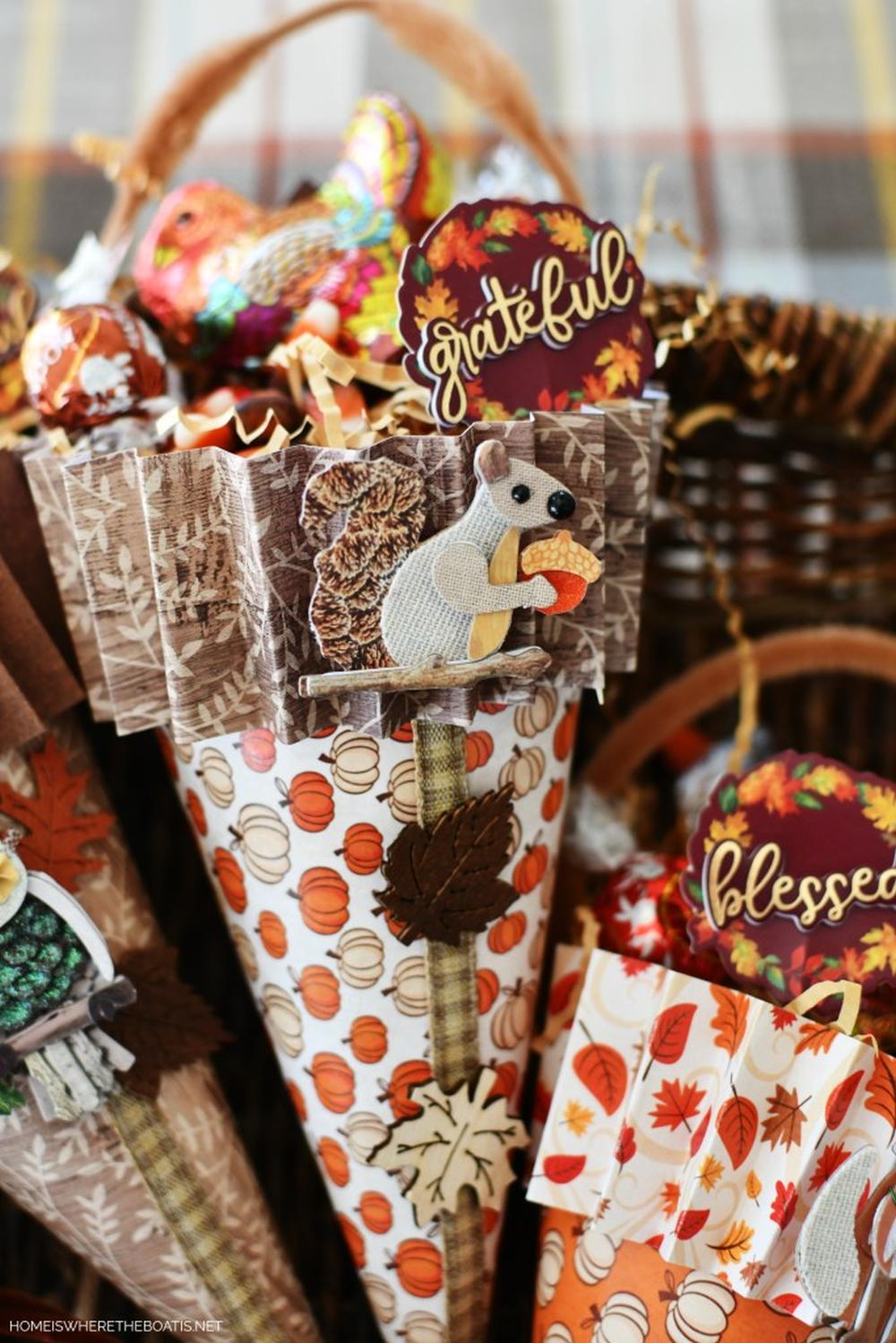 If you want to make something colorful and simple for your DIY Thanksgiving Centerpieces , check out these Cone Utopias – a fun twist on cones and cornucopia . They are super cute and will look great on your dining table if you place them next to a bouquet of flowers in the same color scheme. So this tutorial from Home is Where the Boat Is can show you how to make cone utopias for your Thanksgiving centerpieces. You will need brown paper, glue sticks, scissors or an Xacto knife, and aluminum foil to make these cones that look like horns of plenty. When you're done making it, attach it to some toothpicks and fill it with fruit in the same color as the bouquet.
31. Spicy Orange Pomander Balls – Thanksgiving Table Decoration Ideas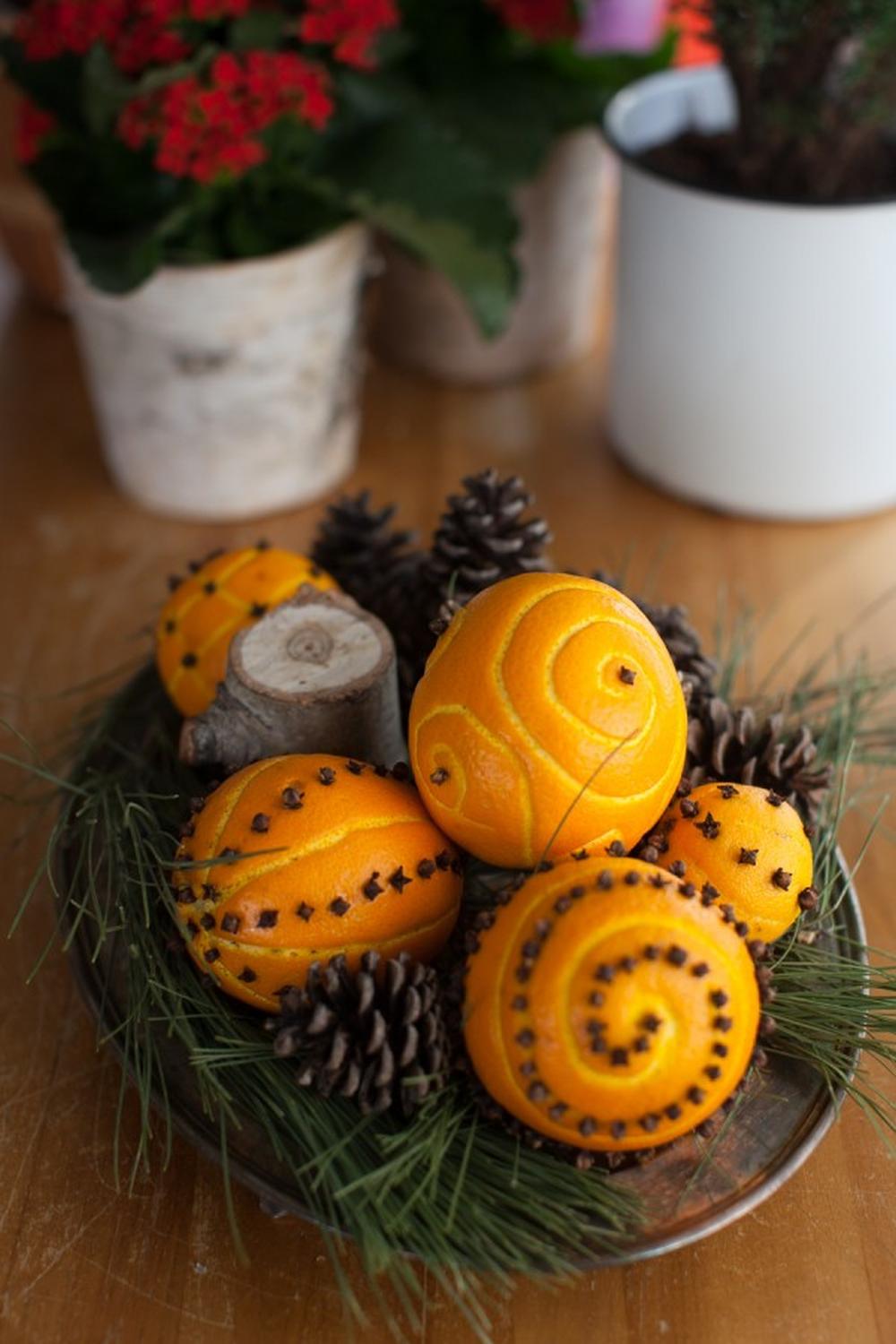 Spicy orange pomander balls are the perfect
idea for the Thanksgiving table decoration,
to give your table decoration an autumn note. For this Thanksgiving -Table decoration idea you need oranges, cloves, cinnamon sticks and allspice berries.
32. Tea Lights – Thanksgiving Centerpieces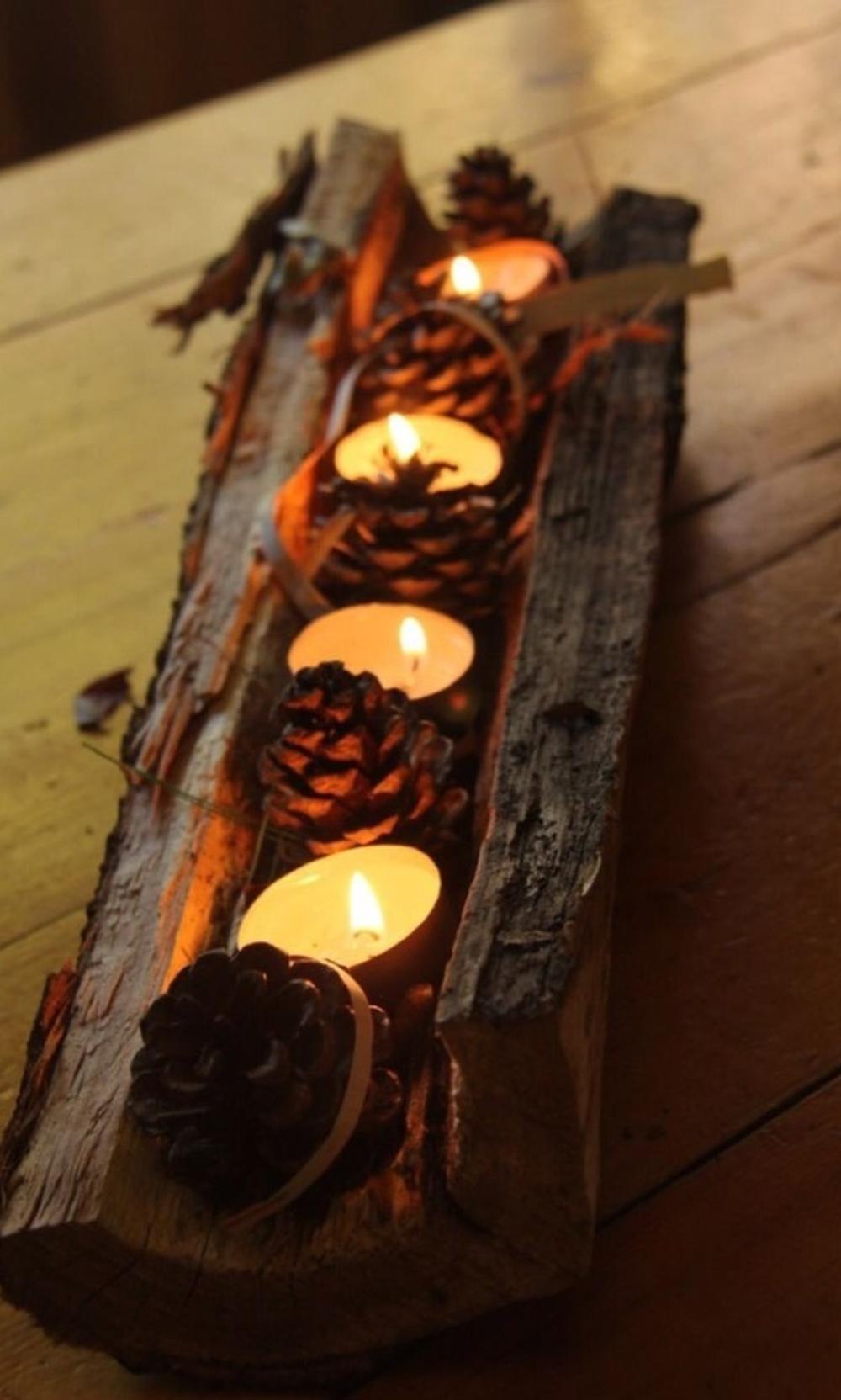 Tea lights are a great idea for Thanksgiving table decorations because they are cheap to buy, easy to find around the house, and very festive in appearance. So, if you want some ideas on how to use tea lights as Thanksgiving centerpieces, we've got you covered! You can put tea lights in a hollowed-out tree trunk, add pine cones, and put everything on a tablecloth like Vera Wolters did. If you want to make something even simpler, you can use chalkboard paint as a base for your Thanksgiving decorations instead.
33. Cinnamon Stick Candles – Thanksgiving Centerpiece Ideas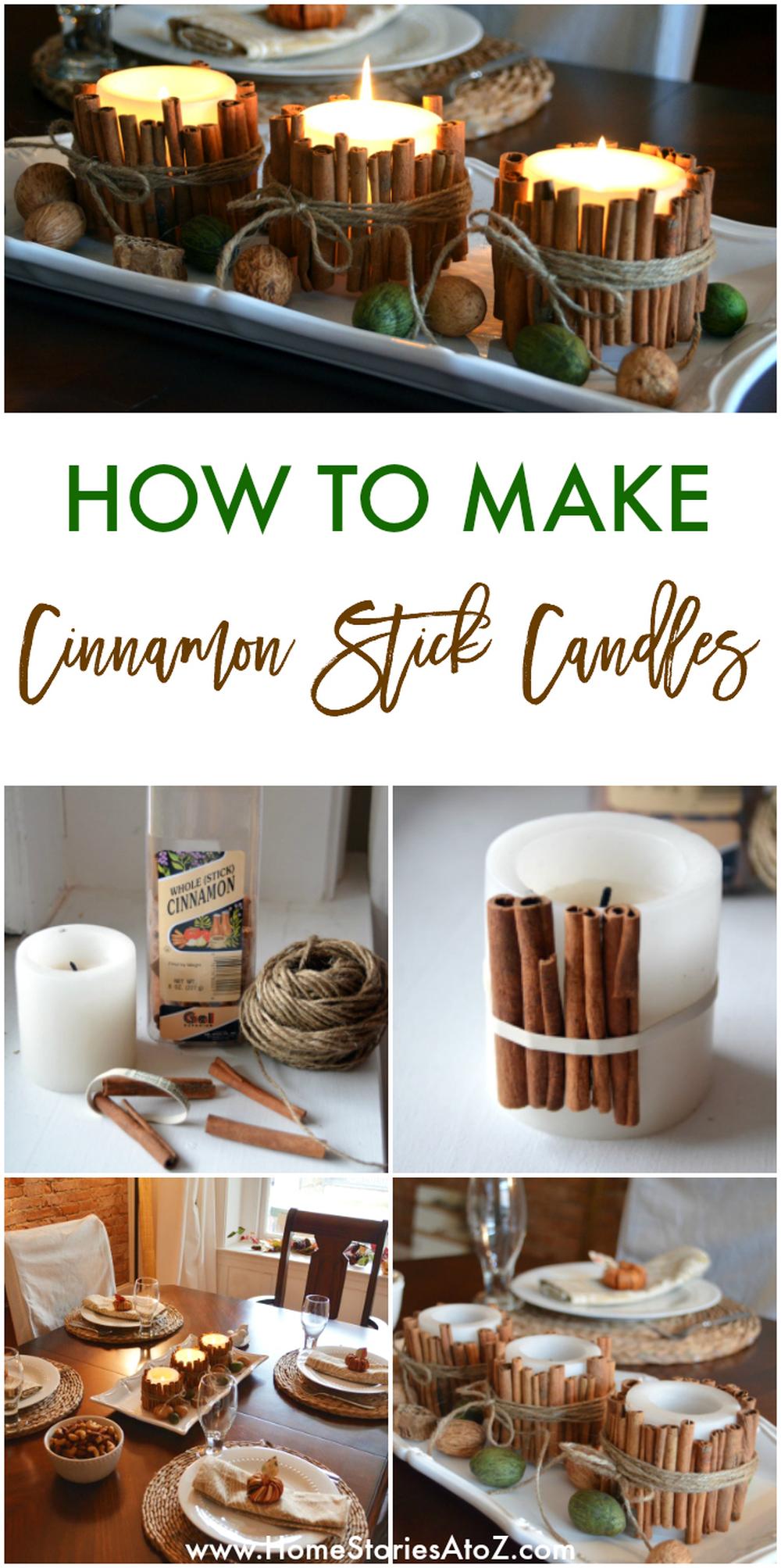 Cinnamon stick candles are perfect for fall, Thanksgiving Centerpiece ideas, because they smell great, look rustic, and keep your space for hours after Let dinner smell sweet over! So, this tutorial from Home Stories A to Z can show you how to make those cinnamon stick candles that are simple enough to make in bulk if you are planning on hosting Thanksgiving dinners for a large crowd. For this project, you will need beeswax candles, cinnamon sticks, and wicks.
34. Pumpkin Candle Holders – Thanksgiving Table Ideas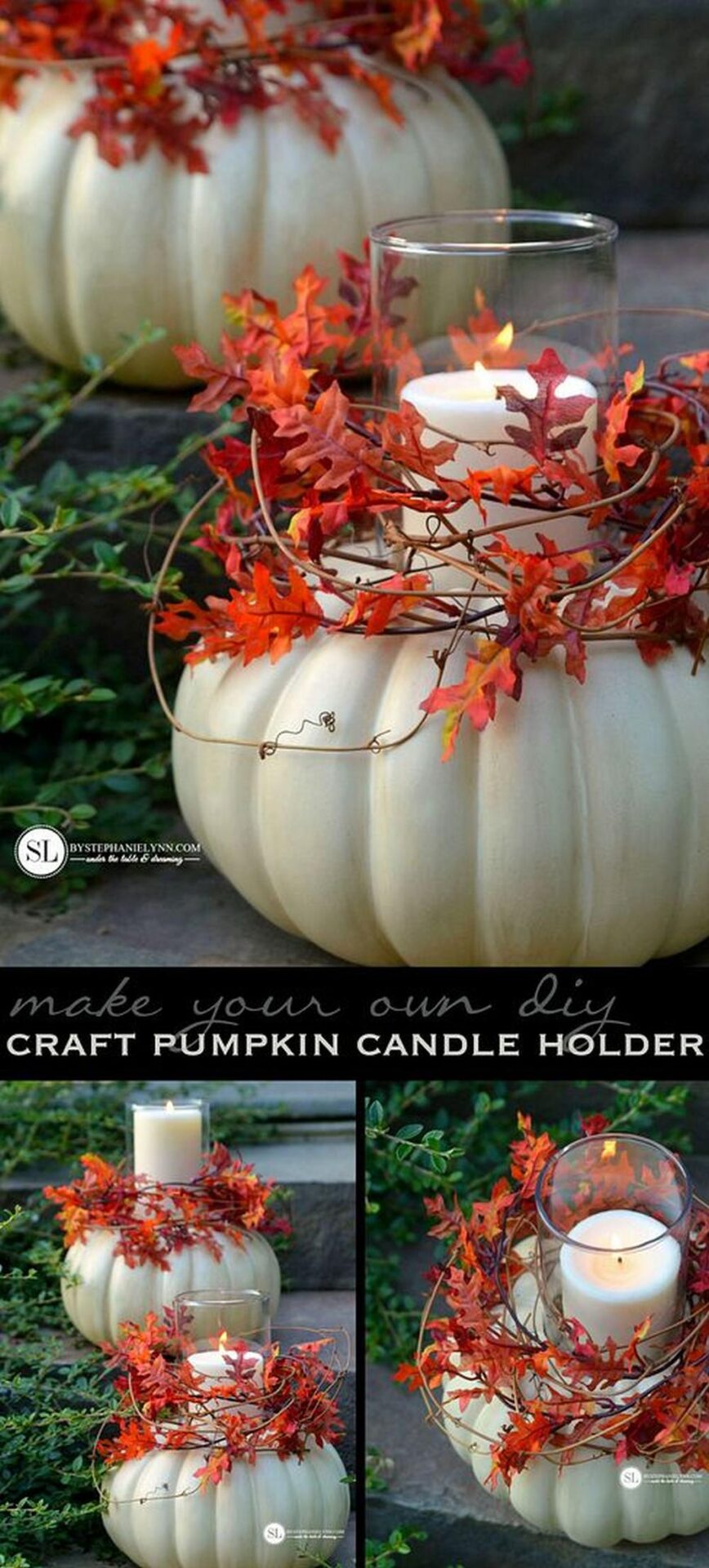 A simple glass pumpkin candle holder is a great Thanksgiving table idea that can be made from items you may already have around the house. Not only will it look great as a centerpiece, it will also look great as a fall decorating idea. But you can improve it by placing the candle holder in a carved pumpkin. Then you can wrap the candle holder with an autumn leaf garland for an extra touch! So this tutorial from By Stephanie Lynn can show you how to make these adorable glass pumpkin candle holders yourself.
35. Gratitude Stones – DIY Thanksgiving Centerpieces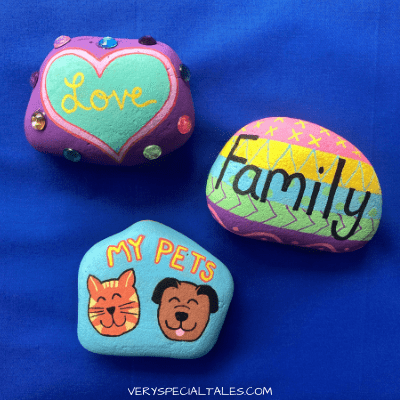 Gratitude Stones are the perfect DIY Thanksgiving Centerpiece Idea when you want to create a tradition that involves the whole family. Not only will it make a treasured keepsake, but you can make it for each person in the family and hide them somewhere on Thanksgiving night! So this tutorial from Very Special Tales can show you how to make some gratitude stones with your kids that they will cherish forever. For this Thanksgiving decor idea, you will need pairs of plaster of paris, water, brushes, and stones.
36. Popcorn Kernel Candles – Thanksgiving Table Decoration Ideas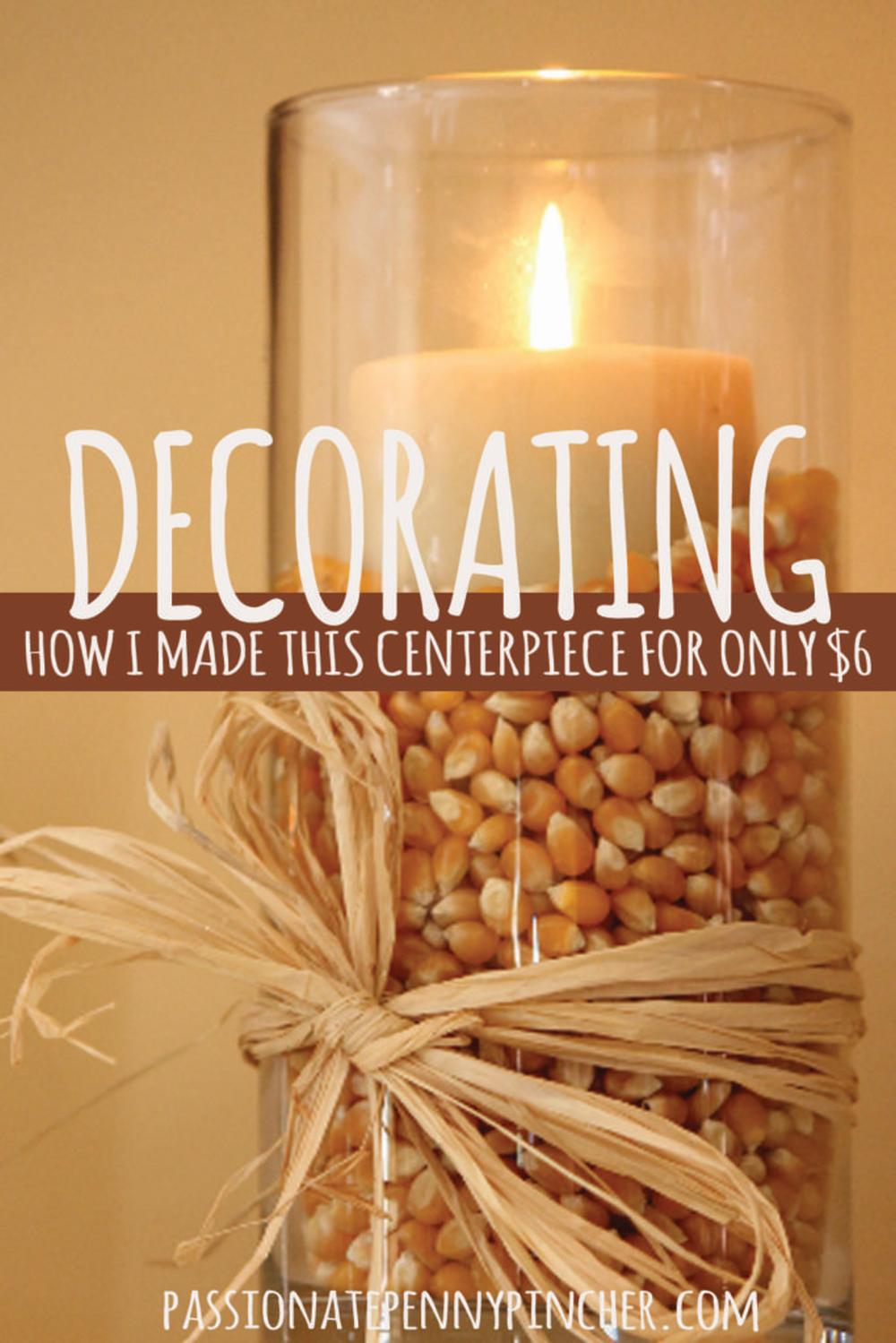 Popcorn Kernel candles are a great idea for Thanksgiving table decoration ! Plus, you can reuse them as home decorations after dinner. And since they are made of inexpensive materials, they don't hurt your wallet either! Check out this tutorial from Passionate Penny Pincher to learn how to make these cute and festive candles for your Christmas decorations! You will need raffia, unpopped popcorn, candles, and candle jars.
37. Rustic Fall Tray – Thanksgiving Centerpieces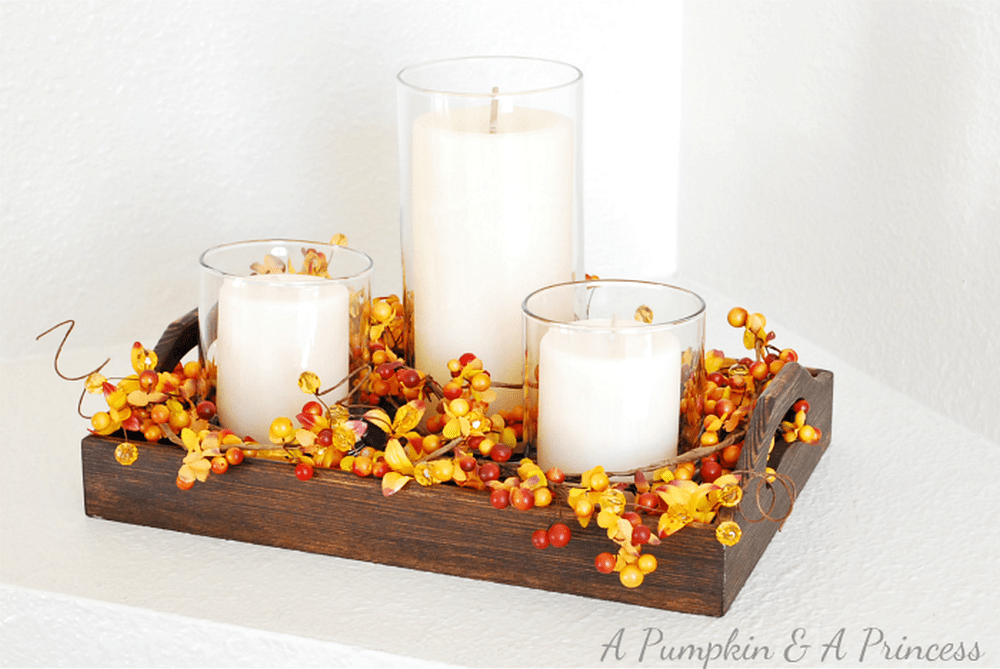 This rustic fall tray idea works as a Thanksgiving Centerpiece when you want to create a warm, inviting atmosphere around the table while your guests enjoy their turkey. It is also very versatile as you can put anything in the tray: candles, pumpkins, flower arrangements – the possibilities are endless! A Pumpkin & A Princess shows how to quickly put together a rustic autumn tray from a wooden tray, candle vases, candles, dark walnut color, berry picks and a berry garland.Rustic Wooden Table Runner – Thanksgiving Centerpiece Ideas
A rustic wooden table runner is an excellent Thanksgiving centerpiece idea as it goes with pretty much anything you want to put on your table, from candles to pumpkins.
39. Centerpiece with table labels – Ideas for the Thanksgiving table decoration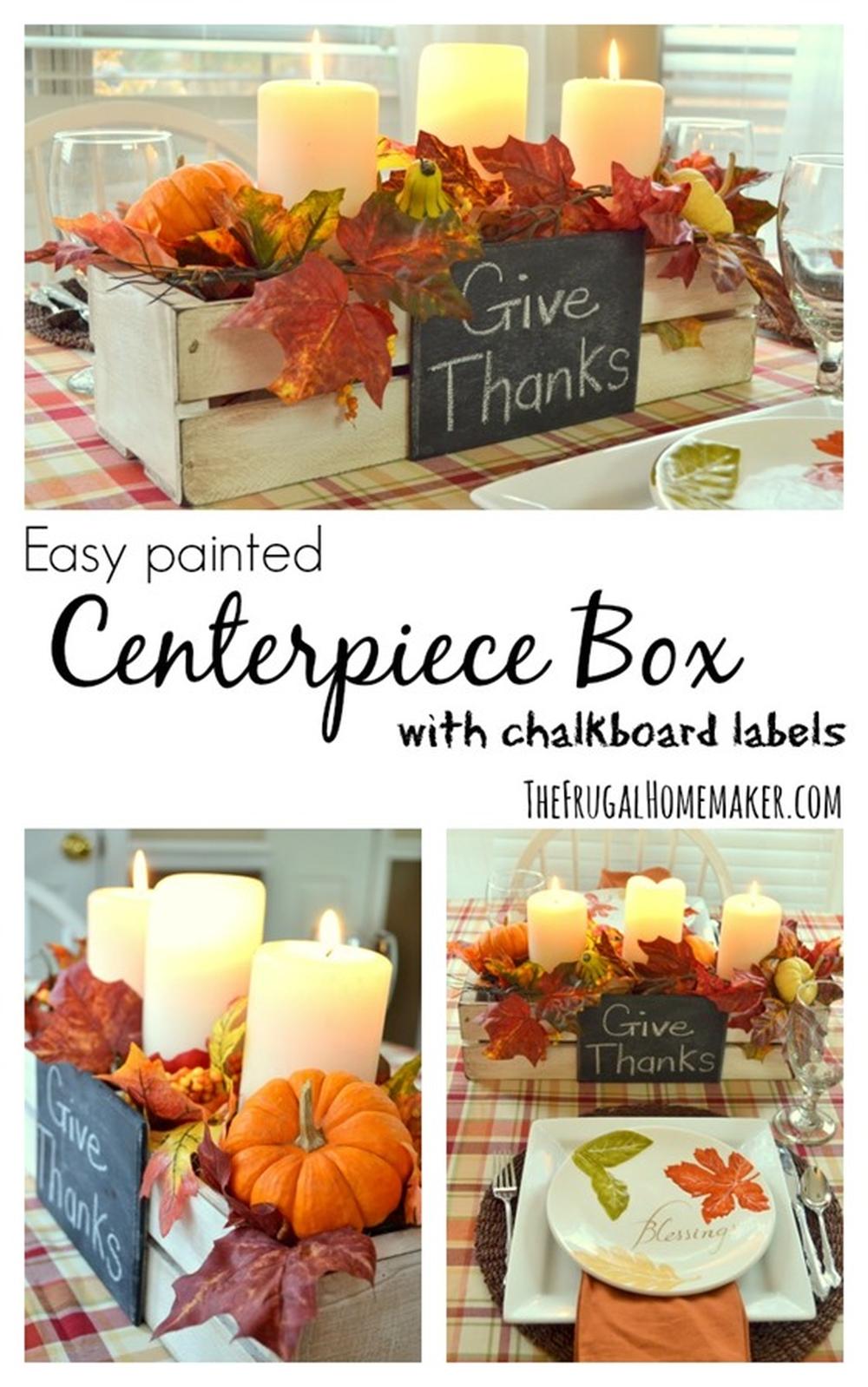 A centerpiece box with table labels is a versatile
idea for the Thanksgiving table decoration
, which can be adjusted according to the personality of your guests. It's also relatively cheap compared to other DIY Thanksgiving centerpieces, but still has a stunning look to it. Plus, since it's made from a wooden box, you don't have to worry about breaking it as it's disposable! To get started, check out this tutorial from The Frugal Homemaker, which will walk you step by step through the process of making a centerpiece box with chalkboard labels.
40. Wooden Box of Pumpkins and Flowers – Thanksgiving Centerpieces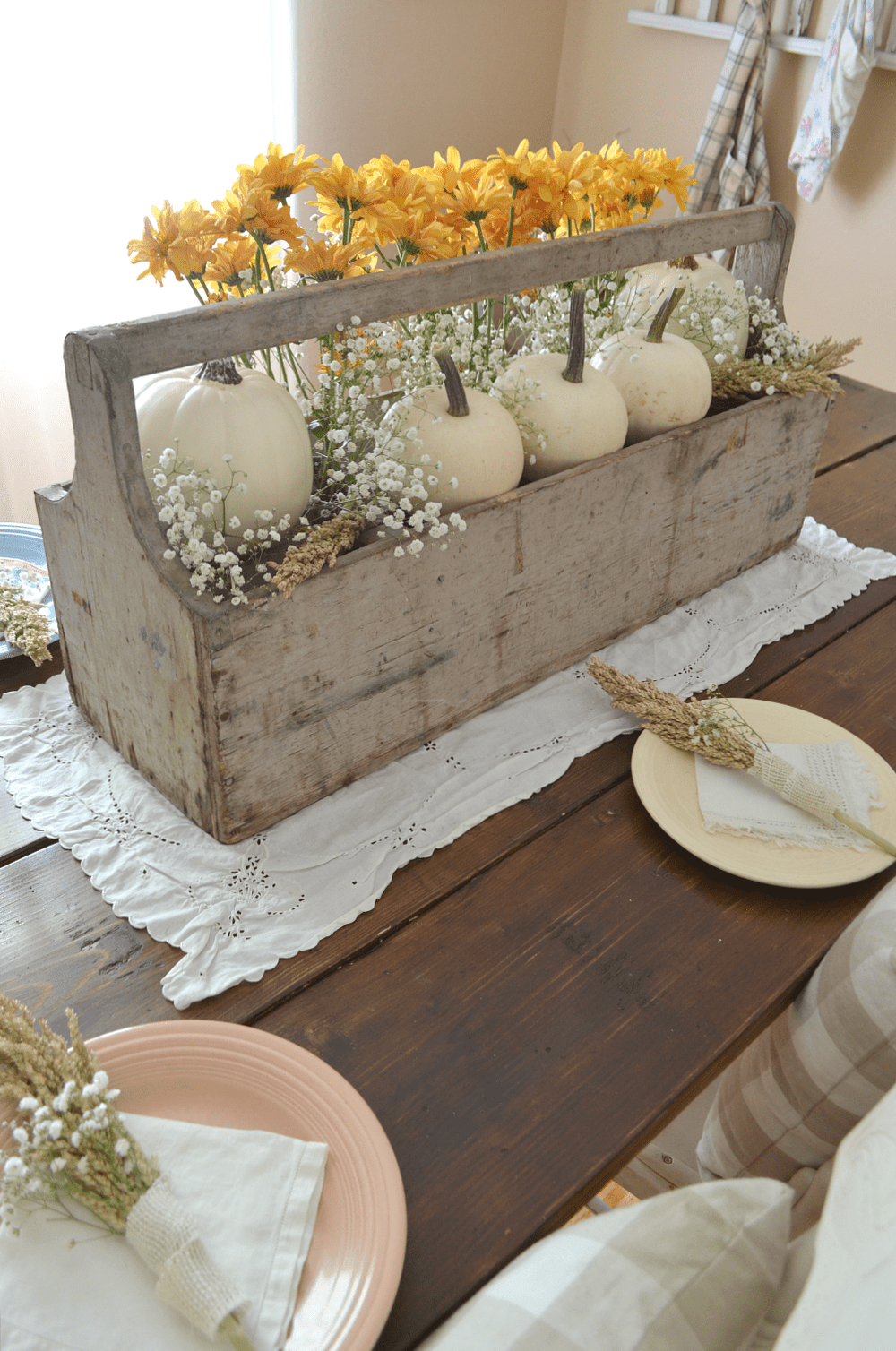 Wooden boxes are always a great idea if you want to make your Thanksgiving table centerpieces simple and effective. It also works well for getting rid of the clutter of flower arrangements. Plus, they can be reused for Christmas or any other occasion! In addition to their versatility, wooden boxes look particularly beautiful when they are decorated with fresh flowers in autumn. Sarah Joy demonstrates how to turn a simple wooden tool box with pumpkins, gerbera daisies, and some fake greenery into a Thanksgiving centerpiece. It's also relatively inexpensive as it doesn't require expensive materials, and this lovely DIY Thanksgiving Day centerpiece only takes less than 30 minutes! ..