Any homeowner would agree that a nice garden or patio in the house is one thing they want in their home. This would be a perfect place to relax and unwind anytime you feel tired from work one day. Aside from the fresh air and all of the greens that could be seen in the area, it would be better that it was well designed from the walls to the seats and everything! We've shown you different garden designs before, but this one is different and will no doubt be a huge hit with the ladies out there.
A young couple with four children want to create a place where they can entertain their families and friends. Of course, an outdoor area would be perfect for this and so they asked Germinate Garden Design, after they had transformed a typical Notting Hill stucco object into a sophisticated single-family home, to come up with a new design for their outdoor area. The couple wanted a funky garden design with plenty of space. The area is inspired by their favorite vacation destination, Ibiza. That's why they decided on a colorful and creative garden with different areas. The family got an outside area with a bespoke outside kitchen with a first class built-in grill and storage space, two-story raised beds that doubles as seating, and a green wall. Another amazing feature of the garden is the mosaic wall and of course the pink puffs everywhere! Scroll down and take a look at the room you are sure to love.
Location : Notting Hill
Designer : Germinate Garden Design
Style : Modern
Room type : Terrace / backyard
Unique feature : This one gorgeous backyard has a modern design with pink colors, a mosaic wall, a green wall and many other impressive features that you would like to see in your own outdoor space.
Similar House : A contemporary backyard in Florida has multiple levels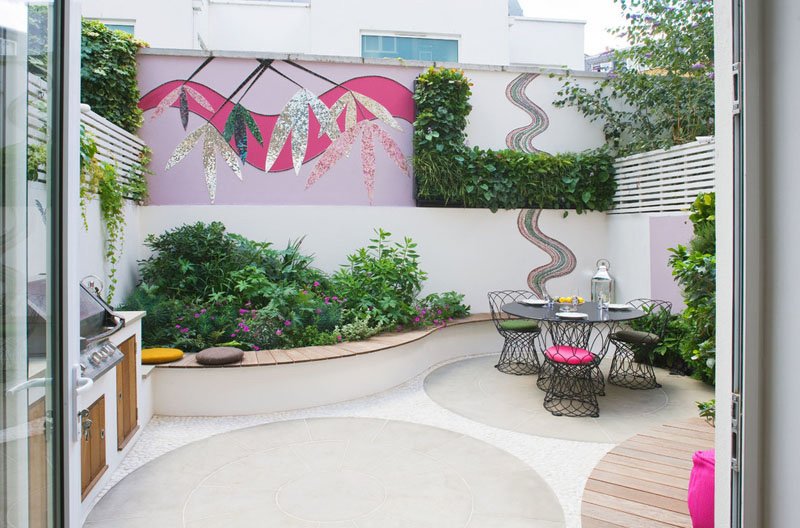 As you can see, the deck isn't that big, but it's a really big design because it looks so cute. At a glance, you can undoubtedly see many breathtaking elements in it.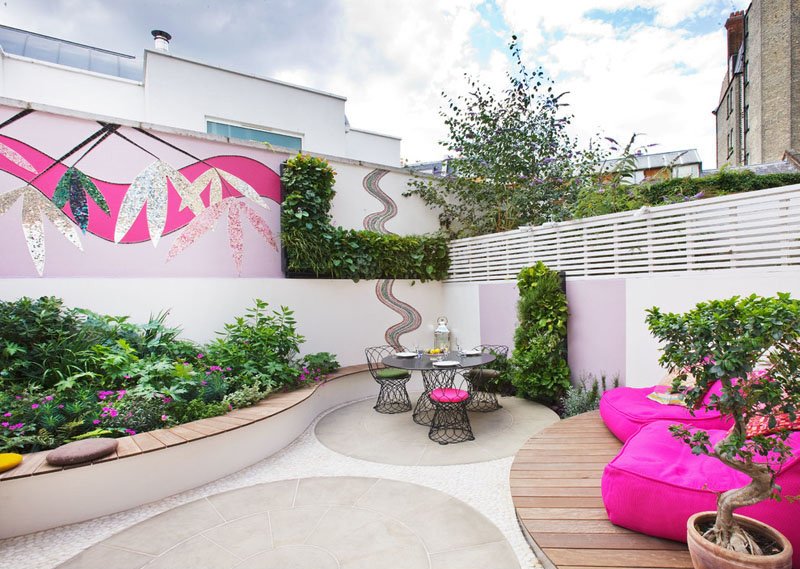 What you didn't see in the first picture is the seating area with lovely pink chairs. It is sure to be a feast for the eyes! The color of the chairs matches the mosaic wall.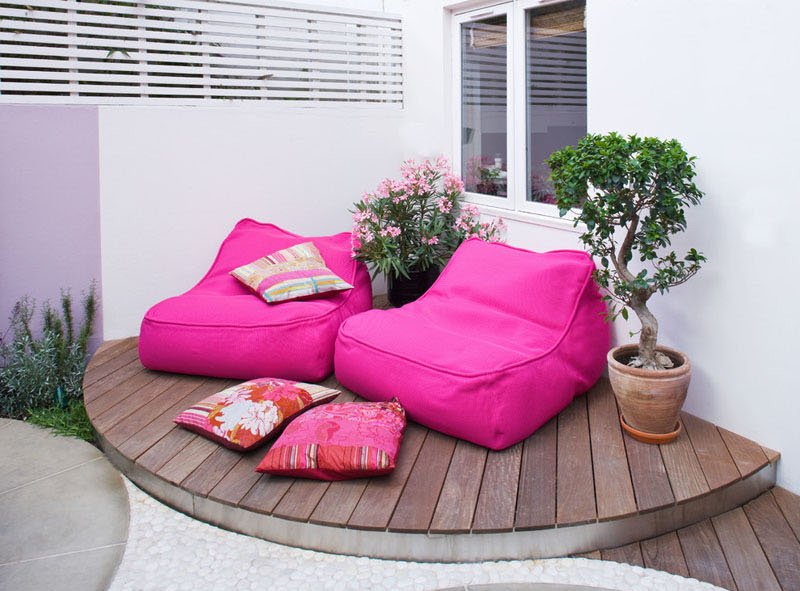 The more relaxed seating area is in the front right corner of the room, where light pink lounge chairs are on a semicircular raised platform. It's nice that plants have been added around the area too.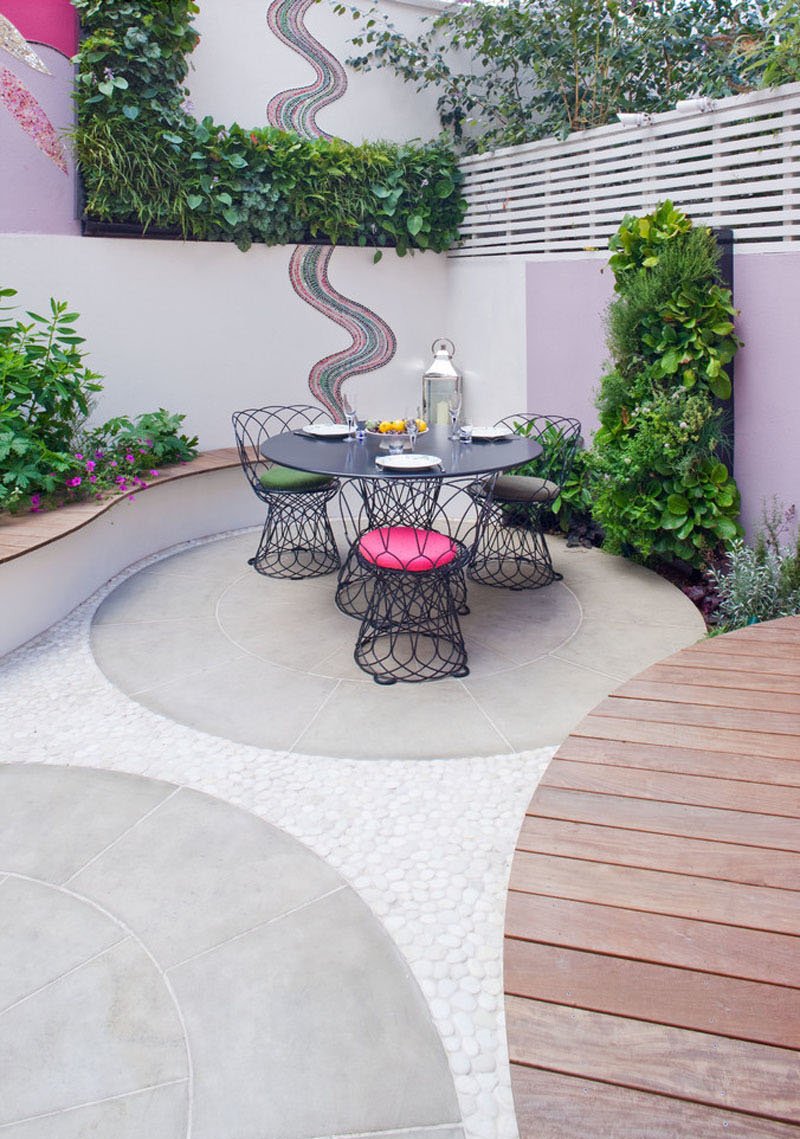 Well this is another seating area, but it is used for eating and eating snacks outside. It would be really relaxing to have a coffee here with a book. You can also see the various green walls here, scattered across the room, giving it a natural element.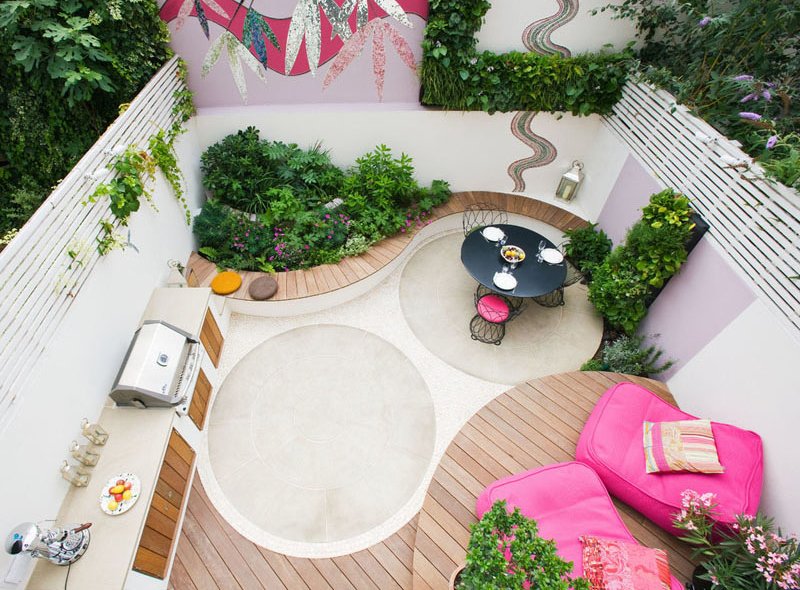 It looks spacious here, doesn't it? What made this room even more attractive are the circles on the floor that make up the flooring. Overall, the terrace looks really very attractive.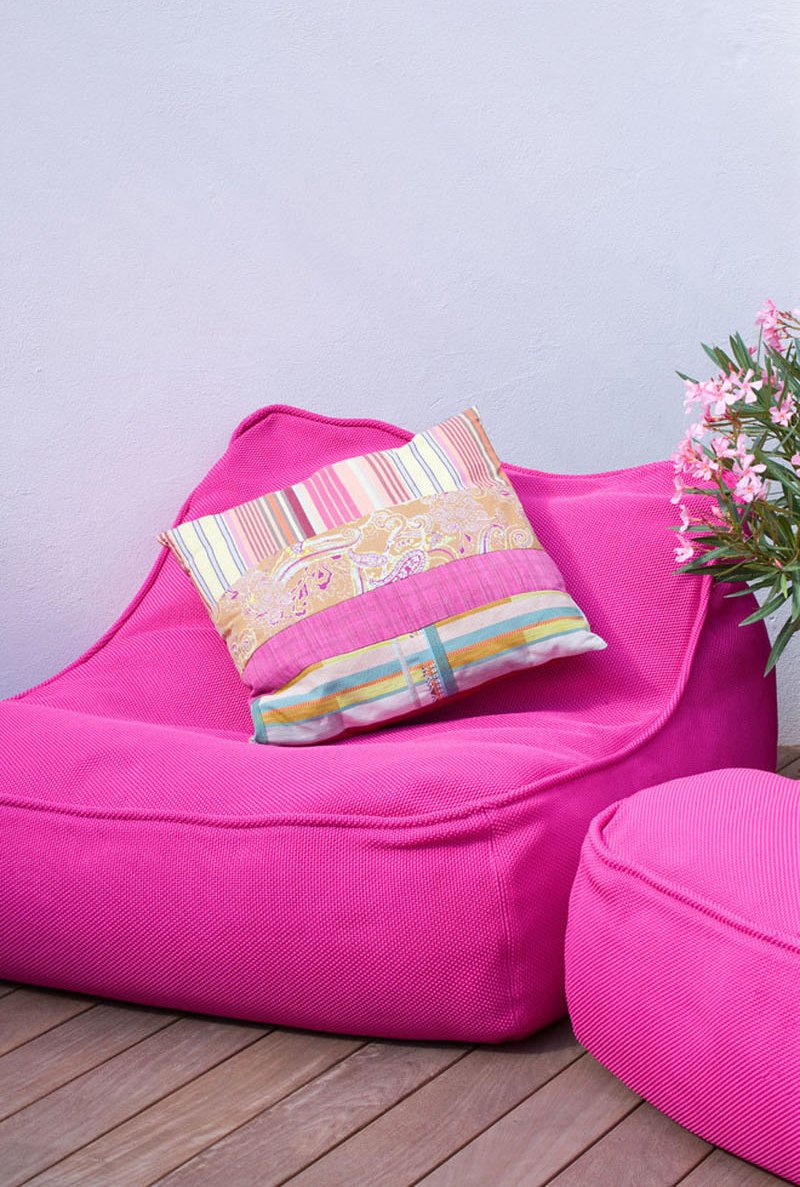 A Take a closer look at the plush lounge seats, which looked even more beautiful with the floral prints on the accompanying throw pillows. Even the flowers of this plant are pink!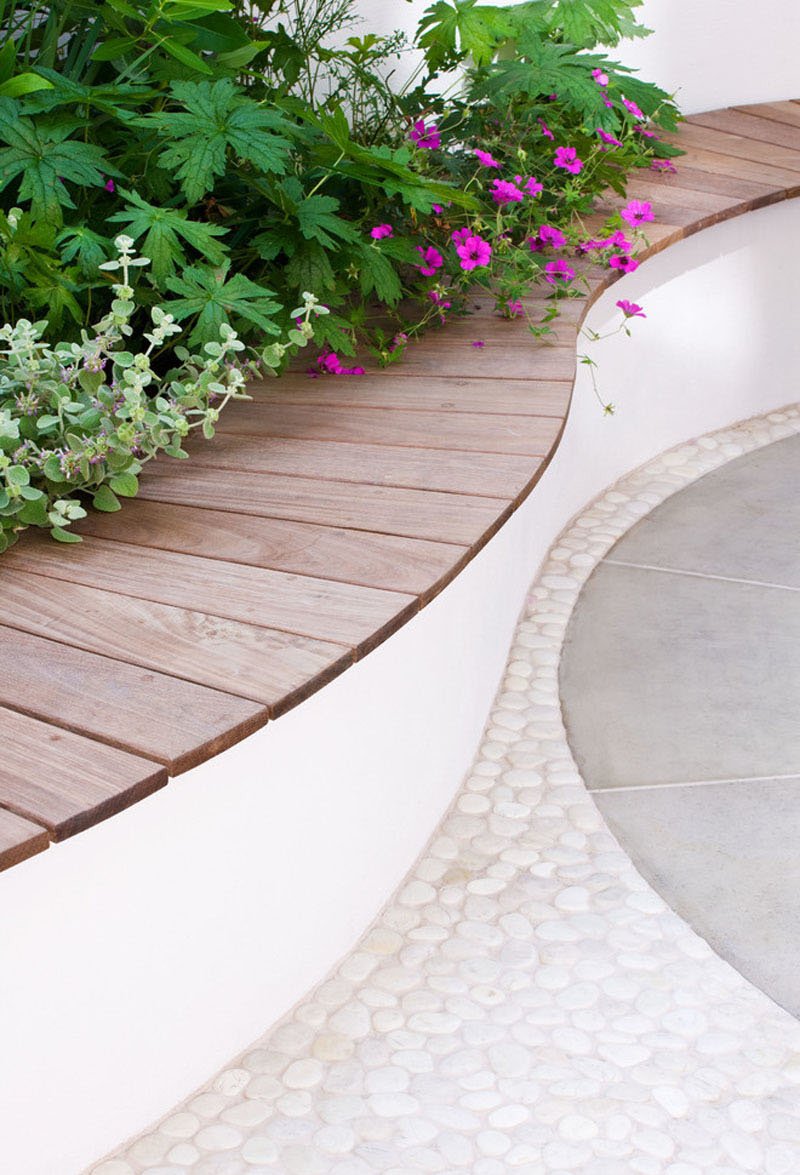 One thing that makes this space unique is the curve around the garden, a handcrafted hardwood bench that offers plenty of seating for friends and family to visit. White island stone pebbles were also used to fill the stone circles.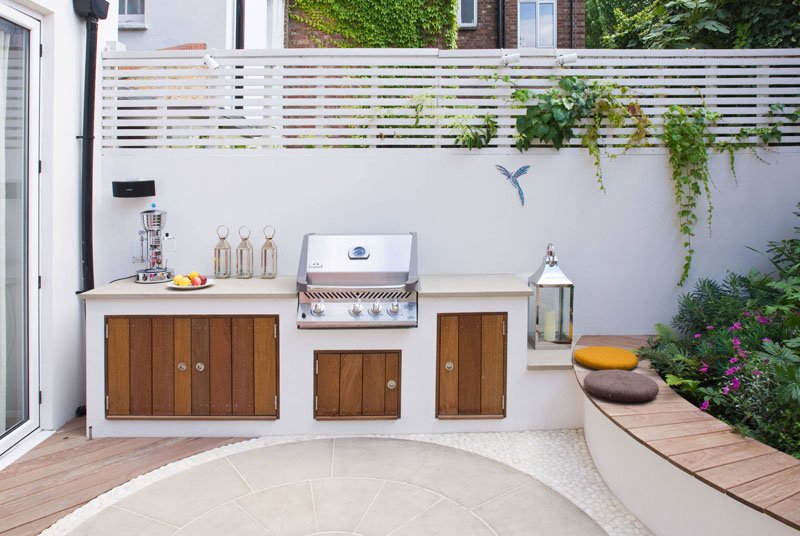 A bespoke outdoor kitchen with a grill and counter has been created on one of the side walls of the terrace for space and storage. The garden also has a sound and lighting system and automatic irrigation.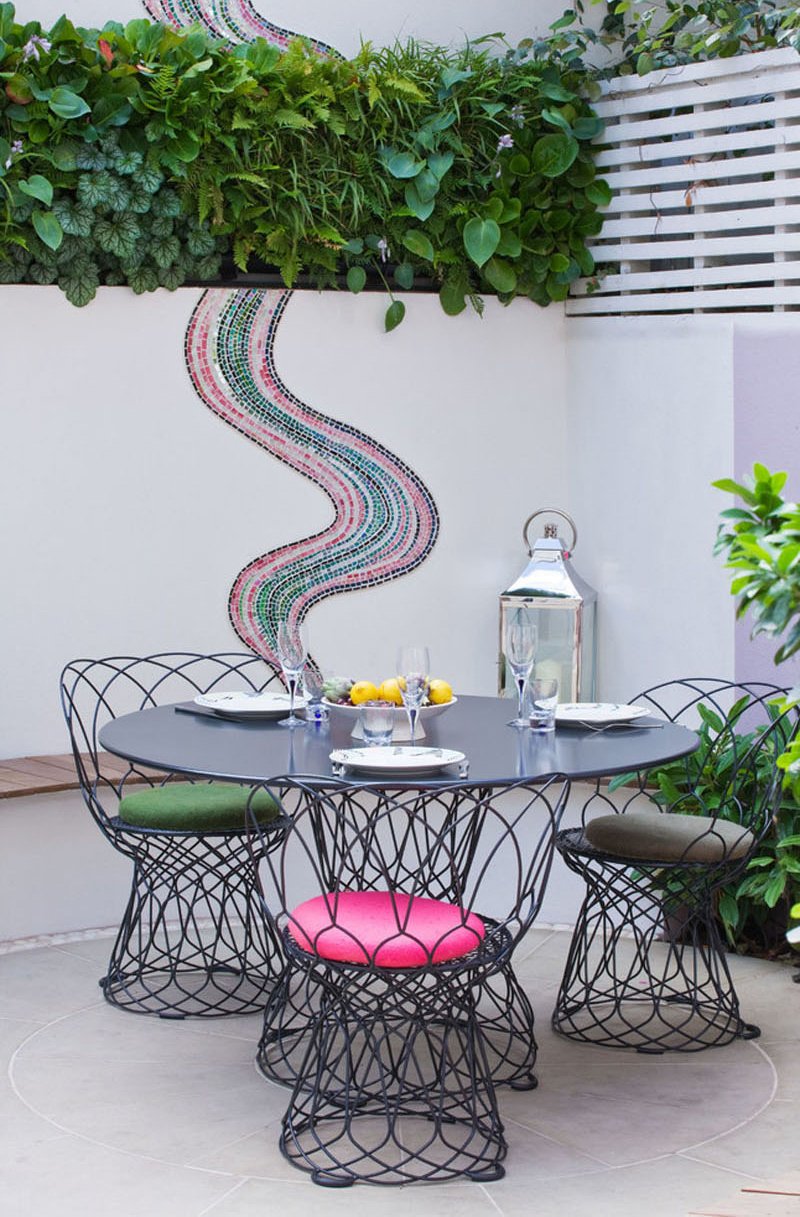 Another look at the small dining area in the far right corner of the room. The space is defined by a circular pattern made of York stone and cut by hand from the quarry according to the designer's specifications. I also think it's great that the chairs have round cushions in different colors.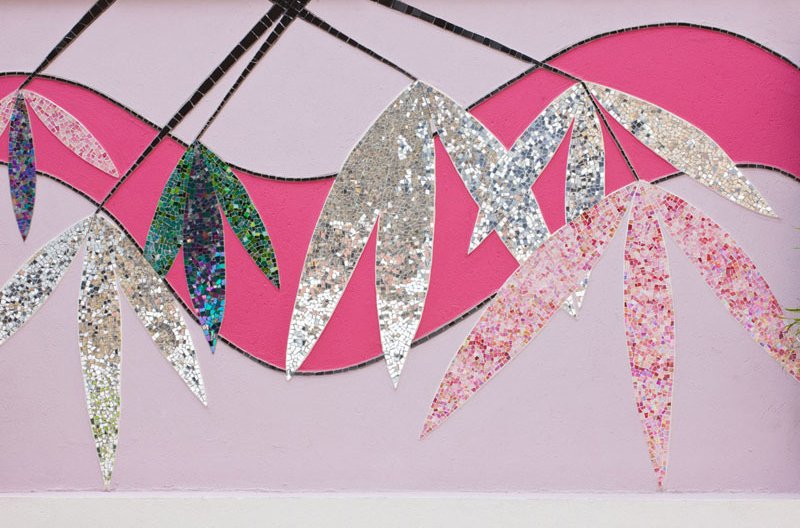 A closer look at the mosaic walls, which are a commission from top mosaic artist Celia Persephone Gregory. Isn't it very nice? The overwhelmingly high back wall doesn't look easy now because it has been transformed into a beautiful wall element.
Isn't that beautiful? You will be sure to agree that this is a stunning back yard indeed! Germinate Garden Design did an amazing job creating it, and anyone who loves having a chic and funky outdoor space is sure to be the envy of them. This is a great inspiration indeed for those looking for a design that suits their style. To be honest, I never thought pink could be a beautiful color for a patio, but after seeing that, I completely changed my mind. This shows that we can use any color and style we like for any room in the house, as long as it is well planned and designed. In this Notting Hill garden, I love the use of curves, a green wall, a mosaic wall, and the color pink! Actually everything is unexpected for a back yard, but as we can see, a stunning design like this can actually be achieved.