Every year conscientious housewives wonder what kind of Christmas table decoration they will have. Every year there seems to be something pale that has been done before and done not just before but by every other house in the neighborhood.But there are other, more inventive ways to decorate the home for the holidays that are easy to assemble and don't even cost a lot.
They can be made from unusual materials such as tree bark, berries, fruits and vegetables. The increasing use of LEDs makes it possible to light up Christmas decorations in ways that would previously have been impractical or even dangerous. Because the coolness of LED lights does not pose a risk to fabrics, leaves or other materials that would burn if they are placed too close to halogen or incandescent lamps. There are even new fabrics and materials that go way beyond the old-fashioned tinsel, cheap red felt, and cotton wool. Here are 14 new and exciting Christmas table decorations.
1. Have a Berry Merry Christmas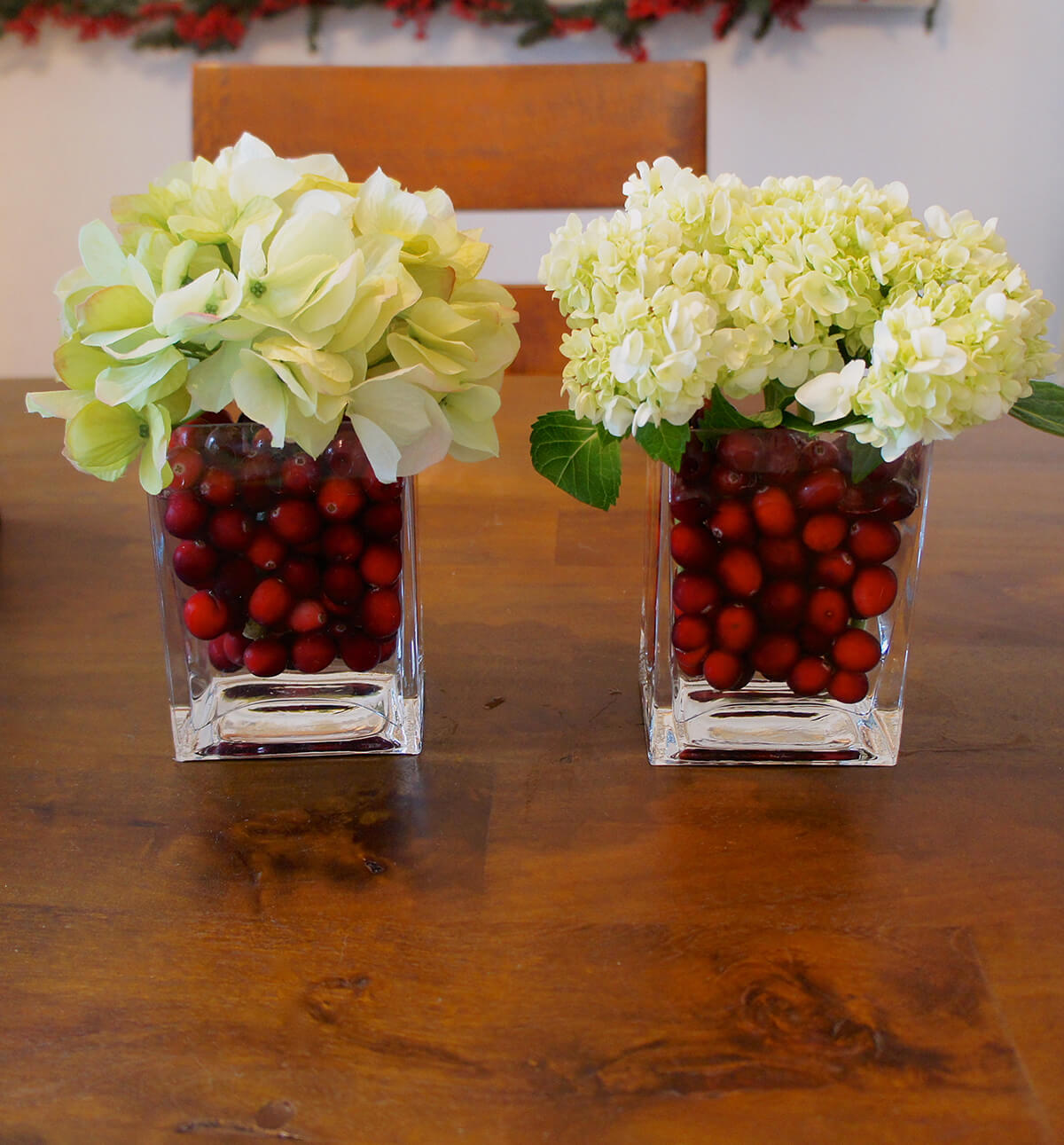 The deep ruby ​​red of the cranberries contrasts nicely with white or cream-colored bouquets that have only a hint of green, such as hydrangeas. Simply fill clear glass containers with the cranberries, add water and distribute the flowers on top. A holiday table doesn't need much more to spread the Christmas spirit.
2. Red, white and glowing candles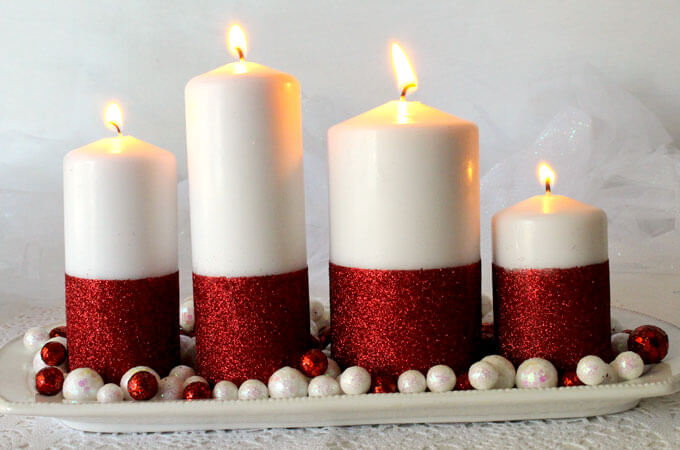 Pillar candles that are creamy white on top and sparkling red on the bottom can be placed in a long, white porcelain celery bowl between glass or plastic balls in matching cream and red. The different heights of the candles prevent everything from becoming too uniform. Just make sure you never leave lit candles unattended.
3. The beauty of apples as a candle holder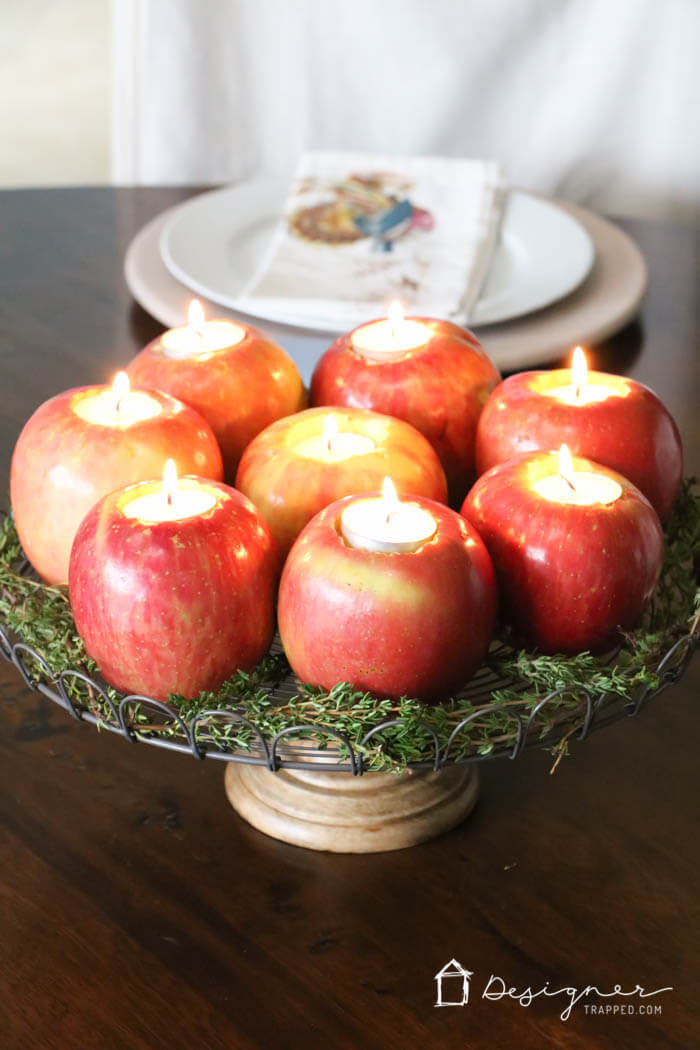 An outstanding idea for the Christmas table decoration is the use of votive candles in pitted apples. Apples can be green, red, or a combination of colors. They are best on the round side so that they can sit comfortably in a tray filled with moss. Lady apples are great for holding votives, as are novamacs, granny smiths, and fuji.
4. Frosted Glass and Glittering Silvery with Frosted Glass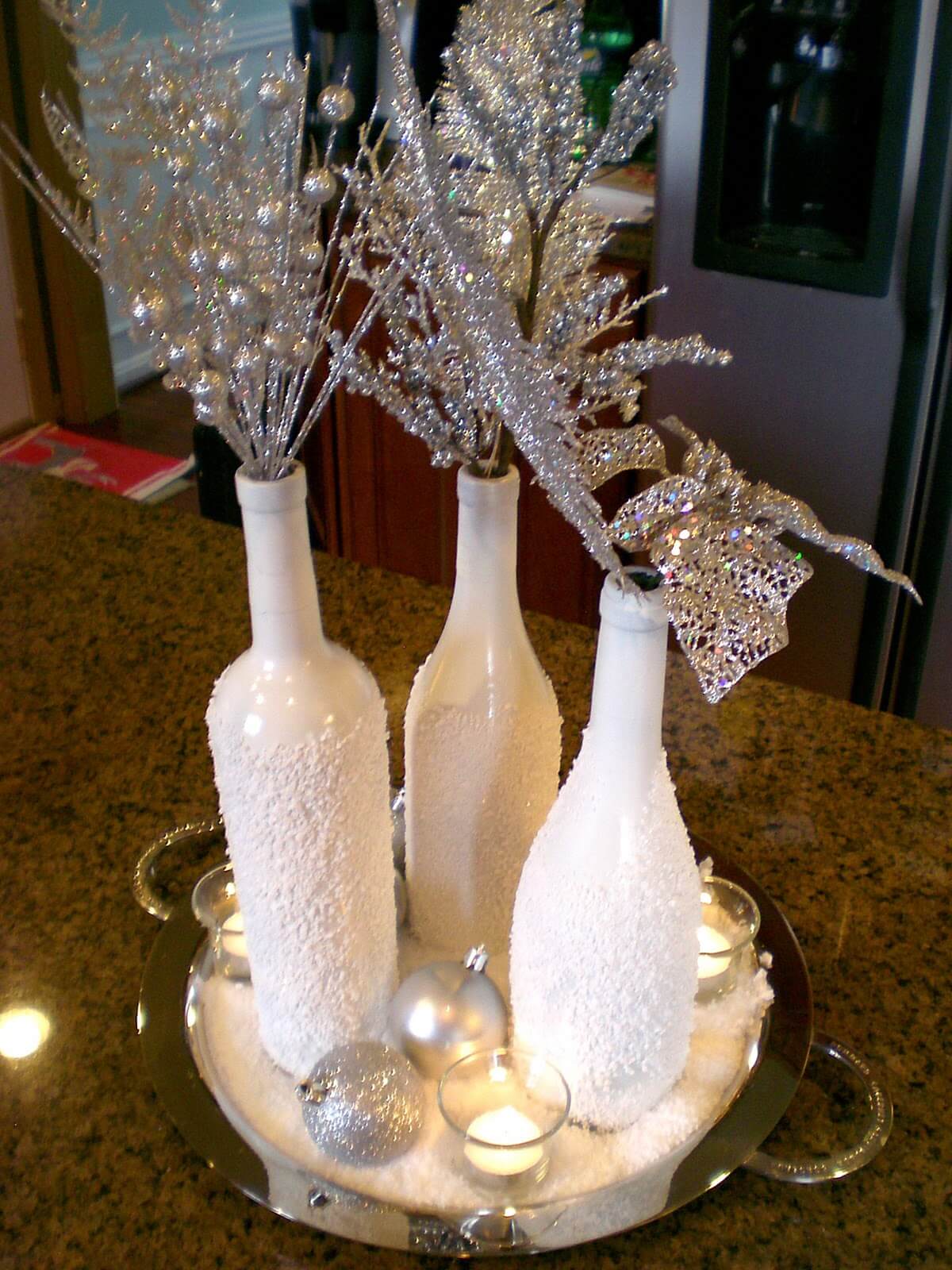 Place them on an old, polished silver platter decorated with votive candles and silver Christmas balls. This grouping brings the beauty of a winter day without the cold into the house.
5. A simple arrangement of red and white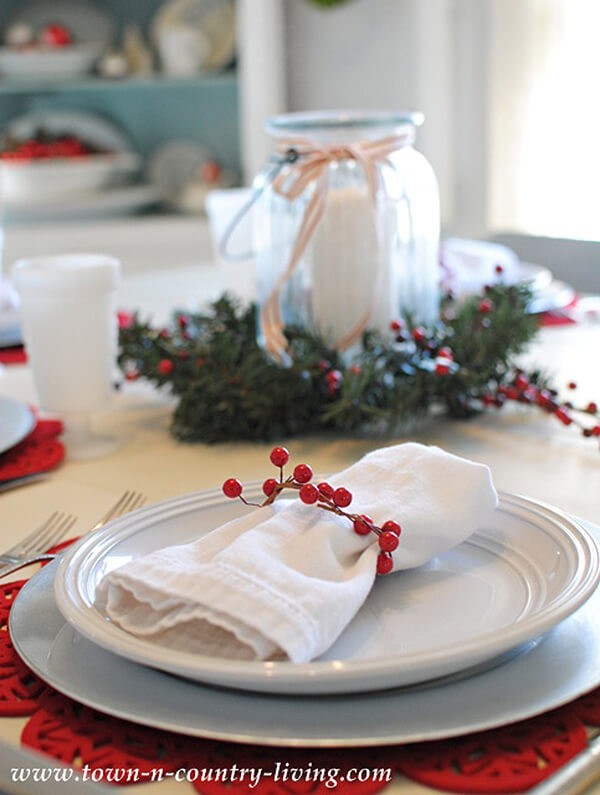 A white plate and charger, as well as a cheerful red placemat can complete the look. Don't be afraid to use white and red pops of color in the room.
6. Black and white gingham For a rustic ambience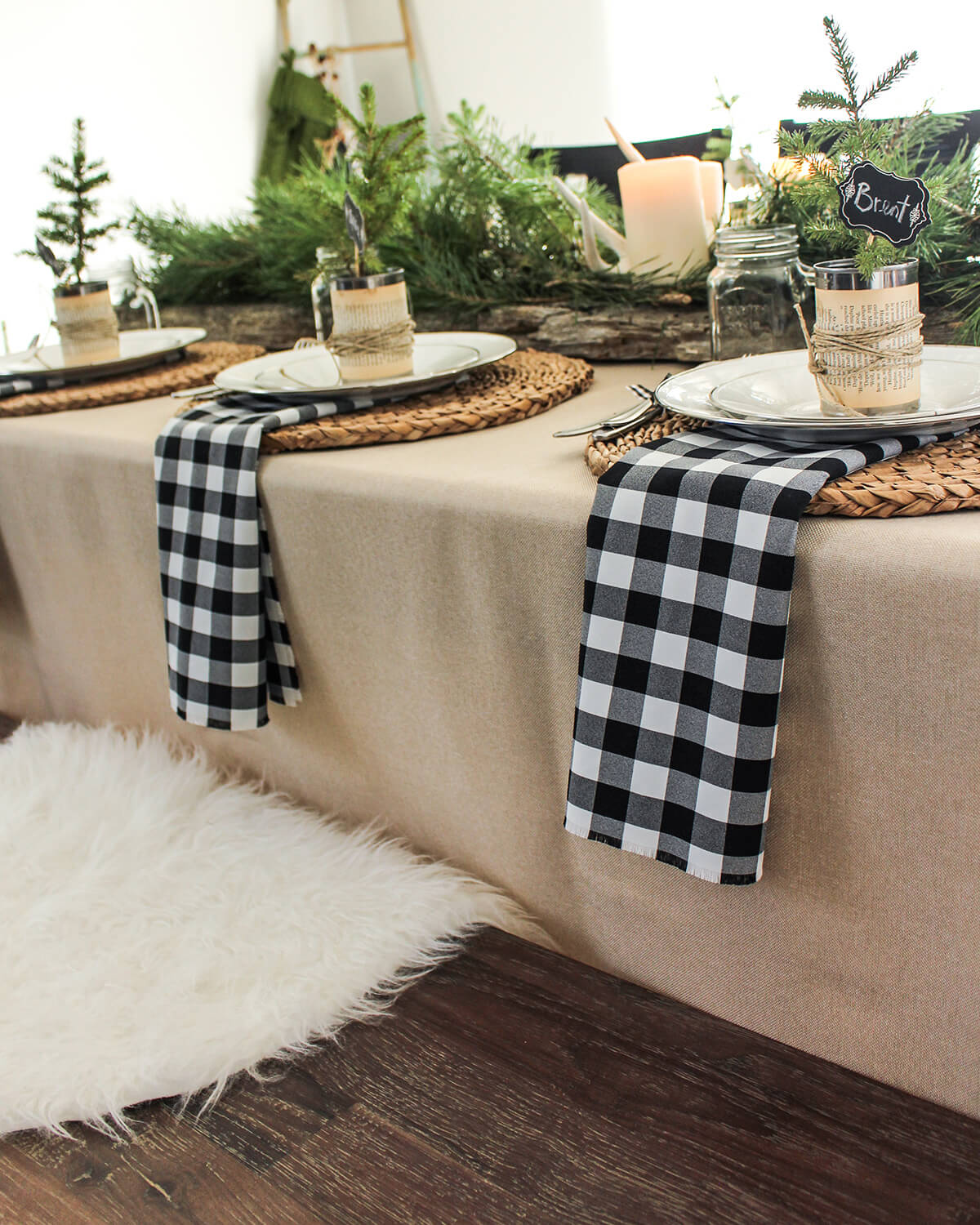 Place large, generous napkins made of black and white gingham under the plates and let them hang nicely over the tablecloth. Add these raffia and paper wrapped pitchers of Christmas glogg and rough-hewn wood adorned with pine needles, miniature evergreens, and candles.
7. A Simple Wreath and Candle Arrangement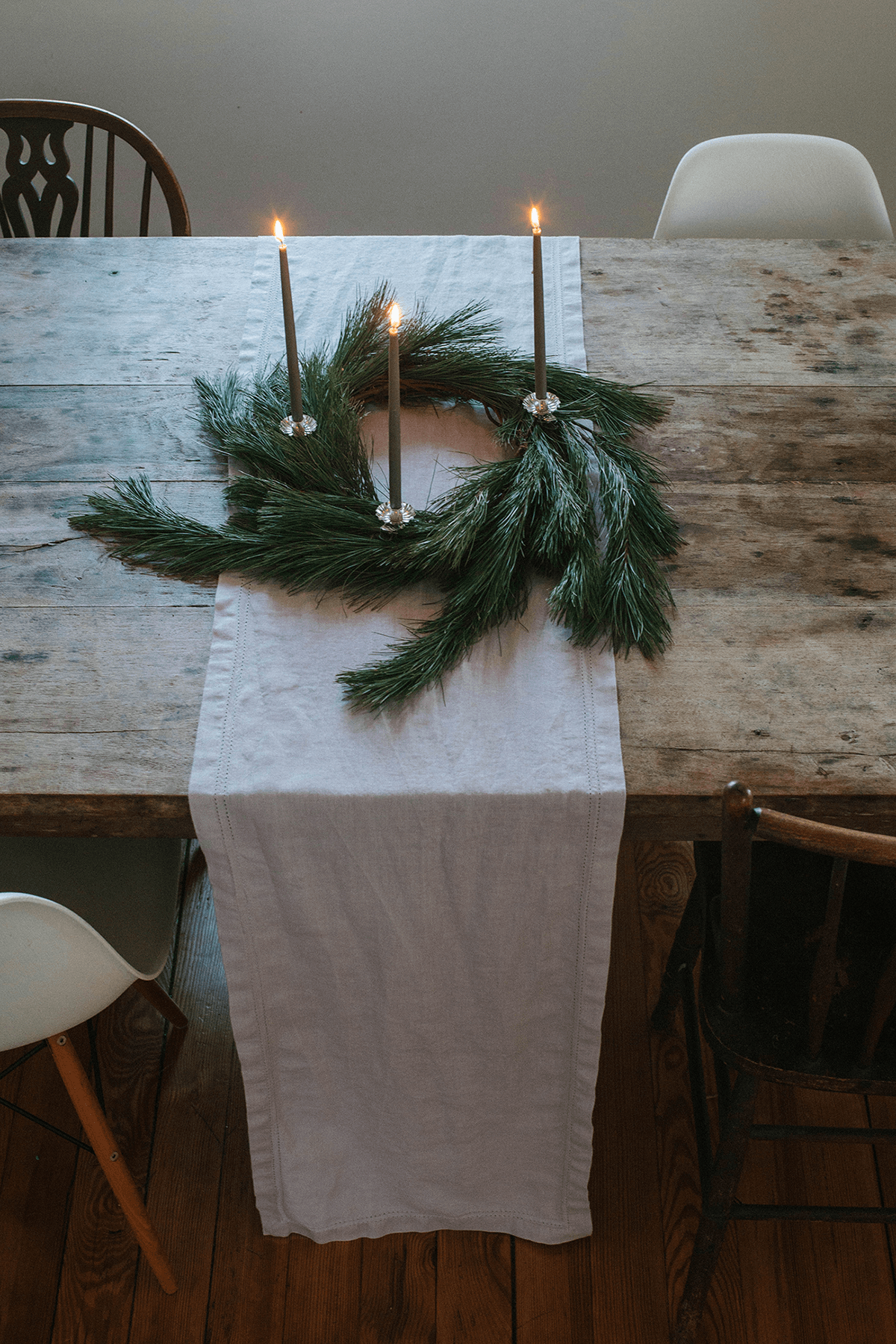 If you remember the simple beauty of a modest cottage somewhere in Scandinavia, all a homeowner needs to do is make a wreath out of pine branches he has collected in the forest and close it with it decorate tall, thin tapers.
8. Create fun placeholders for the table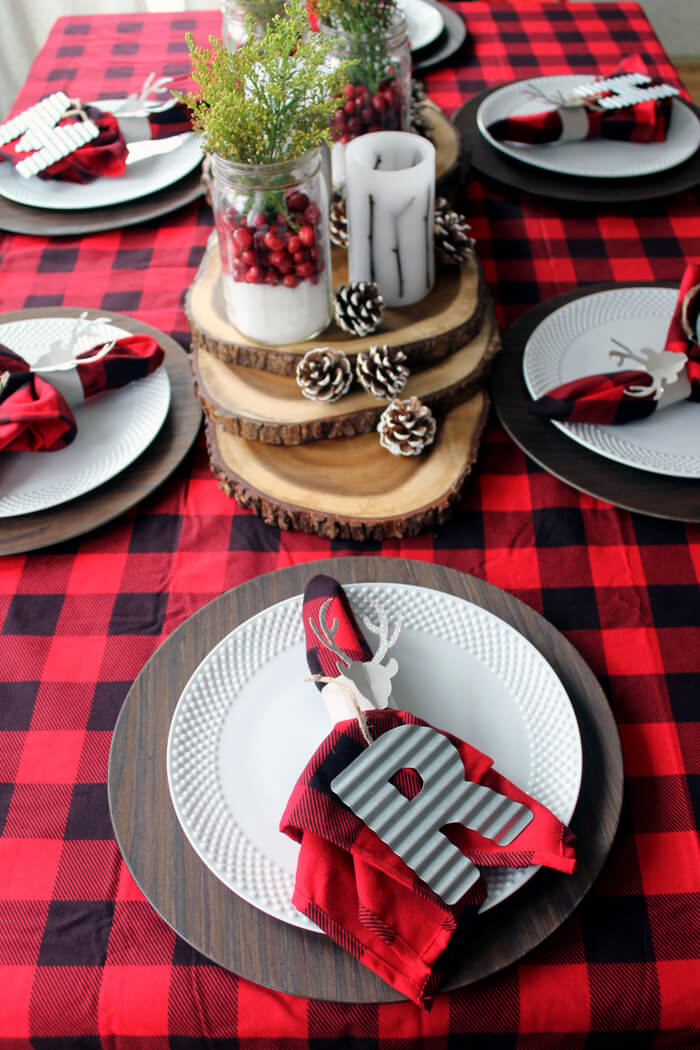 A red and black checkered tablecloth is repeated in the napkins found on plates on wooden chargers on the dining table. Cardboard reindeer heads bearing the first letter of the guest's name let everyone know where they're sitting.
9. Tiny wreaths adorn white napkins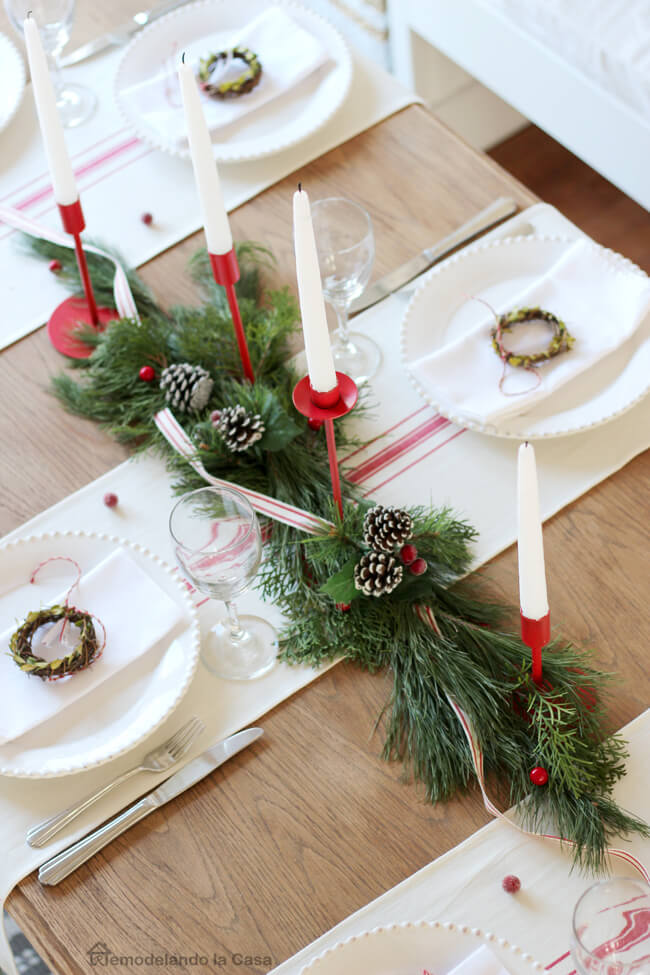 On a beautifully decorated table, all the elements are balanced, as shown by the red and white striped ribbon that is wound through a branch of pine needles, pine cones and berries that lead to the red and white Stripes fits the table runner and the red candlesticks and white candles. Wreaths small enough to be children's bracelets add color to clean white napkins and plates.
10. Don't Be Shy: Bring the Christmas Plates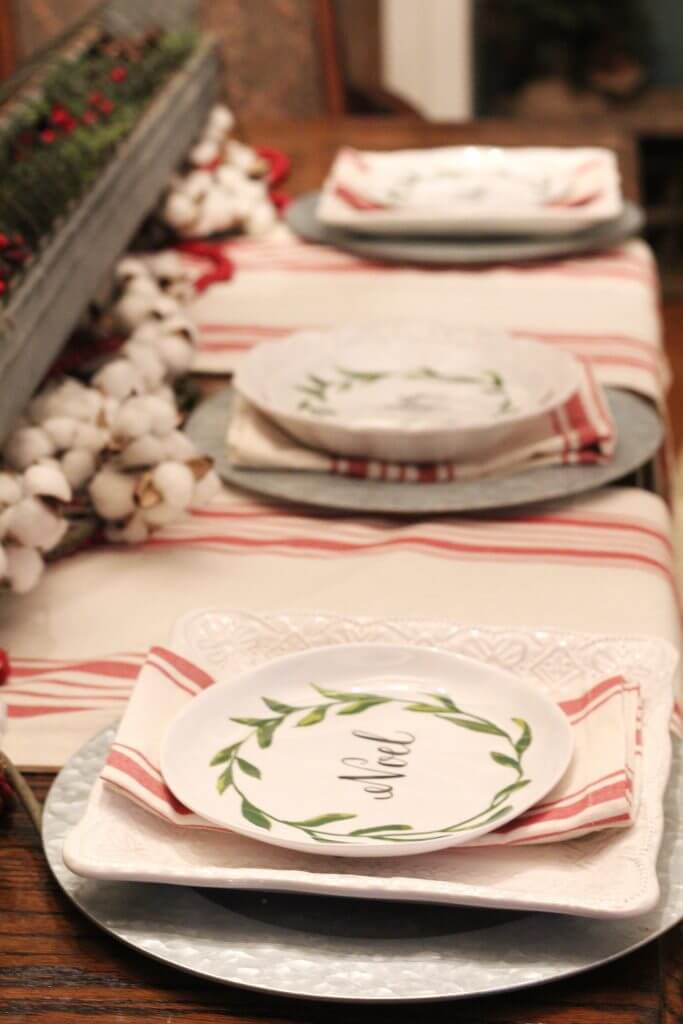 If a homeowner has some good old Christmas plates that have always been family owned, they shouldn't be afraid to display them, as cheesy as they may be. One arrangement is Christmas plates on folded napkins on trays or bowls on chargers, with runners between the plates to match the napkins.
11. Wonderful wrapped candles with tree bark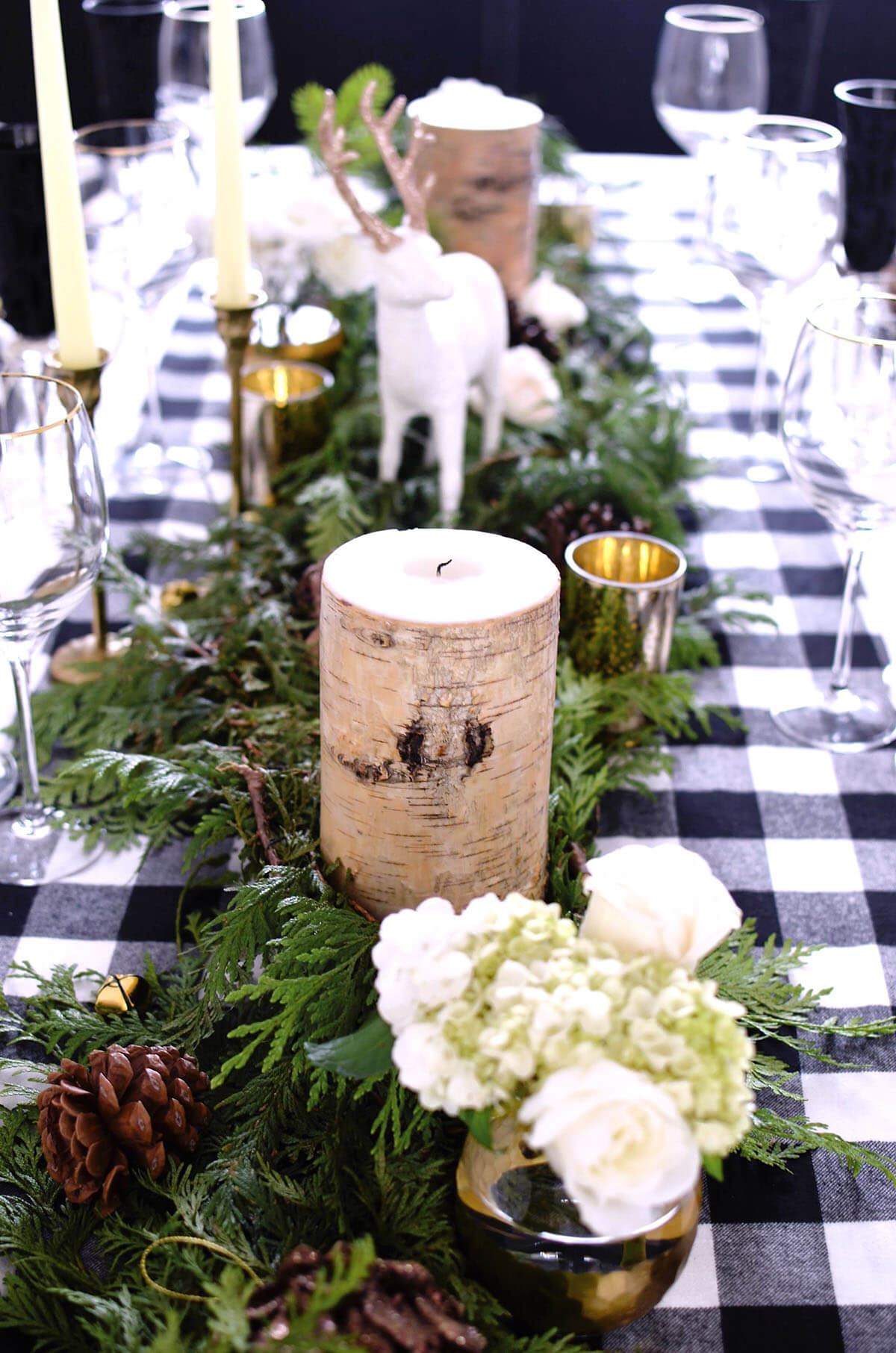 Pillar candles wrapped in paper birch bark combine to form juniper and pine cones and bring nature into the house. Contrast the pleasantly rough bark with delicate wine glasses, silver goblets, a small arrangement of white flowers and perhaps a porcelain reindeer with matted antlers in the middle. A pretty plaid tablecloth pulls all the elements of this arrangement together.
12. A table setting as a work of art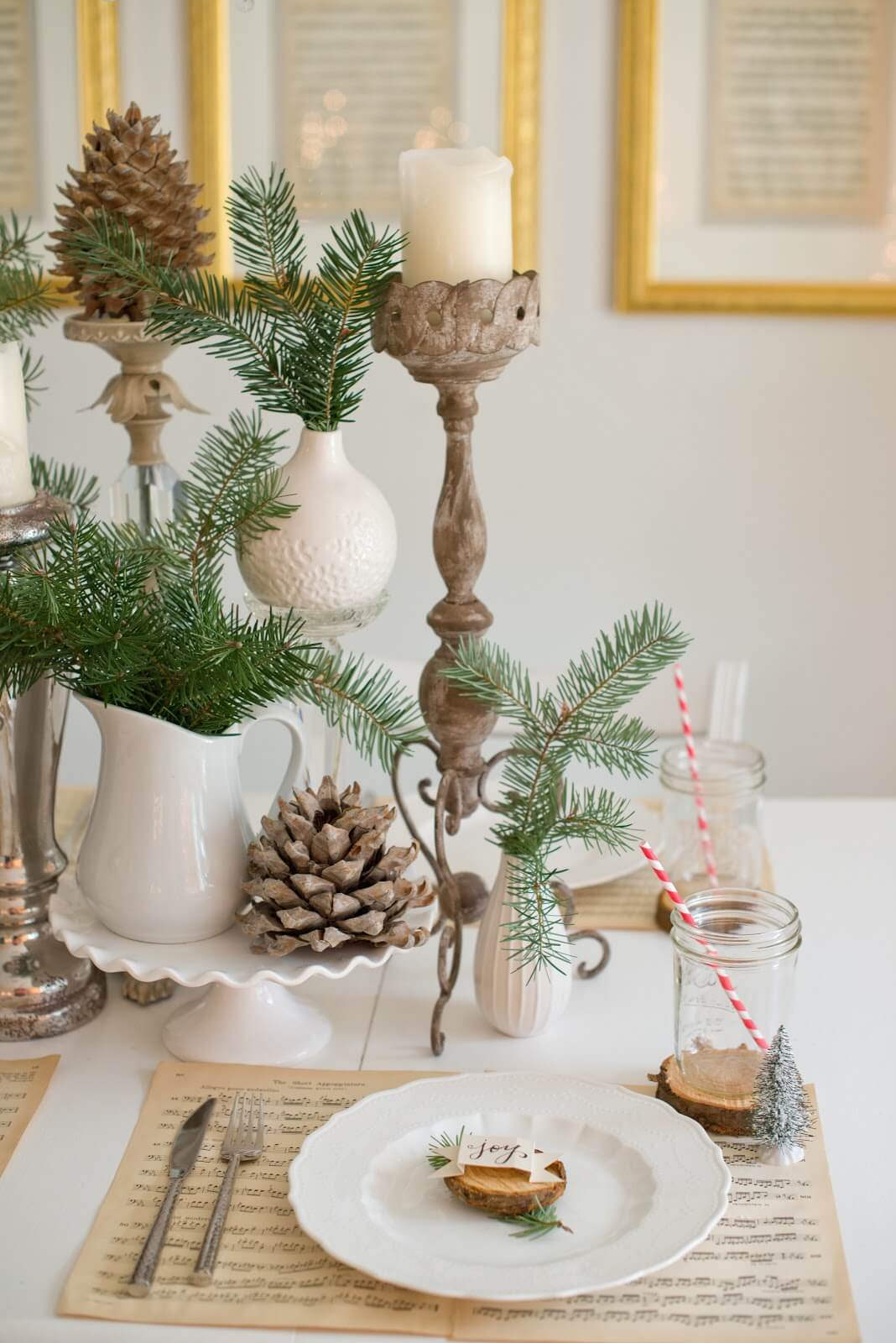 A nice touch are candy-striped straws in mason jars and the plate with a reproduction of old notes. Maybe it's music to a Christmas carol.
13. Mostly black and white with a touch of green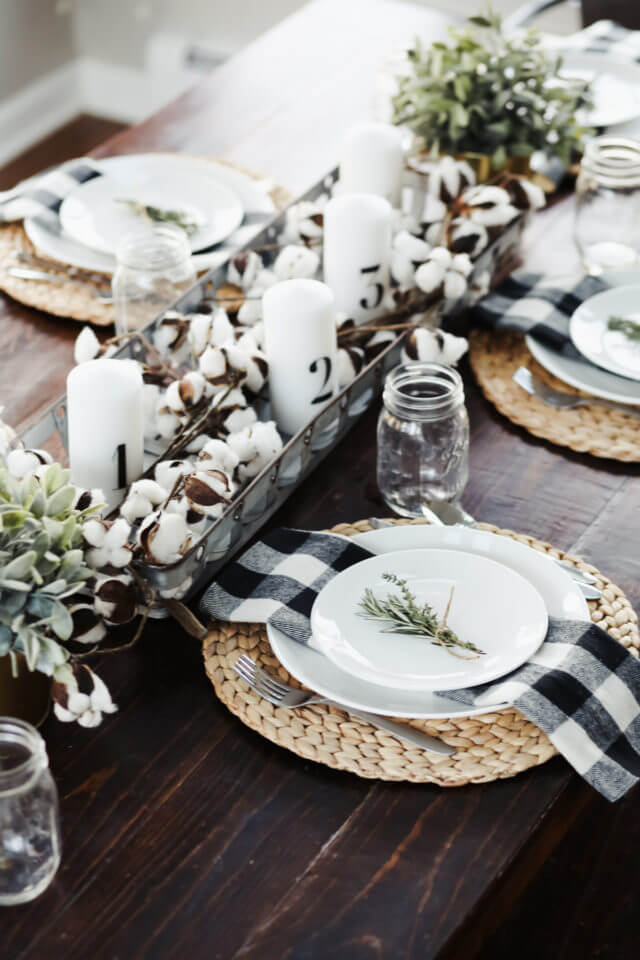 If a homeowner does not want to spread the Christmas fleece on his table, he can simply arrange a bundle of cotton bolls in a tray with a gray and green border on both ends of sage leaves.Place plates on Bacbac placemats with black and white checkered napkins and a sprig of sage and thyme in the center.
14. An arrangement of pure and simple elegance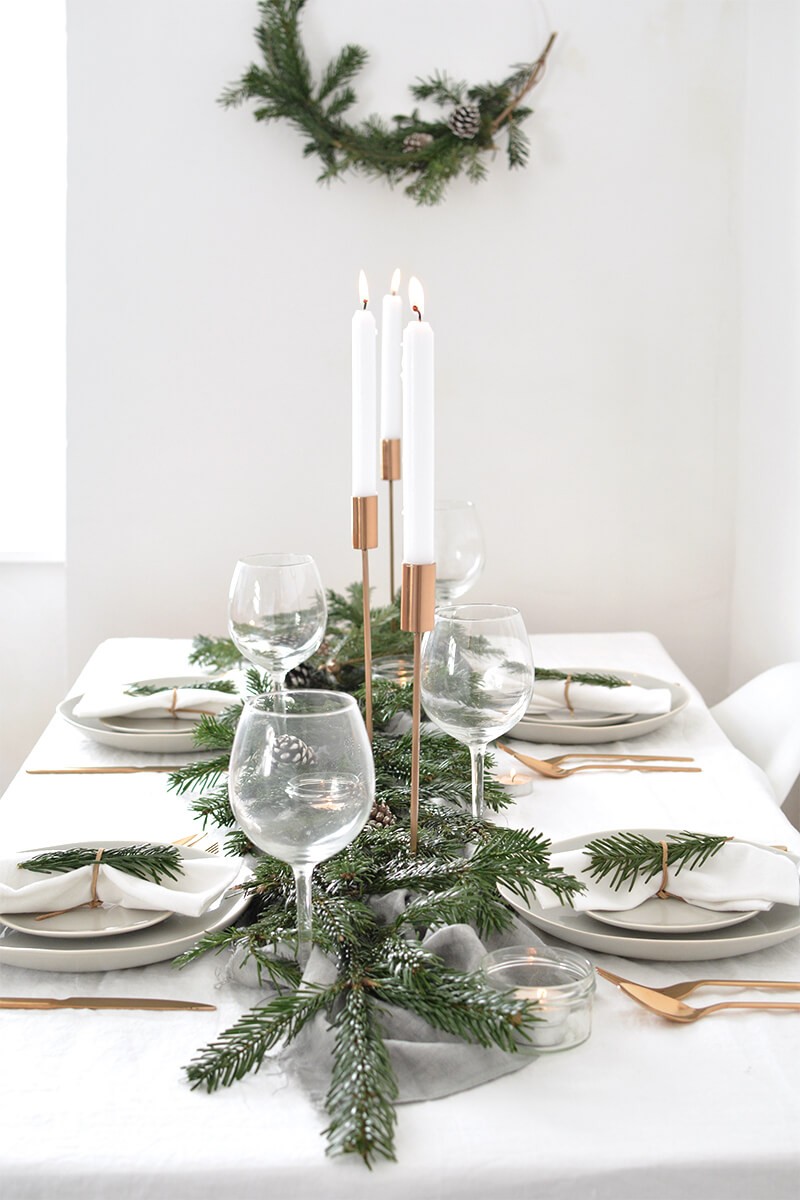 The green is reflected in half a wreath on the wall and the spruce branches tuck under the string that serves as napkin rings.