The best elegant silver home ideas and designs can take your space to a new level of sophistication. From crushed diamond glamor to understated silver elegance, stylish silver decor can achieve many different looks. Figuring out what style of silver you prefer is the first step in finding the right silver home decor for you. Then comes texture. To add the finishing touch to your space, decide which finish is right for your room.
As a shiny cousin of grey, silver effects can be achieved by mixing black, white and lots of shine. Why is that important? Building a silver space that you want to spend time in means more than just one type of silver. Incorporating rich blacks, cool whites, soft grays, and shiny clear tones into your silver design ideas can add dimension to your space to lend . Will you be leaning into the more moody side of silver decor with an abundance of black, dark gray and reflective silver? Perhaps your style is closer to the bright side of silver with brilliant white, magical iridescence and glamorous crushed diamond. Although often associated with metal, silver decor can manifest itself on almost any material. While metallic silver decorations will always be popular, there are many ways you can display silver. Silver floss can be a great window treatment. When the rest of the room is decorated in shades of silver, mirrors are a fantastic way to accentuate that ambience. The finish of an item plays a crucial role in how it interacts with your other decor. Silver-reflecting surfaces can act as mirrors. Brushed metal exudes sophistication. Glitter and crushed diamond textures add an opulent and glamorous vibe to your space. Using a variety of these finishes in your space is the best way to achieve a space with dimension. That doesn't mean it's the only option. Designing this silver space is your journey, and that means letting your creativity run free.
1. Cascades of Glitter and Glass Canvas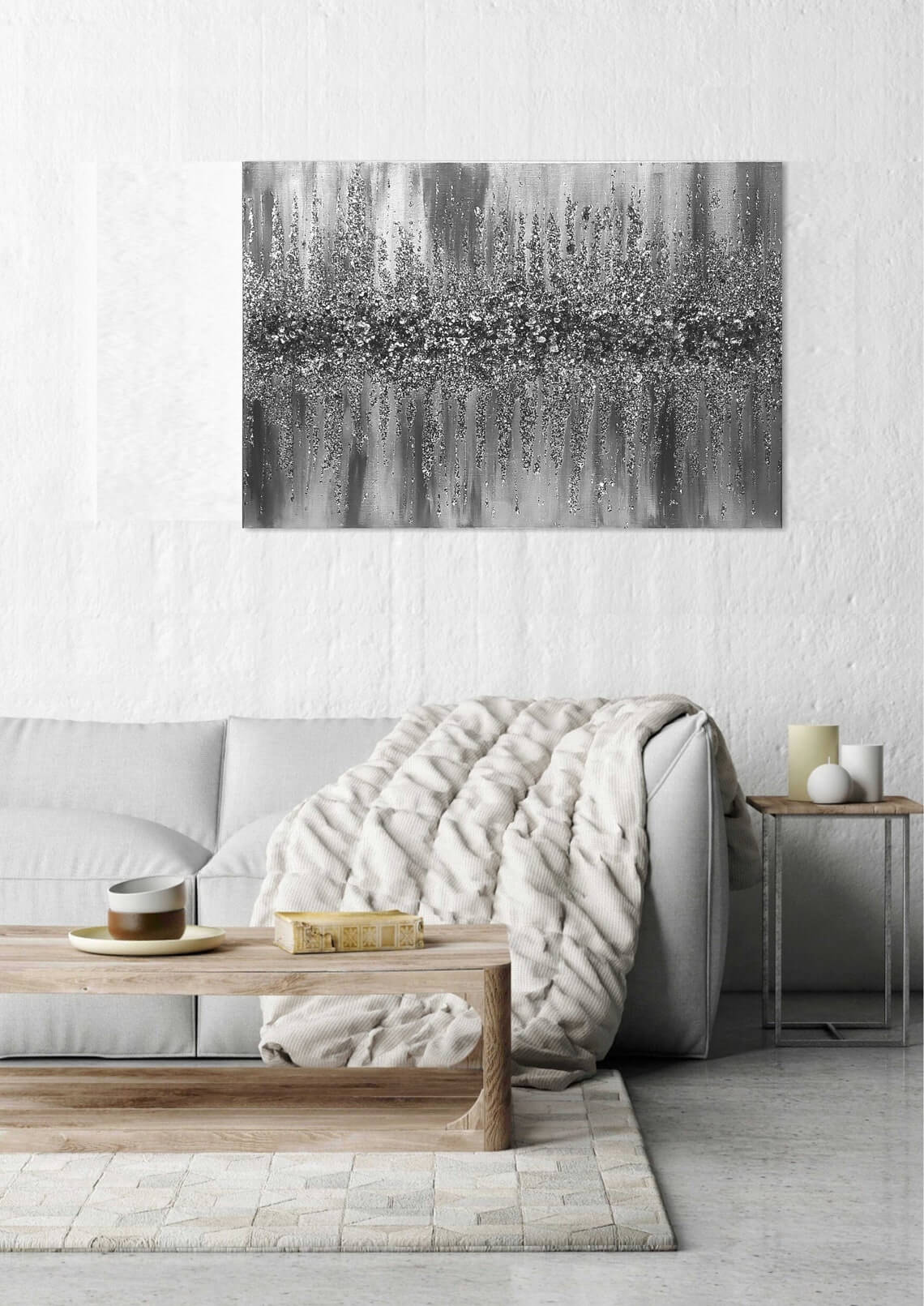 Artistic and mesmerizing, this canvas is absolutely stunning. Holographic glitter and shards of black glass create a reflective surface that changes with the lighting. No matter how long you look at it, there are always new details to discover. The best elegant silver home decor ideas and designs are only enhanced with a piece of art like this one. To match this canvas to your decor, you can ask the artist to emphasize darker or lighter shades of gray, or even introduce an additional color. As shown in this image, it is an eye catcher that will literally sparkle in your space.
2. Silver Reflective Balloon Dog Sculpture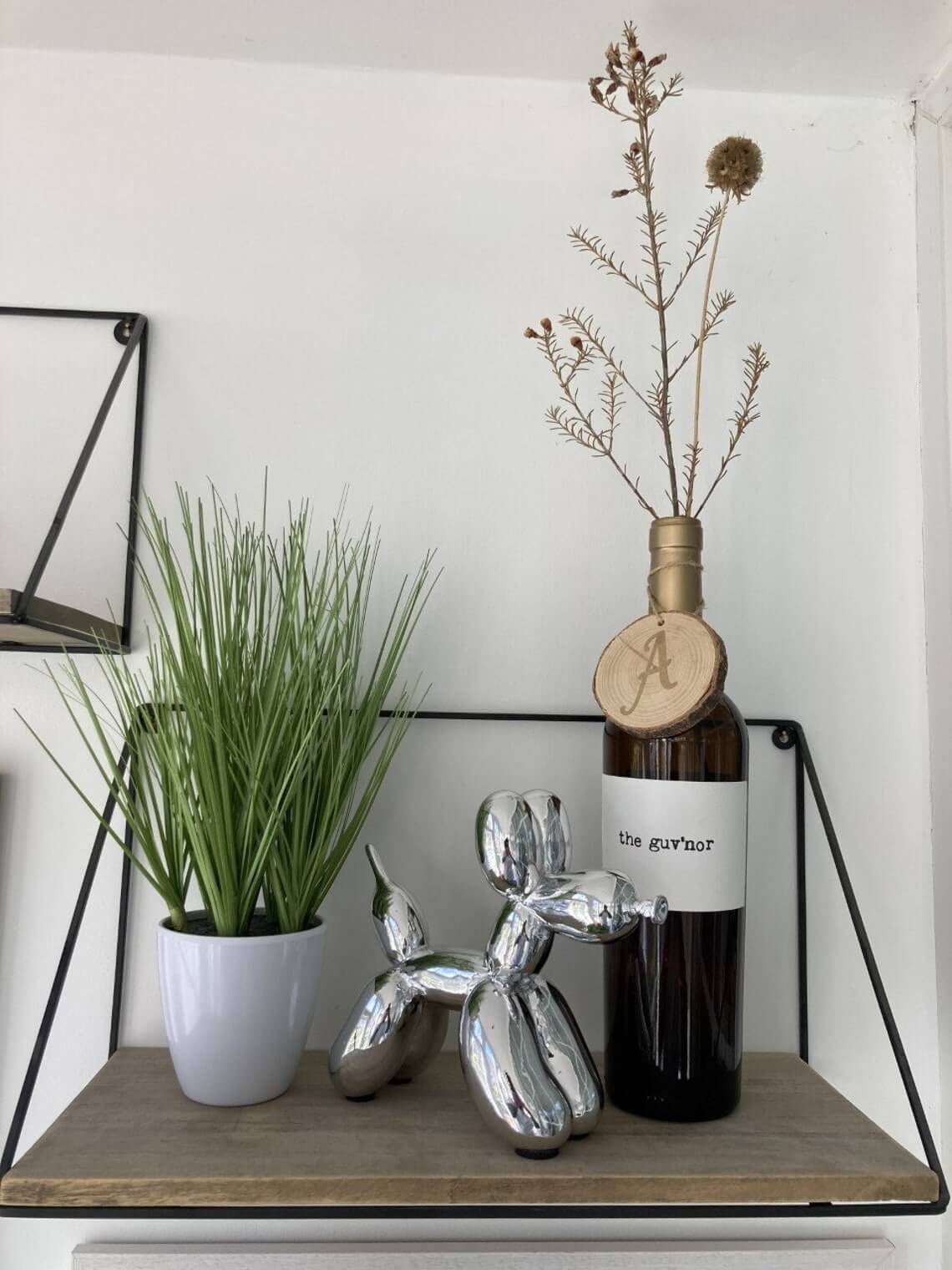 Why not add a touch of whimsical whimsy to your silver design ideas? Seeing a balloon dog in an elegant silver room is such a pleasant surprise that it will bring a smile every time it catches your eye. Since the reflective silver surface draws attention, it often causes a smile. The beauty of this sculpture is that it looks really good wherever you put it. Use it with crushed diamond decor to add some variety. As shown in this image, it looks gorgeous when paired with lush green plants. Layer a woven textile like a table runner or bandana underneath to really show off some interesting textures.
3. Glamorous Silver Jeweled Book Set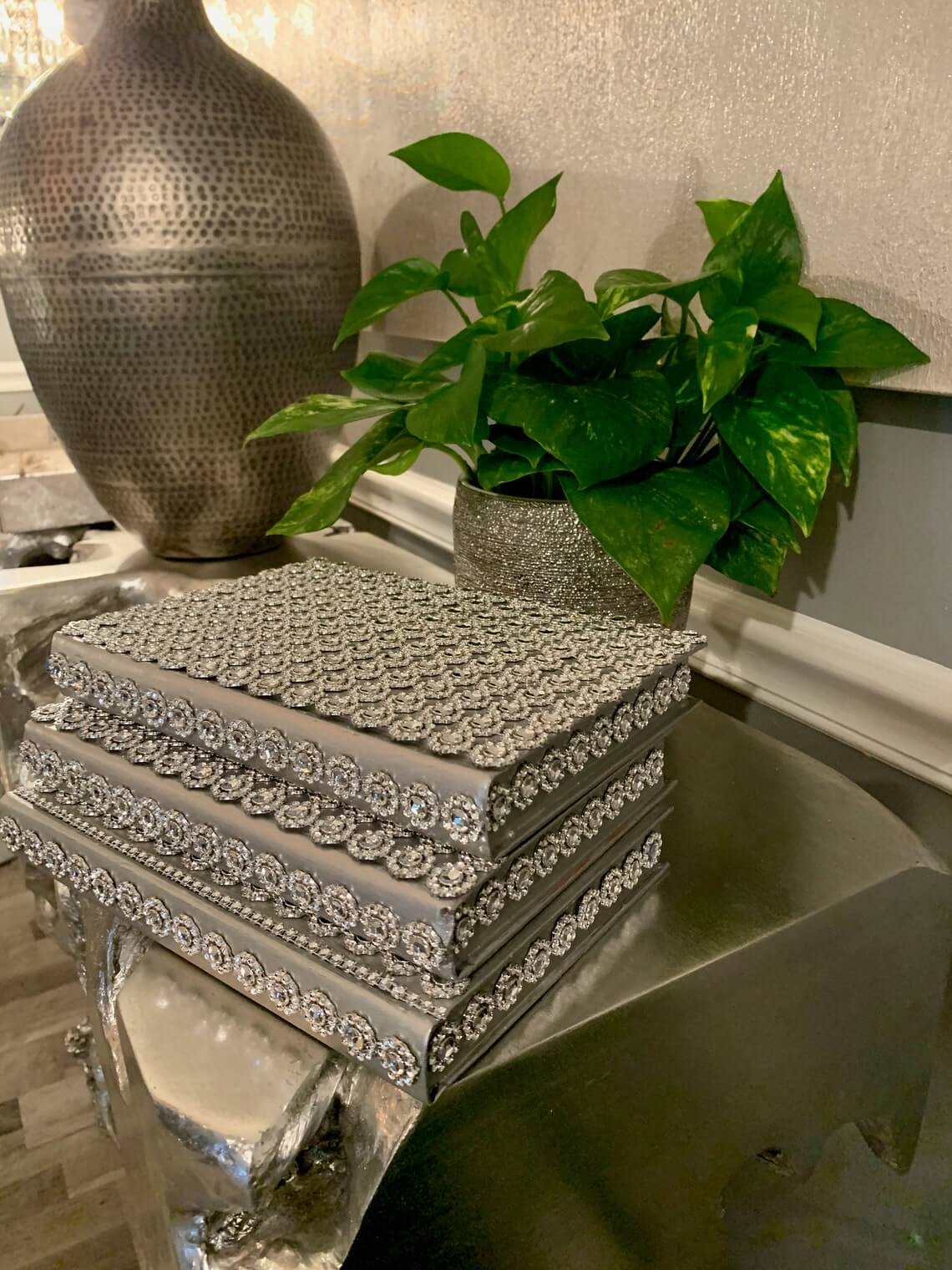 One of the easiest ways to add elegance to a room is to add a few books to your decor.Intensify the sparkle by holding them together. Combine them with other shiny decor to add glamor or let them shine as a center of attention. When they arrive in beautifully wrapped packaging, it truly feels like a decadent gift to yourself.
4. Sparkling Silver Remote Controlled Flameless Candle Set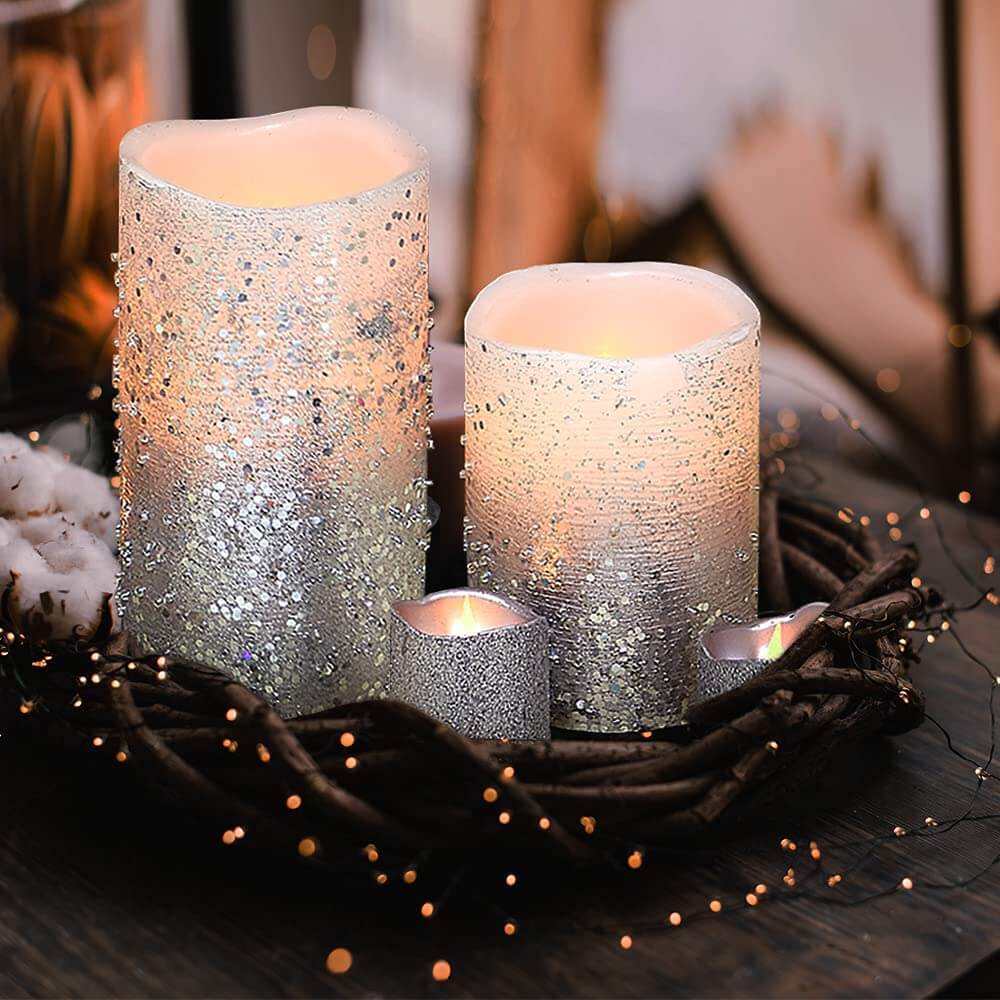 Because each candle in this set of eight candles comes with batteries, they're ready to illuminate your silver design ideas. All eight candles are made from real wax and are covered in an attractive spray of iridescent silver glitter. All that glitter makes them photographically valuable even when they're off. There are two 6 inch candles, two 4 inch candles, four votive candles and a remote control in each set. This variety of sizes means you'll have fun deciding where each flameless candle will live. In addition to turning on the candles, the remote controls the brightness and flickering.
5. Hammered metal moons linked with silver chains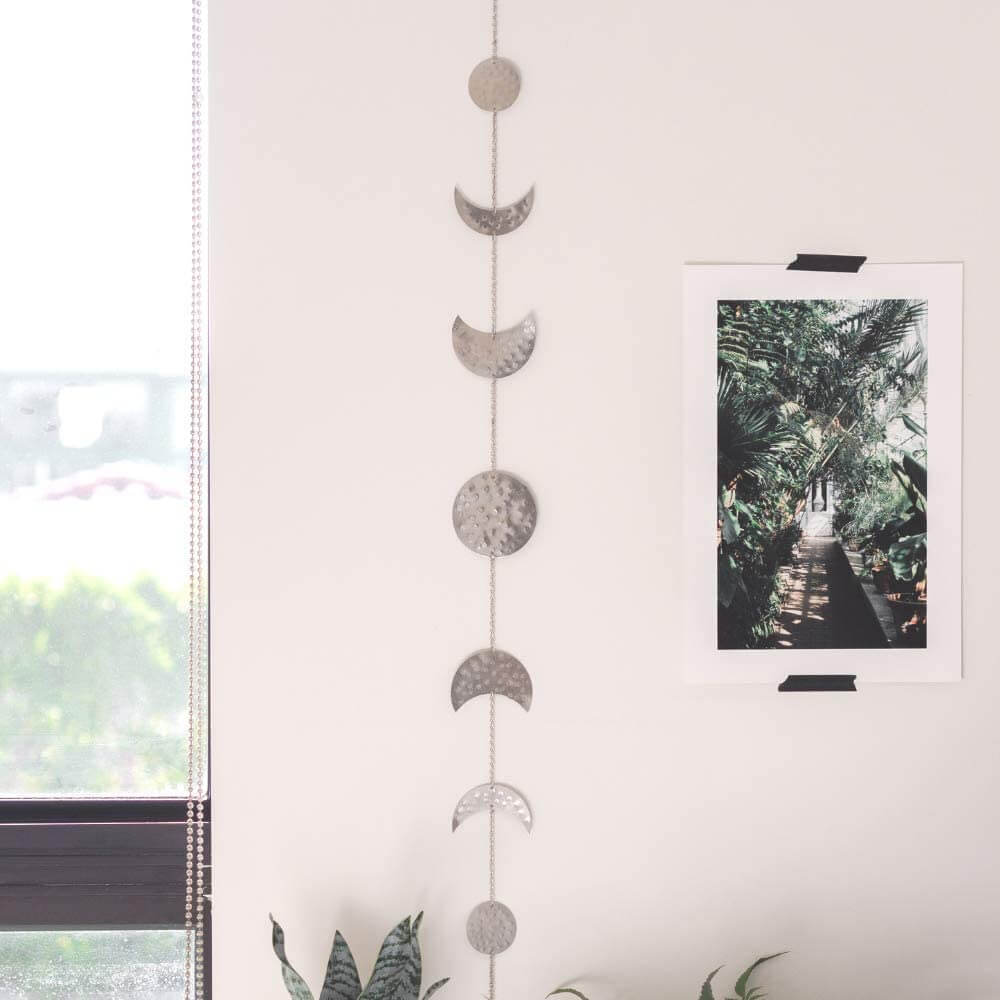 Because this moon garland can be hung vertically or horizontally, you have great flexibility. Hung vertically, the garland creates a decorative line in your room. If you hang it horizontally, you can create some dramatic jumps by changing the anchoring of the endpoints. Hammered silver is a tasteful texture that, when positioned correctly, can create a fun interplay with light. Even the filigree iron chain, which connects the phases of the moon, shimmers subtly. To give these silver embellishments an elegant, rustic touch, you can swap out the iron chain for thread. Leave it as is for maximum silver effect.
6. Mirrored Tray in Silver and Crystal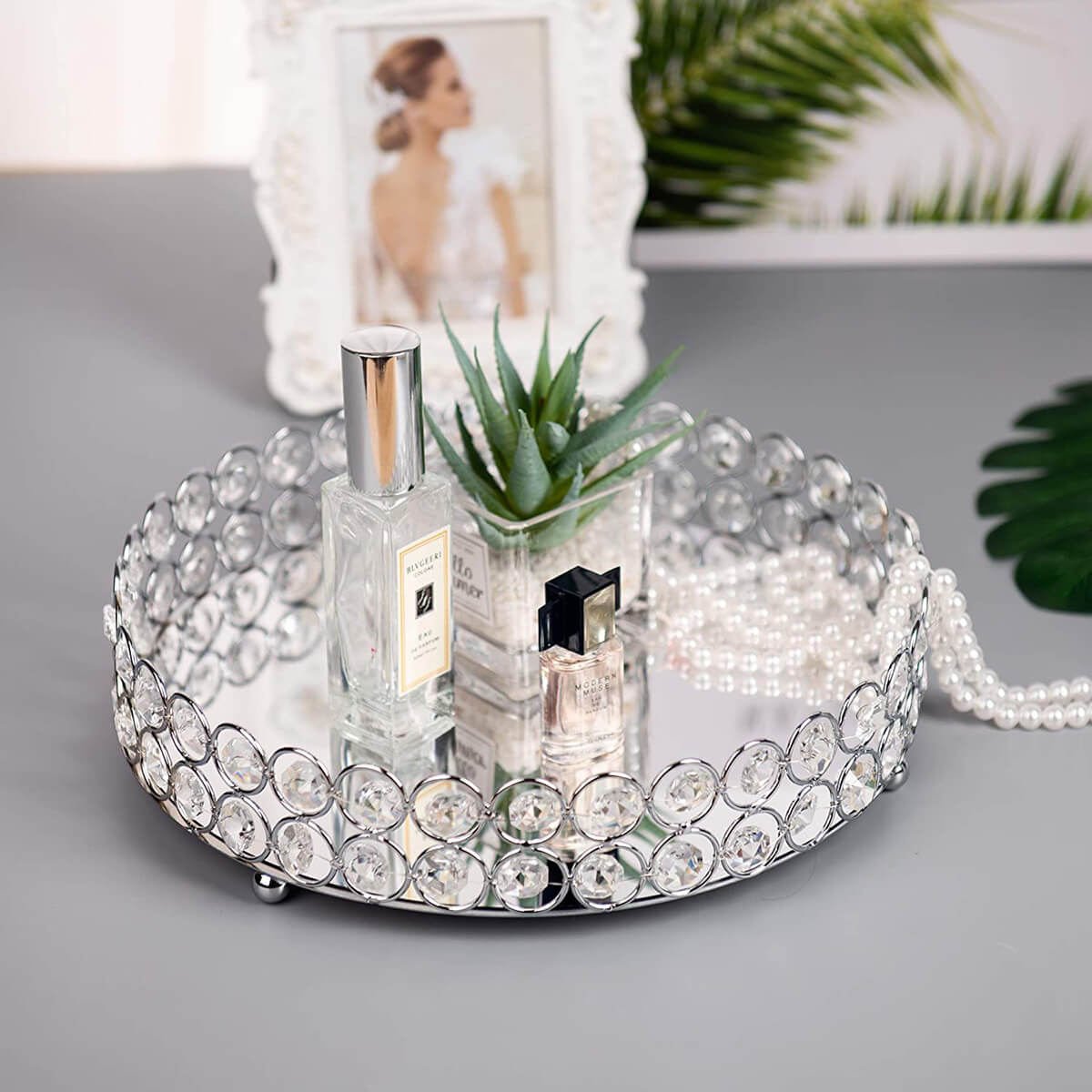 The best ideas and designs for elegant silver home decor still need storage solutions. This dazzling mirrored tray opens the door to a stylish solution. Use it in your bedroom for jewelry or in the bathroom to store your beauty essentials. It can include all the remote controls in your living room or show off your hospitality with a tasteful array of lotions and soaps in your guest room. Beyond functional uses, imagine using it as a frame for your favorite silver-themed sculptures. When these ornaments are glittery, the mirrored finish doubles the sparkle. If your silver-colored room doesn't use blue as an accent color, be sure to remove the blue protective film before displaying.
7. Farmhouse Silver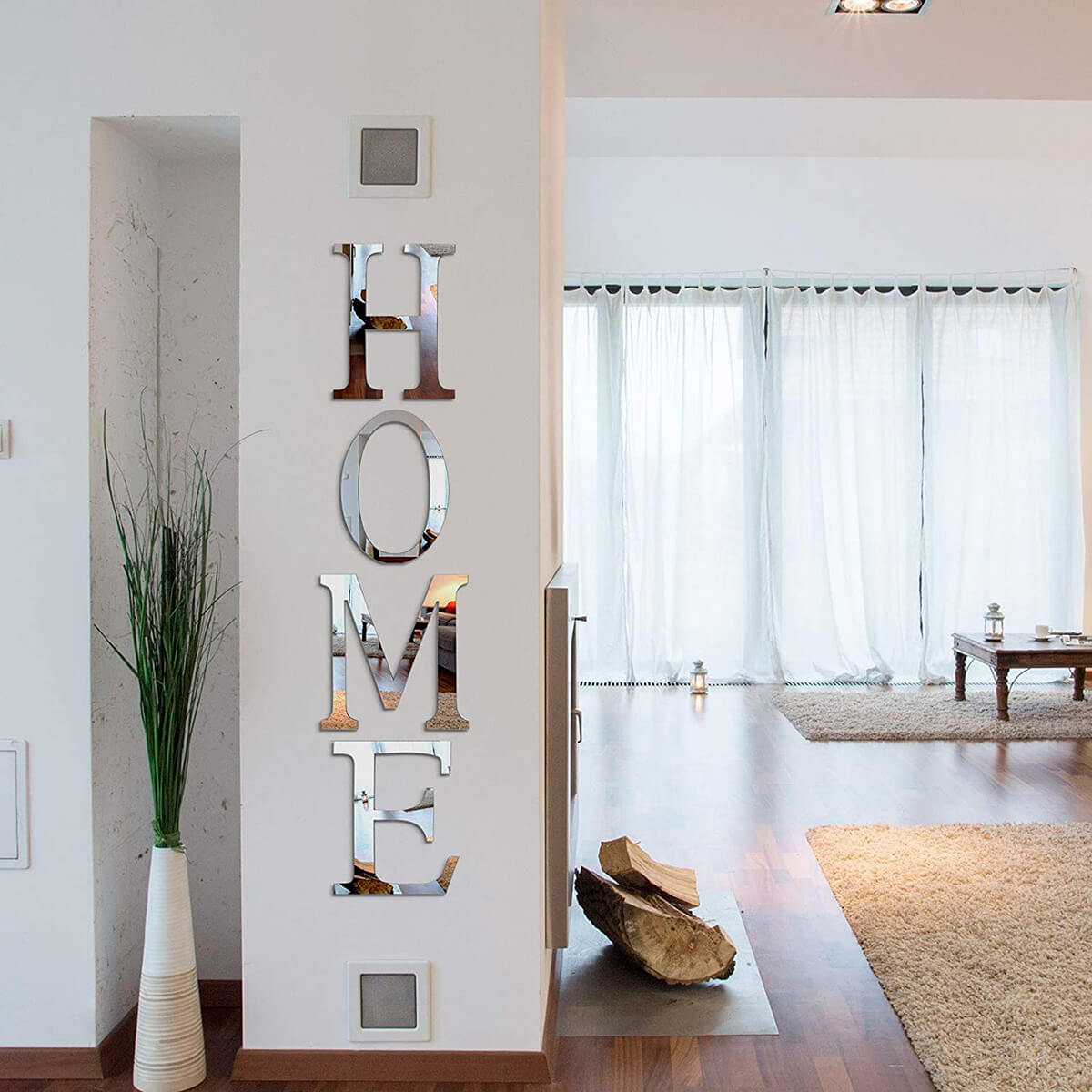 Nothing says home quite like it says on the walls of your home. These mirror-like letters add some glamor to a farmhouse without being overwhelming. Although they are easy to stick, the glue only sticks once. A sense of casual elegance is achieved through the serif font and cozy message. Display these letters individually or use them to blend the textures on a gallery wall. Because they're large, these stick-on letters are the perfect addition to any wall that has too much space.
8. Set of Three Mosaic Glass Spheres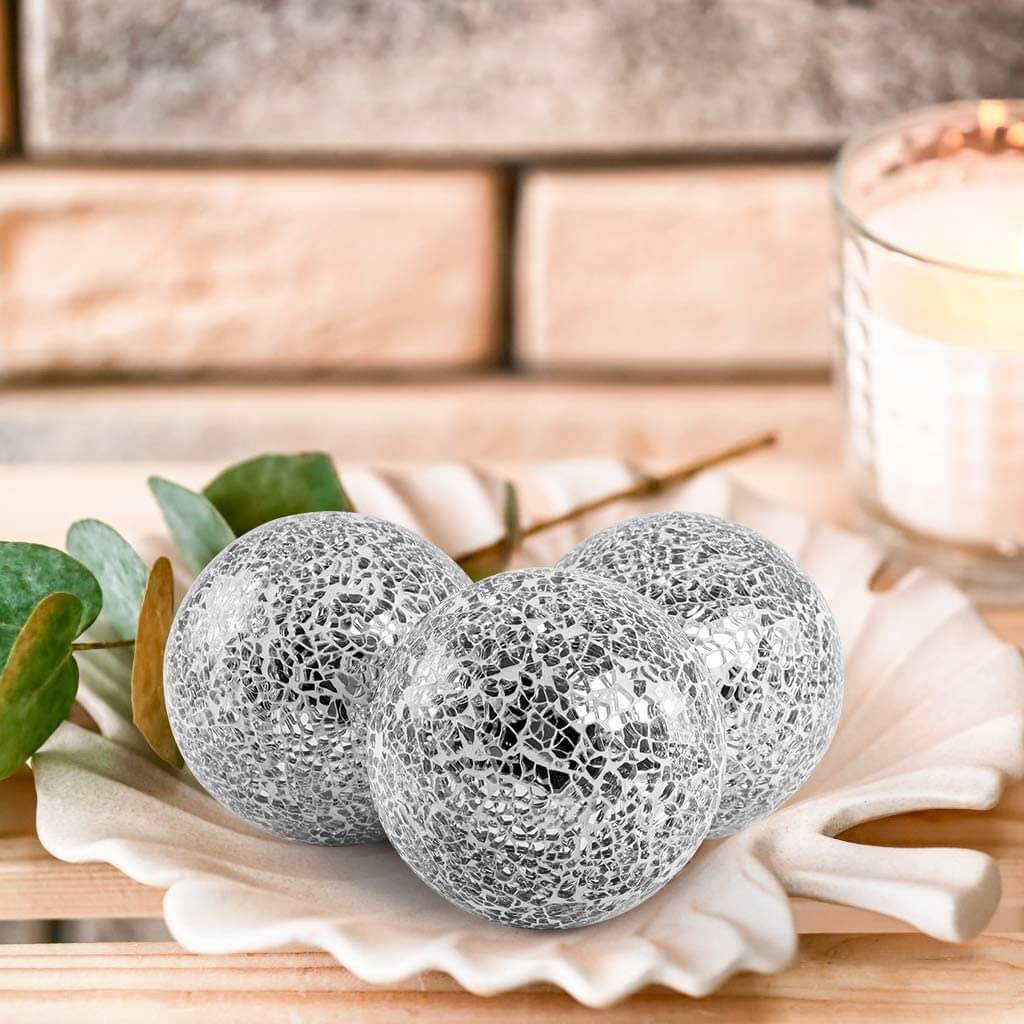 Empty bowls and trays can leave your space feeling unfinished and unpolished. These sparkling spheres of joy are a great way to make that happen. Crafted from mosaic glass, they have a pleasing weight and interesting texture. Place them in the sun to create brilliant reflections in your space. While the mosaic spheres in this image are crystal clear and white, there is a crystal with a black option. Both create a stunning accent, allowing your favorite bowls, trays and vases to reach their full potential.
9. Silk Curtains with Silver Sequins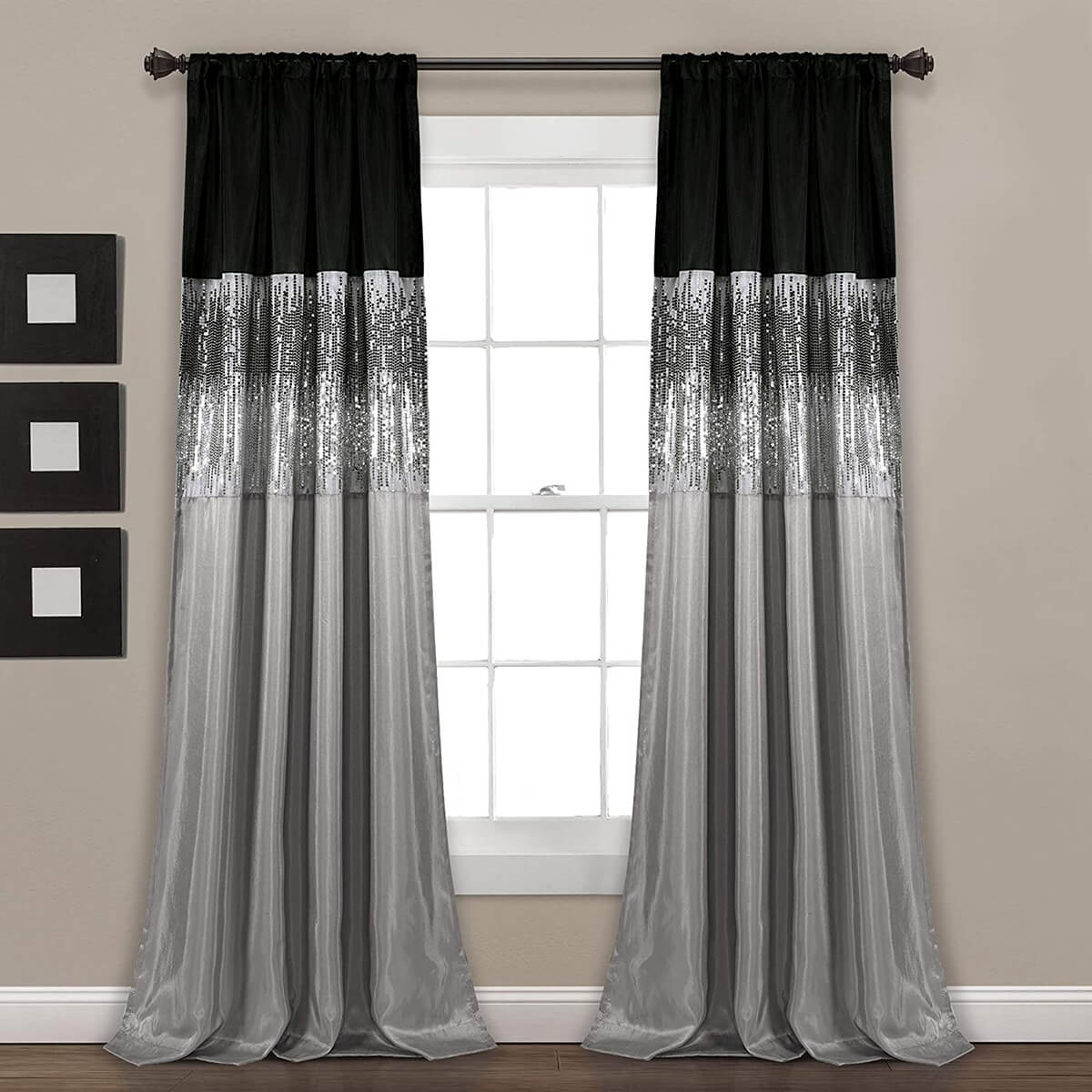 If the shimmering twilight could be distilled into window treatments, it would look like these shimmering curtains. Shiny faux silk and sparkling sequins channel those fleeting moments between day and night when anything seems possible. These curtains are a fantastic addition to modern inspired rooms or any space where glam reigns supreme. Note that each panel is purchased separately and you may want to purchase more than two panels for larger windows. Since these curtains are reversible, you can choose whether you want the silver part to hang up or down. This flexibility makes them a great choice for anyone who loves to change up decor frequently.
10. Unique Silver & Mosaic Glass Tray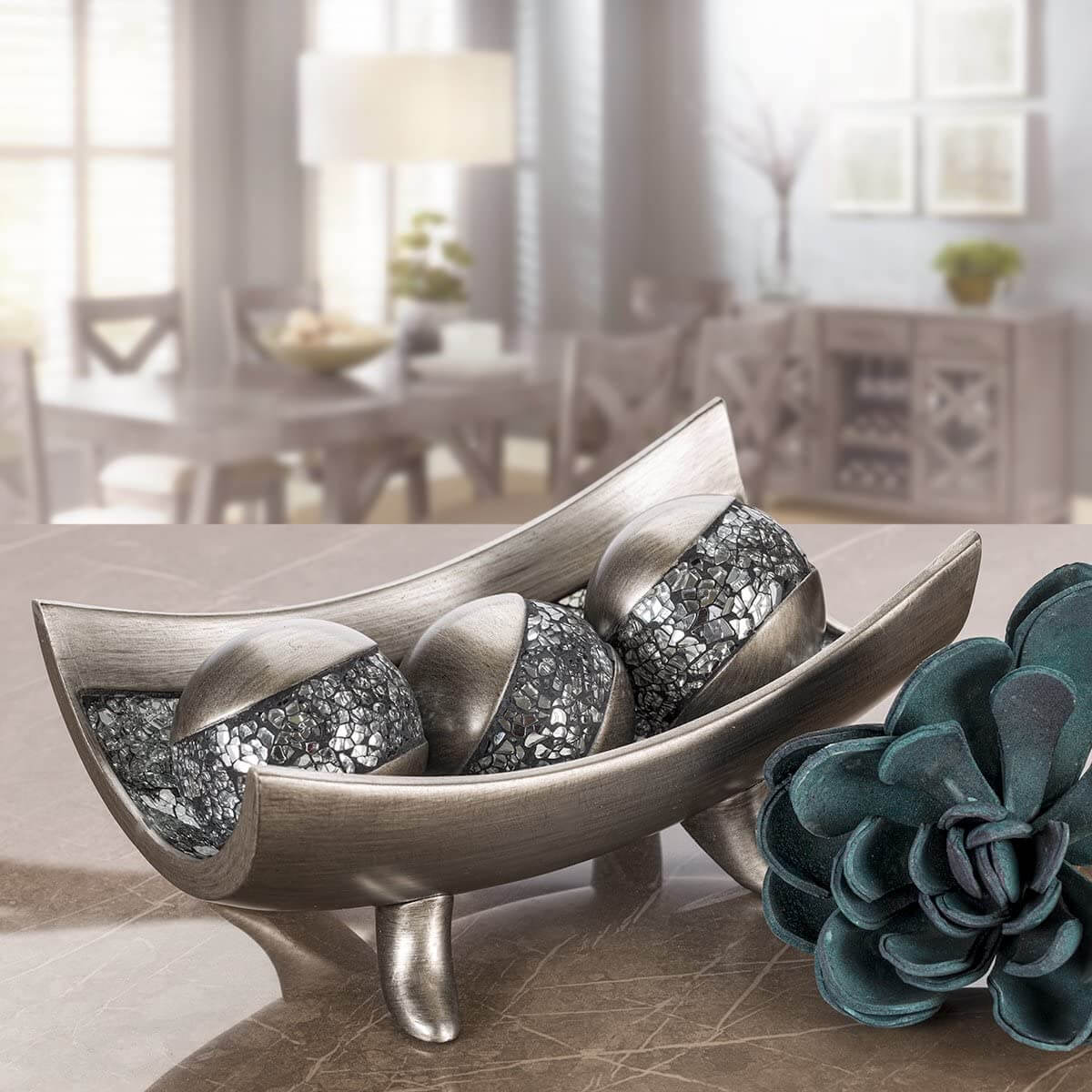 A tray like this can take your silver home decor to the next level. Cracked mosaic glass and a brushed metallic finish combine to create a sophisticated and contemporary ambience. Pedestal legs elevate the tray and add that extra edge to really make it stand out. While you can purchase the matching baubles to complete the look, this tray is a versatile decorative piece. Use it as a tray for your keys, mail, small beauty essentials, sweets or fresh flowers. Depending on the mix, you can even use this tray to hold potpourri..