Are you looking for contemporary patio railing ideas to modernize your outdoor area? There are many ideas we can do to upgrade your deck. And updating your patio railings is the best way to update your patio or porch.
Ideas for wire decker railing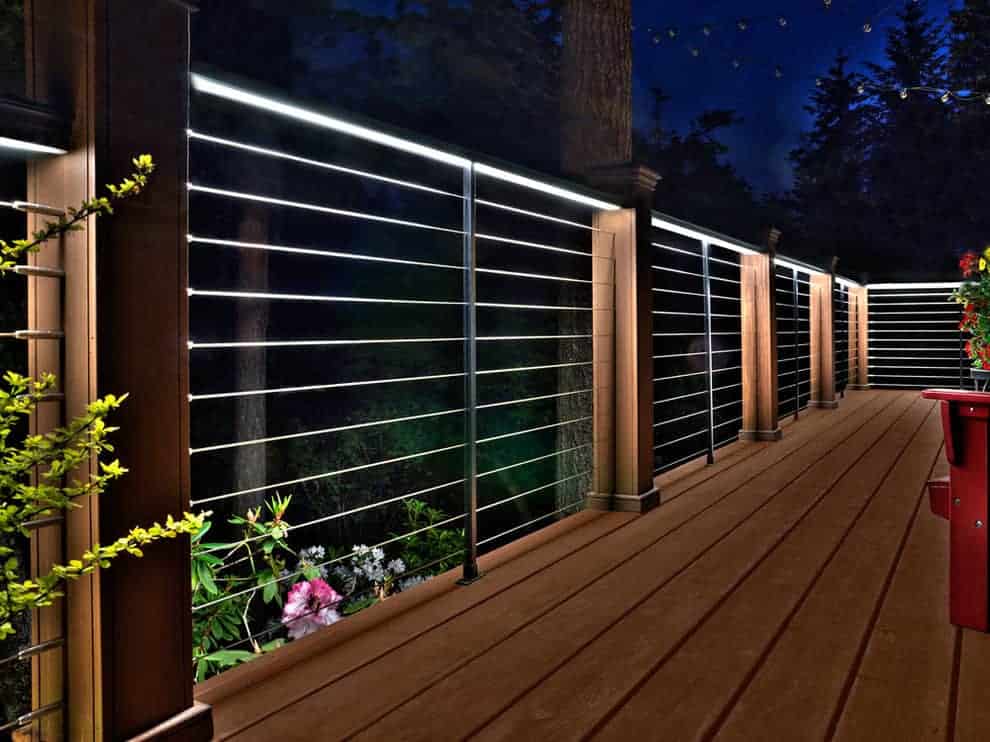 To get the best out of two worlds of materials – wood and metal – simply use both at the same time! Some of the most stylish patio railings incorporate elements of more than one material, and this is a great example of that with wooden posts and metal railings for a modern look. The lighted railing on this wooden deck also adds to the look by giving you a brilliant way to entertain at night without any intrusive or dazzling floodlights or spotlights.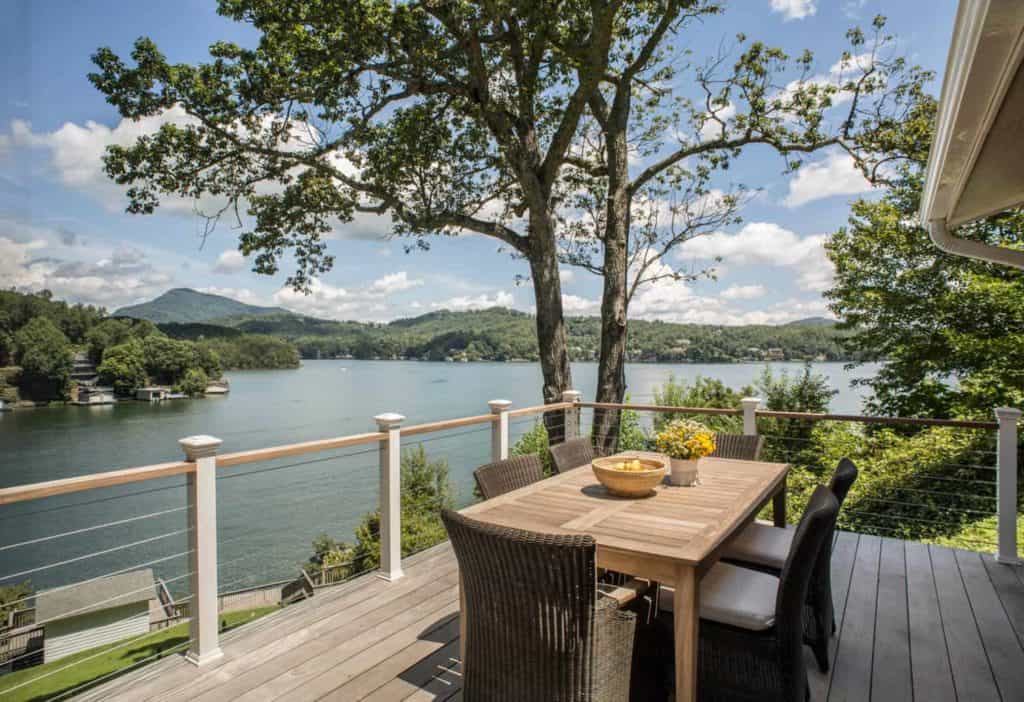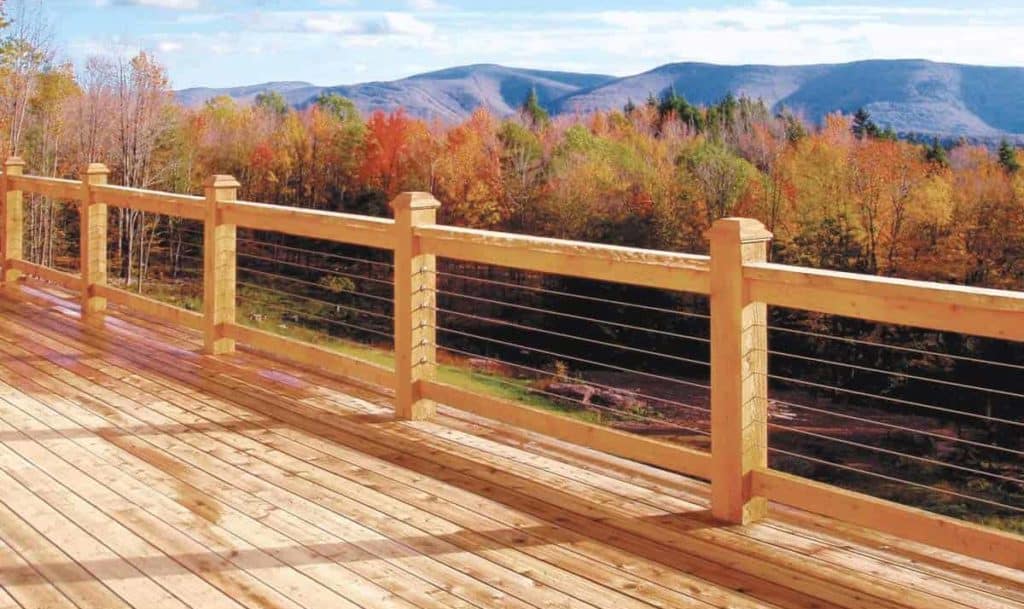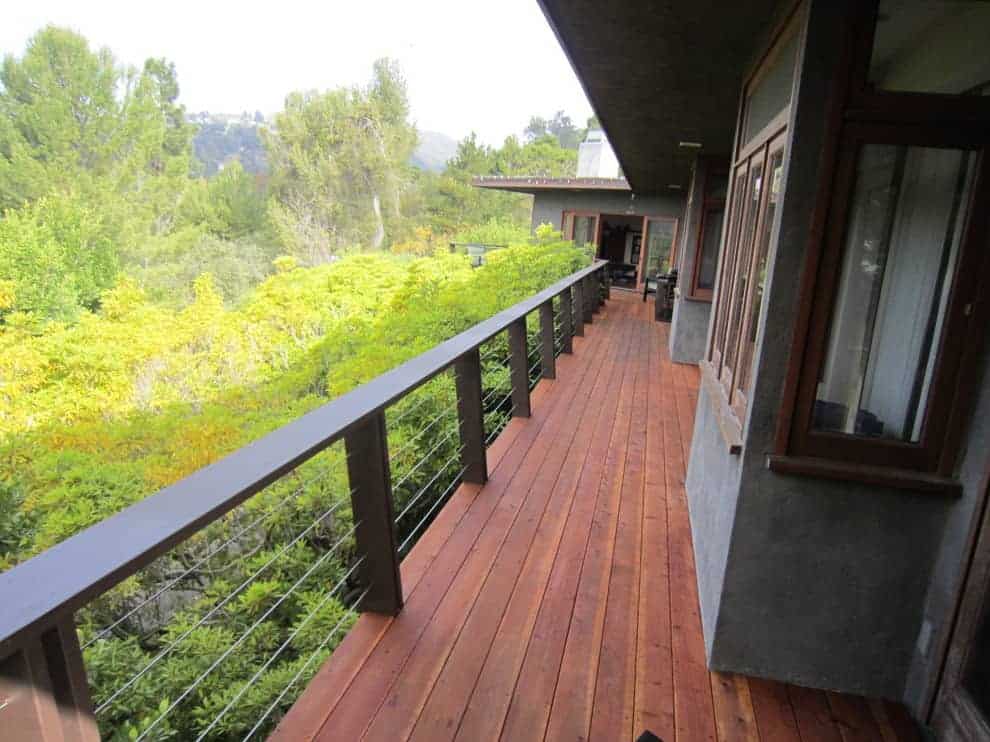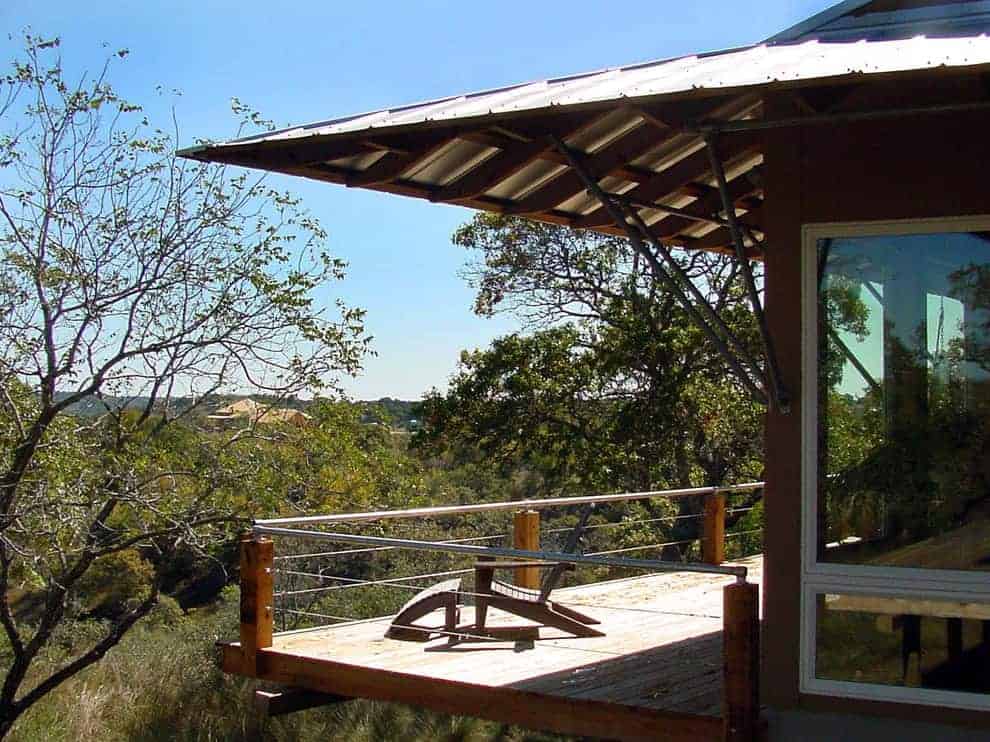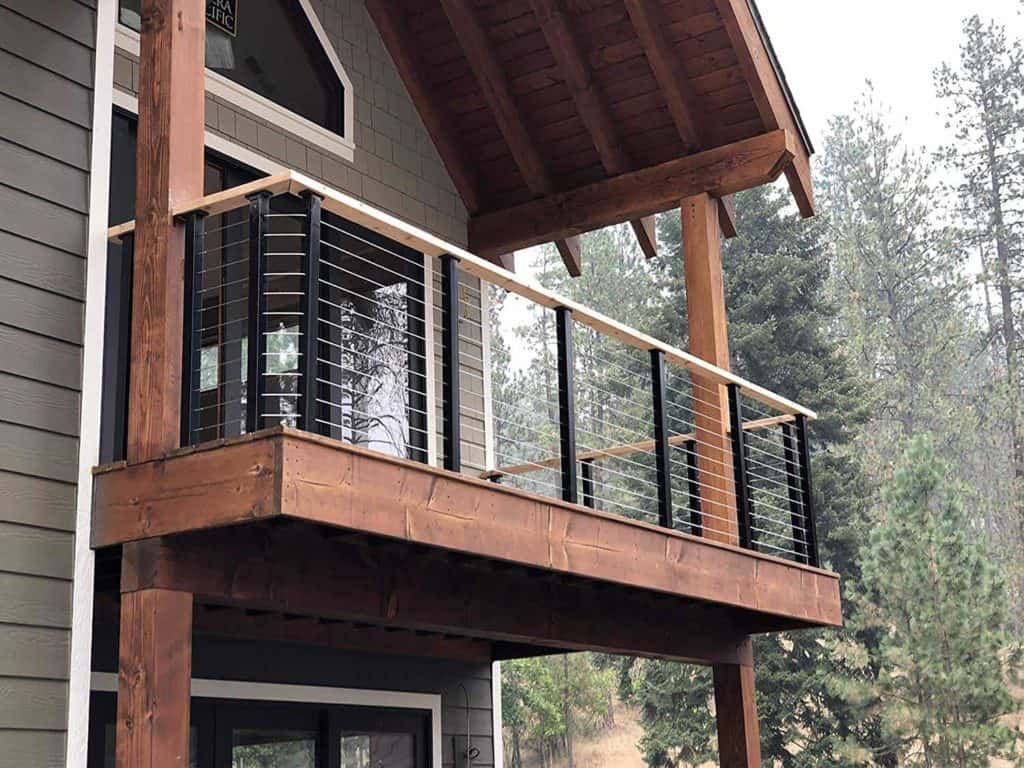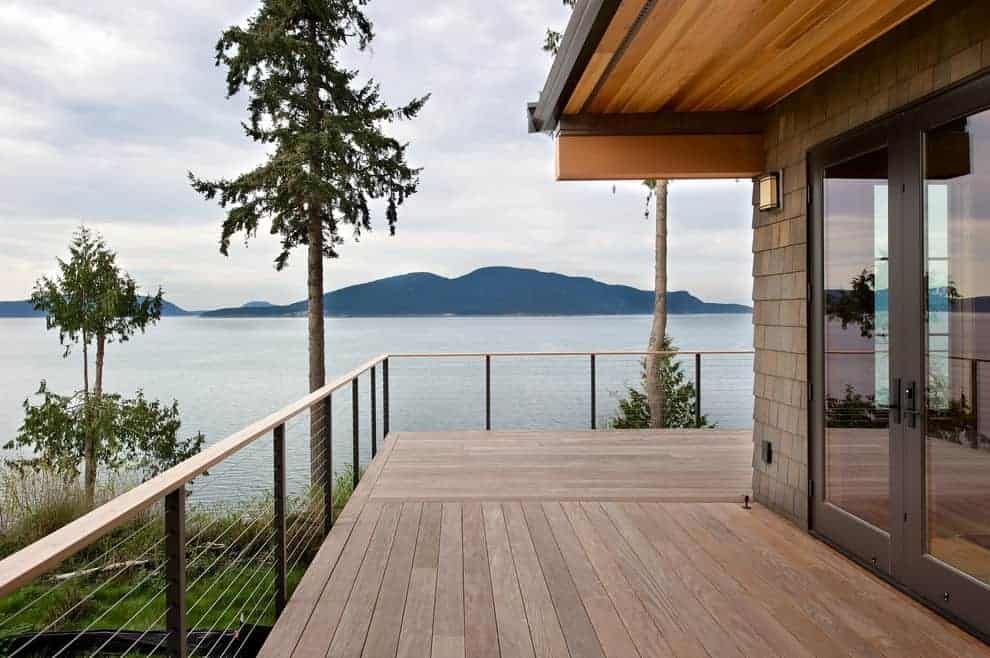 These wire rope
deck railings
have
beautiful vertical wooden
or metal balustrades that can be complemented with other thinner materials for the horizontal element. This creates both thickness and height while minimizing potential visual obstructions along the length of the perimeter of your porch. Deck railing structures of this type are ideal for wooded outdoor areas such as huts or lake houses.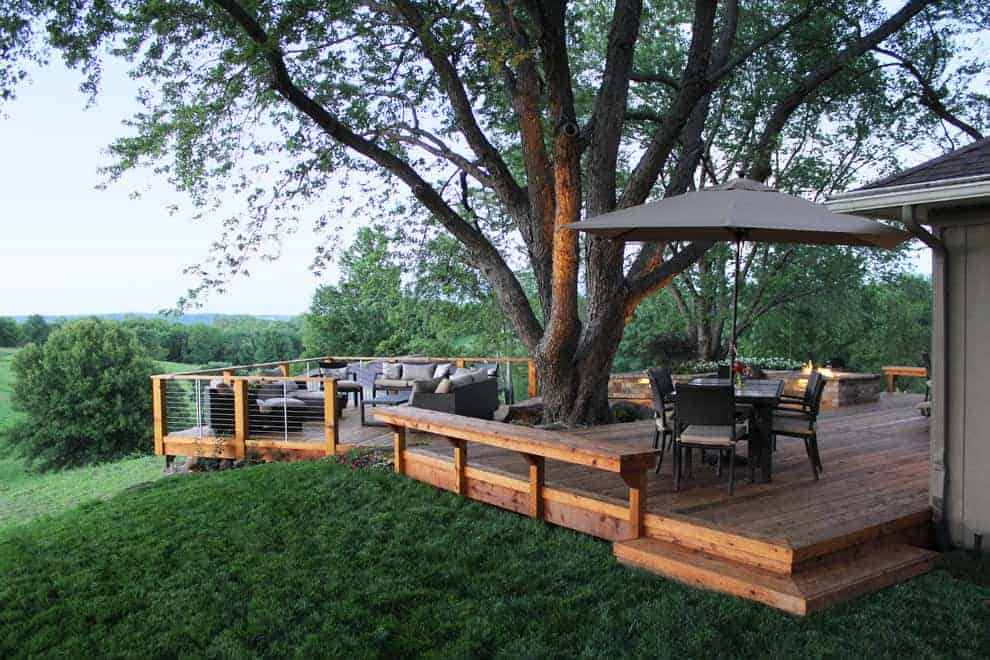 Who said you had to handrail your entire deck? Also, which design judge will order that you cannot use two different types of railing on a patio or porch? The answer to both questions is absolutely no one. Note the design of the railing made of metal wire connected by wooden posts.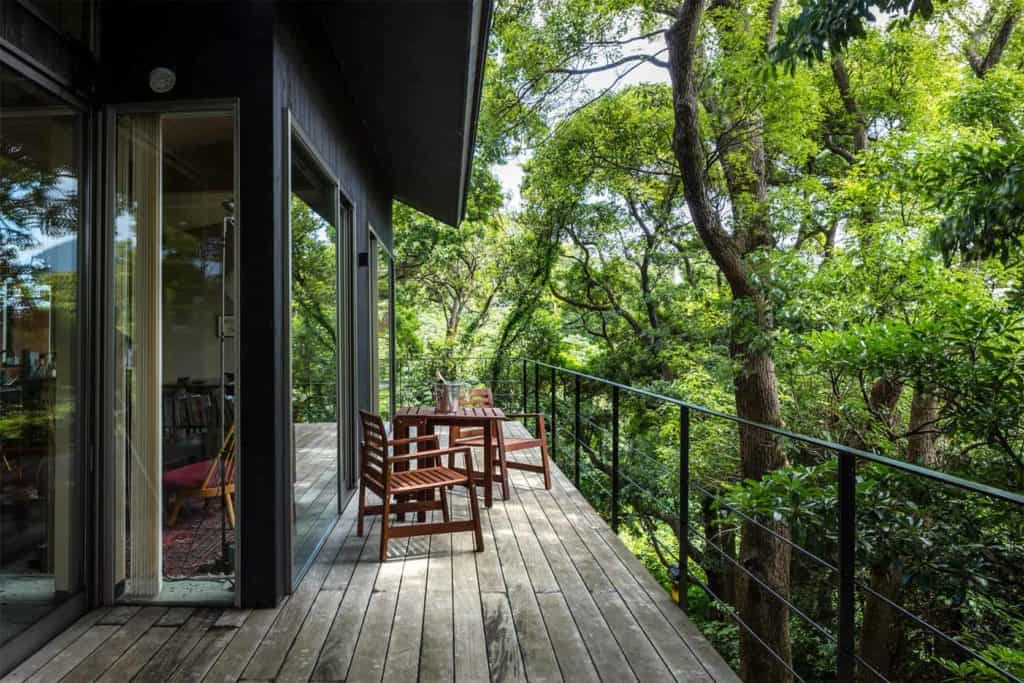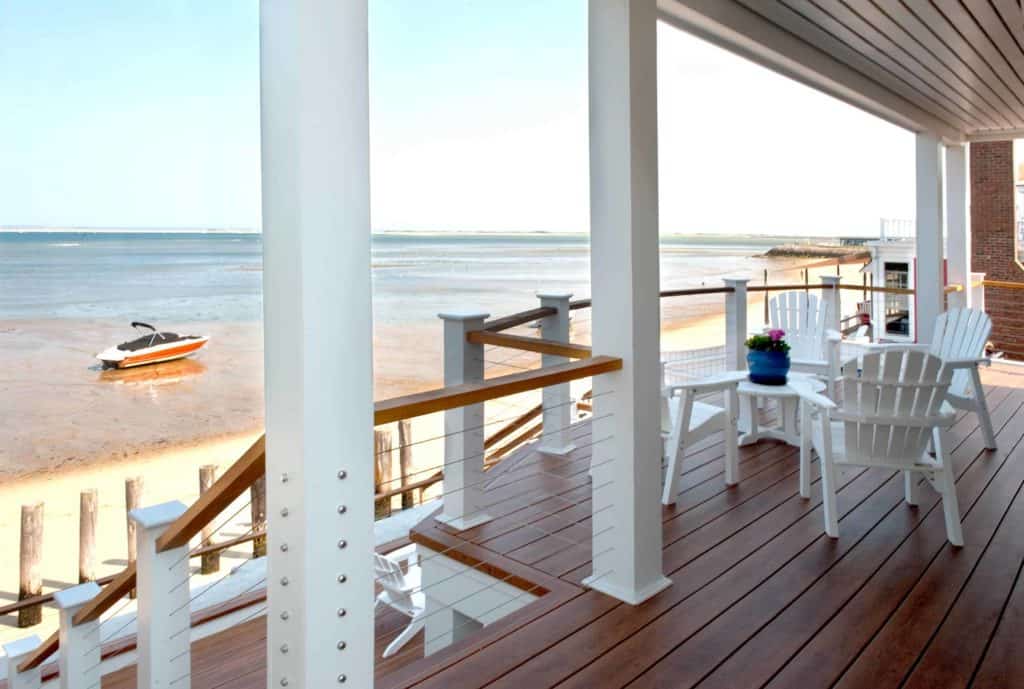 Tall white support beams separated by medium brown wooden beams, a little bit of stainless steel wire railings strung tightly in between, sit on a beautifully stained wooden floor. If you're immediately directed to Martha's Vineyard, I'll be right with you! Cape Cod offers some immaculately designed homes, but you don't have to live there to take advantage of their style. Build this architecture into your own deck and be instantly transported to the other side of the world – or just down the street, it's entirely up to you.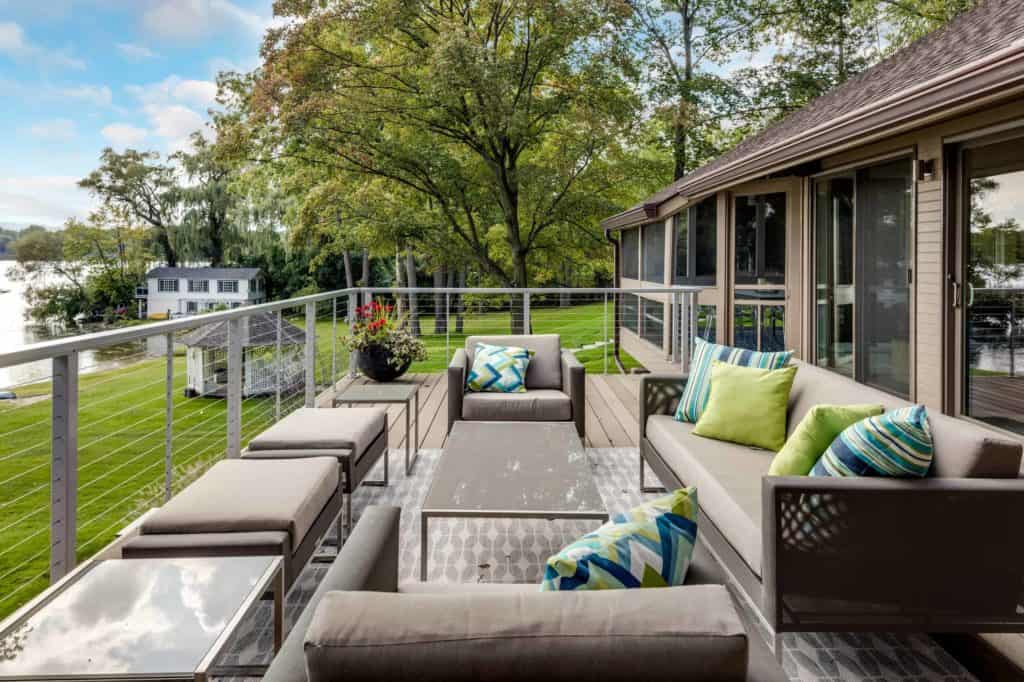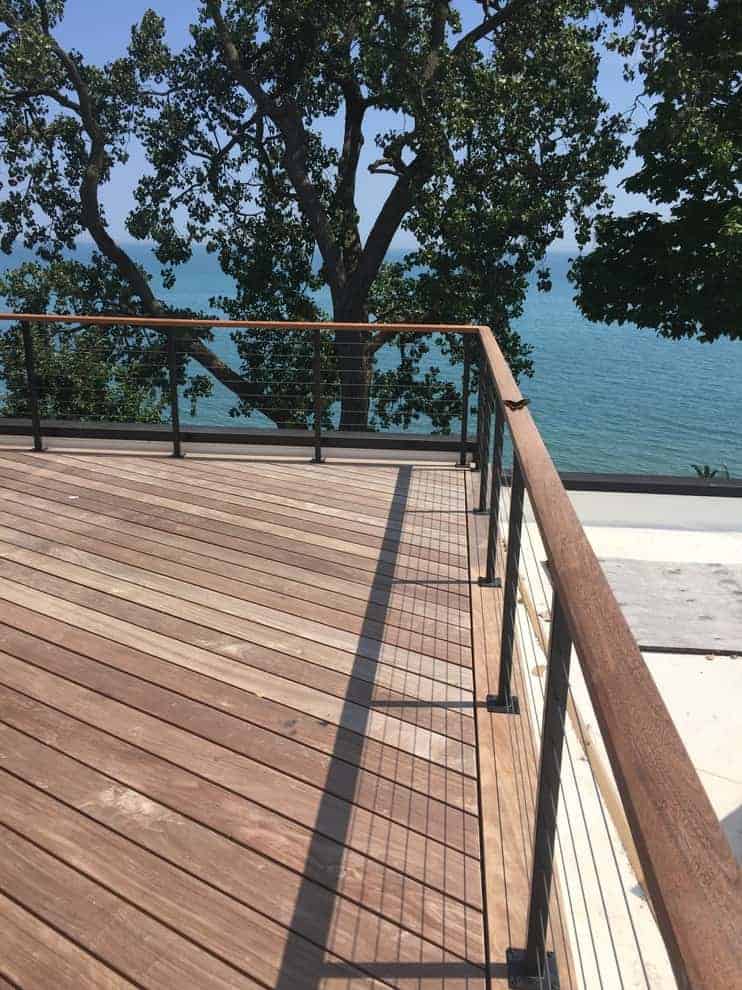 To highlight the other components of your patio, opt for a lightweight
patio railing
that practically disappears into its surroundings. Thin metal wire railing goes perfectly with all of these descriptions with a wooden railing cap on top. It's a natural choice for porches that already have multiple elements that grab attention and just want to provide an element of structure and security.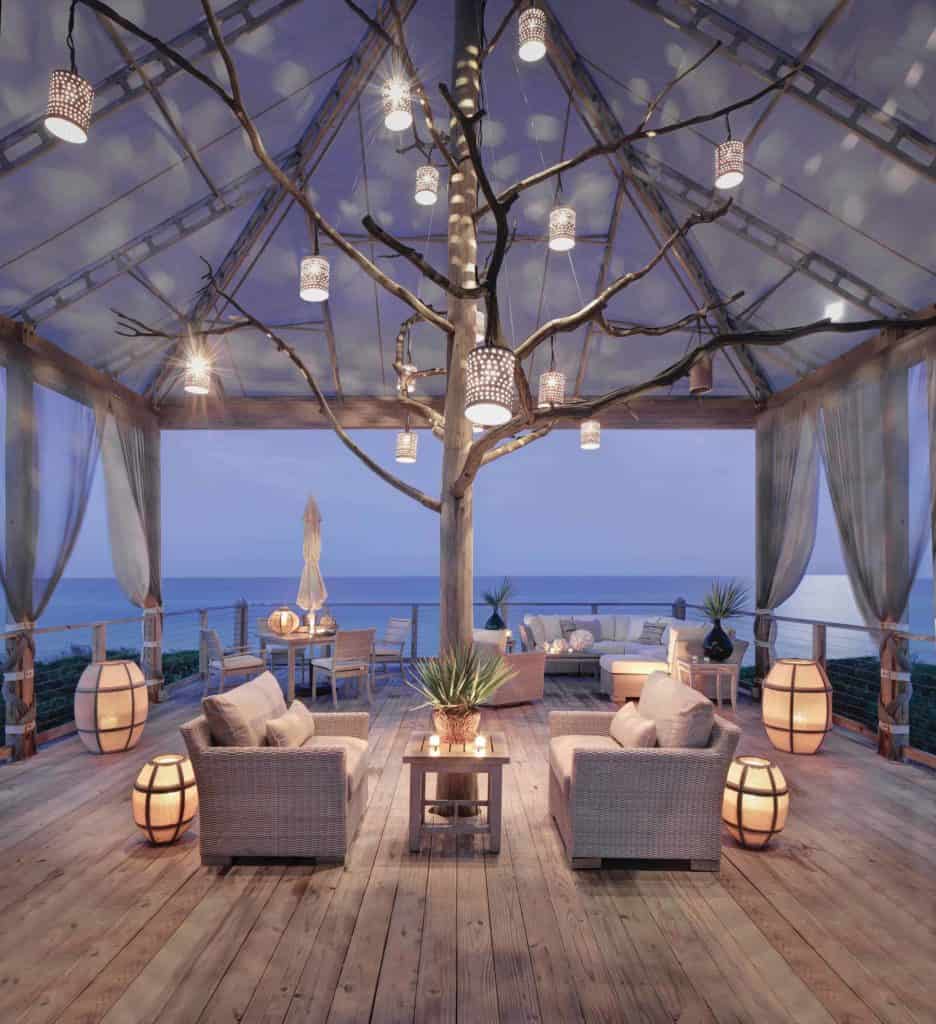 It seems like Pinterest (and / or Chip and Joanna Gaines) will always find a way to create rustic looks like the coziest, chicest, and most wonderful thing on planet earth.This custom-made deck is another case where wooden planks for the floorboards can also double as beams and poles for your handrail posts. Stretch thin wire horizontally for a seamless casing all around.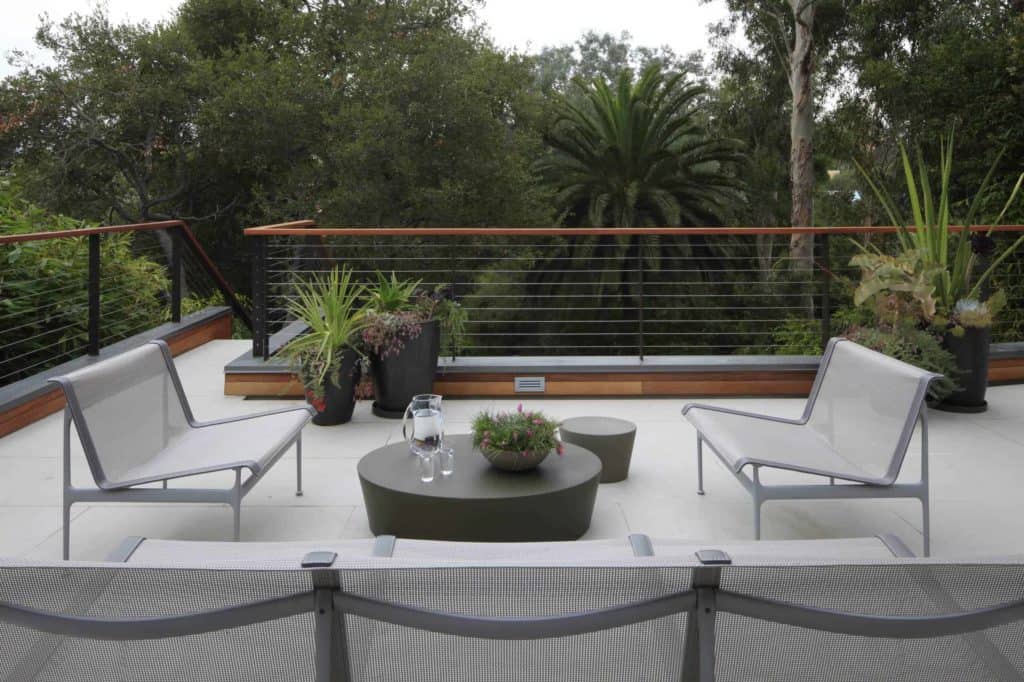 An easy way to add character to your deck railing design is to increase the number of levels. To add even more variety, use a different color for each puzzle piece: brown wood, black metal, gray railing bracket etc. The combination of base and color difference creates an all-round feeling that is unique.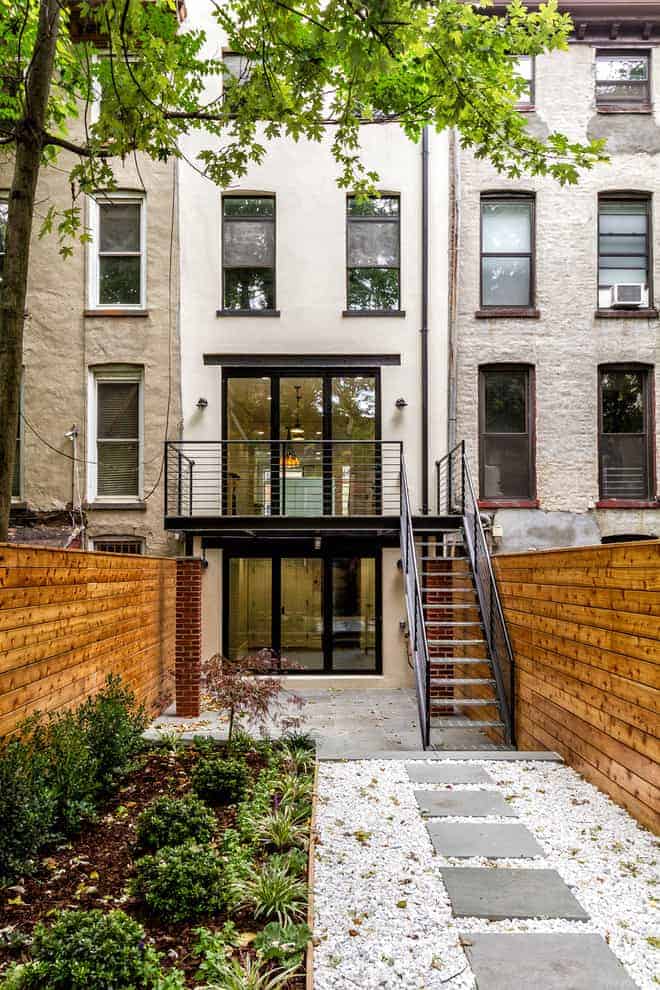 Space is tight in many urban or condominiums, and that goes for the outside of the home as well as the inside, maybe even more. If you want to make the most of your space, use minimal metal railing, a solid color like black, and let the handrail lead up a flight of stairs to the ground floor whenever possible. Not only does it look great, it also creates a more open feeling without actually taking up any extra space.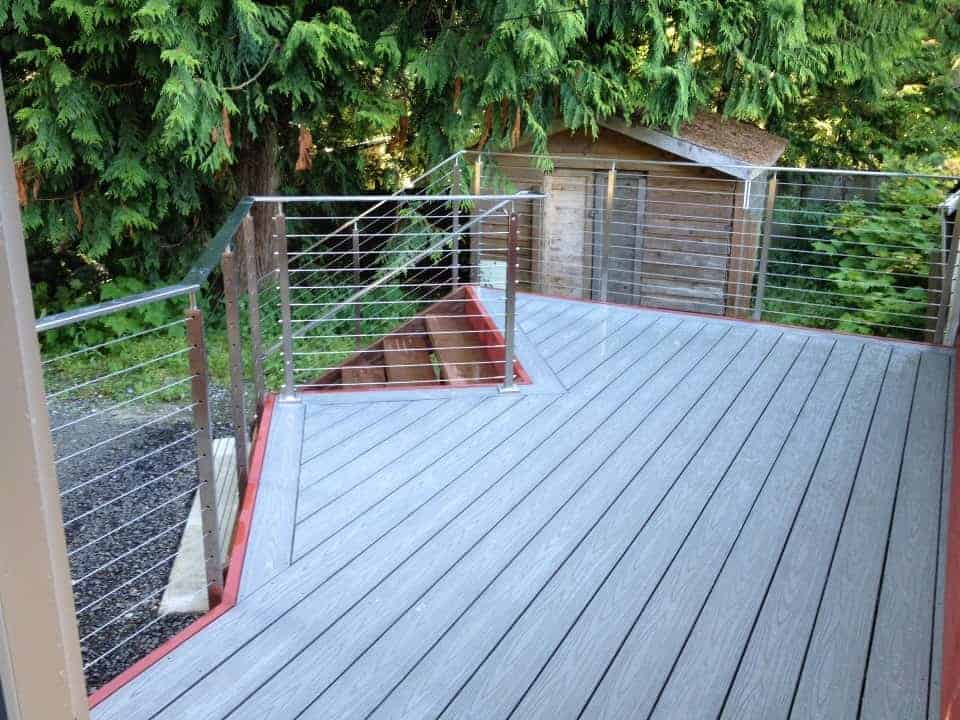 Silver metal is a classic look that has proven itself. For generations of architects, designers, and homeowners, the appearance of shiny metal has appealed to everyone, virtually regardless of its aesthetic. It's not hard to see why. Silver metal – whether shiny or brushed – goes well with almost all furniture, plants or other furnishings. Because of this, it can be easily put on or taken off depending on the occasion.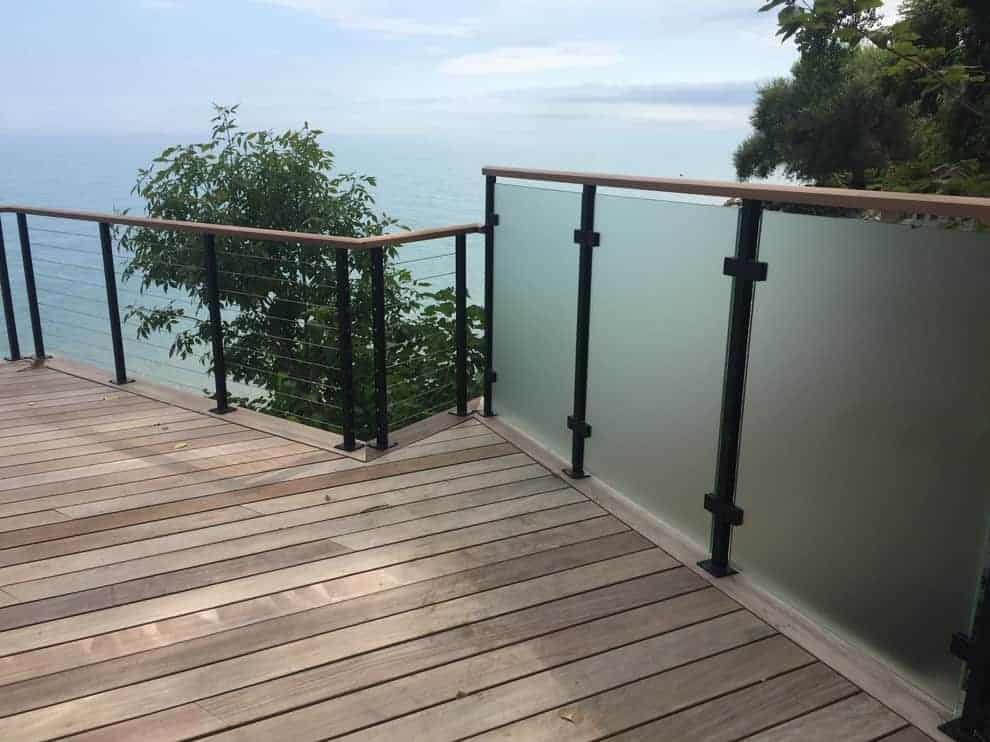 You can place one style of railing along a specific section of the deck and an entirely different type on another section. However, keep the material (like wood) and color (the wood's stain) the same or similar for both if you want to create a sense of unity. To create the feeling of different spaces (or to create some privacy), use two different types of materials – metal cables in one room, flat glass in another. And that leads to glass railings …
Ideas for Glass Deck Railings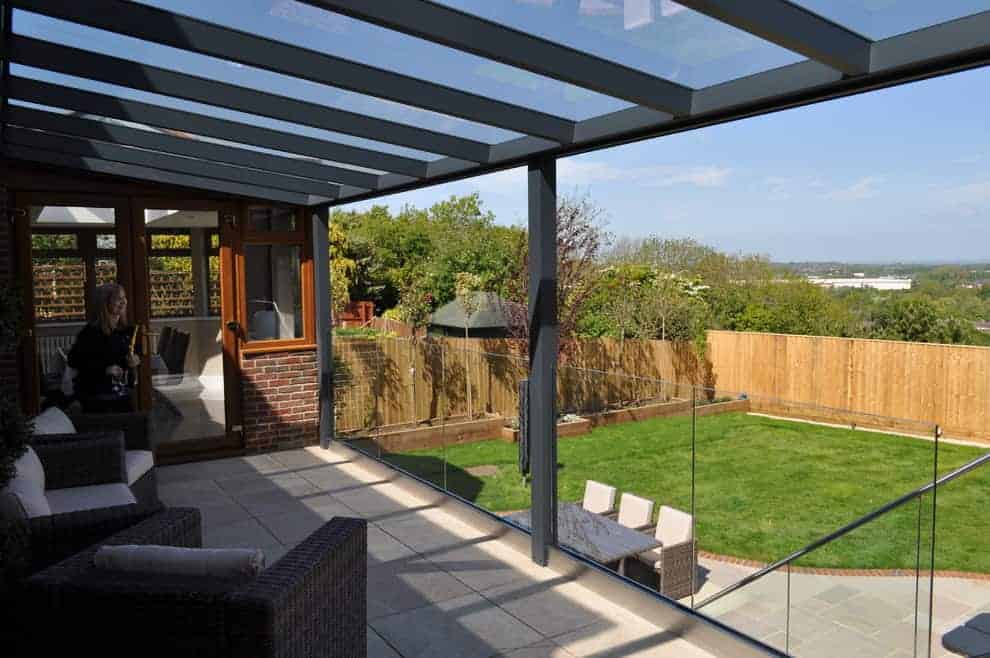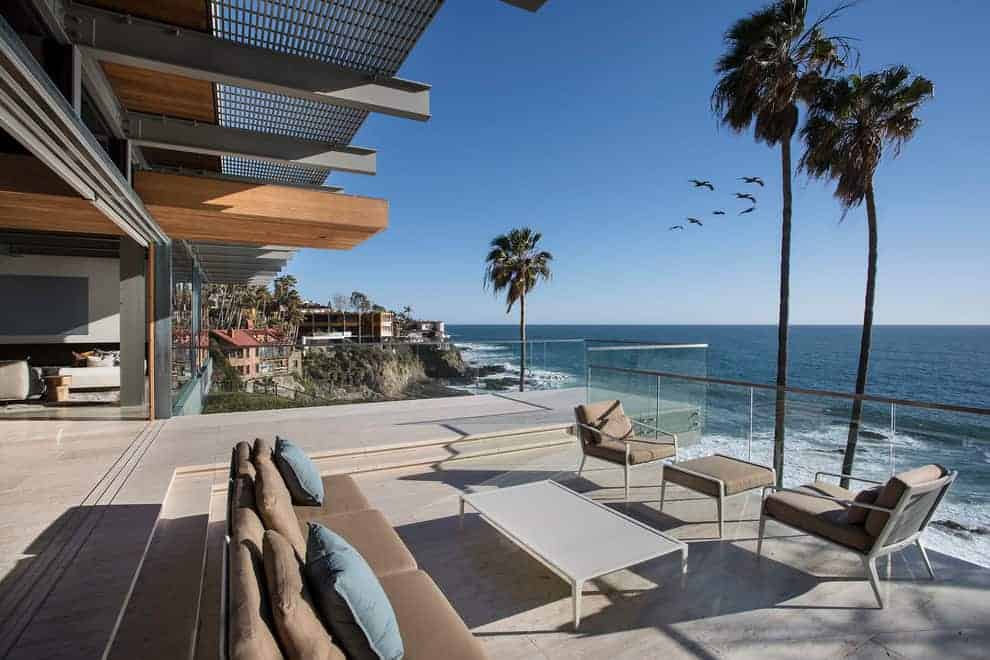 While most patios or decks opt for traditional vertical or horizontal railings, there isn't a rule that says it has to be that way ( unless you have HOA / neighborhood guidelines to adhere to …). To spice things up a bit, take a page from the upscale bathroom playbook and use glass instead. The aesthetics are nice and clean, and the glass provides a clear view of your garden or pool area at the same time.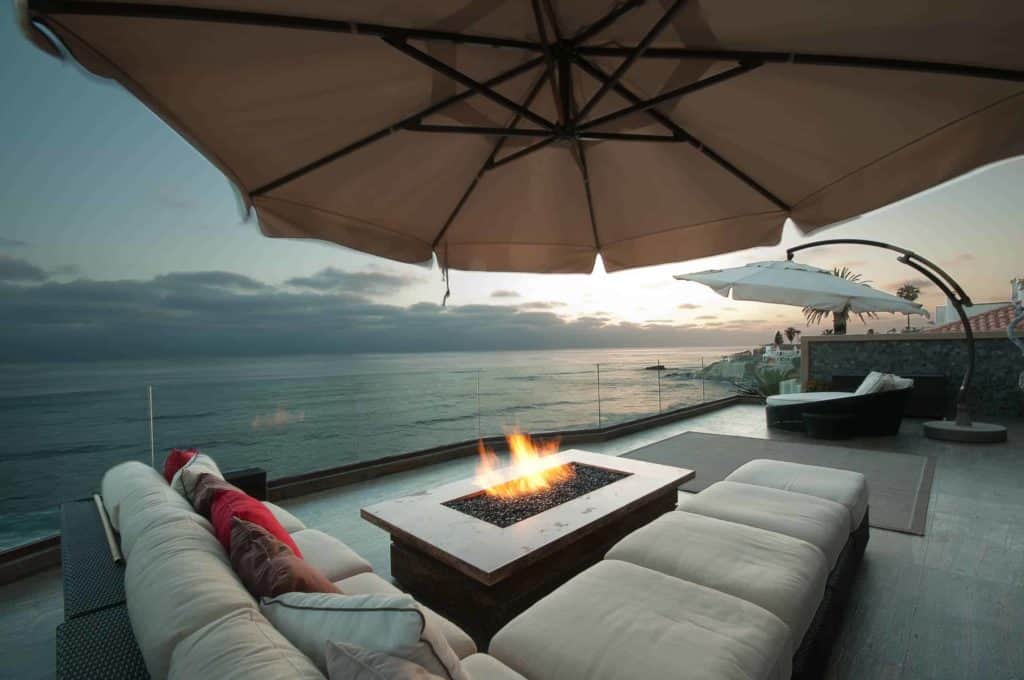 When you have amazing ocean or beach views, the last thing you want is something to block your view. Maintain visible access to your expansive views by opting for clear glass over wooden or metal railings. In fact, you don't even have to use other materials to bond or ground the glass. Instead, mount the panels in a metal base and leave the rest of the "railing" open so you can see the rolling waves of the sea at any time of the day or night.
I saved one of my all-time favorite railing ideas for last. While it won't work on every single porch or patio outside, those who can find a use for it will completely blow other decks in the neighborhood out of the water. The two keys here are (1) horizontal wooden beams with moldings and (2) vertically aligned panes of glass.People are often afraid to go vertical with glass, but I think that's silly. It's your deck and you can do whatever you want with it. The moldings perfectly frame the glass panels, which open your terrace to a wonderful view of your surroundings.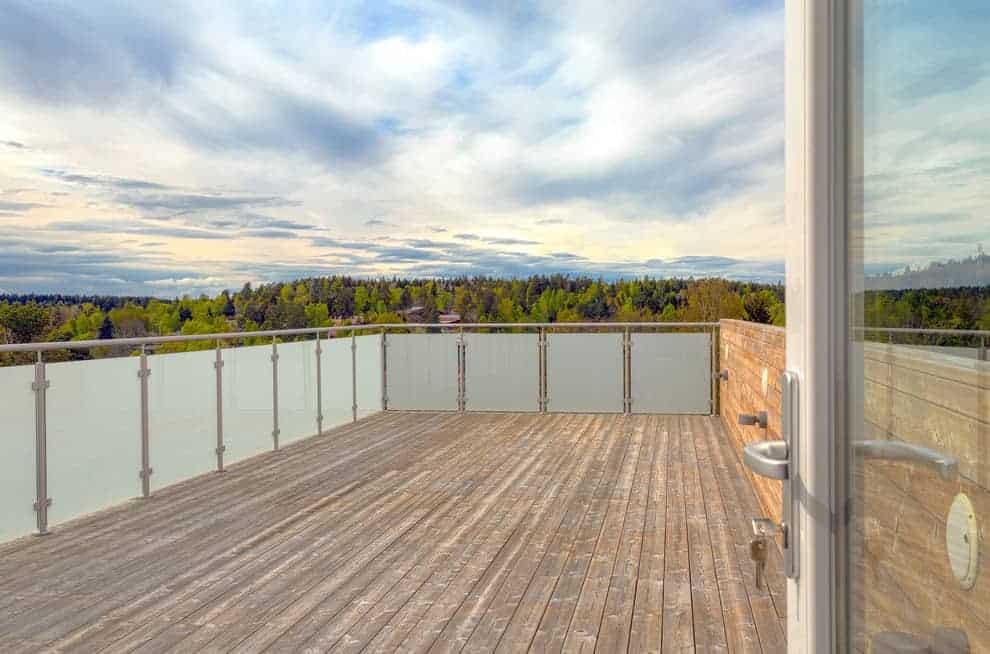 There is just something cool about a railing made of frosted glass. Privacy Glass Railings had their heyday in the 1980s, but they are coming back in a number of really interesting design solutions. One of these is in the deck railing. While the rail itself is usually made of metal, frosted glass panels can be used to separate each railing section, and if your space can support this and you want to be the talk of the town, go for this one. You will not regret it!
Ideas for Wooden Deck Railings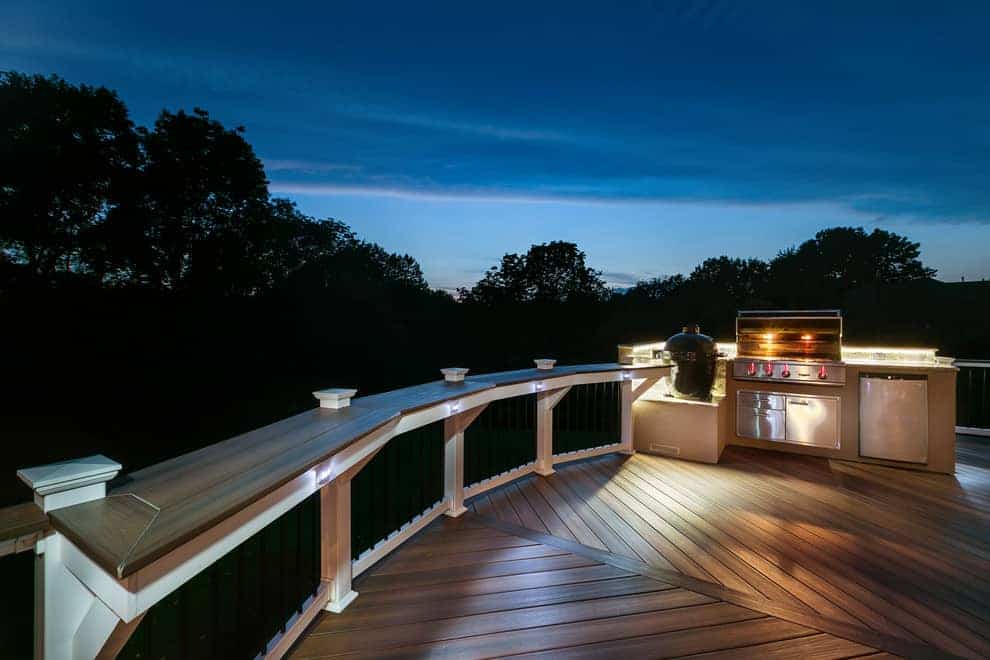 Do you often have people drinking or grilling? If so, then consider a wooden deck railing that has an extended sill at the top. This extra space can be a great place to place drinks or plates of food without having to bring out tables that take up valuable deck space.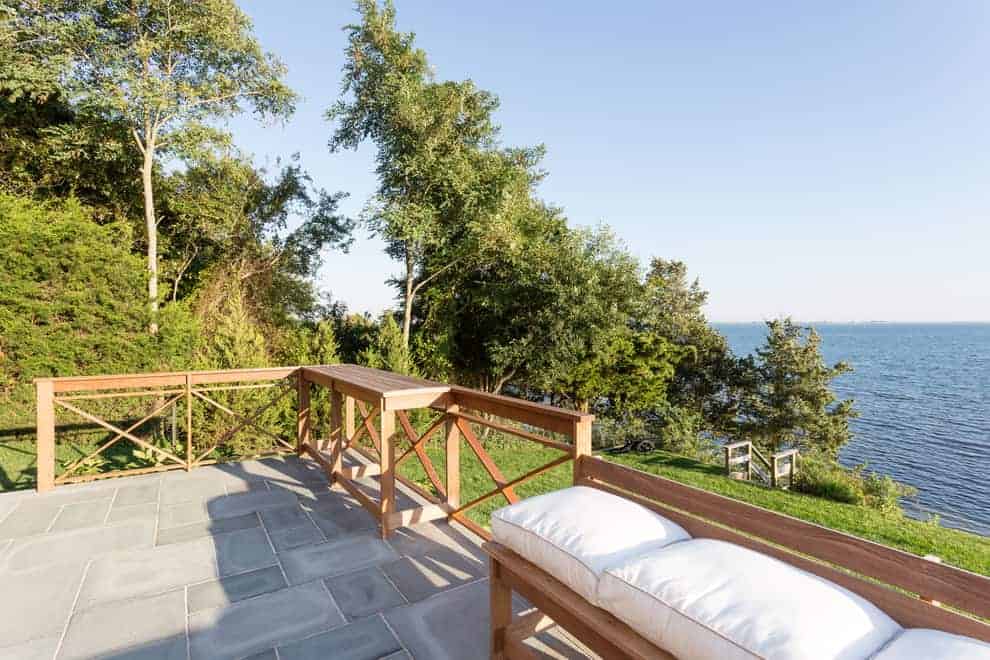 This wooden deck is a subtle nod to rustic chic. Use simple wooden beams to build a paddock style fence around your deck or patio. Not only does it look great, its internal structure – the diagonally crossing beams in an X-shaped pattern – is reminiscent of farmhouses and pastures throughout rural America.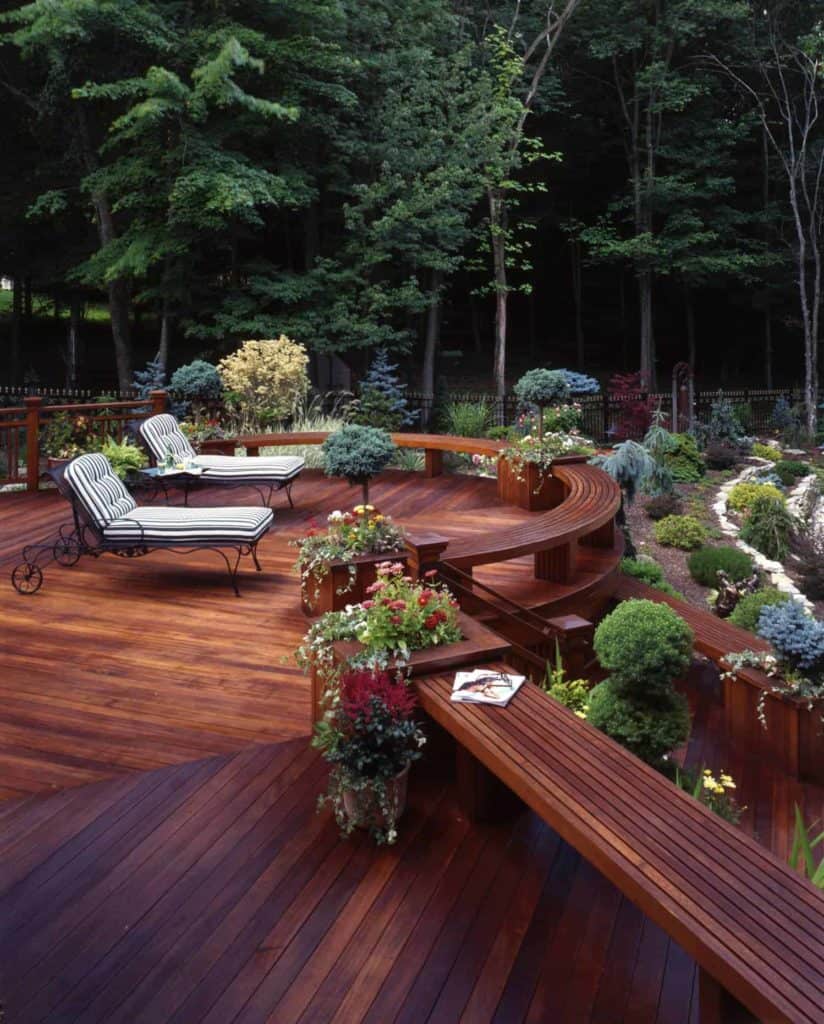 Not all handrails have to be … well … handrails. What I mean by that: you can use whatever you want to design the perimeter of your patio. If you want to maximize space and use as little deck furniture as possible, why not make the entire "railing" a bench in itself? This wooden deck design encourages your visitors to take their seats where they are most comfortable while creating a beautiful eye-catcher that extends around your porch. The best deck railing can actually be a custom deck bench!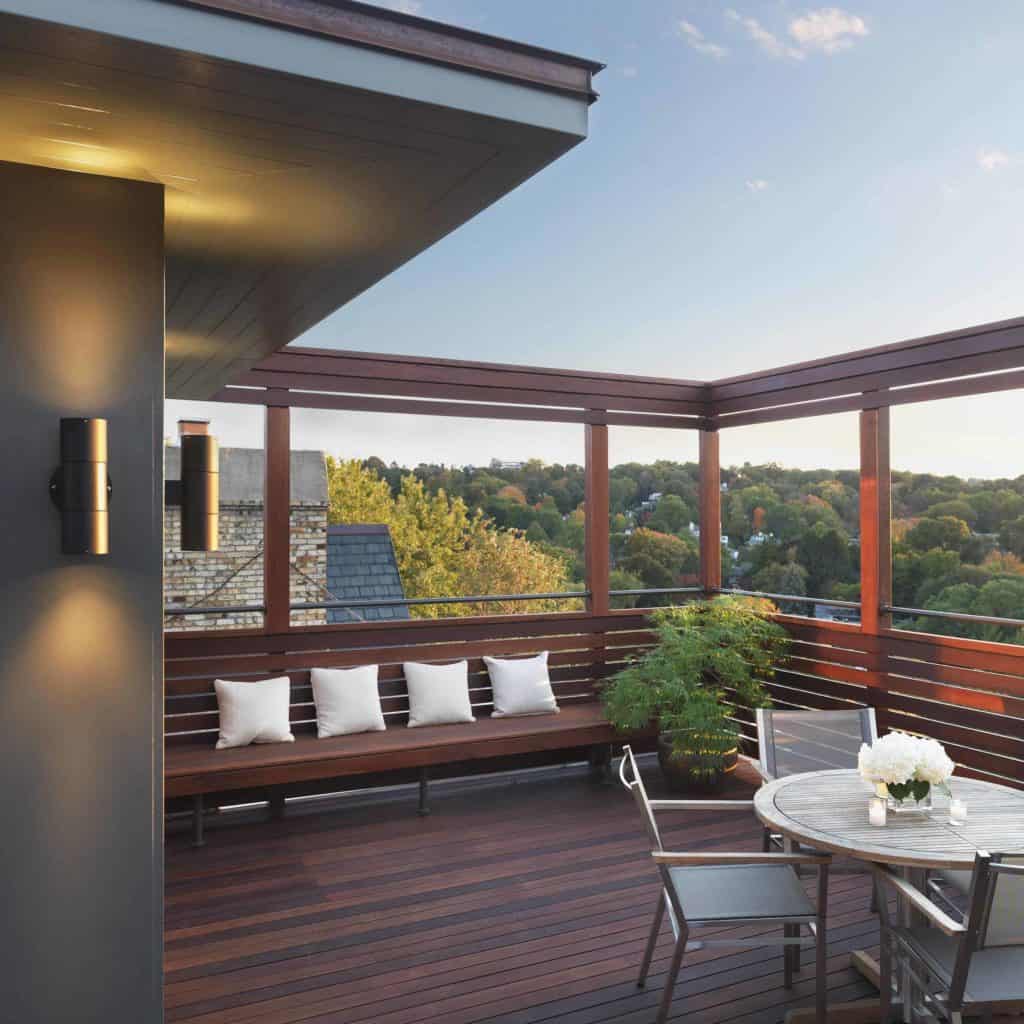 For a nice earthy look, choose a horizontal deck railing. Wooden slats are constructed horizontally around the entire porch. In order to also build a height element, run the beams vertically upwards from the handrail and attach another set of beams (1-3 is sufficient). This horizontal wooden deck railing combination provides stability, anchors the space and even gives the appearance of a roof without blocking your porch from the light of the sun or the starry sky.
Ideas for Metal Deck Railings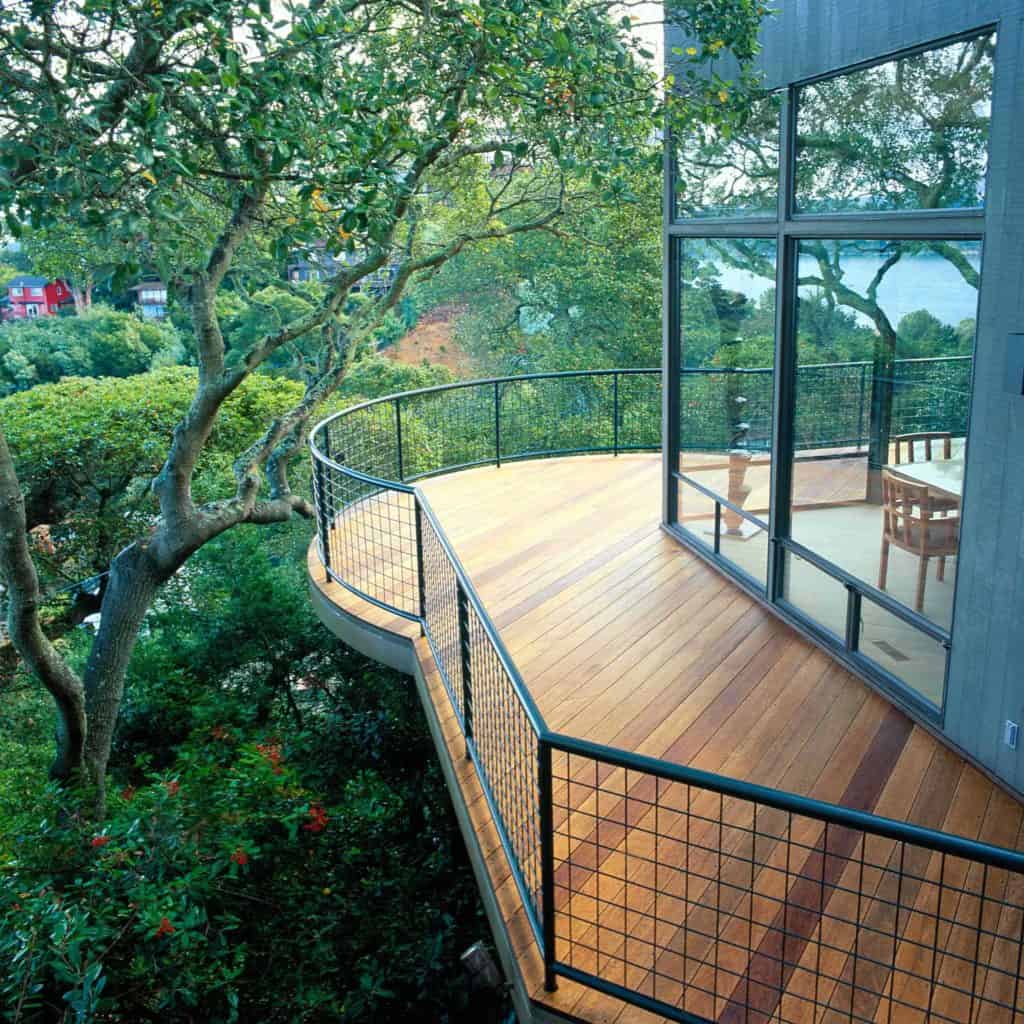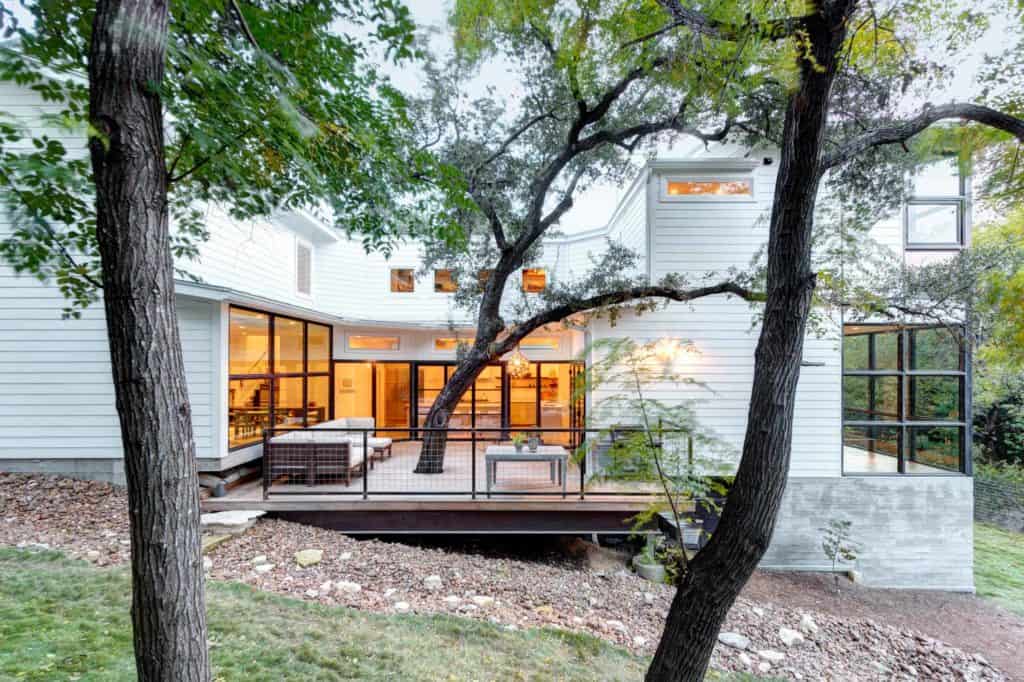 For those who have elevated their decks, it is often more than just looks that matter. The grandeur – if you will – of these terraces makes for a difficult environment for safety reasons, especially for teenagers. These stainless steel metal wire railings can be both great looking (paired with beautiful Ipe wood) and an ideal way to keep people and belongings on the right side of the deck railing.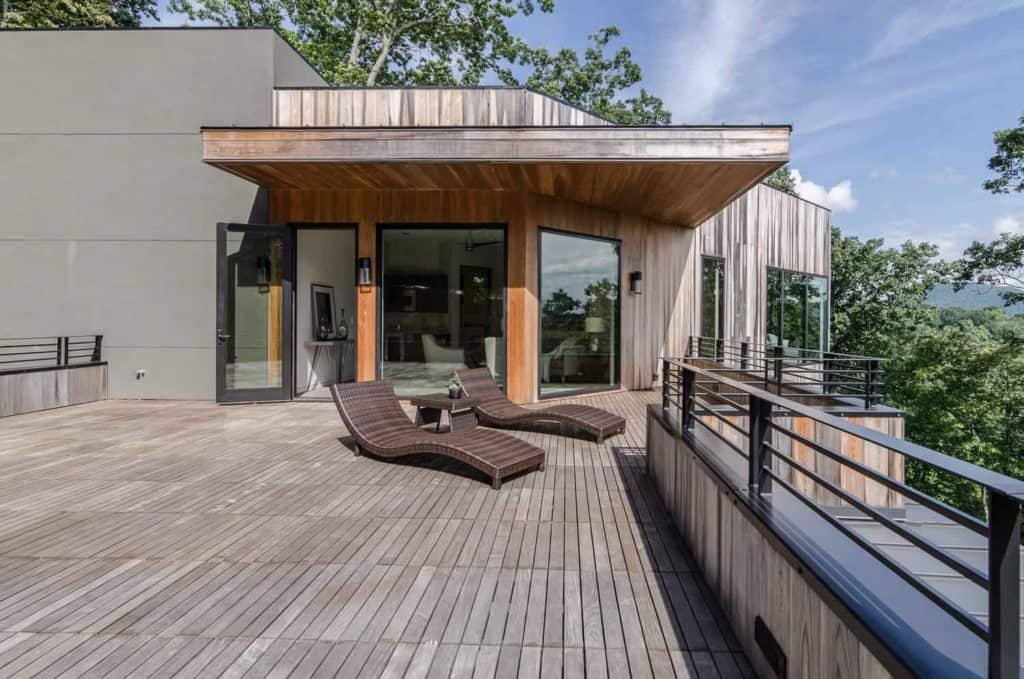 Extend the design scheme of the flooring on the porch itself into your railing by using the same wood and stain treatment. To create a natural contrast between horizontal and vertical elements, you can simply change the direction of the planks. For more variety, add a stainless steel metal railing to the wood. About half of each material is just right to break up the visual monotony and still achieve a great and integrated look.
As you can see from most of the custom railing options here, people tend to orient their porches in the direction they are facing (i.e., away from the house). But that's not the only way. Design your patio furniture (together with grill, television, etc.) so that the seating is on the railing. Since it's not the primary focal point, a minimal stainless steel railing will serve the purpose with ease and simplicity. This distinctive porch design will keep people raving about the remarkably unique quality of your porch.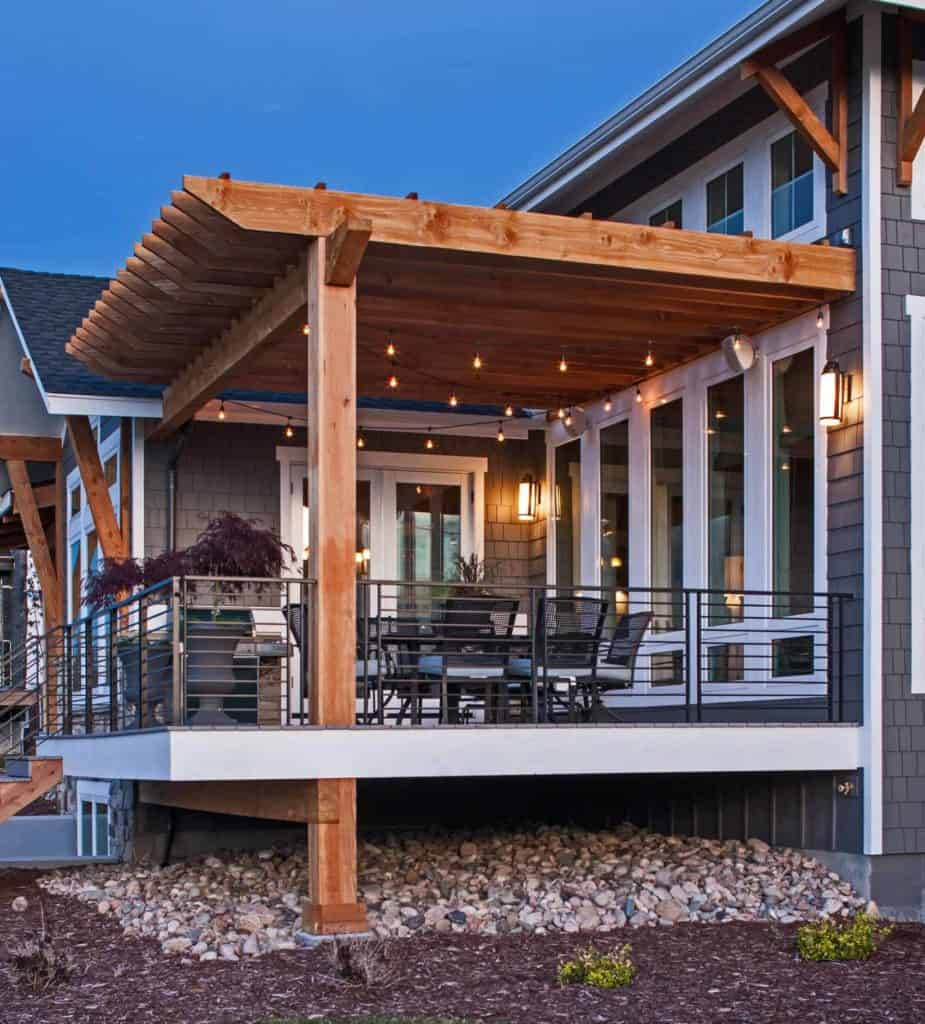 You may think the metal railing itself isn't exactly the most unique look here, and since a large wooden beam protrudes down through the porch railing itself, it looks a lot more elaborate. While it may seem simple, this is actually one of my personal favorites of the group.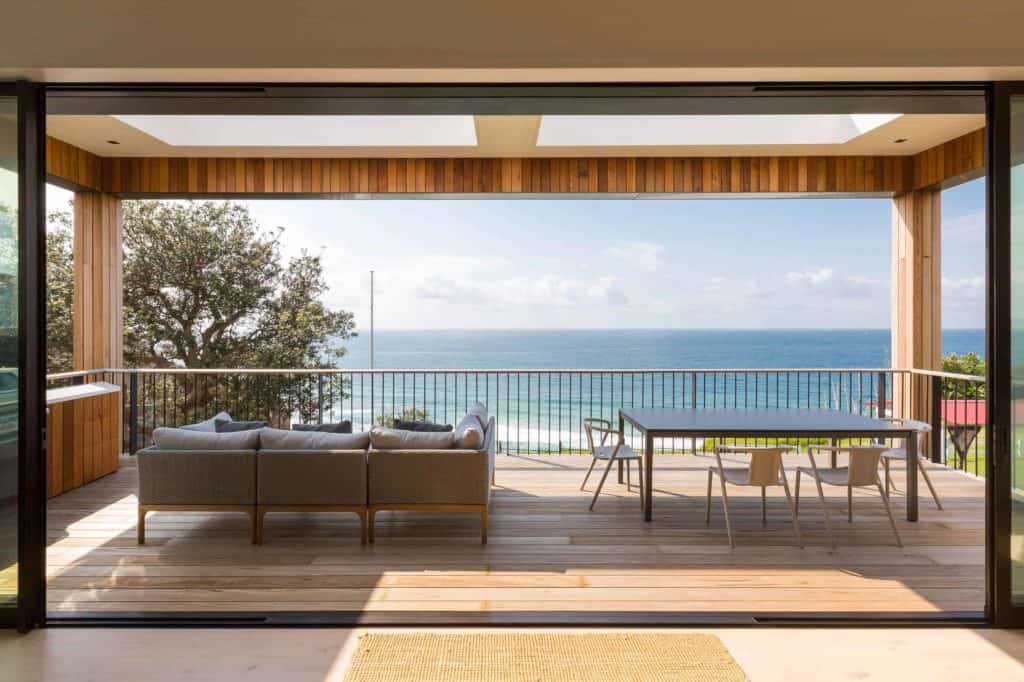 There are indeed many ways to get the most out of the views from your porch. One of my favorites, however, is to go easy, easy, easy. Minimalism is all the rage in some communities and getting on board is pretty easy. Take what you already think and then subtract what is not necessary. All you need here is a couple of thin metal rods and a couple of very long wooden beams. Apply at intervals and voila, minimalism at its best is yours!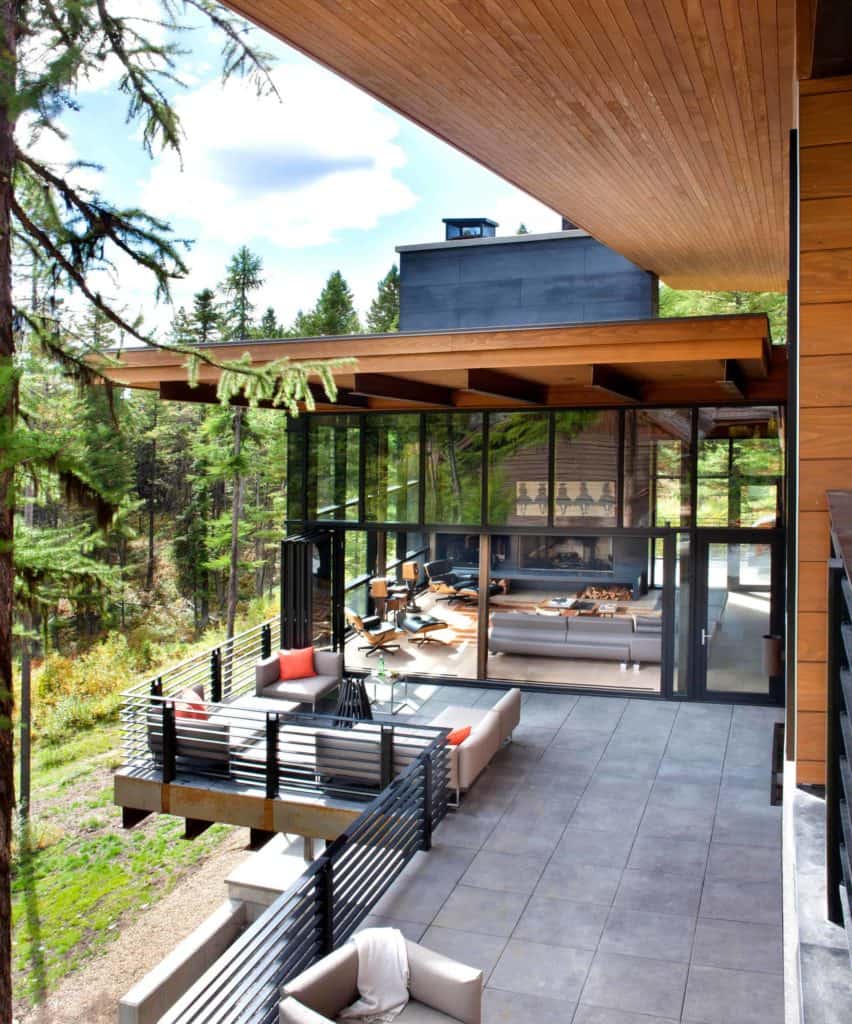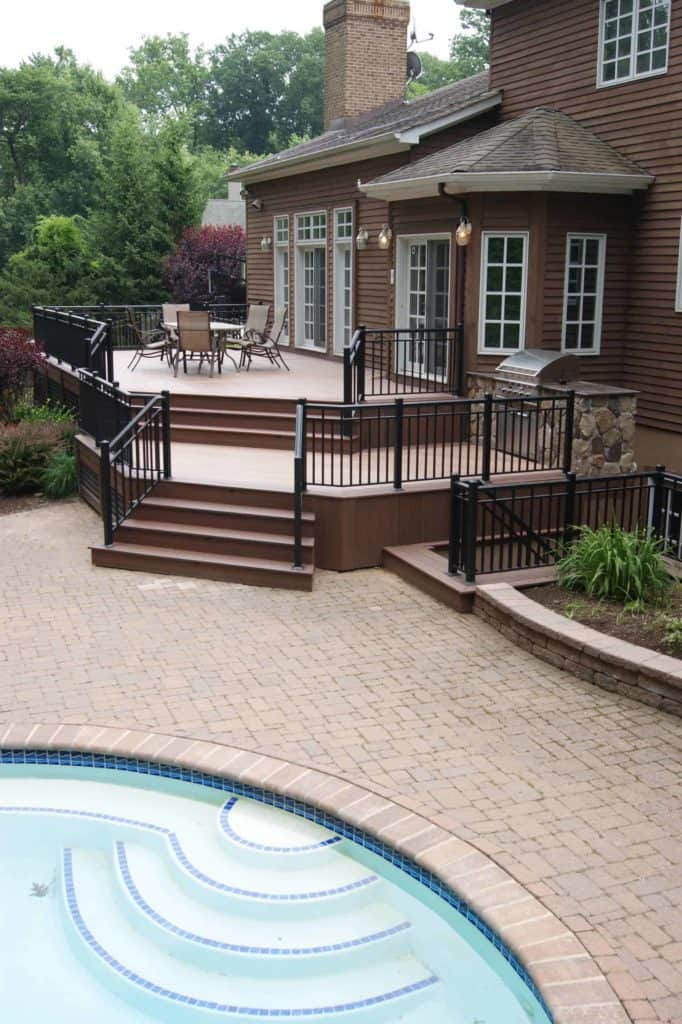 If your focus is on the house and patio itself, when it comes to finally getting to the railing, all you want is something that works, and isn't distracting. All you need is simple, black metal rods. They can either be round or square depending on the aesthetic you want to achieve. Either way, you have managed to create great design without distracting attention from the rest of your deck and home.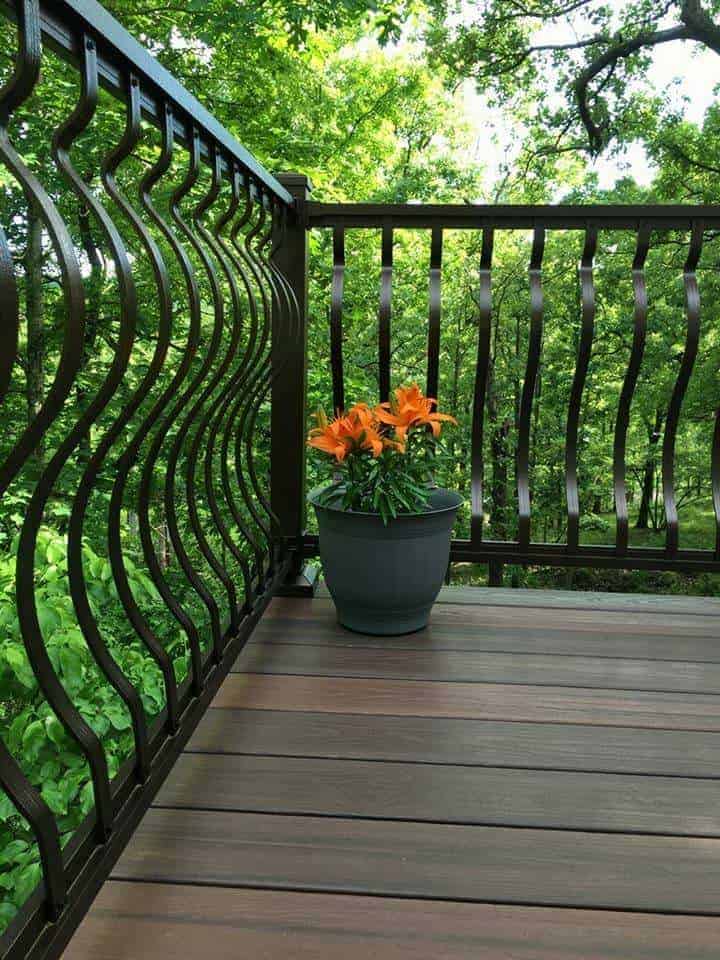 If you really want to be different and stand out from the rest of the crowd, take a look at these curved beams. They are quirky and offer visual interest, and because of this, you can really paint them any color you want. Continue! I give you full permission to be just a little bit crazy. It is your deck. Have fun with it.
Deck Design Basics
The deck is where so many homes entertain during the warmer months of spring and summer. However, one problem many homeowners face is the age, feel, and design of their patio. In so many cases, it's either old, outdated, or maybe simply planned by the previous homeowner, someone with styles or interests other than their own. Because of this, the same homeowners don't even use any of their largest outdoor assets, which is a huge shame. I mean, I absolutely love my deck!
The Deck Question …
The problem here is really simple: how do you update your deck with the existing structure you already have? Sure, you can stain the wood, buy new patio furniture, maybe even add a nice grill or some potted plants. But does any of this really stand out the way you'd like it to, or are you achieving the new look that you're aiming for overall? The answer to this question is a resounding no for most people. Then what is the solution to our decking problems? How can we enhance our exterior design in a satisfying and unique way?
The answer to the deck!
The answer is actually very simple (and a lot of fun): Install a new deck railing. As soon as the railing idea for your outdoor area has been formulated, you will see how great and easy good railings are to install. You can rightly breathe new life into your entire home (especially the outdoors) by simply putting a new patio railing design on your patio or porch. Outdoor or closed, you can absolutely find the perfect DIY deck railing ideas to suit your home and personal aesthetic.