Are you looking for the best material for your kitchen countertop? Are you having a hard time deciding which one to choose?
You will surely agree that the kitchen is the busiest part of the house. Hence, we make sure that everything in it works well for food preparation and cooking. The kitchen countertop is a crucial aspect of the kitchen as we use it for a wide variety of activities.
Some countertops would get stained and scratched over time. Others are even easily damaged and discolored. Another common problem is the heat resistance of the countertop. So how do you choose the best material for your countertops?
Don't worry. There is a solution.
All you have to do is study the pros and cons of each material so you can decide which is perfect for your kitchen and purpose.
And we even have it for you made easier! Below is a list of kitchen countertop materials and their pros and cons. Review the list so you can get advice before you buy.
1. Granite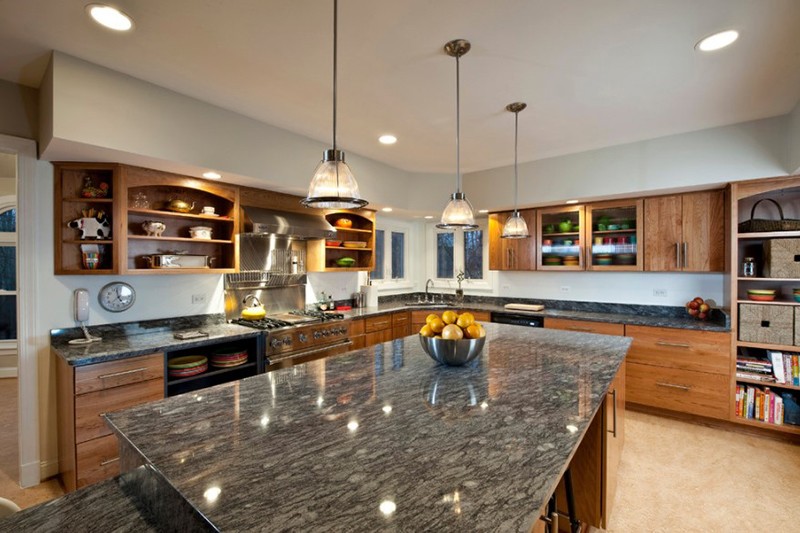 Synergy Design & Construction
This is the first choice for most homeowners and is typically used in traditional kitchens. It creates a high-end look like these kitchens. Due to its stone variation, slabs can be difficult to fit together. To keep it looking good, stains such as wine, oil, and acid should be wiped off quickly. In addition, it should be stained regularly every year.
Advantage : Since each panel of this natural material is unique, each one has rare colors and distinctive grains. It's heat-resistant and won't get damaged by cuts and scratches. When properly sealed, the polished and matte surfaces can withstand most stains.
Disadvantage : The edges and corners can flake and it would be costly to have a professional repair it. In addition, regular resealing is required to protect them from stains.
2. Quartz.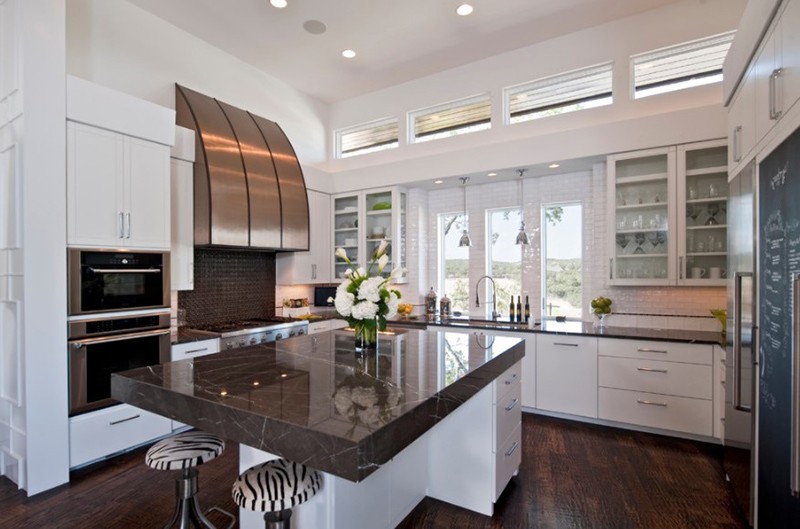 PPDS
If you want a maintenance-free quartz worktop, this is the one for you. It is stain, acid, scratch, heat and shock resistant and does not have to be sealed like natural stone countertops. It comes in a wide variety of colors and patterns. It is a combination of mineral, color and resin. The appearance is similar to granite.
Advantage : Although it looks like natural stone, it does not require maintenance. You don't have to worry about hot pots, serrated knives, sanding pads, and most stains. Aside from patterns such as marble and granite, it is also available in many bright colors.
Disadvantage : The edges and corners can flake off like granite. It is recommended to use rounded edges.
3. Laminate worktops.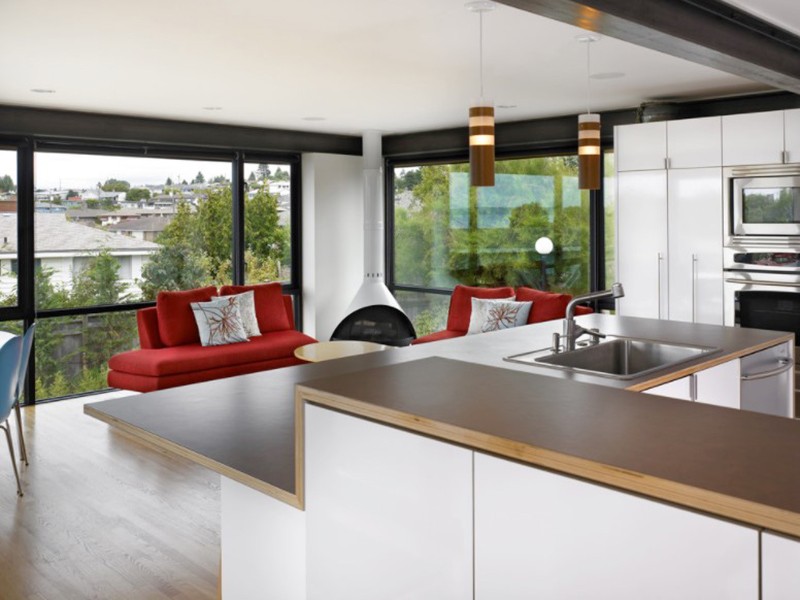 BAAN-Design
Laminate worktops are not only popular because of their budget-friendly price, but also because of their The low price is growing in popularity again due to the new patterns that are reminiscent of natural stone, wood or even quartz. In addition to patterns, there are also trendy colors to choose from.
Advantage : It is inexpensive and easy to install. Stains and heat do not damage the laminates.
Disadvantage : Direct cutting can lead to permanent damage.
4. Wood countertops.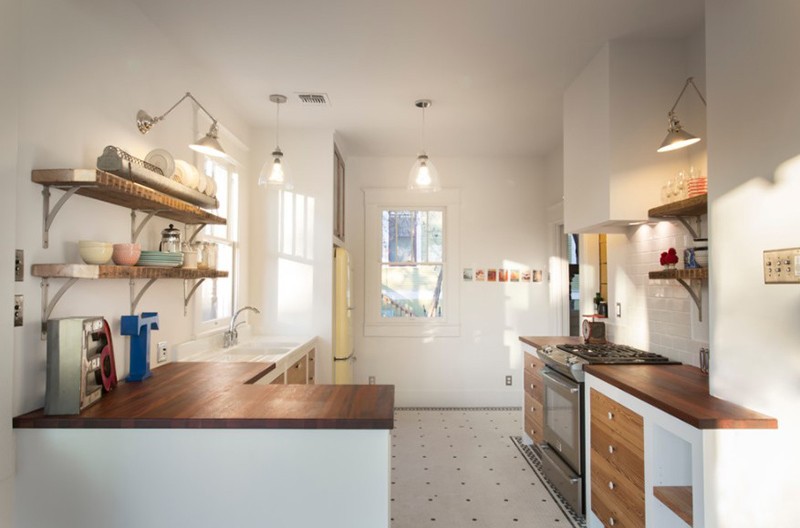 Davenport Building Solutions
If you want a country kitchen look for your modern home too, wood countertops are the way to go Perfect. It is not only decorative but also functional. When properly sealed, wooden countertops are hygienic and can even be used for chopping meat. Wood is very heat resistant. Hence, users don't have to worry about hot pots and pans on the surface. Most homeowners choose to mix wood countertops with other surfaces like natural or engineered stone.It literally feels warm too. The edges last longer than granite or concrete. It can also be recycled or recycled.
Disadvantage : Proper waterproofing is required to prevent water damage and prevent germs from multiplying as it is a porous surface.
5. Solid Surface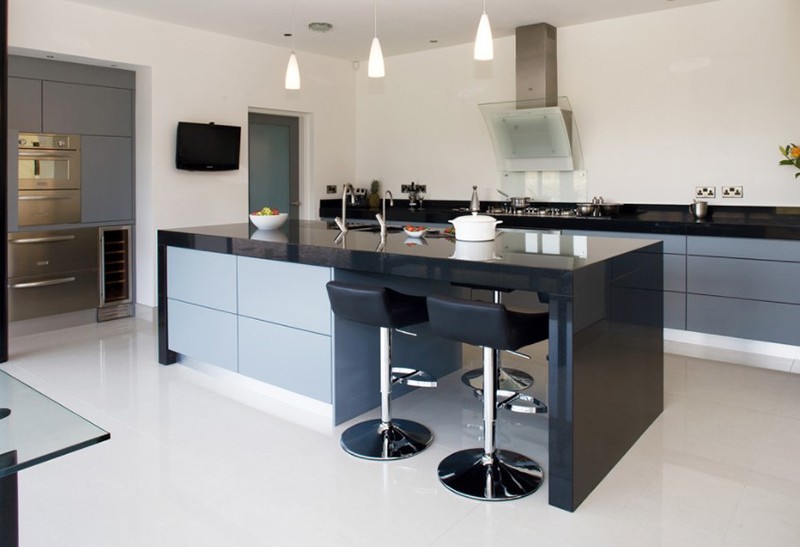 Glenvale Kitchens
This man-made material is usually made from a combination of marble dust, bauxite, acrylic, epoxy or polyester resins, and Pigments. It is most commonly used for seamless countertop installations. You can see what this material looks like in kitchens with synthetic countertops.
Benefit : It comes in a variety of colors and patterns. Solid surfaces are resistant to most stains. If there are small nicks and scratches, it can be repaired.
Disadvantage : It scratches and cuts easily.
6. Tile countertops.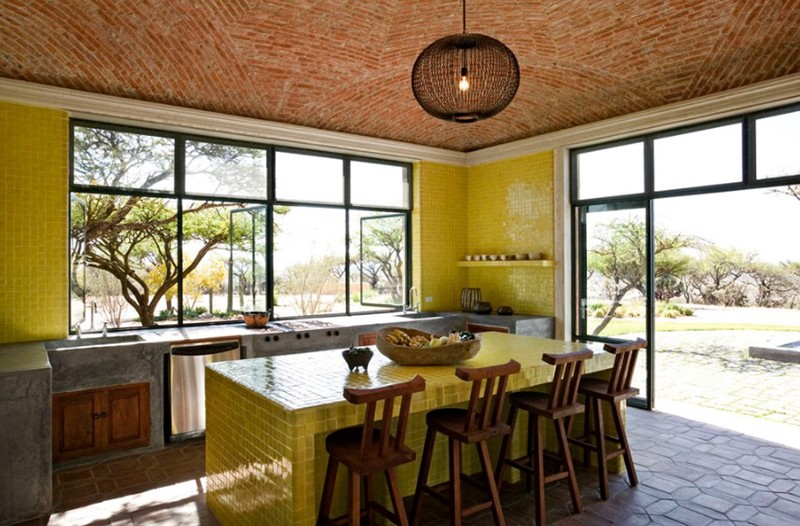 DHD Architecture and Interior Design
Tile countertops are a great choice, especially if you are looking for an inexpensive and easy to maintain material . It's easy to coordinate or combine different design styles. A tile kitchen countertop could also be a do-it-yourself project, which means you don't have to hire someone to work on it. It can also be perfect for the kitchen splashback to add more appeal to your kitchen.
Advantage : Aside from being able to be combined with other designs and colors, it could make an elegant look in your kitchen. It's easy to clean and heat-resistant. If it is damaged, it is also easy to replace.
Disadvantage : Using tiles results in an uneven surface and is prone to cracks.
7. Recycled worktops.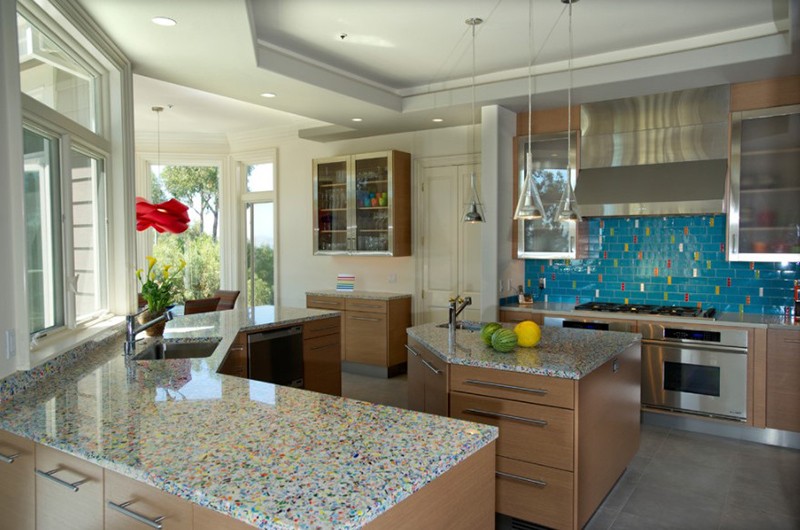 Uhrich Design
This is an environmentally friendly choice that is available in a variety of sustainable materials, including concrete , Glass, paper, composite and plastic. Usually a mix of pre- and post-consumer products, recycled worktops are available in a variety of colors and textures.
Advantage : It looks unique and is durable. The worktop is also easy to care for and resistant to stains, cuts, scratches and heat.
Disadvantage : It can flake off, especially if heavy objects fall on it. It is also not as durable as other countertops.
8. Concrete worktops.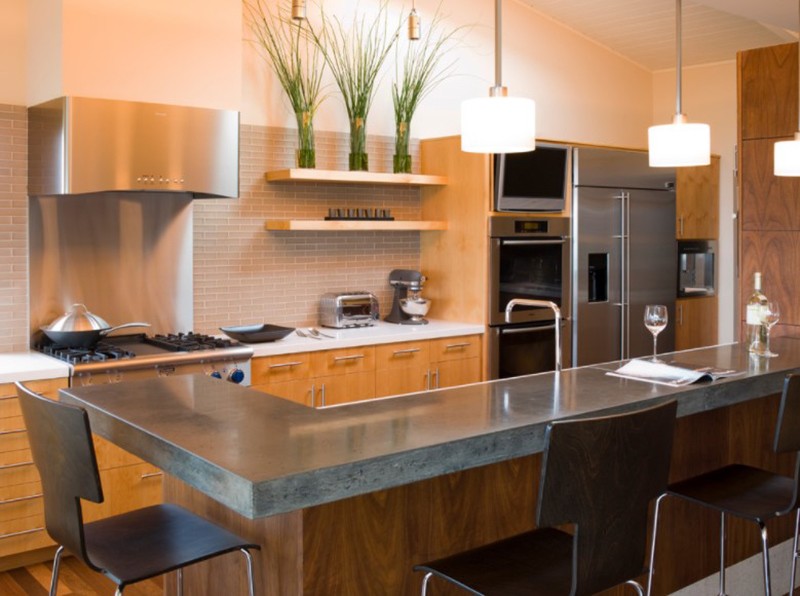 ODS Architecture
Concrete worktops are highly customizable. You can even choose any stain color and texture you want. It goes well with many different materials such as glass, tile, and marble. Aside from its attractiveness, it is energy efficient in that it absorbs heat when the temperature in your home rises and releases it when the temperature cools.
Benefit : It creates a seamless appearance when using seam filler. You can choose any color for it and when properly stained it will be stain resistant. It's also durable and heat-resistant.
Disadvantage : If it isn't properly colored, it will show traces of oil, soda, acid, and other contaminants. To avoid this, it must be sealed every three years. There is also the possibility of cracking and it can be very expensive.
9. Stainless steel worktops.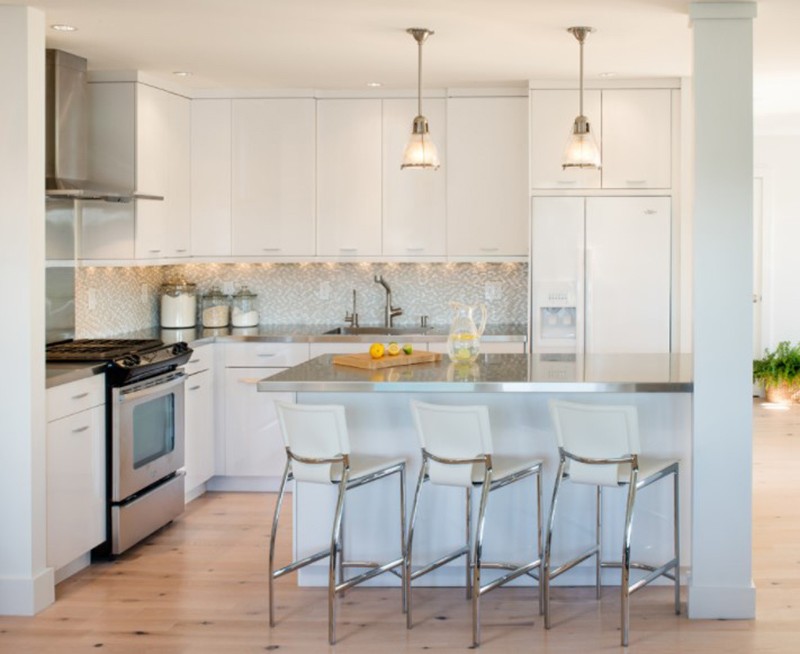 Marcye Philbrook
Stainless steel gives a kitchen a modern, industrial look. The metal surface matches any color and looks good in any interior. It's one of the easiest countertop materials to clean that simply wipes off stains with a cloth and mild soap.It's also noisy, especially if you drop a spoon or object on it.
10. Glass countertops.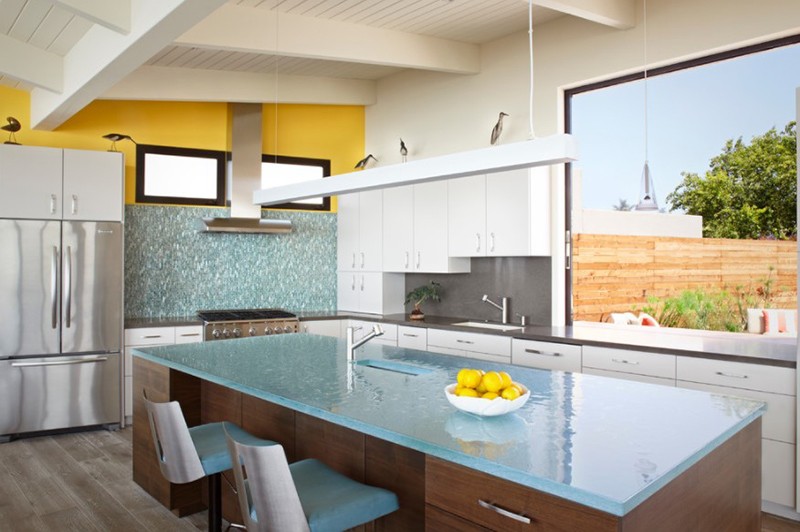 Allen Construction
Aside from their sleek, streamlined appearance, glass countertops can be cut into any shape and come in a variety of shapes and sizes Texture and color options available, it's easy to clean and stain resistant. Like stainless steel, it is also a hygienic worktop material. To ensure durability, tempered glass at least 2.5 cm thick is required.
Advantage : It is long-lasting and does not split easily. It is very easy to clean.
Disadvantage : It can break if a very heavy object is placed on it.
11. Marble worktops.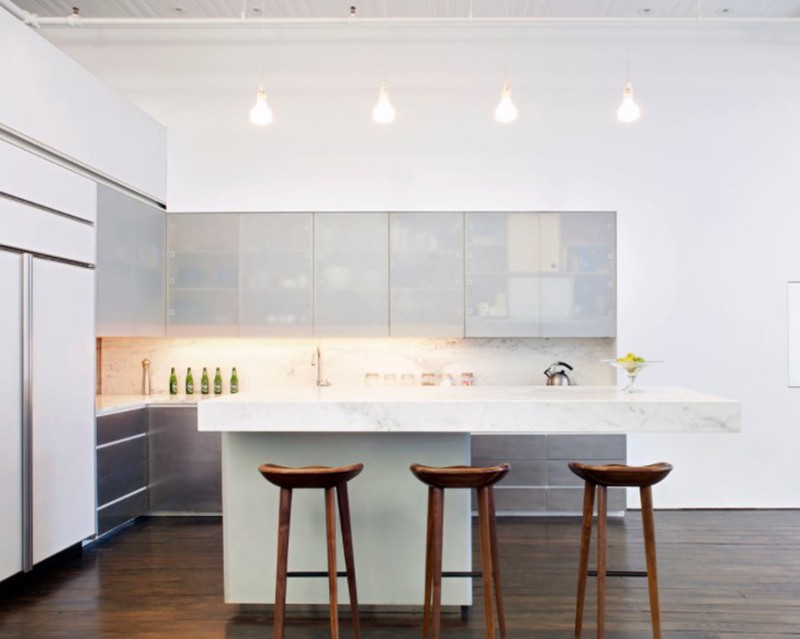 Slade Architecture
The gray grain in Carrara or Calacatta marble is not only aesthetically pleasing. It actually helps hide wear and tear and hide light stains. This material gives any kitchen a very high quality look, whatever the layout of the kitchen.
Advantage : If you work with pastries, marble is good because of its cool temperature. It's widely used and easy to clean.
Disadvantage : Placing something acidic (like a lemon) on it can scratch or stain it. Regular sealing is also required.
12. Soapstone countertops.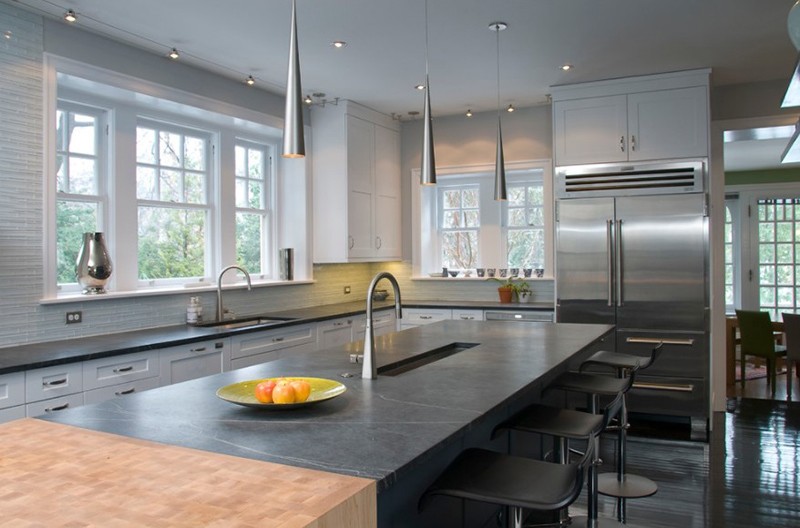 Nolan Painting Inc.
Soapstone is a non-porous natural stone that is available in various shades of gray light to dark. It also has subtle veining. In contrast to other natural stones, it does not have to be oiled annually, but only regularly so that it looks optimal. Applying mineral oil also helps hide surface scratches and the stone will deepen its color over time.
Benefit : This natural stone does not break unexpectedly due to weight or stress. It is very pore-free and does not require sealing.
Disadvantage : Soapstone is also known as a softer stone. It feels soft, which is actually its weaker quality. For this reason, care must be taken not to cut directly on it or drop heavy objects on it.
13. Limestone countertops.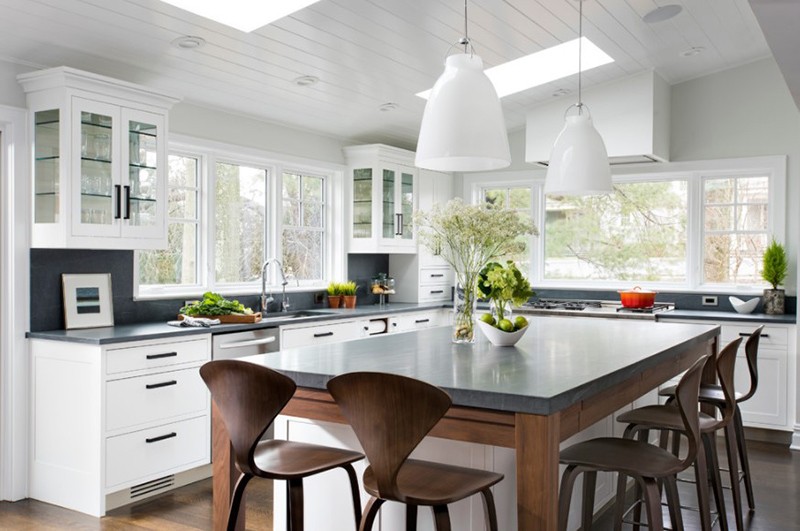 Studio Dearborn
A limestone countertop is becoming increasingly popular because of its remarkable resemblance to marble, which is expensive . The beauty of limestone makes it a popular material. It gives a kitchen a sleek, sleek look.
Advantage : Limestone can be used in any interior of your kitchen.
Disadvantage : It tends to it becomes easy to scratch and it may even discolor. Also, be careful not to put hot pans on top.
14. Travertine worktops.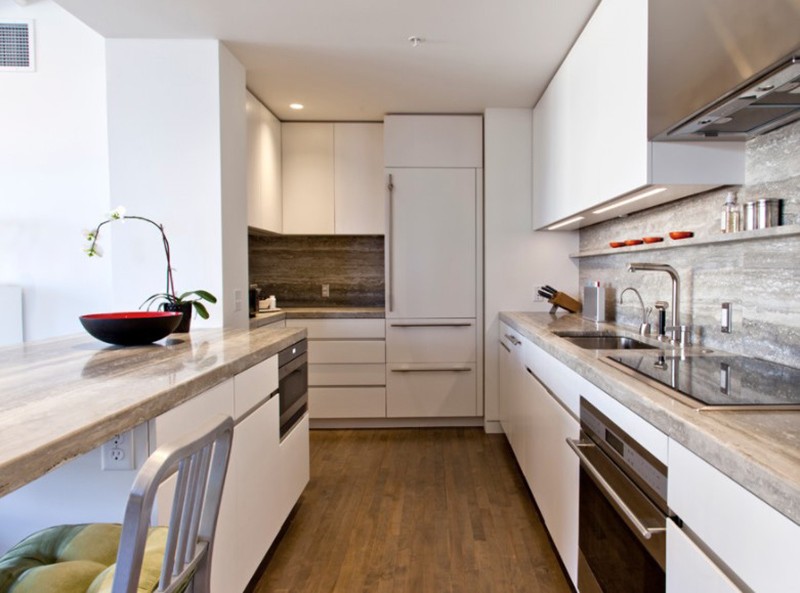 Studio Dearborn
Travertine has become very popular because of its noble, luxurious look and its resemblance to marble. This will require more maintenance if you don't fill and seal the pitted surface where it can trap food and bacteria, and even soak up liquids. Despite its high maintenance requirements, it is one of the most beautiful materials that gives every kitchen style a warm and inviting atmosphere.
Advantage : It is an economical and environmentally friendly natural stone that can be available in different colors. Aside from permanent stains, it can also withstand harsh weather conditions.
Disadvantage : It reacts extremely to acidic solvents and can discolour. Cleaning the countertops requires special products to maintain their appearance.There are so many options, in fact, but make sure you choose one that is well suited for your use. Can you tell me which of the above countertops do you use in your home?