Few events in the year can compare to the joy and excitement of the upcoming Christmas season. And whether you're a skilled craftsman or you're more of an artistic newbie who just wants to create beautiful Christmas decorations, there is always a good reason to start a DIY Christmas decorating project.
Creative Homemade Decorating Ideas for the Holidays
Need a list of crafts to keep the little ones entertained over the holidays?Perhaps you would like to impress the guests in your home with your very own handcrafted Christmas decorations during the holidays. Or maybe you are simply looking for a really unique Christmas present that you can give to your loved ones without breaking the additional credit card. Your family, friends and neighbors will be delighted when you make a personal, homemade gift that can be enjoyed around the Christmas tree every year.
Wouldn't it be great to skip the crowds and ho-hum gifts from department stores this year?. Below are DIY Christmas decorations ideas that will really get you in the Christmas spirit. A bit of creativity, a few materials and a touch of love and holiday joy are all you need to have fun doing it yourself.
1. Button balls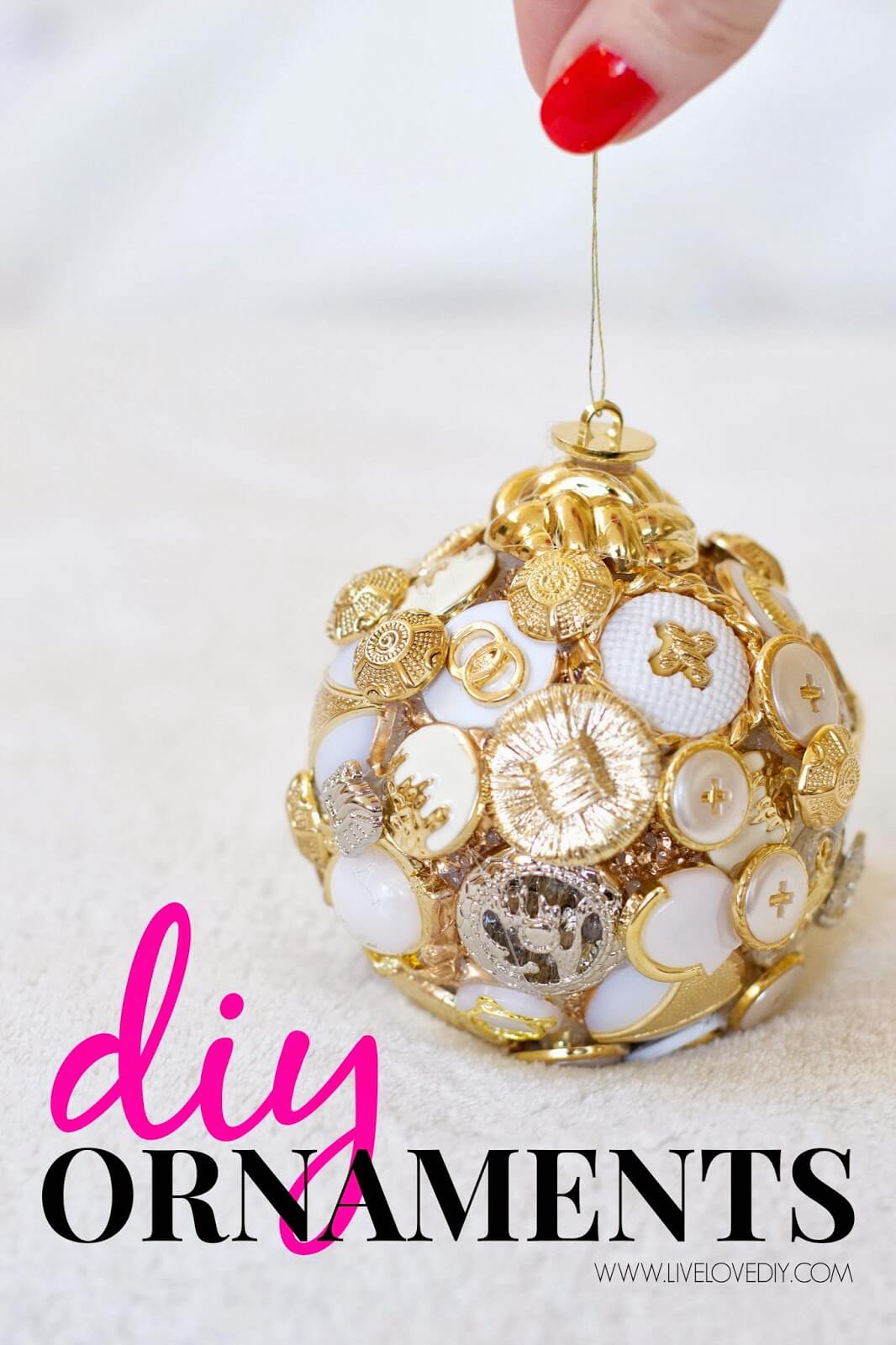 With just a few styrofoam balls, hot glue and a few buttons, this ornament is as versatile as it is simple. Consider using buttons all over the house or go to your nearest craft or thrift store for more choices. Perhaps you have some heirloom buttons that you'd like to flaunt, but you're unsure how. You can even paint the buttons on the theme of your tree or someone's favorite colors as a gift.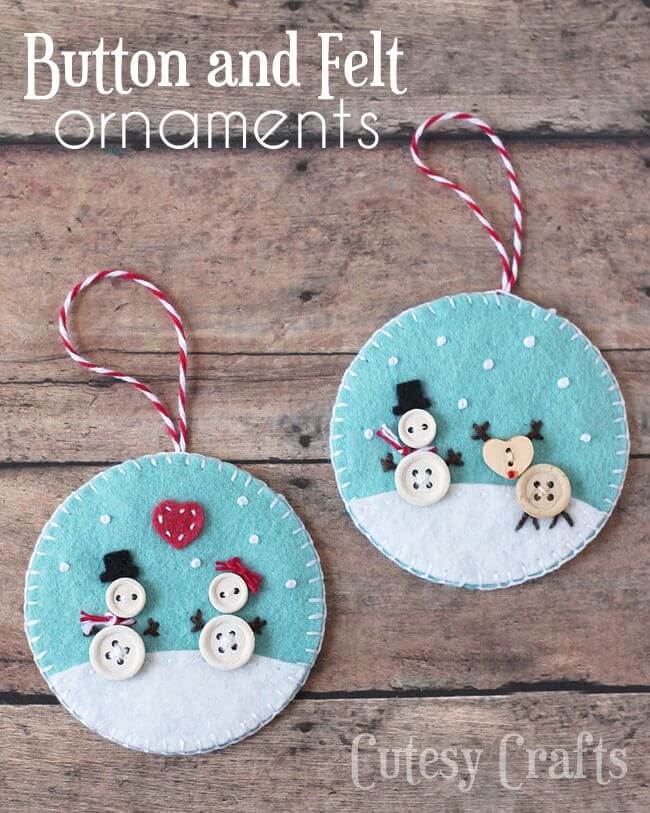 Nothing is as festive as a cool winter scene. With a few craft items that you probably already have around the house, such as buttons, felt, embroidery floss, and baker's thread and a super simple pattern, you can make these cute snowmen, reindeer, or both. If you are concerned about fragile items on the tree because of hyperactive dogs or active children, these soft ornaments are the perfect item to add to your holiday tradition. Perhaps consider starting an entire snowman family to represent each of your members. This can be a great beginner sewing craft for older kids and teens.
3. Rustic wooden rounds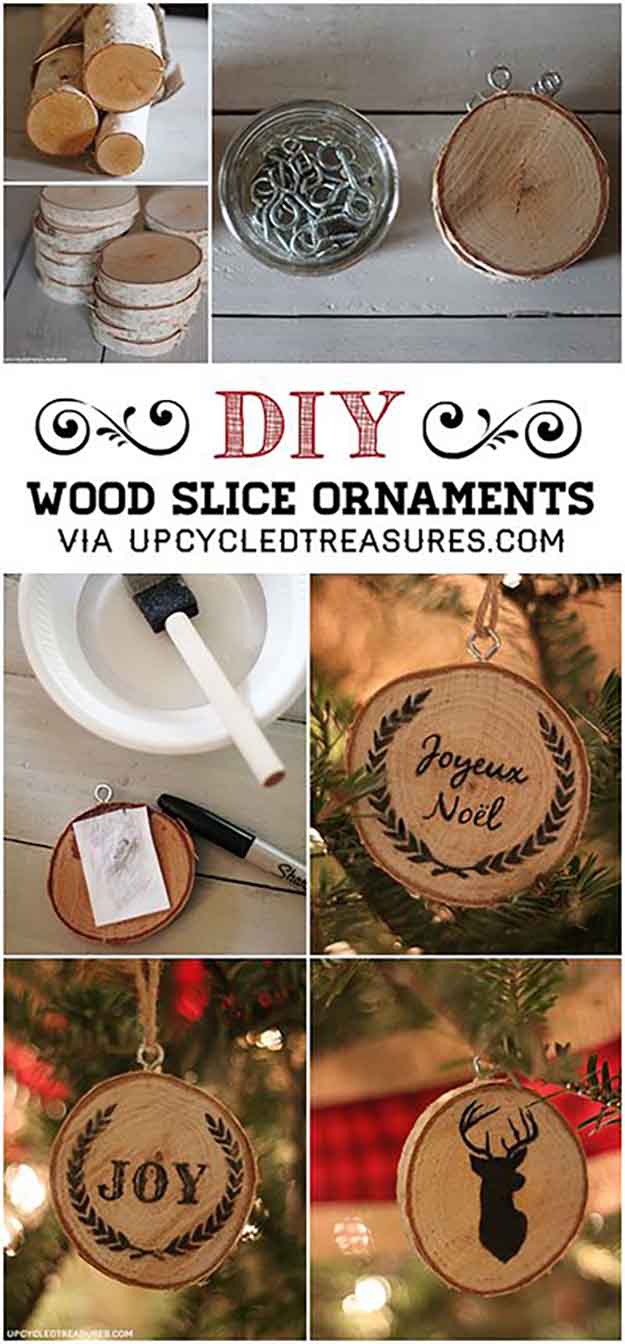 Whether you live in a hut or just love a forest-like, rustic ambience, these wooden ornaments are particularly fun because they are simple, versatile and easily adaptable for everyone. The craft store is sure to find matching pieces of wood, but consider doing a fun family project and collecting wood outdoors or on a hike. These beauties can not only be used as jewelry, but also serve as pretty coasters. You can also change it up with colored markers, colored pencils, or even some glitter.
4. Sequin Balls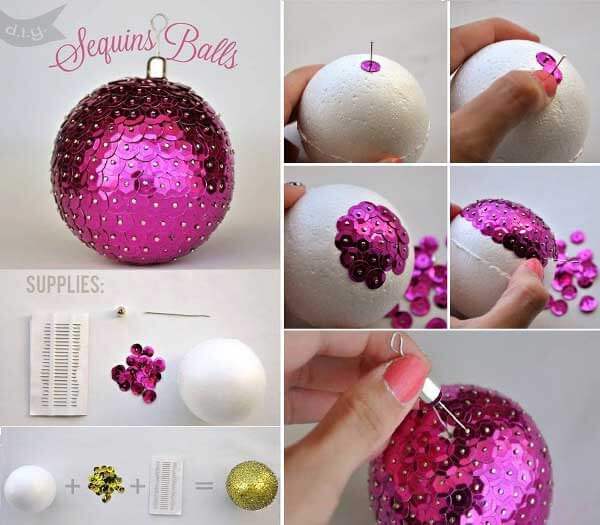 Imagine that the lights on your tree capture all the sparkling sparkle of these beautiful bling balls. Made from just three items – pins, foam balls, and sequins – these shiny ornaments can take a little longer than your average Christmas craft, but the results are just gorgeous. They can also be created in a variety of colors and sizes.Plus, these elegant ornaments don't have to be Christmassy. Remember to give a stunning blue ornament as a gift for those celebrating Hanukkah at this time of year.
5. Reindeer Ornaments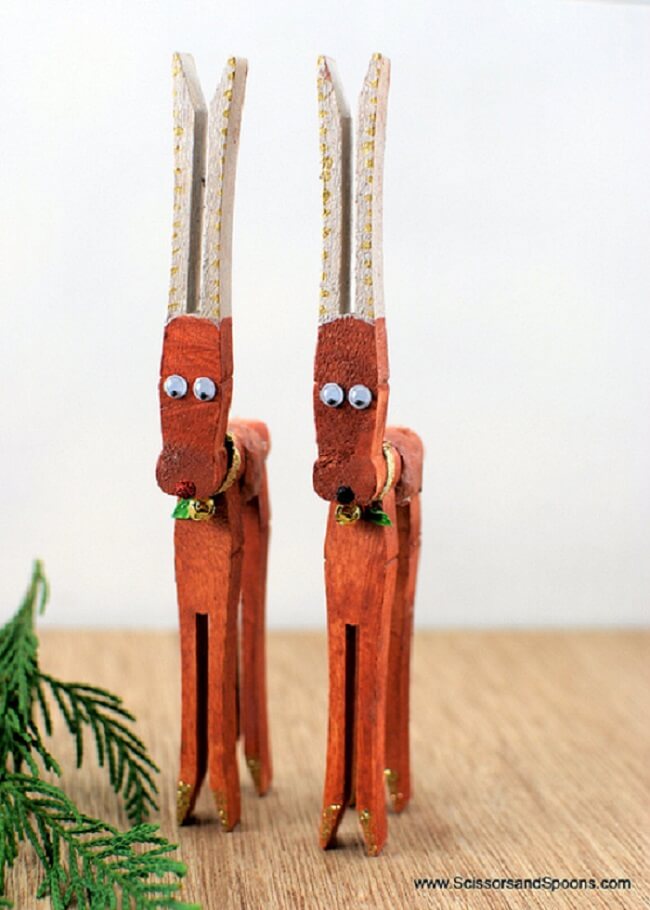 It's time to look back! You will surely remember doing these when you were a child, and no tree is complete without classic reindeer ornaments. Made from just a few clothespins, googly eyes and craft glue, these cute characters personify a fun Christmas decoration. Start an annual tradition and make a new one every year by adding the date on the back. Create a strand of reindeer garland to pour up the tree, but don't forget about Rudolph!
6. Ice Cream Cones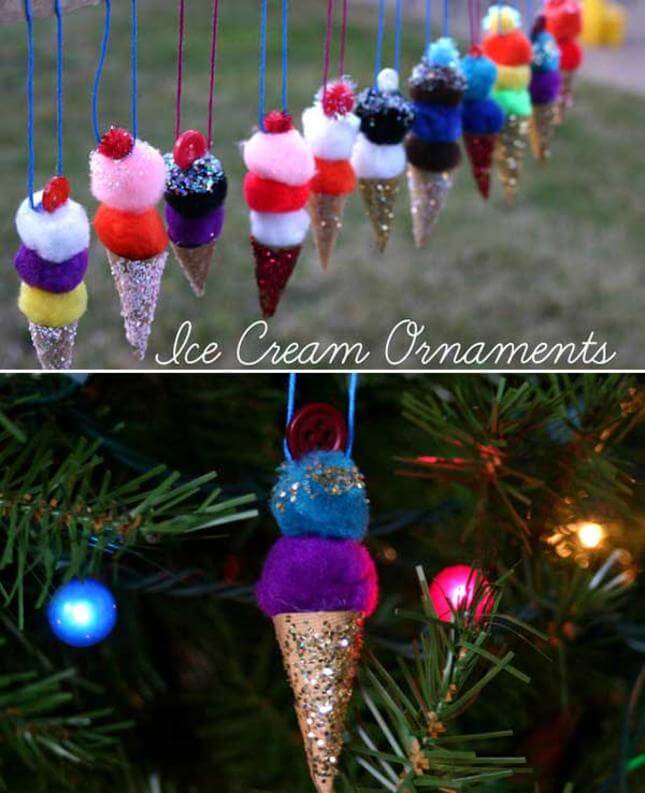 For a less traditional but incredibly creative ornament, grab some brightly colored pompoms, tons of glitter, and make mini ice cream cones for the candy lovers in your life. These fake goodies make adorable Christmas gift toppers – just try red and green poufs – or they can be added to bows and used year round in birthday gift wrapping. This ornament is sure to outshine others in an ornament gift exchange. If you feel like throwing a one-of-a-kind Christmas party, try a Christmas ice cream party and add this to your invitations.
7. DIY Ornament Packages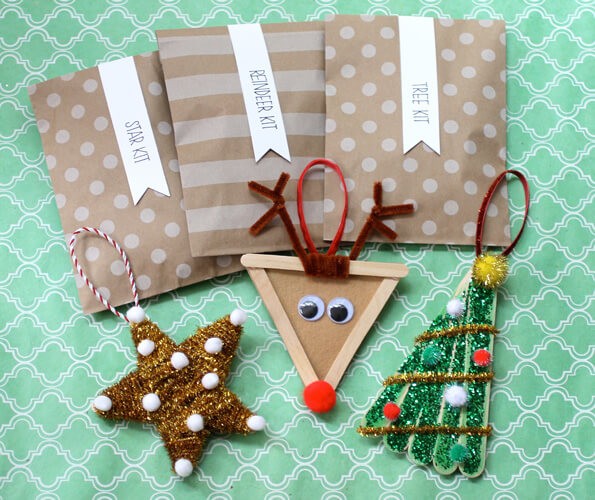 Start a great party for the little ones by taking your DIY Christmas decorations skills to the next level. By creating these custom, labeled packages, the little ones and even the adults can easily and quickly choose the craft they want and start making their DIY ornaments without rummaging through boxes of supplies or hassling over materials. Make sure to create a sample / model for each pack for guidance. If you know some out of town kids who would love a nice project, send a few along with a Christmas card for that extra smile.
8. Bobbin Ornaments

Where you would normally throw your old bobbins away when the thread runs out, keep them year round so you can make those adorable mini Christmas lists. Whether they were naughty or nice, you'll love celebrating children's wish lists with these fun homemade Christmas decorations. You can even ask your friends' children what they want for Christmas and make them a custom decoration for their tree. Tip: Ask your seamstress friends to give you their bobbins instead of throwing them away so that when you're ready for Christmas you can finish with the materials.
9. Birdseed Ornament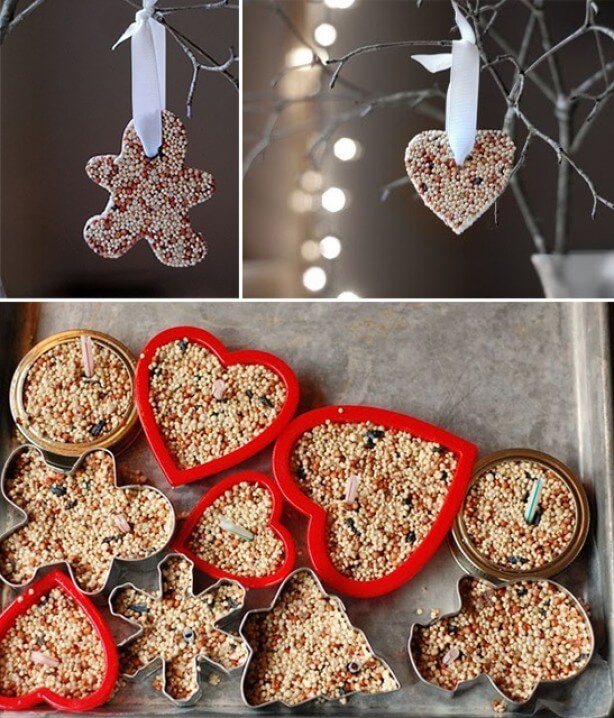 For a versatile indoor and outdoor decorating idea, go straight to the grocery store's animal aisle, grab a bag of birdseed and create a fun ornament that is NOT for the birds! No doubt you have several holiday-themed cookie cutters lying around so use them and shape these lovely birdhouses that will be a winter treat for your hungry bird friends. Tip: Gelatin is crucial for your ornament to stay firm. Make sure you don't skip this step, but don't be surprised if it takes a few tries to get it right.
10. Paw Prints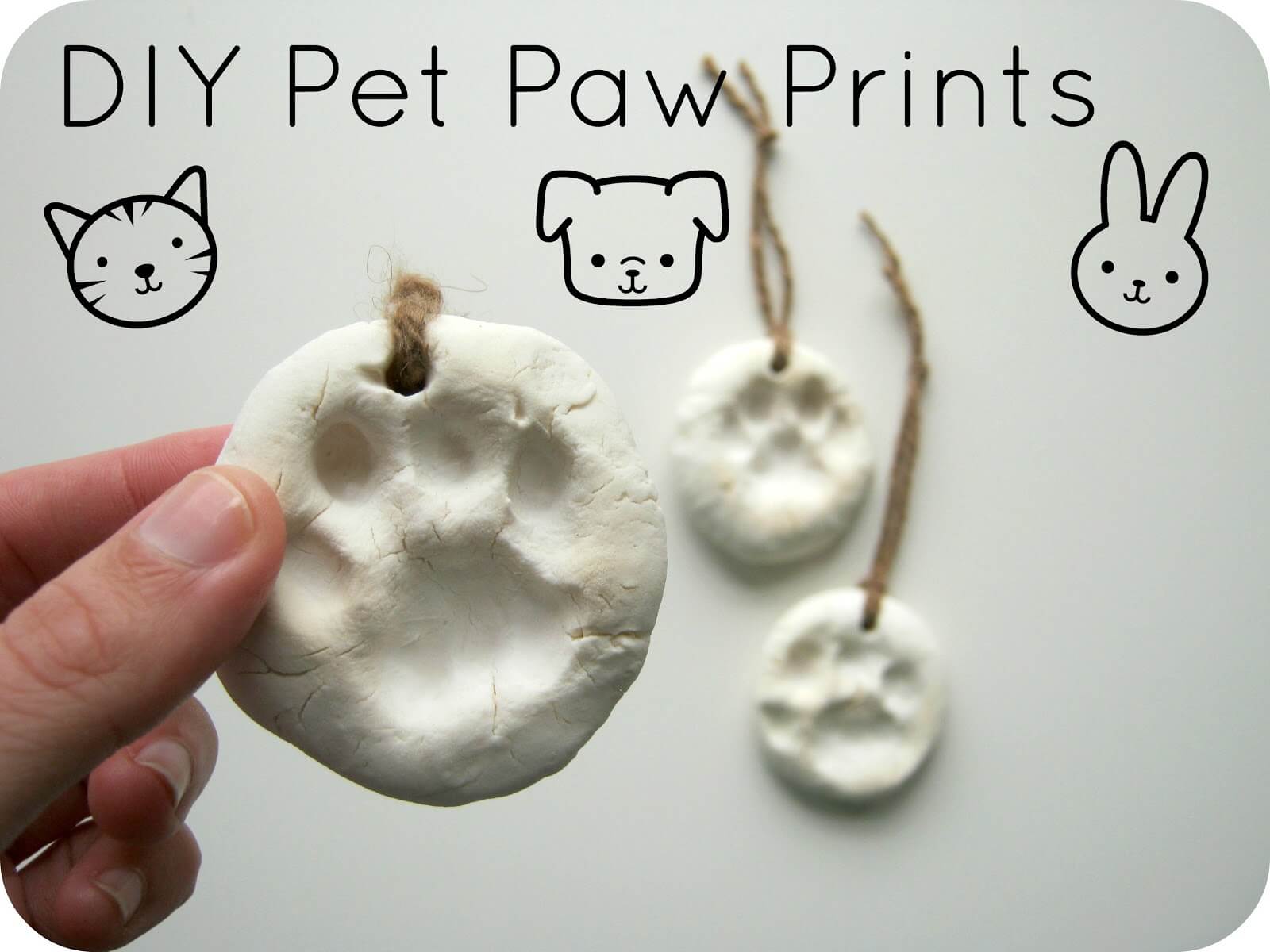 When you have a loved furry family member, be sure to try this DIY Christmas ornament made from their personalized paw prints with clay. If you feel like it, use some glitter paint to shine this up for the tree or scratch off your pet's name and year on the back.This project is really a no-brainer. The only difficult part will be getting those adorable paws to sit still long enough to get the clay print!
11. Gilded Reindeer Head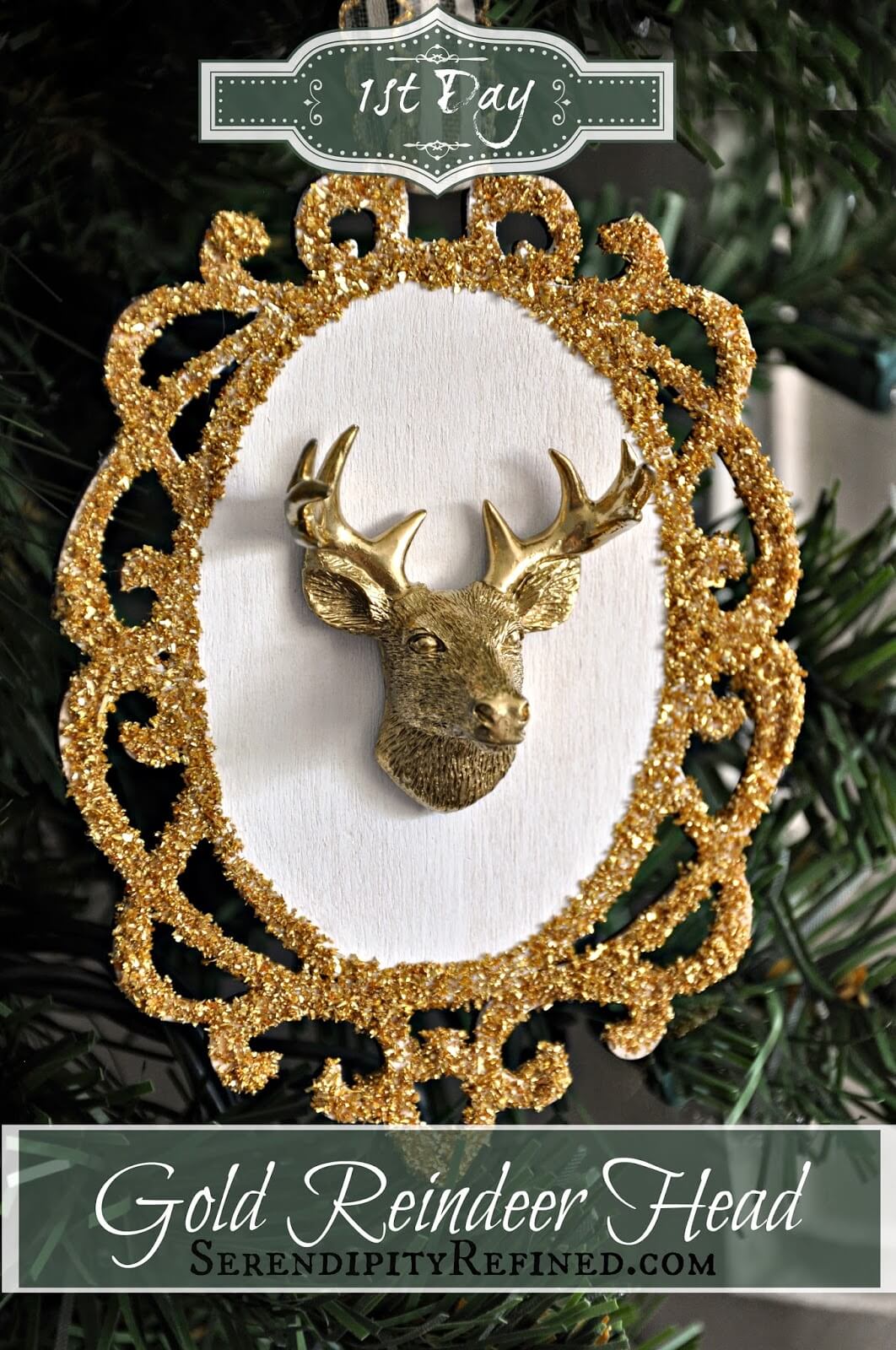 For those of us who aren't that into cute ornaments, check out one of the most serious decorating ideas this season has to offer. A classic little treasure, this reindeer head enhances every tree it adorns. Although few materials are required, this is a homemade Christmas ornament with a huge "wow" factor. And don't limit yourself to just gold. Consider trying a silver glitter or some eye-catching Christmas greens and reds. If you love the idea of ​​an ornament, maybe you can try hanging a larger reindeer head on the wall during the holidays.
12. Scrabble Ornaments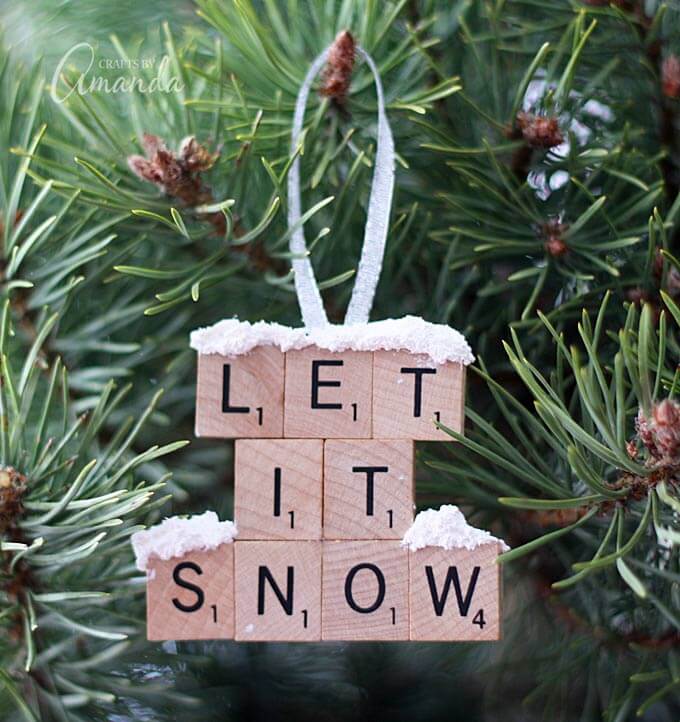 Tabletop games are a staple of the occasion family, and what better way of respecting one of a definitive works of art, Scrabble, than with a Christmas message, father's name, a significant date, or simply merry good tidings! You can normally purchase Scrabble tiles at your nearby art store, yet save your pennies and search for a decommissioned Scrabble game toward the rear of your game storage room or track down a pre-owned one at a flea market or second hand shop, you can get triple Say word number ?!
13. Burlap Ornaments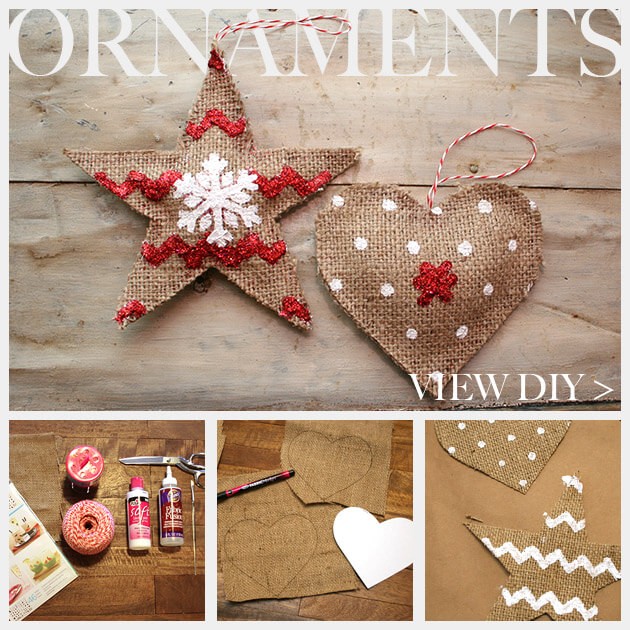 Tough and heavy, create a tree-like, provincial ornament that can be embellished with almost any type of scrap paint, stickers, beads, thread, or ric rac. Baker's twine, ribbon, or other suitable fabric will work to create the hangers. Tracing patterns can be done by young people, but be sure to invest in sharp, new scissors for this project to make cutting burlap easier. Tip: Since you don't need a lot of burlap to create them, you might even be able to get some scraps from a friend or the fabric store.
14. Twine Ball Ornaments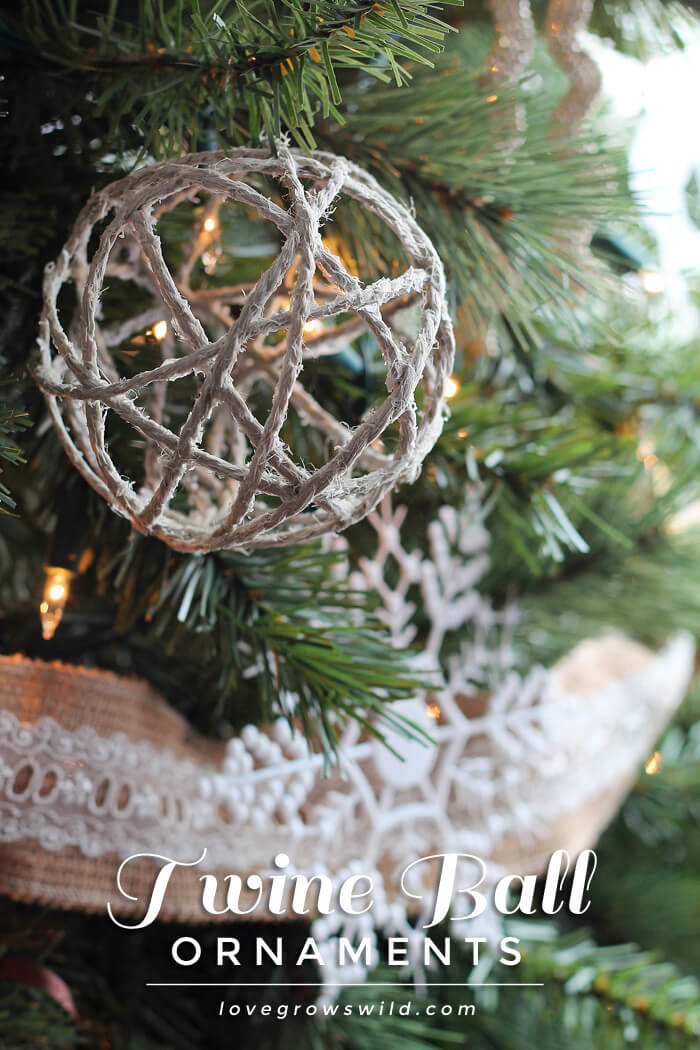 These simple and beautiful ornaments add a subtle, natural touch to even the most unusual trees. Experiment with tight yarn and adjust the glue-cornstarch mixture accordingly. Depending on the desired result, weave colored thread or glue on pearls. Even if you don't want to hang these up for display, spice up your usual home decor and consider making several that you can then put in a decorative bowl to use as a centerpiece on your Christmas table. These would sit well on a potpourri bed or stacked in a clear oversized vase.
15. Wrapped Candy Canes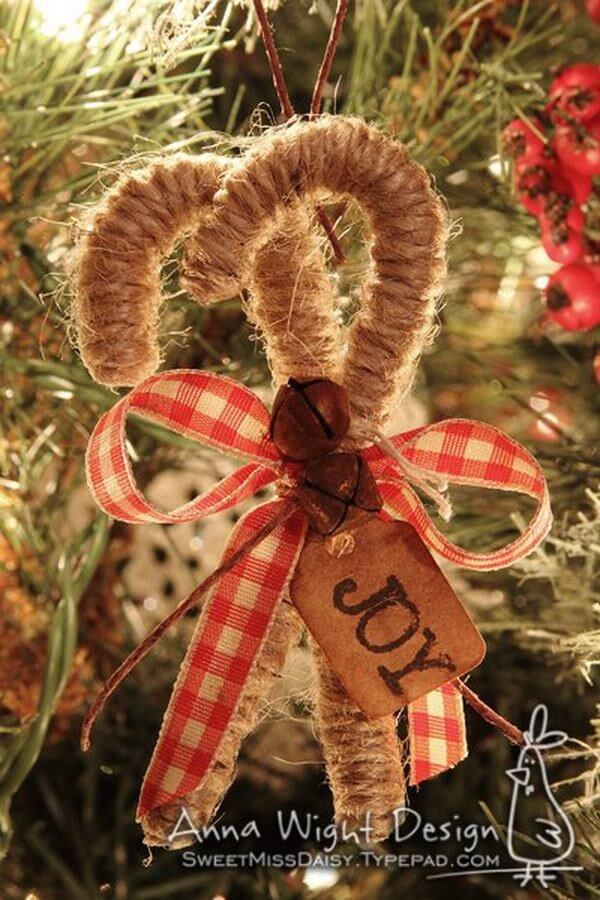 While candy canes are known as delicious Christmas treats, these homemade Christmas decorations should be tried out if you have a few extras. This cute crafting really is as easy as wrapping a candy cane in twine or some festive fabric with a few dots of glue here and there. These look great on gifts in addition to pendants, bows and ribbons and look great in stockings. Tie a couple together with your favorite band. And because they're so simple, you can make a few dozen in no time to give away or decorate at the last minute.
16. Tealight Snowmen

These tealight snowmen are by far one of the best DIY Christmas decoration ideas this season. They are adorable and are sure to stand out on the tree, in the house or just in the room. All the materials you need can be bought from the dollar store for a fairly low price, and based on the materials you choose, you can make a variety of snowmen with hats, scarves, and earmuffs.Make a dozen and hang them on a mini tree in your son or daughter's room.
17. Chalkboard Balls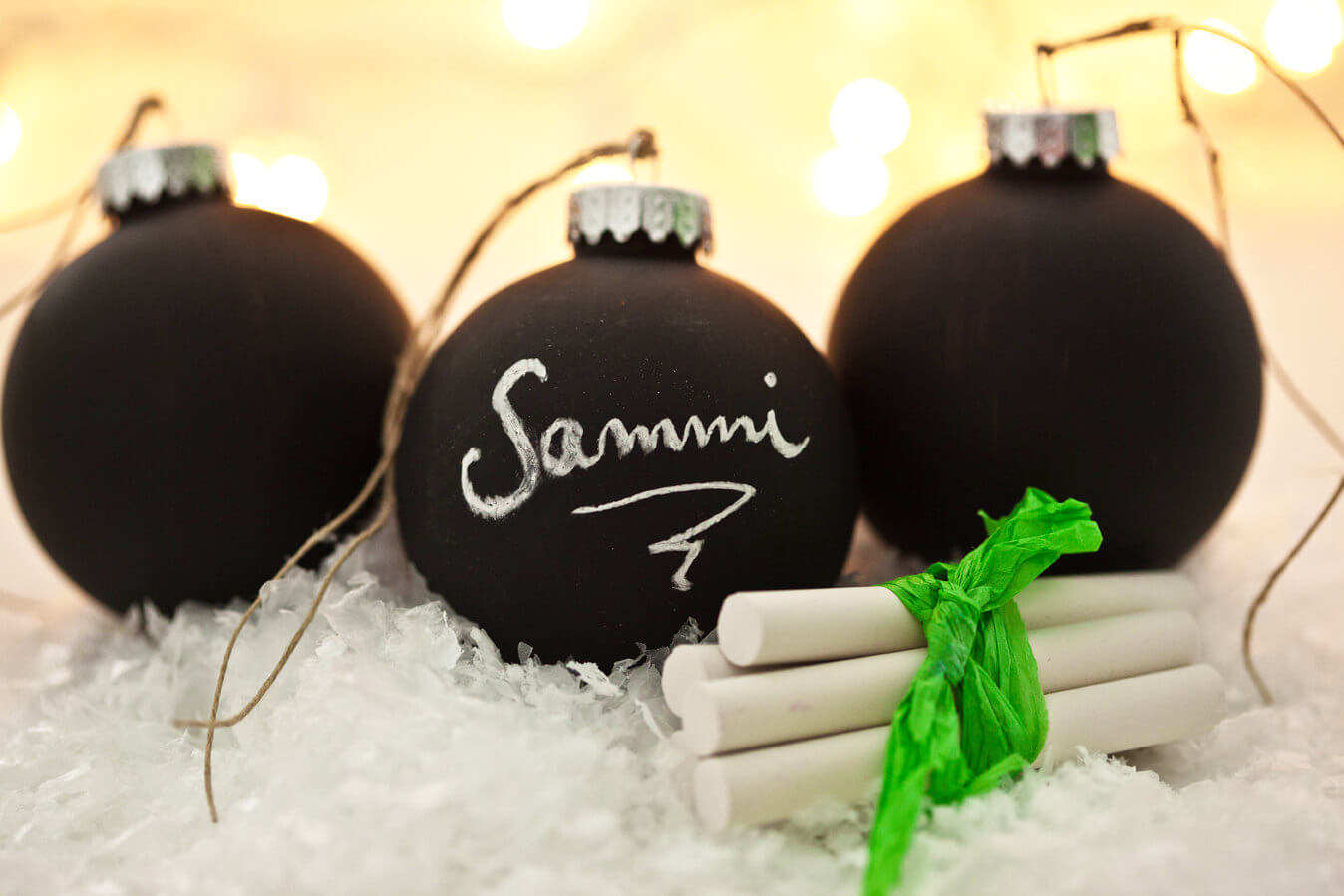 Although they look quite complex, these unique ornaments are made simply with chalkboard paint available at most hardware stores. It will take a couple of layers, but if you choose a neutral ball you should be able to completely cover it. Since you are using chalk, you can erase the Christmas message year after year. Personalize a homemade one for each guest at your Christmas party or use it as a Christmas teacher gift. Tip: Since you don't need a lot of blackboard paint, consider purchasing a color swatch size to save money. Often times these will only run a few dollars.
18. Wooden Snowflakes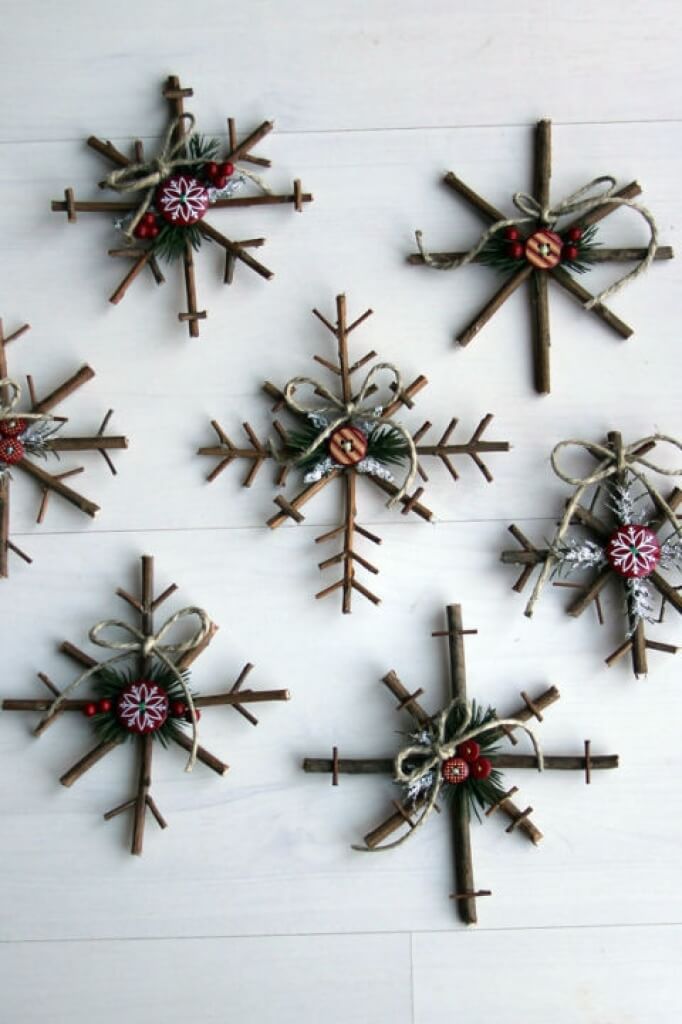 Much like the uniqueness of every single snowflake, none of these homemade ornaments are the same as the others. What could be easier, not to forget, more budget friendly than strolling outside and collecting a few sticks from your yard? From there the sky is the limit. Find a wide variety of embroidery sizes and colors, gently snap your branches into place to the size you want, and start gluing. A collection of these makes a pretty wall mount or wreath decoration, and they can be made large, medium, and small depending on your sticks. Use any leftover Christmas decorations to spice them up.
19. Hot Air Balloon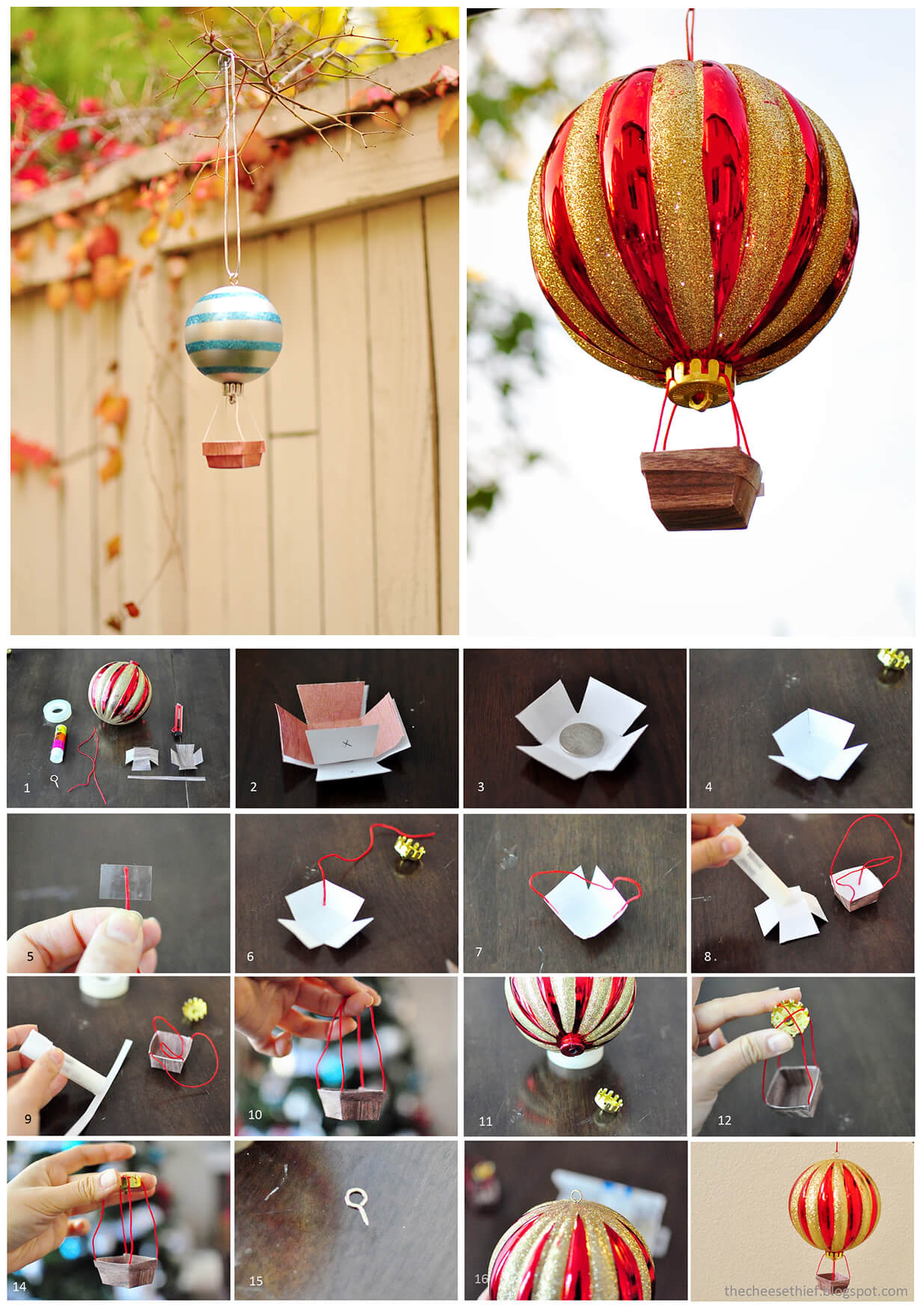 Who says that homemade Christmas decorations have to be Christmassy? You can easily make this cute craft with almost any traditional ball ornament. If you want to make it more dynamic, put some special charms in the hot air balloon basket or write a special message for the little ones to find; you will likely save material right after the holidays when the ornaments are cleared. Perfect for kids and adventurers, grab your glitter glue to make these really sparkle.
20. Wooden Sleigh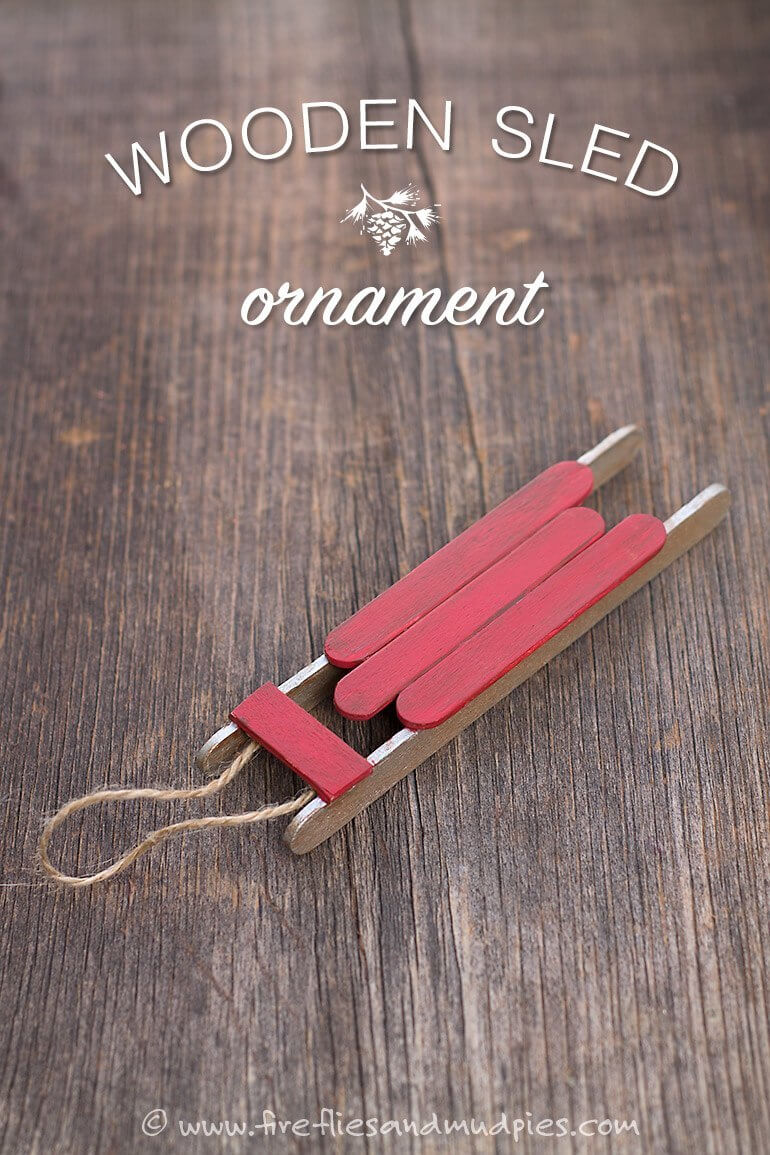 You may not be whizzing through the snow in your corner of the world, but oh, what fun it is to build this charming little sleigh! Just a handful of popsicles and a little careful measuring create this traditional little sled. For the younger hobbyists, you might want to glue the sledges together the night before and then have them decorated as you wish. Many different handicraft favorites, glitter, stickers, ribbons can be glued on for personalization. When you have a Christmas house setup, spread some of these around the display.
21. Ribbon Bead Trees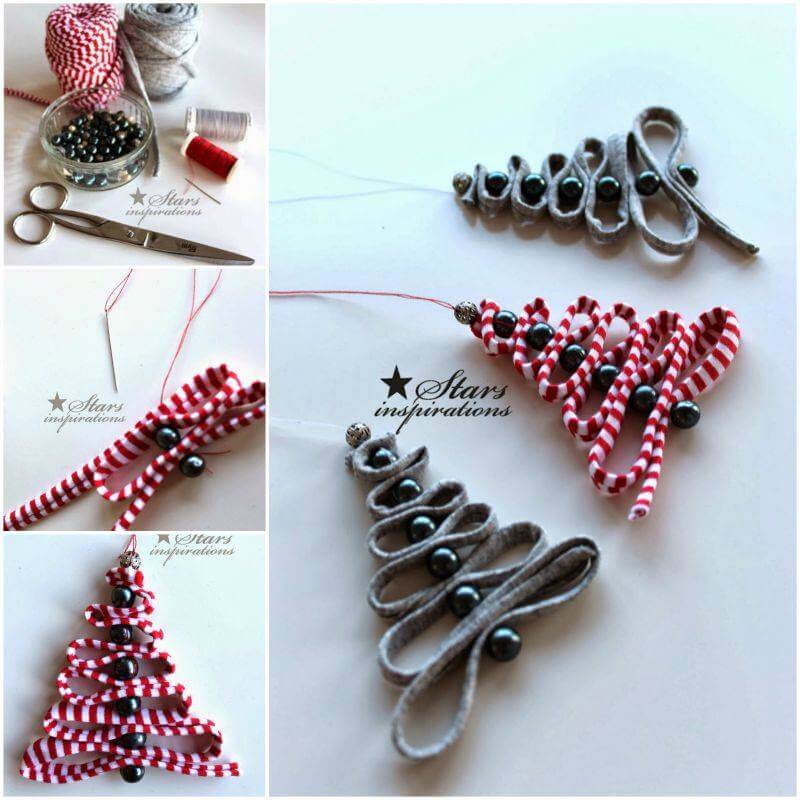 You don't have to travel far to get the components for these homemade Christmas decorations. You probably have all of the supplies in the closet right next to your gift box. Regardless of the color of the ribbon or the type of fabric used, these minimalist trees look great on their own or in a group. Tip: By buying a cheap pearl necklace from a consignment store, you can easily and at very little cost have lots of pearls to complete this craft.
22. Melty Snowman Globe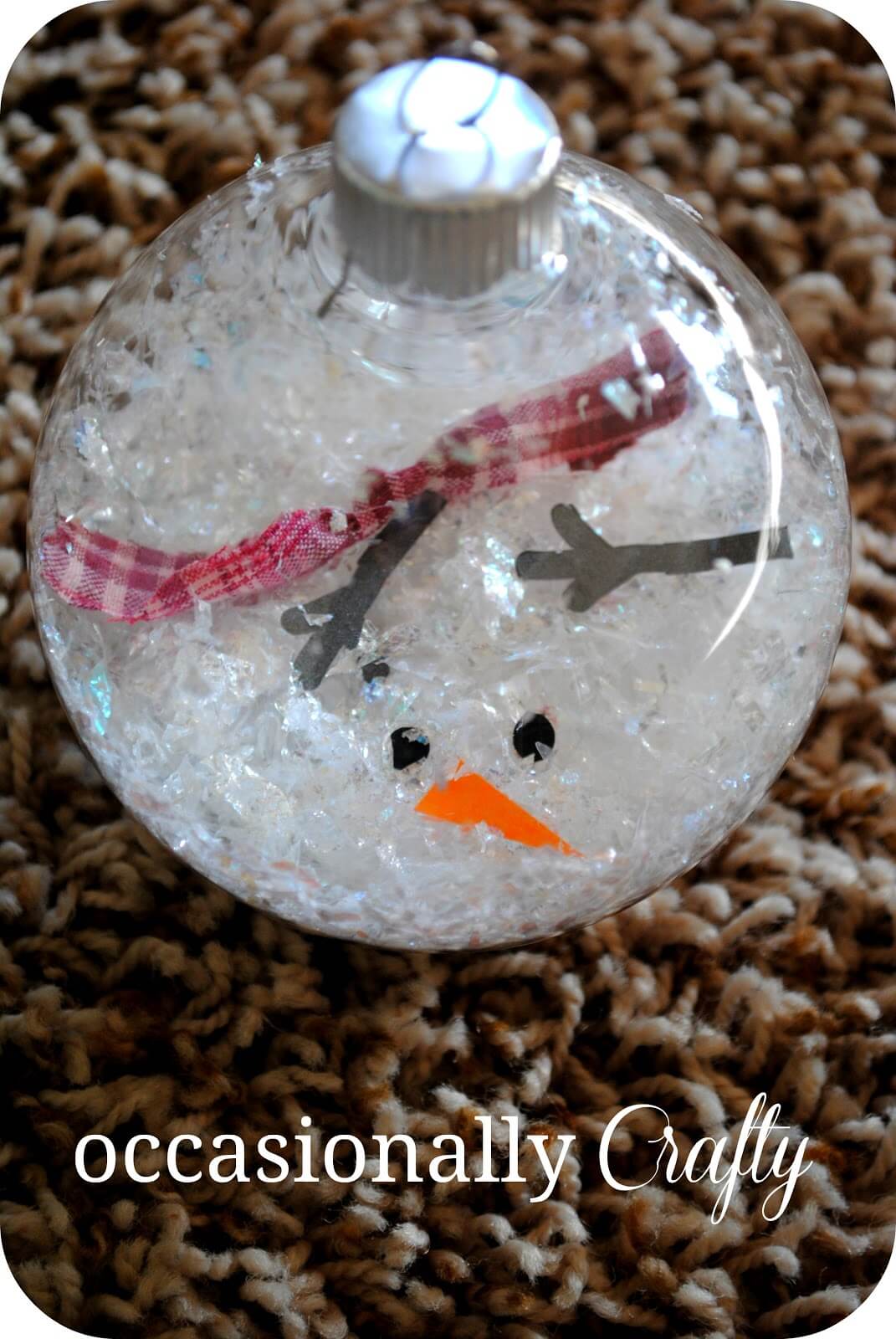 This deconstructed snowman is a DIY Christmas ornament that is sure to make you smile. Similar to a self-made snow globe, the "snow" in this ornament can be made from artificial snow from the craft store or, if you are feeling frugal, from torn white paper. Shredded cellophane is also an option. Combine this craft with a kids vacation party. Start by reading Frosty the Snowman or watch the cartoon over some cocoa. Then let the children create their own Frosty who had to "hurry up".
23. Kate Spade Themed Ornaments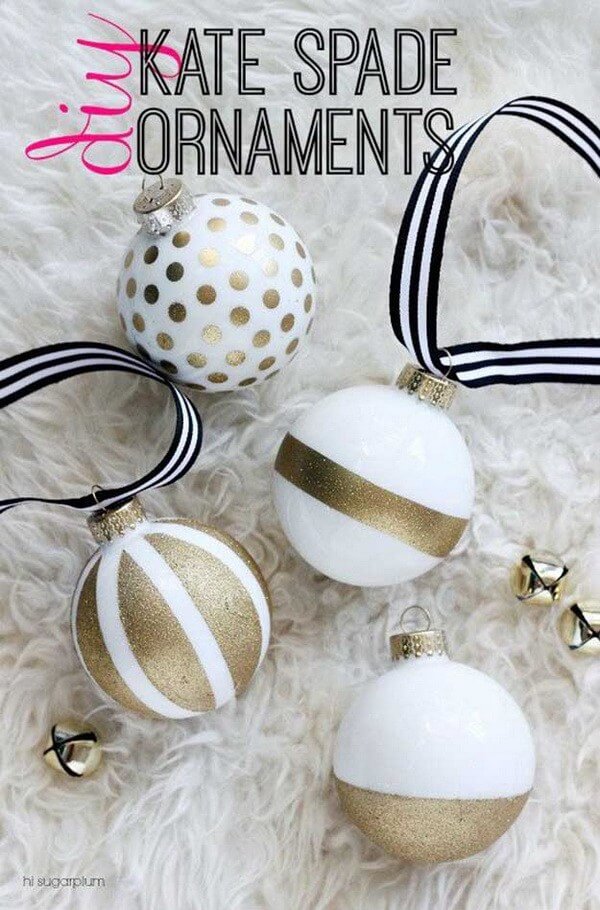 Fashionistas and all connoisseurs of the latest and greatest decoration ideas, take note. Glitter spray and tape are all that is needed for this next craft. While we all love a classic Christmas tree with an eclectic selection of traditional ornaments, this year you should put a second Christmas tree up and decorate it with just white lights and those simple, Kate Spade-inspired baubles for an upscale, classic look and feel. Get creative with the patterns by using a variety of stickers and stencils. When you're done, grab your Kate Spade glass filled with your favorite cocktail to toast the finished product!
24. Felt Forest Animals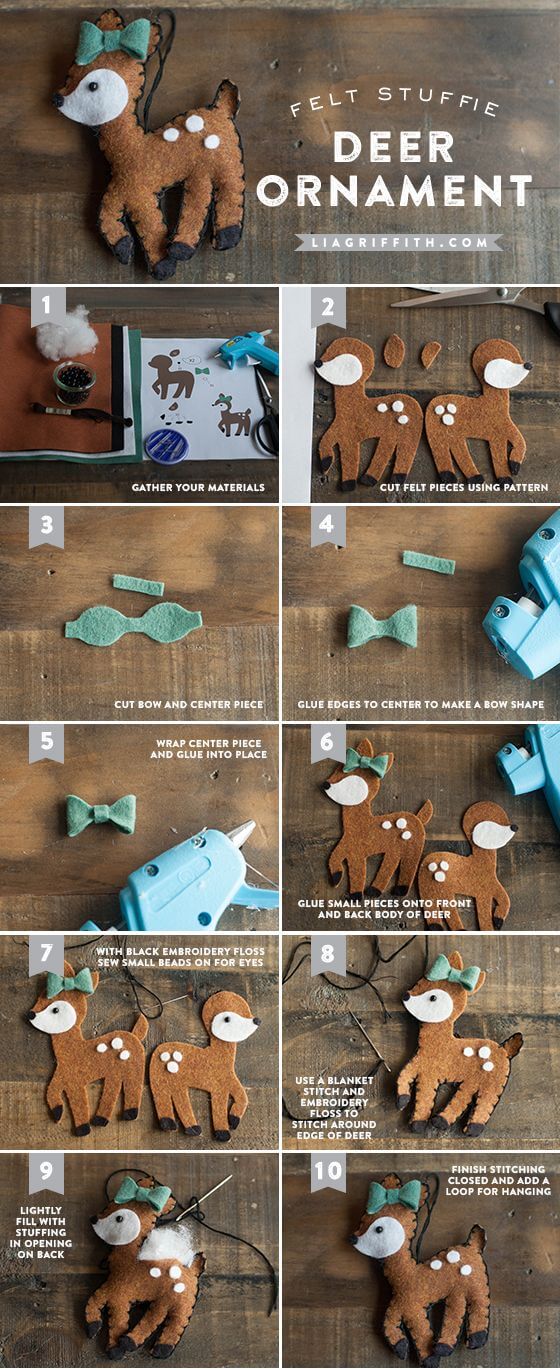 These homemade Christmas decorations can take a little longer than your average craft, but will be well worth your efforts. You can make a festive deer, squirrel, bunny or bear with the supplied patterns! These little critters will hang nicely on your tree and are fun toys to play with too if you want to make the whole gang. They could also be perfect as a Baby's First Christmas gift with the year on the back.
25. Cupcake

Enjoy delicious, calorie-free Christmas cupcakes! The nice thing about this craft is that these little treats don't just fall into the category of Christmas decorating ideas. Create a couple for the tree and save them for a birthday party later in the year.
26. Thumbprint Reindeer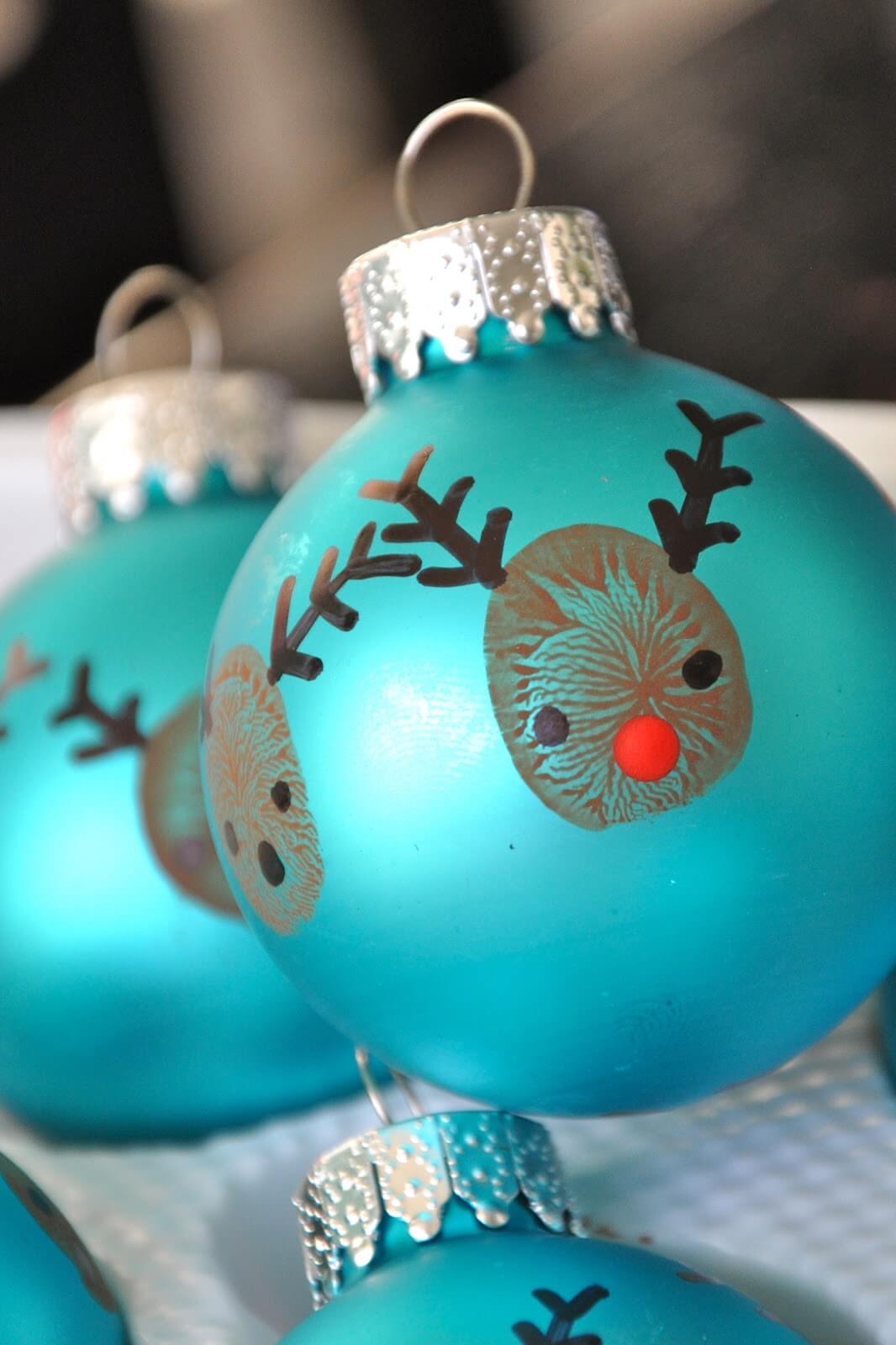 Creatively and individually, children will love to dip into their finger paints to punch out these tiny reindeer faces with these typical homemade Christmas decorations. Matte ornaments work best with the colors, so avoid the shiny ones whenever possible. Also, be sure to buy shatterproof or plastic ornaments for small hands. If you want to start a new Christmas tradition, have your children add a new fingerprint to the decoration every year you prune the tree.
27. 3-D Paper Ornament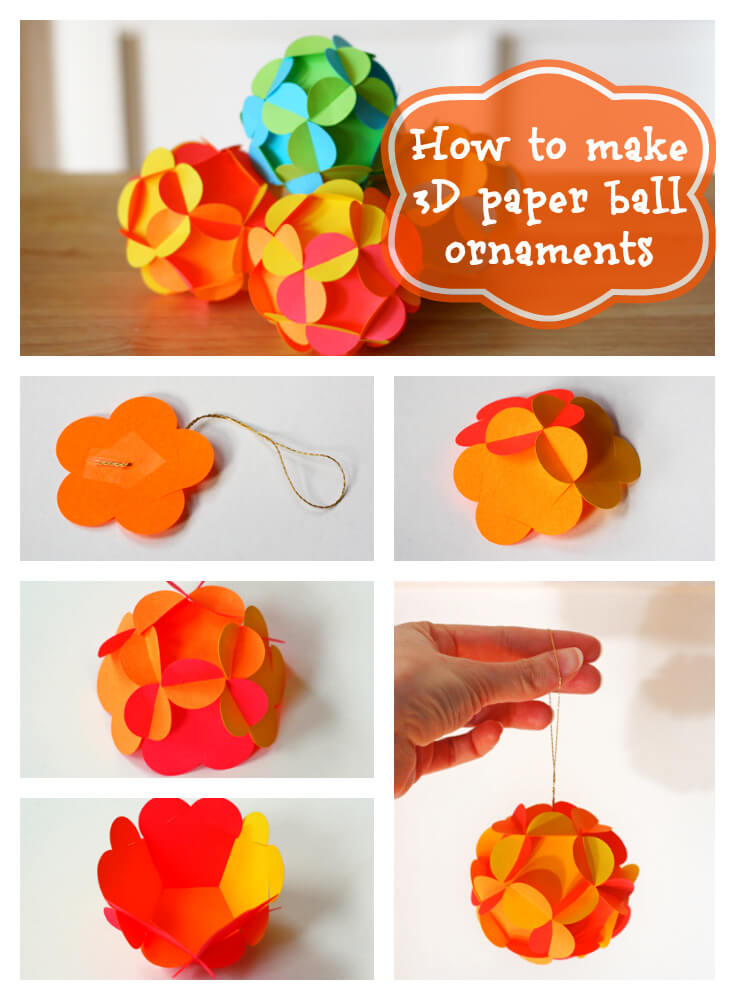 If you like a versatile yet simple paper craft, you'll love working on these homemade Christmas ornaments. Did we mention they can be made completely FREE with paper you have around the house or old magazines? All you need are the downloadable templates and any type of paper you think looks fun and festive. You can use the pages of an outdated book, map, or even scraps of paper from another project. If you vary the paper colors, the results will be even more impressive.
28. M & Ms Ornaments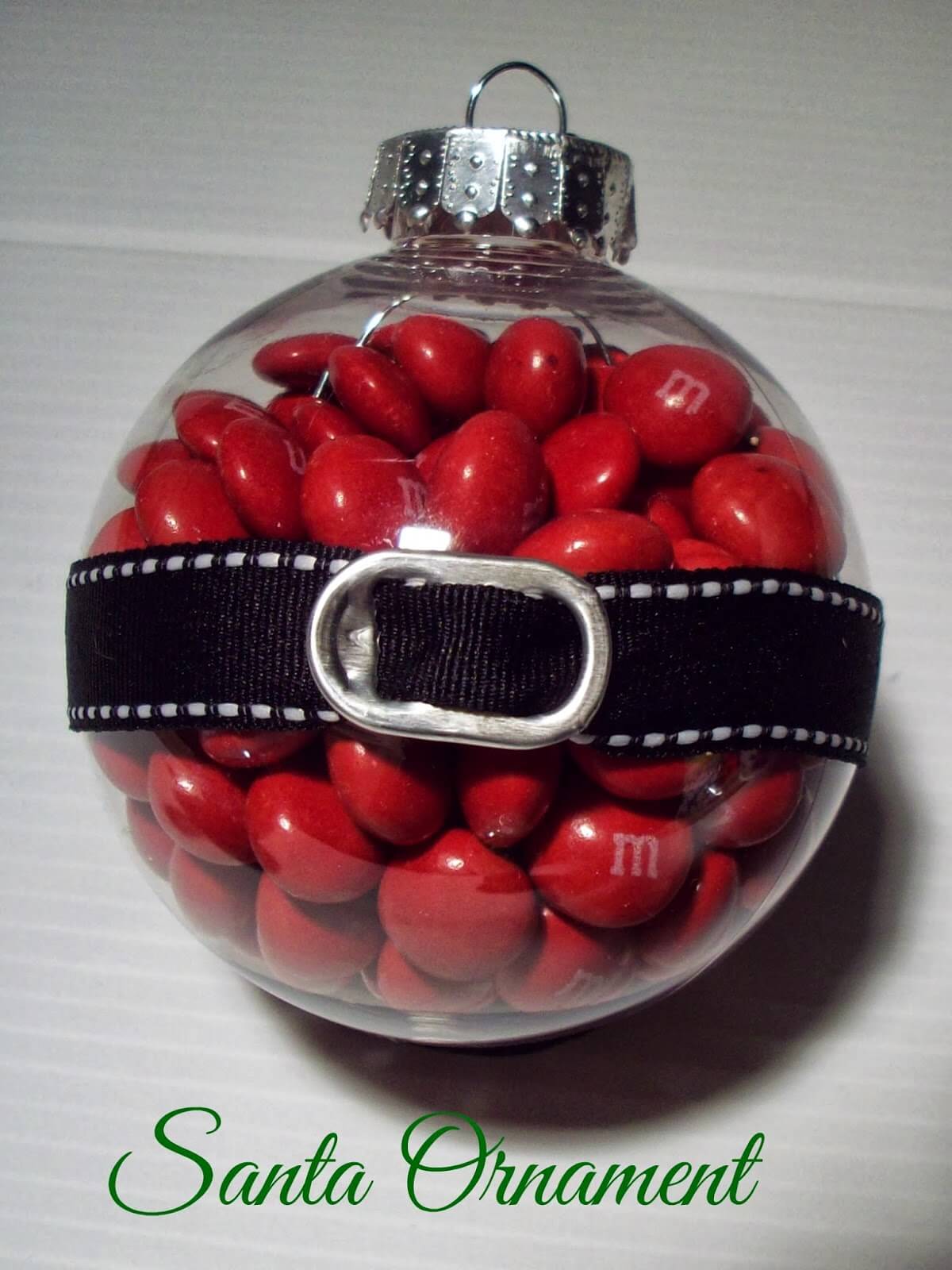 Aren't M & M's Christmas sweets one of the best parts of the holiday season? Pick up some along with clear ornaments, add a little creative flair and make these precious decorations. Since everyone loves something sweet, give them away as a favor at your next vacation get-together or at a white elephant party to say "Thank you for coming". For helpers who want to dig into DIY Christmas decorations, let them help you separate the M & Ms by color.
29. Christmas present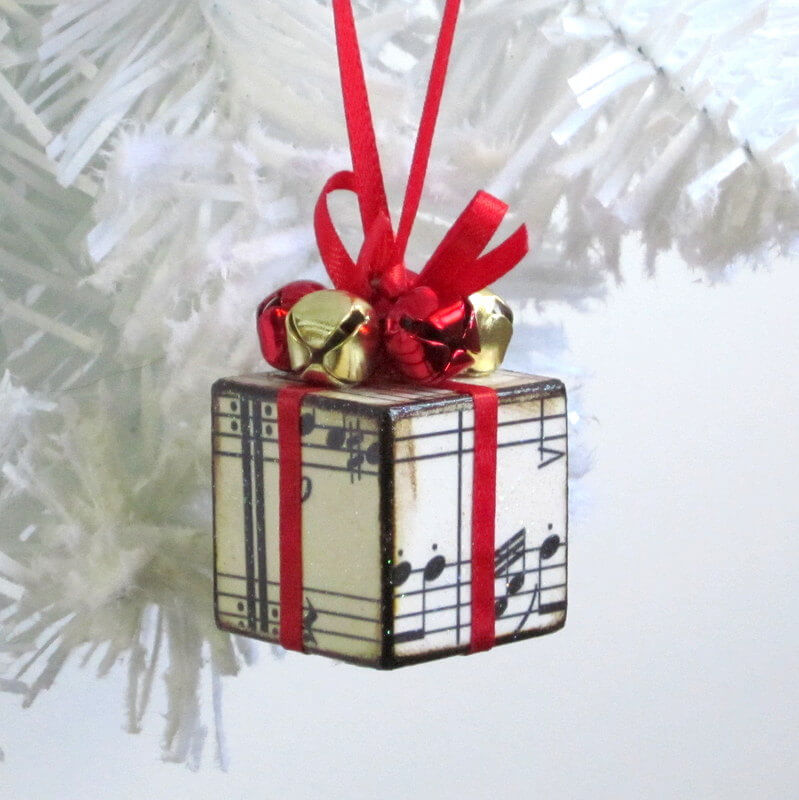 Does your family have a music lover? This cute little "gift" wrapped in notes is a must to try homemade Christmas decorations.Take a look at what scraps of wood are lying around in your local hardware store or try small children's blocks or large cubes. Makes a great gift for your choir director or school music teacher too! Tip: Make sure you paint the edges dark to get the old-fashioned weathered look ..