To liven up your home, you may need some of the best rainbow home decorating ideas as they will help you transform your space thoroughly. Decorating with a rainbow theme isn't exactly new, but it never seems to go out of style. Rainbow is an easy way to add more color to any room. They go well with different colors that you already have in the room and it is easy to find this style with different types of decorative items. There are many murals, wallpapers, and hanging decorations that feature this color styling.
Incredible Rainbow Home Decor Ideas That Add Style To Your Home
Another wonderful thing about using a rainbow theme in decorating your home is that it is suitable for use in different rooms around the home. You can just as easily add something with rainbow colors to your living room as you would a kid's room or playroom. It's also a fun way to add a little more joy to a nursery while also paving the way for babies to see different colors. As easy as it can be to decorate with a rainbow theme, it's just as easy to get lost where to actually start your decorative journey. If you feel like you are stuck in any way, you can check out our list of some of the best rainbow home decor ideas to help brighten up your home and show off your fun and free style.
1. Fantastic Homemade Rainbow Wall Décor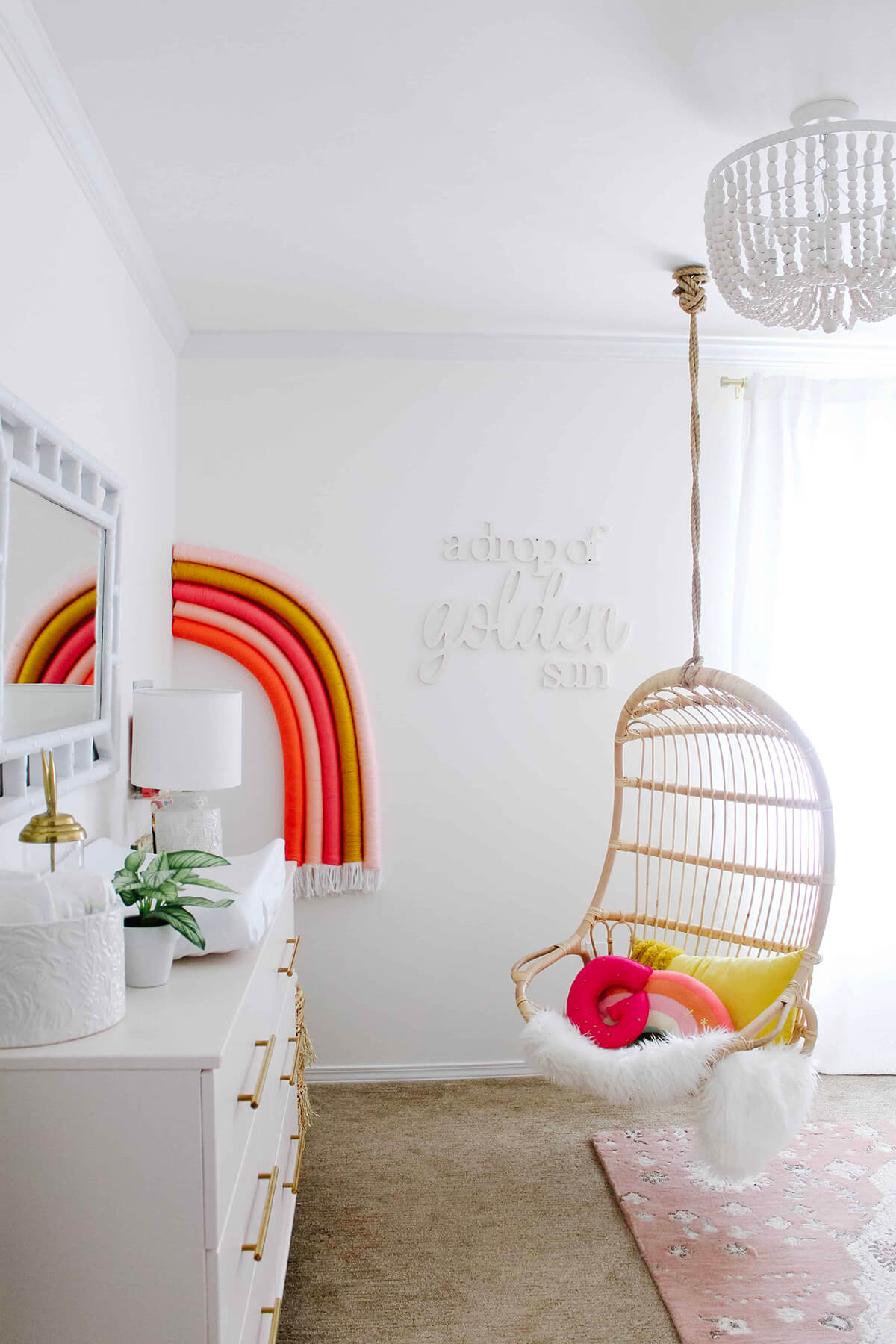 For those of you looking for large format rainbow color decorating ideas, this rainbow wall design works well. Pool noodles and twine go a long way in creating a beautiful and interesting rainbow that is in the perfect shape. You have many options that you can fall back on when building your wall decoration. It's easy to focus on the entire rainbow and use several different colors in your design. Or, you can just focus on a handful of similar colors like purples, reds, greens, blues, and more. The yarn that hangs at the end adds a wonderful touch to the rest of the rainbow.
2. Funny Rainbow Rice Centerpiece Design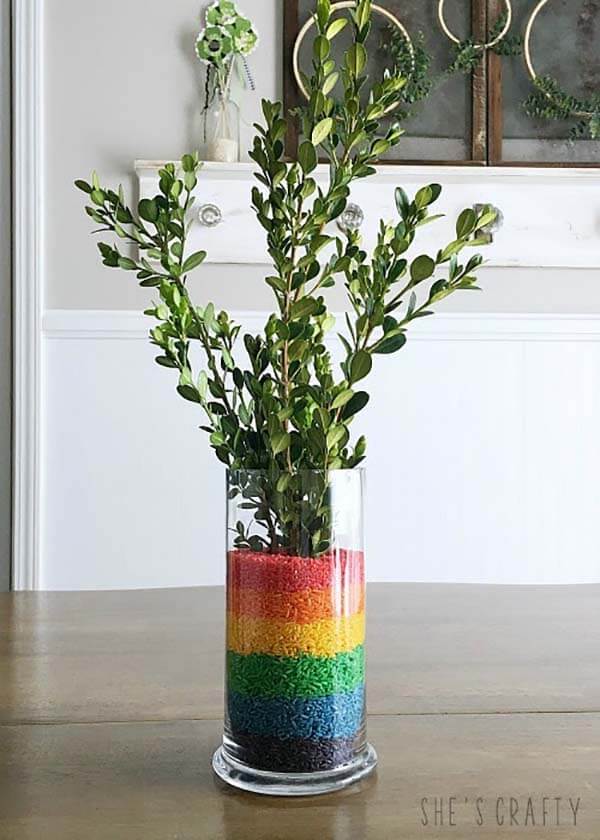 If you have a clear vase or glass, this can be a great starting point for your rainbow decorations. Once the rice is colored the rainbow colors you want it will look almost flawless when you layer it in the vase. This looks lovely on its own, but it can still work well if you put something else in the vase, such as a cup of tea. B. artificial green or flowers. This just adds to the pops of color and creates a centerpiece that will grab attention and be the talk of every meeting you have.
3. Unique Rainbow Painted Stairs Design
One distinctive way to add some rainbow color to your home is to focus on an area you might not even think of: the stairs. Decorating the stairs themselves is an ideal way to leave a lasting impression on guests and make you happy every time you walk up and down the stairs. With this one, you can go in any direction and really expand your creative juices with your favorite colors from the rainbow to create an environment that flows effortlessly from top to bottom and vice versa.
4. Creative Homemade Rainbow Wreath Decor
Wreaths are always a nice option when developing decorating ideas, so they will fit almost perfectly if you want to incorporate some rainbow colors. The use of dried and preserved flowers gives you an opportunity to explore some of the characteristic materials in a little more detail. It also allows you to use a variety of different types of flowers to make your decoration stand out even more.This can even look just as good on different doors throughout the house, so you can see a pop of color anywhere, anytime.
5. Exciting Rainbow Design Living Room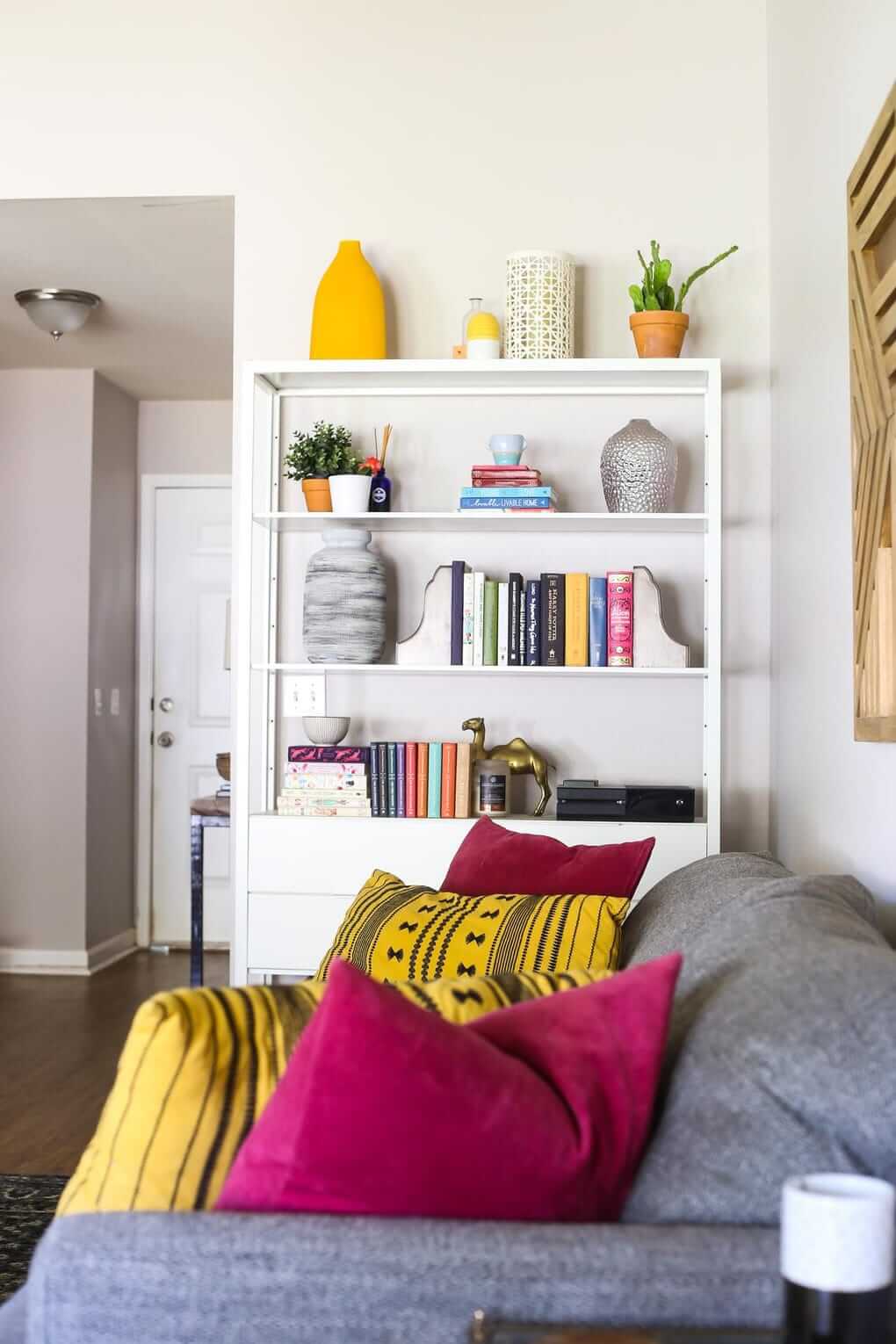 Do you have a bookcase in your living room that just begs for a little more color? There are ways to do this without painting or building anything yourself; various decorative items do just as much as the books themselves if you decide on a color arrangement. It doesn't end with the bookshelf, however. You can spread your designs all over the room and add some colorful throw pillows for the couch, for example.
6. Great handmade rainbow doormat design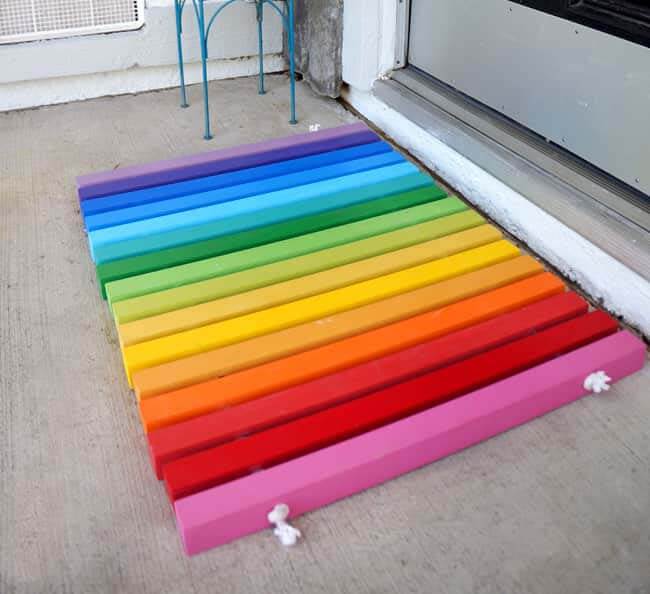 You can create a simple but standout, full of color doormat. Depending on how big you want it, you can easily use several beautiful rainbow colors to create a doormat that will allow your eyes to travel and enjoy full vision. Also, being made of wood, it has nice reliability so you can whip it out season after season. It fits perfectly in spring, but can fit all year round. This is a super cute way to add some life to your outside environment, even more so if you don't have that many decorations on your porch.
7. Colorful Abstract Removable Wallpaper Mural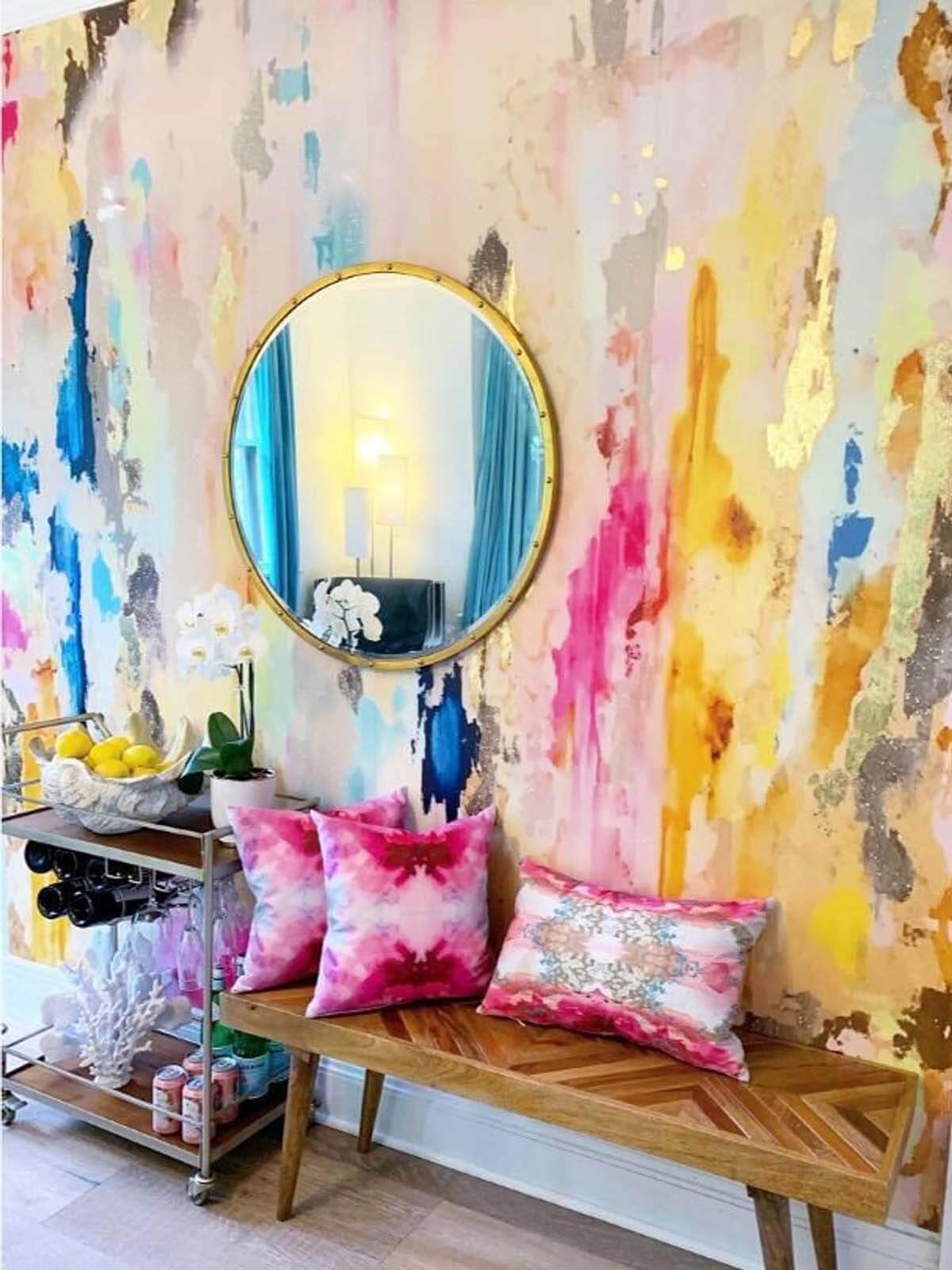 If you're looking for a rainbow home decor that takes up some space, this wallpaper mural is the perfect choice for you. There are three sizes to choose from, each one wide enough that no one can overlook this colorful design. This also has such a stunning abstract design that it leaves you with art that is unique and goes well with different decors. It can even simply serve as an accent wall in a room, adding more brightness to an otherwise common room. You can get this wallpaper either pre-glued or peel-and-stick style.
8. Vibrant Candy Stripes Area Rug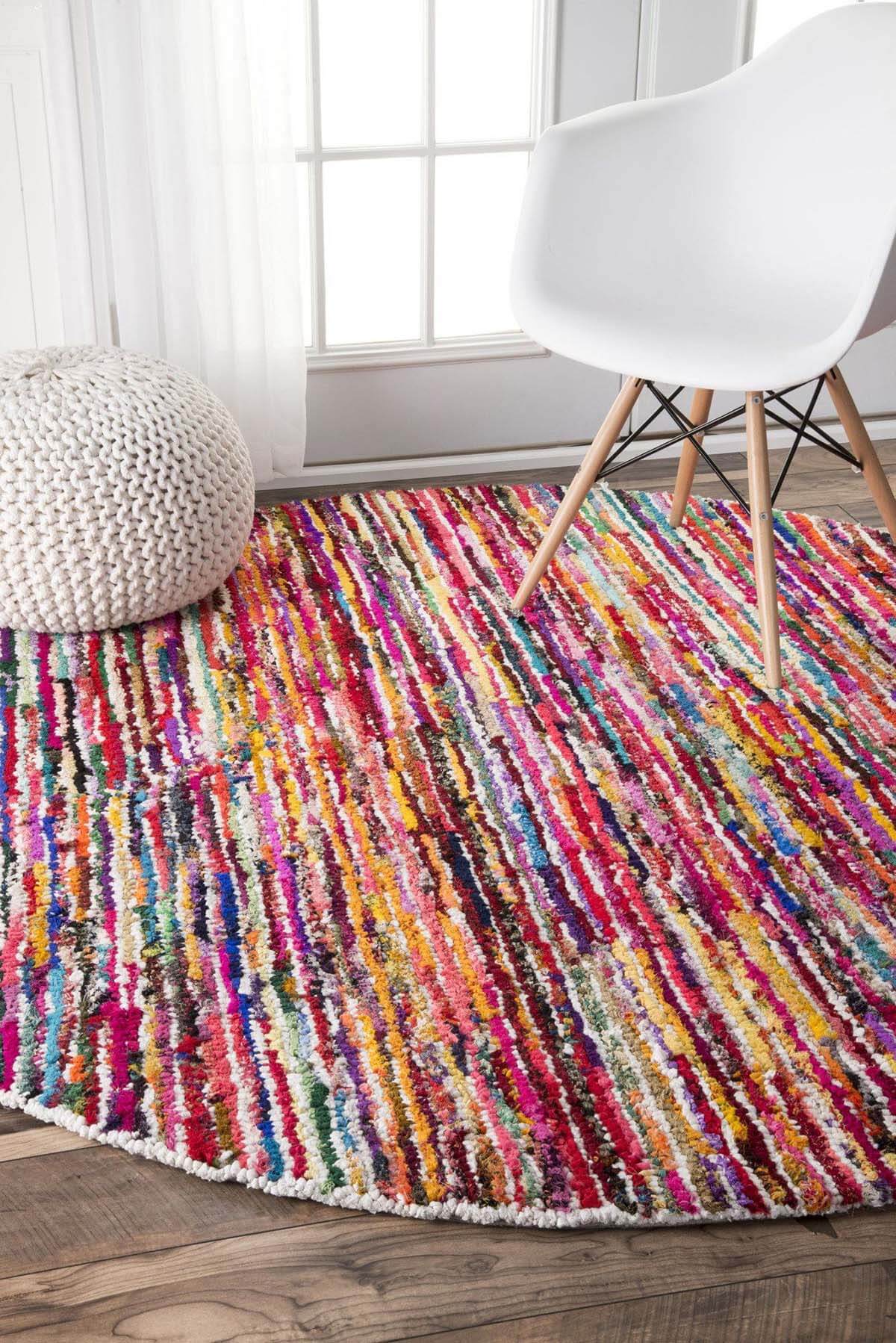 This Candy Stripes Area Rug is one of the best rainbow home decor ideas for when you want to make a bold statement in a room. The colors are so vibrant and easily stand out in any room you place them in. This cotton rug is also available in two sizes so you can find the right one for your decorating needs. Another cool thing about this rug is that it goes so well with different styles. It can look just as good using it in a farmhouse-like setting as it is in a modern home or a bohemian-style room.
9. Colorful abstract door cover foil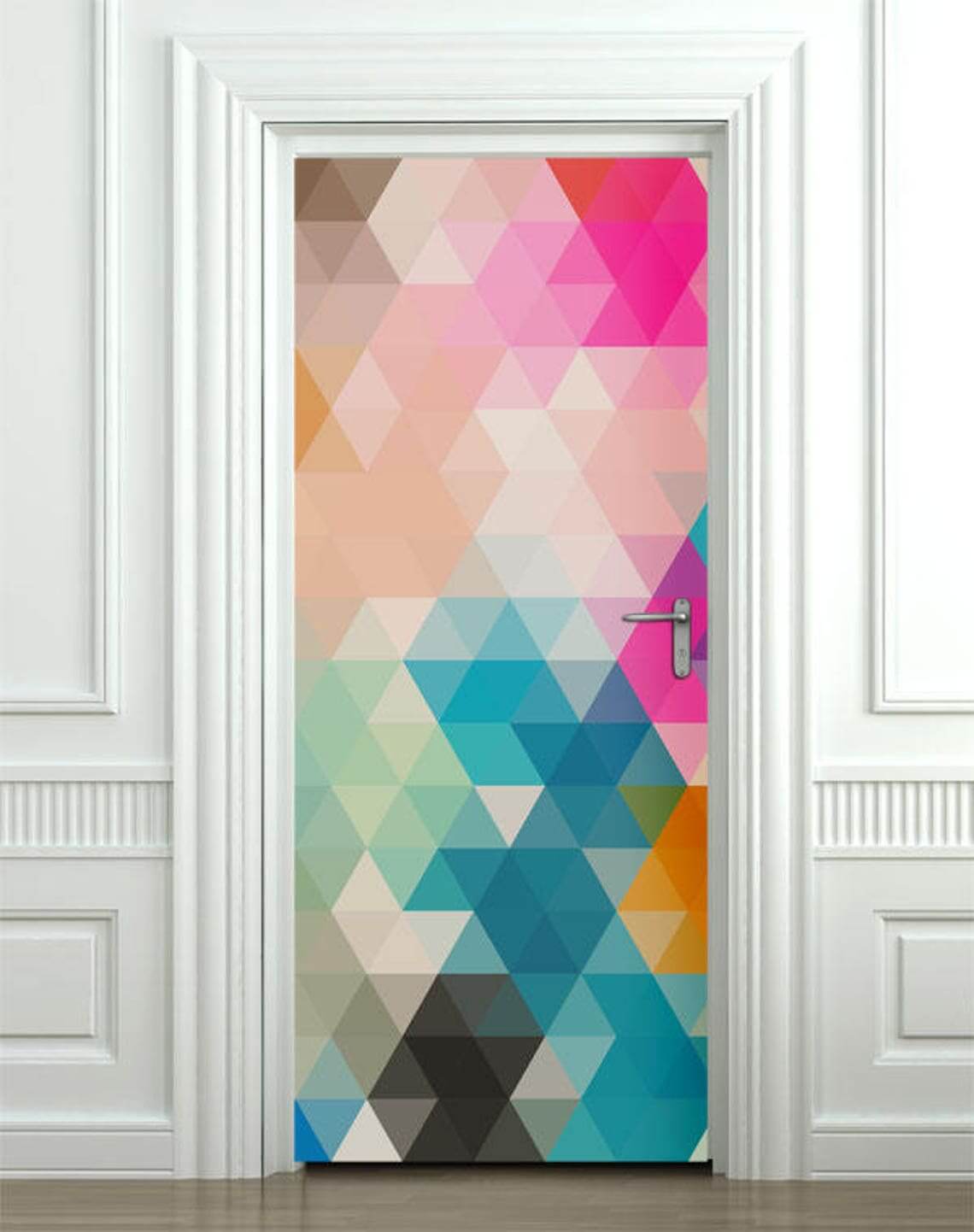 Your doors don't have to be so simple anymore. This door cover film allows you to bring the rainbow style to any room without actually putting anything in the room. There are numerous shades of color in this sticker. With the abstract, geometric design, everything stands out even more. It offers such an interesting setup to the room that it is easy to use thanks to the peel-and-stick design. If you don't want to use it on a door, you can always stick it on furniture like a dresser because it works the same way.
10. Rainbow Ribbon Hanging Mobile Design
For those of you who'd love to live under a rainbow, this hanging mobile might be the next best option. The vivid colors of the ribbons make it simple and yet bold. This is a set of three, each with a different diameter hoop. It's a great way to create a decorative environment that flows thanks to the differences in size. Not only are these rainbow ribbons a visual treat when hung, they also offer unique decorating options when you hang them near a window when a breeze is blowing and they easily puff up in the wind.
11. Funny Rainbow Knitted Word Design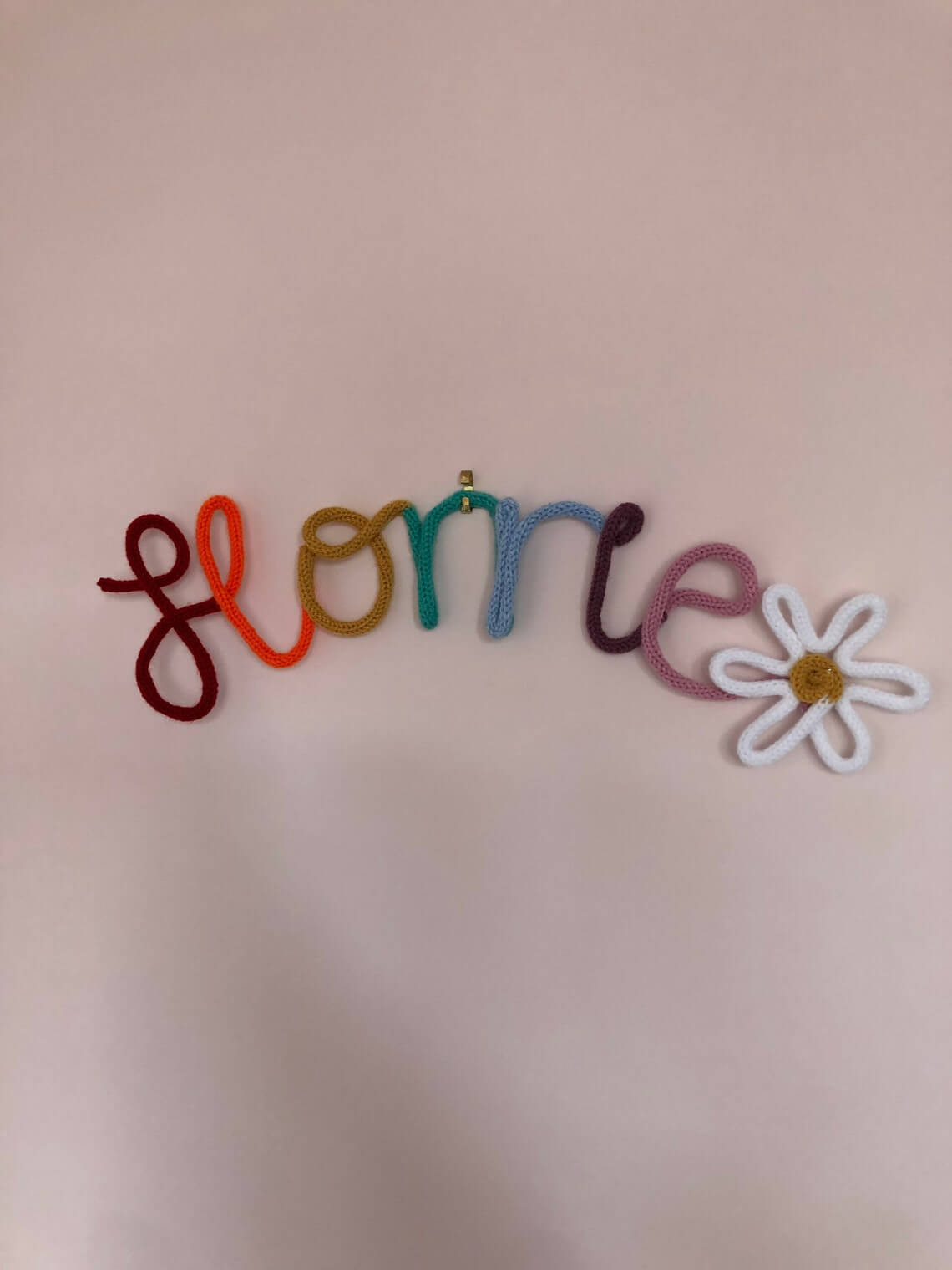 This funny rainbow knitted word is such a distinctive way to personalize decorations. You can choose from at least four to more than nine letters so that you can make this word as individual as possible. This is a suitable decoration for almost everyone, but notable when used on nursery and nursery. You can even choose to add a shape like a heart or a star at the end for that extra bit of personality.
12. Colorful rainbow art wall print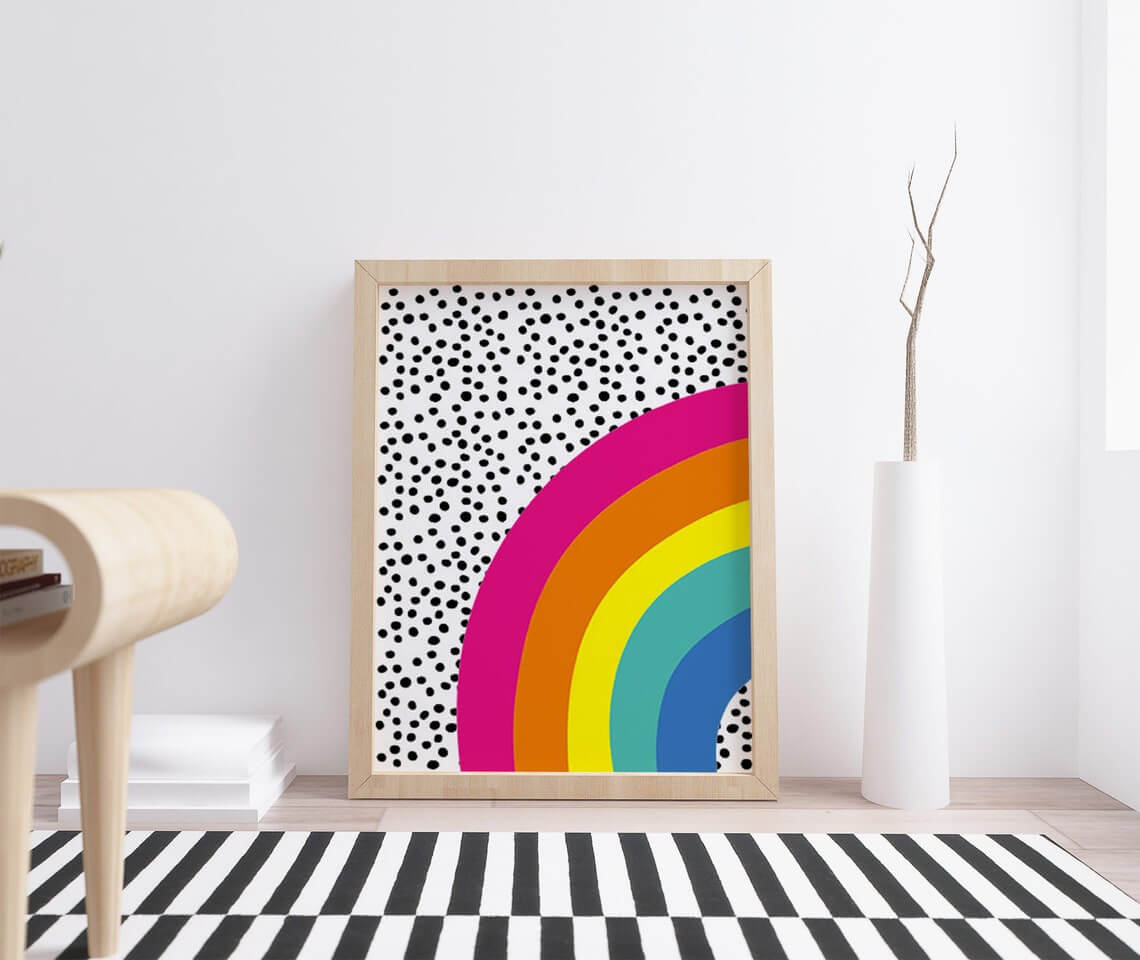 Some of the best rainbow home decor ideas focus on simplicity, like with this eye-catching wall print. This doesn't show a full rainbow, but what you get is big enough to easily stay in the center of the pressure. The colors are strong and can come into their own thanks to the black and white background. Even the dotted pattern helps make the rainbow stripes stand out even more. Available in multiple sizes, this is a fun wall print to hang in different areas of the house, be it for yourself or for a kid's area such as a bedroom, playroom, or even a nursery.
13. Oversized Personalized Name Tag in Rainbow Colors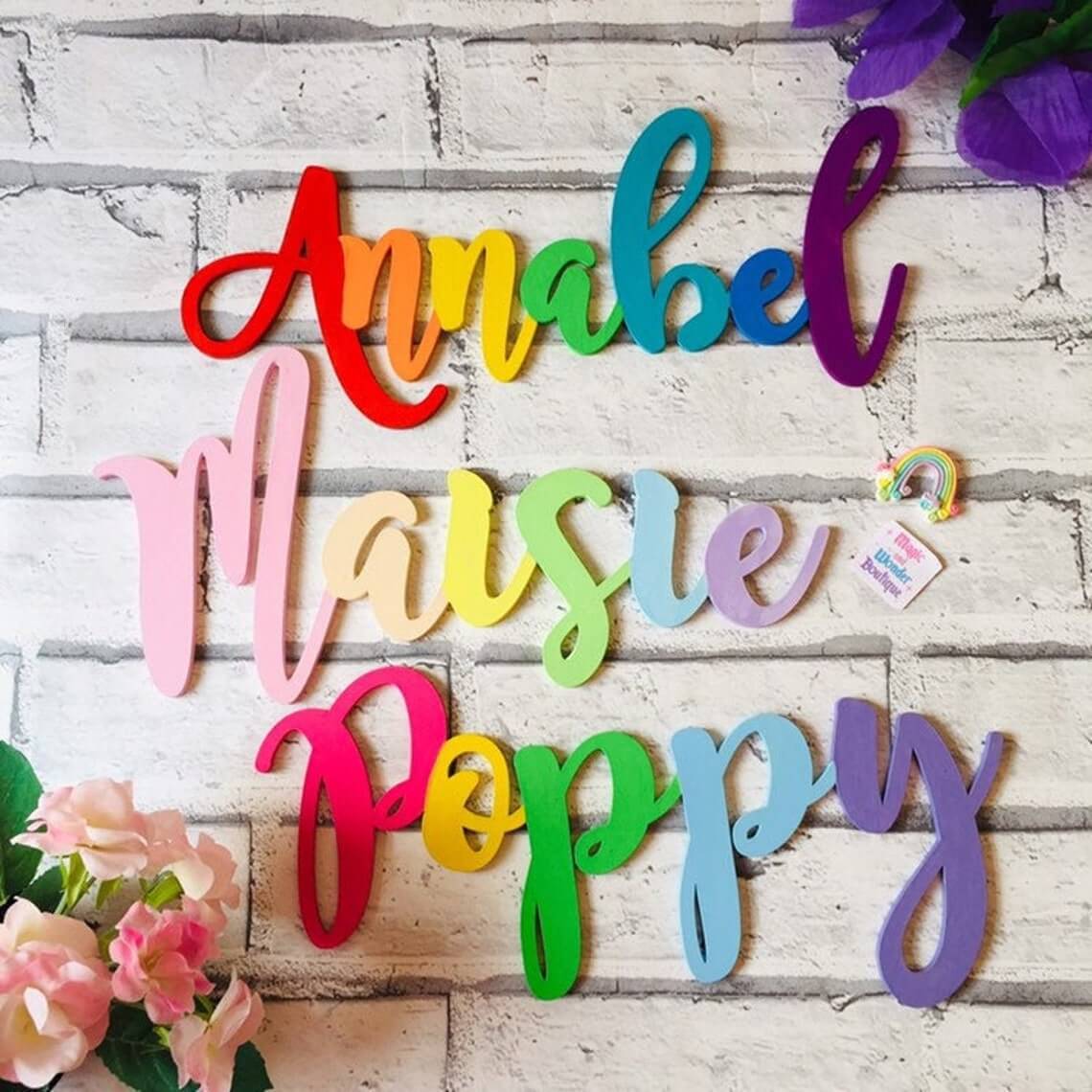 When it comes to rainbow color decorating ideas, the way of a personalized name tag is a great approach if you want to brighten up a room with your winning personality. This is an ideal size to stand out on any wall you place it on so it doesn't fade into the background. There are also three different rainbow colors to choose from, so you can still associate this name tag with the decorative style you already have in the room. It's a cute gift for a child or a lovely way to display your baby's name in a nursery.
14. Minimalist Stained Glass Rainbow Sun Catcher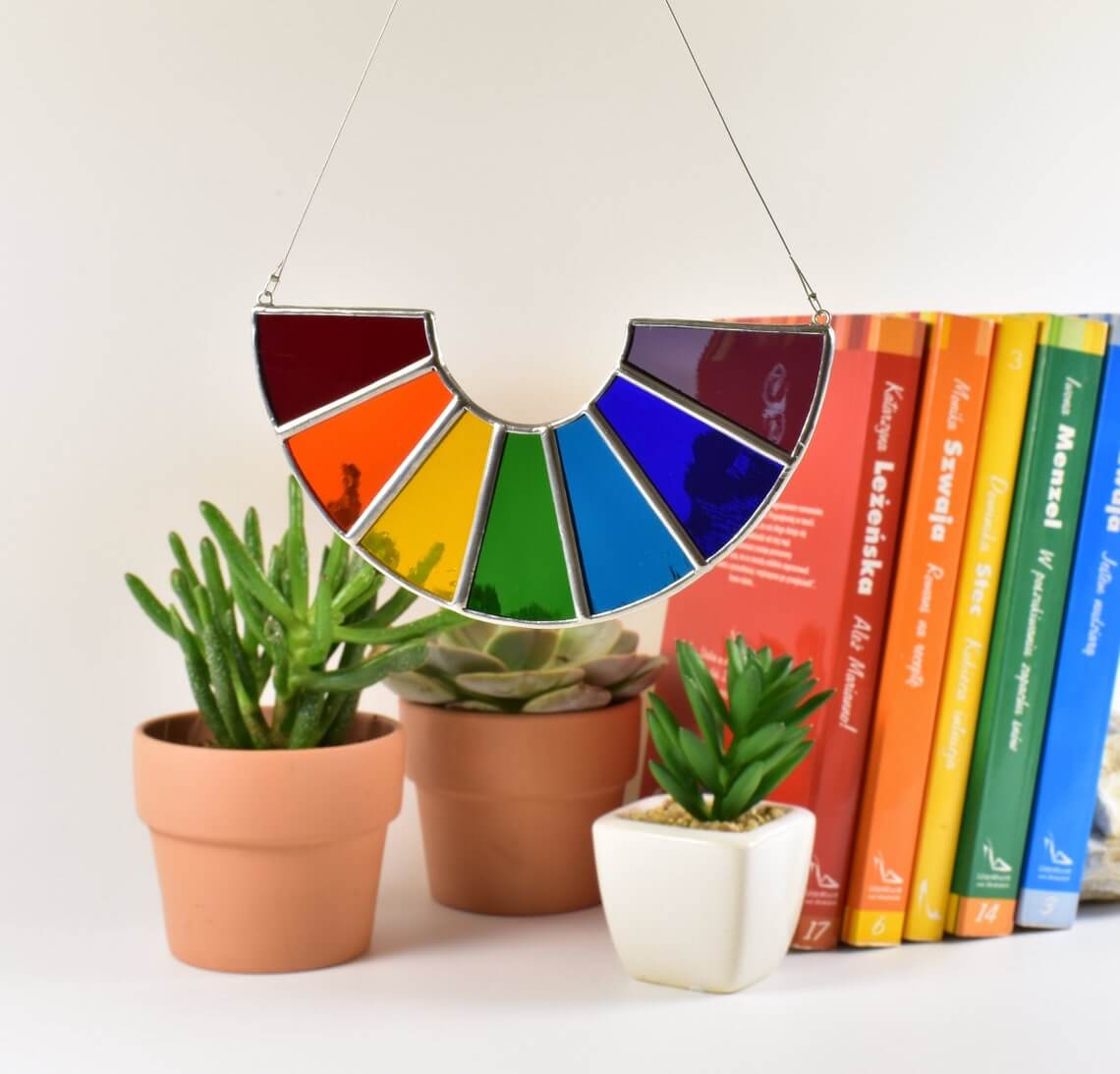 For the minimalist approach to rainbow house decor, this simple stained glass sun catcher is a lovely way to descend. Thanks to the high-quality stained glass used, the colors pop immediately and appear even more lively and appealing when the light falls on them. This living piece can be used almost anywhere you hang it that has some natural light, such as a living room, kitchen, or even a bedroom. But the fun doesn't just stop inside. Feel free to also decorate the outside of your home with this sun catcher by hanging it on the porch or in the garden to show your personality before someone walks into your home.
15. Rainbow Heart Jeweled Box Frame Art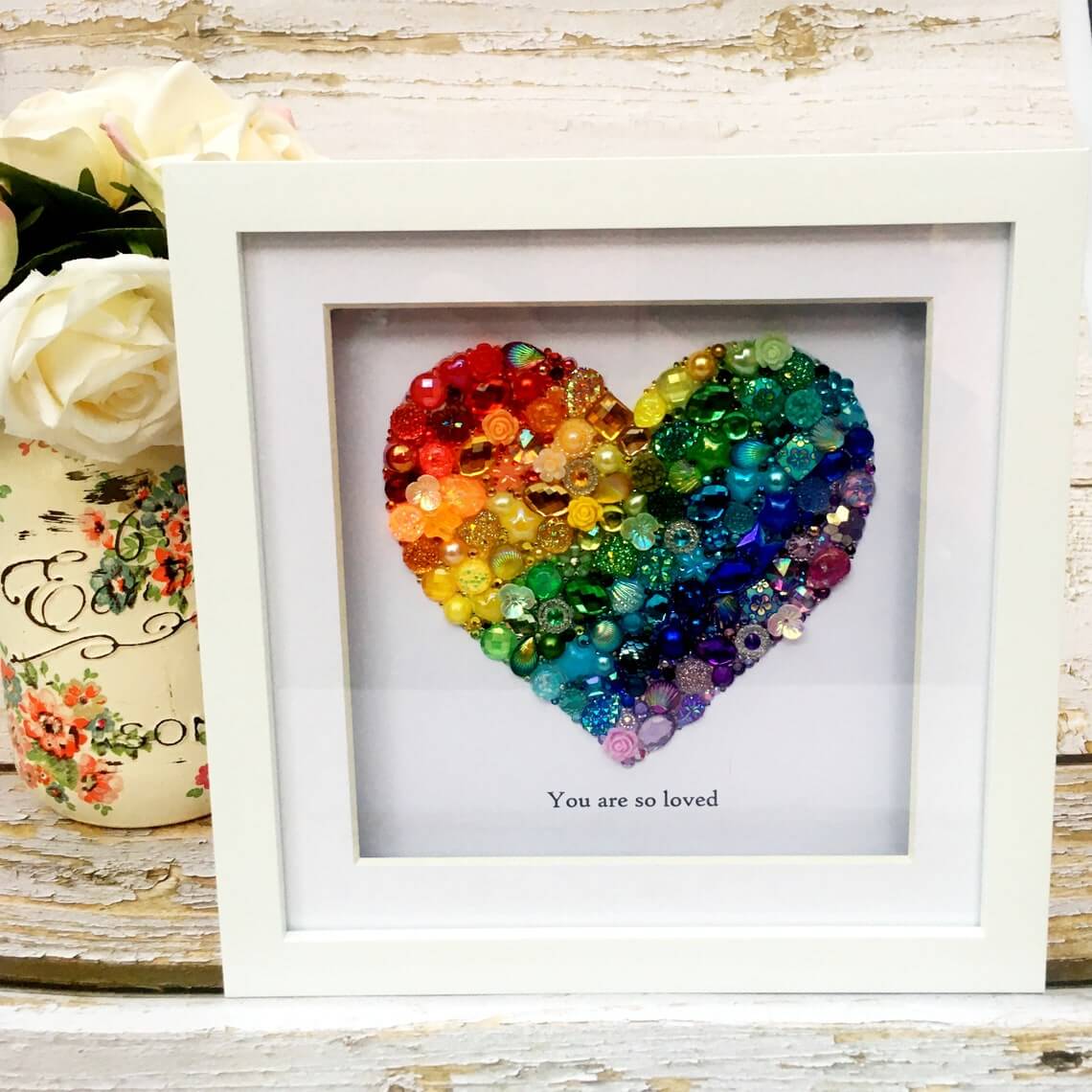 Rainbow colors are beautiful, even more so when the colors sparkle as they do with this jeweled handmade art. It has the shape of a beautiful heart that simply goes well with the existing color pattern. All of this is increased by the use of the box frame. It gives a good depth to everything. You can also choose from a couple of different frame colors to better match your particular style. You can also personalize this with a saying of your choice or always go with the original sweet saying "You are so loved".
16. Hanging Rainbow Heart Sun Catcher Decor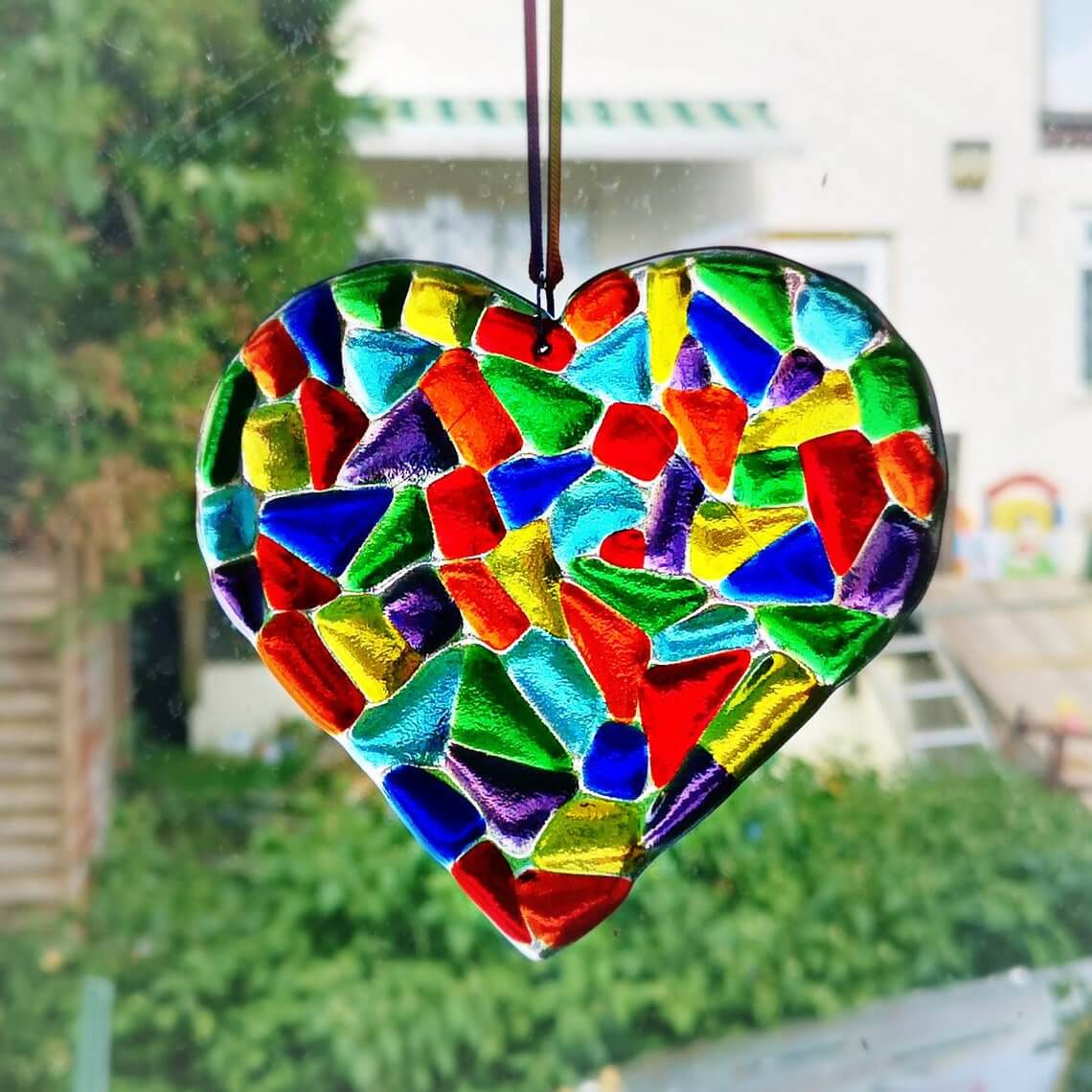 This large molten glass rainbow sun catcher features beautiful geometric patterns that make more tanks stand out from the multi-colored design. It looks perfect when hanging near a window, but it can also serve well as a stylish option around the house.This glass also helps it maintain its texture when light strikes it so that it is always noticeable at every angle from which you admire the heart.
17. Rainbow Glass Bridge Candle Holders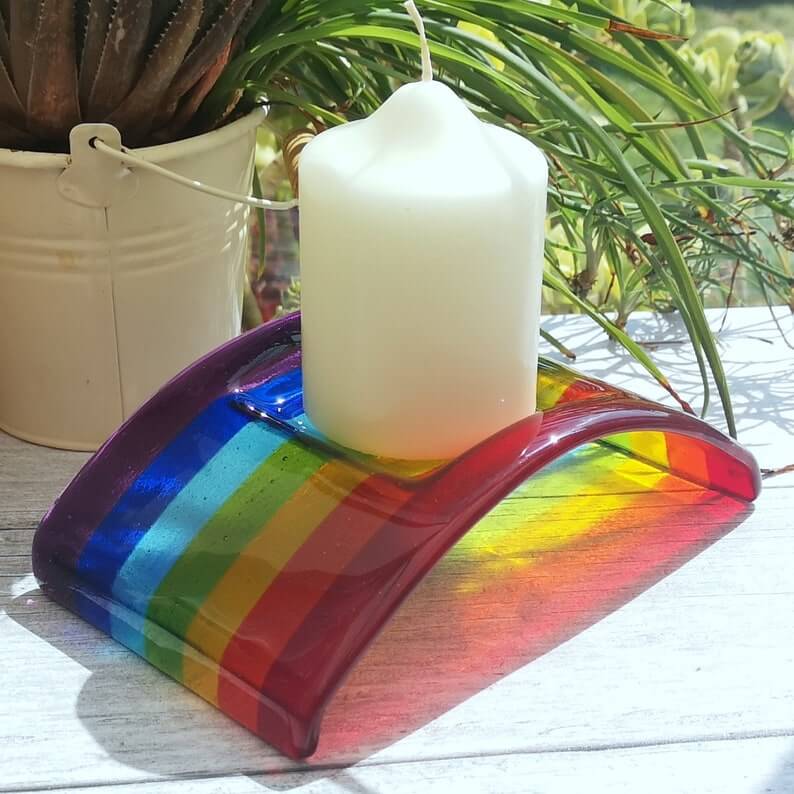 Some rainbow-colored decoration ideas come on a small but fine scale. This is the case with candle holders. Some are so common that sometimes we forget how much impact they can make on a room. This rainbow glass candle holder is exciting on a minimalist scale, especially since it looks effortlessly like a bridge thanks to its curved design. The glass also shines under a light source, even the flickering of candle flames is enough to make it glow. You can get either a single large candle holder or a four styled candle holder.
18. Colorful semicircles rainbow wall hanging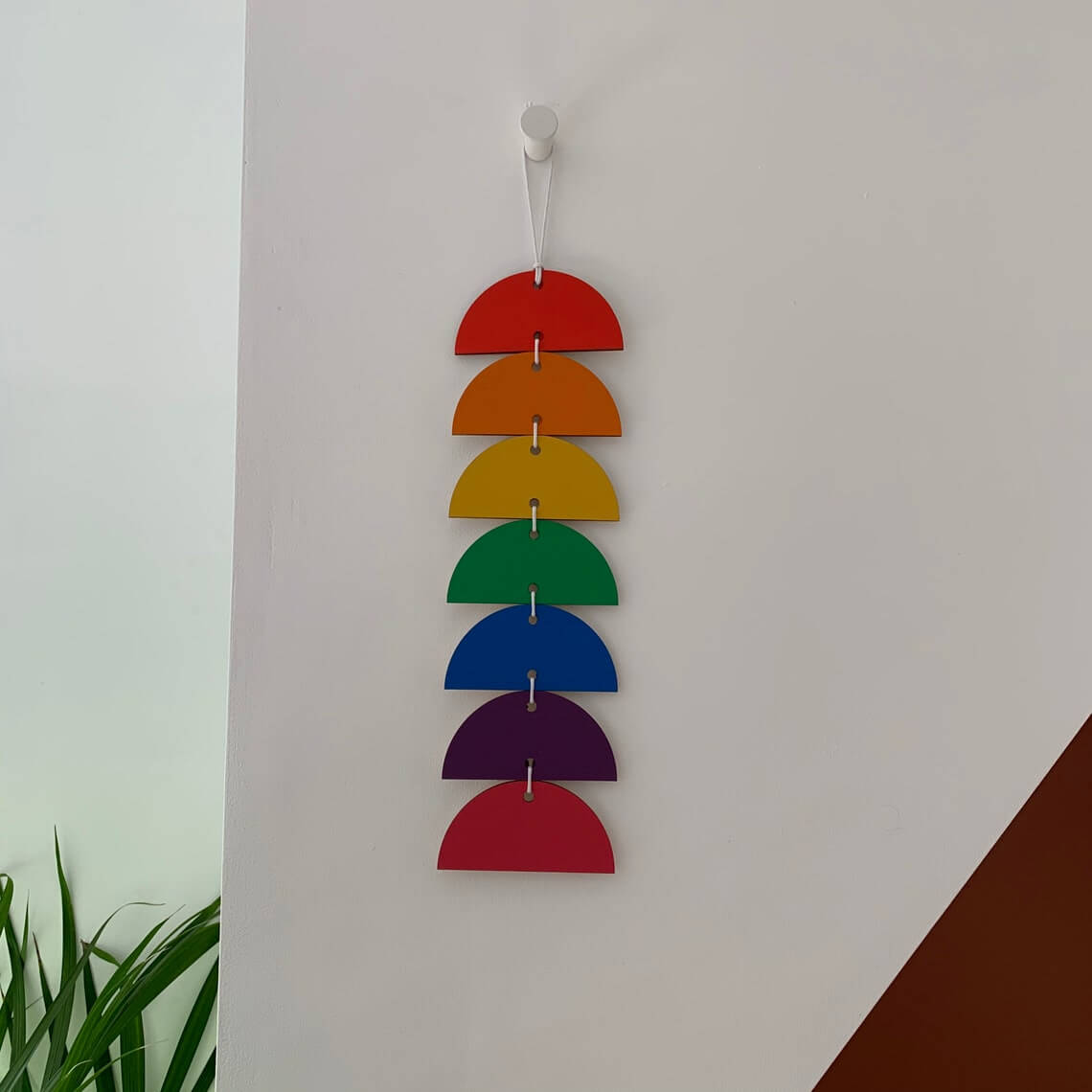 If you are looking for a more artistic approach to decoration, this wall hanging does just that. It is simple but effective, so it can be combined well with different decorating styles like in a Scandinavian setting. These have a beautiful geometric pattern that also adds to the artistic, contemporary approach. You can also choose four different rainbow patterns, which leave you room to either go the traditional route or look for something that more suits your style, such as. B. Pastel colors in rainbow colors.
19. Simple design with rainbow tassel garlands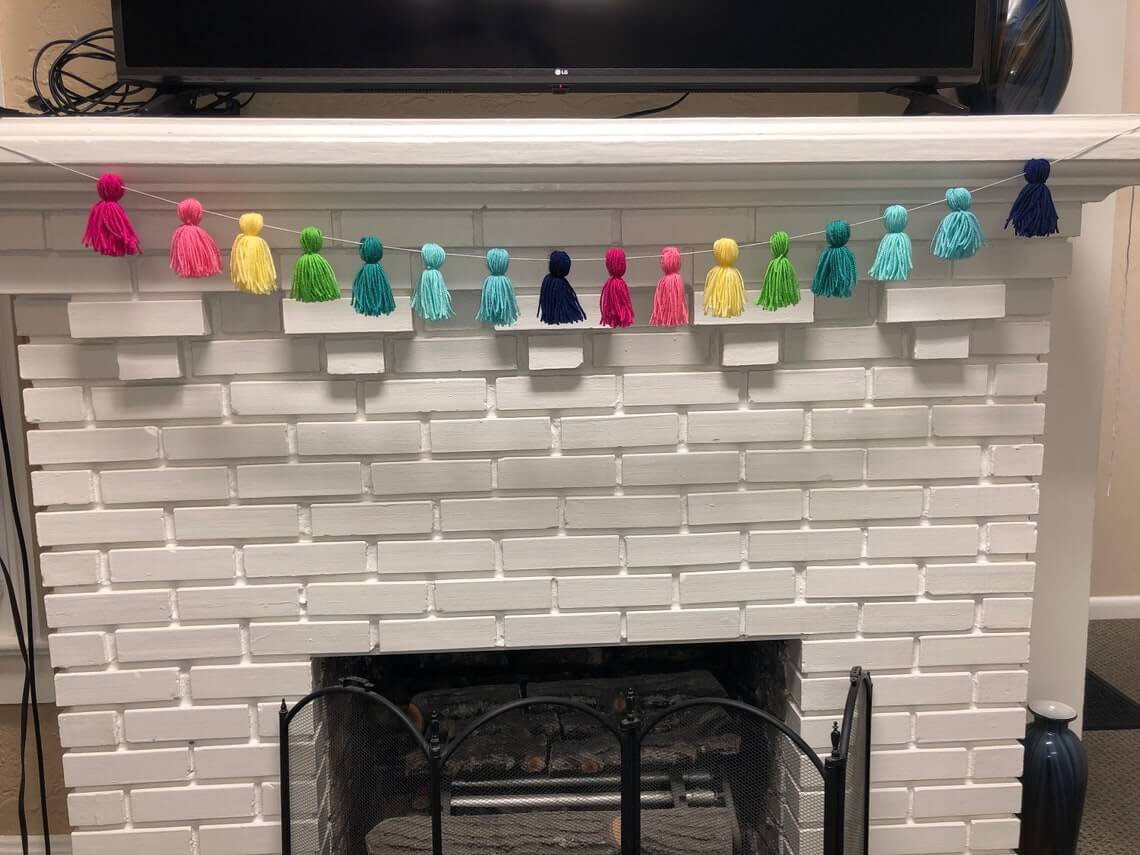 Brighten up any room or create the perfect atmosphere for a party with this beautiful rainbow tassel garland. These are such a beautiful color that no matter where you hang them, they'll grab attention. These tassels are also not attached to the string. That way, you can customize them however you want and move them as far away or as close together to meet your specific design needs. Plus, the garland itself extends up to 10 feet long, giving you more than enough to make this a standout decorative piece ..