Have you seen those curvy and winding stairs that would likely make you a little dizzy as you climb and descend? Looks nice, doesn't it? But these are not just for calling. And there's a good reason the designers and owners agree to add a spiral staircase to their home. Do you know the benefits of this type of stairs? If a room has limited floor space, a spiral staircase would be a good answer to this problem. Unlike traditional staircase designs, spiral staircases can take up less space and are usually open. And of course it looks very nice too! It can even look great in any type of room. Modern rooms, especially in open floor plans, appear more sophisticated if there is a spiral staircase in the interior. The beauty of the stairs can also be enhanced by using different materials. You will surely be excited to see different designs for modern spiral staircases. We have put together some pictures for you so that you can get great ideas for your future project. Scroll down and see what we have prepared for you.
1. Tree Top Residence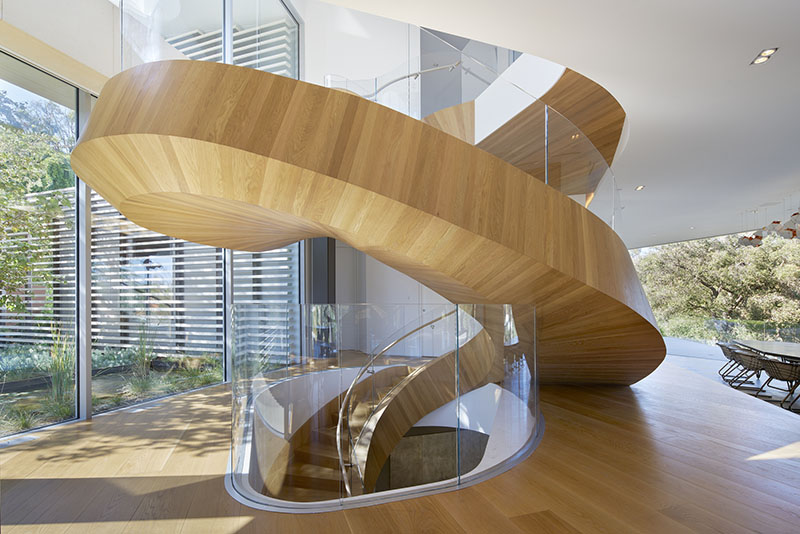 This is a creative staircase! In fact, its appeal is like a giant sculpture inside, which makes it one of the impressive features of the Tree Top Residence. Would you like to have something like this in your home?
2. Small apartment in Brazil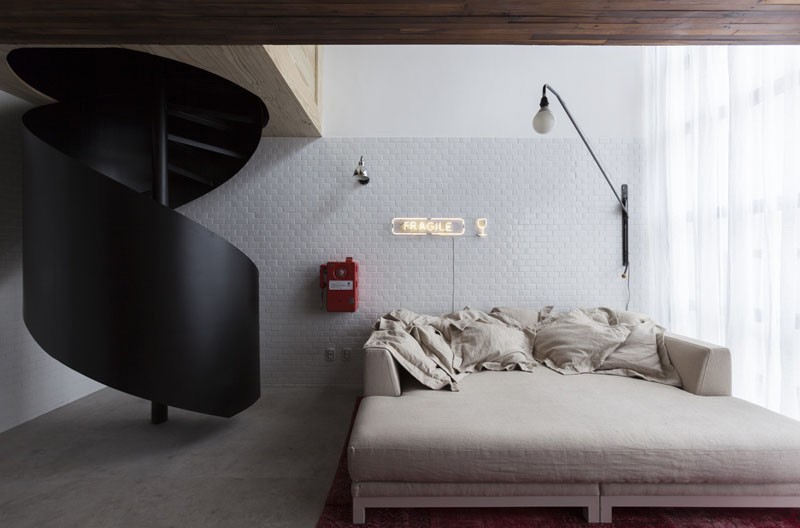 Architect Alan Chu designed this small apartment in Brazil in a modern industrial look. Isn't it nice that a spiral staircase can actually be added to a room even if it's not that high?
3. Xeros Residence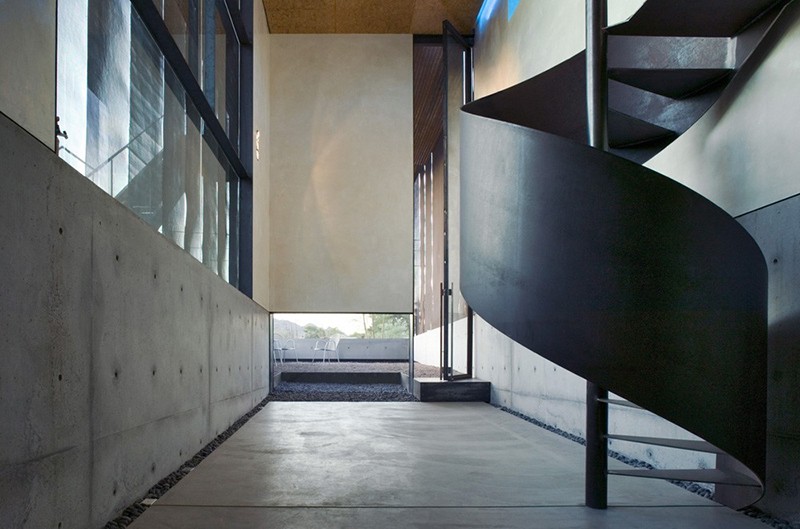 This external steel staircase leads to the residence. This leads to the upper balcony and then to a common room with the dining and kitchen area and a seating area.
4. Tower Grove Drive Residence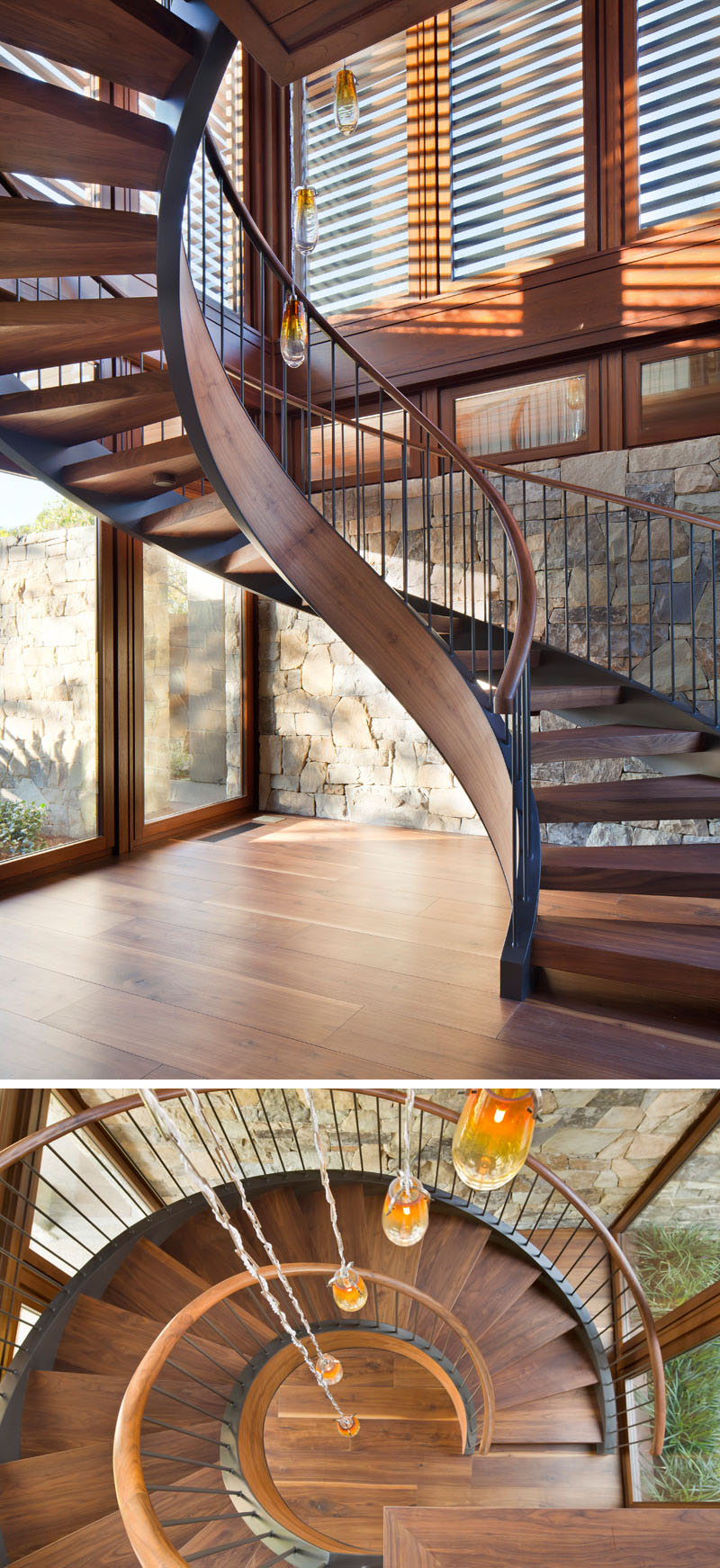 Isn't that a beautiful spiral staircase made of wood and steel? It is save! The brick walls added more art to this area in the Tower Grove Drive Residence. That will surely make you think that the rest of the house is definitely stunning!
You will be amazed by the huge spiral staircase of the Secret Garden House! The lighting added drama to it and gave it the spotlight it deserves!
6. KL Residence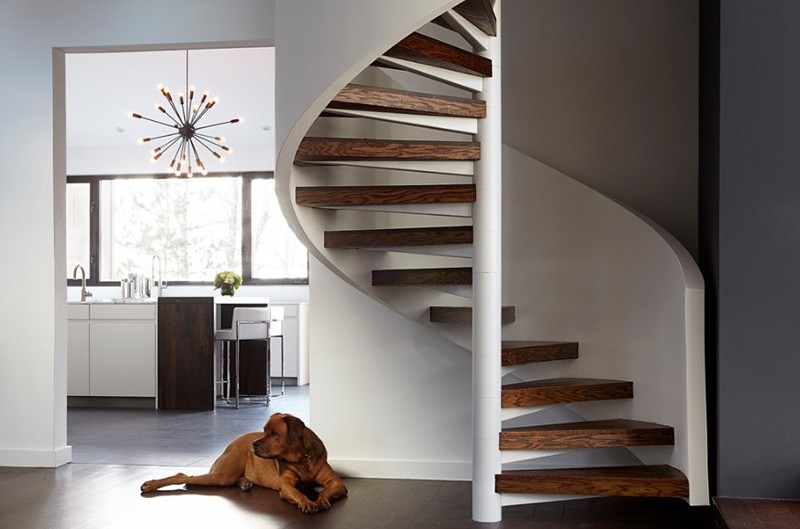 If you want a unique stair design that will fit in a small space, you can choose something similar that uses wood for the steps.
7. Zelthaus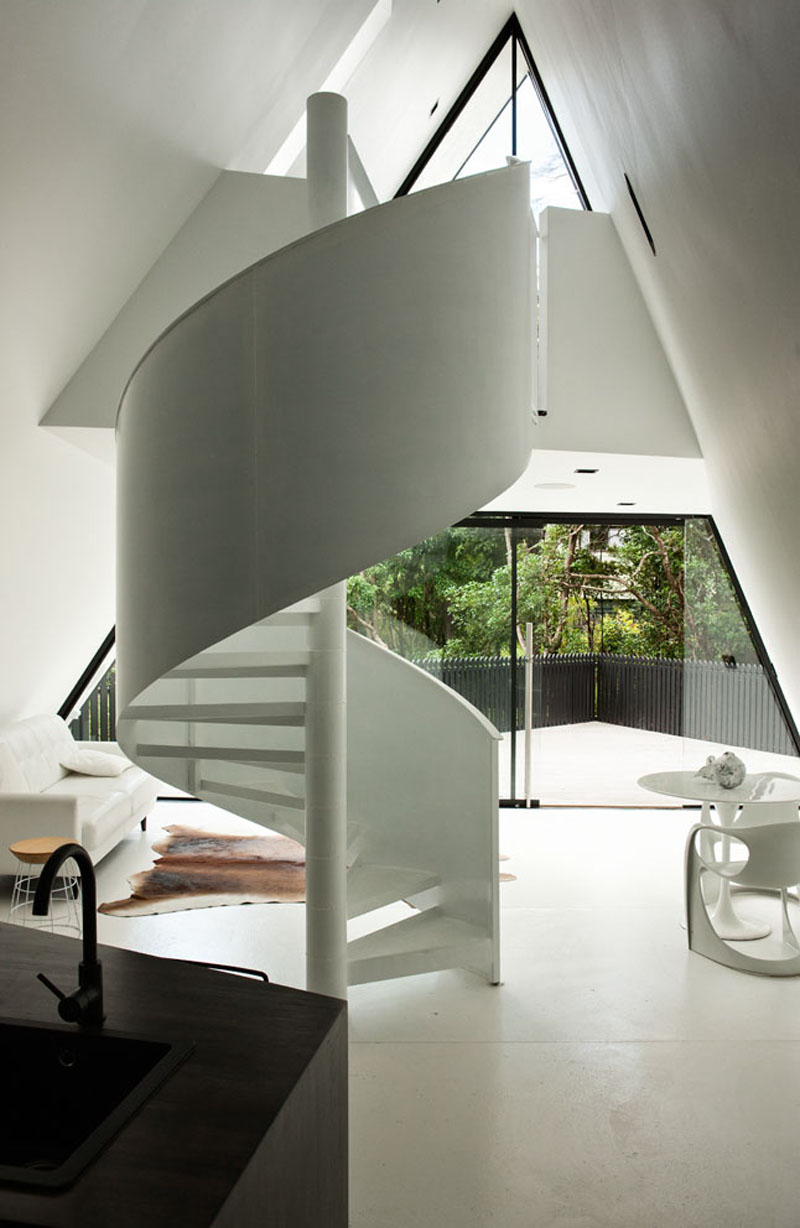 You will surely be impressed by the design of the tent house. As if the idea of ​​a tent wasn't enough for this house, they even built in a spiral staircase!
8. Minimalist house in Spain
If you are looking for something simple but sophisticated, this minimalist house in Spain is for you! Yes, the stairs are also minimalist in style!
9. Coastal Soft Modern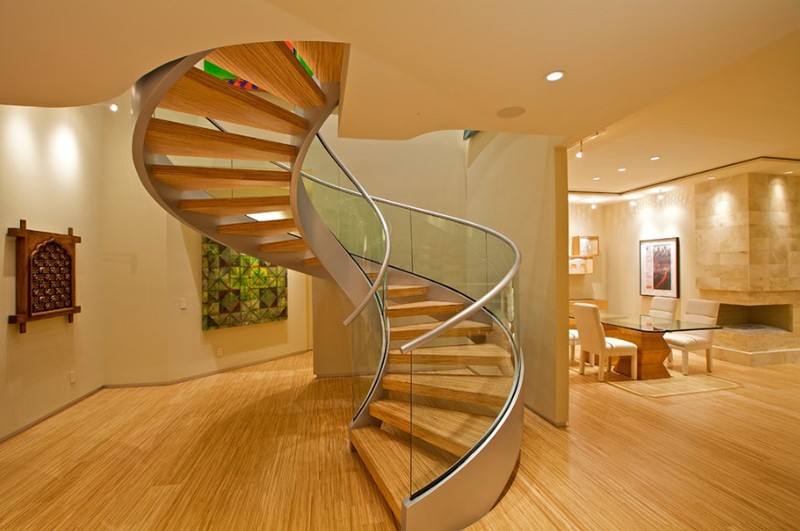 I would say this is a beautiful staircase indeed! I love the combination of materials and its soft, modern look.
10. Memory House
Designer ACERO used steel and wood surfaces for the stairs of the Memory House and I would say this is a stunning combination! Although we can't see the steps, the steel railings are a beauty!
11. Casa Blanca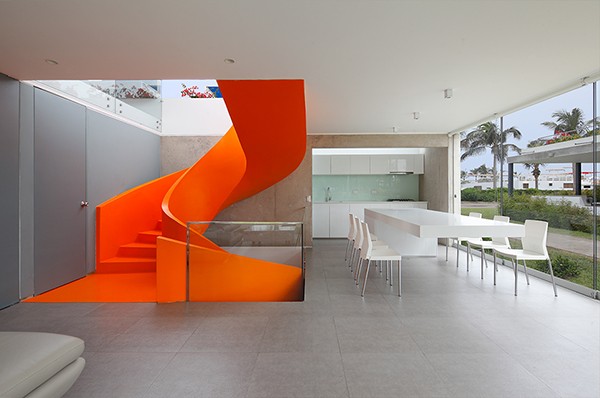 Casa Blanca is without a doubt a unique home! Who would think of adding an orange spiral staircase? I admire the courage of designers and homeowners to come up with this type of staircase.M16 Architetti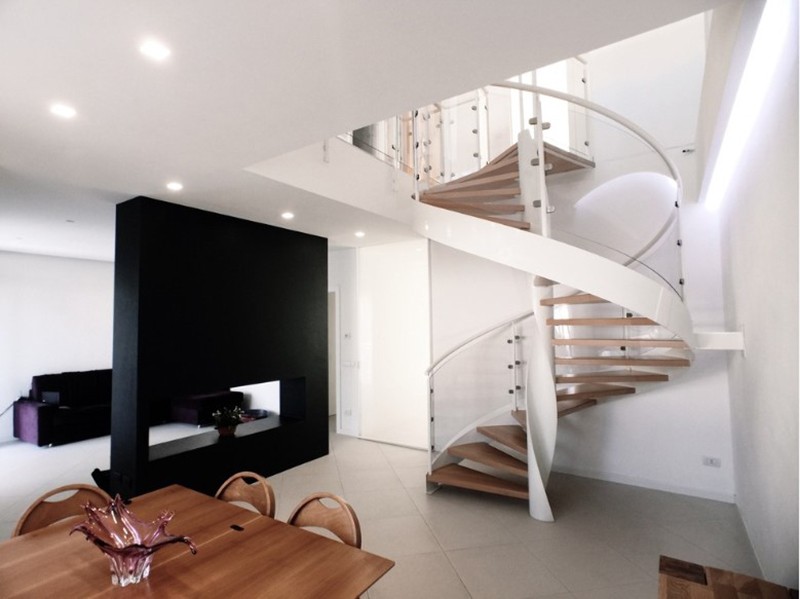 I don't know about you, but for me these stairs are definitely an eye-catcher and would be a nice highlight in the interior.
13. Apartment Huber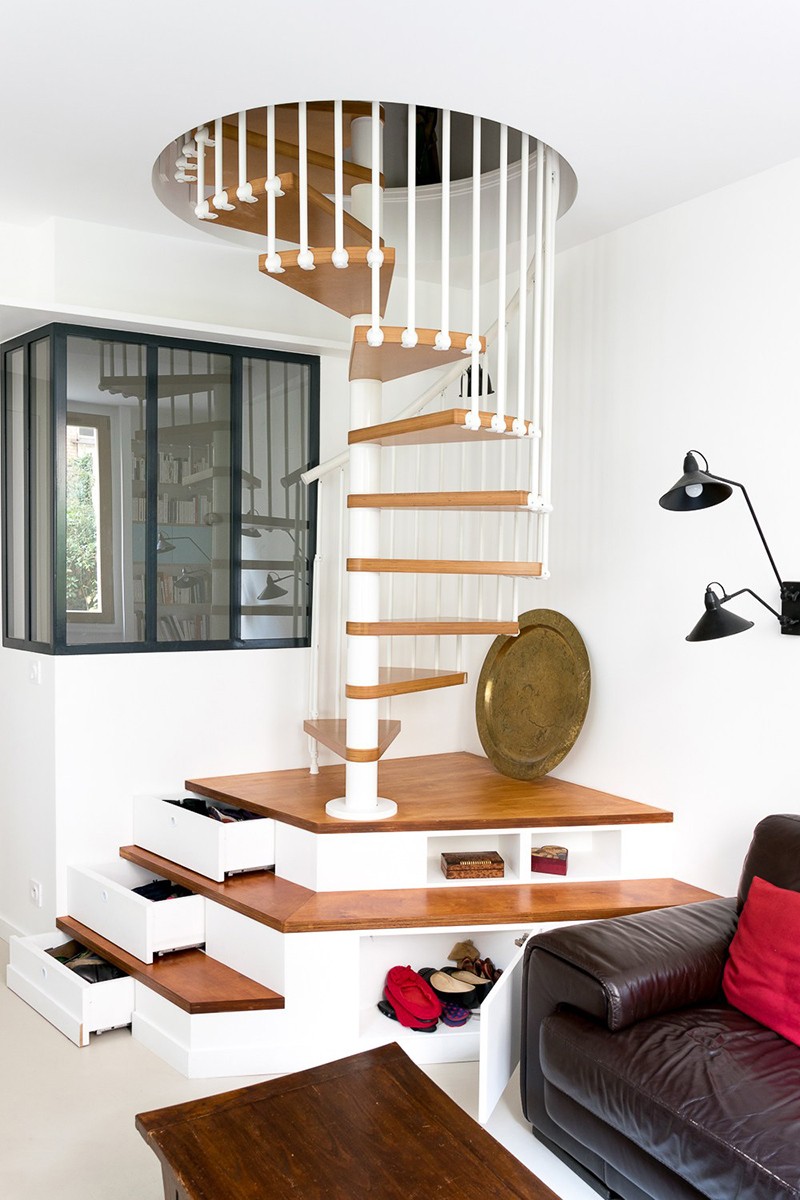 Adding drawers on the riser is indeed a great way to add another function to the stairs! That's very creative indeed, isn't it? But even without this feature, these stairs in Apartment Huber are an eye-catcher! Would you like more ideas about what to do with your staircase? You might want to add a wine cellar under the stairs!
14. Limantos Residence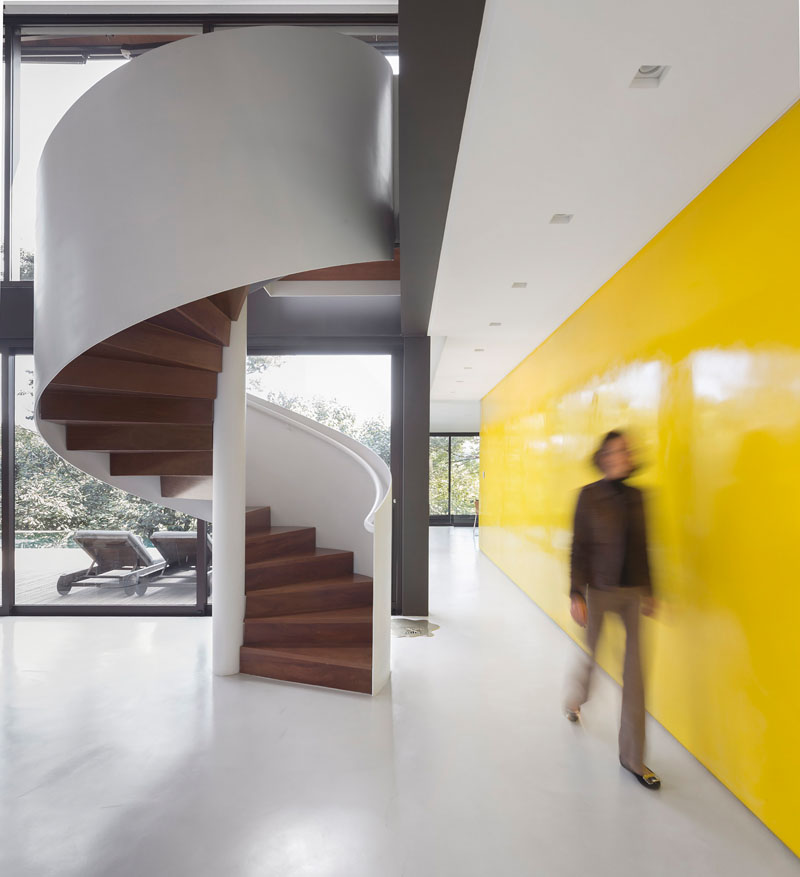 As always, wood and white never fail! This is one of my favorite combinations. Why not take a look at the rest of the Limantos Residence pictures? Find out if this combination was actually used on other parts of the house.
15. Flex House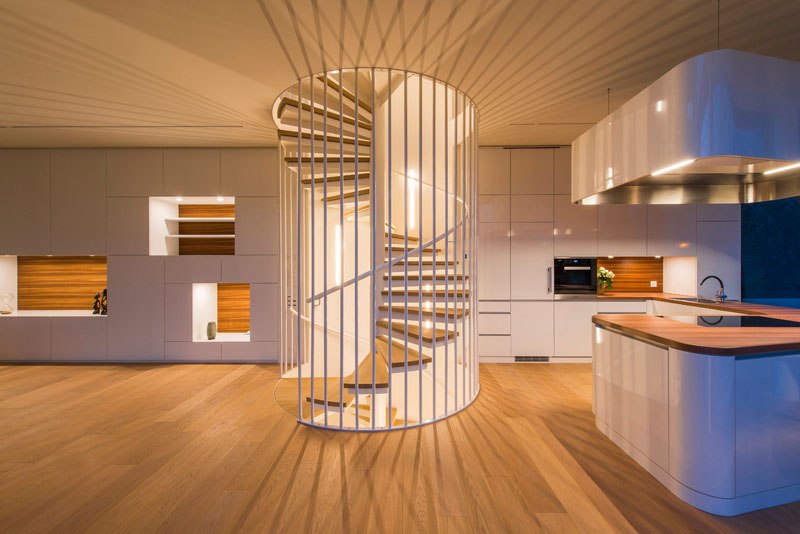 Going up or down these stairs will make you feel trapped like a bird! I suspect this is the kind of feeling the Flex House designers want to experience.
16. Aqua Perma Solar Firma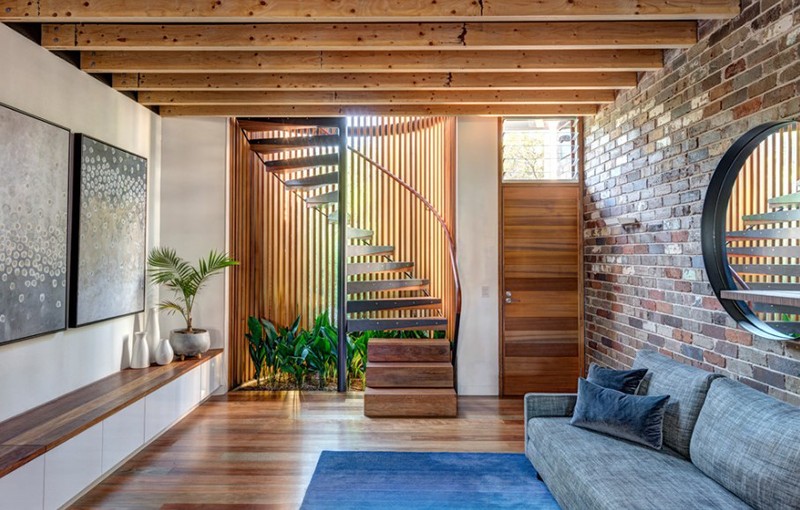 What you can see here is a spiral staircase made up of a series of glass and wooden slats. It doubles as an indoor garden, which is one of the sustainable features of the house.
17th Elizabeth Street New Zealand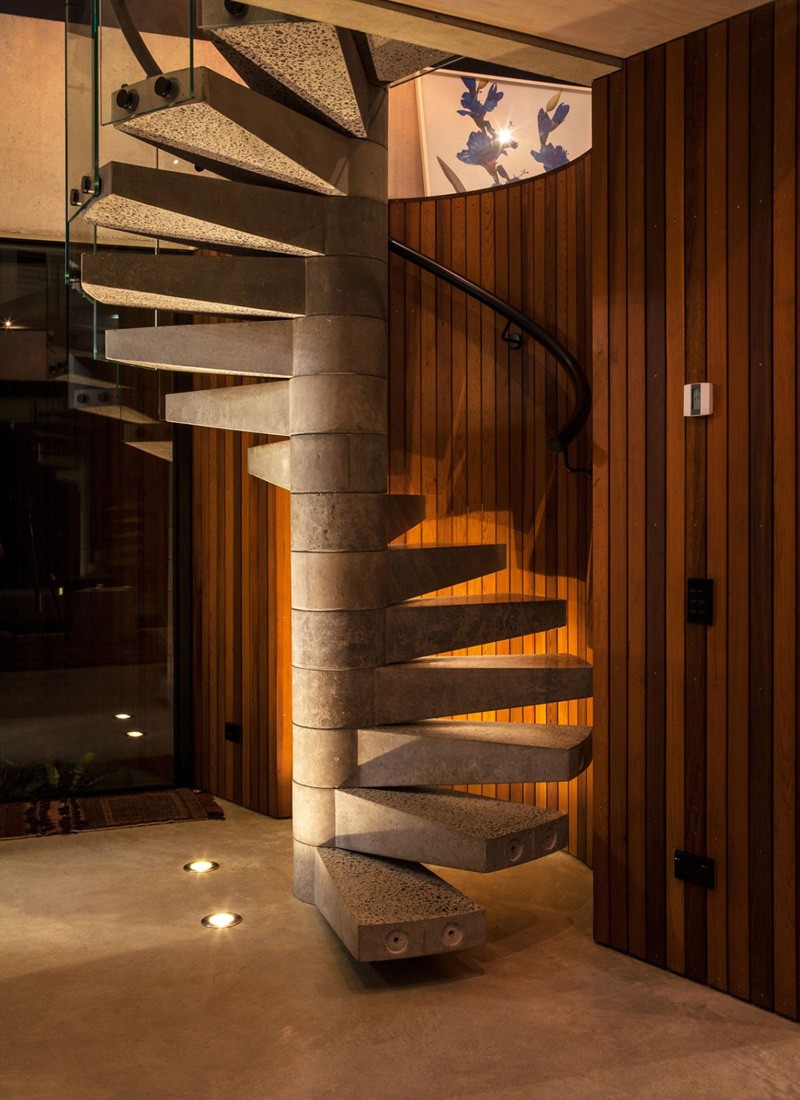 The use of concrete is indeed a unique way to build a staircase like the one we can see on Elizabeth Street New Zealand. It is very interesting to see their methodology in creating this one!
18. Floating Box House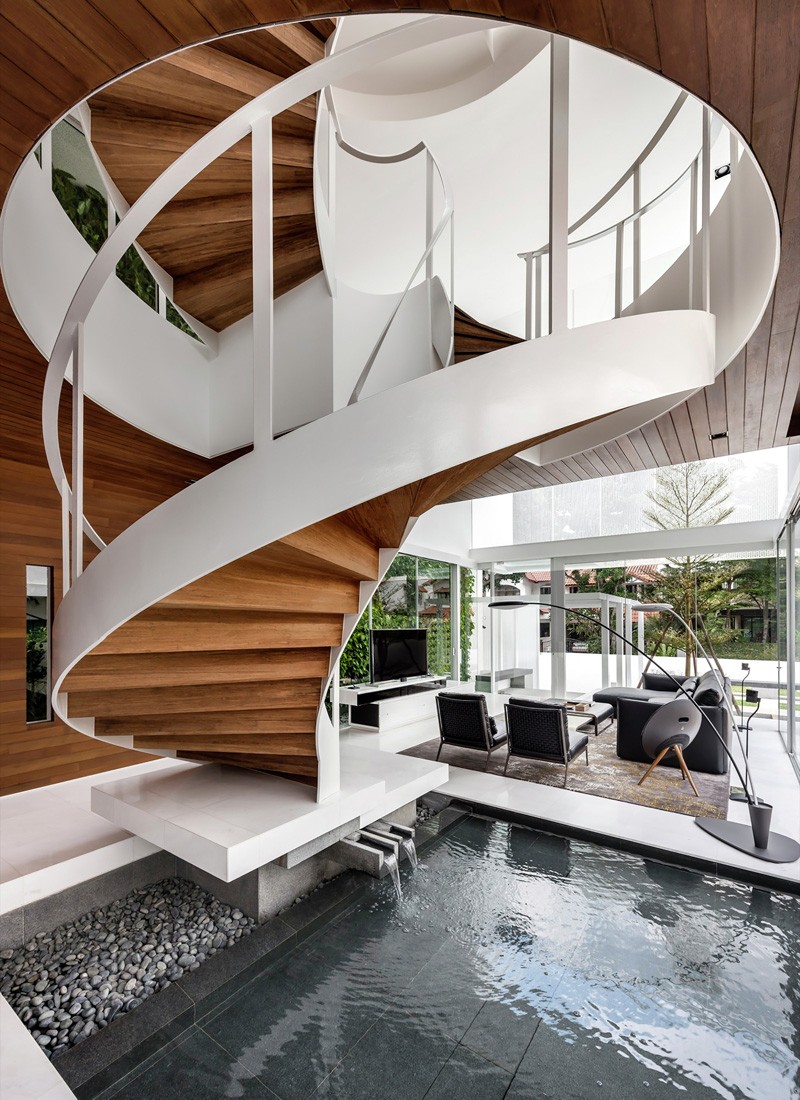 I'm not sure if it's the stairs or the water features that make this picture very appealing! But I think it's actually all about the Floating Box House that is very impressive! When you see the rest of the house you will undoubtedly love it!
19th Conversion of commercial buildings into living spaces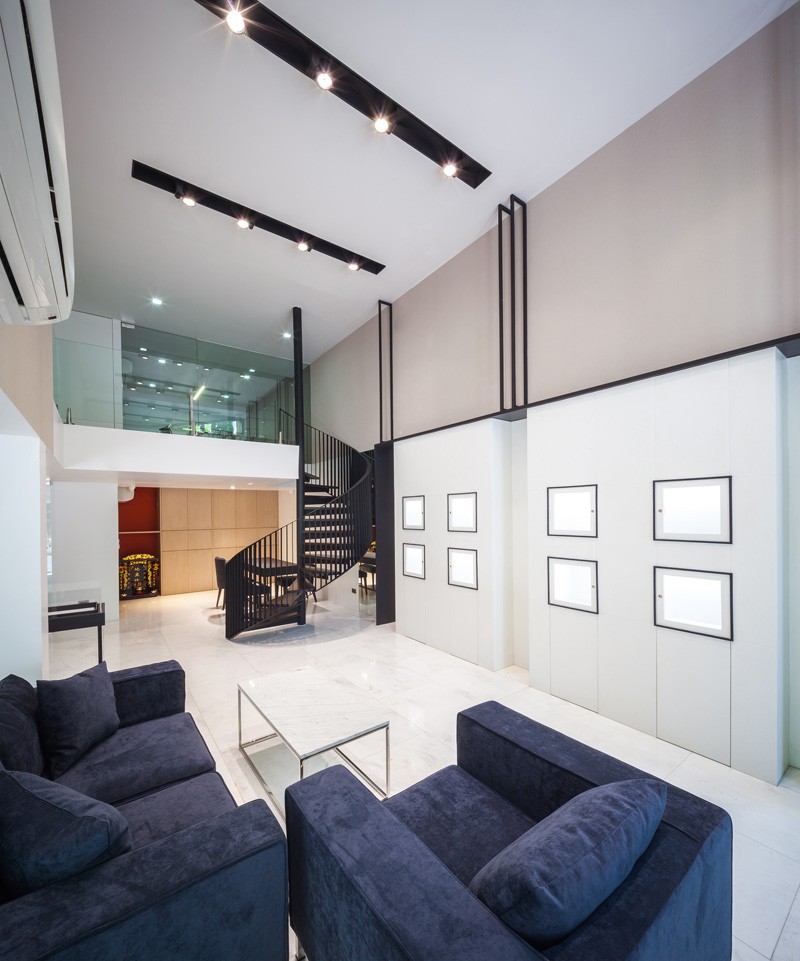 This room is a renovation of a commercial space because the owners have redesigned its use as a residential building. They added a loft area accessed by black steel stairs.
20. Modern Staircase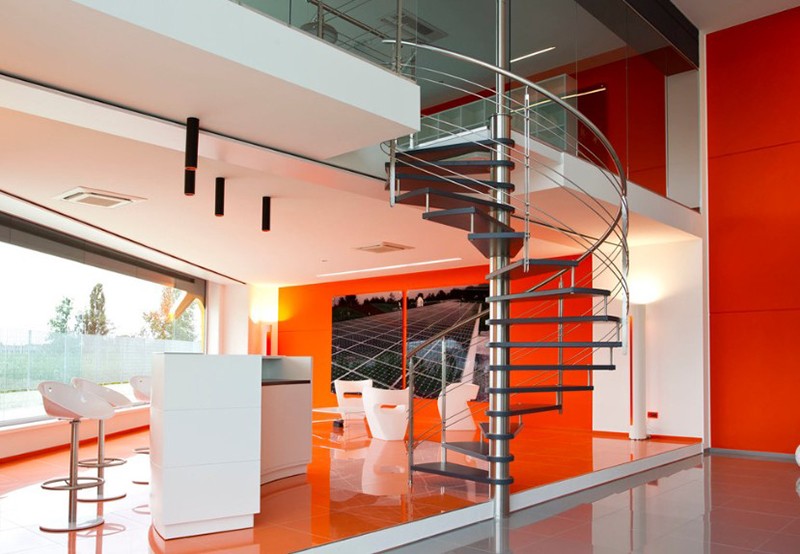 This one has a masculine appeal due to the use of stainless steel and black steps. The orange-red walls in the interior make it look even more beautiful.
21. Laurel Way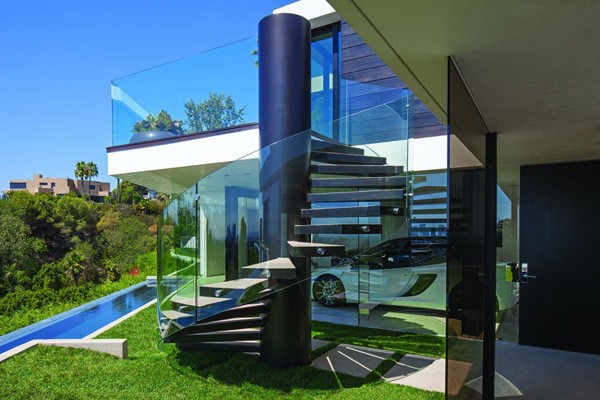 Who says you can't add this beauty to the outside? This Laurel Way glass spiral staircase is indeed an outdoor feast for the eyes! Imagine walking up these stairs while looking at the breathtaking view of the place.
22. Maister Project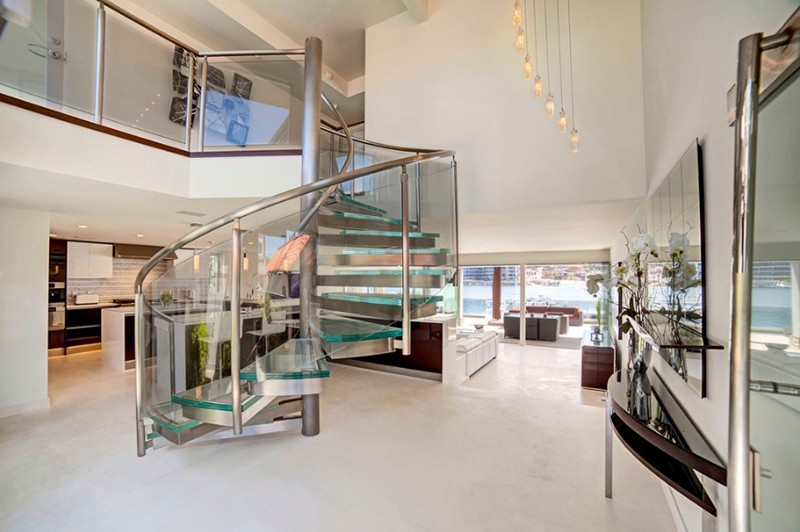 The owners of this house were pleased with the outcome of their Cantoni designed house. A popular feature of this beach house is the glass and stainless steel spiral staircase that you can see here. Because of its materials, it added more light and shine to the interior.
23. 270º Twist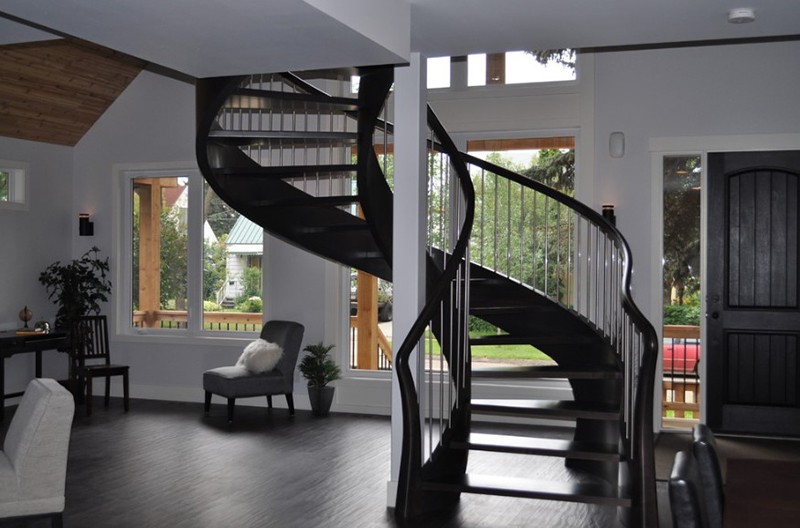 These stairs are a showpiece in a loft house. It is complete with open maple steps that are stained dark and round stainless steel spindles. It is designed with a flared floor and 2 swooping rails that return to the floor. It also features a curved support heel that accentuates the look and also gives it a freestanding ability.Casa Bilbaina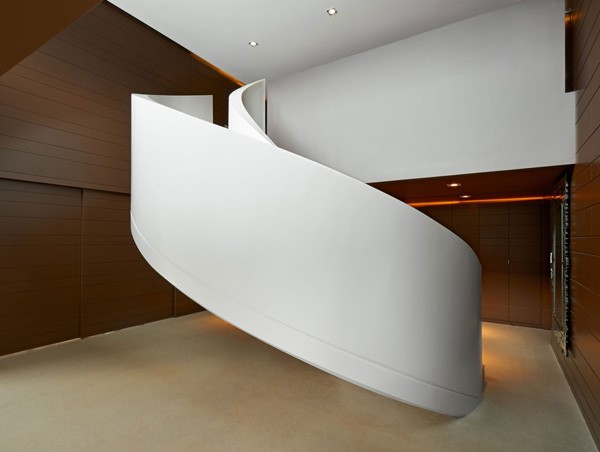 Spiral stairs like this one have always fascinated me! They actually look like huge sculptures which makes them even more interesting. You can also look at other photos of Casa Bilbaina.
25. Chenequa House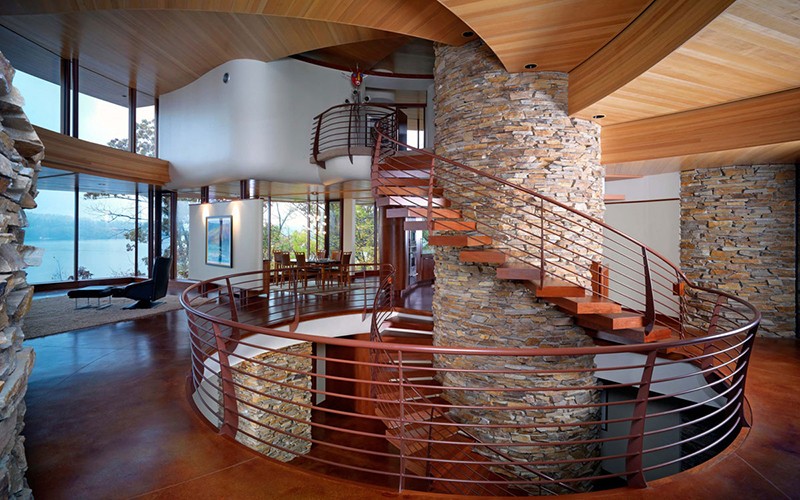 Architech Stairs & Railings Chenequa House has this lovely staircase with wooden steps. Don't you love its natural appeal? They are all beautiful! This list actually makes me think of adding a modern spiral staircase to my home. Although Feung Shui does not approve of this because it makes homeowners feel less secure, many people still prefer to use them. One reason could be that not everyone believes in Feng Shui. Another good reason is that the room really deserves that swirling beauty that moves up to the next level of the home. But if you're not a fan of it, you can always use the traditional staircase. Take a look at some modern staircase designs with glass railings, this will surely give you more ideas for the stairs in your house!