With the holiday season approaching, it's time to start decorating by using some of the best neutral Christmas decorating ideas to make sure your home is ready to go. Many of us who love to decorate our homes to match the season jump for joy when it comes to the holidays. There are numerous ways to furnish your home so that you are always in the Christmas spirit. Decorate the railing and the fireplace with garlands, decorate the walls with various murals and of course we must not forget the tree. Whether you are decorating a large tree or a handful of small trees, one tree makes all the difference because it gives you even more space for additional decorations.
You can also decorate every room in your home to make you feel happy and full of life wherever you go. Figuring out where to decorate is just the beginning as you have to decide on a theme. There are the obvious green and red, or even silver and gold, but if you want your Christmas decor to blend in with the rest of your home then a more neutral color scheme is ideal. Christmas decorations in neutral colors can still stand out on their own without completely overwhelming the space. These items designed in this style can have a timeless appeal that makes them so attractive and inviting. If you don't know where to start, hopefully our list of some of our most popular neutral Christmas decorations will help you get an idea of ​​how to dress up your home for the holidays.
1. Stunning Neutral Christmas Tree Decorations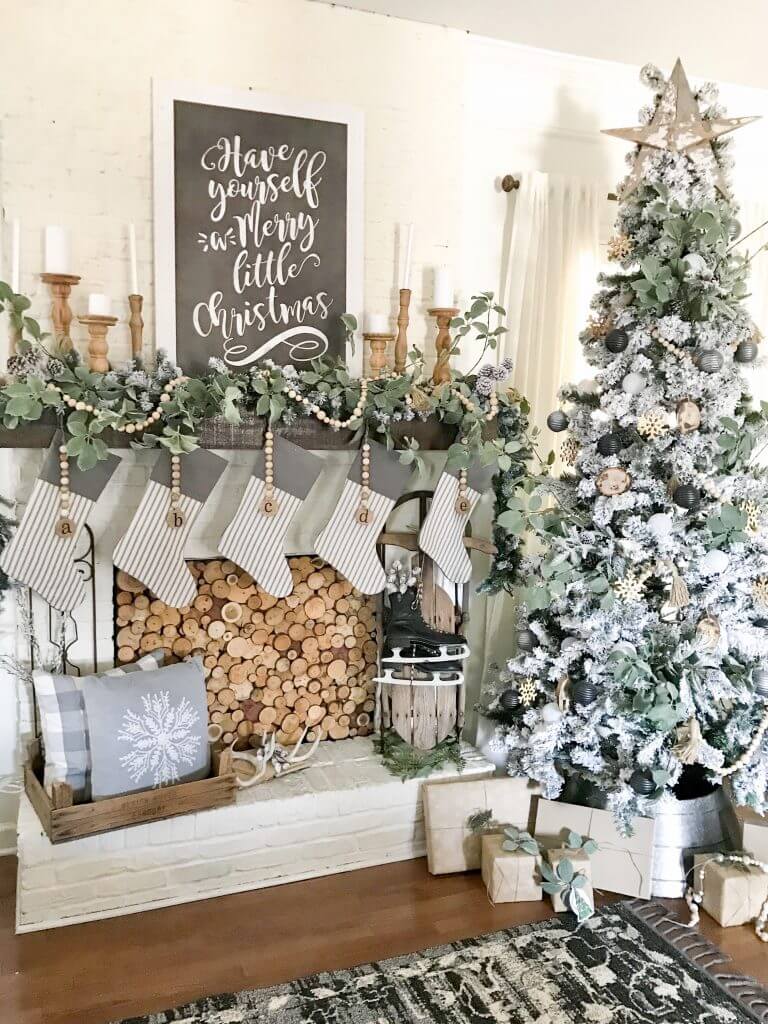 One cool way to decorate the holidays with a neutral theme is to use the natural color of your Christmas tree as a starting point. Green in itself is a wonderful color to add to the holiday spirit, and it's also a good theme to use warmer colors like shades of beige. There are many ways to do this, adding garlands to the greenery to give the area a bit of an outdoor feel that goes well with the season. Lightening the tree with some beige pearls or beige ornaments is another high quality way to loosen up the coloring a bit.
2. Adorable Miniature Yarn Tree Decorations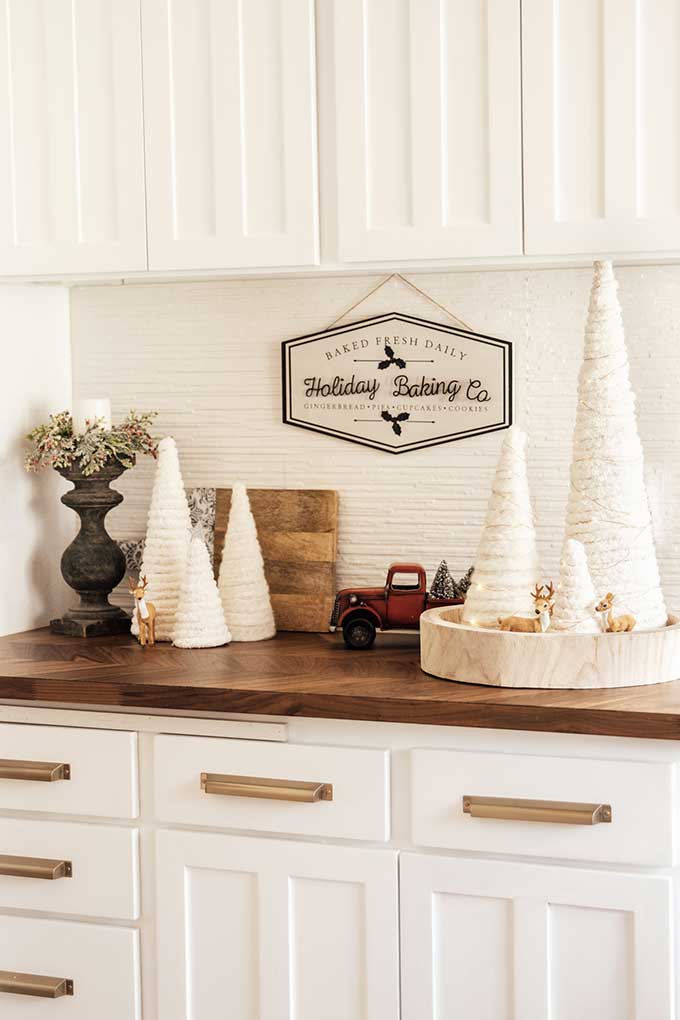 If you have some table space, be it on a coffee table or console table, it certainly deserves some love and attention when it comes to decorating for the holidays. The yarn is such a creative way of making something that is both cool and beautiful. A light color like white also works well as the trees you are building will immediately grab attention. You can also always add something to the scene to make everything even more vivid by adding more miniature decorative items to match the holiday. Planting trees of different sizes is another great way to differentiate between each so that everyone gets the attention they deserve.
3. A Neutral White Christmas Tree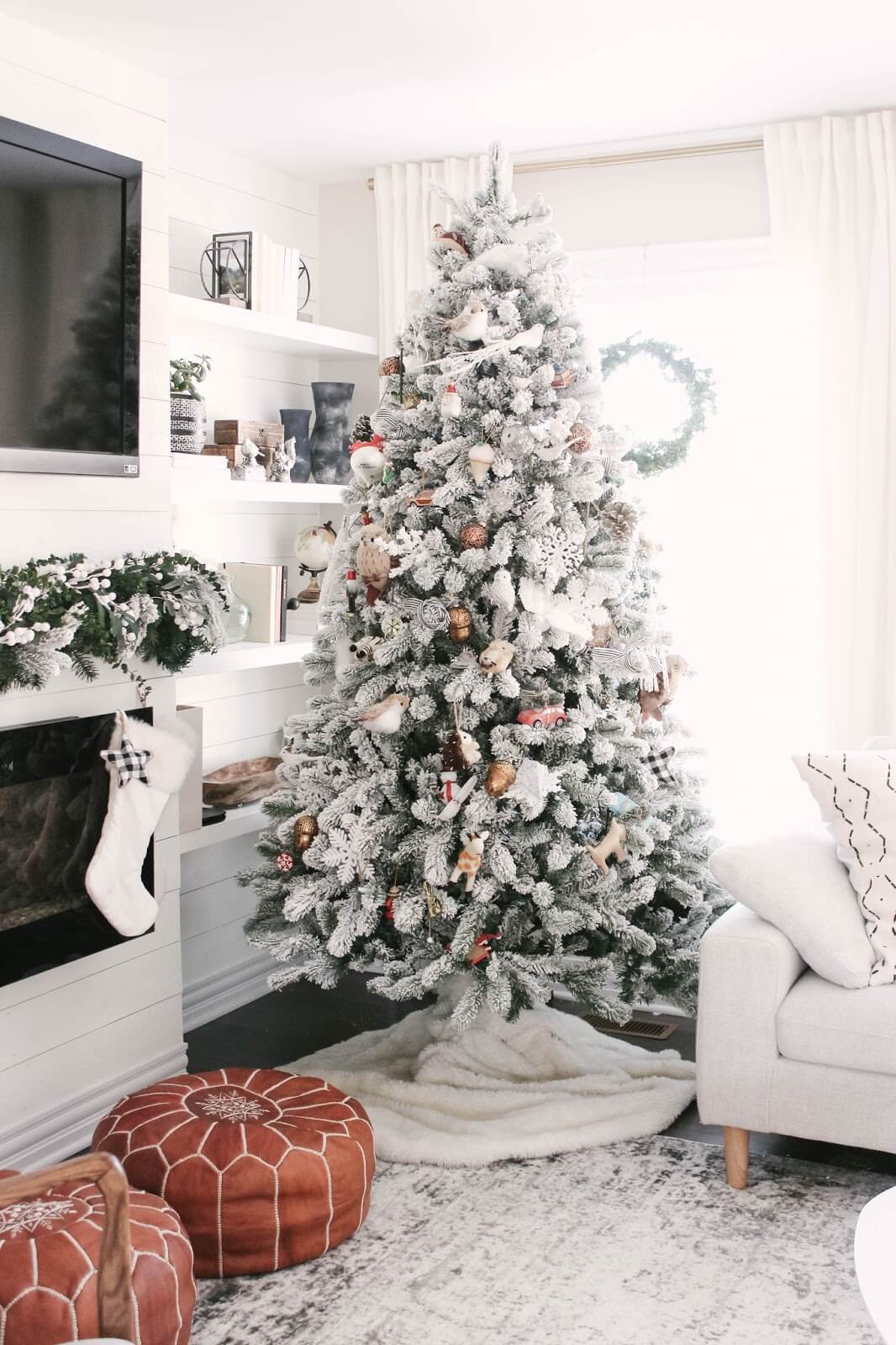 Sometimes white can be one of the best ways to capture this neutral theme. Instead of getting a white tree, however, there are gorgeous Christmas trees that have a nice wintry frost on them. It's an easy way to build a winter wonderland in your home without getting too bold with the color style. Instead, the white stands out more than anything, making a Christmas tree like this one work effortlessly in a more modern home. If you have a fireplace mantle or other place to hang stockings, go for white with a green garland for an extra pop of color.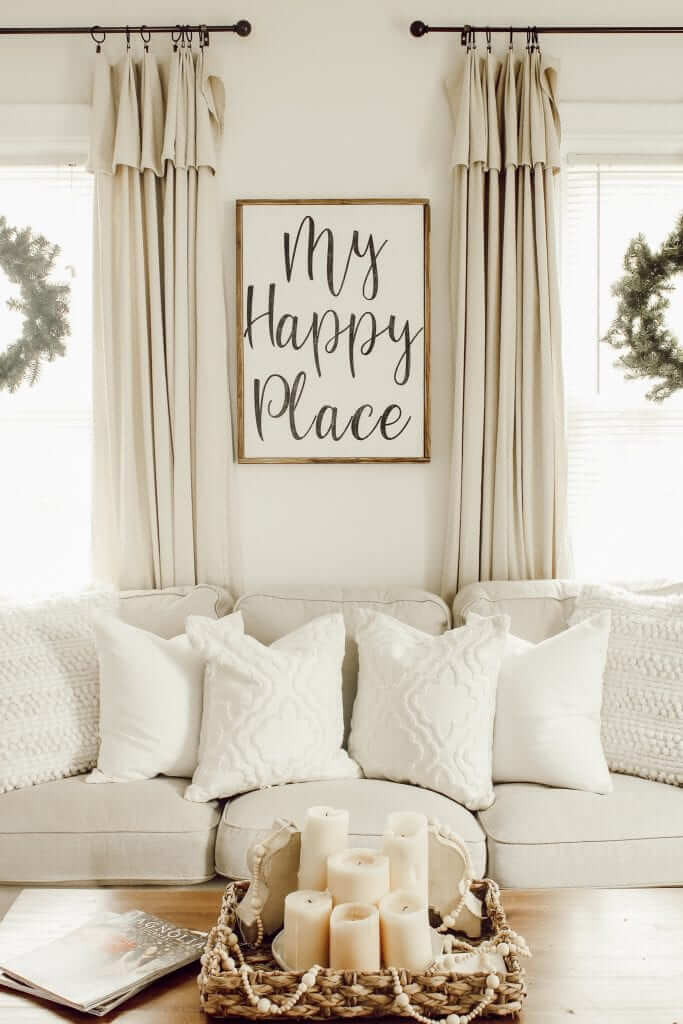 If you don't have a bright couch, you can always find a suitable throw pillow for the couch instead.For those of you with a coffee table, it can help solidify your subject further. There are plenty of neutral Christmas candles that you can find to add a little extra ambience to the room. Decorating the wall is also useful for adding a little more Christmas cheer to the environment as there is plenty of Christmas art to hang.
5. Simple neutral Christmas corner decorations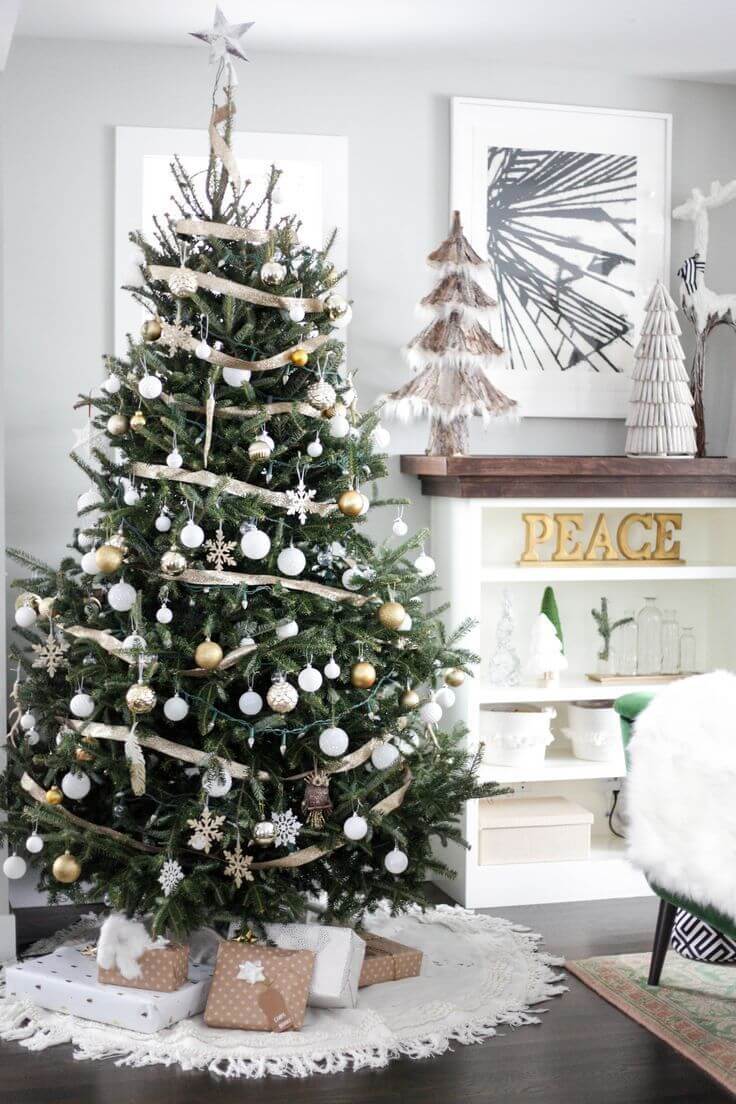 With your Christmas tree in the corner, you can use it as a starting point for your Christmas decorations . A great way to stay neutral with your tree is to use simple shades of beige and maybe add some gold accents in the ornaments. Even white will look good in this case as the decorations have a lot of flow and make your eyes wander from top to bottom. You can also complement the decorations around it if you want it all to go together. Sticking to green and gold works just as well in this case as it does with some lighter colored items.
6. Rustic Pine Cone Centerpiece Layout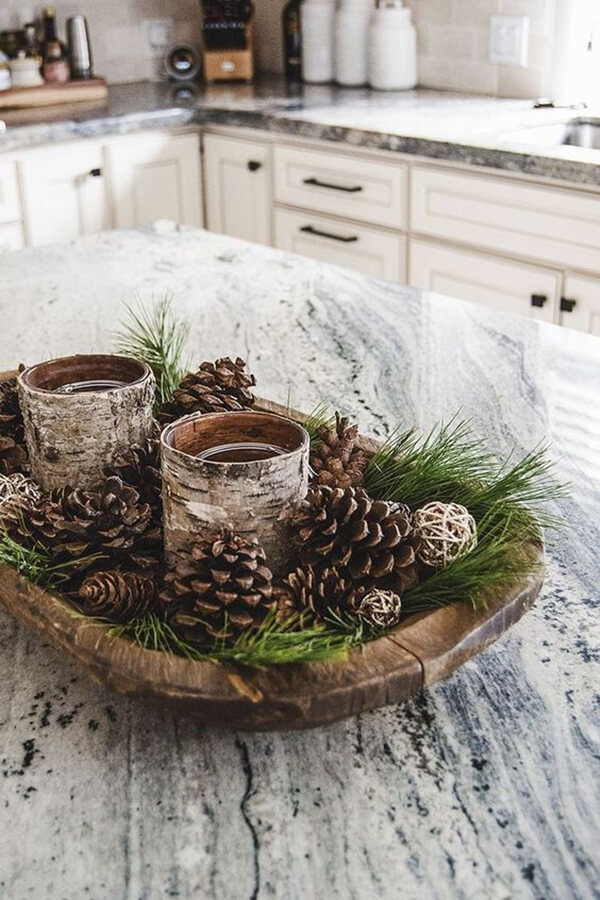 A dining room table is a place where family and friends gather, especially on the holidays, so it's the perfect place to showcase some of your neutral Christmas decorations. In this case, let's stick with a rural, rustic theme with natural materials like wood for the base. The bowl also helps keep things simple, as the pine cones and candles that are added to the bowl attract most of the attention. Of course, some pops of color never hurt, so consider using a garland or something similar to throw it in some shades of green.
7. Whimsical Gold Christmas Coat Design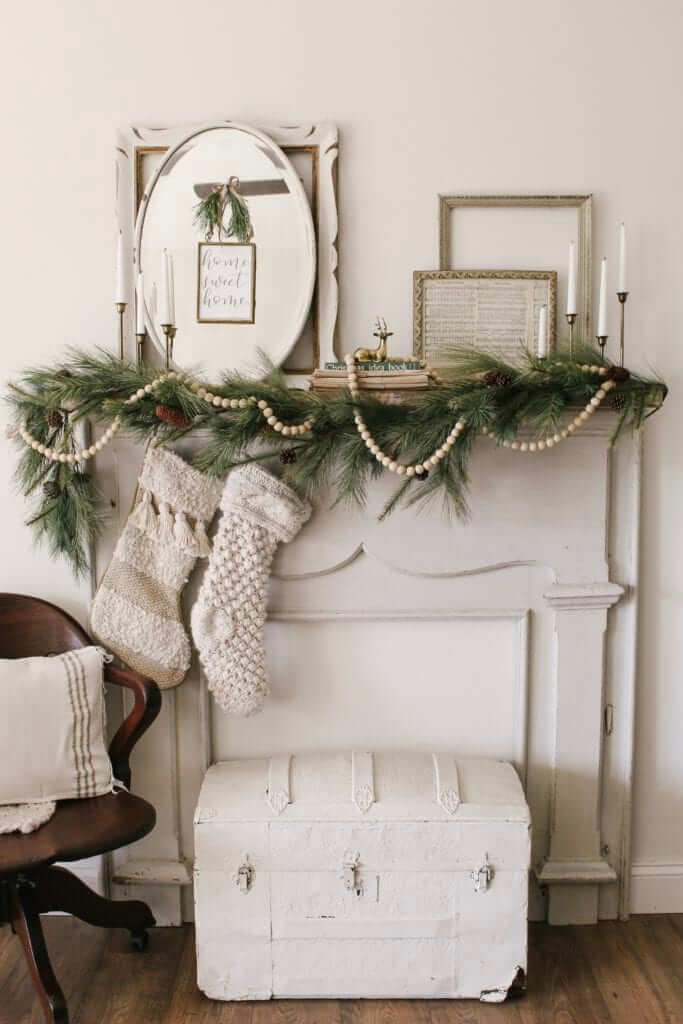 A blank coat screams out something stylish for the holidays, and tones of greens and golds are a stunning approach. The green immediately catches your attention, and from there your eye wanders through the rest of the gold-accented coat. The pearl garland blends in well with the green, and you can always add some pine cones to add more color differences to the piece. When you've got some stockings hanging on, they'll look good when they're a lighter color to further offset the bold green.
8. Cute Winter City Miniature Table Decorations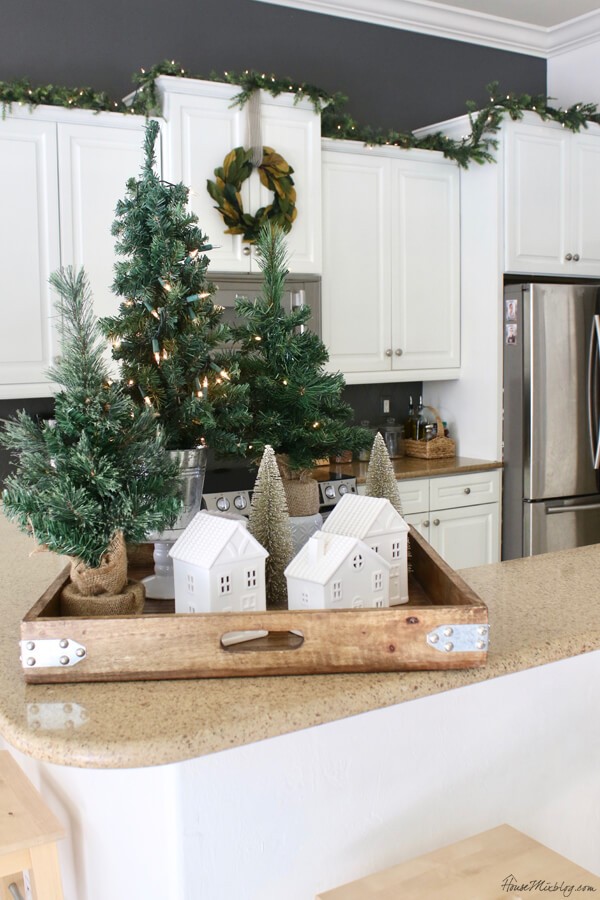 There's a lot you can do with a serving tray when it comes to creating incredible Christmas decorations in neutral colors. The tray gives you all the space you need to build your adorable winter wonderland city that is small. The white houses just pop and they contrast perfectly with the larger green that surrounds them. You can even consider adding some Christmas lights on the trees. This way you can turn on the lights in the room when it is dark so that your miniature city can shine all day. It's a design that can work in different rooms around the house.
9. Incredible Firewood Winter Decoration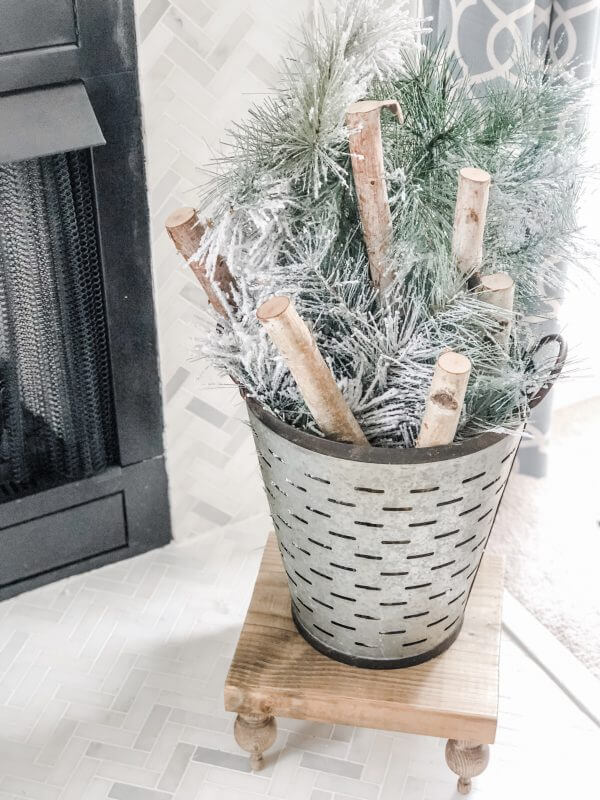 This farmhouse-inspired decorative item works well with your neutral living room decorations. It works well, of course, when placed near a fireplace as a functional decoration, as it can hold small logs well enough. The logs are a good way to add that natural style to your design. To get creative too, add some green to the bucket as well. It can limit the number of logs you can put in it, but it also allows your fireplace to function well as a decoration. One fun thing about this project, however, is that you don't need a fireplace for this as this design can also look great in an entrance area, for example.
10. Beautiful rural Christmas decorations in the entrance area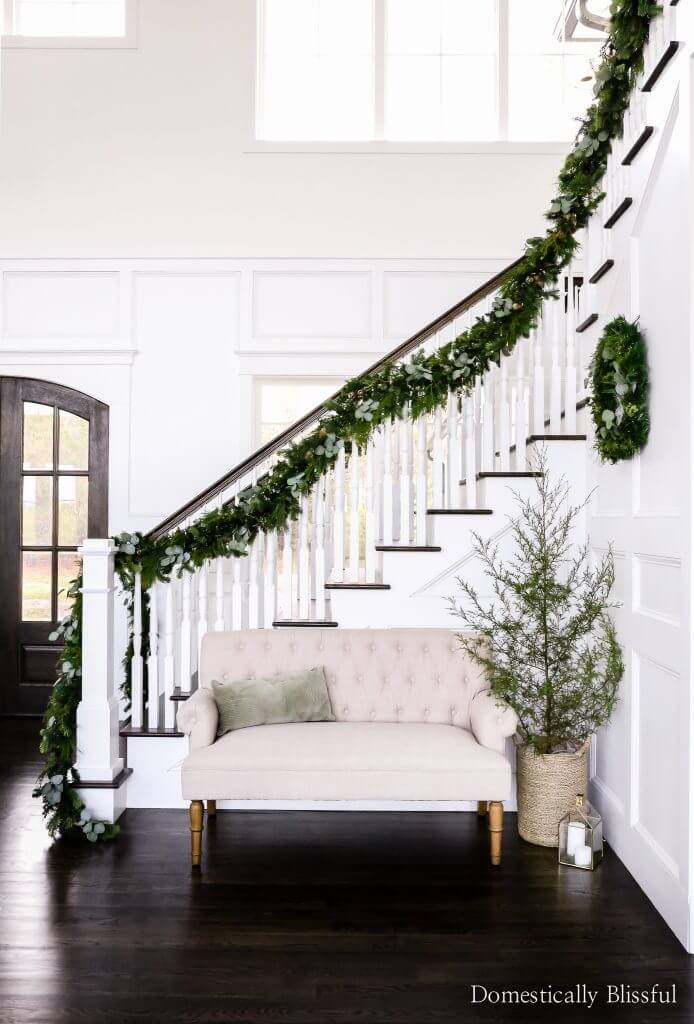 The entrance area is an ideal place to plan some of the best neutral Christmas decorating ideas. It's the first thing anyone who visits your home sees, so it's important to highlight it so that it is remembered. In this case, you can opt for a rural theme, as the greenery used can immediately evoke the feeling of being outside in fine winter weather. Garland is a wonderful tool in this case. If you have the space, you can decorate the door or walls with matching wreaths. The simple style emphasizes enough to breathe even more life into the setup.
11. Perfect Christmas Tree Made of Pallet Wood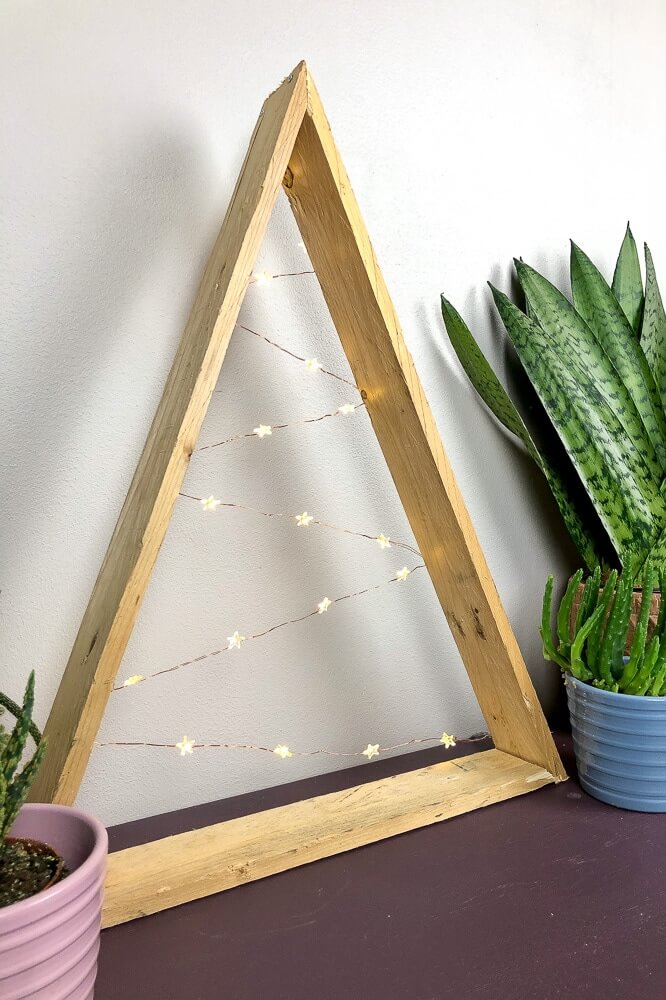 Not many neutral Christmas decorations have a peasant style like this pallet wood tree. This will add something really distinctive to your home that will make your personality shine. It's also a great way to stick with a minimalist style since it's a triangle made out of pallet wood. The material adds a rustic touch to this makeshift Christmas tree that suits a home with a similar theme. What allows this neutral decorative item to make the holiday complete is the Christmas lights in the center to brighten the whole thing up.
12. Forest Christmas Tree Decorative Setup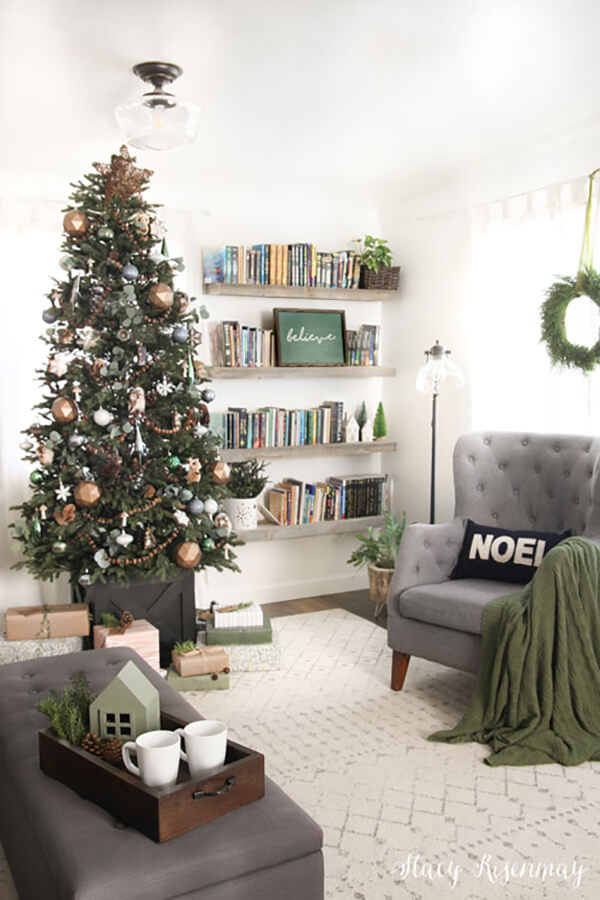 A forest theme is a great neutral option as it is also rural enough to easily fit into a country style home. The Christmas tree in this case is stunning in the simplest possible way. To make up for the lack of bright coloration, there are plenty of shades of brown and beige throughout the tree that give it the right amount of life. The silver ornaments can just as easily be combined with everything else and still retain the rustic outdoor feel. You can also pad the tree up as the neutral color option allows everything to work just fine on its own without being over the top in any way.
13. Beautiful winter forest crate table decoration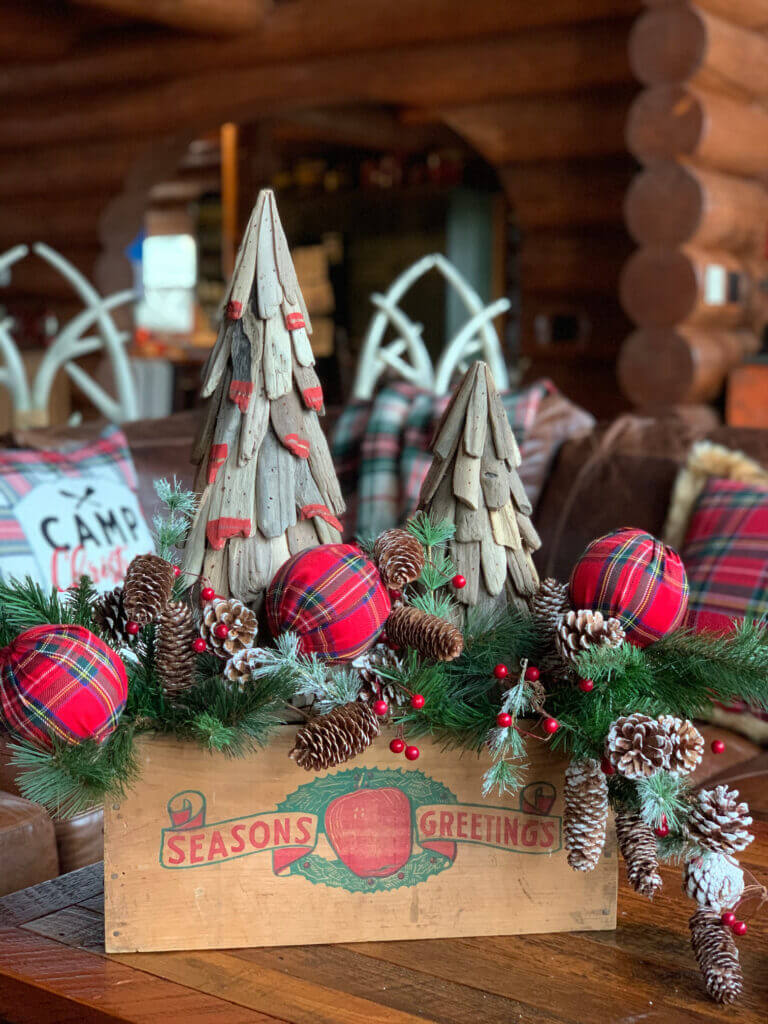 Sometimes we may not know what to decorate our tables with for our Christmas decorations. If you're looking for something else that uses neutral colors well, this forest crate is the place to go. A lot happens in the box without the piece being overwhelming or distracting. Everything just fits together well. The artificial Christmas trees are quirky in some ways, while the green, berries, and pine cones remind you of nature.
14. Beautiful patio Christmas tree design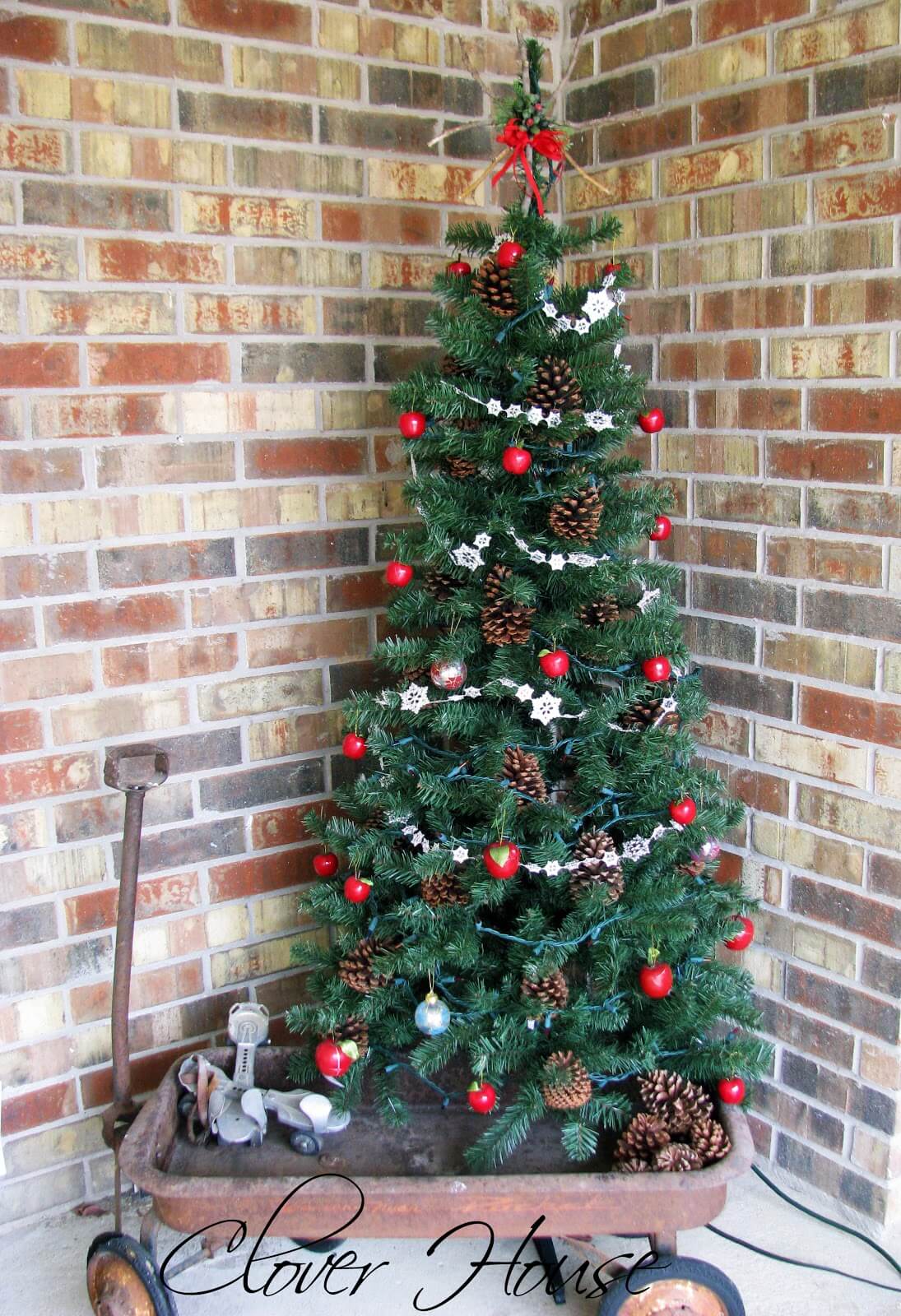 A Christmas tree doesn't just belong in your home. If you have the space, a tree on the porch will work just as well. It will be the first thing people see when they walk into your home, and it will give them a good idea of ​​the potential creativity that is in it. Simple shades of red go well with the green Christmas tree. It goes with the natural outdoor feel the whole thing already has, especially if you add some pine cones to the tree to go with the winter theme.
15. Christmas Santa Vintage Pallet Art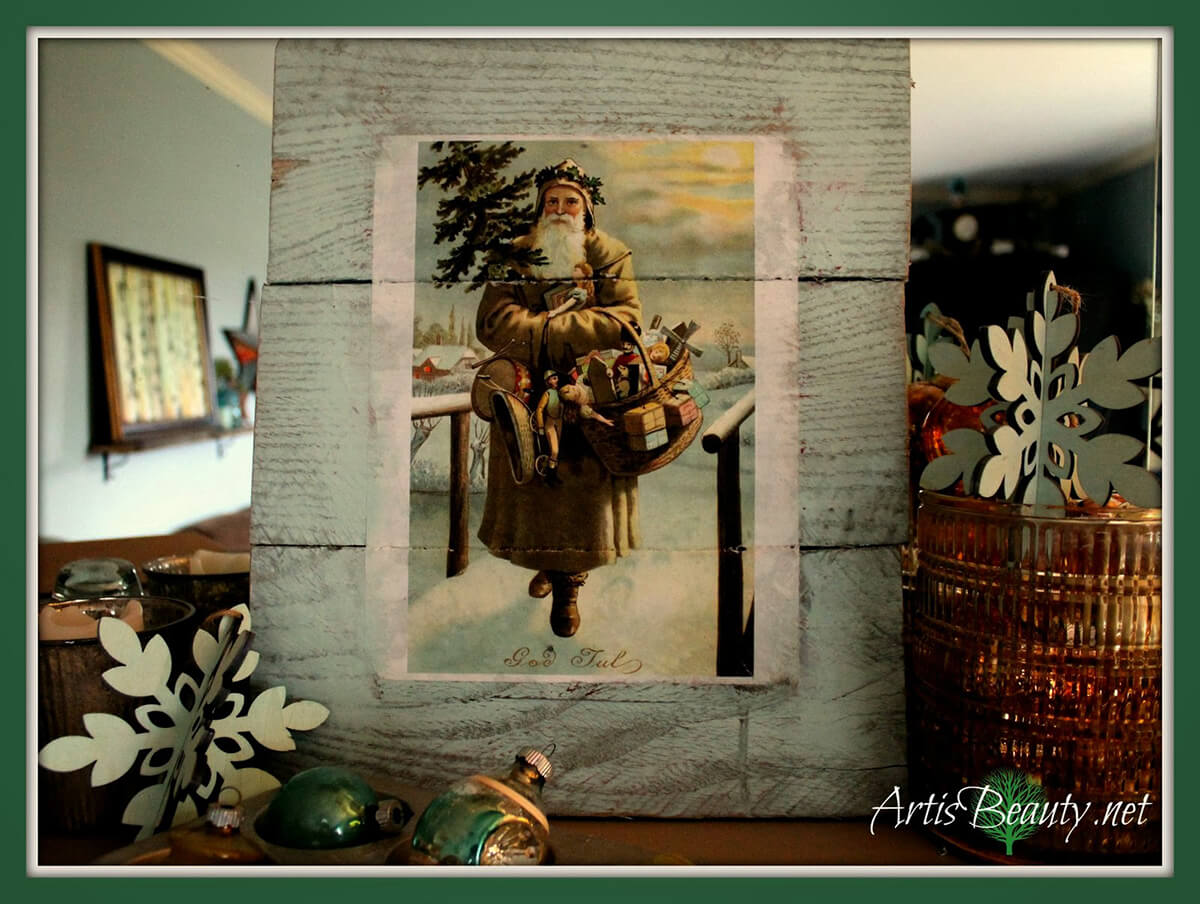 Pallets are always a good choice for this neutral style given the natural color of the wood. You can always paint it, of course, if you want to keep a specific theme. Regardless, it goes with whatever decor you have. It's also a great base to hold such a vintage piece of art. The art itself blends in well with the existing background as they both have that rustic, old-fashioned look that allows them to grab attention no matter which room you choose to place the art in.
16. Farmhouse Style Mini Christmas Tree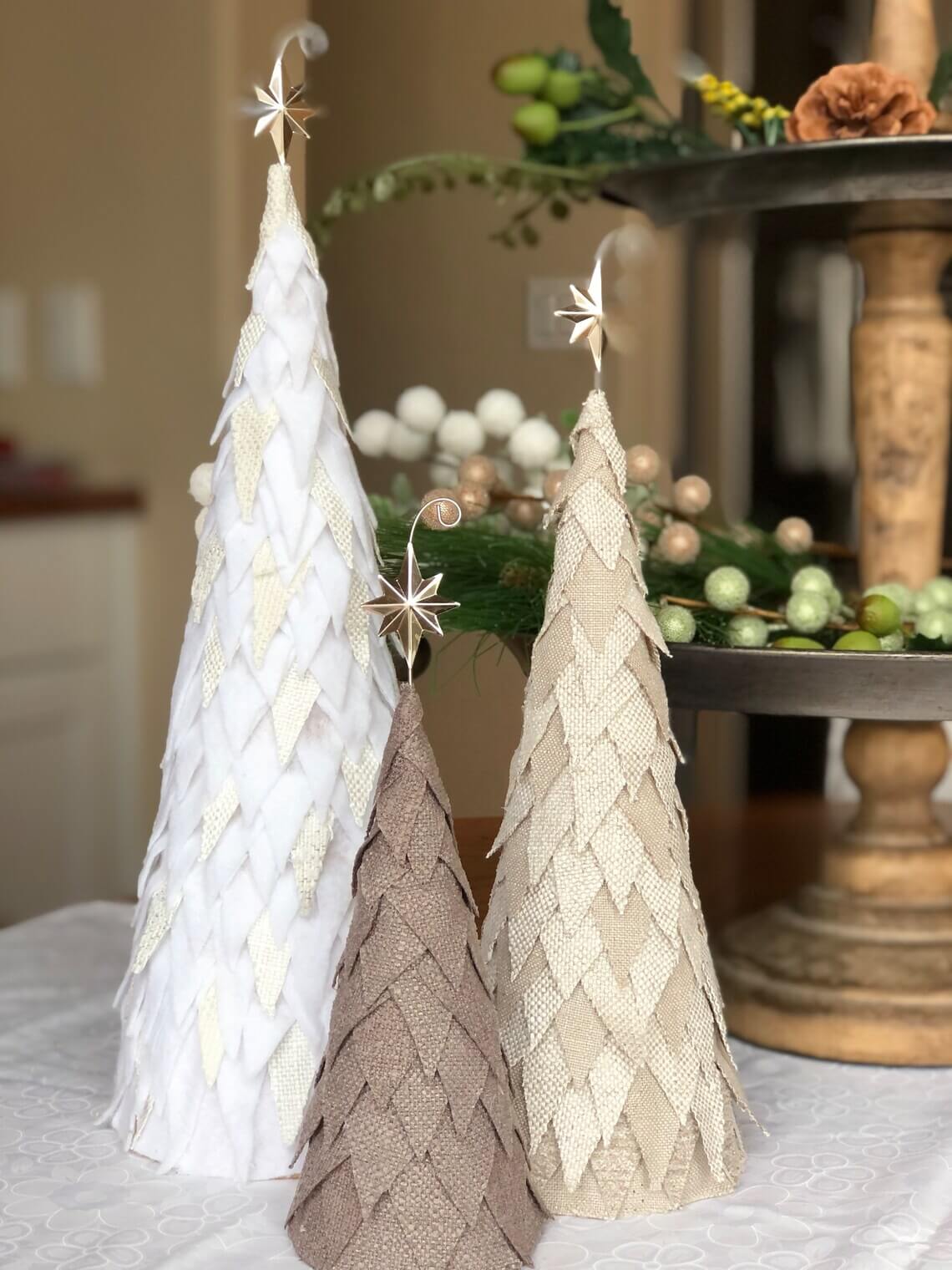 Using some unique Christmas trees is always a fun and exciting way to decorate for the holidays. This handcrafted fabric tree is an environmentally friendly option as it is made from furniture fabric scraps. The result is simply attractive as the tree has an interesting pattern that allows it to flow and feel more alive. There are three different height options to choose from, as well as three different color styles. Each of the colors is still neutral in relation to the palette so you can have something to match your theme.
17. Funny Bohemian Style Christmas Stockings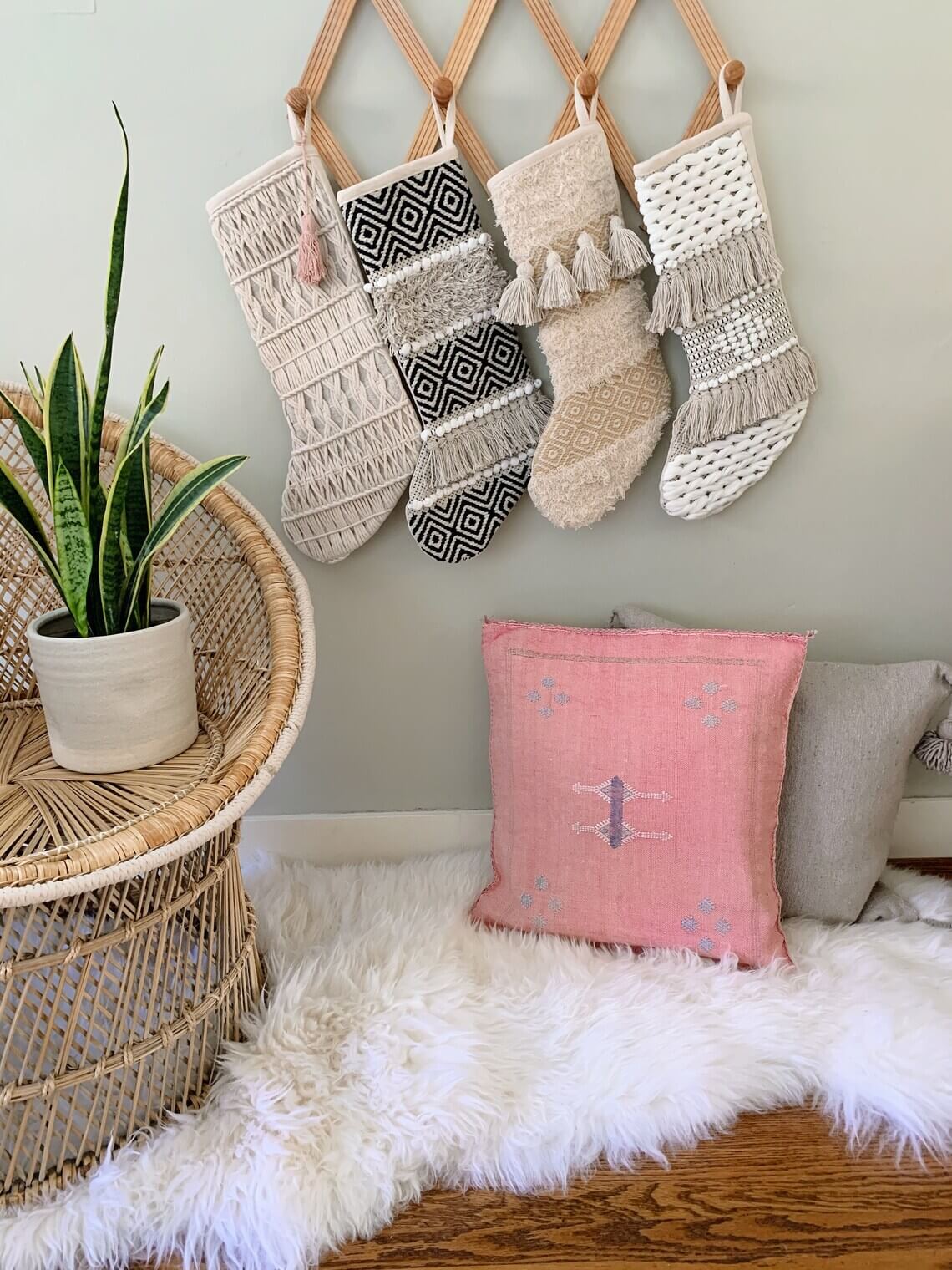 These handmade Christmas stockings are perfect for the holidays when they are decorated in a neutral style. They have a warm tone and are more prone to a Scandinavian setup. There are still the right details that add personality to the stockings. You can choose from four different designs so that you get the stocking or socks that best match your personality and your home decorations. No matter what you choose, they all manage to work with the bigger theme and add a touch of uniqueness to your Christmas decorations that will make them attractive to anyone who visits your home.
18. Wood Christmas Trees in Neutral Colors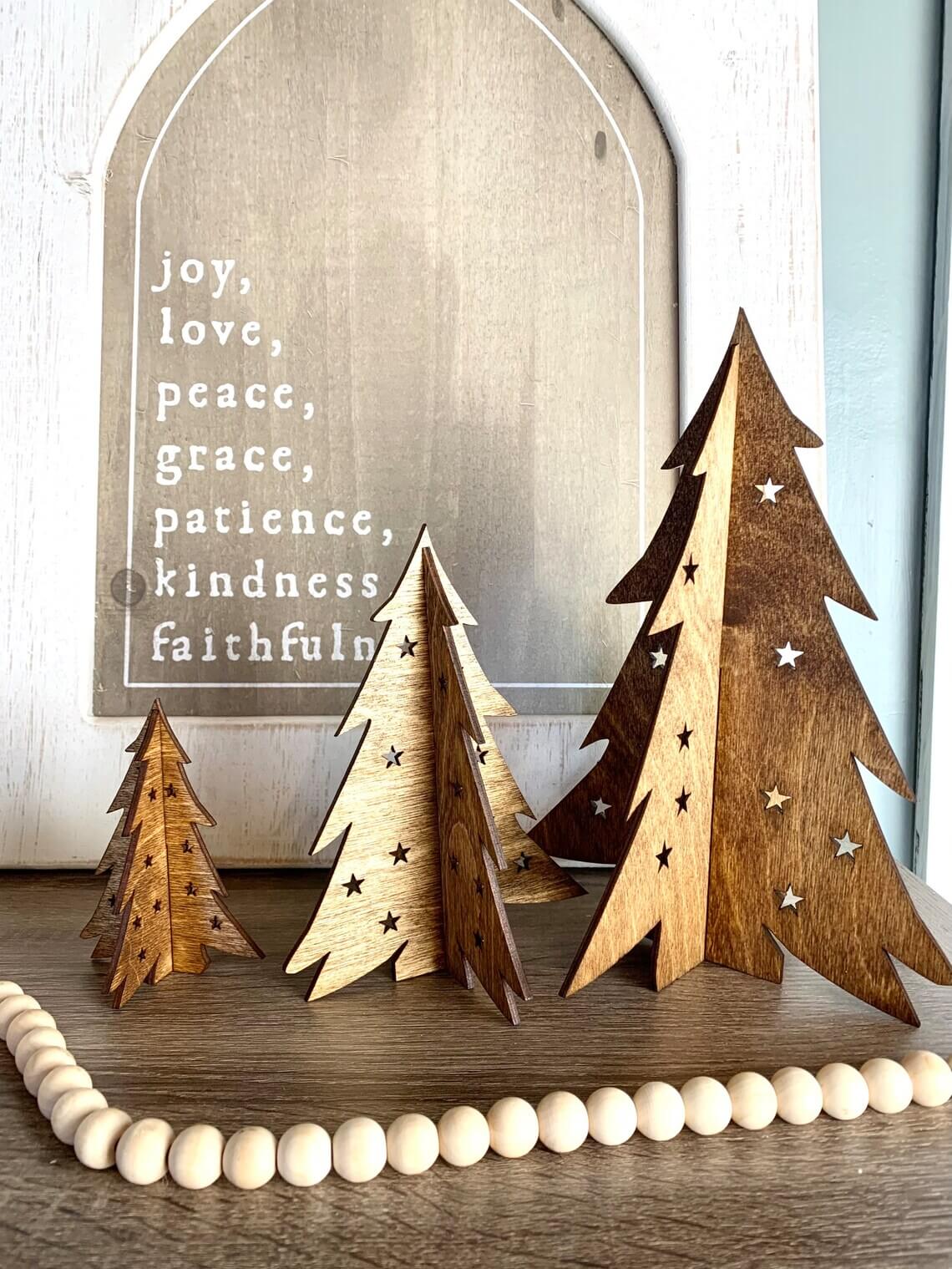 Wood material is always an ideal way when you are trying to decorate with neutral colors. These trees have a beautiful 3D design and they have been laser cut with cute designs inside that will help them stand out even more. Of course, if you don't care about the stars, you can always keep the trees in a more natural, plainer state. Either way, you have something that is appealing anywhere in the house.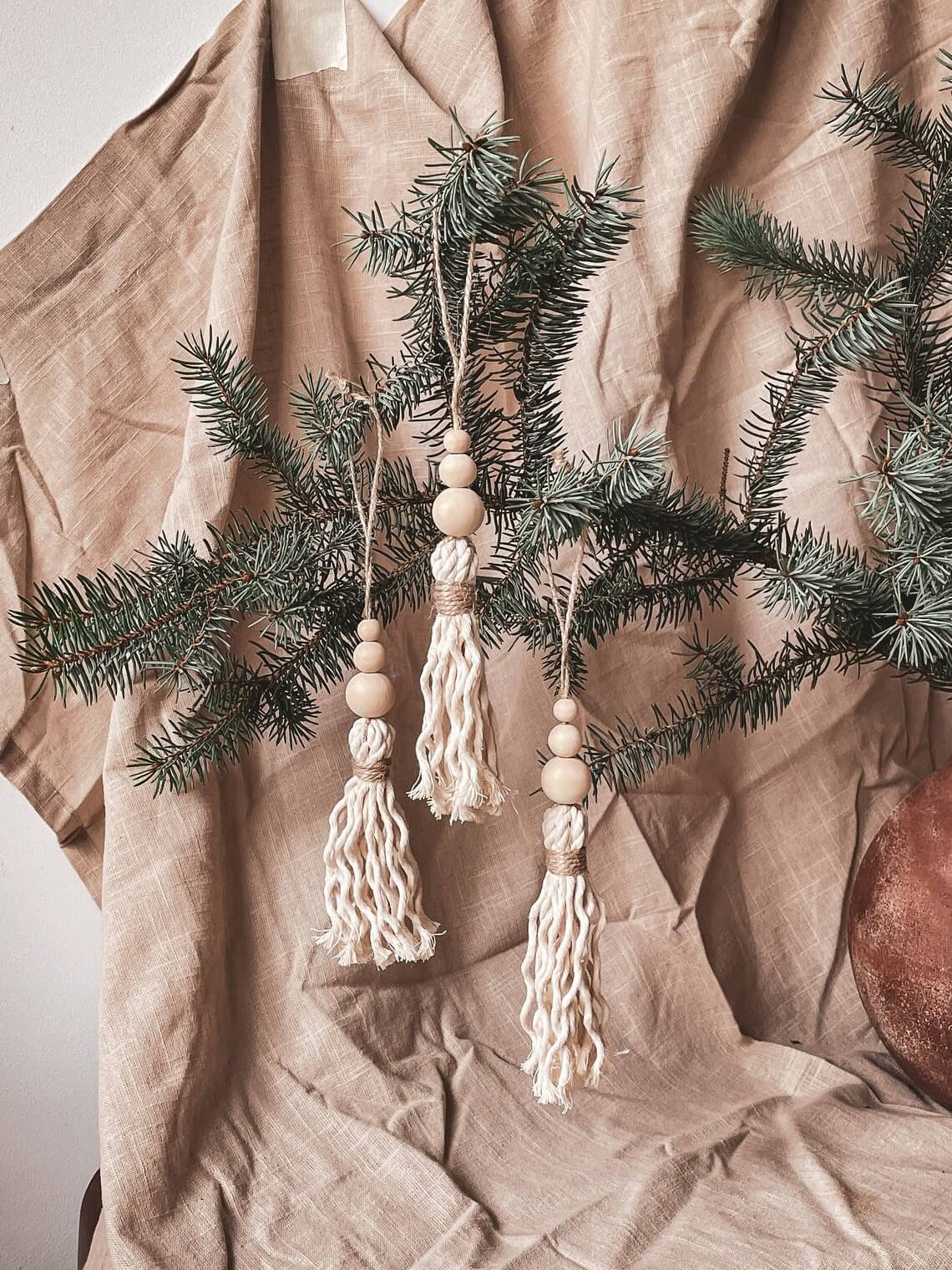 If you are ready for a more funky Christmas, these tassels are a great choice. These mini macrame decorations look perfect when hung on a Christmas tree or your garland. This way you can take these with you practically anywhere in your home for a modern touch that maintains a neutral style. You can get these aesthetic decorations in sets of three or five so you have more than enough to decorate with ..