For an outdoor rocking chair, it is important to choose sturdy materials. Choose your outdoor rocking chair depending on the material. Outdoor rocking chairs can be made from different types of metals, woods, wicker, or resin. But there are only certain materials that make the rocking chair look attractive and last a long time.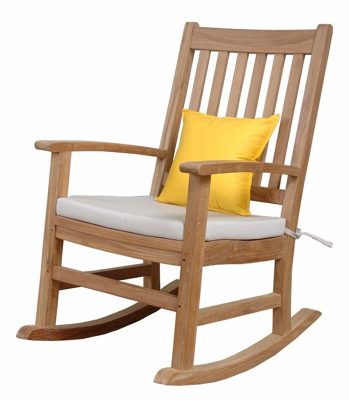 The Best Materials for Your Rocking Chair
There are several different types of wood, resin, or metal that can be used to make rocking chairs for your outdoor use. When choosing an outdoor rocking chair, consider quality materials, as these are more resistant to moisture and insects than their cheaper counterparts.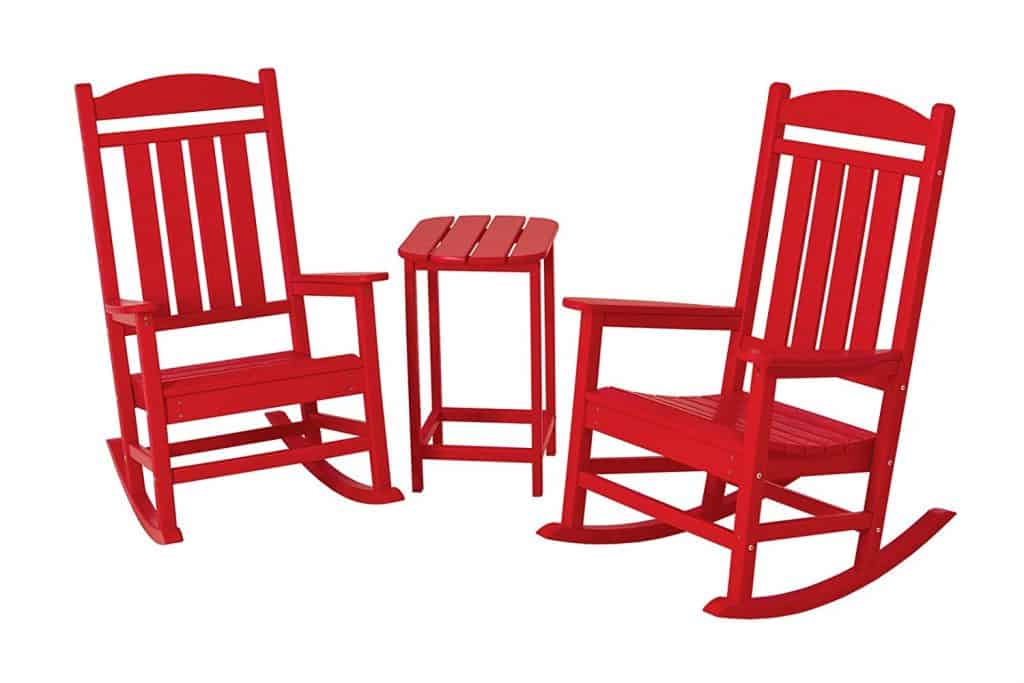 Not all materials can deliver a piece of furniture that is both attractive and durable. High quality woods and resins are the best choices for outdoor furniture. They are resilient when it comes to harsh weather that can cause damage.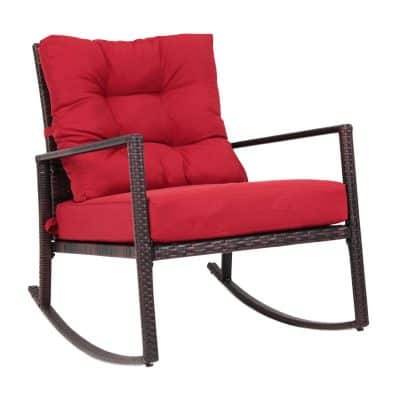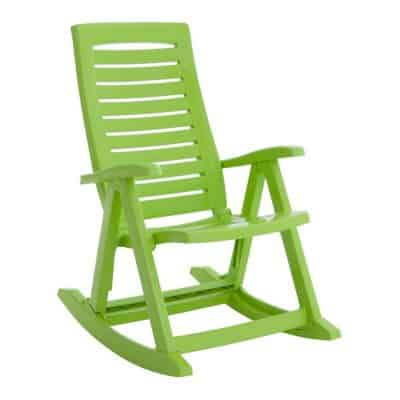 Rocking Chairs Made of Cedar and Teak
Cedar and teak are two of the most sought-after materials for wooden rocking chairs. The difference is that cedar is a darker color. Cedar wood is reddish-brown in color, while teak is more yellow. Both materials are expensive but can last a lifetime. In the long run you can still say that you get your money's worth with a rocking chair made of teak or cedar wood.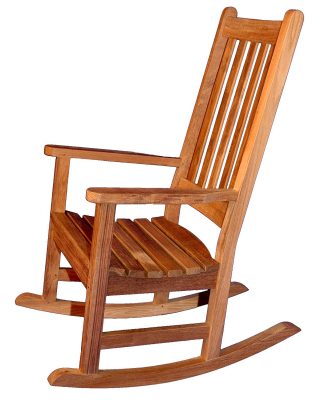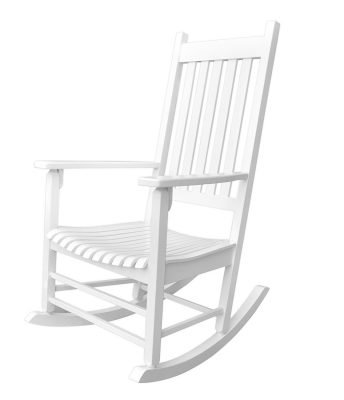 Wooden Rocking Chairs
For wooden rocking chairs, cedar and teak are the best choices because of their natural beauty. Cedar is brown in color with a reddish tinge, while teak takes on a yellow hue. These materials are relatively more expensive than other wood materials, but they will last a lifetime if you care for them with proper and regular maintenance. However, the beauty of these materials is enough to make them a worthwhile investment.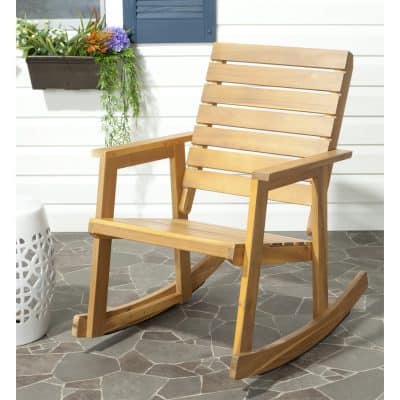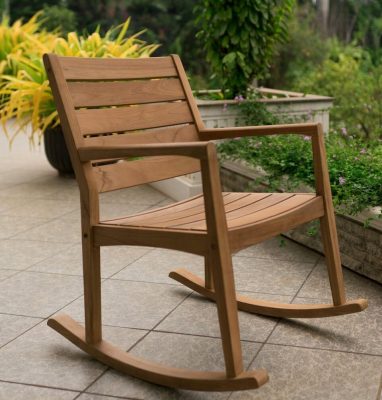 Metal Rocking Chairs
If you think metal is a better material for your rocking chair, you should look for painted or coated iron or galvanized steel. It is important that the coating is waterproof. Metal rocking chairs are great for homes and offices that follow a modern or industrial design.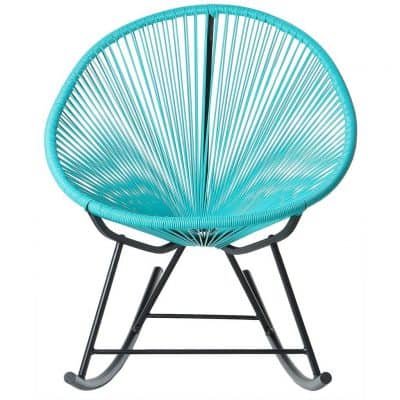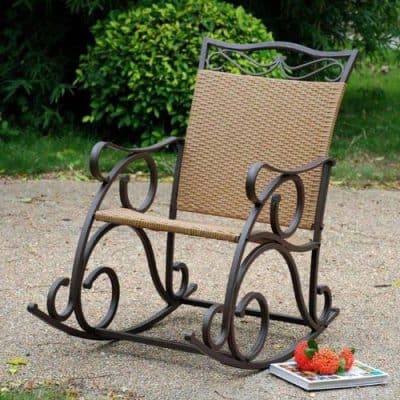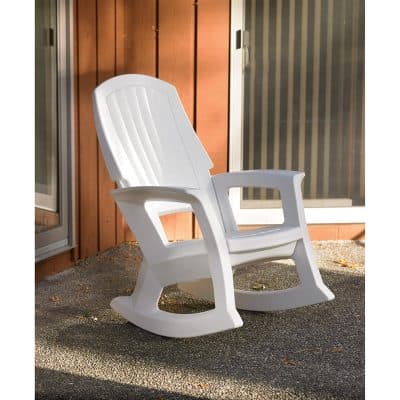 To learn more about resin and wicker garden furniture, I have a great article here … Chairs made of sturdy materials, don't sacrifice comfort and beauty!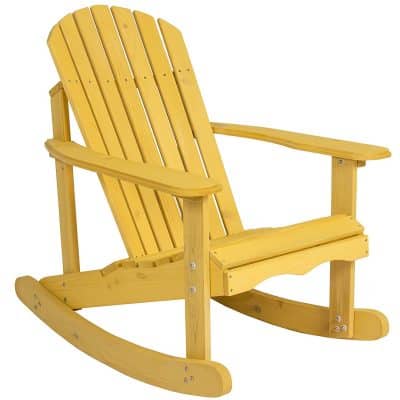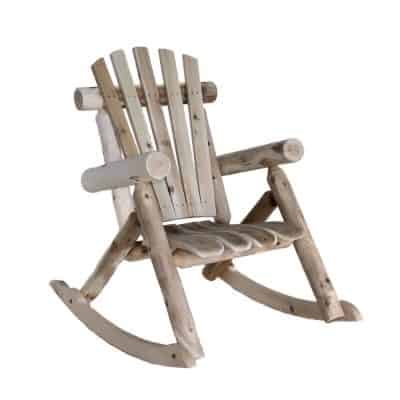 Rocking Chairs for the Porch
Your rocking chair will most likely be placed in a highly visible part of your porch, patio, or garden. Cedar and teak are your best choices because they are both beautiful and Are sturdy.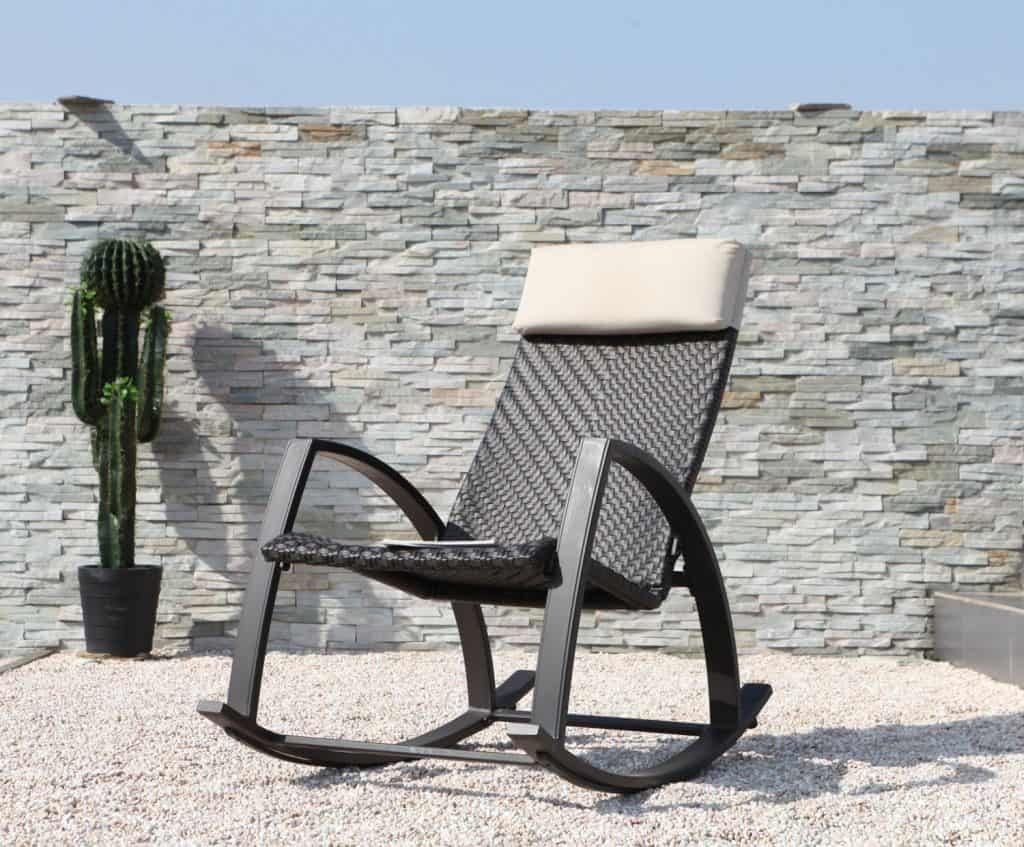 Aside from using high quality materials, your outdoor rocking chair should be made by a highly skilled craftsman.It may make noise when you rock it, which is an uncomfortable feeling.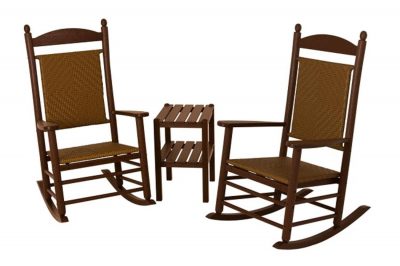 If the material is metal, welding should be done properly. If it is wood, the screws, nails, and glue should secure the joints well without making the furniture look messy.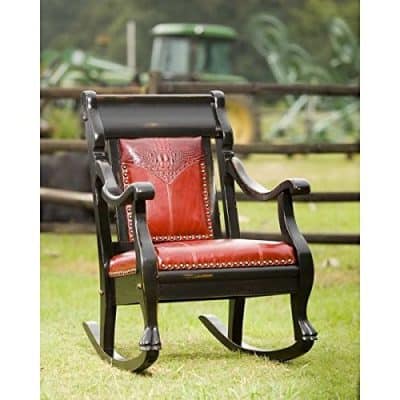 There are unique designs of rocking chairs for your outdoor living space. Traditionally, rocking chairs have curved feet that allow rocking movement. More modern outdoor rocking chairs also have swivel arms.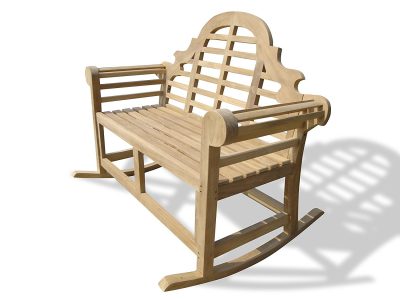 There are also rocking chairs that are great for a rustic decor. For rustic homes, the traditional outdoor rocking chair will complement the decor. Modern designs ensure more functionality and comfort. You can even accommodate several people at the same time.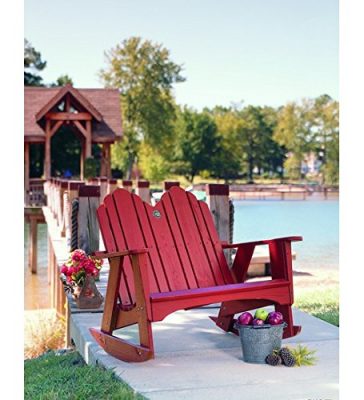 Aside from the type of material, you should also consider comfort, stability, and beauty. Outdoor living spaces are usually intended for entertainment and relaxation. They are visible to visitors, so you need to make sure that the rocking chair goes well with the decor of your porch or patio.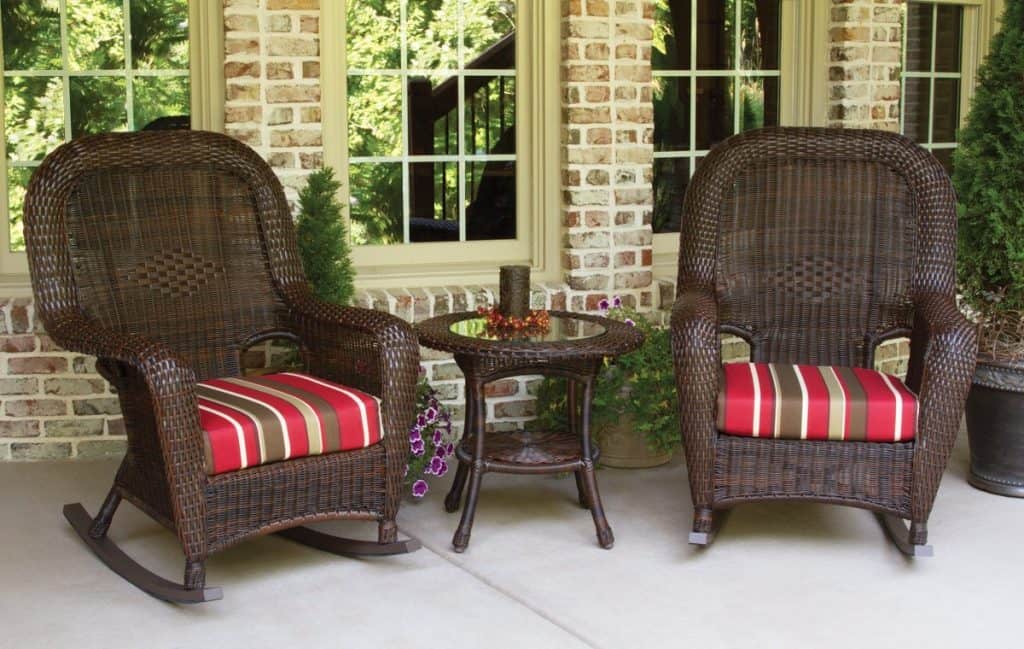 Rocking Chair Designs
An outdoor rocking chair can come in a variety of designs. However, if you are into the Victorian look, your best bet is to go for the traditional design where the rocking chair has curved feet.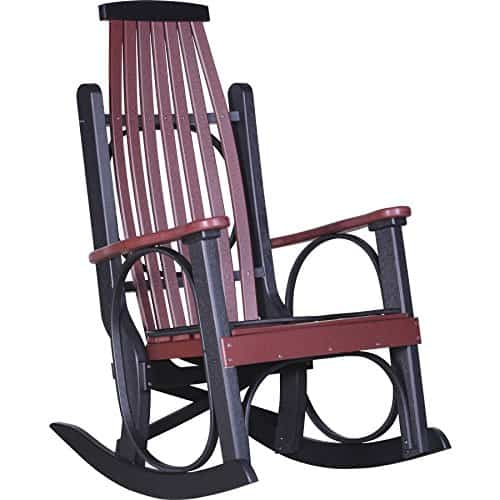 Make absolutely sure that the outdoor rocking chair is made by an experienced manufacturer. Outdoor furniture is exposed to more damaging elements than indoor furniture. Hence, it is necessary that an outdoor rocking chair is made with high quality materials, the greatest care and great talent. Without this, the furniture looks shabby and cheap. The joints should be firmly connected, the metal parts welded well and the wood firmly nailed together. Only a skilled furniture maker can do this without sacrificing beauty and style. There are even pieces that can accommodate more than one person but still look visually appealing.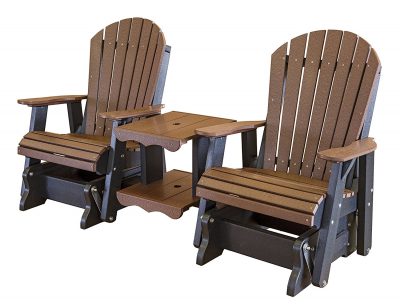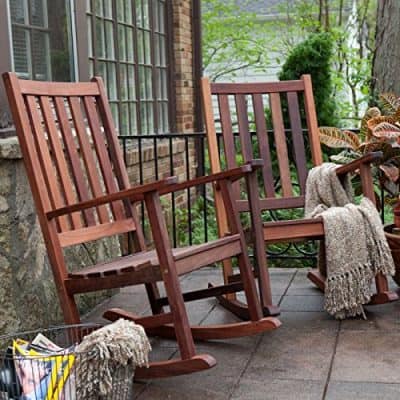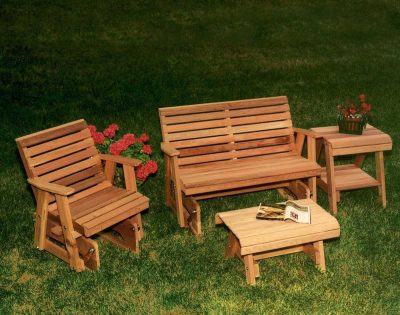 Remember that exposure to harsh elements such as sun and water can easily damage your chair. Make sure your furniture is properly cared for, cleaned and protected with the right coatings.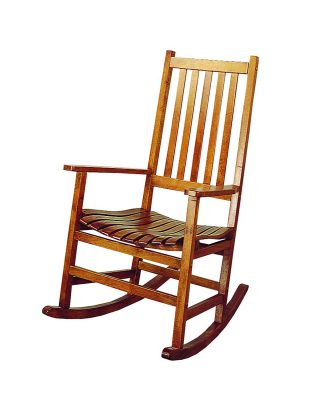 ..