A kitchen is the center of conversation and food preparation and therefore deserves only the best design based on functionality and the homeowner's personality. Glossy and matte black granite countertops have made a big comeback thanks to their luxurious, veined patterns. Their captivating look is suitable for both modern and minimalist kitchen designs.
When you remodel your kitchen and ask yourself which color cabinets go with black granite worktopsYou will be pleased to know that there are many complementary tones to choose from. Whether you choose darker or lighter shades for your countertops, you can easily create contrasts by simply choosing the right cabinet colors.
Take a look at our selection of the prettiest cabinet colors compatible with black granite countertops and learn how to choose the right backsplash colors to complete your kitchen design.
Best cabinet colors that work with black granite countertops
White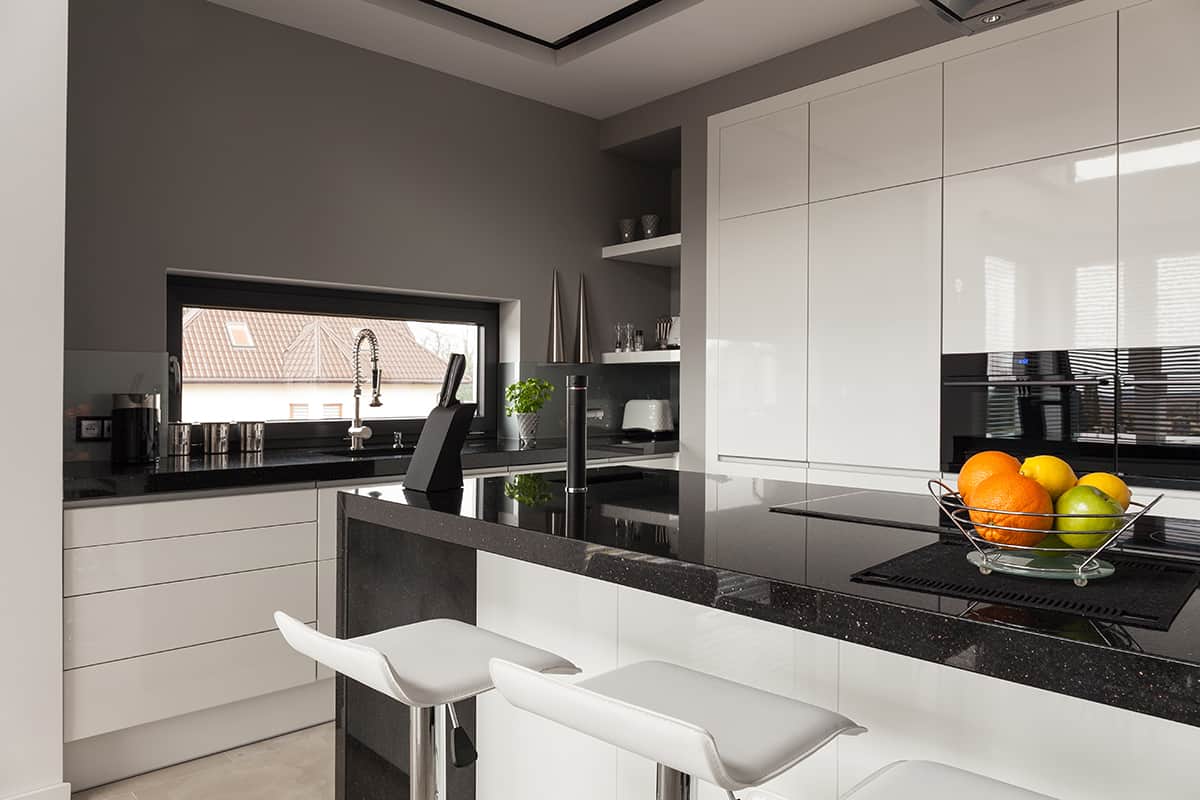 White cabinets with black granite countertops are an elegant and timeless combination. This color combination creates a great contrast in a modern design element. But regardless of your kitchen style, there is no doubt how stunning the effect of white cabinets next to black countertops can be.
In fact, granite countertops go extremely well with any modern or classic white kitchen. The veined stone surface of these worktops is eye-catching, especially in combination with sleek, white cabinets and black stainless steel appliances. Matching accents in white or black also make the entire kitchen decor look open and airy.
This is a lovely kitchen design with crisp white cabinetry and black granite countertops. It exudes sophistication and works in both small and large kitchens.
Birch wood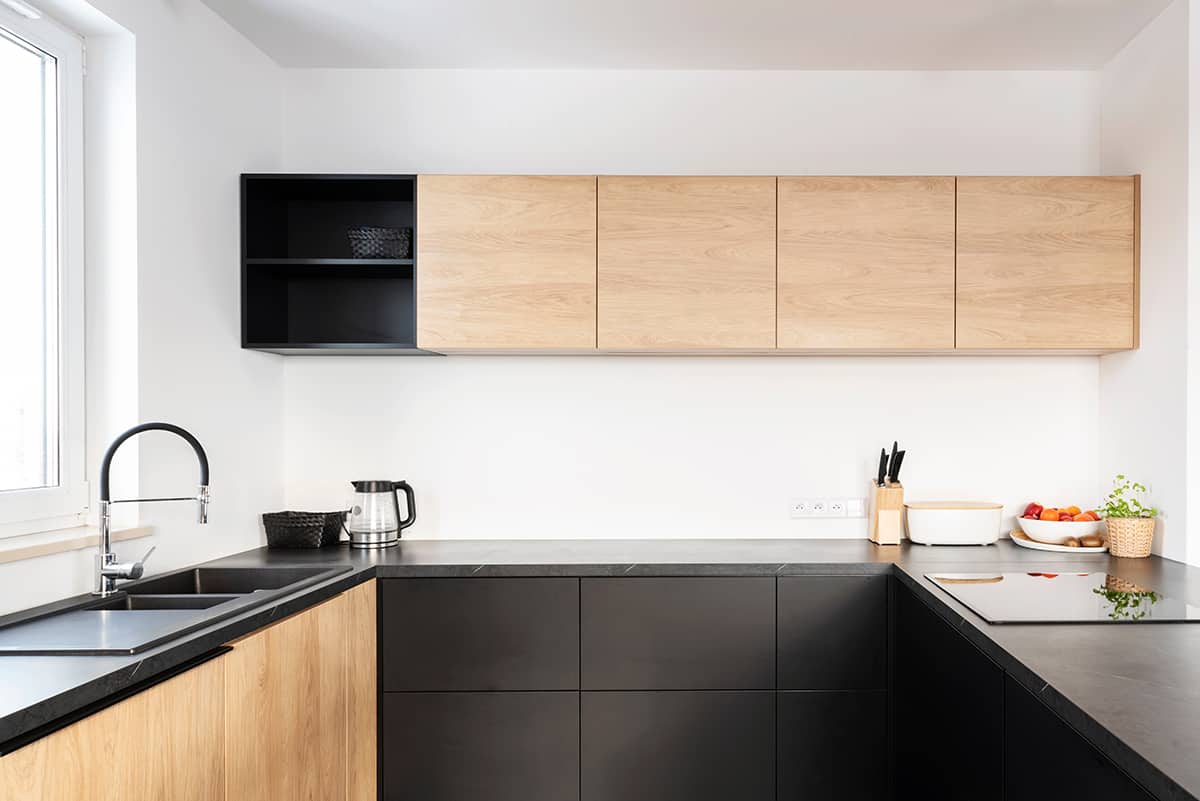 We all love the appeal of hardwood, so where better to use it than for the kitchen cabinets. Some people may hesitate to use a warm tone of hardwood with black granite countertops, but the trick is to pick the right hardwood material. Birch wood, for example, is held in a lighter shade that contrasts with the dark worktop.
In addition to birch wood, cherry wood is another furniture material that tends to be reddish brown and therefore goes well with black worktops.
The best example of hardwood cabinets is this transitional kitchen that combines black and hardwood cabinets with black countertops for a cohesive look. The result is an inviting design thanks to the warm undertone in the wood. And the best thing about the hardwood and black countertop combination is that you can choose almost any wood color for your cabinets.
Gray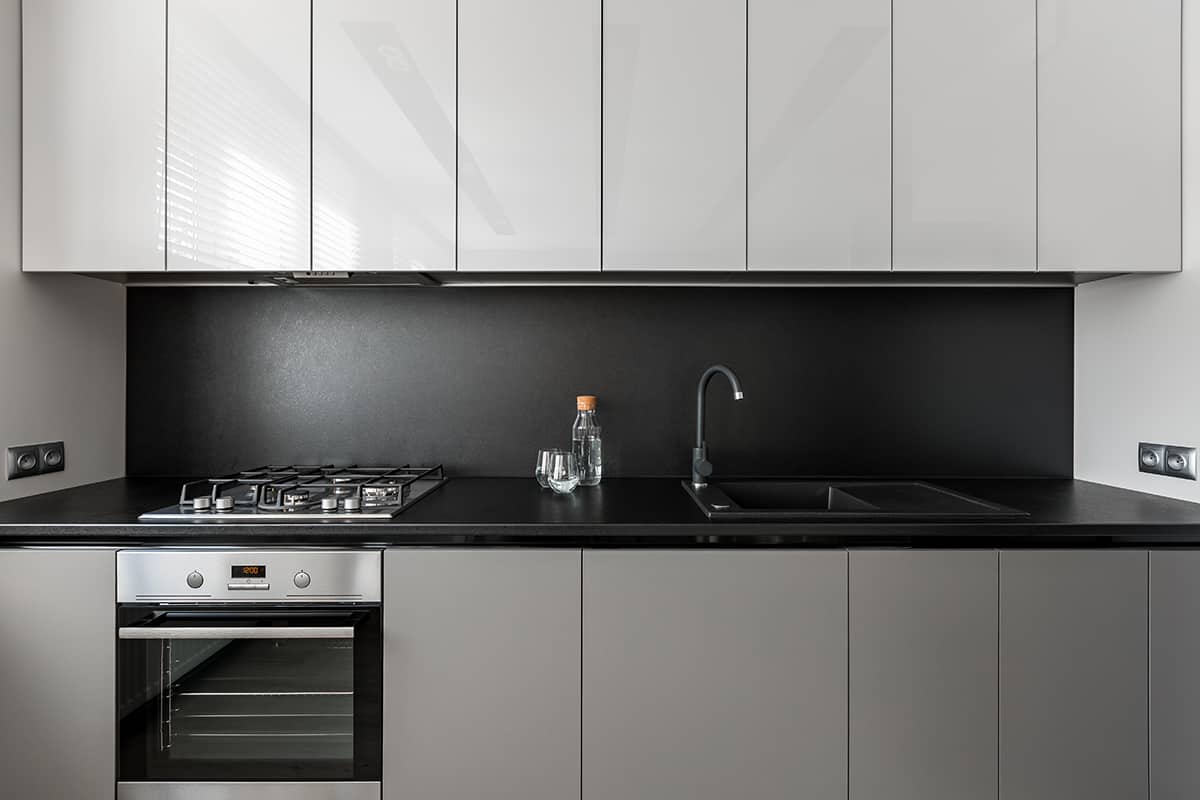 Just because your countertops are dark in color doesn't mean you can't go with dark cabinets. In large kitchens, dark gray cabinets paired with black worktops don't feel cramped or closed.
Gray stainless steel appliances complete the look along with hardwood floors for extra warmth and coziness. Even a white tile back wall will make a huge difference to your gray and black modern kitchen as it reflects light and creates a feeling of airiness.
In smaller kitchens, dark gray cabinets like this one are a bold choice. The glossy gray cabinets and black back wall both complement the black granite countertop and stainless steel appliances.
Gray is a modern cabinet color that gives every kitchen a fresh and airy ambience. In a minimalist kitchen design, the homeowner can express their personality by combining dark gray with black.
Beige or cream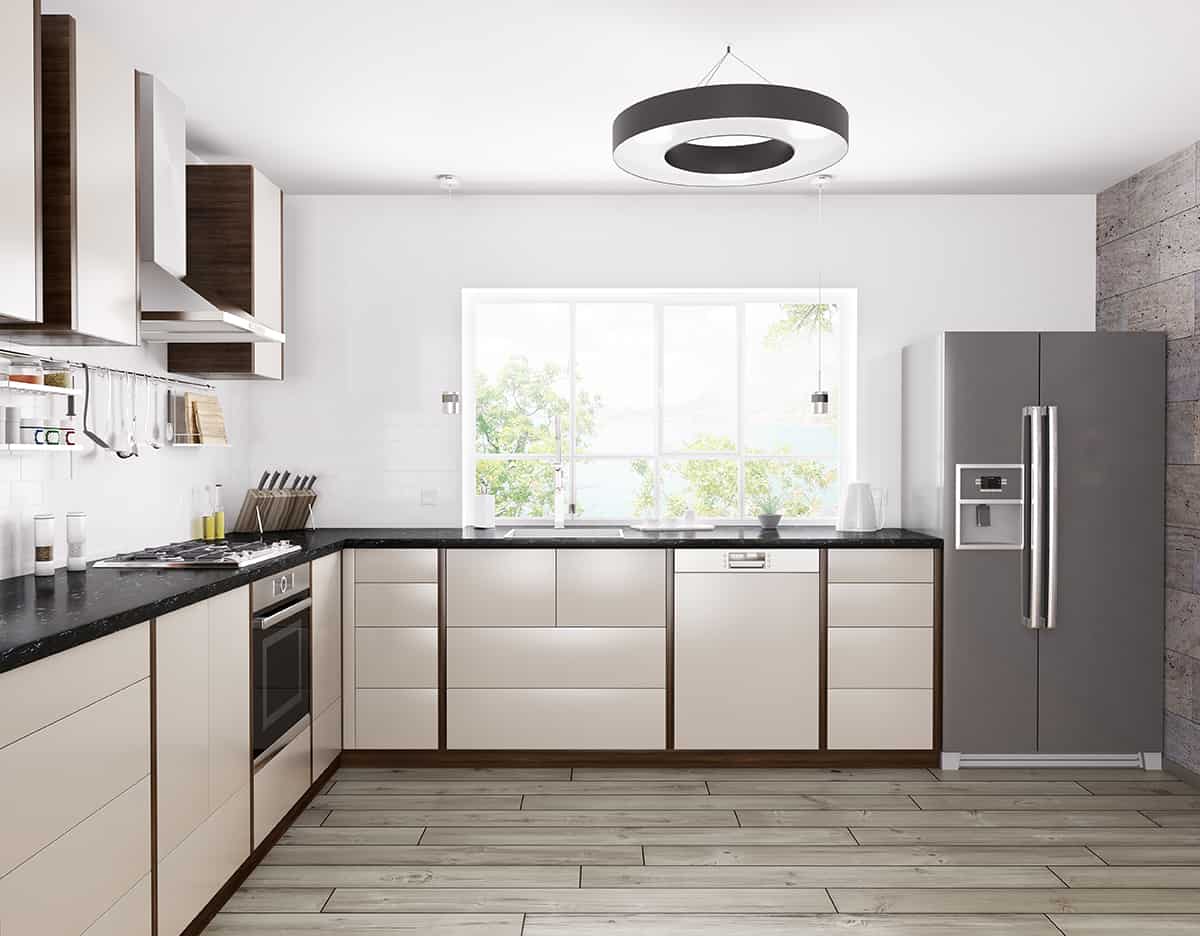 For a lighter alternative, consider pairing your black granite countertops with light cream or beige cabinets. This color combination adds warmth and contrasts between light and dark tones. In a country kitchen or a rustic kitchen, beige is the perfect cabinet color.
But to prove to you that beige and black can work in modern kitchens too, take a look at this example. The black countertops interrupt the neutral tone of this kitchen with gray stainless steel appliances to underline the modern ambience. The light wood cabinets add depth to this light and airy kitchen and look stunning next to black countertops.
Dark brown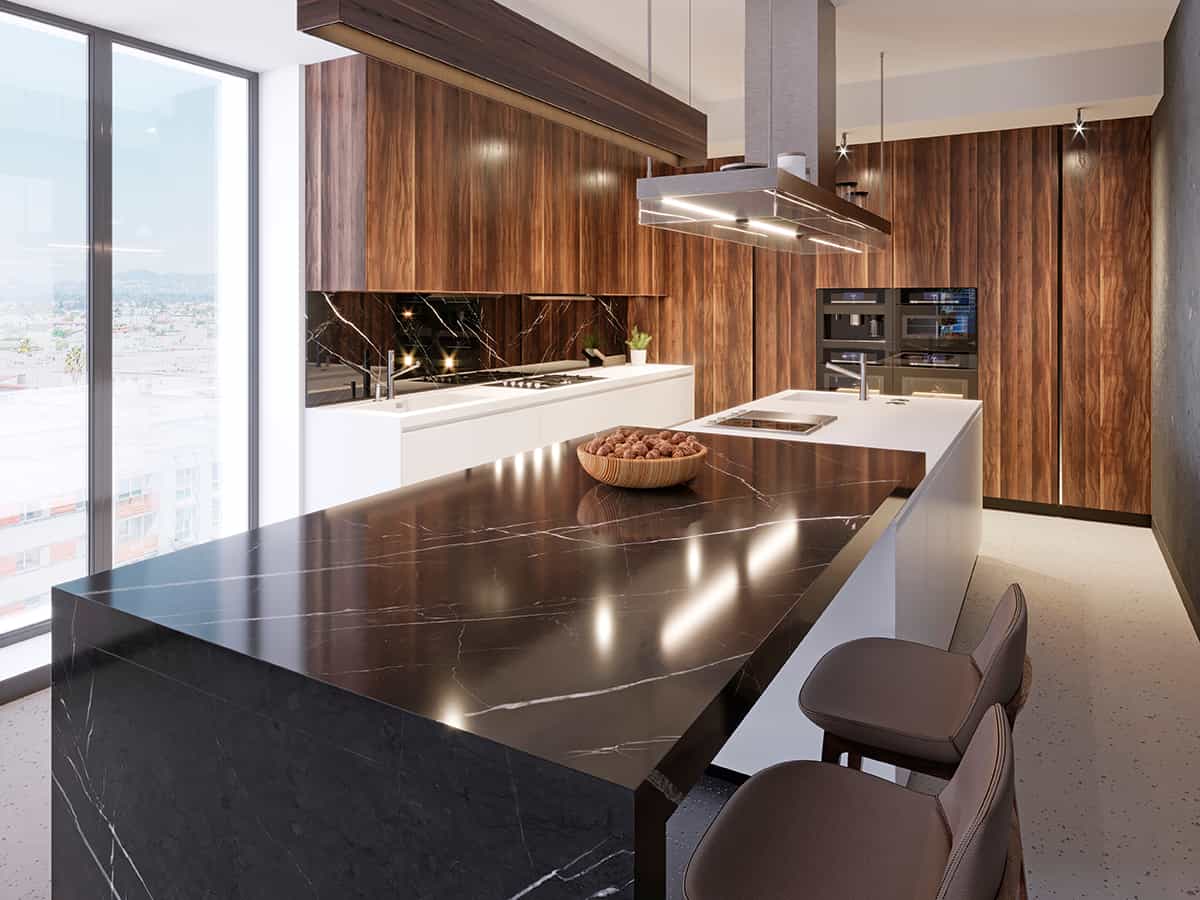 Just like light hardwood cabinets, a rich chocolate brown cabinet color also gives a modern kitchen a transitional look. Black granite countertops paired with dark brown patterned cabinetry give a large kitchen a natural and luxurious feel, as shown here. To brighten up the dark brown and black kitchen, add white appliances for dimension.
blue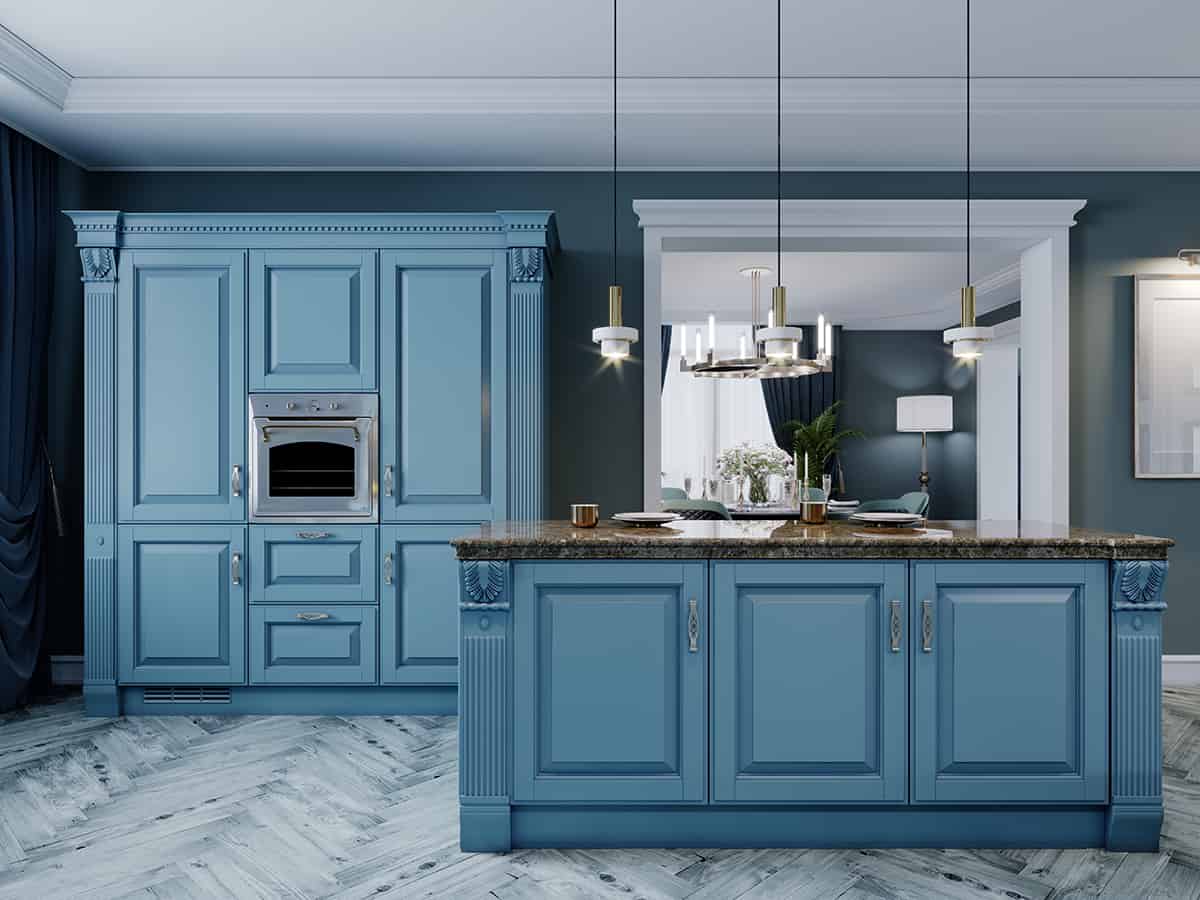 Why settle for neutral kitchen cabinets when you can get blue undertones to pair with your black countertops?
The mix of blue and black may not be to everyone's taste, but strategically chosen it can be fashionably staged. See how luxurious this light blue kitchen looks with black countertops and dark walls. This kitchen design is anything but gloomy and gloomy thanks to the beautiful shade of blue alongside elegant black surfaces.
green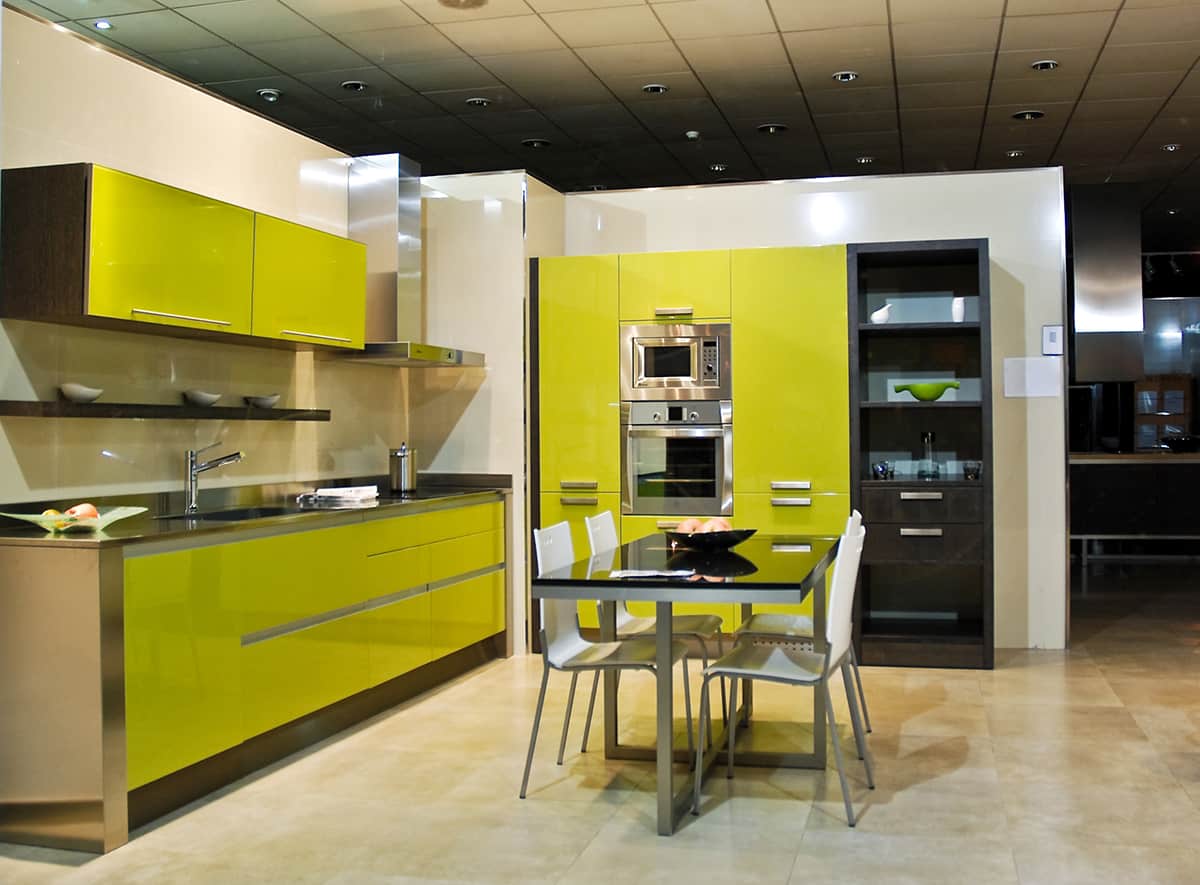 Another bold and bright color to choose for your cabinets is green. Apple green with gray and black create a smart look in a modern kitchen. The beautiful contrast of green and deep black stands for harmony and is the perfect color combination for the heart of the house. Another bold shade of green is mint or lime green, which can make your kitchen more grounded.
Black and white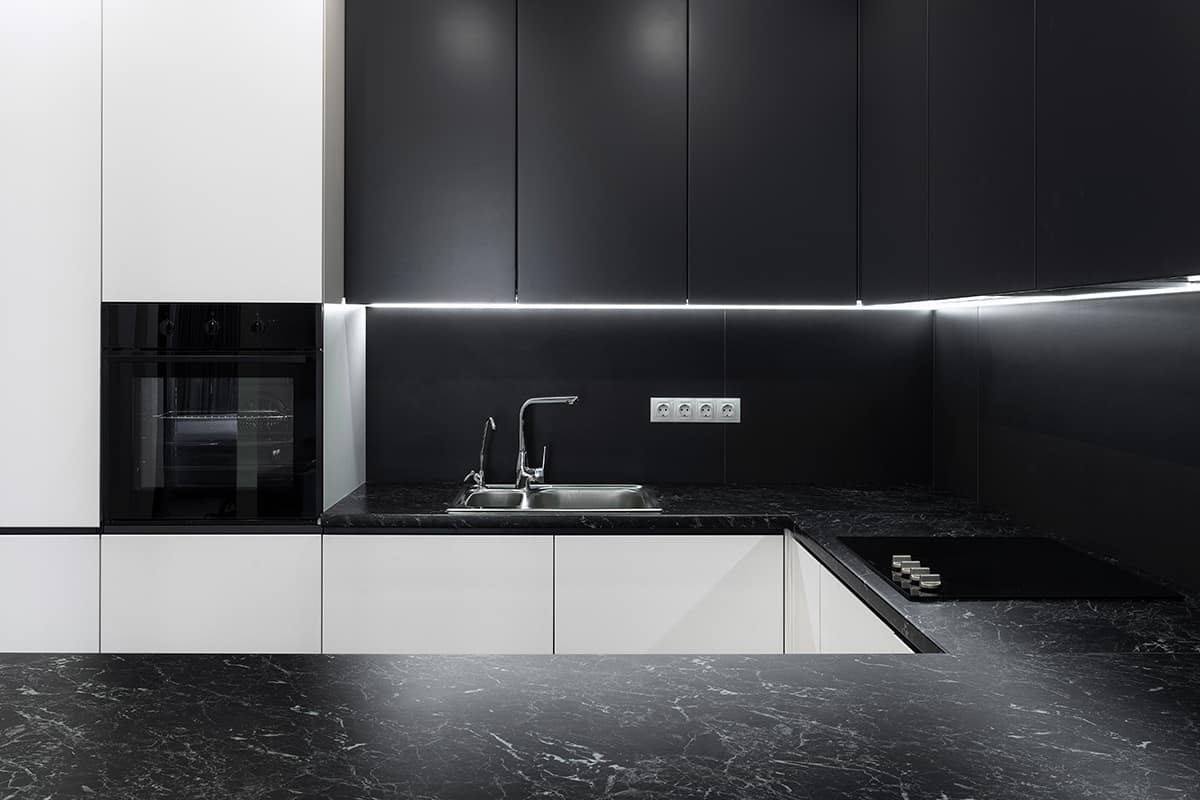 While the use of black cabinets with black granite countertops may not appeal to everyone, it's not uncommon for this bold color to be used for kitchen cabinets. Our suggestion is to combine the black with some white cabinets so as not to make the kitchen look too dark.
Black on black can seem a little heavy to the eyes, so it's best to contrast it with a white backsplash, flooring, or equipment. This can add value to the modern kitchen design, especially if you add a stylish chandelier or recessed lighting or subtle cabinet lighting.
Because kitchens are the heart of every home and add resale value, many homeowners prefer bold cabinet colors. If you want to add appeal to your kitchen, consider pairing your black granite countertops with a mix of black and white cabinets, as shown here.
Are black granite countertops still in fashion?
Black is a bold color that goes with almost any interior style. Black granite countertops are an excellent choice for industrial, minimalist, or farmhouse interiors. Thanks to its simple, modern appearance, this classic fits particularly well into a contemporary, open apartment. This versatile type of countertop features veined, gray patterns that easily adapt to most styles and colors.
So the answer to the question "Are black granite countertops still in vogue" is a yes, as these timeless types of countertops never go out of style and probably will not in the future.
Choosing a backsplash color and a suitable material for black granite
When it comes to choosing the best backsplash colors for your black granite countertops, the options are endless. Since black granite works in every kitchen style, its versatile and unique look makes it suitable for many backsplash colors and materials.
You can either create contrast by using darker or lighter backsplashes for a dramatic effect. But perhaps the most common approach is to go for a lighter shade so as not to steal the spotlight from your black granite countertops. Most homeowners prefer neutral backgrounds over dark ones as they add depth to their kitchen. Here are some of our favorite backsplash colors and materials to go with black granite:
white marble Backsplashes offer a classic yet minimalist option that works with black granite countertops. Tip: Combine your black countertop with white marble tiles as a backsplash and white appliances. White marble tiles provide a stunning backdrop for black countertops in a minimalist or modern kitchen.
Glass or porcelain mosaic tiles in blue or light green are another ideal backsplash option to combine with black granite countertops. These tiles can be either rectangular or square and are available at most hardware stores.
Slate tiles in blue, gray or green are natural stones that go perfectly with black granite. These back walls add warmth and character to a rustic style kitchen. Remember to avoid heavily patterned granite countertops next to your slate back walls as this would make your kitchen look overwhelming.
Any of the above backsplash materials and colors will work with black granite countertops in a modern or rustic kitchen.
diploma
Black granite countertops add an elegant and luxurious feel to any kitchen. Whether you prefer a modern or traditional theme, you can't go wrong with black granite countertops as they are versatile enough to blend into any style. As you can see from our cabinet color samples, black granite countertops look amazing in a range of materials, colors and styles.
You might like these too.
Which color cabinets go with black stainless steel appliances?
What color countertops go with maple cabinets (9 options explored)