A beige sofa is a neutral backdrop that can be paired with virtually any other color of furniture and accessories, as long as the style matches the sofas. With cushions and pillows, you can match light or neutral accent colors to your sofa in light or muted beige. Even complementary patterns and prints work wonderfully.
Whether your interior design is modern, eclectic, bohemian, or rustic, there are plenty of beautiful ones Cushions and pillows that go well with a beige sofa. Just take a look at the following ideas that will instantly make your living space cozy and comfortable.
Best pillows and cushions for beige sofa
Colorful geometric pillows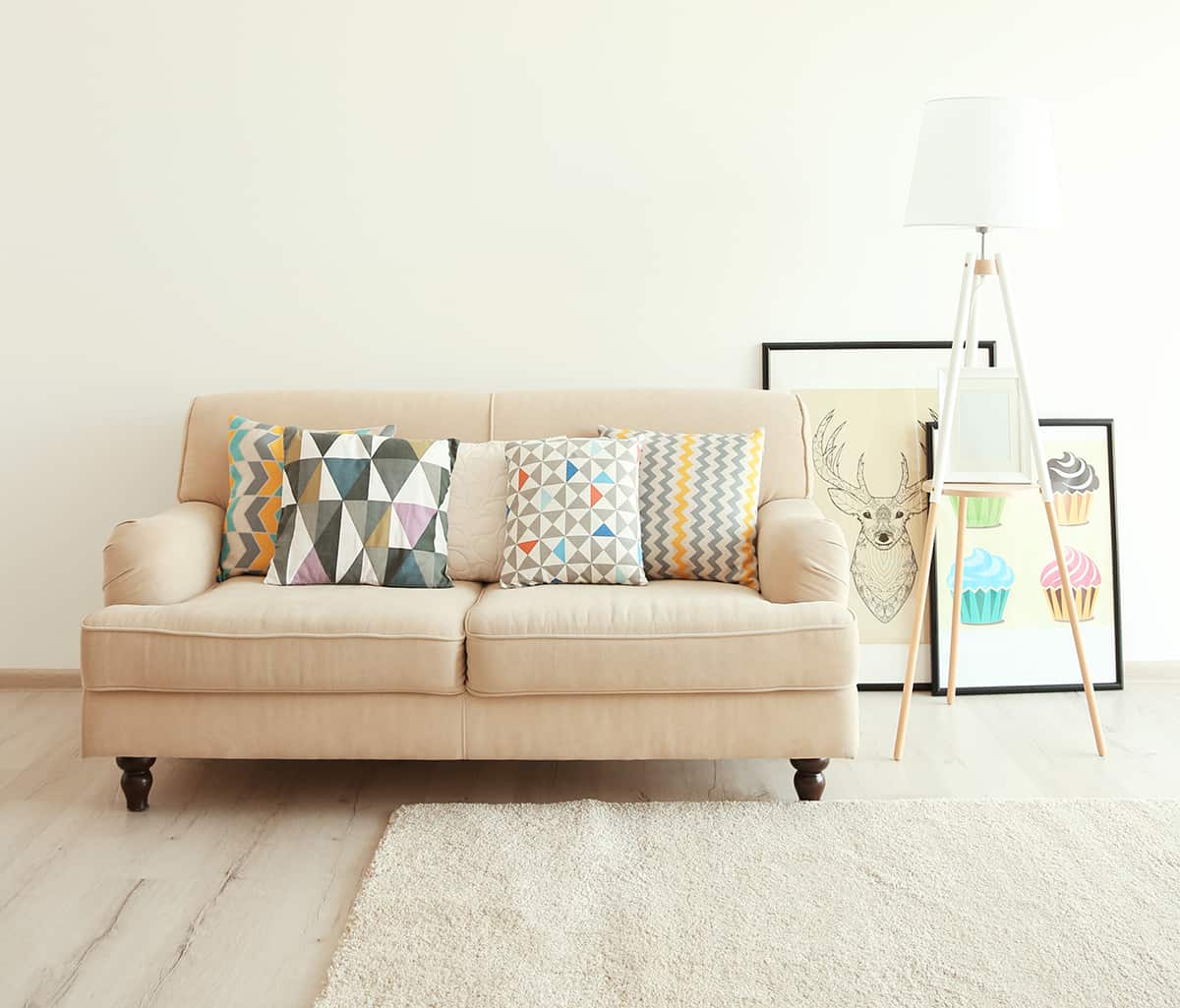 Beige sofas are often seen as backdrops for pillows. But that doesn't mean that the cushions should put the sofa in the shade. Rather, different colors can harmonize well with your beige sofa, especially if they are designed in interesting geometric patterns like the one shown here. With this idea you can choose any colorful geometric pillow in different fabrics to match your neutral sofa.
For an even more appealing look, decorate the sofa with patterns and colors similar to the throw pillows. This can be done by hanging geometric or abstract artwork to make the room bright and attractive.
Mustard yellow pillow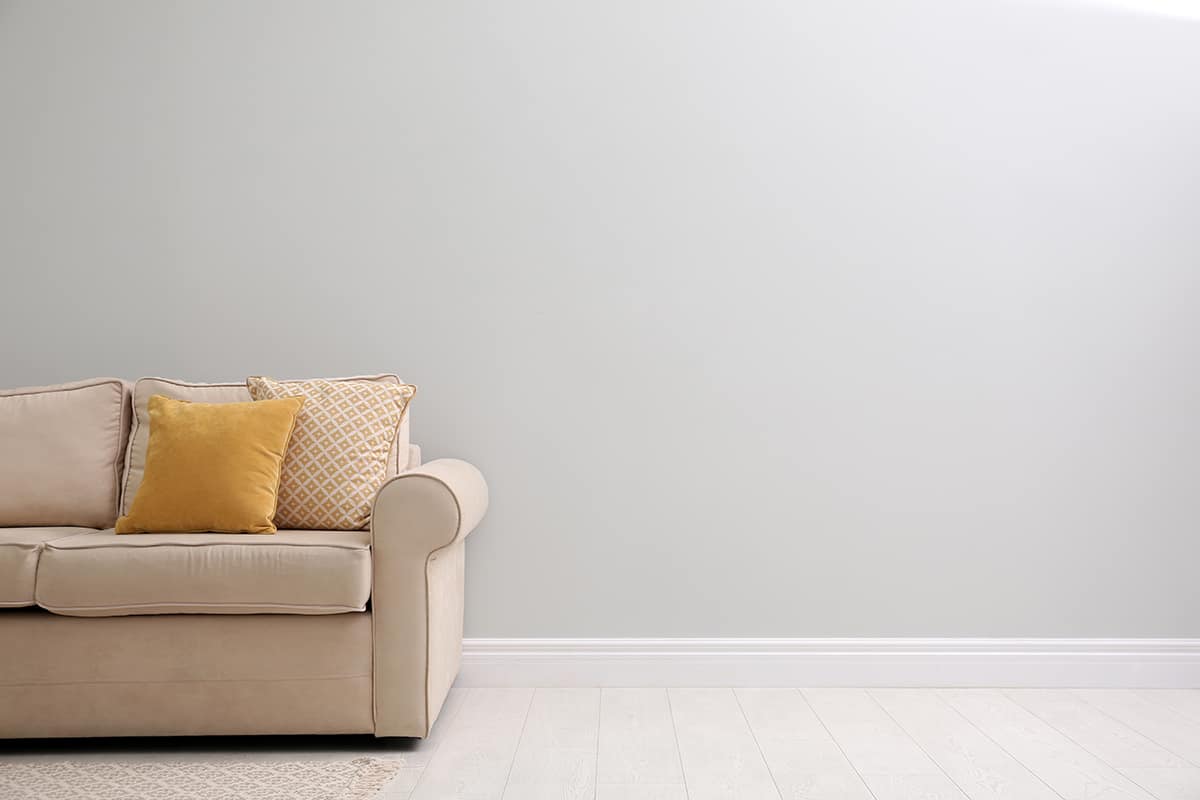 Another great color combination for throw pillows that goes well with a beige sofa is muted yellow. This color is very similar to beige, but because it is two shades darker, it stands out from the sofa. You can also add other pillow or pillow colors to tone down the yellow. Feel free to choose any fabric you are comfortable with. Our favorite shade of yellow is mustard as it brightens up the neutral sofa brilliantly.
The combination of yellow and brown also goes well with beige, as these are earthy colors that blend wonderfully into a light and airy interior.
Creamy beige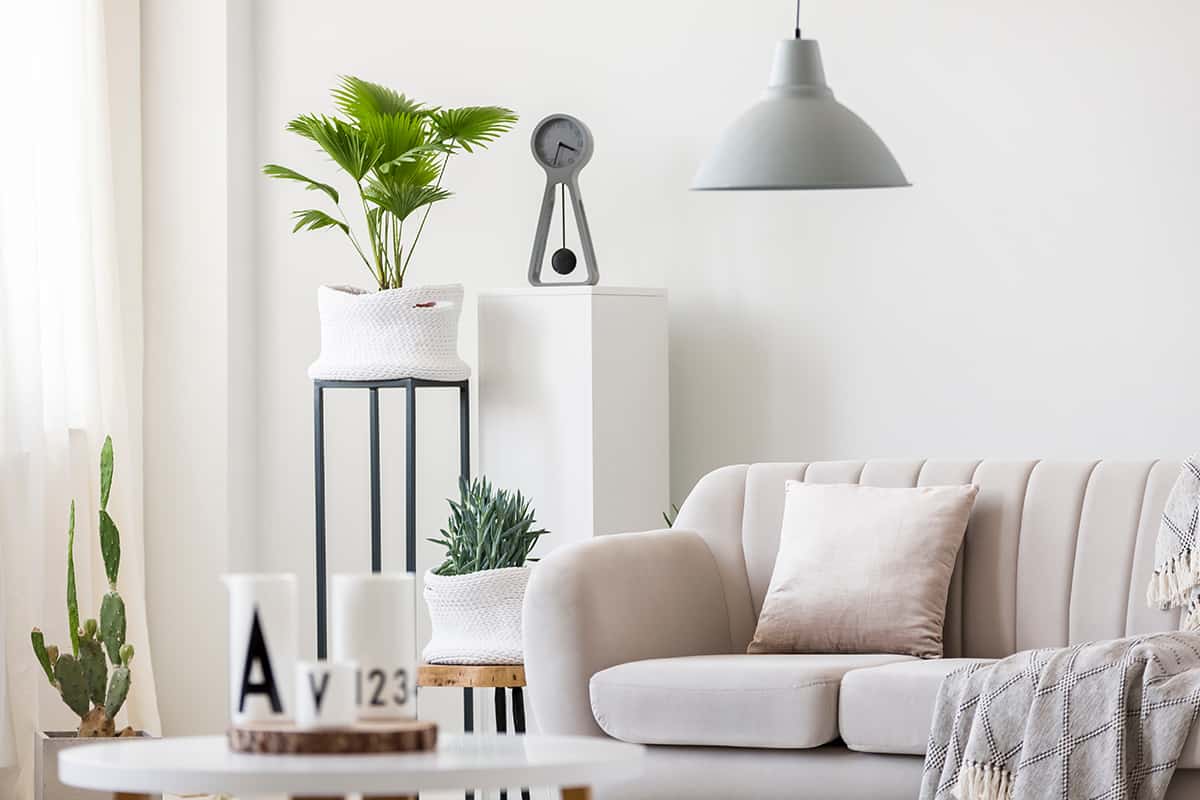 You can't go wrong with a matching shade of beige for your pillows and cushions. Using the same color will make your sofa aesthetically pleasing in a modern space.
Add color to your neutral seating area by adding some plants or macrame decor to the walls. This is the perfect bohemian look that creates a comfortable and cozy feeling.
Leather pillows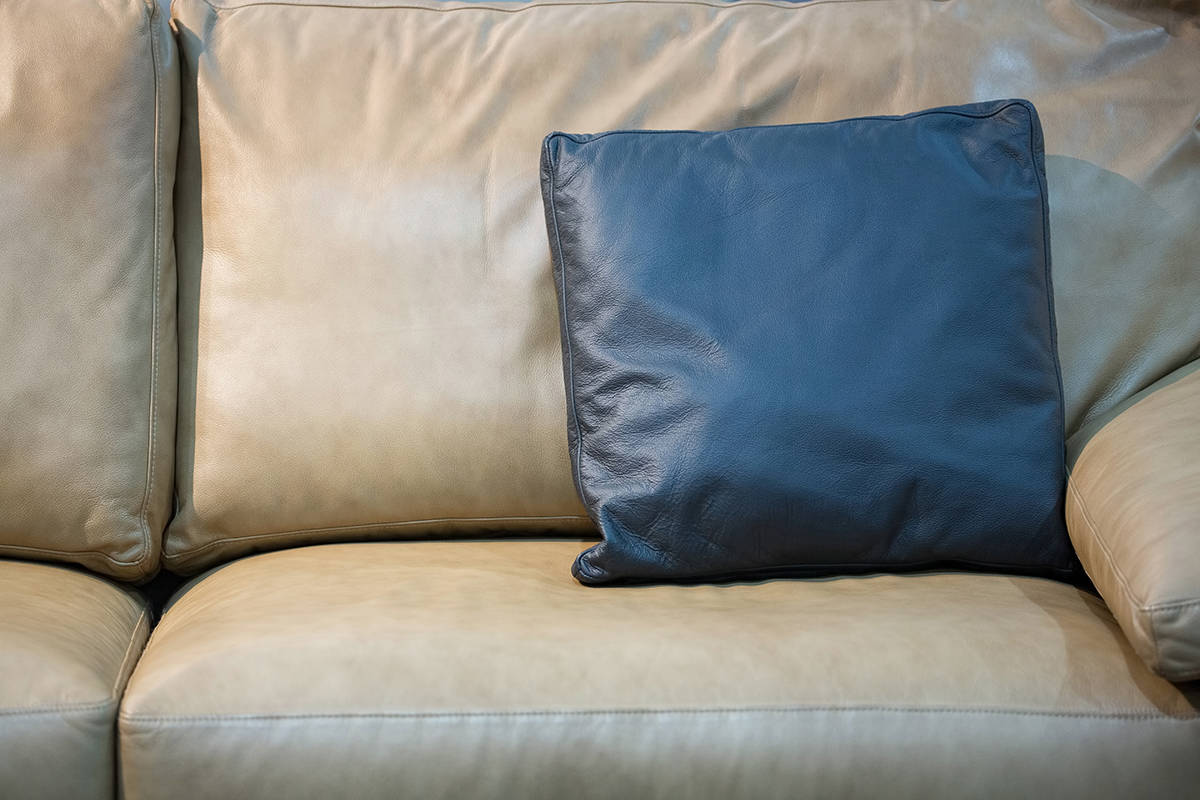 Combining a light beige leather couch with a bold leather pillow is not a bad idea if you want to create a unique style. Although most pillows are usually made of cotton, adding a leather pillow can make your leather sofa even more attractive.
As a rule of thumb, if the leather sofa is a lighter shade of beige, choose a dark pillow color and vice versa. The leather cushion makes your sofa attractive and offers comfort. And best of all, it doesn't need to be washed regularly like cotton pillows!
Velvet pillows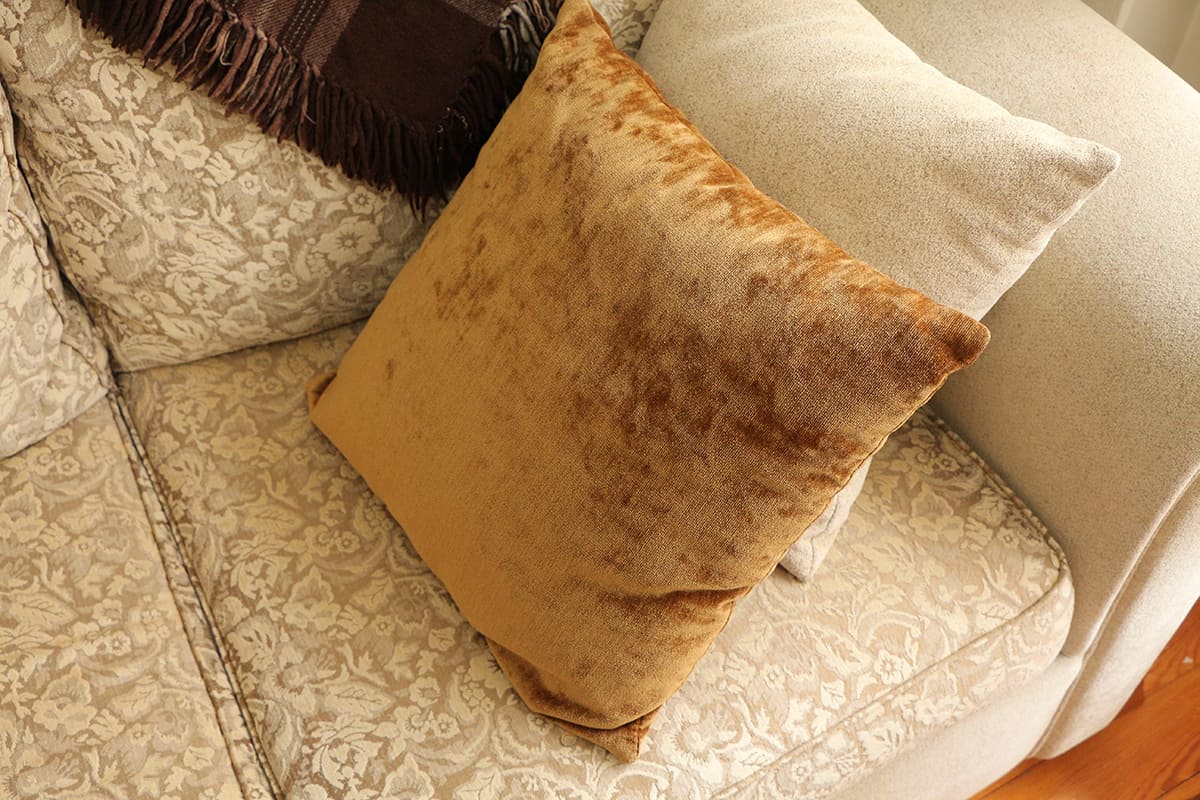 As an alternative to leather pillows, you can always opt for velvet for a noble touch. Whether your beige sofa is leather or upholstered, it can be brought to life with a light beige pillow and floral pillows. See, as in this example, how comfortable and elegant the beige sofa looks thanks to the luxurious velvet cushions in brown and beige.
The reason we love velvet pillows and pillows so much is mainly because of how smooth and soft they feel. You can opt for an elegant look by using colors other than those suggested by us. Just make sure to match the colors of your velvet pillows with your beige sofa.
Oversized textured pillows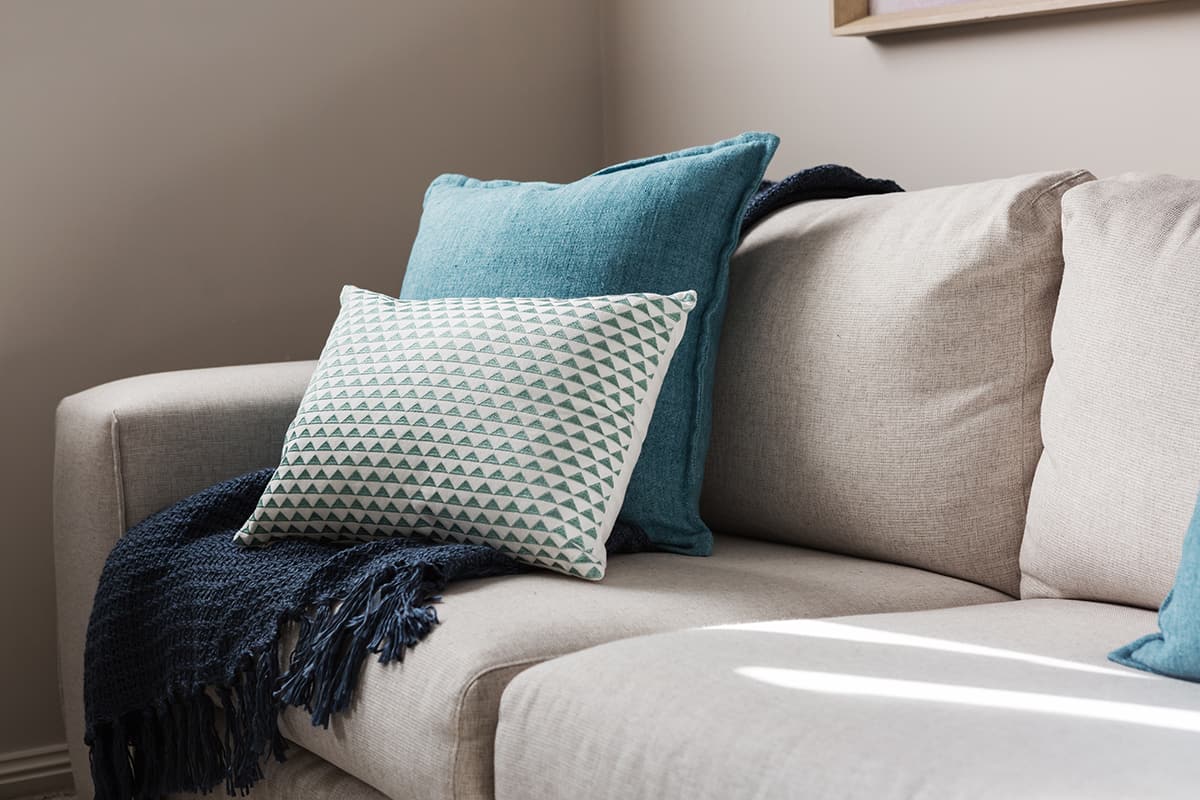 If you have a beige fabric sofa and want to make it more appealing, go for textured pillows in large sizes.
Textured pillows can be the highlight of a sofa and create an elegant atmosphere. Just choose colors that go well with beige, such as blue and white, as shown here.
Mix and match pillow sizes and colors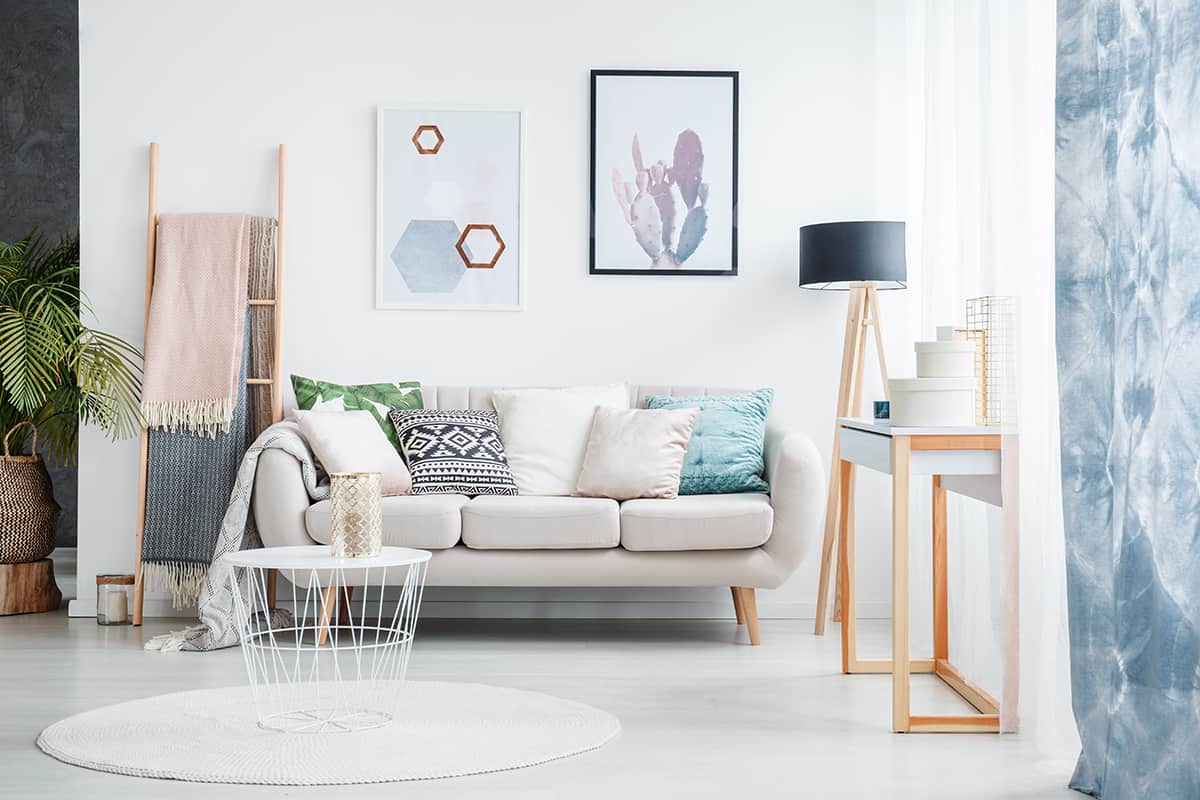 Make your pillow arrangement unique by combining it in different colors and sizes. Adding cushions to your beige sofa allows you to be creative by choosing all kinds of patterns, colors and prints. From the smallest pillow in one corner to the largest in the middle, the arrangement can be designed according to your wishes.
You don't even have to stick to a specific shape or size. Mix up the colors and sizes for an interesting look. Choose solid colors like blue, black, gold, or chevron. To complete the look, add more textures and neutral accessories to your living space to pair well with your beige sofa and pillows.
Choose bold colors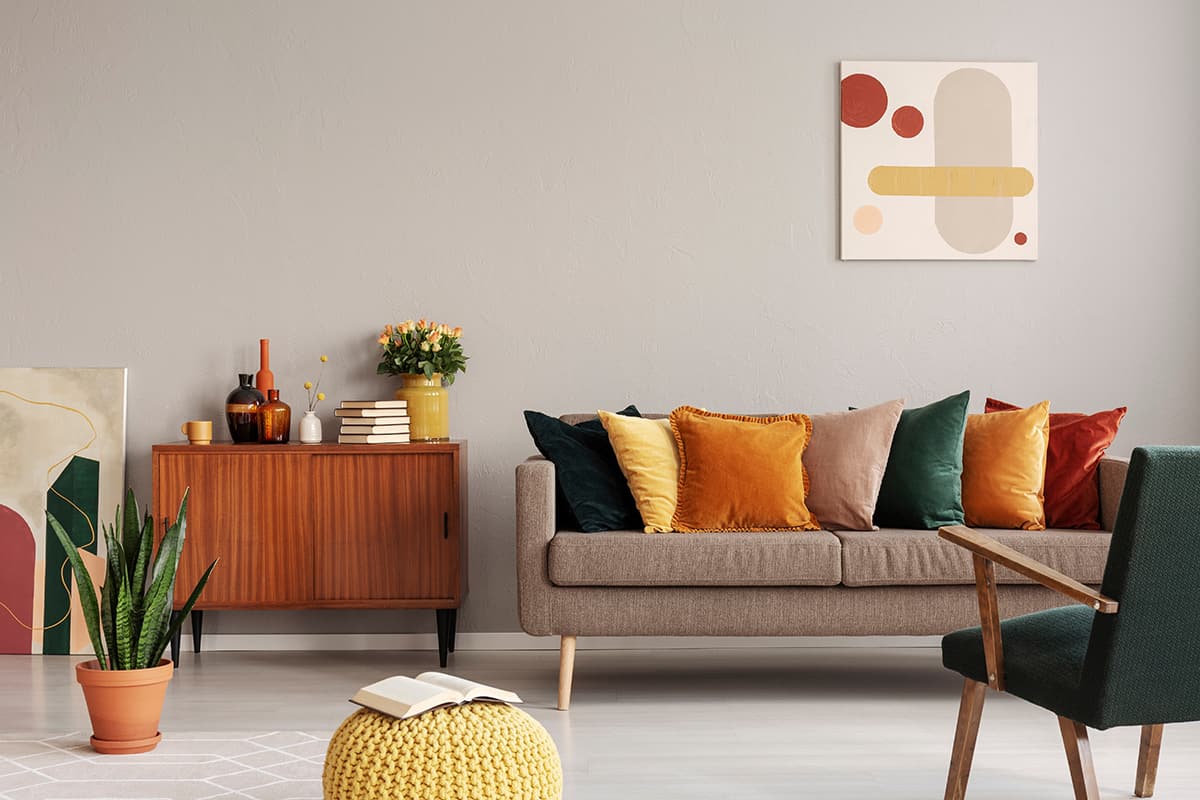 While we're on the topic of colors, consider a bold leap into going for bright pillow colors. A selection of masculine and feminine colors made from the same fabric ensures that your beige sofa is shown to its best advantage. Just like in this picture, the fabric sofa is presented through its selection of dark green, brown, yellow, red and dark beige pillows.
If your beige sofa is a lighter shade, you can opt for bold accent colors like purple, orange, blue, and red. Complementary colors to beige are yellow, blue, brown and a mixture of monochrome patterns.
To complete the look, hang framed paintings behind the sofa and place a flower vase or two on the side tables. The use of beige, bold colors really brings your modern or contemporary living space to life.
Combine contrasting colors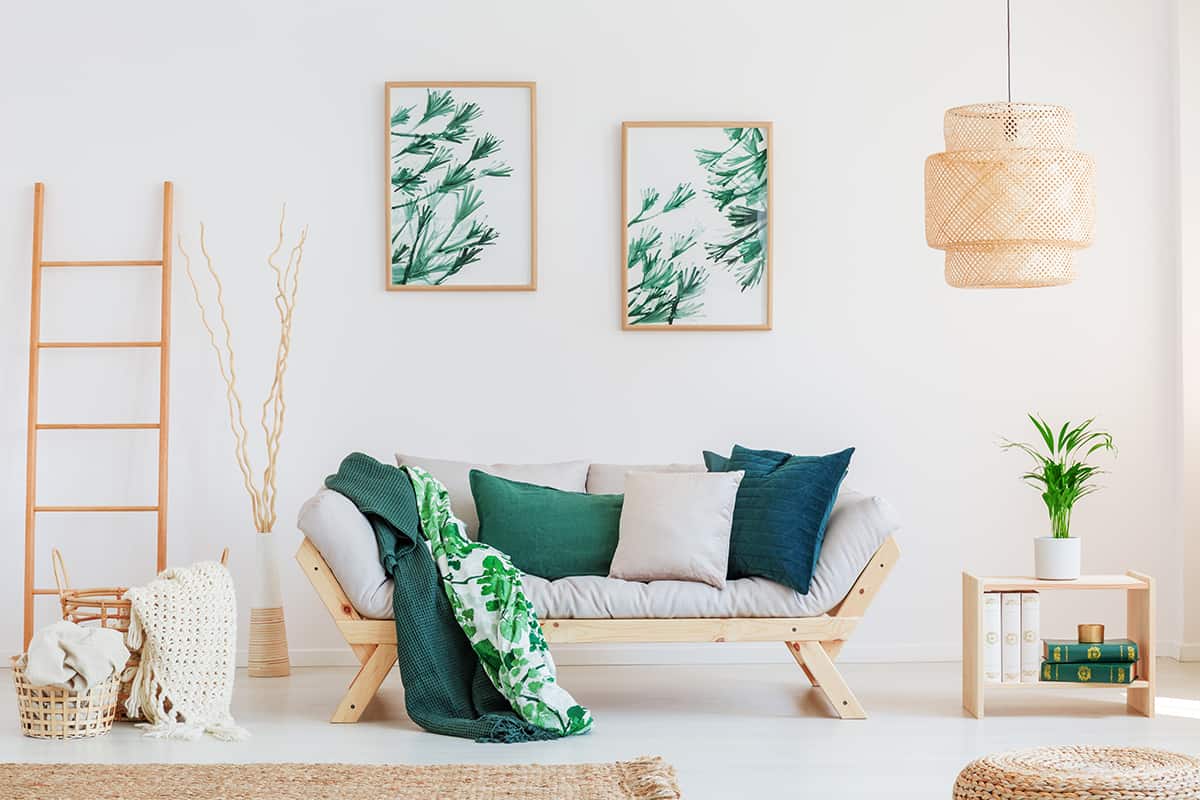 Combining contrasting colors with complementary colors can give your beige sofa an interesting look. If you want to add luxury to your living space, mix some bright contrasting colors with neutrals as shown here. Well arranged, the mix of green, blue and beige goes well together, but you don't have to limit your color choices to that. Choose dark reds like burgundy or black to contrast with your beige sofa.
You can also choose a mix of different fabrics for your throw pillows and pillows in contrasting colors to beige. Add throw blankets in bold colors and keep the rest of the decor in light beige or cream. This prevents the living space from appearing dark or monotonous.
In this neutral living room, the use of earthy materials goes well with green and beige tones to create a cozy and inviting atmosphere. We particularly love the consistent use of green in the entire room in the form of throw pillows, blankets, murals and accessories.
A mixture of shades of gray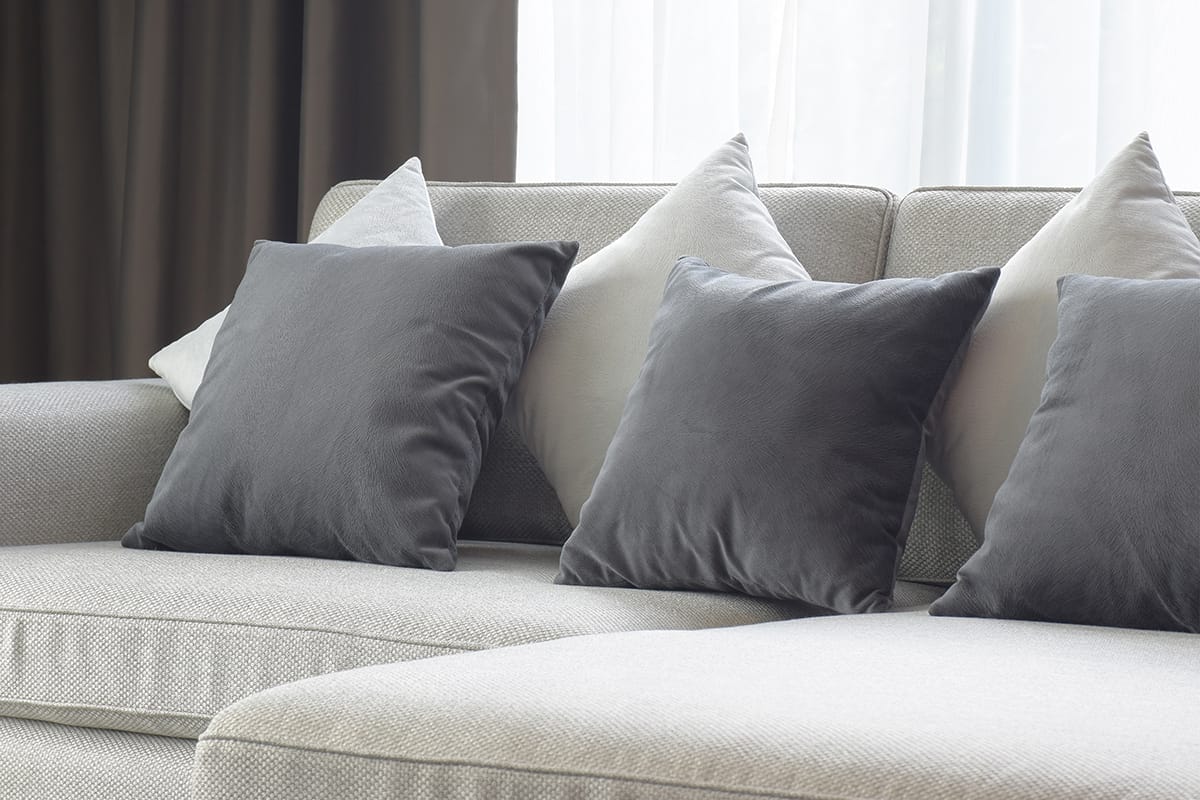 Mixing neutrals makes sense if you want to keep your seating area in the background. In living rooms that have a fireplace as a central element, the combination of the beige sofa with gray cushions will blur the furniture. Beige goes with any shade of gray, so your combination is definitely unique.
Our favorite shade of gray for pillows is anthracite, as it can be combined very well with light beige. Choose a satin or velvet fabric for an attractive look.
Pillow with prints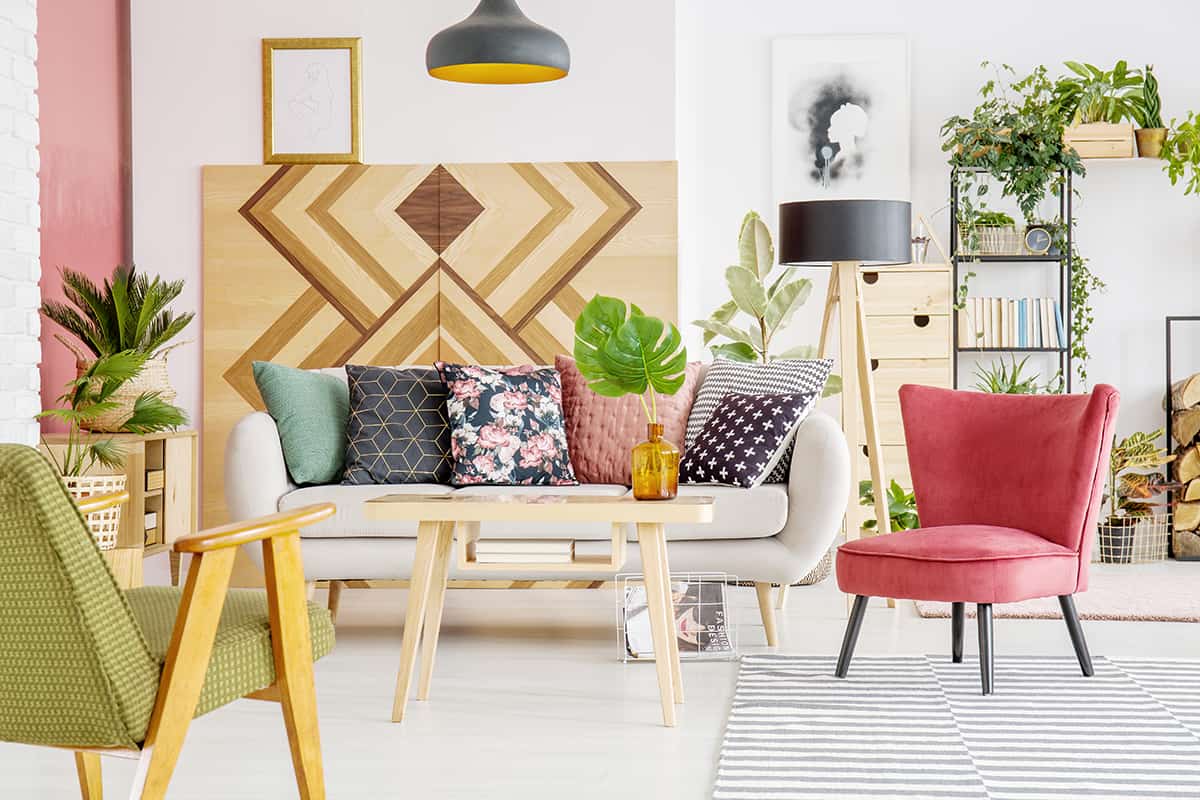 To spice up your neutral sofa, it makes sense to add pillows with interesting prints. This works particularly well in nature-inspired living spaces with lots of plants as a decorative theme. Use a combination of patterns and prints from your favorite animals, landscapes, or flowers.
Add wood furniture to keep the decorating style in the nature theme. You can even drape the side of the beige sofa with a faux fur blanket and accent the area with exotic greenery, as shown here.
Embroidered pillow and pillow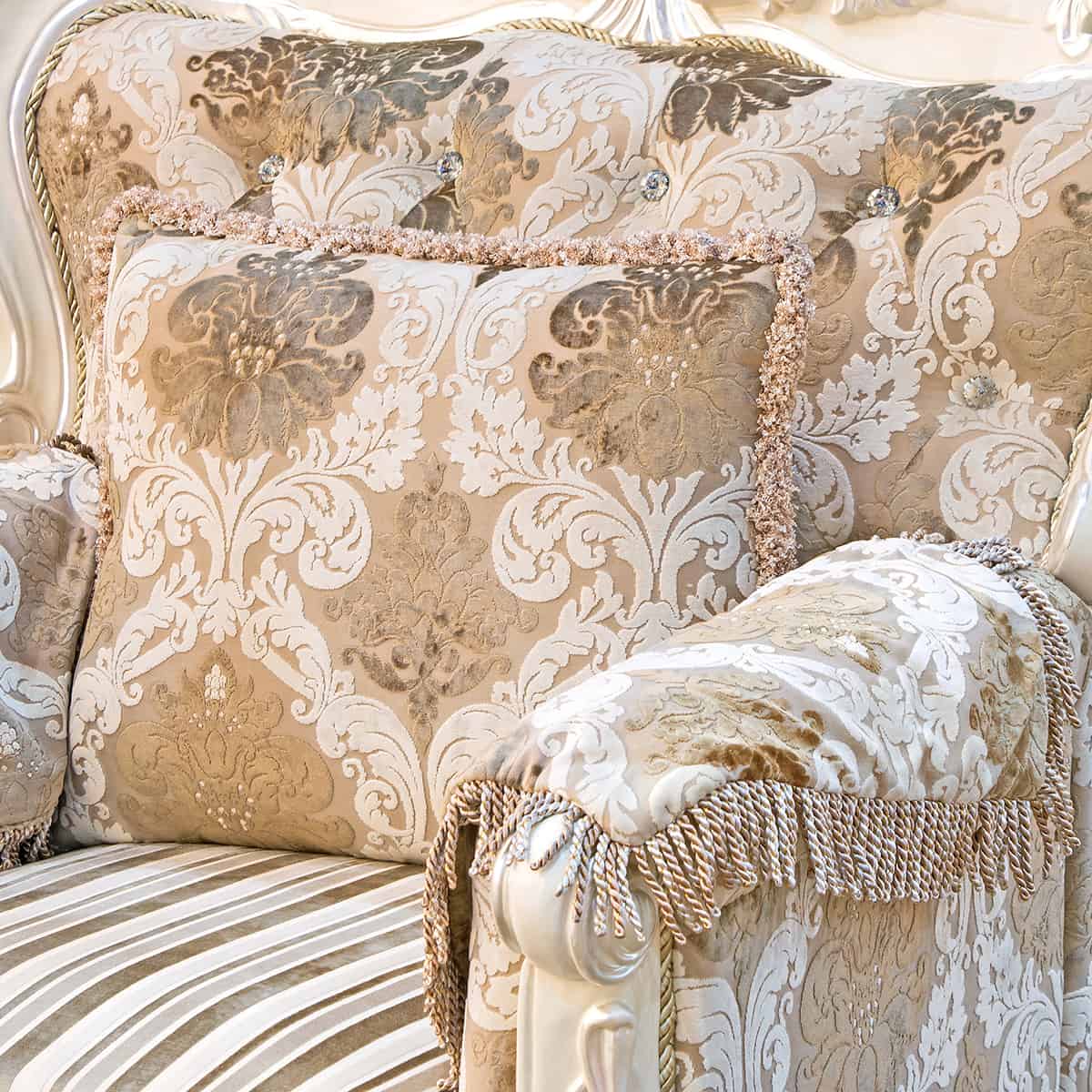 In traditional interiors, embroidered pillows and pillows are stunning choices for beige sofas. The embroidery is inspired by the Asian interior design and fits perfectly in a bright living room. Since the beige sofa is on the light side, an embroidered pillow that matches the pillow and the rest of the sofa will instantly draw attention to the sitting area.
Pick any pattern you want and don't limit yourself to a neutral color, as embroidered pillows come in a variety of patterns and colors, including custom-made pillows, as shown in this example.
Black and white striped pillow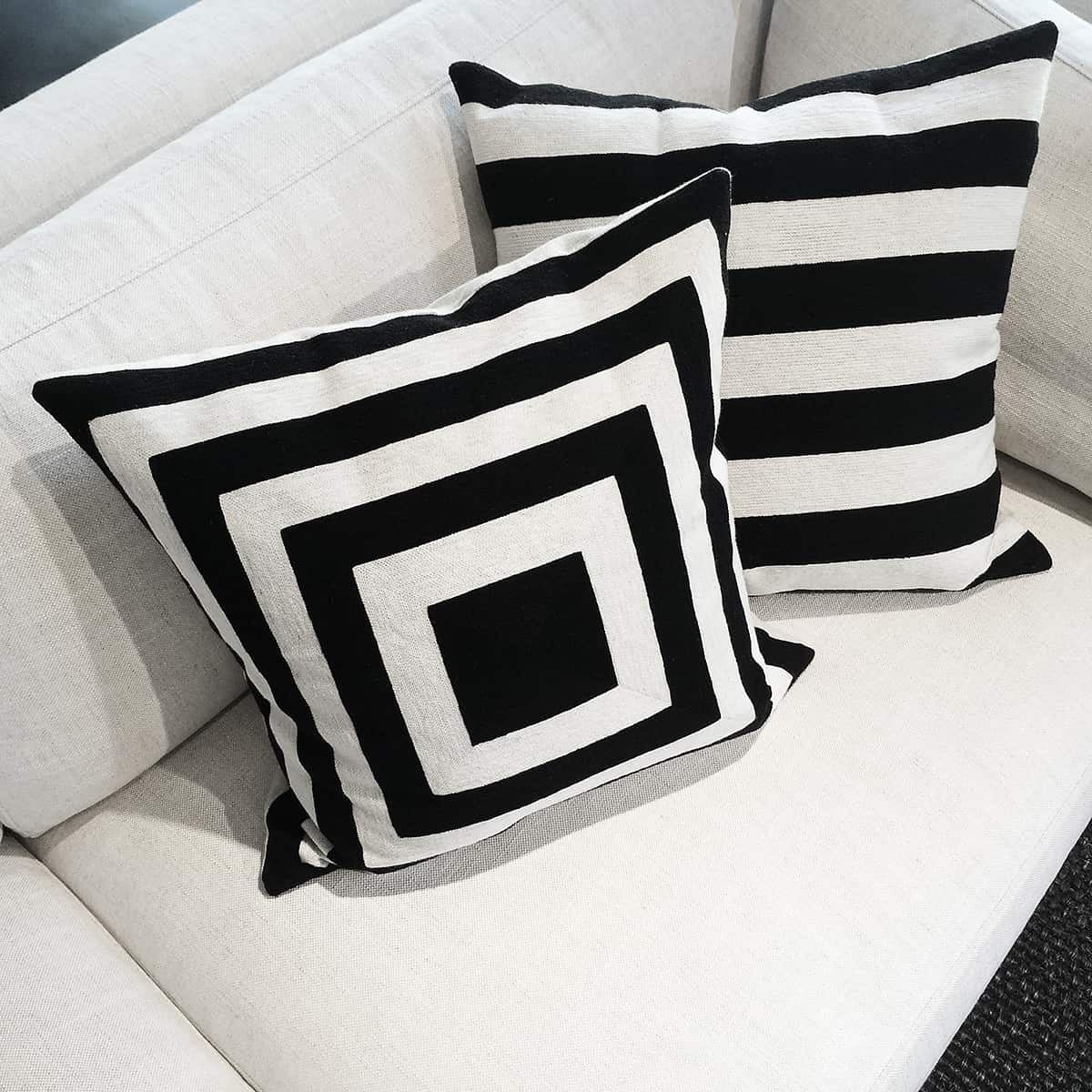 Another eye-catching combination for pillows and the beige sofa are black and white striped designs. These pillow patterns add an interesting look to your neutral sofa. The black and white combo gives a living room a modern feel, and you can add matching pillows close together to combine well with the beige sofa.